When you are enjoying the desert beauty and incredible shopping of Palm Springs, you will need to schedule a time to cool off. These best water parks in Palm Springs deliver fun for all ages. From epic water slides to serene lazy rivers, there is an irresistible way for everyone to keep cool in Palm Springs.
While nearby Los Angeles boasts Hollywood and Disneyland, Palm Springs gives you a scenic escape from the city. Discover the best water parks in Palm Springs for your next family vacation, weekend getaway, or budget-friendly staycation.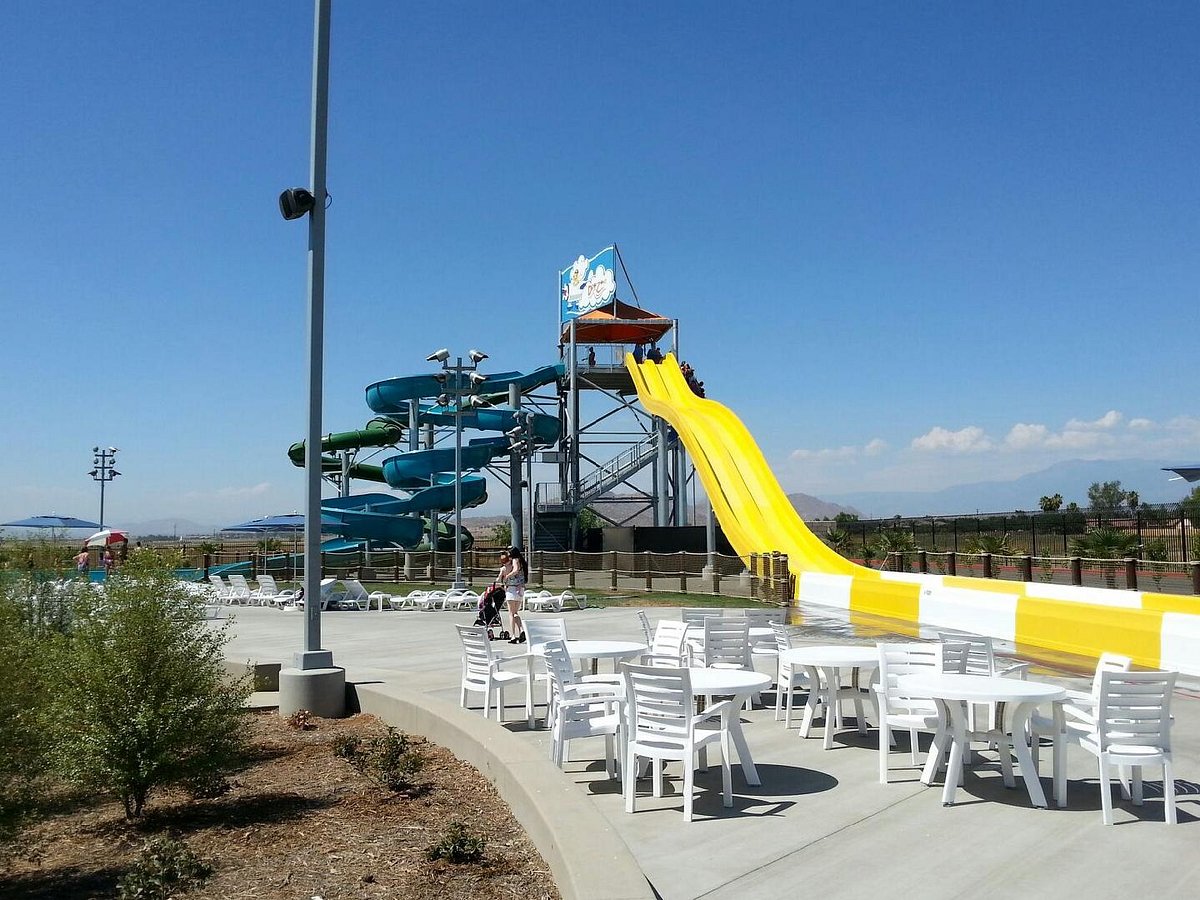 DropZone WaterPark offers an enormous park offering several different types of in-demand water slides. In fact, the DropZone website considers its location an Aquatic Amusement facility, which tells you a lot about the comprehensive list of slides, flumes, splash pads, surf riders, and even a lazy river.
DropZone offers two convenient ways to purchase tickets for the park. Daily guest passes provide a great option for infrequent visitors. Locals and waterpark enthusiasts can buy a season pass to beat the heat at this exciting waterpark all summer long.
DropZone offers a food stand, called the Fill Station. This stand offers classic concession-stand food to satisfy any junk food craving. This Palm Springs waterpark gives a more classic atmosphere with traditional food options, unlike other modern waterparks on this list which offer more variety.
If you are looking for a healthier option, visitors can bring in outside food. Beware: coolers brought into the waterpark are assessed for their size and charged a fee. A small cooler costs $20 to enter the park and a large cooler costs $50. Even if it's not a cooler, any bags with food will incur a fee. No glass containers, alcohol, or fast food are allowed in the waterpark.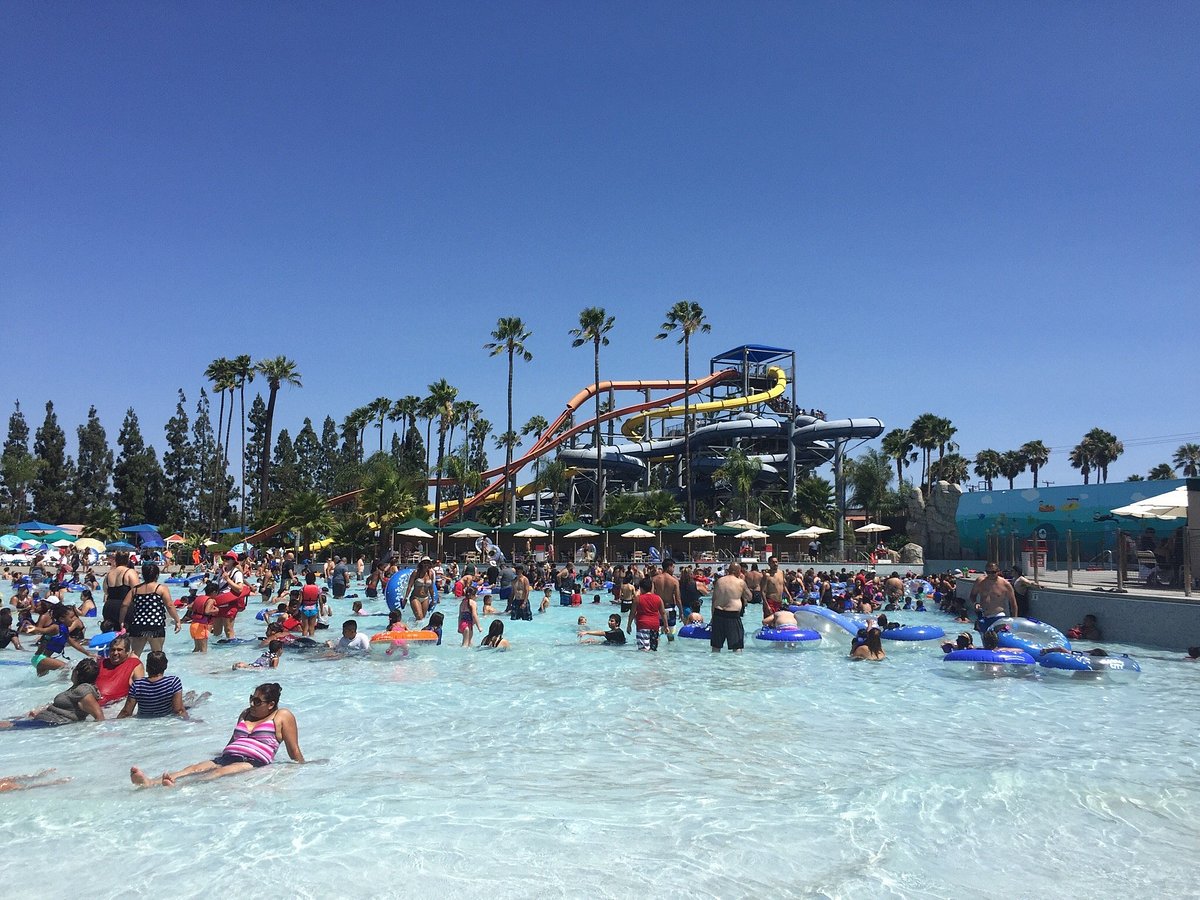 Located on the same grounds as the century-old Knott's Berry Farm amusement park, Knott's Soak City delivers the same fun and excitement as its signature theme park. Unlike DropZone, Knott's Soak City offers a park with many modern amenities and the latest water rides. However, the ticket prices for this waterpark reflect this, with the highest prices out of all of the best waterparks in Palm Springs on this list.
Knott's Soak City boasts 23 waterslides, including ultra-fast speed slides, thrilling tube slides, and high-energy body slides. Shore Break is one of this waterpark's most notable waterslides, keeping you guessing with six different routes available for every ride. The Tidal Wave Bay holds 750,000 gallons in its enormous wave pool and the lazy river stretches for one-third of a mile. The attractions at Knott's Soak City are as endless as they are fun.
Season passes are not available for this park, so daily admission for one person will cost about $50. If you wish to "slide and ride" you can purchase a combination amusement park and waterpark pass for about $100. Soak City is only open from mid-May to just after Labor Day.
Outside food and drink are not permitted at Soak City. Instead, guests should save time and spend money visiting one of the many food stands and restaurants available throughout this park's 15-acre footprint.
The Wave WaterPark delivers all of the classic waterpark attractions you are looking for, at half the price of Knott's Soak City. For about $24 per day or $74 for a season pass, you can experience the wide variety of rides available at The Wave.
Like many of the other best waterparks in Palm Springs on this list, The Wave also offers a surfing simulation. Even if you have never stood on a surfboard before, you can give surfing a try in the fun and safe Flow Rider.
The Wave Waterpark also offers the desirable lazy river, where visitors can enjoy a carefree float from the comfort of an inner tube, traveling in an endless loop. This park provides a fun spin on the lazy river, with an exciting waterslide on the Slide Tower ejecting riders into the lazy river at the end.
Even the youngest guests can enjoy a fun day at The Wave Waterpark. A large splash pad is located away from the busier areas to provide a great space for toddlers and kids. Near the splash pad is the full-size pool, featuring a zero-depth entry on one side for little swimmers.
Formerly known as Wet 'N' Wild Palm Springs, the Palm Springs Surf Club brings a much-needed break from the heat in downtown Palm Springs. Soak up all of the Southern California vibes at Palm Springs Surf Club. This renovated waterpark features a 1950s surf city theme; think Beach Boys, coconut-scented tanning lotion, and big cars with fins.
The most exciting attraction of this newly renovated waterpark is the state-of-the-art wave pool. Whether you are a beginner at riding waves or an advanced surfer, everyone will have fun in this customizable surfing simulation.
In addition to this thrilling wave pool, there are even more updates to the 21-acre waterpark. A lazy river, water toys for kids, and on-site restaurants make Palm Springs Surf Club an exciting new addition to the best water parks in Palm Springs.
This waterpark is one, especially for the youngest water lovers in your family. While not a waterpark like some of the others on this list, Perris Hill WaterPark offers splash pads, sprinklers, and other fun and accessible water toys for all kids.
Perris Hill operates as a family-friendly municipal water park to help citizens cool off during the hottest summer days. This keeps the admission price very low at only about $1 for children and about $3 for adults. Perris Hill definitely ranks as the most economical choice on this list.
Call ahead to learn the rules and regulations of this pool. There is no website for Perris Hill WaterPark. Regular breaks require everyone to exit the pool so it can be cleaned, lifeguards can have a break, and kids can have a snack or a nap. Contact this waterpark in advance to make sure your visit aligns with the times the pool is open.
Make sure to bring sun hats and other sun-blocking items as Perris Hill provides very little shade for guests. There is no concession stand, so be sure to bring your own food and drinks while you play. Outside food and drink are welcome at Perris Hill WaterPark at no additional cost.
Make It Your Best Day at Palm Springs WaterParks
Plan ahead to ensure you have a fun and safe day at one of these five best Palm Springs waterparks.
Wear Proper Attire
All waterpark attendees must wear proper swim attire. Often swimmers will not be allowed to enter the pool if they are wearing denim, long pants, street shoes, or swimwear with metal accessories like grommets. Babies and other young visitors must wear an official swimming diaper and not a standard disposable diaper when in the water.
Some waterparks go even further with the dress code. Double-check if board shorts and swim accessories like floaties, flippers, goggles, and other swim attire are allowed.
Develop a Plan for Snacks
Some waterparks provide concession stands for guests to refuel and rehydrate during a long day at the park. It is vital to have a food and drink plan in place to avoid dehydration and other heat-related illness.
Most times these waterpark concession stands offer classic fast foods like hot dogs, slushies, and popcorn at a premium price. If the waterpark provides a food option, they most likely do not allow outside food to enter the park.
However, some smaller parks welcome visitors to bring outside coolers and other food containers. Look up the policy for the waterpark you attend to see if they allow a brown bag lunch and if they charge fees for bringing in a cooler.
Bring Safety Items
Palm Springs lies in an intense desert environment which can deliver extremely high temperatures in the summer months. The average high temperature in Palm Springs from June to September is 101 degrees Fahrenheit.
Visitors to any waterpark in Palm Springs must bring items to block the sun. Consider bringing a wide-brimmed sun hat and sunglasses and plenty of sunblocks. Choose the best sunscreen for broad protection that is waterproof. The pavement at these waterparks gets extremely hot in the sun. Water shoes are often a good idea.
Double Check the Rules
Most of these waterparks carry their own unique sets of rules. Review the policies of every park before going so you are not surprised by things like
Fees for bringing in coolers
Cash-only concession stands
Bans on board shorts or swim goggles
Height restrictions for rides
Conclusion
If you plan to visit the California desert oasis of Palm Springs, make time in your day to check out these five of the best waterparks in Palm Springs. Whether you are looking for low-key splash pads for your toddler to a seven-story drop within a terminal velocity water tube, there is something for everyone to enjoy some refreshing fun.
More about our TFVG Author
A seasoned traveller, Dad, and avid sports tourist, James foundered The Family Vacation Guide to share his expert vacation experiences- especially when it comes to being a travelling family man.
Featured in Travel articles such as Travel + Leisure, TripSavvy and SFGate, you know you're reading some of the best vacation tips online.