A family vacation to California, USA, should always include a trip to the Disneyland resort. A visit to this fantastic resort guarantees a theme park experience like no other, with Disneyland Park and Disney California Adventure Park just waiting to be explored!
There is something here for everyone! No matter the age or taste, with such a great range of rides and attractions, including classic Disney characters, Star Wars, Marvel, Pixar, and other great franchises.
There is also a great selection of restaurants, snack bars, and stalls to keep you fully fueled for a full day's worth of fun and excitement!
So how do you top off the perfect day at a Disneyland resort? How about an extravagant fireworks show? With several different displays and nightly firework shows taking place throughout the year, it is arguably the perfect way to end a magical day at the happiest place on earth.
If you are interested in watching Disneyland fireworks but would like a bit more information, you are in luck! This article will inform you of when different displays are on and provide you with the best Disneyland fireworks viewing locations. Plus, some other great hints and tips to make your night even better!
Disneyland Firework Calendar
Depending on when you plan to visit Disneyland or Disney California Adventure, there will be different displays to enjoy at the end of the day. To help you understand what you can expect on your visit, here are the firework shows that Disneyland puts on throughout the year:
January – Mickey's Mix Magic Fireworks
Mickey's Mix Magic Show runs from January through April and combines a fantastic fireworks show with a dance party featuring some of the most popular Disney songs.
This display has two versions: the entire fireworks show and the alternate that simply shows projections. This second option is used on quiet weekday evenings and windy nights when it is too dangerous for fireworks.
Spring & Summer – Disneyland Forever Fireworks
The Disneyland Forever fireworks display runs through Spring and Summer and features projections, props, and popular Disney songs taking place on Disneyland's Main Street, U.S.A.
You can expect to hear music from hit movies such as The Lion King, The Little Mermaid, Frozen, Jungle Book, Tangled, and Mary Poppins, to name but a few.
July 4th – Disneyland 4th of July Fireworks Display
As you might expect, the Fourth of July fireworks show goes off with a bang and pays tribute to all things American!
This patriotic evening makes the most of red, white, and blue fireworks, and you can expect to see the star-spangled banner flying high.
September & October – Halloween Screams
The fireworks show during September and October has a spookier feel to it but don't worry; this show is suitable for all ages.
Jack Skellington and his dog Zero host the evening, and some of Disney's villains appear in the projections!
November & December – Believe…In Holiday Magic
Running through November until December 30th, you will be able to experience this festive fireworks show and display. As well as choreographed fireworks and artificial snowfall, you can admire the enchanting sight of Sleeping Beaty's Winter Castle, decorated with thousands of twinkling lights.
December 31st – New Year's Eve Disneyland Firework Display
What better way to bring in the New Year than enjoying a great day in the 'Happiest Place on Earth', followed by an extravagant fireworks show?
Best Places to View Disneyland Firework Displays
To make sure you enjoy the fireworks shows, it is essential to find an excellent place to watch them. We have compiled some of the best places to watch the Disneyland fireworks shows to help you maximise your trip!
Main Street, USA
Main Street, USA, is probably the most popular location in Disneyland to view the fireworks shows for several reasons.
Probably the most important reason is the view. Not only do you get a great view of the fireworks themselves, but you will also be able to enjoy an excellent view of the projections on the buildings along Main Street and the Sleeping Beauty castle.
Main Street is also an excellent place to wait for the fireworks because you have easy access to restaurants and snack bars to grab something to eat or use the restrooms. It is advised to arrive around one hour before the performance starts, enabling you to find a good spot.
The last reason that Main Street is such a popular option is that you will be able to leave quickly as soon as the show finishes.
Sleeping Beauty Castle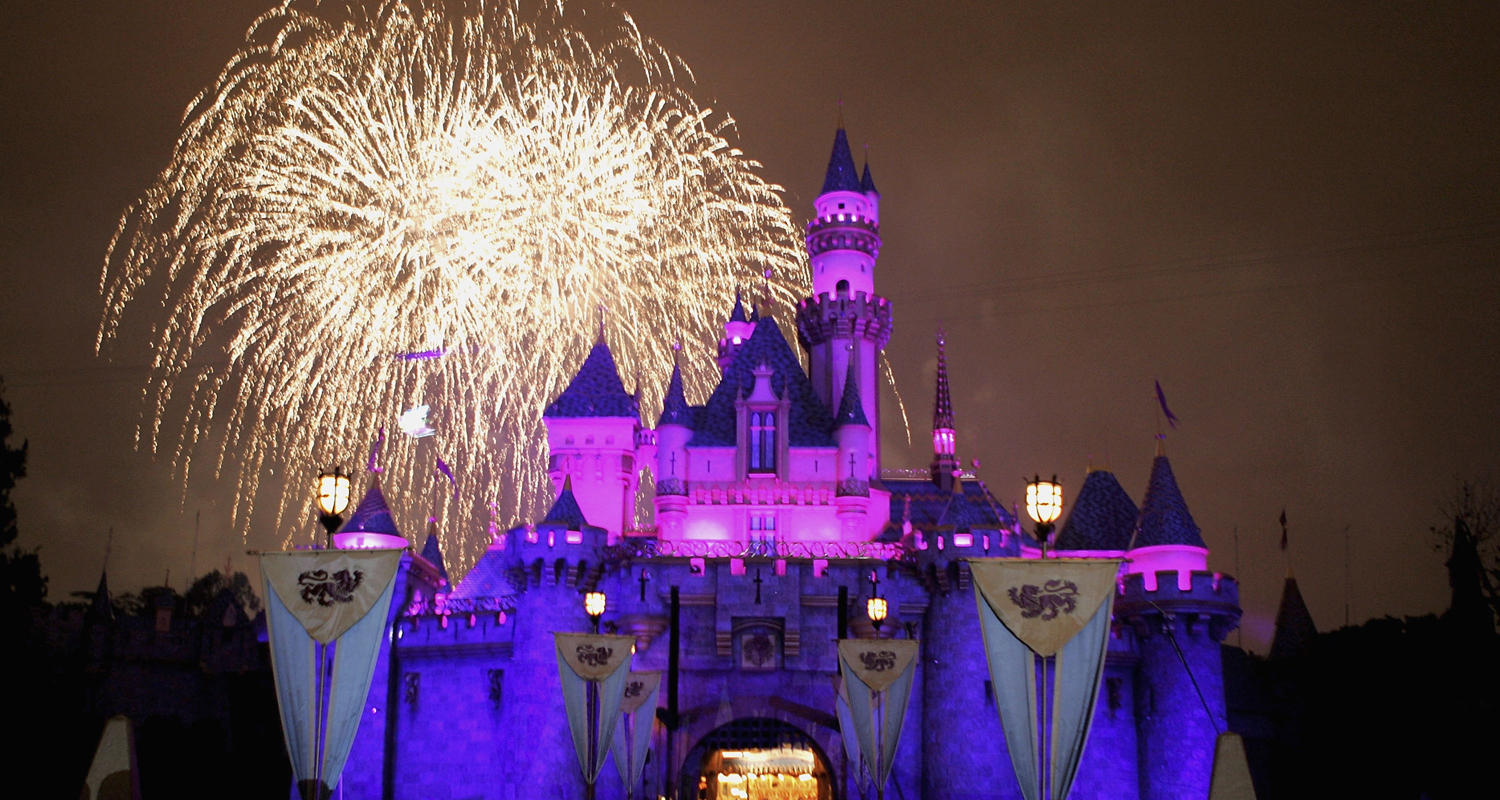 Another extremely popular location to view the Disneyland fireworks is in front of the Sleeping Beauty Castle. You get a great view of the fireworks, characters, and projections.
If you love your social media profiles or just enjoy photography, this is the best place to get iconic pictures of both the castle and the fireworks.
If you do plan to watch the fireworks show in front of the Sleeping Beauty Castle, you will have to get there early. It is advised that you should get there between 2 and 3 hours before the show starts to get a good spot. So, not ideal if you have kids who get bored and irritable quickly!
Another tip is to check your surroundings. The last thing you want is to have waited for hours only to find a statue or trees obstructing your view!
It's a Small World
Watching the fireworks show from the Small World area is an excellent option for people that don't want to hang about for hours and jostle for a position.
After a long day in a busy theme park, you will have been on your legs and walking for miles. The idea of then having to stand about for hours can put a lot of people off, and thankfully, you won't have to do that here.
If you arrive roughly thirty minutes before the show is due to begin, you should be able to find a good spot that isn't obstructed.
The fireworks will be visible to your left while the projections are shown on the Small World ride facade.
If you have small children, this is also a good idea as you won't have to find ways to entertain them for hours whilst you wait for the show to begin.
Rivers of America
Though the Rivers of America is not the best place to view the fireworks, it does help you kill two birds with one stone if you are already there to watch the Fantasmic show.
Fantasmic is a show that combines footage from classic movies with live-action and light shows along the river. If you like the idea of 45 foot long dragons, pyrotechnics, lasers, and water effects, Fantasmic is for you!
Shortly after the Fantasmic show ends, the fireworks show begins, and you will already have found an excellent spot to view it from!
Galaxy's Edge
Star Wars: Galaxy's Edge can be a great place to view the fireworks at Disney because some of the fireworks are fired off just behind it.
You can get a great, up-close view of the fireworks, though it is worth mentioning that this is not an official viewing area. That means you will not get to enjoy the music or projections that are a part of the show.
Tomorrowland Skyline Lounge
Many differences between Disneyland and Walt Disney World make them both worth visiting. One thing Walt Disney World has over Disneyland is the option to enjoy a dining package that takes in the fireworks.
Don't worry, though. These packages are not available at the California resort because the fireworks display at Disneyland is weather dependent. Because of its location, windy weather can cause fireworks to veer off course into surrounding neighbourhoods.
Dining packages are sometimes available that may include fireworks, though the restaurants have to add this weather stipulation in case the display is cancelled.
If you are interested in a dining package that takes in the fireworks, the Skyline Lounge is a great option. Located on the balcony lounge in the Tomorrowland Expo Center, you will view the park and fireworks.
It is possible to make reservations for the Skyline Lounge as little as 60 days in advance. However, late cancellations and no-shows will be subject to a $10 charge.
Outside Disneyland
The great thing about fireworks is that they are high up in the sky, and anyone in the surrounding area will be able to enjoy them.
If you have spent a long day enjoying the magical experience of Disneyland, you will undoubtedly be tired by the end of the day. If you are tired, think about how your kids must feel!
Most people make an early start to make the most of the park and all the great rides and attractions. It is estimated that, on average, Disneyland guests will walk between 8 and 10 miles per day. Then take all the fun, excitement, and even the heat on warm days, and you can understand how tiring it can be.
The idea of hanging about in the same spot for hours to secure an excellent location to view the fireworks show might seem possible at the start of the day, but you might be ready to throw in the towel by the end.
Here are some of the best options for viewing the fireworks show outside the park:
Hotels & Balconies
If you are staying in the Disneyland Resort, the concierge lounges at the Disneyland Hotel or Disney's Grand Californian Hotel offer great views of the displays. The benefit of this is that the music is played to ensure the whole atmosphere is provided.
Viewing from your hotel or balcony not only allows you to freshen up and drop off your bags, but it also means you won't have to face the crowds leaving the park at the end of the day.
If you are staying at Disney's Paradise Pier Hotel, the pool deck on the third floor offers excellent views. You will also get the show's audio here, and it is an excellent option for guests of the hotel.
If you aren't a guest of any Disneyland Resort hotels, the only option available to you will be the Paradise Pier Hotel pool deck. You will be able to park in neighbouring hotel car parks or Downtown Disney.
Some off-site hotels near Disneyland provide a good view of the fireworks, though you will not have the audio that Disney hotels offer. Some hotels offer rooms with fireworks views, and others have lounges or pool decks that provide great views.
Car Parks
It might not sound as magical as Disneyland, but the view from the Mickey and Friends parking structure is excellent. It is also a fantastic way to get a head start on the crowds leaving the park and means you will beat the traffic jams too!
Downtown Disney
Many people will be hopping between parks, and the idea of having to wait in Disneyland for hours before the show to secure a good spot is not appealing.
The Esplanade between the entrances to both parks is a great option. You can even sit on the ground to look up and enjoy the show.
Other areas in Downtown Disney also offer good views of the park and the fireworks show!
The Fifth
The Fifth is a rooftop bar and restaurant in Anaheim that offers excellent food, a great atmosphere, and great views of the fireworks show.
It is kid-friendly as well, meaning you can even plan an evening meal for your family here. Be warned; kids can stay until 10 pm, as after this time, the bar becomes an over-21 spot.
Tips for Waiting for Disneyland Fireworks
If the Disneyland fireworks show is something you are dead set on seeing, here are a few tips to help you enjoy it even more.
Plan Ahead
Planning is crucial to enjoying the Disneyland fireworks display. Figuring out where you want to watch the show is the most important part; from there, you will be able to research how far in advance you will need to get there to secure a good spot.
The way you plan your day should take this into account, so you can quickly get to your destination after going on your last ride.
Bring a Blanket
Blankets are ideal for you to use for sitting on the ground. They are also useful for marking out and securing your family's area for the display.
Bring Snacks & Drinks
You don't want to be hungry and thirsty while you wait, so bringing some snacks and drinks for your family is a good idea. It will also save you from queueing for snacks and then battling your way through the crowds to get back to your space.
Toilet breaks before you start waiting are also advised for the same reason. You don't want to have to find your way through busy crowds or try to hold on until the display finishes.
Bring Something to Entertain the Kids
If you are going to an area that will be busy, you might have to get there early to secure your spot. That does mean there will be a wait until the display starts, so bringing something to entertain the kids is advised.
Whether you have books, a tablet, or games on your phone, entertainment is a great way to stop kids from getting bored and frustrated!
Wait to Avoid the Rush for Exits
As soon as the fireworks finish, a big crowd usually moves to the exits. This can cause queueing, so it might be better to wait for a while to let them disperse.
Waiting for the crowds to go also gives you an excellent opportunity to take family pictures in a less crowded park.
FAQs
Are Disneyland fireworks ever cancelled?
Fireworks cancellations can happen if the weather is bad. The Disney parks are located in the centre of Anaheim; if the wind takes fireworks off course, they can end up in built-up areas.
A weather balloon is released to check the wind to check whether it is safe for the display to go ahead.
Can you buy discount Disneyland tickets?
If you are looking for ways to save money when visiting Disneyland, discount tickets can be a great option. Visiting off-peak or searching online for deals can be an excellent way to do this.
What is the Disneyland fireworks time?
The Disneyland fireworks schedule usually starts at around 8 pm during the winter and 9 pm during the spring and summer. You can keep up to date on showtimes using your Disneyland app.
How long do the Disneyland fireworks shows last?
The Disneyland fireworks displays typically last for around 16 minutes.
Final Thoughts
Your Disneyland vacation will be packed with fun from start to finish no matter what you plan to do, but making sure you watch the spectacular fireworks is the ideal way to top off a great time!
You will get to enjoy the Disney magic and your favourite Disney songs during the scheduled fireworks, so taking the time to plan ahead is definitely worth it.
Here are some more articles to look at that will help make your Disneyland trip even more magical!
More about our TFVG Author
Karly is a The Family Vacation Guide guest travel contributor.