If you're taking your kids to San Diego for spring break, you might be considering a day trip to Disneyland. However, if you're not from California, it can be easy to get mixed up. Where is Disneyland in relation to San Diego? How far is it, and is it possible to do a day trip to Disneyland from San Diego?
San Diego is only 95 miles from Disneyland, so it's totally doable for a long day trip. However, you have to be prepared for lots of factors, including weather, travel time, and California traffic.
Maybe you're in need of some assistance planning your ultimate family trip to Disneyland California? You'll probably find our guide useful in helping you every step of the way.
Here's a guide on the distance between San Diego and Disneyland.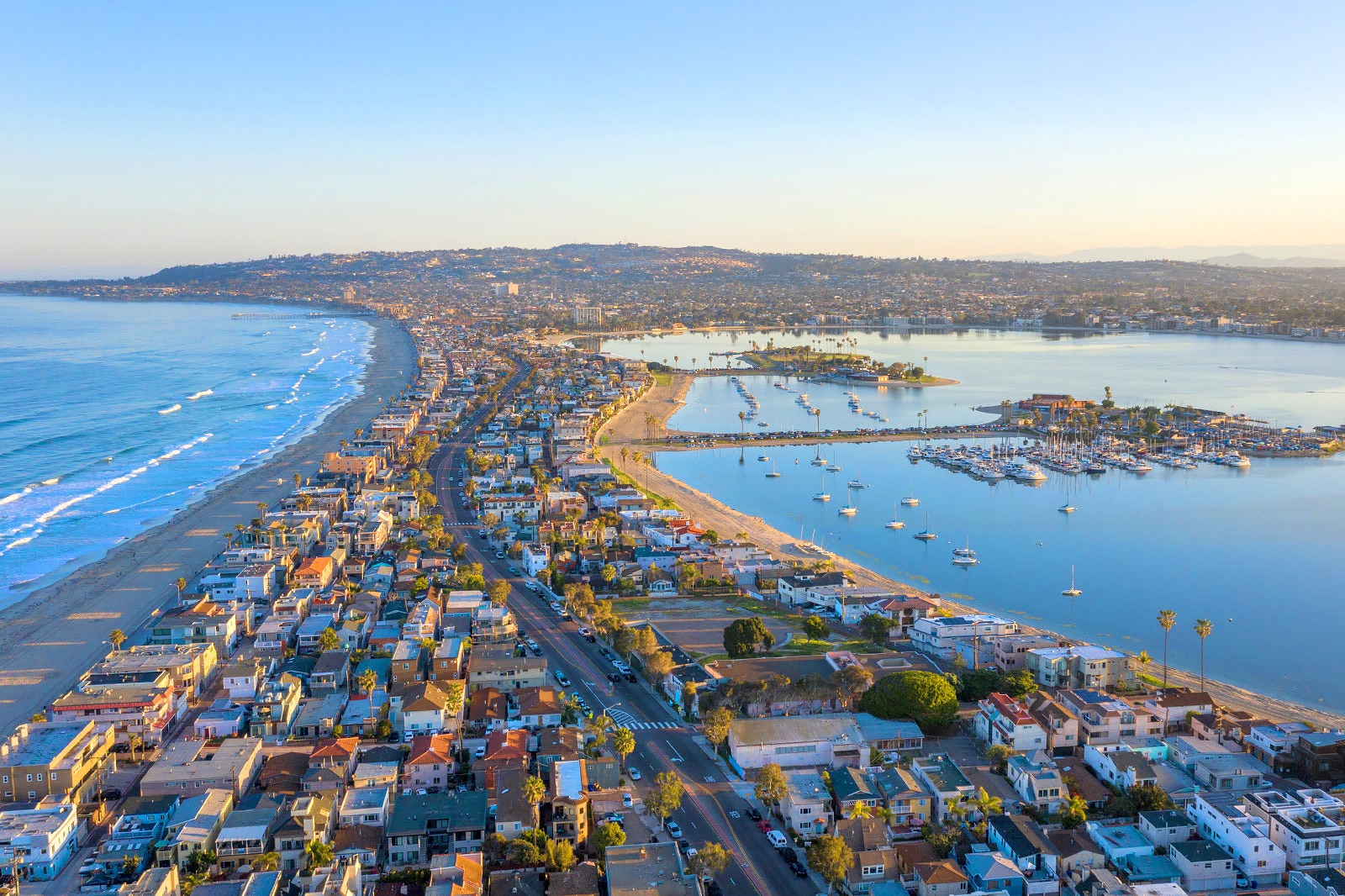 Distance Between San Diego and Disneyland
San Diego is 95 miles from Disneyland, which is about an hour and a half by car. In a rental car, you'll be able to get to Disney on a tank of gas without needing to refill. However, there are other ways to get to Disneyland that might be better for you and your family.
How to Get From San Diego to Disneyland
There are three main ways to get to Disneyland from San Diego (well, technically there are many ways, but these three are the quickest). Here are the details on driving, bussing, or taking the train from America's Finest City to the Most Magical Place on Earth.
Driving
As the crow flies, San Diego is 95 miles from Disneyland. Of course, we all know that the crow doesn't fly at the same speed we can get our families up and out the door, so it could take a bit longer than an hour and a half to drive from San Diego to Disneyland. There are multiple ways to travel, and each has its pros and cons.
Driving to Disneyland from San Diego takes about an hour and a half. This depends on when you leave and where you are staying in San Diego. Staying in North San Diego can shave off up to half an hour. Also, if you leave Disney late at night, you could miss traffic and save twenty minutes on the return trip.
The big upside of driving to Disneyland from San Diego is the ultimate flexibility. You don't have to worry about waiting for a train or missing the last bus. Instead, you can enjoy your day, knowing that you are in complete control of your ride. Parking at Disneyland is $30 a day, so keep that in mind.
The downside is that if you flew into San Diego, you might have a rental car. It can cost more money to go on the toll road and put more money on your rental car. If you aren't planning on a rental car for the trip, then it's time to look at other transportation options.
Train Ride
Amtrak is one of the best options for getting to Disneyland quickly without a rental car. Although you'll have to pay for individual tickets for each of your family members, you won't have to worry about driving back after a long day. It takes about two hours each way, but you can keep yourself entertained or rest during that time.
Amtrak trains leave on the hour from downtown San Diego. If you're nearer the other Amtrak stations, you'll have to look at the schedule to see when they board. From downtown San Diego to the Anaheim station is $28 per adult and $14 for children (kids under age three ride free). You'll have to take an Uber or catch the Anaheim Resort Transportation bus to make it to the park.
The Amtrak might seem like a hassle, but it is the best option if you want a more comfortable ride. It's the most expensive option, but cheaper than taking an Uber and you can make it a family time by playing games on the trip. You'll also be able to rest on the way back.
Bus Ride
The cheapest option for getting from San Diego to Anaheim is taking a bus. However, this is probably the least convenient, least comfortable, and least time-efficient option. You can buy bus tickets for about $16 a person (less for children). These tickets will take you from downtown San Diego to downtown Anaheim.
A bus ride might be exciting at first, but it will soon get old. The cheapest buses are usually overcrowded and loud, and a three hour bus ride both ways will soon weary you of the whole endeavor. You'll also have to board the Resort Transportation Bus in Anaheim to make it to the park.
While taking the bus will save you money, it almost makes a day at Disneyland too short to be worth it. You'd have to get up impossibly early or come home extremely late to get enough time at the park, and Disney is no fun if everyone's tired and grumpy.
Can You Get to Disneyland in a Day from San Diego?
If you want to do a day trip to Disneyland, you've got to be prepared for a long day. Travel time can be anywhere from an hour and a half to three hours one way. On top of a long day in the park, this could exhaust you and your kids. Know this going in, and you'll be fine.
Some tips for a day trip to Disneyland: the park is more crowded on weekends, but the freeways are more empty. If you can plan your trip around daily commuters, you'll be able to have a less busy park. Of course, it's always going to be a bit crowded during any spring break.
If you go to Disneyland in a day, bring snacks and water bottles. Even in spring, the park is hot and you don't want to overheat. The final tip to have fun: it's one of the best places on earth and worth a day trip from San Diego to see the wonder in your kids' eyes.
Final Thoughts
It is only 95 miles from San Diego to Disneyland, but it can seem impossible to get there if you don't have access to your own car. However, with a rented car, bus, or train, there are ways to make it to the most magical place in California, if only for a day. 
Are you still wondering if one day is enough when visiting Disneyland? Our guide explores how many days you need for Disneyland California and will be the perfect read when planning your visit!
Or maybe you're hoping to find some other family activities near Disneyland? Our handy guide to family things to do in Anaheim, California will come in handy when planning your trip to the area.
More about our TFVG Author
A seasoned traveller, Dad, and avid sports tourist, James foundered The Family Vacation Guide to share his expert vacation experiences- especially when it comes to being a travelling family man.
Featured in Travel articles such as Travel + Leisure, TripSavvy and SFGate, you know you're reading some of the best vacation tips online.