Disneyland in California is one of the best places where a family can spend time together. But if there's a baby in your family, that might make things a bit more complicated. You have to think about everything from how you'll feed and change the baby to what rides you can bring them on with you.
Luckily, we've got you covered. Below, find a complete list of rides that a baby can ride without safety restraints.
Want to pick out your must-see rides before visiting? Our park breakdown of how many rides are in Disneyland and California Adventure will help you out!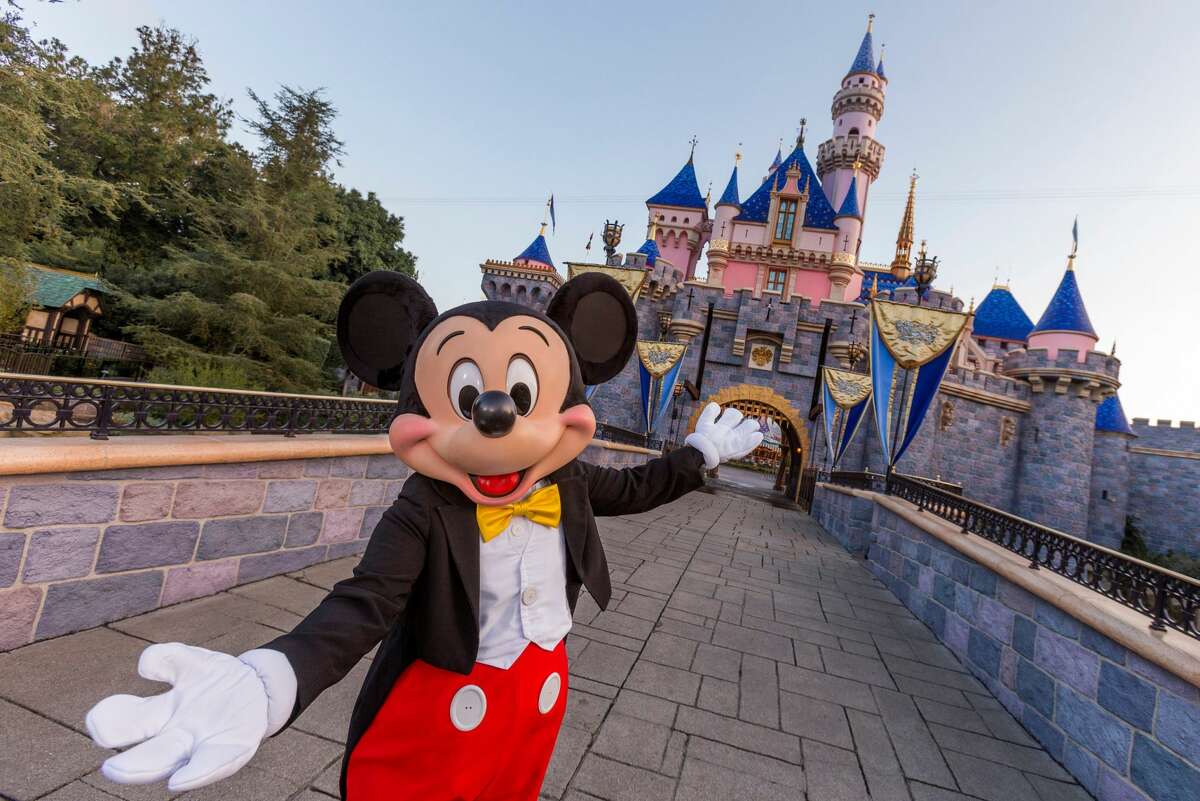 How Do You Know If a Baby Can Go on a Ride?
You won't find any signage or other indication that a ride is safe for babies. However, if there is no height requirement for an attraction, then babies are welcome and will be kept secure throughout the ride.
If you're nervous about what the attraction entails, you can ask any cast member working on the ride. They can address any concerns you might have, including whether the ride has any minor drops, loud sounds, and more.
What Do You Do with Strollers While Riding Attractions?
Not to worry, Disney has you covered! There will be a stroller parking section for every attraction, so you can quickly grab your stroller. Ask a cast member for it. They usually put them conveniently near the ride's exit, so you can get off and grab your stroller quickly.
Disney security polices these areas, and many people leave personal belongings, like diaper bags. However, Disney does not recommend leaving valuables.
Rides for Babies at Disneyland with No Height Requirement
We've organized the rides in Disneyland by land, so feel free to bookmark this page for reference during your trip.
Adventureland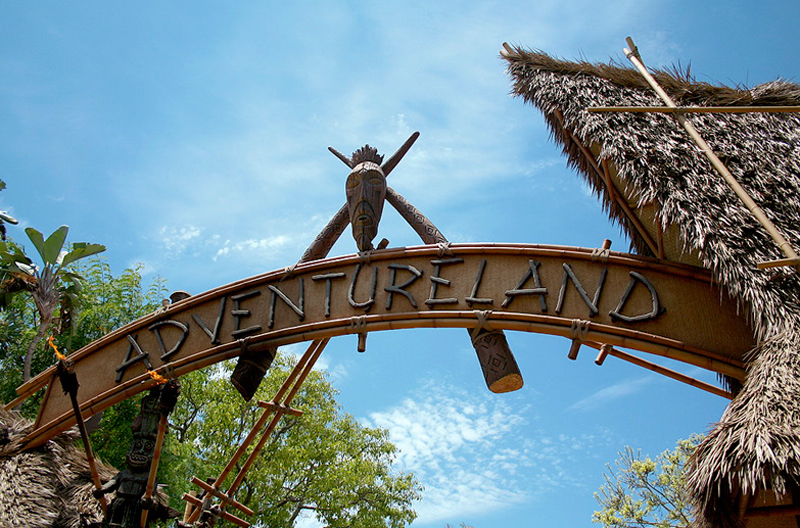 Adventureland has three attractions that are appropriate for babies and small children. The first is the Jungle Cruise.
This calm boat ride takes you down some of the most adventurous rivers in the world. The only part that might get tricky with a baby is boarding since you have to step down into the boat. If you're traveling with two adults, hand the baby down and let the second adult get in the boat.
While in Adventureland, don't miss Walt Disney's Enchanted Tiki Room. Walt himself created this classic attraction. You sit in a theater while audio-animatronic tiki birds come to life and put on quite a show. It's delightful for kids of all ages, including babies.
Your baby's last stop in Adventureland is Tarzan's Treehouse. This is a walk-through attraction, though it involves some climbing.
Critter Country
There's just one ride in Critter Country for littles, but it's a must-do: The Many Adventures of Winnie the Pooh. Your baby can visit some of their favorite friends from the Hundred Acre Wood.
Fantasyland
As you might expect, Fantasyland has several rides that even Disneyland's youngest visitors can enjoy. The first is Alice in Wonderland. Don't confuse this one with the Teacups; this ride is a slow-moving track ride that takes you through Alice's story aboard a caterpillar.
Babies can ride the Casey Jr. Circus Train, which is featured in the Disney animated classic, Dumbo. You'll see many of the same sights as the Storybook Land Canal Boats (also baby-friendly), including the Dwarf's cottage from Snow White and the Seven Dwarfs, Arendelle and Elsa's ice castle from Frozen, and much more.
One of the most classic rides in Disneyland is "it's a small world," and naturally, babies are welcome on this attraction. It's a musical boat ride with lots of color and repetition, making it perfect for little ones.
King Arthur Carousel is similar to the merry-go-rounds you see elsewhere. Just be aware that there aren't benches, so you may end up holding your baby the whole time. Mr. Toad's Wild Ride, Peter Pan's Flight, Pinocchio's Daring Journey, and Snow White's Enchanted Wish are all slow-moving seated rides, which makes them great for babies.
Disney allows babies on Dumbo the Flying Elephant, but since this attraction has some heights, you can decide whether it's appropriate for your baby's temperament. The Mad Tea Party also does not have a height requirement, but that much fast spinning might be too much for a baby.
Frontierland
There isn't a lot for babies in Frontierland, but you can take them on Mark Twain's Riverboat and the Sailing Ship Columbia.
You can bring babies into the Frontierland Shootin' Exposition, but they obviously won't be able to play, and the loud noises might scare them. Pirate's Land on Tom Sawyer Island welcomes all ages. It's an interactive play area, so it's perfect if you have a walker.
Main Street, U.S.A.
You'll walk down Main Street, U.S.A. upon entering the park, and that is an enjoyable experience in itself. There are a few other attractions for babies in this area, too. The most enjoyable for them will be the Main Street Vehicles. You can ride one of four old-fashioned vehicles, including a jitney, an early fire engine, an omnibus, or a horse-drawn streetcar.
You can carry them through the Disney Gallery, and they can sit through The Disneyland Story Featuring Great Moments with Mr. Lincoln and the Main Street Cinema, although they might get a bit restless.
Mickey's Toontown
As you might expect, Mickey's Toontown has a lot to offer little ones. Many of the attractions are walk (or crawl!) through. There's plenty to touch and see, and babies tend to enjoy it. Visit Chip 'n' Dale Treehouse, Donald's Boat, Goofy's Playhouse, Mickey's House, and Minnie's House.
The only actual ride is Roger Rabbit's Cartoon Spin, which babies can also ride. However, it has some jerking motions and spinning, so it isn't the best for them.
New Orleans Square
New Orleans Square is one of the lands unique to Disneyland in California. Its two most popular attractions also welcome babies: Haunted Mansion and Pirates of the Caribbean. Be aware that Pirates of the Caribbean has a few small drops, so hold on tight if your little one is on your lap.
Star Wars: Galaxy's Edge
The newest section of Disneyland is Star Wars: Galaxy's Edge. It's the first time the park has added a new land in a long time, but there isn't much for babies. In fact, there are no traditional rides that babies can enjoy. That being said, they still might have fun seeing the sights and taking part in their older family members' excitement.
Tomorrowland
The last stops on our list are in Tomorrowland. One of the most classic attractions in Disneyland is the Disneyland Monorail, and of course, the entire family can ride.
Little kids love Buzz Lightyear's Astro Blasters, and while babies are too young to play, they can ride with you so your older kids can enjoy. Littles can see more of their favorite Pixar characters on the Finding Nemo Submarine Voyage.
Finally, there's no height requirement for the Astro Orbiter, but it goes up pretty high, so it might be a bit scary for your baby and you.
Rides for Babies at Disney's California Adventure with No Height Requirement
Now let's hop over to California Adventure and see what your baby can ride there.
Avengers Camp
There isn't much for babies in Avengers Camp, just Web Slingers: A Spiderman Adventure, but it's in the dark and has spinning and loud noises, so it might be scary for babies.
Grizzly Peak
You can bring babies through Redwood Creek Challenge Trail, where they can crawl and play. It's a great place for them to get some energy out.
Hollywoodland
There's one ride, one show, and one play area for babies in Hollywoodland. The ride is Monsters, Inc. Mike and Sully to the Rescue!, which is slow-moving and calm. The show is Turtle Talk with Crush from Finding Nemo, which is interactive. Finally, enjoy the Sorcerer's Workshop, where babies can crawl and play.
Paradise Gardens Park
There are three rides with no height requirement in Paradise Gardens Park. The Little Mermaid: Ariel's Undersea Adventure is a slow tracked ride.
The other two are safe for babies but may not be enjoyable. Inside Out Emotional Whirlwind and Golden Zephyr both have spinning.
Pixar Pier
Even babies love Pixar movies, and there are three rides they're allowed on in Pixar Pier. They won't be able to play Toy Story Midway Mania, but they'll enjoy all the colors and action. Jessie's Critter Carousel is a traditional merry-go-round, and they can do the non-spinning option on the Ferris wheel, Pixar Pal-A-Round.
Tips for Bringing Babies to Disneyland
There are a few things you can do to make your day in Disneyland with your baby more manageable and more enjoyable. First, a baby care center is located at the end of Main Street, U.S.A., and there's one in California Adventure as well. Inside, you can utilize changing rooms, bottle warmers, nursing rooms, and everything you need to comfortably take care of your baby.
Second, take advantage of the Rider Switch program. If you and your partner like to ride thrill rides that you can't take your baby on, you can wait in line as a family and then ride one at a time while the other adult waits with the baby. That way, you only have to wait in line once and can stay together.
We recommend arriving at the park as soon as it opens in the morning since babies tend to be active and happy early in the day. Take a comfortable stroller where they can nap. Using your own stroller can be a source of comfort for your baby in a chaotic, unfamiliar place.
Bring everything you need, including extra clothes, diapers, food or formula, and everything else. If it's a warm day, be attentive to their hydration and temperature. Take frequent breaks in the air conditioning. Use a blanket to drape over their stroller for extra shade. Lather them up in sunscreen several times throughout the day.
Should You Bring a Baby to Disneyland?
You might be wondering whether it's a good idea to bring a baby to Disneyland. As long as you plan accordingly and come prepared, you and your baby can enjoy a beautiful day in the happiest place on earth.
Best of all, babies get in for free; no need to pay any admission whatsoever. All children under three are free in Disney parks. So bring your baby along with the rest of your family on your day in Disneyland or California Adventure. Be sure to take many pictures so you can reminisce about it when they're old enough to remember!
Looking for somewhere to stay with your little one? Why not check out our guide to everything you need to know about Disneyland Grand Californian Hotel for the base camp of your stay?
More about our TFVG Author
A seasoned traveller, Dad, and avid sports tourist, James foundered The Family Vacation Guide to share his expert vacation experiences- especially when it comes to being a travelling family man.
Featured in Travel articles such as Travel + Leisure, TripSavvy and SFGate, you know you're reading some of the best vacation tips online.