When planning a Disneyland visit, theme park tickets usually account for the biggest chunk of our budget. It's crucial to understand and weigh all the options as you plan your vacation to one of the happiest places on Earth. Planning ahead of time allows you to save on tickets without compromising your visit to Disneyland.
A lot has changed since the start of the recent pandemic. That's why it's necessary to learn new updates and strategies when visiting Disneyland theme parks.
Here are some of the few things you need to know about Disneyland California tickets to help you make the right purchase for your next vacation.
Why not also check out our guides to:
About Disneyland California
Ask every kid (and even adult!) their top places to go, and without fail, Disneyland will top their list.
Built in Anaheim, California, Disneyland is one of the most successful amusement parks in the world. It features various rides, characters, and shows that are based on the creations of the Disney Company. Disneyland California is the only Disney theme park that was built under the guidance and supervision of Walt Disney.
Are you planning a Disneyland trip and want to know what else the area has to offer? We created a handy list of the best family things to do in Anaheim, California that will come in helpful ahead of your vacation.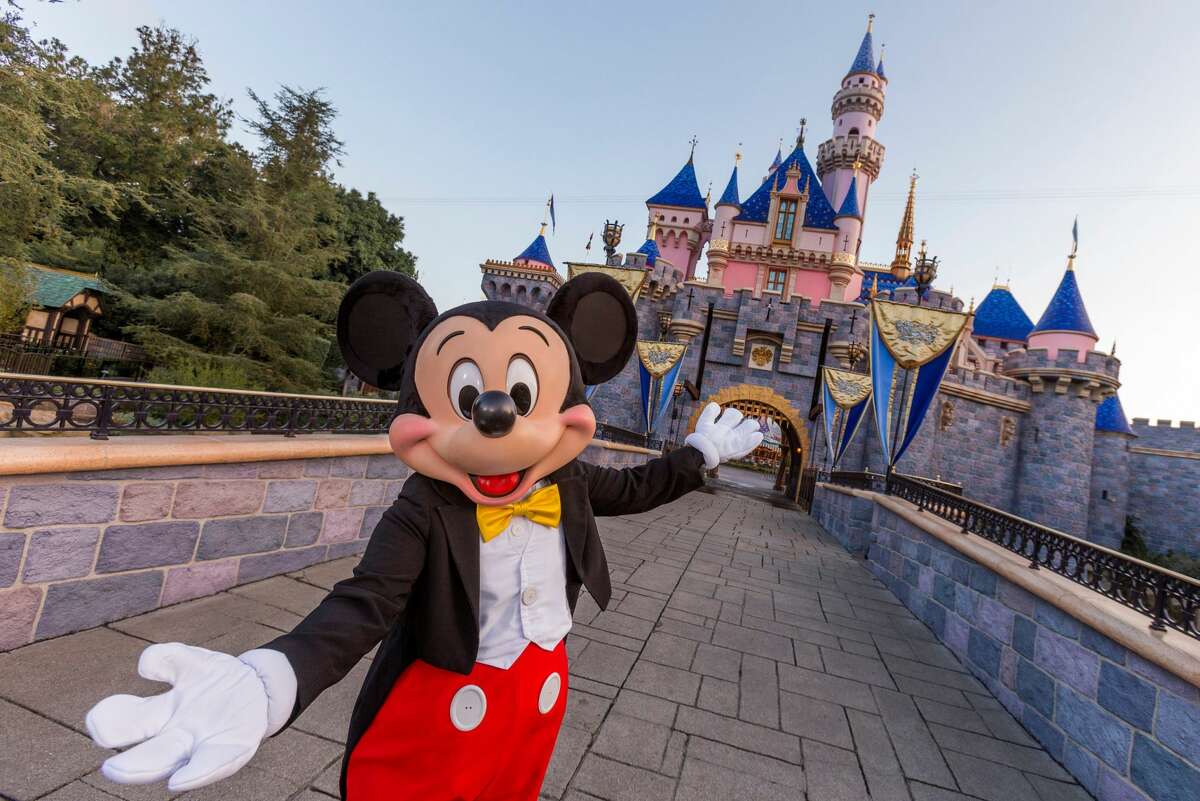 How Much Do Disneyland California Tickets Cost?
The cost of a Disneyland theme park ticket varies depending on its type and your age. However, one thing is for sure: prices seem to always go up and never go down.
Ticket Types
There are two types of Disneyland tickets: single-park per day tickets and park hopper tickets. Each type is available for single-day or multi-day use.
Single-Park Per Day Tickets – This type allows you to visit either Disneyland Park or Disney California Adventure Park. The single-park per day ticket is an excellent choice if you want to save money while getting the most out of each park.
Park Hopper Tickets – This type allows you to visit multiple parks per day. First, you need to make a reservation for the first theme park you want to see. Once you enter the first theme park, you can visit the next one starting at 1 PM the same day. Then, you can go in and out of the park until their scheduled closure for that day.
The single-park per day tickets depend on the season and day of the week of the visit. They range from $98 to $155 for kids aged 3-9 and $104 to $179 for adults. The prices are at their lowest during the weekdays in January, February, May, and September, while the more expensive tickets start in mid-April and include the holiday seasons.
You can save up to $72 per day on multi-day tickets if you get the 5-day visit. They are generally cheaper the longer you stay and can be used for 13 days.
Additionally, you also need to get a park reservation on top of the theme park ticket. You can reserve up to 120 days before your visit. It's also important to check the availability of the tickets before your purchase.
Adult and Child Tickets
Ticket prices also vary by age as follows:
Adult: 10+ years old
Kids: 3-9 years old
Free Admission: Ages 2 and under
Although prices depend on whether you're a kid or an adult, Disneyland sometimes offers a promotion where you can get an adult ticket at the price of a child's ticket. That's why it's always great to check if there are ongoing promotions before your purchase.
Additionally, these theme park ticket promotions aren't available at the park entrance. So, it's recommended to buy tickets online.
Disneyland Single-Day Ticket Prices
Daily single-park tickets are the most basic option at Disneyland. You can pick either Disneyland Park or Disney California Adventure, and these tickets only allow admission into either of the two.
The price of a single-park per day ticket varies depending on the access date, with the year categorized into six dates, ranging from tier 1 to tier 6. If you purchase one ticket, you can visit on any date in the tier you choose or in the lower tiers.
Previously, the price of a single-day ticket was the same regardless of when you visited. Since the pandemic, Disneyland has increased ticket prices, with an average increase of 6 percent that started on October 25, 2021.
However, when they introduced the new six-tier system, prices are now based on when you visit. Ticket prices are higher during weekends, holidays, and other higher demand periods. Note that tier 6 is the most expensive, while tier 1 costs the least.
The Disneyland California single-park ticket price list is as follows:
Tier 1: $98 for child and $104 for adult
Tier 2: $113 for child and $119 for adult
Tier 3: $127 for child and $134 for adult
Tier 4: $141 for child and $149 for adult
Tier 5: $150 for child and $159 for adult
Tier 6: $164 for adults (price to be determined for kids)
Disneyland Multi-Day Ticket Prices
If you wish to spend several days at Disneyland, then purchasing one of the multi-day ticket options can save you some money. Also, the price per day on these multi-day tickets is lower the longer you stay. Basically, the multi-day ticket allows you to visit one park per day.
If you have three-day single-park per day tickets, you can spend two days at Disneyland Park and the remaining day at Disney California Adventure. It won't allow you to visit two parks in a single day. The updated list of prices for multi-day single-park tickets is as follows:
Two days: $235 for child and $255 for adult
Three days: $310 for child and $330 for adult
Four days: $340 for child and $360 for adult
Five days: $360 for child and $380 for adult
The validity of multi-day tickets extends up to 13 days after their first day of use, making them an excellent choice to save money for a stay spanning several days at Disneyland. However, these tickets aren't ideal for those who want to space their multiple visits for a more extended period.
If you want to learn more about how many days you need at Disneyland California, our guide will be a perfect read!
Park Hopper: Disneyland Ticket Options
On top of the single-park per day ticket offered by Disneyland, you also have the option to purchase the Park Hopper ticket for an add-on charge.
Buying a Park Hopper ticket means you can go between the two theme parks with no limit on a single day. It's also a great option because the two parks are only steps apart from each other.
The price for the Park Hopper ticket costs a fixed rate of $60 for adults and $55 for children. This option is more expensive on a daily basis for shorter tips, making someone spend $60 per day for a one-day vacation.
Whether or not you need the Park Hopper ticket depends on your trip. If you're flexible about hopping between two parks, especially when you find that one park is crowded, then Park Hopper is an ideal option.
Ticket Discounts and Best Times to Buy
Theme park tickets are usually the most expensive part of a Disneyland trip. That's why it's pretty normal for guests to look for ways to save money as much as possible. However, super big-ticket discounts aren't realistic. So, be vigilant if you see them because they're most likely fraudulent.
Let's look at some of the ways on how you can save money purchasing Disneyland theme park tickets.
Single and Multi-Day Disneyland Ticket Discounts
You don't need to exert much effort because it's possible to save money on your Disneyland theme park tickets. One of the easiest ways to save is buying multi-day tickets from any legitimate Disneyland ticket brokers or partners, such as aRes Travel, Get Away Today, and Undercover Tourist.
Usually, these Disneyland partners list theme park tickets cheaper than the official Disney prices by a few dollars per head. Some partners even run some promotional offerings such as free 5th day, reducing the cost even more.
That's why don't purchase tickets right away and make sure to shop around first. Theme park tickets regularly fluctuate, and these partners have different prices that are often more affordable.
Disneyland never gives discounts on their single-day tickets, except for specialty tickets. That's why if you're only visiting Disneyland for a day, you better not waste your time looking for deals. If you want to save money on a one-day ticket, it's recommended to buy discounted gift cards and directly purchase a ticket with the gift card.
There are also several places to look for discounts, such as AAA, Costco, and grocery stores. However, they rarely beat the values given by ticket partners or by using discounted gift cards.
Seasonal Specials
Make sure to check some seasonal specials out before purchasing because they are really worth considering. For instance, Disneyland offered ticket deals for spring before they shut down in mid-March 2020. The tickets were discounted and could be for several months, instead of the regular 13 days after the first day of use.
Sometimes, they also offer special deals if the parks have low attendance. For instance, they offered a bring-a-friend deal in the summer of 2019 that allowed annual pass holders to bring several companions for a $99 single-day park hopper ticket.
Specialty Discounts
Disneyland also offers other special discounts if you belong to eligible groups. Some of the best deals historically are those given to the members of the military and their family members.
These tickets can only be bought from the military bases, even though before they're available at ticket booths if you can provide proper identification. However, this is no longer available starting 2021 onwards.
Here is the updated list of park hopper ticket prices at Disneyland for military members starting 2021:
Three-day ticket: $225
Four-day ticket: $260
In 2020, Disneyland also offered special discounts exclusive to visitors from Australia and Canada. They were eligible to buy 10-day park hopper tickets, and the ticket length offered wasn't available to other guests. When international guests can revisit Disneyland soon, this type of offer may also come back.
Disneyland Annual Passes – Magic Key
Last but not least, you can also save money from getting a Disneyland annual pass. In 2021, Disneyland revamped its annual pass program and renamed it Magic Key.
If you plan to visit Disneyland Resort, joining the Magic Key program is recommended because it's a better value than purchasing multi-day tickets.
Additionally, make sure to check your Magic Key because each has blocked out dates that might conflict with your vacation trip. It's one of the disadvantages of Magic Keys, which aren't available with multi-day tickets.
That's why if you want more flexibility, it's better to select multi-day tickets than Magic Keys.
Lastly, it's critical to check the reservations calendar because Magic Keys have different availability. Most of the time, they are sold more quickly than regular theme park tickets. That's why it's necessary to plan ahead. You don't want to buy Magic Keys with your desired dates already sold out.
Want to know more? We've created a blog that explains everything you need to know about the Disneyland Annual Pass, including how much it costs and whether it's worth the money!
Best Attractions at Disneyland
Disneyland has over 50 attractions to choose from. With your theme park tickets, you can enjoy all of these, including more than 30 rides. Here are some of the best rides at Disneyland you can try with your ticket:
Star Wars: Rise of the Resistance
Haunted Mansion
Splash Mountain
Space Mountain
It's a Small World
Pirates of the Caribbean
Big Thunder Mountain Railroad
Mr. Toad's Wild Ride
Indiana Jones Adventure: Temple of the Forbidden Eye
Matterhorn Bobsleds
Star Wars is the newest attraction at Disneyland, and it's also ranked number one. It's one of the attractions where the preshow is as exciting as the ride itself.
It's not only because of the perspective but also because of its overwhelming size, scope, and fantastic opportunities for immersion. It totally makes your theme park ticket worth it.
To learn more about the rides at the parks, we've created an awesome park breakdown of how many rides are in Disneyland and California Adventure.
Now you're clued up on tickets, why not read through our brilliant guide that can help you plan your ultimate family trip to Disneyland California?
If you're looking to visit Disneyland and need somewhere to stay, take a look at our guide to Disneyland Grand Californian Hotel for more information ahead of your visit.
More about our TFVG Author
A seasoned traveller, Dad, and avid sports tourist, James foundered The Family Vacation Guide to share his expert vacation experiences- especially when it comes to being a travelling family man.
Featured in Travel articles such as Travel + Leisure, TripSavvy and SFGate, you know you're reading some of the best vacation tips online.