Planning out any vacation is stressful, and it becomes exponentially more so when you have kids in the mix. If you want to have a good time at all as a parent, having kid-friendly activities and amenities around is an absolute necessity.
When you are deciding between two beaches as ostensibly similar as Huntington Beach and Newport Beach in California, the differences in family-friendliness become even more significant.
But worry not – we have you covered with this complete guide to enjoying the Huntington and Newport beaches with kids in tow. While neither beach is several notches superior in this regard, they both have strengths and weaknesses.
In general, Huntington Beach does better with typical beach activities that kids know and love, while Newport Beach has a wider variety of unique excursions that you can enjoy alongside your children.
Several different features factor into a place's family-friendliness. For this analysis, we will compare Huntington Beach vs. Newport Beach with regards to their activities, restaurants, culture, cost, and crowds.
You can check out our other brilliant guides on the where are the best family beaches in southern California, the best beaches in California for families, 15 of the best beaches near California for Families, and the best things to do in newport beach with kids.
Kid-friendly Activities
One of the biggest keys to a successful family vacation is kid-friendly activities. There aren't many children who will enjoy a vacation centered on wine tasting or exploring the local arts scene. And if your kids aren't enjoying the holiday, they'll often make sure you don't either.
Activities at Huntington Beach
Huntington Beach is one of the surfing capitals of the world, and that fact permeates every aspect of the city – from the Surfer Walk of Fame to the International Surf Museum, the sport is everywhere and provides a theme for much of the activities present there.
If you have any children who are interested in surfing, we'll give you a quick spoiler: Huntington Beach is probably the best place to go!
If a museum doesn't seem like your child's space to thrive, but they're nonetheless intrigued by surfing, don't worry – this beach also has several opportunities for surf lessons, many of which are fully child-friendly.
Huntington Beach isn't limited to surf attractions though – indeed, Huntington Central Park is home to several delightful diversions that your kids are sure to enjoy deeply. They have horseback riding, disc golf, and the low-cost Adventure Playground which includes an array of mudslides, forts to build, and more.
The beach itself is also a lovely time and home to several classic beach activities. There, you can find volleyball nets, fire pits, and beach-ready bike rentals.
Also, if you want to enjoy a day relaxing at a spa without needing to keep a watch on your children, but still want them to have a special day at the same time, Huntington Beach has a solution for you. Camp Hyatt, located at the Hyatt Regency Huntington Beach Resort & Spa, is a supervised activities program for children that includes crafts, surfing, fish feeding, and more.
The camp requires parents to stay on the property while their kids are there, but they have a spa at the location where you can enjoy a kid-free day of unwinding.
Activities at Newport Beach
Newport Beach is overflowing with lovely activities your whole family will enjoy. Some of the best attractions it has to offer are present on Balboa Island, a fun-filled spot with whale watching, educational opportunities, and an amusement park.
There are oodles of whale watching opportunities available throughout Newport Beach, but some of the best are located on Balboa Island. Newport Whales even offers a partnership deal with OceanQuest, an aquatic museum with fun interactive learning opportunities and one of the most exciting places for educational entertainment in the area. If whale watching is on your list of vacation priorities, Newport Beach is probably the place for you.
Balboa Island is also known for the Balboa Fun Zone, an amusement park so crammed with excitement you'll have trouble deciding what to do. They have a Ferris Wheel, an arcade, and much more.
Also on the island, you can find an array of other diversions that your kids are sure to enjoy. Have a child who wants to be a princess? Or a mermaid? Check out Once Upon An Island, a unique makeover experience where princesses and mermaids will take your child through a magical transformation and give them a lifetime memory. If your children are over five years old, you can also take them parasailing there!
Newport Beach also has Fashion Island, which is not actually on an island but is regardless an incredible way to spend an afternoon for a family interested in fashion. It is a mall-style set-up with an immense variety of stores, including Gucci, Prada, Tom Ford, Macy's, Nordstrom, and much more. They also have several dining options and a movie theatre if that interests you!
You can also find Marina Park at Newport Beach, which is one of the best kid-friendly activities available to families. Not only is the marina itself a beautiful area, filled with fascinating boats and gorgeous ocean views, but it also has a playground present that your children are sure to enjoy. Older children will enjoy the paddleboarding and kayaking opportunities that the area has. It is also all right on the water, so the whole family can hop in and enjoy the lovely feeling of being in the ocean whenever you like.
Comparison: Who's Better?
When it comes to activities, the better beach here really depends on what's important to you on a family vacation. If you're looking for a place that will highlight the actual beachside experience in its activities, Huntington Beach is likely better. Huntington is also better on a budget, or if you have people in your family who are especially interested in surfing.
That said, the variety of activities available at Newport Beach vastly outpaces what you can find at Huntington Beach. Outside of the surfing-related diversions, much of what Huntington Beach has to offer is not distinctive to Huntington Beach – or even to beaches writ large. Horseback riding is always a fun diversion, but you can do that as easily in Topeka as you can in Huntington.
Newport Beach, on the other hand, has activities that are much more unique both to beaches and to the place itself. Balboa Island is a thrilling experience for people of all ages, and the amount of lifelong memory-making opportunities in boating, whale watching, and more available at Newport are incomparable.
Kid-friendly Restaurants
If your kids are upset with the food available to them, you probably aren't going to have a great vacation there. That's why we've reviewed the kid-friendly menus and restaurant options that you can find at both locations.
Restaurants in Huntington Beach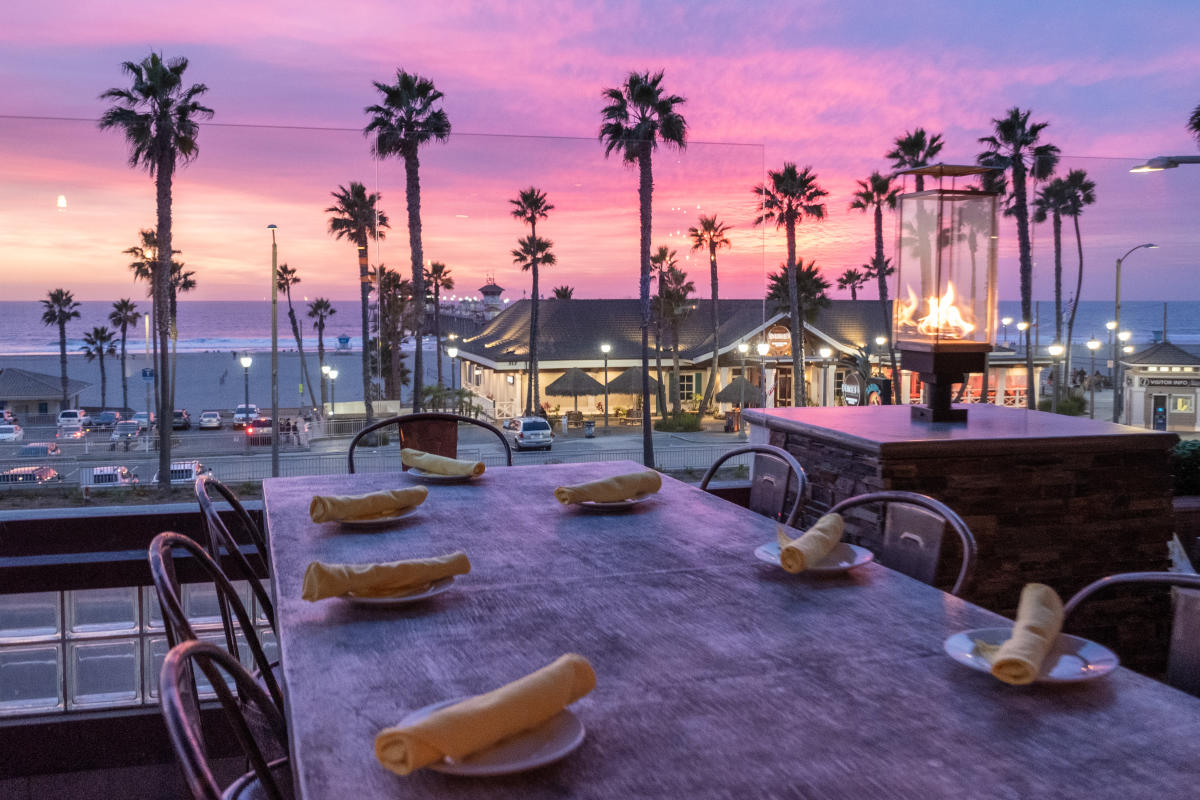 Huntington Beach has a bevy of kid-friendly options, many of which are available directly beachside.
Most of those beachside options are located in a single cluster towards the center of the beach, including traditional American dining venues like Duke's Huntington Beach and Simmzy's Huntington Beach. Sandy's Beach Shack and the Watertable are also in that area and are both a bit more upscale than the first two.
If you don't want to pay beachside prices, you can also find excellent kid-friendly options like Mamas on 39 and the Bread Crumb Ohana Cafe elsewhere in the town.
Restaurants in Newport Beach
Newport Beach also has a wide variety of beachside family-friendly dining options, but they have several different kinds of food offered rather than the single note of traditional American menus you'll find in the kid-friendly places in Huntington.
If you're looking for seafood, check out the Lighthouse Cafe or the Rockin' Baja Lobster Coastal Cantina. For Italian options, you can try the delicious pizza offerings at Cucina Enoteca Newport Beach or the classic family-friendly Italian stylings of Mama D's Italian Kitchen.
Comparison: Who's Better?
While both are excellent, Newport Beach is a clear winner here due to its variety of options. Because Huntington tends to appeal more to young adults than it does to families, bars and clubs tend to take dining real estate that kid-friendly restaurants would otherwise.
That said, you shouldn't have a hard time finding places to eat in either location – both are full of wonderful options!
Beach Culture
You might not typically think of "culture" as an important consideration when reflecting on the best family-friendly vacation, but when comparing Huntington Beach vs. Newport Beach, both beaches have sufficiently different cultures that it's worth examining here.
Culture at Huntington Beach
As we've discussed, Huntington Beach is known as Surf City, USA – and that fact is foundational to every other part of its culture. It has much more nightlife offered than Newport Beach does, and it caters overall to a young adult crowd.
This makes it a bit rowdier generally, especially on weekend evenings or during major surf events. While our research didn't find any major complaints from families related to the nightlife atmosphere, it is probably worth keeping in mind nonetheless.
Culture at Newport Beach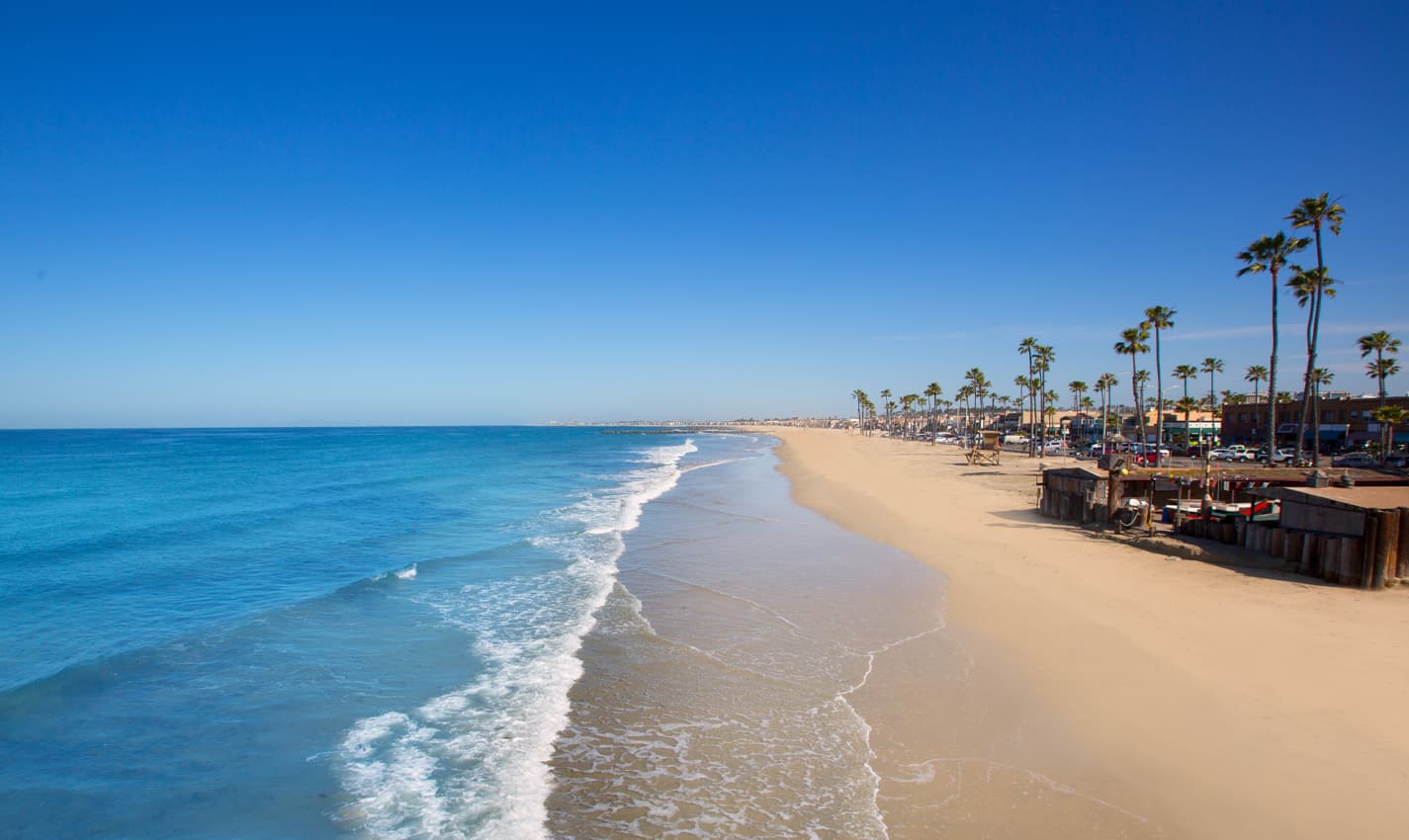 Newport Beach is more upscale and refined than Huntington in general – it appeals to older adults and families, so you're much more likely to find an atmosphere of quiet, calm relaxation. Past 10 p.m, you likely won't find much hustle and bustle at all there.
Cost Comparison
Having kids is one of the most incredible, life-changing adventures a person can ever have. That said, it's also incredibly expensive – from school expenses to extra mouths you need to feed, children tend to cost a great deal.
That means that any consideration of a place's family-friendliness also needs to account for cost. On this point, Huntington Beach is the winner. It has so many activities for your kids to participate in that are entirely free, like volleyball on the beach, or very low-cost, like the $4 Adventure Playground in the park.
Crowds Comparison
Safety is one of the most important parts of a family vacation. There are so many ways to lose your children or for them to get hurt when you're on vacation, and the more risks are present, the more stress you're likely to feel as a parent. And bigger crowds almost always lead to more risks.
Most importantly, more people in a given place means more opportunities for your children to get lost in the crowd. But further, more people entail more potentially malicious actors who desire to harm your kids.
And that's to say nothing of the inherent stress of being in a crowd! A beach with a high density of people leads to fewer places to sit, a more challenging time finding parking, and a general feeling of congestion. That said, some people enjoy the feeling of a bustling space more than a sparse one – so this is entirely a matter of taste!
So given all that, which beach tends to be more crowded? It's fairly clear that Huntington Beach is the more crowded of the pair – partially due to its appeal to the surfer crowd, partially due to its cheaper amenities, this beach typically has more people than its counterpart. Newport Beach, on the other hand, tends to be much quieter.
Final Comparison: Huntington Beach vs. Newport Beach
At the end of the day, both beaches have excellent options for you and your family to explore. And the two cities are next-door neighbors (Huntington Beach is directly north of Newport Beach), so you really shouldn't need to "choose" between one or the other. If you stay in Huntington, you'll still be within a very easy drive of Balboa Island, and if you stay in Newport, it won't be challenging at all to head up to Huntington for some surfing lessons!
That said, if you're choosing how to focus your time between Huntington Beach vs. Newport Beach, it fully depends on what kind of vacation you're looking for. If money isn't an object for you, then Newport Beach is superior unless you want the surfing options from Huntington Beach. The tremendous variety they have to offer both in activities and dining sets them apart.
But Huntington Beach nonetheless has a great deal going for it and certainly appeals more to a certain kind of family. If you are trying to vacation on as much of a budget as you can, and you don't mind a more rag-tag, make-your-own-fun sort of vacation, it will be a much better place for you to go.
More about our TFVG Author