Knott's Berry Farm is one of the oldest and largest theme parks in the U.S. It began as a berry stand and a chicken restaurant in the 1920s and grew into one of the most beloved amusement parks in Southern California.
With thrill rides, Camp Snoopy, an old west ghost town, a boardwalk, and Fiesta Village, which pays tribute to California's Mexican roots, Knott's Berry Farm is worth putting on your Southern California travel itinerary.
Keep reading for everything you need to know about Knott's Berry Farm parking before you head out!
Where Is Knott's Berry Farm?
Knott's Berry Farm is in Buena Park, California. It's about ten minutes north of Disneyland and within driving distance of many other Southern California attractions like Universal Studios, Hollywood, and beaches galore.
While there are other transportation options to get from the airport or your hotel to Knott's Berry Farm, the best way to get around California, especially if you want to explore all the activity options, is by car.
Parking at Knott's Berry Farm
With a resort that includes a theme park, a water park, an admission-free shopping and dining area, and a hotel, there are several parking lot options. Here's everything you need to know for your Knott's Berry Farm parking needs.
Main Parking
The main parking lot, or the East lot, is accessible from Beach Boulevard and Grand Avenue.
It opens an hour before the park and also connects you to Knott's Soak City. Getting there early is advisable if a choice of parking spot is important to you as the best ones fill quickly.
There is a daily parking fee for cars and motorcycles, with a slightly higher price for larger vehicles such as buses or RVs. If you have to leave the park with your vehicle, same-day re-entry is not allowed.
You can pay for parking at the park or save yourself the trouble and pre-pay online when you purchase your tickets.
Knott's Berry Farm also offers All Season parking passes, which is ideal for Season Pass holders or anyone using the Knott's Berry Farm parking lot more than twice a year.
California Marketplace Parking
The California Marketplace offers many unique dining and shopping experiences. They offer free one-hour parking, plus two extra hours if you spend a minimum amount at any of the shops or restaurants.
After the free parking, there is a half-hour fee, with a daily maximum.
While parking at California Marketplace is excellent for shopping or short-time stays, it will run you more for the entire day than the main Knott's Berry Farm lot.
Accessible Parking
Park visitors with a disabled placard can park all day either in the main lot or the California Marketplace lot for the regular vehicle single-day rate.
Knott's Berry Farm Hotel Parking
If you are staying on the resort at the Knott's Berry Farm Hotel, parking is included in hotel stay packages. Enter from Crescent Avenue and inform them at the booth that you are a hotel guest to get a parking pass. It is around a three-minute walk from the hotel to the park.
Other Parking Options
If you're looking for your best parking options in real-time, check out apps and websites like Parkopedia. With these tools, you can find current prices, directions to the parking, and directions from the lot to the park.
Other Methods of Transportation to Knott's Berry Farm
If the thought of driving around Southern California makes you sweat, or you would rather not drive for any reason, there are a few options to get you to the park while avoiding parking altogether.
Rideshare
Should you want to avoid taking your own car, you can easily get a Lyft or Uber to Knott's Berry Farm. They will drop you off at the Main Entrance loading zone.
This is a great option if you're staying in the area, want to work around your schedule, and don't want to worry about parking a car and remembering where you put it later.
Metrolink Trains
Knott's Berry Farm is also accessible via Metrolink trains. From the Buena Park Metrolink station, you can catch a bus that will take you down Beach Boulevard and drop you right off at the gates of Knott's Berry Farm.
Shuttle
With Karmel Shuttle & Extreme Tours, you can book a shuttle that will take you from your hotel in the Anaheim area to Knott's Berry Farm. Reservations are required.
Alternatively, you can check out Anaheim Resort Transit to schedule an on-demand ride to take you through the Anaheim Resort area and its many attractions.
Stay at a Nearby Hotel
Knotts Berry Farm is within walking distance from both Knott's Berry Farm Hotel and the Courtyard by Marriott Anaheim. If you are flying to California for a family adventure at Knott's Berry Farm, John Wayne/Orange County Airport (SNA) is only 20 minutes away, while the busier LAX is a mere 30 minutes away.
Take a rideshare, taxi, or shuttle to your Knott's Berry Farm resort area hotel, and from there, you can walk to the park without having to worry about transportation at all!
Final Thoughts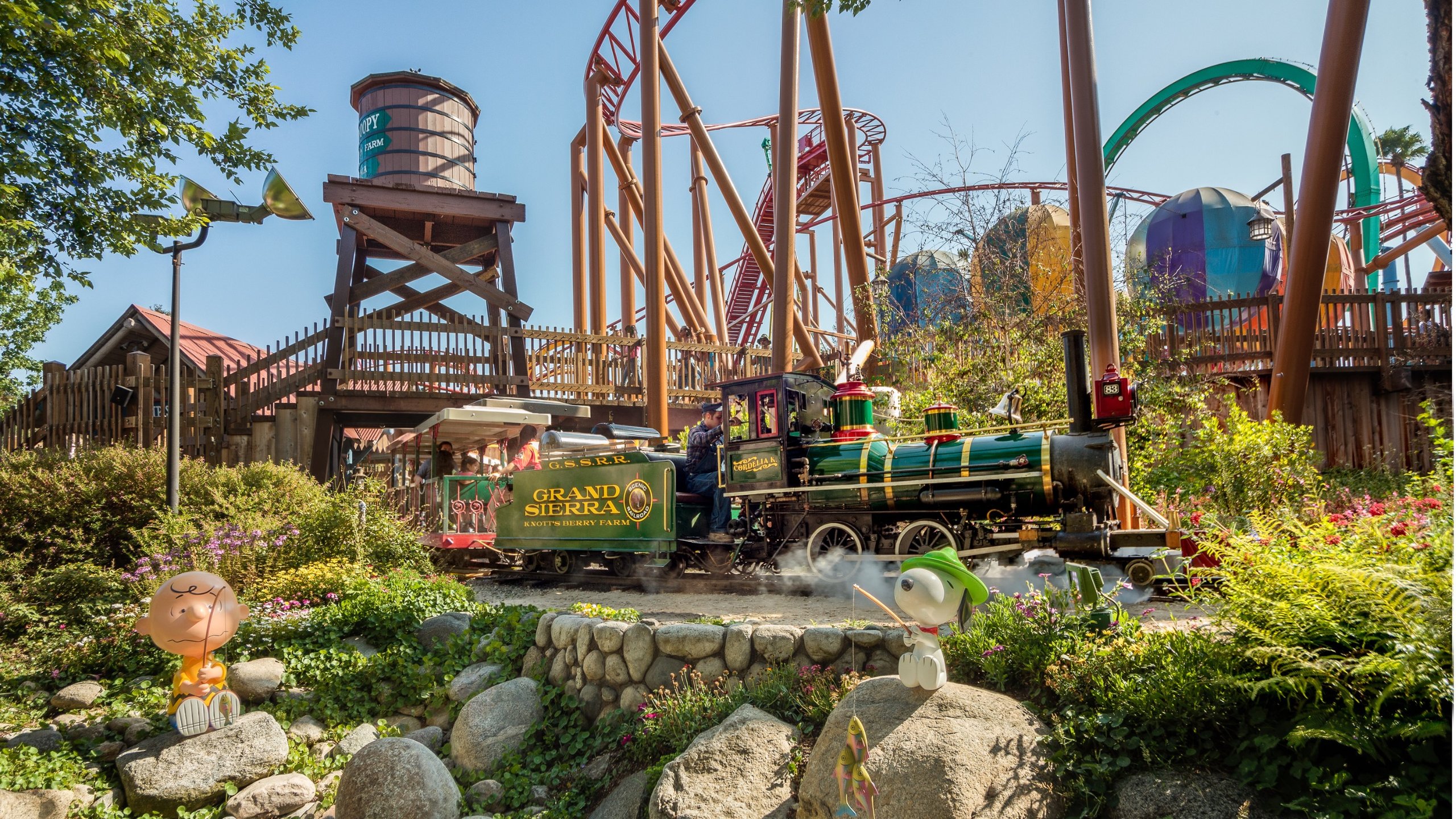 Knott's Berry Farm in Buena Park, California, is the place to go if you're looking for thrill rides, as it offers many more than the other popular area theme parks. It's also an excellent park for a taste of real California history. When it comes to vacationing, parking, which is a pretty small thing, can become one of the biggest and most nerve-wracking problems.
Don't let parking stress you out when there are bigger things to worry about, like what rides to go on and what to have for dinner. With just a little planning and research, your Knott's Berry Farm parking experience will be a breeze. So, whether your vacation to Orange County is just to Knott's Berry Farm, or Knott's Berry Farm is only one stop on your California experience, you are well on your way to enjoying yourself with as little worry as possible.
More about our TFVG Author