The southern shores tend to come up when people think about California beaches. But those beaches may have a very different vibe to them than what you're looking for.
Families love the chic, calm, and pristine aspects of Northern Californian beaches, and if you resonate with that, then Monterey might be the best location for you.
About Monterey 
Monterey has a lot to offer. You can go whale watching, explore the charming streets within town, and eat as much clam chowder as your heart desires.
And with several inlets along the rugged shoreline, complete with pine trees and the county's more unique Cyprus trees, there is a lot you can explore on a family vacation.
Best of all, you'll get to watch wonderful, playful, and—we'll be honest—often very lazy sea lions living their best lives.
About Monterey Beaches
In terms of the beach scene in Monterey, it attracts families with specific interests. If you enjoy chillier weather and don't feel the need to go in the water for a swim all the time, Monterey beaches could be right up your alley.
And if you'd prefer to spot wildlife; partake in water sports such as kayaking, stand-up paddleboarding, surfing, scuba diving, or simply taking walks along the beach, then Monterey is perfect for you!
But there are many beaches to go to, and unfortunately, you likely won't have time to visit them all. That's why we've outlined the most sought-after Monterey Beaches, from the southernmost to the northernmost beach in the entire Monterey County area.
We hope that this ultimate guide to Monterey beaches will help you choose the most fitting locations to visit on your next family vacation.
Garrapata State Park
Location: 34500 CA-1, Carmel-By-The-Sea, CA 93923
Garrapata State Park hosts one of the southernmost beaches in the Monterey County area, about 12 miles south of the main town. If driving down Big Sur drive is on your itinerary, then a trip to Garrapata State Park is a must.
The whole park is a sight to see, and you'll want to get your hiking shoes on to explore the trails and spot various wildlife. However, the sandy Garrapata Beach is enough to warrant a stop, with its towering clifftops and beautiful rock stacks.
If you're more into sea life than wildlife, you can even skip the trails and spend your time trying to spot whales and sea otters instead.
But if you do enjoy a challenging hike, you can take a 50-foot climb and be rewarded with incredible views of the Pacific Ocean.
China Cove
Location: Point Lobos State Natural Reserve, 62 CA-1, Carmel-By-The-Sea, CA 93923
China Cove is technically a part of the Point Lobos State Reserve, which we'll discuss next, but it's worth its own mention due to its stunning appearance and emerald green waters.
It also offers opportunities to hike to excellent viewpoints, look at sea lions and otters, and go birdwatching.
There is limited parking in the area, but if you happen to get a parking space, take advantage of the entire area. China Cove is a short walk away from several other beautiful sights.
Point Lobos State Natural Reserve
Location: 62 CA-1, Carmel-By-The-Sea, CA 93923
Point Lobos State Natural Reserve is a fantastic location for kids and adults alike.
This reserve is where you can truly appreciate the unique Cyprus trees that dot the coastline in a way that resembles a storybook fairytale. It makes the state reserve a fantastic location for photo opportunities.
Another natural feature that dots this coastline is, of course, beaches! There are several sandy strips and coves here, including Whaler's Cove, Coal Chute Point, and Sea Lion Point.
You might have to take long walks and even some short hikes to visit these pristine areas and get the best views, but it'll be worth it.
Finally, at Point Lobos State Natural Reserve, your kids will enjoy playing in the tide pools and watching the pelicans in their natural environment. If you have binoculars, don't leave them at home.
If you decide to visit this natural reserve, make sure to wear long pants and a long-sleeve shirt, as there is known to be poison oak in the area. And, of course, contacting poison oak is an easy way to ruin an otherwise great vacation.
Carmel River State Beach
Location: 26478 Carmelo St, Carmel-By-The-Sea, CA 93923
If you would enjoy a dynamic estuary, where you'll find not only beaches but oxbow lakes, sage bushes, dunes, and stunning sunsets, you should head over to Carmel River State Beach.
This is an especially appealing area to visit for bird-loving families, as there are many different bird species that you can catch flying around this nature preserve. You can find sandpipers, gulls, many beautiful butterflies, and brown pelicans native to the state.
This area also offers a relatively long beach area, with the sand strip running about a mile long.
Finally, if your family likes to scuba dive, this is a great spot to do so.
Pebble Beach 
Location: 1700 17 Mile Dr, Pebble Beach, CA 93953
Pebble Beach is another idyllic spot with gorgeous views and memorable sunsets.
But more importantly to some people, this area is perfect for vacationers who love to golf.
The Pebble Beach Golf course is an iconic element to the entire Pebble Beach area, with 18 holes on an excitingly variable landscape. It sits atop a cliff with spectacular ocean views, coastline, seabird, and sea rocks.
The only problem some might have is actually paying attention to golfing when there is so much beauty around them! But of course, that's a nice problem to have.
Asilomar State Beach
Location: Sunset Dr, Pacific Grove, CA 93950
Asilomar State Beach is an excellent area to visit for families who genuinely do love the beach.
They don't want to just look at it from a cliff; they want to enjoy putting their feet in the sand, taking long walks, playing by the water, and enjoying an extensive stretch of beach.
Asilomar State Beach is also an excellent area for exploration, as there are many small hidden coves along the stretch. Additionally, you can see hermit crabs, sea otters, and amazing sunsets from this beach.
It's also great for families looking for a quieter vacation, as this beach is not as popular and crowded as some of the other Monterey beaches.
And this is not because it isn't spectacular in its own right—it just takes a bit more effort and time to get to from the townspeople tend to stay in.
Lovers Point
Location: 631 Ocean View Blvd, Pacific Grove, CA 93950
Lovers Point is aptly named because although many of Monterey County's beaches host stunning sunsets, the sunset views from Lovers Point are particularly exceptional.
That said, this is a great spot to go for an evening with the spouse, especially if you have older kids who will be fine doing something separate for an evening. It's a genuinely romantic location that you don't want to miss!
However, if you'd prefer to stick together as a family, Lovers Point is still an excellent location for family picnics, relaxing in the sun, or going stand-up paddleboarding.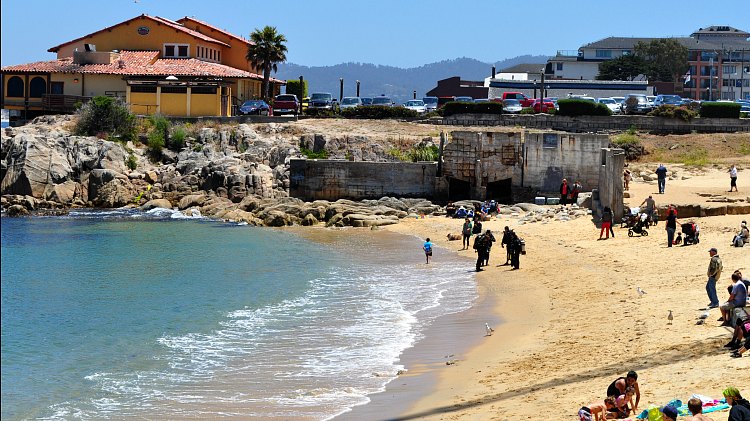 McAbee Beach
Location: 1 Hoffman Ave, Monterey, CA 93940
Do you know how we mentioned eating all the clam chowder you could want at the beginning of this article?
Well, if that sentence got your stomach growling, then McAbee Beach is the place to go to fill your stomach's greatest clam chowder wishes.
The reason is that this beach is the closest beach to Cannery Row, which is famous for its many seafood menu options. It's a great beach to have a picnic because you don't even need to bring your own food.
Once you're full, make sure to take a walk around and learn more about the history behind Cannery Row and the impact of sardine canning in Monterey.
Del Monte Beach
Location: 653 Del Monte Ave, Monterey, CA 93940
Del Monte Beach is a quieter beach in terms of visitors but louder in terms of the massive waves.
You can either enjoy watching the surfers or try to catch some waves yourself.
Additionally, if you like the idea of simply relaxing in seaside cottages and hitting up a small seafood shop each day, you can easily do that here as well.
Finally, one of the greatest appeals of Del Monte Beach is the fact that you are allowed to have bonfires here! Setting up a bonfire to roast marshmallows or tell stories could be a great way to end your family vacation.
Salinas River State Beach 
Location: Moss Landing, CA 95039
If your family would like to have a more adventurous trip while still having a relaxing time in the evenings, our recommendation would be to stay near Salinas River State Beach.
You can enjoy various activities here, from fishing, horseback riding, sea kayaking, birdwatching, and hiking on a dune trail.
There is also a designated picnic area for your family to set up a fun, scenic beach picnic.
This is also a more quiet beach than some of the neighboring beaches, so you'll be able to enjoy the environment without too much disturbance from other visitors.
Conclusion
Now you have several excellent options for your vacation, and you can visit one or more of these beautiful Monterey Beaches.
Whether your family likes to relax, hike, shop, eat, swim, dive, birdwatch, or another beach town activity—you'll be sure to have an unforgettable time exploring Monterey beaches.
More about our TFVG Author
A seasoned traveller, Dad, and avid sports tourist, James foundered The Family Vacation Guide to share his expert vacation experiences- especially when it comes to being a travelling family man.
Featured in Travel articles such as Travel + Leisure, TripSavvy and SFGate, you know you're reading some of the best vacation tips online.