As the second largest city in California, San Diego is steeped in culture and diversity. The coastal city borders the Pacific Ocean and is a short 17-mile drive from Mexico. If you enter it, you can start feeling the influence of Mexican culture. This influence comes from its proximity to Mexico and some historical factors.
The influence of different European cultures is deeply felt here as this place housed the first European (predominantly Spanish) settlements. In fact, the battle between the Europeans and the Mexicans was what decided the current location of the border. So if you're planning to take a family vacation within the country or are entering the US for the first time, there's no better place than America's finest city. However, you will need sufficient planning to ensure that you get to enjoy the city to the fullest. Our San Diego family travel guide will make sure that you have everything you need to make a game plan that everyone in your family will enjoy.
5 Reasons Why San Diego Is the Perfect Family Vacation Destination
There's an endless list of reasons to go to San Diego, but we'll go with five for now.
Who Doesn't Love the Beach?
San Diego is right next to the Pacific Ocean, meaning it has beaches and lots of them. In fact, it has a seventy-mile-long coastal line. The entire beach region has six sections with thirty-one beaches. That means you can take your pick of choosing whatever beach you want.
If you like crowds, visit famous beaches like Coronado, Encinitas, or Imperial Beach. Not a fan of crowded places? Go for more secluded beaches like Black's Beach, Sunset Cliffs, or Boneyards.
See the Tourist Spots
You simply can't go to California and not visit Balboa Park, San Diego Zoo, the Cabrillo National Monument, and more. Of course, the attractions can get a little crowded, but the hassle is worth the experience. Your kids will learn a lot while interacting with the sites while creating fun memories.
The mainstream places are epic, but you need to see some underrated places like the 1895 Looff Carousel, Spruce Street Suspension Bridge, Villa Montezuma, and more. These places aren't as popular as the San Diego Zoo, but they make for a fun time and great stories. Also, you won't have to wrestle with the crowds to see everything.
The Food Is to Die For
San Diego is one of the most popular cities amongst foodies in America. The city boasts a diverse food culture, drawing its inspiration from multiple regions and people. As a result, you can find food ranging from Mexican to African here.
Another reason for this region's fantastic cuisine would be the ingredients. California has excellent weather, meaning restaurants can easily source fresh ingredients for their cuisines. You can always be sure that the seafood is fresh.
Endlessly Sunny, Cheerful Weather
San Diego weather is perfect for travelers. It doesn't get too hot or cold; you get the sun year-round. It hardly ever rains, so you won't have to worry about being stuck inside during your time there. In short, the spring-like weather just makes you want to be out all day.
When's the Best Time to Visit San Diego with Kids?
Generally, we suggest visiting San Diego during the summer months (except May and June). But since you're going with kids, fall may be a better time. Many locations offer free perks for kids in October. Furthermore, the weather is milder, so the kids won't have trouble walking in inland attractions.
What's the Weather in San Diego Across the Year?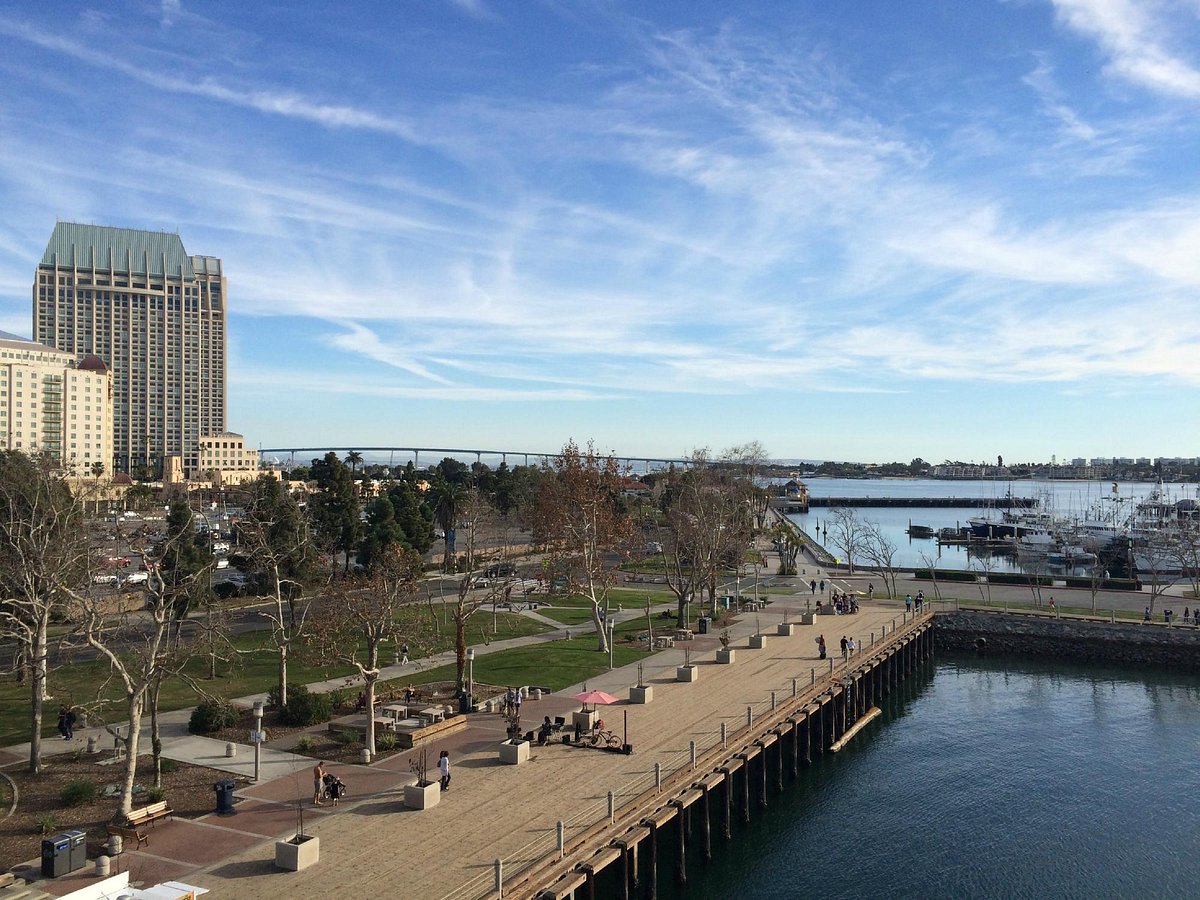 Summer is the most pleasant time in the city. It starts in June and goes all the way till September. The temperature stays between sixty-five to seventy-five along the coast, but it can go up to seventy-seven inland. You get eight to ten hours of daily sunlight, except in June.
If you're closer to the coast, you'll see the morning fog during May and June due to what locals call the "June Gloom" phenomenon. It eventually rolls back, though, and you still get sunshine.
Fall takes over from September and lasts till December. The temperatures start declining into the sixties in October, and you can finally explore attractions other than the beaches. You still have seven to eight hours of sunshine.
True winter starts in December, and temperatures hover around sixty. The nights get colder as the temperature dips to around fifty. The days still have lots of sunshine, so it doesn't feel too cool.
The temperatures start rising in March as spring rolls in, but the sun isn't too strong, and you might see a bit of rain. However, you can always visit San Diego county to enjoy the desert regions in this weather.
What's the Perfect Length of Time to Spend in San Diego?
You need at least four days to properly explore San Diego. But we recommend staying for a week because there's so much to do, and you'll need more time to schedule rest and play. Of course, having kids, you'd know better than us about planning a visit with strict timelines.
You need to be flexible because the kids may want to spend more time in some places than others. We recommend prioritizing the sites you want to visit and then visiting them at your leisure so that nothing feels forced. Do as much as you can without rushing yourself, and don't forget to relax.
The Best Things to Do With Kids in San Diego
San Diego is one of the most popular family vacation destinations in the United States. With so many popular attractions, it's easy to get overwhelmed. That's why we've compiled a list of the best things to do with kids as well as attractions for you to visit in San Diego.
Want to visit a place with exciting rides and live animals? Then, SeaWorld San Diego is the place to go. You can give yourselves an adrenaline rush on the Electric Eel, Tidal Twister, or Manta. Alternatively, you can buy the 2-Park Ticket and enjoy the Sesame Place San Diego with its family-friendly rides.
When you're done with the fun rides, you can head to the marine animals and see all sorts of species like Beluga whales, eels, sharks, seals, orcas, and turtles. SeaWorld also lets you see exotic birds like flamingos, penguins, and more. You can also see the interactive exhibits and arrange live tours with these animals.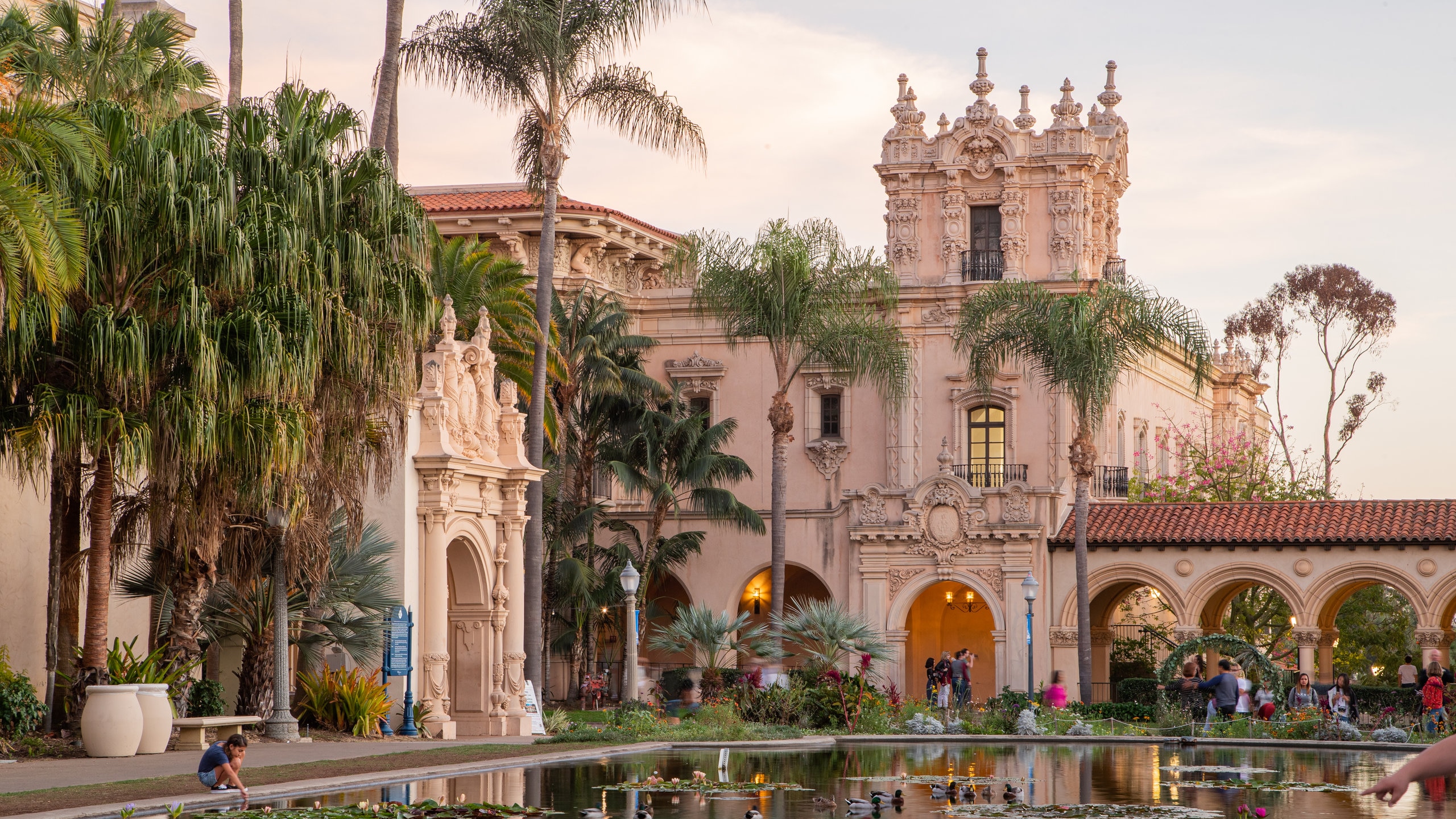 Balboa Park spans over twelve hundred acres and is home to multiple parks and museums. If you're looking for a place to drain the kids of some excess energy, Balboa Park has five playgrounds perfect for physical activity.
Pepper Groove and Sixth Avenue playgrounds have separate sections for younger and older kids' activities. On the other hand, the Morley Park playground, with its rock climbing wall, monkey bars, and more, is suited to kids aged five and over.
After the playgrounds, you can visit the carousel, miniature railroad, Marie Hitchcock puppet theatre, and more. The on-site museums include the Natural History Museum, Air and Space Museum, San Diego Model Railroad Museum, and fourteen others. Of course, you can't miss the Japanese Friendship Garden.
San Diego Safari Park spans over eighteen hundred acres and is home to over three thousand animals. The exhibits in the park are spacious and relatively far apart, letting the animals roam freely. There are also working facilities like laboratories, a veterinary hospital, and more animal research-focused places. However, walking from one exhibit to the other might be exhausting for the kids so we recommend bringing snacks and making a day of it.
When at the park, you'll see popular animals like lions, tigers, and elephants. But there are a few things unique to the safari park. These include platypuses, Przewalski's horses, fruit bats, and more.
You can book a safari tour to see the whole place. But Wildlife and Behind-The-Scenes safaris are restricted to people aged three or up. The Flightline safari also has an eight-year age restriction. The rest are open to people of all ages.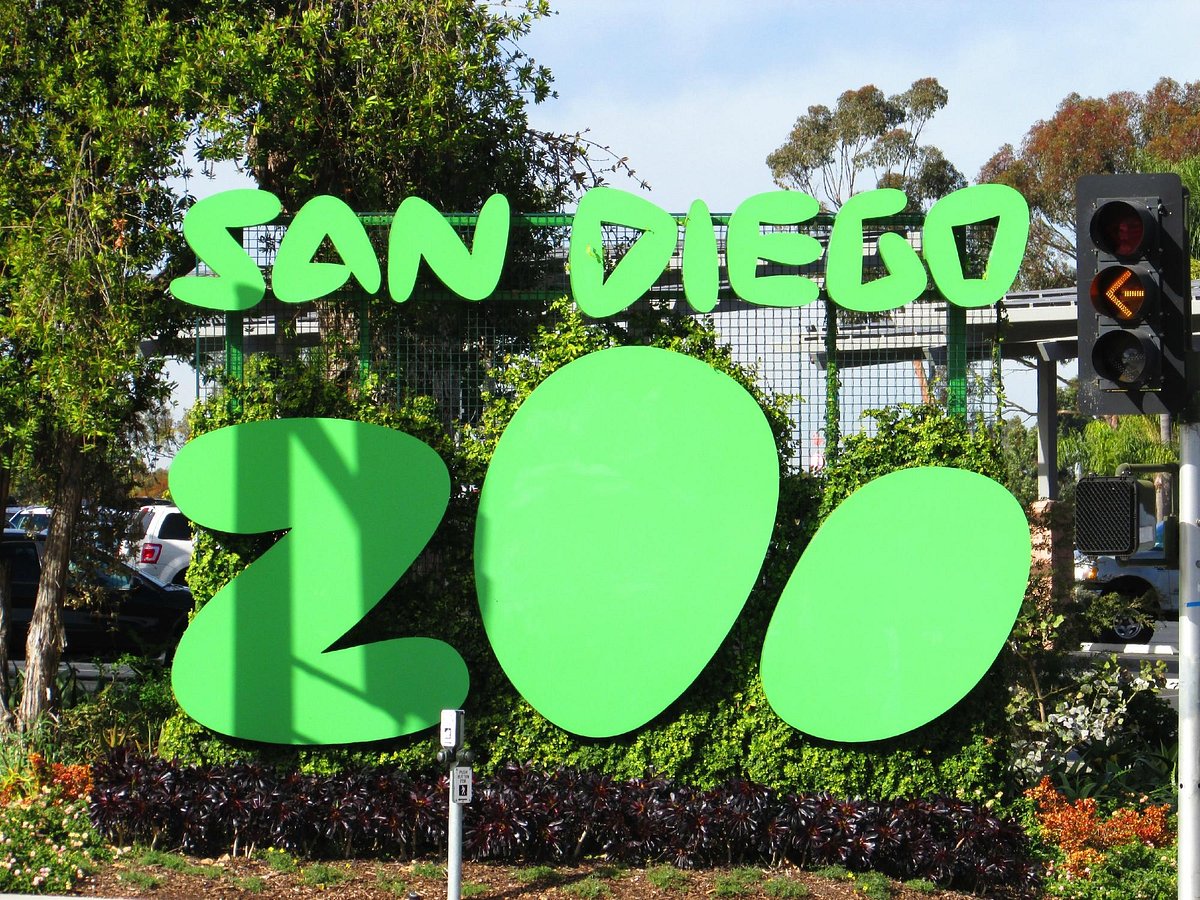 San Diego Zoo is next to Balboa Park, fifteen minutes from Downtown San Diego. The park extends to a hundred acres and houses three thousand animals. It also houses seven hundred thousand plants.
You can get around the zoo through the guided bus tours, the Kangaroo bus, and Skyfari Aerial Tram. The zoo has big animals like lions, tigers, and cheetahs, but there are some other animals you don't want to miss. These include polar bears, koalas, pygmy hippopotamuses, red pandas, and the Galapagos turtles.
Mission Beach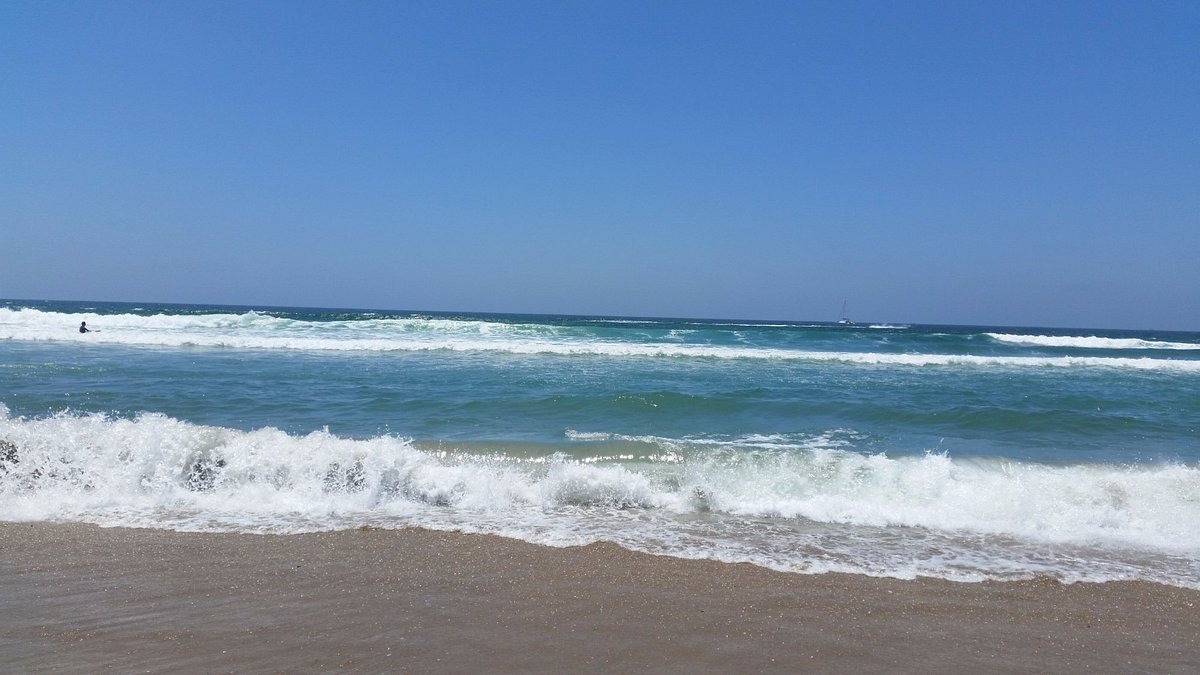 Out of all the San Diego beaches, Mission beach is the one you absolutely should not miss. Facing the Pacific Ocean, Mission Beach allows you to laze around on the beach while the kids play in the sand, or you could head to Belmont Park for a day of unrivaled fun.
If you're staying at the beach, check out the nearby equipment rentals and surf or try to learn. Don't worry; there'll be trained professionals there to help you. If you're going to Belmont Park, don't miss the Big Dipper roller coaster.
You can also spend your time playing carnival or arcade games. The kids can also try rock climbing or zoom down on the zip line. Other experiences include the Lazer Maze, Laser Tag, Tiki Town Adventure Golf, Tiki Town Jungle, and Escapology San Diego.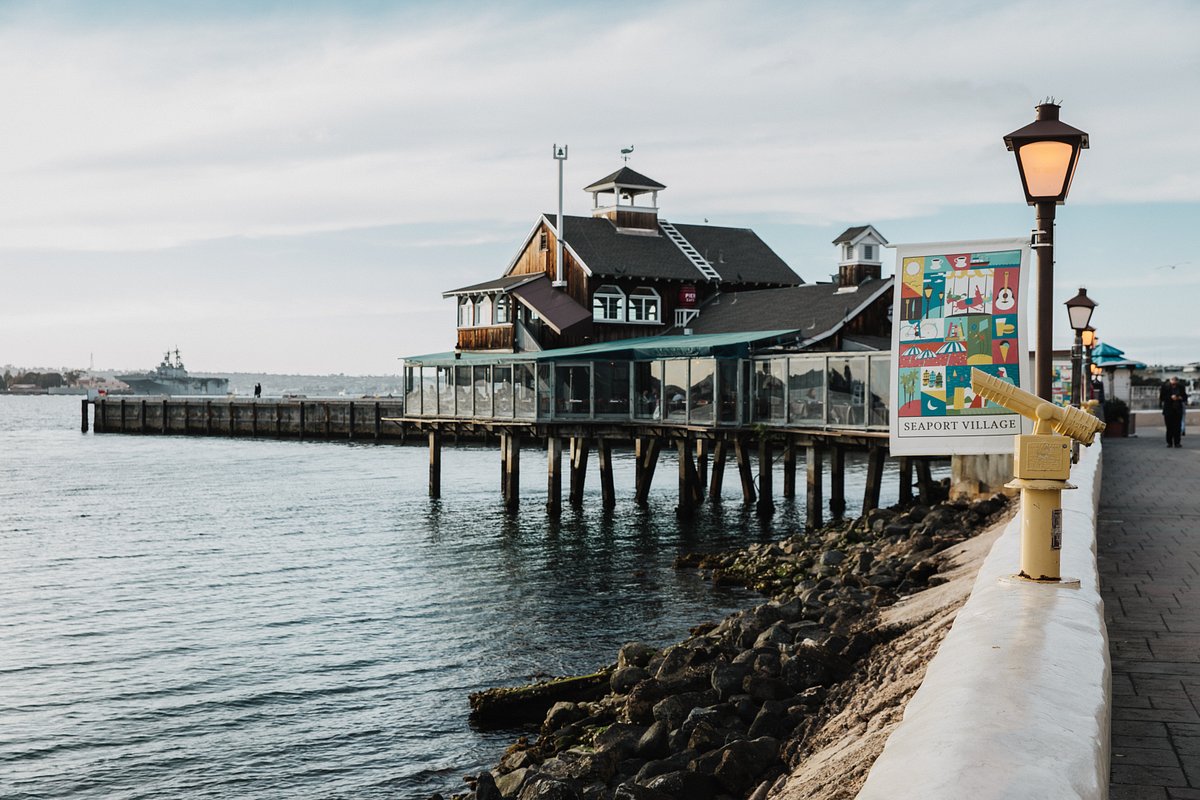 Seaport Village is a teeny tiny fourteen-acre village that's a waterfront entertainment site. The place is home to numerous shops and restaurants and has been this way since 1980.
You can walk around the village and take in the casual San Diego air. While you're doing that, you can take a look at the street performers and ride on the historic carousel. This carousel has been around since 1895.
The village is also a starting point for the San Diego Seal Tour. It's a hundred-minute-long tour that covers the city in an amphibious vehicle while educating kids about different aspects of the city.
San Diego's Maritime Museum will be an absolute treat if you or your kid is even remotely interested in ships. This downtown museum is full of shipping vessels with quite a history ( although some are replicas).
Once there, you'll have a blast exploring the Soviet-Era B-39 submarine. The submarine's been docked here since the end of the Cold War, and for a moment, you can transport yourself back to that time.
Other interesting ships include Star of India, H.M.S. Surprise, San Salvador, Medea, PCF 816 Swift Boat, and the USS Dolphin (submarine). You can also book a cruise on the Pilot Boat and get a glimpse into how things work aboard the boat that used to lead commercial ships into the harbor.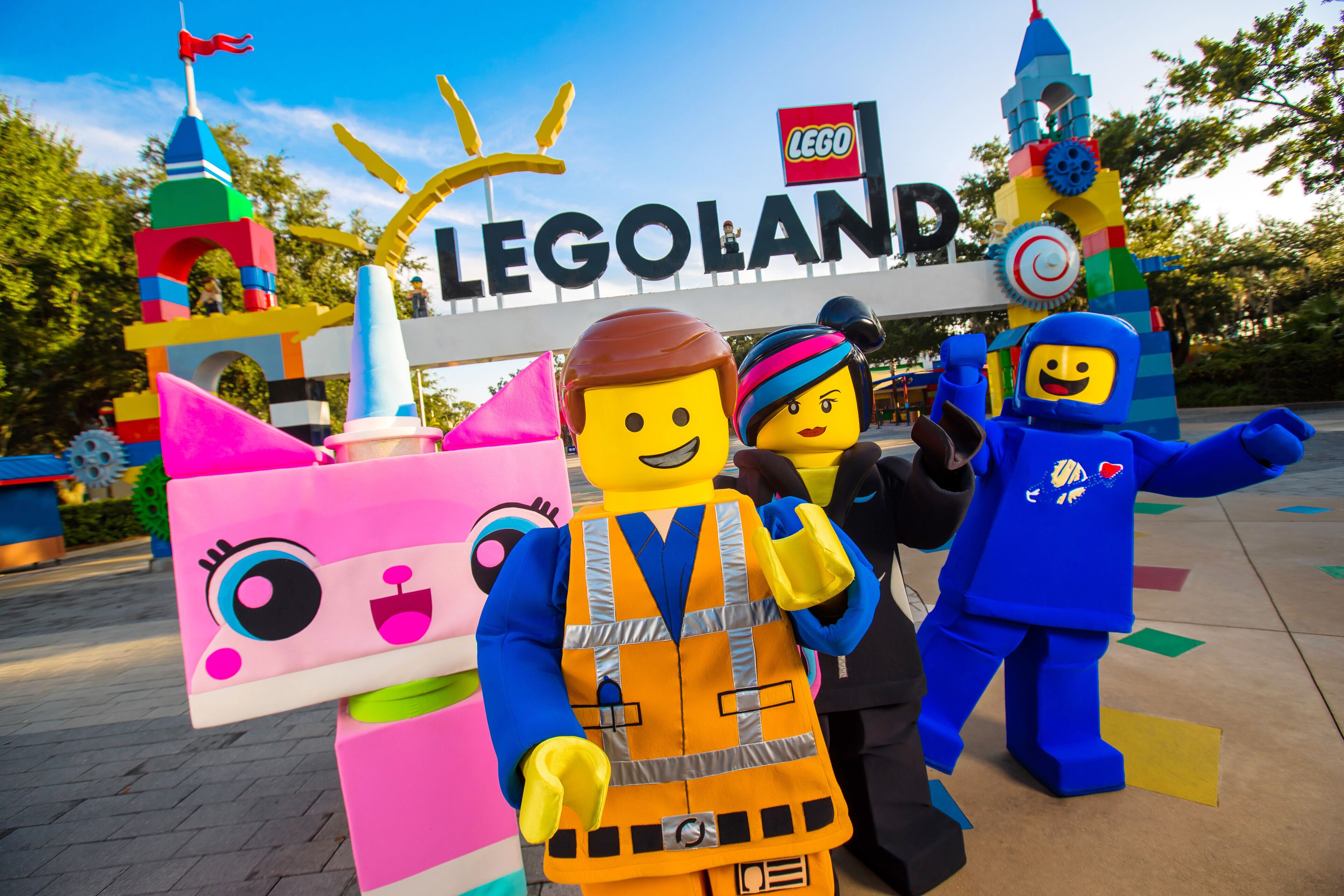 How could we ever forget Legoland? This is the perfect opportunity for you to visit the theme park for the kids. And although this attraction is mostly aimed at kids, you'll probably enjoy the visit just as much. The theme park has more than sixty attractions, all aimed at kids and families.
The Bionicle Blaster Captain Cranky's Challenge, Beetle Bounce, and Coastersaurus are just some of the highlights. There's also a water park next door with water slides and sandy beaches.
Of course, you can't miss the Sea Life Aquarium. The aquarium has around six thousand animals. Children can learn about these animals and see how they feed.
If you're downtown, drive thirty minutes to the North, and you'll arrive at the San Diego Botanic Gardens. We recommend going there even if you have no love for plants because the place is so scenic, and your kids will learn tons of new stuff.
The San Diego Botanic Garden is spread over thirty-seven acres and consists of twenty-nine different gardens. Most gardens have a theme, and three are aimed at children.
You can start with Seeds of Wonder Children's Garden if you have a toddler or grade schooler with you. Otherwise, you can head to Hamilton Children's Garden or the Junior Quail Trail Garden. These gardens have fun activities that the kids will enjoy. Afterward, you can travel through the rest of the attraction and see different plants.
When visiting San Diego, you need to save at least one day for Old Town San Diego. Generally regarded as the birthplace of California, this is where the first settlers established their colony. As such, it has a ton of historic significance, and if the rumors are true, it might even have a ghost or two.
When you're there with kids, you can make candles at Toby's Candle and Soap Shop or enjoy the music at the Fiesta de Reyes. Don't forget to visit the Sheriff's Museum and Old Town Most Haunted. The area has a lot of historic sites, and we recommend taking an Old Town trolley tour to see everything.
The Best Family Hotels & Resorts in San Diego
To make the best out of any vacation, you need to choose the right place to stay. Here are some of the best kid-friendly hotels in the city:
Fairmont Grand Del Mar is the epitome of luxury. The hotel is near La Jolla, just a few minutes from several iconic attractions. You can spend the day at the Tom Fazio Championship Golf course playing with the family or relaxing in the on-site spa.
Other activities involve horseback riding, pickleball, equine therapy, tennis, heated pools, fitness centers, and restaurants. The hotel also features spacious rooms and suites, all with their balconies.
In addition, Fairmont has an offer for kids, named the Kids Glamp-In Package. If you choose the package, they'll customize the room with a tent set up and offer gifts like personalized cookies. The package comes with two-hour access to the Explorer's Club.
Located on Mission Bay, this resort offers premier accommodations with easy access to all of San Diego. The resort has an oceanfront pool, a wading pool (for the kids), cabanas, an on-site spa, and a fitness center.
While you're here, you can participate in the S'mores or Movie Nights. You can chill with the kids there or take them to the Tennis Clinic to improve your tennis skills. The resort also has on-site dining options that cater to kids as well. All the rooms and suites come with balconies or patios.
The Omni La Costa Resort lets you stay comfortable while staying close to all the right tourist spots. This Carlsbad hotel has two championship golf courses, a luxury spa, eight swimming pools, tennis courts, and on-site restaurants.
Your kids can join the Kidtopia Kids Club if they're between six months to twelve years old. There, experienced professionals keep them engaged with books, puzzles, games, movies, and more. If you want a date night, you should get a reservation for the night camp.
This hotel enjoys an oceanfront location in downtown San Diego. The hotel amenities include two rooftop pools, a fitness center, a business center, and multiple dining options.
The rooms come with workstations, an HDTV, blackout drapes, and killer views. You can also get room service, rent a car, and use dry cleaning services. Guests also have access to the Rooftop Cinema Club and the Water and Bicycle Rentals.
Feel free to enroll the kids in Camp Hyatt if they are between three to twelve. The camp's seasonal, but a great way to distract your kids if you and your partner need some private time.
The Hotel del Coronado gives you the chance to stay at the beach in utter and complete luxury. You can book a private poolside cabana or relax at the spa. Alternatively, you can also shop your heart away at the nearby stores.
The hotel holds regular activities like bonfires, movie nights in beachside igloos, beach yoga, and more. It also provides top-tier concierge and childcare services. The rooms come with flat-screen TVs, Wi-Fi, mini-refrigerators, and stuff for the kids (upon request).
What's the Average Cost of a Hotel in San Diego?
The average hotel price for a night in San Diego is around $200, but it can vary according to the neighborhood, time of the year, hotel type, and room type. Some hotels offer prices as low as $100, while others charge as much as $600 a night.
The Best Places to Eat with Kids in San Diego
San Diego has iconic cuisine, and it would be a pity to not sample as much as you can. Finding the right restaurant with your kids is tricky, especially if they're young. You never know when they'll have a tantrum or refuse to eat.
That's why you need family-friendly options:
Phil's BBQ has been serving delicious BBQ in California since 1998. The restaurant has three branches in the city, including one at the San Diego International Airport. The restaurant is family-friendly, and the staff does their best to accommodate everyone. There's a separate kid's menu for kids under ten. However, if you order the family meal, the kids should be able to eat with you.
After a day spent traveling, you can come to eat delicious food at this campfire-themed restaurant. The restaurant has a cozy vibe and a play area for kids. Additionally, the menu has vegan options. It provides lobster, trout, octopus, chicken, brisket, ribeye, and more for meat eaters.
This Japanese restaurant has locations in La Jolla, Ocean Beach, Carlsbad, Encinitas, and Little Italy. The restaurant serves sushi and Asian fare. The kids will love the character buns, and you can have ramen or sushi.
The Crack Shack is a family-friendly restaurant with an outdoor seating area. They also have a bocce court and a chalkboard, so your kids can stay busy till the food arrives. The restaurant specializes in fried chicken, but with a more fine dining spin. They also offer a kid's meal.
Crab Hut is a seafood restaurant with locations on Convoy Street, Mira Mesa, and 5th Avenue. The restaurant's been around since 2007. You can eat the food here with your hands which is always fun The kids might get messy, but it'll be worth it.
The Best Day Trips from San Diego That the Whole Family Will Love
Yes, I know San Diego is wonderful. But if you have the time, why not go on day trips to nearby places? Here are the top five nearby hot spots:
Palm Springs
Palm Springs is two hours and fifteen minutes away from San Diego. The resort city is perfect for a day trip because it has several locations you can explore. You can visit the Joshua Tree National Park or see the whole place from the Aerial Tramway.
Other fun locations include the Living Desert Zoo and Gardens, Children's Discovery Museum of the Desert, Indian Canyons, and more. You can't see everything in a single day, so decide on a few locations before setting off.
Dana Point
Just an hour from San Diego, Dana Point is in Orange County. The place is popular for whale watching and its beaches. You can hit Baby Beach and let your kids swim without worry. Alternatively, you can rent some equipment and try your hand at a few watersports. You can also visit Lantern Bay Park, Ocean Institute, Heritage Park, and more.
Anaheim
Anaheim is just an hour and a half away from San Diego. If you decide to visit there, you must go to Disneyland Park. Afterward, if you have time, you can visit other attractions. We recommend going to Angel Stadium, The Rinks Anaheim ICE, Sky Zone Indoor Trampoline Park, and Yorba Regional Park.
Big Bear Lake
Big Bear Lake is three hours away from the city, but this place is a must-see, especially during winter. While you're here, you can snowboard with the kids on Bear Mountain or take the Miss Liberty Paddlewheel tour. If you still have time, try visiting the Discovery Center, Solar Observatory, and Alpine Zoo.
Anza Borrego Desert State Park and Borrego Springs
This state park is an hour and a half away from San Diego. It's the largest desert park in the country and has several trails perfect for hiking.
But before heading up the path, swing by the visitor's center first. The folks there can help you pick a suitable trail and give you all the tips you need. The center also has the necessary equipment like hats, water, and sunscreen if you don't have them with you.
If you like art, hit the Galleta Meadows to appreciate some awesome sculptures. This place is perfect for getting away from distractions, and spending quality time with the family.
How to Get Around San Diego During Your Vacation
If you're planning a San Diego family vacation, we recommend renting a car or bringing your own. However, if that's not an option, here are a few ways for you to travel:
Trolleys and Buses
San Diego has a Metropolitan Transit System that uses trolleys and buses. You can use the trolleys to get around downtown and ride the bus for the rest. If you're going to be traveling a lot, you should buy a Day Pass to save money. You can check the routes on the official website.
Taxis
If there's one thing you'll always find, it's a taxi. San Diego has an extensive taxi system. You can hail one almost anywhere. However, they can get a little expensive. If you don't like hailing taxis, use a service like Uber.
Ferry
If you're planning a trip to Coronado, use the ferry. It only takes fifteen minutes, and the ride is free for kids aged three or less. Of course, you must know the departure points and get there on time.
The Best Ways to Get to San Diego for Your Vacation
Before you go anywhere, you have to get to the city. Here are the best ways to do that.
Airport
This is probably the easiest way. Just hop on a plane and land at the San Diego International Airport. Once there, you take a taxi to your hotel. Alternatively, you can use the bus or shuttle service.
Amtrak
If you live in LA or Orange County, you can use the Amtrak train to get to San Diego. Amtrak has a station in the city, and it's a fairly easy way to travel. You can also use the service to go on day trips from the city.
Car
Cars may seem easy, but it depends on how far you live. If you live close to San Diego, driving down is very possible. However, you need to consider how many people are coming, the gas costs, and whether the kids can make the trip for this option. Do the math. If the car is still tempting, set out on a road trip.
Top Tips for Staying Safe in San Diego When Visiting with Kids
San Diego is a safe city, but that's no reason to get careless. The city isn't a utopia, and if you're not careful, you could get in trouble. Here are some safety tips to help you out.
Hold hands with the kids, especially in crowded areas.
Research the hotel before you reserve it.
Memorize the hotel address and leave your valuables in the room's safe.
If you're going to the beach or pool, keep an eye on the kids. Make sure they're safe while swimming.
Make sure they don't go to random strangers.
Stick to crowded and well-lit areas.
Be sure that you know where you're going before you go.
Conclusion
San Diego is an interesting city with impressive historical roots and a fascinating culture. You'll see a lot of Mexican influence. Try to take in as much as you can and have fun with the kids. Be flexible with the itinerary, and you'll have a blast in the city.
More about our TFVG Author