Even some of the more mundane aspects of planning a family vacation can be fun, such as figuring out travel details and which airport to use to travel. You have several options when you're going to a large metropolitan area such as Southern California.
If you're planning a vacation to Disneyland in Anaheim, California, the closest airport to Disneyland is John Wayne Airport in Santa Ana, Orange County (SNA). However, that doesn't always make it the best choice.
It's important to note that Disneyland does not provide shuttle service to the resort from any airport, so you will always be responsible for your own transportation no matter where you fly.
This article will look at several of the airports near Disneyland and weigh their pros and cons. That way, you can make the best decision for your family.
John Wayne Airport is located in Santa Ana, California, just 15 miles from Disneyland. It is by far the closest airport to Disneyland.
John Wayne Airport is relatively small; it has one building with two terminals. Only 11 airlines use this airport, and most of them are discount airlines: Air Canada, Alaska, Allegiant, American, Delta, Frontier, Southwest, Spirit, Sun Country, United, and WestJet.
The size of this airport means that it can be challenging to find affordable flights, especially if you're traveling from the midwest or east coast. Some of its most popular direct destinations include Las Vegas, Phoenix, Austin, Chicago, Denver, and Oakland.
The airport's size also means that you will have limited options to purchase food or other essentials before boarding your flight. Especially if you're traveling with young children, you need to plan accordingly.
Getting to Disneyland
Let's look next at some travel tips and information for getting from John Wayne to Disneyland.
When To Fly
Generally speaking, try to arrange your flights so that you miss the worst of LA's traffic. You'll have to drive on Southern California's congested highways no matter which airport you fly in and out of, but certain times of the day are worse than others.
The worst times for driving in Southern California tend to be late afternoon and evening, from about 3 PM to 7 PM. The best times are usually late morning and early afternoon, after morning rush hour but before afternoon.
Even though it is a small airport, John Wayne is very popular for travelers to Disneyland, which means that transportation to and from is simple. That's one of the best parts of flying in and out of this airport.
What's more, the traffic on the most convenient routes between the two destinations usually isn't very heavy, especially for an area in Los Angeles.
Rent a Car
Unless you're going to be touring around Southern California, you don't need to rent a car to get from the airport to Disneyland. However, if you plan to sightsee off Disney property, it's not a bad idea to rent a car.
Virtually everyone in the LA area drives, which means that public transportation isn't always easy to use. You'll make your trip much simpler by having your own wheels.
Book a Shuttle
To get to Disneyland without a car, you can book a shuttle ahead of time. While it might make multiple stops, many families prefer the peace of mind of knowing that their ride is booked ahead of time. Shuttles typically cost $15-$30 per person.
Use Rideshares
If you prefer rideshares like Uber or Lyft, expect to pay about $40-$50. Remember that you'll need a larger vehicle if you have more than three passengers, and you'll most likely need to bring your own car seats for young kids.
Indulge in a Private Car or Limo
Finally, you can also book a car service or, if you want to treat your family, a limousine. Car service from John Wayne Airport to Disneyland is less expensive than you might assume. Prices for an SUV start around $100 one way, and since that will transport your family and all of your luggage, it isn't a bad deal.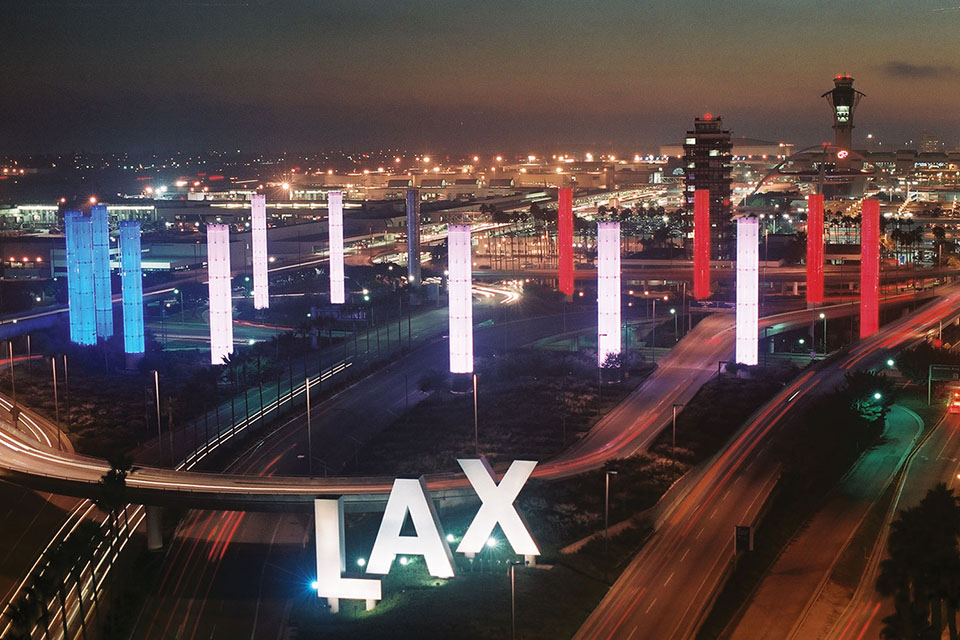 The largest airport near Disneyland is definitely LAX. In fact, it is one of the largest and busiest airports in the United States. You can often find great deals flying in and out of it. If you're traveling internationally or across the country, LAX may be your only viable option.
Nearly every major domestic and many international airlines fly in and out of LAX. There are direct flights from dozens of places around the country, including Atlanta, New York, Tampa, New Orleans, Cleveland, Memphis, and many others. It's also easy to get connecting flights to LAX.
As a major airport, LAX also has many options for food and shopping while you wait. However, it is very large and can be challenging to navigate, especially if you're traveling with young children and all their gear.
Getting to Disneyland
You'll have many similar options for getting to Disneyland from LAX as John Wayne, but prices and availability vary.
Rent a Car
Many people use LAX to get to and from Disneyland, and you have several transportation options. If you plan to visit multiple destinations in Southern California, it's probably easiest to rent a car. After all, LA is a driving city.
LAX is the best airport for car rentals; since it is so large, you have many options and can often find good deals. All of the major car rental companies have offices and inventory at LAX.
Book a Shuttle, Car Service, or Take a Rideshare
You can also book a shuttle to Disneyland before you arrive. Because it is further away, shuttles cost a bit more than from SNA, about $25-$35 per person. Disney recommends using Karmel Shuttle, which is easy and reasonably priced.
Rideshares run around $50-$75. Once again, booking a car service or limousine is also an option.
Utilize Public Transportation
Finally, while public transportation is an option from most of the airports in Southern California, it is most robust and reliable from LAX.
While it is the cheapest option, remember that you'll have all your luggage with you, and it usually takes more than two hours to use this system to get to Disneyland. Many families find it inconvenient, and we don't recommend it unless you're already familiar with it.
Other Airports in Southern California
There are several other airports in Southern California that are accessible to Disneyland. While they are generally less convenient than using John Wayne Santa Ana and LAX, they are worth checking out if you can find a good deal or easy flight time.
Long Beach Airport is closer to Disneyland than LAX, only about 25 miles from the Happiest Place on Earth. However, it is very tiny, so it can be difficult to find flights, and those flights are likely to be expensive.
Only five major airlines use Long Beach Airport: Alaska, Delta, JetBlue, Southwest, and US. You'll have the most luck with this airport if you're on or near the west coast. The most popular direct destinations to and from Long Beach are Phoenix, Las Vegas, Oakland, Sacramento, and Salt Lake City.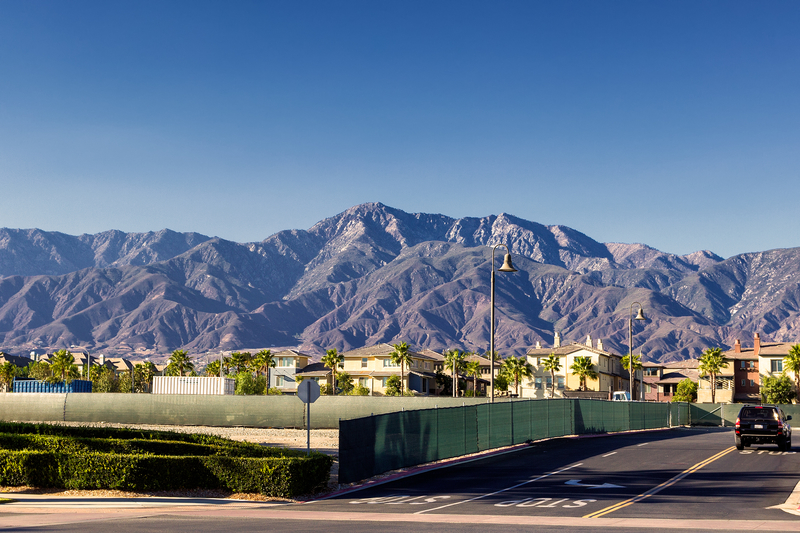 Ontario International Airport is about the same distance from Disneyland as LAX, around 35 miles. It is east of Los Angeles and northeast of Anaheim and Disneyland. It serves 12 airlines, including American, Delta, Frontier, Hawaiian, JetBlue, Southwest, and United.
Like Long Beach Airport, the small size of Ontario means that it's hard to find affordable flights into it from far away. However, it might work if you're traveling from somewhere like Reno, San Francisco, or Seattle.
They also fly directly to some major midwest and east coast locations like Atlanta, Chicago, New York, and Houston.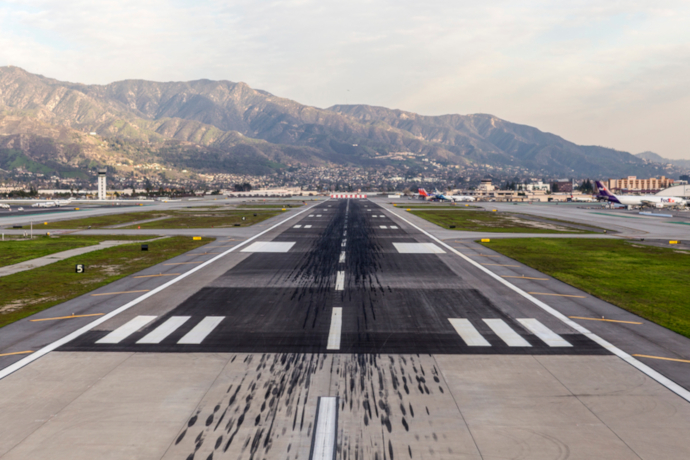 Even though Walt Disney Studios is located in Burbank, it isn't very close to Disneyland. Burbank is located north of the city, about 40 miles from Disneyland. You'll have to fight some of LA's infamous traffic to get to Disneyland. Unless you find a fantastic flight deal, we don't recommend it.
Only ten airlines fly in and out of Hollywood Burbank, including American, Delta, Frontier, JetBlue, Southwest, and United. Portland, San Francisco, Albuquerque, and Nashville are among their direct destinations.
The Best Airport for Getting to Disneyland
The truth is that there are many factors involved in making this decision, which means that the best airport for getting to Disneyland will vary from family to family.
If you're traveling with young children, the idea of a layover might be abhorrent, in which case LAX is probably your best choice. On the other hand, you might have minimal time in California, so being as close to Disneyland as possible makes John Wayne preferable.
If you can find a reasonably affordable flight that fits your needs, we recommend flying in and out of John Wayne Santa Ana Airport to travel to Disneyland. However, as you can see, there are many other options. Explore available flights, and most importantly, enjoy your unforgettable vacation to Disneyland!
Now you know which airport is the best choice for you, you might want to take the next step in planning your ultimate family trip to Disneyland California with help from our handy guide.
More about our TFVG Author
A seasoned traveller, Dad, and avid sports tourist, James foundered The Family Vacation Guide to share his expert vacation experiences- especially when it comes to being a travelling family man.
Featured in Travel articles such as Travel + Leisure, TripSavvy and SFGate, you know you're reading some of the best vacation tips online.