Ontario is a vast Canadian province with exquisite beauty and breathtaking scenery no matter where you travel within its borders and planning your next vacation with kids in tow can be a challenge.
However, finding the best family-friendly hotels in Ontario will make the trip more enjoyable for the children and you while you create memories that last a lifetime. 
How To Choose a Family-Friendly Hotel
Although you can stay at virtually any hotel with kids, choosing one that caters more to families will ensure a more stress-free holiday.
Some features to look for when deciding on the best family-friendly hotel in Ontario for you include: 
Kitchenettes for making meals and snacks
Central location to attractions
Available space, including adjoining suites or an en-suite for parents
24-hour snack bar or vending machines
On-site hotel activities
Laundry services
Swimming pool
In-house restaurant
Baby equipment rentals
Designated kids space
Pet-friendly
Of course, your family may not need all of these options, or there could be others you find helpful, like an elevator or 24-hour room service.
The 7 Best Family-Friendly Hotels & Resorts in Ontario
After exploring dozens of hotels and resorts around the province, we have found the seven best family-friendly hotels in Ontario, Canada. So if you need a terrific place to spend some time with the kids, be sure to check out one of these destinations. 
Niagara Falls is a popular destination for many tourists, including families. The Americana Waterpark Resort and Spa is an excellent location to take your entire family when you want a fun hotel for the kids that is also relaxing for the parents.
The Americana Waterpark Resort and Spa has over 300,000 square feet of excitement, including Niagara's only indoor waterpark that offers a retractable roof. Their popular amenities include:
On-site arcade
Boston Pizza restaurant
Breakfast bistro
Licensed snack bar at the waterpark
Waves Indoor Waterpark
Family and Kiddie Suite room options
On-site spa
This family-friendly hotel is close to the airport and other major highways, making it easy to get to on your next trip. The Senses Spa offers a wide variety of treatments for men, women, and kids and couples-only services for the ultimate spa experience.
While each room's amenities may differ slightly, the Americana Waterpark Resort & Spa has options for families of up to six people depending on the size and theme. In addition, each room will come with free waterpark passes, depending on the occupancy requirements.
Embarc – Blue Mountain sits within Ontario's picturesque Blue Mountains area, near Barrie and only 90 minutes from Toronto. If you seek a cottage getaway with the family, Embarc is the ideal destination. Recreate a family-friendly rustic holiday with all the conveniences of home right here.
Experience the laid-back holiday experience with seasonal hammocks on-site with a breathtaking mountain view as your children have fun at the interior playground within the resort. Embarc – Blue Mountain has all the amenities your family needs for a once-in-a-lifetime holiday, including:
Outdoor pool, children's pool space, and hot tub
Game room
Fitness center
Barbeque area
Theatre
Mill pond
Boathouse
Central location
This family-friendly destination is near several popular off-resort attractions, including golf, skiing, fishing or sailing, hiking, and other seasonal activities.
There are numerous room choices available, from studio accommodations to 2-bedroom options that offer ample space for large families with multiple kids. Unlike other holiday resorts, Embarc – Blue Mountain is a terrific destination year-round with things to do for everyone, no matter what season.
The Hilton Niagara Falls / Fallsview Hotel & Suites is the perfect location if Niagara Falls is on your bucket list to take the family. This prime family-friendly hotel in Ontario has views of the American and Canadian falls. Some rooms even have views of the falls for your personal experience.
The covered Skyway connects this hotel to the adjoining Fallsview Casino's Entertainment Center, Galleria Shops, and fine dining options. There are also numerous other attractions within close proximity, including the Butterfly Conservatory, the Incline Railway to Horseshoe Falls, and Clifton Hill.
On-site amenities at this favorite destination for families include:
Indoor pool
On-site restaurants
Fitness center
Room service
Covered parking
EV charging
Lounge with seasonal entertainment
One challenge when traveling with children is finding a place to eat that everyone will love. Thankfully the Hilton Niagara Falls / Fallsview Hotel & Suites has seven different dining options to choose from when staying here.
This way, you are sure to find something for everyone, no matter what they want. So whether it is Italian, Brazilian, fine dining, or a snack at the on-site Starbucks, your whole family will have everything they need.
Rooms options at the Hilton Niagara Falls / Fallsview Hotel & Suites vary between king bed with shower-only bathroom facilities to 2-bedroom deluxe and premium suites to accommodate parents with multiple children. They also have the choice of connecting rooms for families with more than four children or if you are traveling with extended family members.
The JW Marriot The Rosseau Muskoka Resort & Spa is the perfect spot if you and your family are looking for a lakeside holiday in Ontario. Find a serene getaway in Muskoka while taking in the sights and sounds of Lake Rosseau in luxury at this premium resort and spa.
National Geographic recognizes the JW Marriot The Rosseau Muskoka Resort & Spa as one of the world's most beautiful destinations, and for a good reason. The breathtaking lakeside views among the rugged hills and tranquil blue skies attract visitors worldwide.
Families large and small will enjoy all there is to offer at this premium resort and spa. Some popular amenities here include:
Year-round indoor and outdoor pools
Fitness center
On-site HydroSpa
Nearby Muskoka Lakes Farm and Winery
Golf courses close by
Sunset cruises available
Bicycle tours
Snowshoeing adventures
Guided nature walks
Waterfront activities
Their many accommodations are flexible enough for families of various sizes, including their JW Suite with two bedrooms and enough room for groups of up to eight people. With rollaway beds and cribs available, everyone in the family will be comfortable during their stay.
Another exceptional destination on this list is the Living Water Resort & Spa, which sits in Collingwood as a year-round vacation paradise. Just 90 minutes northwest of Toronto, this is one of the best family-friendly hotels in Ontario, as it boasts over 700 acres of recreational and vacation experiences for visitors.
As the only waterfront hotel in the Blue Mountains, Living Water Resort & Spa provides an experience like no other. Nestled right at Georgian Bay, your family is sure to find something to do any time of the year. Some terrific amenities include:
Indoor pool with a waterslide and splash pad
Indoor and outdoor hot tubs
On-site fitness center
Aquatic fitness classes
Yoga First and Wellness YouTube Channel classes
Living Shore Spa
Fine dining on-site
Private marina
Electric car charging
Rooftop viewing area
Accommodations at the Living Water Resort & Spa will suit families of many sizes, helping to create the best vacation possible. They offer a Deluxe and Condo 2-bedroom suites suitable for large families of up to eight people and include a full kitchen, two bathrooms, and a balcony.
Whether you stay for a weekend or a week, you are sure to create a family vacation to remember when heading to the Living Water Resort & Spa.
Another Niagara favorite for many families is the Skyline Hotel & Waterpark. It sits right at Casino Niagara in the Falls Avenue Resort and is only a short walk to Niagara Falls and Clifton Hill. One remarkable feature is their skywalk to take visitors to the 3-acre Fallsview Indoor Waterpark.
If you have problems planning a family getaway, the Skyline Hotel & Waterpark offers several vacation packages to help make the process easier. So whether you want to visit the falls or enjoy time at the casino, there is something for all family members during your stay.
Their prime location makes this hotel ideal for many visitors to Ontario. Partnerships with local dining experiences and attractions make it easy to experience all that Niagara offers to visitors and residents alike. Some popular amenities at the Skyline Hotel & Waterpark include:
Climate-controlled skywalk to the Fallsview Indoor Waterpark
Hershey Chocolate World Niagara Falls
Casino Niagara
Multiple dining options
Enclosed, climate-controlled courtyard
The Skyline Hotel & Waterpark accommodations allow families of various sizes to enjoy time in Niagara while being comfortable. From standard two queen beds to family suites and bunk bed studio options, you are sure to find a room to suit your needs.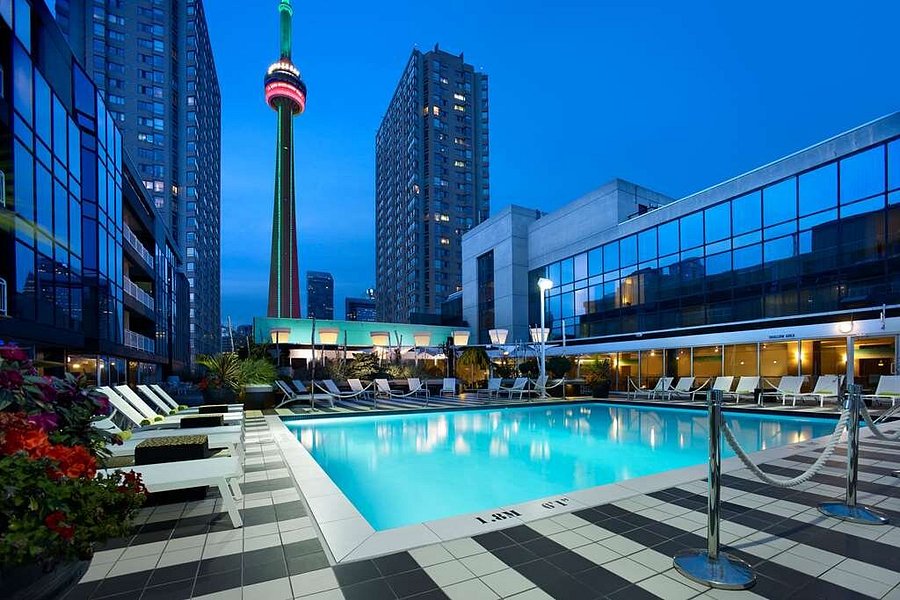 If your idea of a family vacation is to experience local attractions of the big city, then the Radisson Blue Toronto Downtown is your best bet. This hotel sits right in Canada's largest city, offering easy access to dozens of local attractions and experiences for families.
Staying right in the heart of Toronto will give you and your family a chance to take in all the local sights and sounds of this bustling metropolis. Some local attractions include:
Toronto Harbour
Rogers Center
St. Lawrence Market
CN Tower
The Radisson Blu Toronto Downtown aims to provide the best stay possible for all of its guests. You will find a one-of-a-kind vacation while staying here on your next family vacation. Some popular amenities at this hotel include:
Seasonal rooftop Lakeview Pool Lounge
Room service
On-site restaurant and lounge
Fitness center
Outdoor pool
Drycleaning services
Luggage storage
You do not have to compromise luxury when choosing to stay downtown either. The Radisson Blu Toronto Downtown ensures that all rooms provide the most comfortable stay possible. With premium linens and breathtaking city views, your entire family will surely enjoy a visit to Canada's largest city.
The Takeaway
Although this list only boasts seven of the best family-friendly hotels in Ontario, there are dozens more that can provide a terrific holiday for anyone traveling with kids. Be sure to explore all of the amenities a hotel has to offer to ensure that it can accommodate you and your children for the best vacation possible.
You may want to vacation at a lakeside resort one time while making your way to the heart of Toronto on your next family trip. There is so much to see and do while in Ontario that it is hard to choose just one location. However, do not limit yourself to only one area; you can create memories that will last a lifetime no matter where you go in Ontario.
More about our TFVG Author
A seasoned traveller, Dad, and avid sports tourist, James foundered The Family Vacation Guide to share his expert vacation experiences- especially when it comes to being a travelling family man.
Featured in Travel articles such as Travel + Leisure, TripSavvy and SFGate, you know you're reading some of the best vacation tips online.