Edmonton is a beautiful city in Alberta, Canada. It's the capital, therefore has more than enough things for you to do and explore while in the city. The city is rich in history, museums, beautiful parks, and exciting attractions. 
There are several year-round activities for you and your kids to do. However, it does have a few seasonal ones that are worth looking into, depending on when you're planning to visit. So as you plan your trip, check out 13 of the best things to do in Edmonton with kids.
Visit the West Edmonton Mall
While you're in Edmonton, you have to visit the West Edmonton Mall. It's the largest shopping mall in North America and ranks as the 23rd largest mall globally. It features around 800 shops for you to browse, several restaurants, two hotels, and plenty of entertainment. It's also the second most visited mall in Canada.
You and your kids can spend hours wandering through the hundreds of stores in the mall. It's more like a massive entertainment center than simply a mall. You can take a break for lunch or dinner at the food court for fast meals or choose a great restaurant to dine at. They have a little bit of everything, so you won't need to worry if you have a picky eater.
Sometimes shopping can get boring for kids, even adults. Don't worry, though. There's so much to do at the West Edmonton Mall, and you won't know where to start. The bowling alley is great if you have older children. They also have a mini-golf course if you want to connect with your competitive side.
While you're here, other things you can do include an escape room, go ice skating, ride a huge carousel, and even watch a sea lion show on Saturdays. Regardless of what you like to do, you'll enjoy your time here.
Tour the Royal Alberta Museum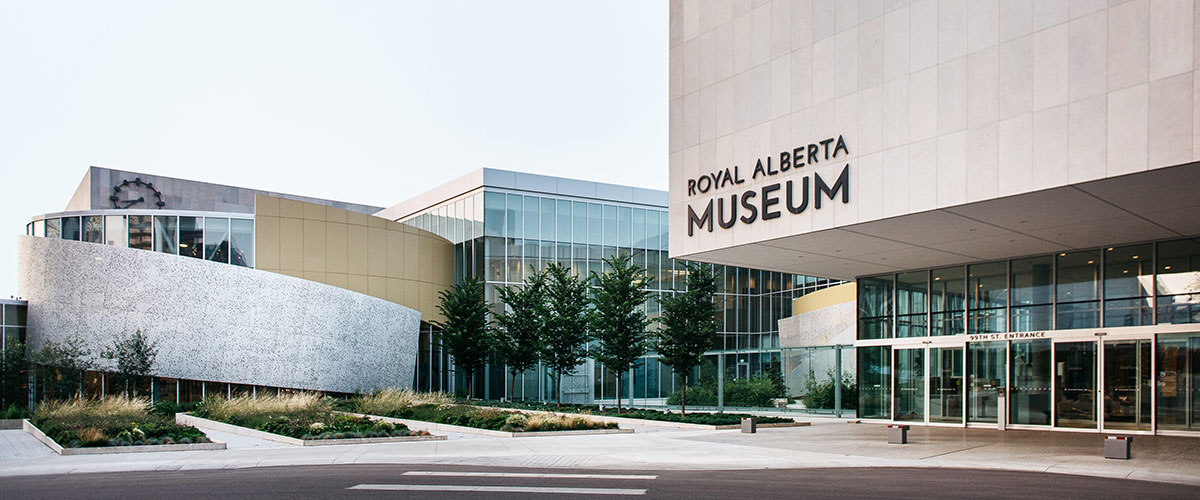 You'll find the Royal Alberta Museum in the middle of downtown Edmonton. The Royal Alberta Museum is a collection of human and natural history where you and your kids can learn more about Canada and, specifically, Alberta. It's the largest museum you'll find in Western Canada, so you can end up spending hours here if you choose.
The museum features several permanent and temporary exhibits for you to see. They have exhibits on cultural studies, life sciences, and Earth sciences. Some of the most popular cultural studies displays are on the Indigenous peoples of Canada, archeology, and Canada's military and government history.
If you and your kids are more interested in the Earth and life sciences, there are several exhibits you'll want to see. Some of the best include their exhibits on geology, botany, invertebrate zoology, and mammalogy.
Your kids will love the life-size skeletons of dinosaurs and other prehistoric animals. You're more than welcome to walk through the museum on a self-guided tour. A specific tour that the staff offer is their people and plague tour. You'll learn all about various epidemics and how they affect people worldwide.
Before you leave, you might want to bring your kids to the gift shop. You can find books, stuffed animals, and other souvenirs your kids will love.
Enjoy the Fresh Air at Elk Island National Park
Outside the bustling capital city is Elk Island National Park. This beautiful space offers plenty of activities that you and your kids will both enjoy. It's only about 20 miles outside of the city, making it a great place to spend a day or several if you want to go camping.
The park is crucial conservation land for bison, elk, and other wildlife, so there's a good chance you'll see these magnificent animals while you're there. The bison are mainly active from July to August. Keep in mind while they're beautiful, they're still wild animals, and you cannot approach them.
The park has various activities, and it's open 12 months of the year. You can choose one of their several hiking trails, go fishing, have picnics in their grassy areas or picnic shelters, and more. During the warmer months, renting kayaks is popular. They offer tandem ones so you and your kids can paddle together.
There are beaches on the lake during the summer that are perfect for sunbathing, swimming, or just relaxing. There are several playgrounds for the kids to run wild on when they need a break from other outdoor activities. Your kids will love speaking with park rangers at the visitor center and visiting the gift shop.
Visit the Telus World of Science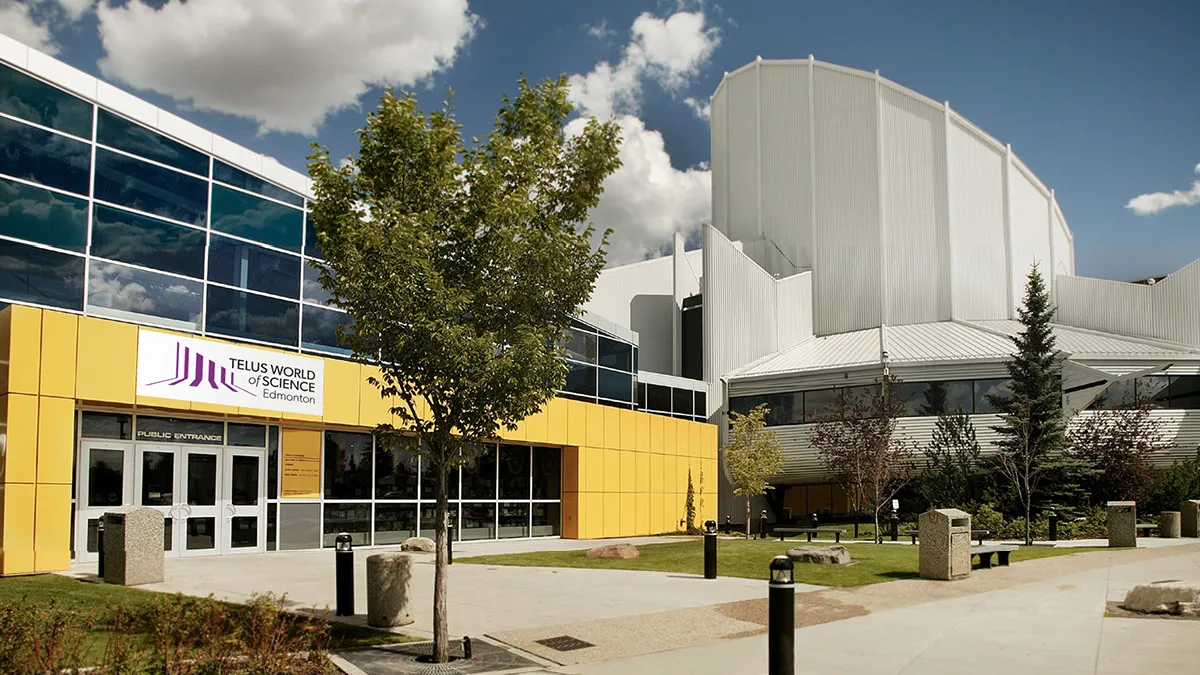 The Telus World of Science is a broad-based science facility perfect for people of all ages. Many schools in Edmonton visit here for field trips, or parents take them there on weekends because they love spending time here.
As a parent or guardian, you'll love how much fun your kids are having while simultaneously learning new things. There are numerous exhibits on everything from space to nature and even displays where kids can learn about health and the human body.
Some of their most popular exhibits are the health zone where you can learn about genes, challenging the deep to learn more about the ocean, and a traditional Indigenous room where you can learn more about the Indigenous population in Canada.
For the most rambunctious and adventurous children, the science garage needs to be a stop on your tour of the building. It's a newly expanded museum section where kids can rock climb and participate in hands-on engineering experiences.
When you need a break exploring the exhibits, you can check out what's playing at their IMAX theater. They have several options for you and your kids to watch. Some of the choices you'll have included the Deepsea Challenge, a movie on Ireland, Humpback Whales, and Extreme Weather.
See the Animals at the Edmonton Valley Zoo
If you and your kids are animal enthusiasts, the Edmonton Valley Zoo needs to be on your itinerary. This activity is one of the best things to do in Edmonton with kids for several reasons. One of them is that it's open 364 days a year. They only close their doors on Christmas.
The Edmonton Valley Zoo is a small and intimate zoo that doesn't take all day to get through. There are roughly 350 animals for you to see and learn about. The animals featured here are from around the globe. There's at least one animal from all climates and habitats.
Some of the animals you can view here are Siberian tigers, lemurs, Asian elephants, bearded dragons, seals, and so much more. The staff at the zoo are dedicated to learning more about these animals, conservation, and improving veterinarian medicine.
All the Edmonton Valley Zoo animals receive enrichment activities to keep them happy and healthy. Some of the activities address sensory, physical, cognitive, social, and food enrichment. You and your kids can witness these activities with various animals, even when you're not aware they're happening.
The gift shop is near the entrance/exit to the park and is the perfect place to end your visit to the zoo. You can get stuffed animals of your favorite species or just browse.
Step Back in Time at Fort Edmonton Park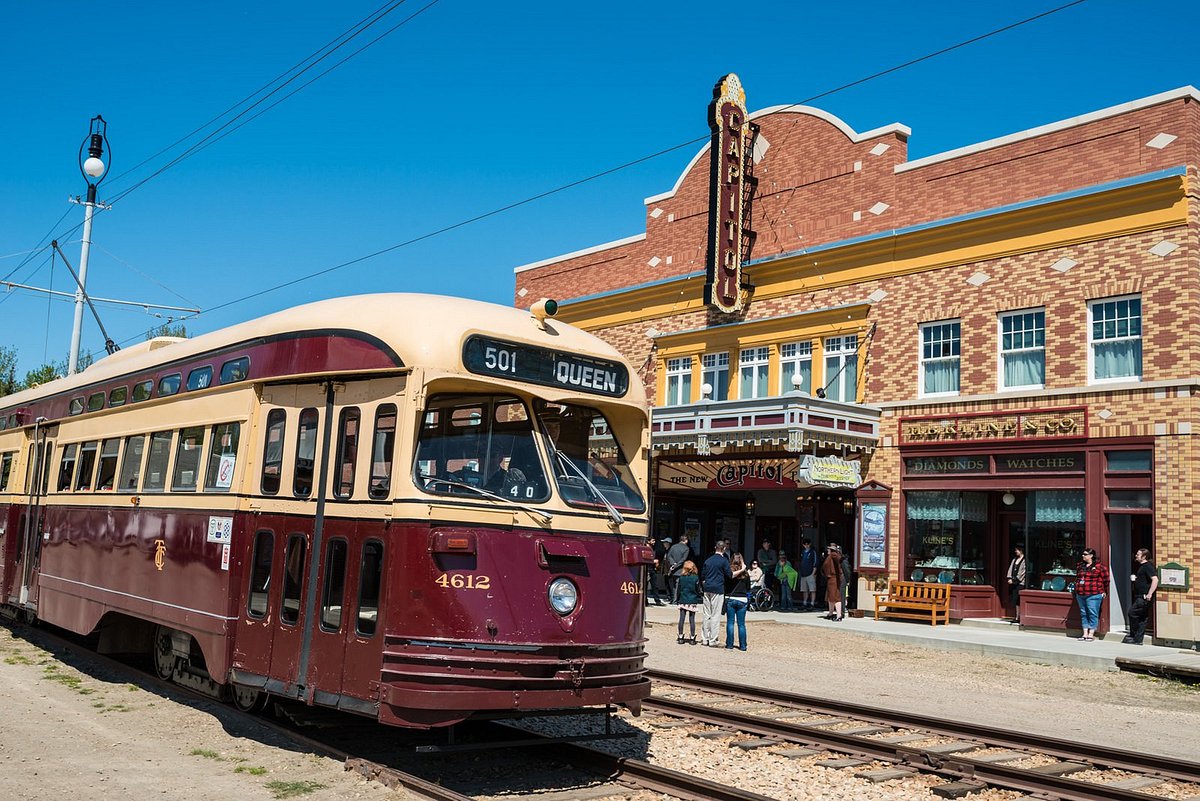 Fort Edmonton Park is dedicated to the history and heritage of the city. When you arrive, you'll feel like you've stepped back in time to the early days of Edmonton. The park is Canada's largest living history museum that showcases four areas from different points in history.
The park is over 150 acres in size and has more than enough things for you and your kids to do while in town. The park consists of four sections. The areas of the park you need to see include the fort of 1846, 1885 street, 1905 street, and 1920 street.
One of the best parts of the park is that while you can walk around, you don't have to. Instead, visitors can see each section of the park via their fully-functional steam train. It's the perfect way to view everything, especially since trains were a popular mode of transportation in the eras the park focuses on.
Other ways to travel through the park include horse-drawn carriages, cars, and streetcars. Depending on when you visit, you can see staff dressed from the periods they depict, handing out information and putting on performances.
Tour the University of Alberta Botanic Garden 
The University of Alberta Botanic Garden is one of the most beautiful places in Edmonton. The gardens space for 240 acres. The university opened this botanic garden in 1959, and since then, it has been a place that tourists and visitors love spending time at.
There are dozens of trees, flowers, and other plants for you to see. The paths are wide, making it easy for several visitors to walk around without feeling like you're crowding one another. The botanic gardens are extensive, so comfortable walking shoes are a must.
When you arrive, you can find a map of the gardens. You can also find it online to help you navigate. There are several areas of the gardens, all landscaped and decorated differently. The different garden areas include the Kurimoto Japanese Garden, the Aga Khan Garden, and the Patrick Seymour Garden.
There are other areas of the park without specific names that you'll want to wander through. Depending on how fast you walk, you could be here for a few hours. If you think you'll get hungry, you can bring small snacks like granola bars or purchase food and beverages from their concession stand.
Keep in mind that you cannot bring your leashed dog here all the time unless they're a service animal. However, there are specific days on which they allow dogs. You can find that information on their website.
Observe the Ice Castles 
If you're in Edmonton during the winter, you can't leave without seeing the Ice Castles. This winter attraction is beloved by locals and visitors. Every winter, the minds behind ice castles create impressive structures from icicles and present them to the public.
The Ice Castles feature LED lights and are a magical experience for adults and kids. When you see these ice castles, you'll be awe-struck that every portion of the structure is built by hand. They grow 12 million icicles daily to create the castles. You can see the ice castles during the day, but they're even more magical with their colorful lights at night.
This attraction is in Hawrelak Park, near many other attractions in the city. Another reason to visit the ice castles at night is to see the live fire shows. Performers use fire spinning and other techniques to provide a unique experience.
You can bring food and drink to the park while you're seeing the ice castles, but something people love doing is grabbing hot chocolate from the concession stand while walking through the castles.
Splash Around at World Water Park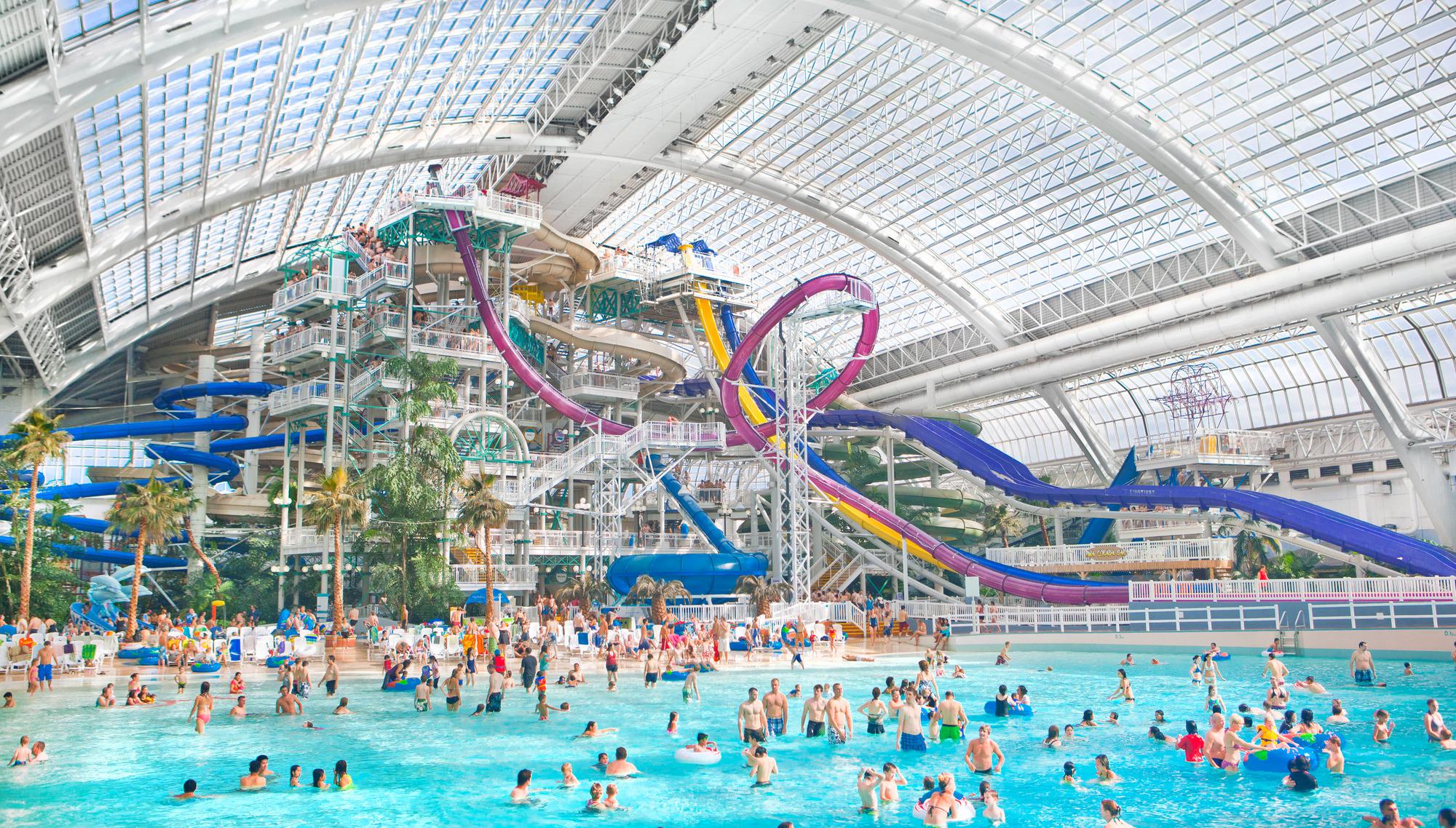 One of the best things to do in Edmonton with kids is to bring them to World Waterpark. You'll find it at the West Edmonton Mall, but you could easily spend hours at this one place alone. The water park opened its doors in 1986 and is the second-largest indoor water park in North America.
This indoor water park has everything you love about outdoor water parks. It has the largest indoor wave pool, where you can ride the waves or wade into the shallow water. There are also 17 water slides for you and your more adventurous children to try. If you want to try your hand at surfing, the FlowRider is where to do so.
If you're traveling with toddlers and younger children, they don't have to miss out on all the fun. They have a specific section, The Cove, designed for toddlers and younger kids. It features splash pads, water fountains, dump buckets, and other age-appropriate water fun.
The water park has hot tubs for adults and older kids to use. It's a great way to relax while your kids play the day away. You can rent cabanas or snag some of the free lounge chairs to post up. There are also food and drink options that you may want to take advantage of.
Regardless of how you like to spend your day at water parks, you won't regret spending a few hours or even the whole day here.
Tour the Alberta Aviation Museum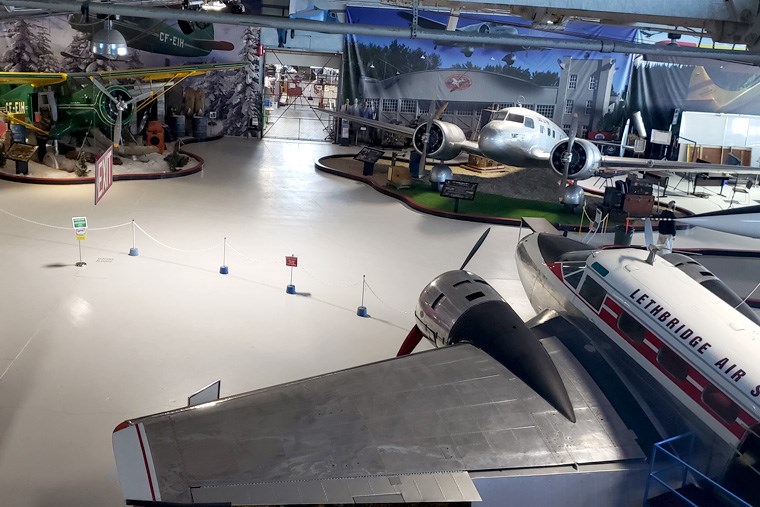 The Alberta Aviation Museum is an excellent museum at the former Edmonton City Center Airport. Whether you love planes or not, you'll still find the museum fascinating and entertaining. It's a great attraction in Edmonton since it's open every day of the year except Christmas, Boxing Day, and New Year's Day.
You're welcome to walk around the museum yourself, or you can choose to go on a guided tour. A tour guide will discuss the exhibits with you and be able to answer any questions you may have. In addition, you and your kids will be able to see dozens of old-school planes from different eras.
A few of the planes you can see include the Vickers Viking IV, Curtiss Stinson Special, Waco UIC, and a Fleet Model 80 Canuck. A display mimicking the pilots of each plane surrounds the aircraft, and they're incredibly detailed and wonderful to see.
They host various events at the aviation museum, like cockpit day, where you and your kids can get up close and personal with the cockpit of a plane. This opportunity doesn't happen frequently, and advance tickets are recommended. Even if you can't make it for this event, the museum itself is more than enough to keep you and your kids entertained for a few hours.
Ride the 100 Street Funicular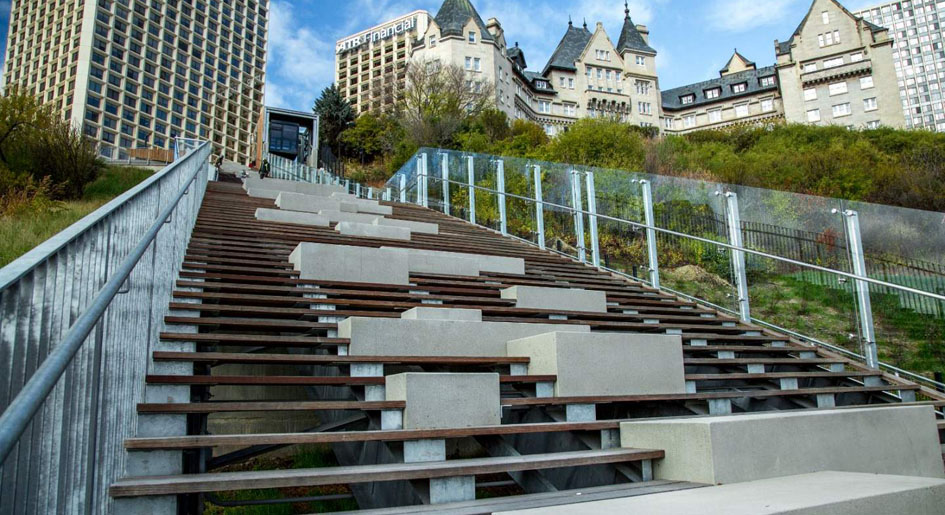 As long as you or your children aren't afraid of heights, riding the 100 Street Funicular is a great thing to do while you're on vacation there. This attraction doesn't take very long, so it's great to work into your list of things to do in Edmonton with kids.
The entrance to the 100 Street Funicular is in downtown Edmonton, so it's straightforward to get to. The funicular opened in 2017 and serves as a connection for downtown Edmonton and River Valley. You'll slowly ride the funicular to the top while taking in the best views of the city and valley below.
The 100 Street Funicular is similar to an elevator, meaning it doesn't require someone on board to operate it. The funicular has all-glass walls so that regardless of where you're sitting in it, you'll have beautiful views of the city and river. The ride up and back down doesn't take too long, so you won't need to carve out hours of your day for this activity.
Remember that while the attraction isn't closed on any particular day, if the temperatures outside reach 86 degrees Fahrenheit or more, it will close for the rest of the day. They do this for the health and safety of visitors and staff.
Wander the Old Strathcona Farmers' Market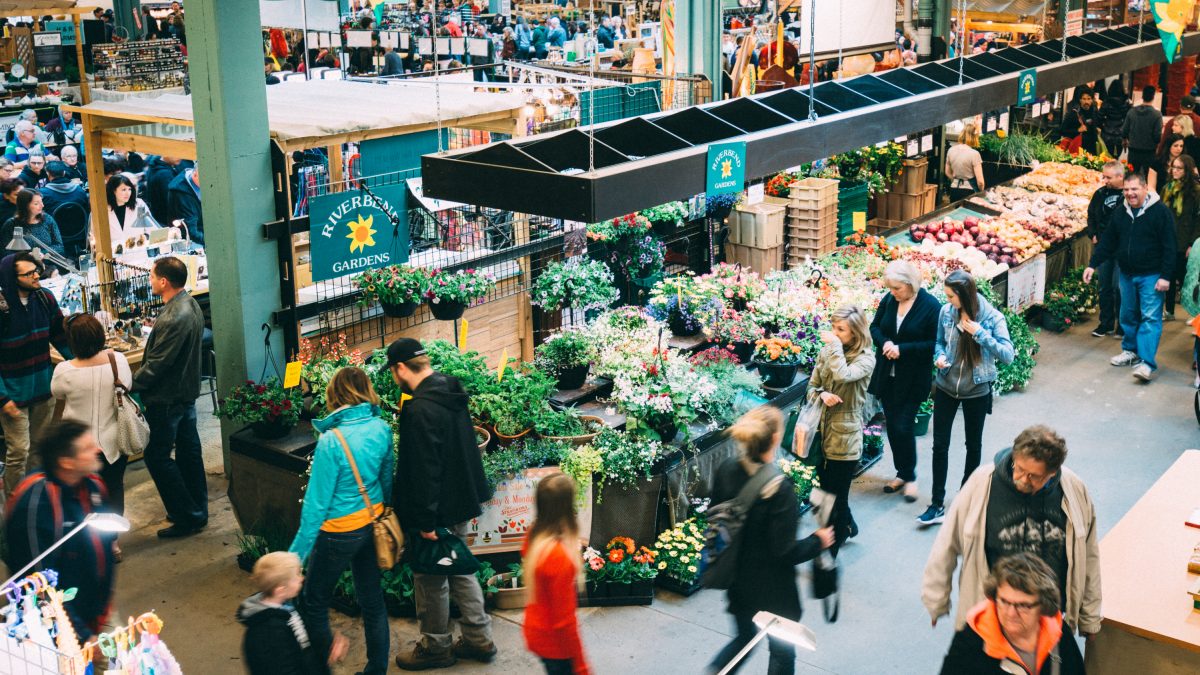 The Old Strathcona Farmers' Market is a great and free activity to do with your kids in Edmonton. You don't need to pay a dime unless you find something you want to take home with you. The farmers' market is open every Saturday, rain or shine.
The market takes place in a gorgeous, large, brick building in the heart of Edmonton. When you walk inside, you'll see over 130 local vendors offering their products to shoppers. The vendors range from people selling local produce, clothing, candles, handmade goods, and so much more.
You and your kids will love seeing the different vendors and goods the market offers. You can grab fresh produce and other foods to take with you back to your lodging or on a picnic in one of the several city parks. Some vendors will let you sample their food or produce, and we highly recommend this outing as one of the top things to do in Edmonton with kids.
Everyone loves getting a souvenir from their vacation, and this is one of the best places to do that. You can find unique items while supporting local and small business owners. If you're feeling generous, you can grab something for family and friends that are back home who couldn't make it to Edmonton with you.
Spend Time at Lois Hole Centennial Provincial Park
If you're looking for a place to reconnect with nature but don't want to drive to Elk Island National Park, Lois Hole Centennial Provincial Park is a great option. It's northwest of the city center of Edmonton and has plenty of things for you and your kids to do.
The main attraction at this park is Big Lake. The lake is large and takes up over 50% of the park's total area. There are plenty of walking paths along the lake's shores and observation decks that extend into the waters. Viewing the lake from the observation decks is a great way to see the lake and take photos to remember your trip.
The hiking trails in the park are ideal if you're looking for things to do in Edmonton with kids. They're relatively easy as long as you bring water and have appropriate walking shoes. You'll probably see plenty of wildlife like birds, squirrels, and other animals.
Lois Hole Centennial Provincial Park is famous for bird watching. People come from all over Canada to experience the unique species that live here. If you want to go bird watching, you'll want to bring binoculars with you so you can better spot the birds.
Keep in mind that while the park is close to the city, you'll need a car to reach it. You can rent a car or use a rideshare service to get to the park. Either way, it's worth heading out to the park for a few hours.
Try Things to Do in Edmonton with Kids
Edmonton is a relatively large city that offers something that everyone will enjoy. So whether you love wandering through museums, spending time outdoors, or shopping at the local farmers' market, try these fun things to do in Edmonton with kids. We know you and your family will love spending time in this beautiful Canadian city.
More about our TFVG Author
A seasoned traveller, Dad, and avid sports tourist, James foundered The Family Vacation Guide to share his expert vacation experiences- especially when it comes to being a travelling family man.
Featured in Travel articles such as Travel + Leisure, TripSavvy and SFGate, you know you're reading some of the best vacation tips online.