Who says you have to travel south to have a great family vacation? While many people opt for Florida or the Caribbean, there are several amazing resorts right around the corner in British Columbia. 
If you're considering taking your family to British Columbia for a trip (or you live there and want to go somewhere close), check out these resorts. For an all-inclusive vacation, you can't go wrong with resorts like these. 
The Best Family Resorts in British Columbia
Without further ado, here are the best family resorts in British Columbia. All of these resorts have family-friendly events and activities and are great for kids of all ages. Your teenagers and toddlers alike will find something they love at these resorts.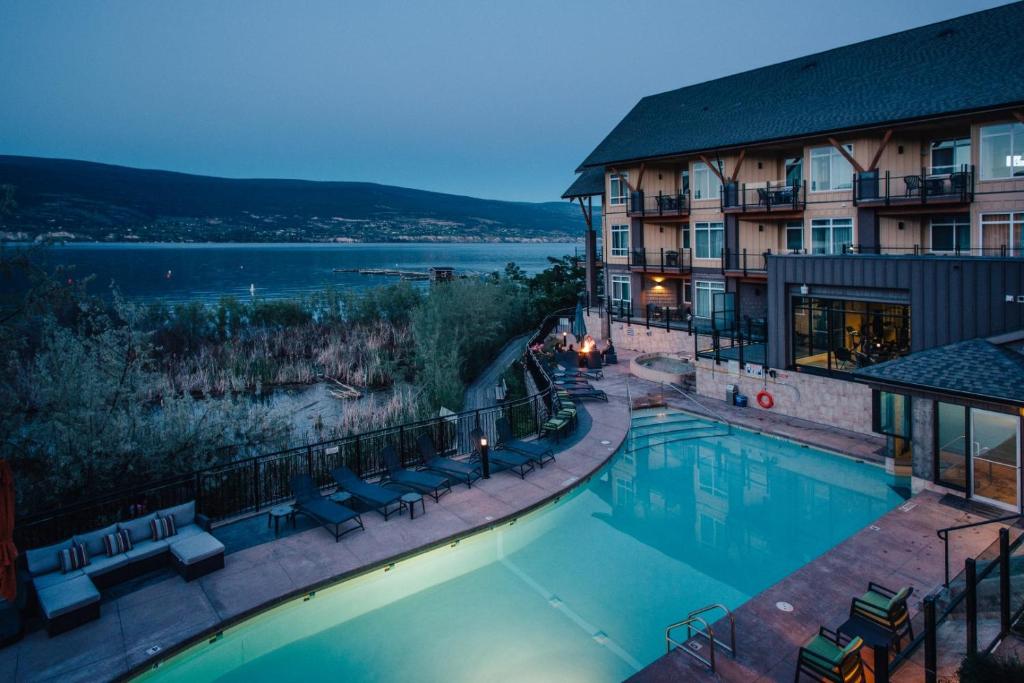 One of the most family-friendly resorts in British Columbia, Summerland Waterfront Resort and Spa has activities for all ages. And we do mean all ages – parents can go to wine tastings while kids are at the playground, beach, or sandcastle building contest (which is supervised).
The resort has a private beach, heated pool, and spa area. The indoor theater plays kids' movies for free, while older kids can bike and hike around the area or play board games. In addition to the sandcastle building contest, there are all sorts of children's activities that vary per week.
Stay in the lodge or at one of the beach cottages with your family and enjoy the onsite restaurant. There are art workshops for kids and adults and live music to enjoy under the stars. Treat yourselves and your kids to this all-inclusive vacation, right on the coast of British Columbia.
For a family of golfers or hikers, Predator Ridge is the perfect vacation. Situated on a beautiful 18-hole golf course and nature area, this resort has endless outdoor activities to offer. You can snowshoe and cross country ski in the winter or play golf or tennis in the summer months.
Predator Ridge owns over 1,200 acres and utilizes most of it as a nature preserve. From painted turtles to rare birds, it's a delight to find animals on the many walking trails that the resort offers. Pro tip: make your trip educational and fun by printing off wild animal bingo and giving rewards to the kid who fills it out first!
Predator Ridge is only a short drive from local beaches and a little longer of a drive from downhill ski resorts. You can take golf lessons from a Canadian PGA pro or rent a golf cart and play 18 holes. Of course, there is also a pool and activity center for the little ones (or bigger ones who don't love golf).
Sunshine Coast Resort not only lives up to its name but is a great vacation destination for your entire family. Pets are welcome at the resort, and there's an outdoor play area just for dogs. Meanwhile, your kids can enjoy the outdoor playset (for kids, not dogs) and the indoor activities and games.
The resort is located in Madeira Park and directly on the ocean (thus the name). The marina offers boat rentals and tours. A favorite activity is renting a pontoon or a speed boat and enjoying the water. For bonus kid points, get an innertube and take them tubing on the ocean.
Each house has its patio and backyard, so you and your family can stay quietly and privately. The cabins range for up to ten people, so even large families stay or two families can split a cabin's rate and save on money. Sunshine Coast has a private beach, indoor pool, and hot tubs by many larger cabins.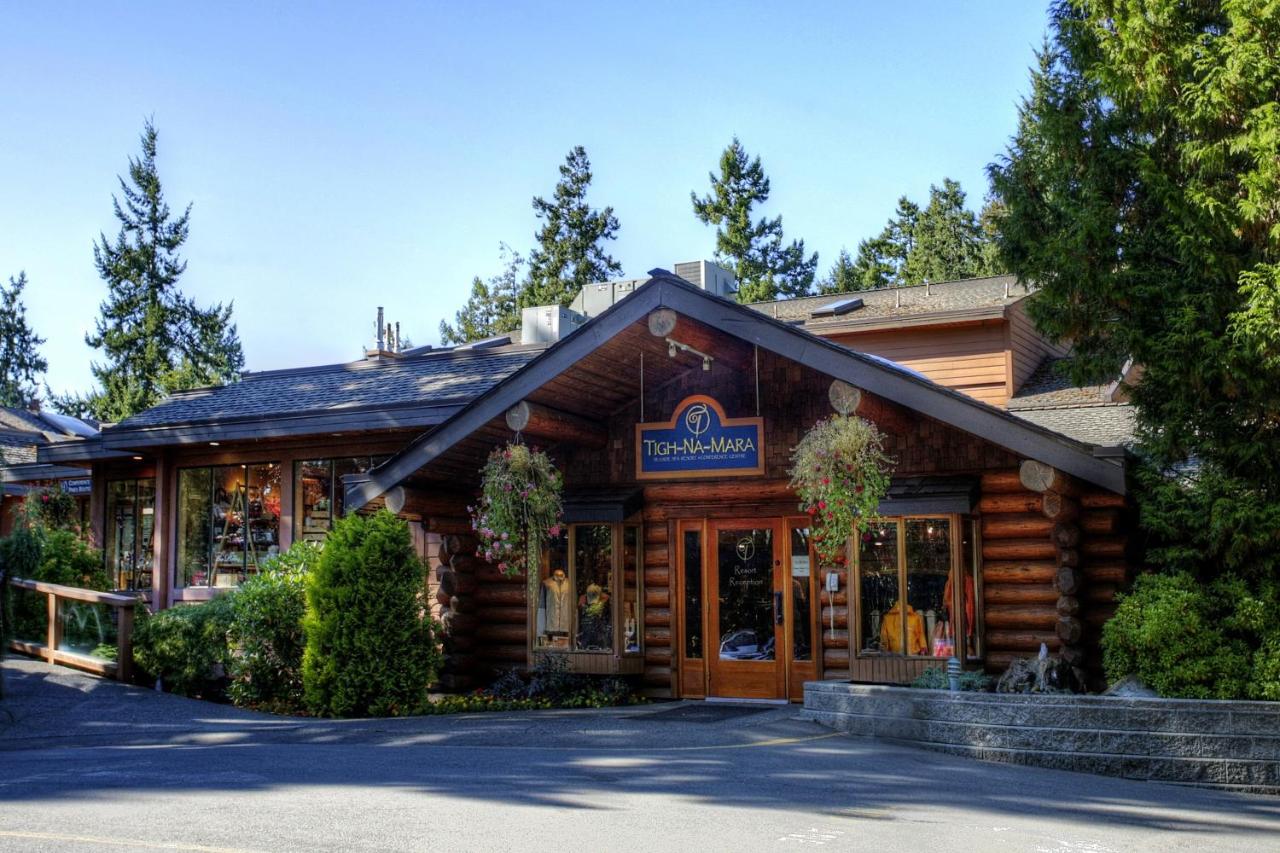 Tigh-Na Mara Seaside Resort is a classic resort. Located in Parksville, it's near the water's edge and has a private beach. There are activities for the whole family, from water expeditions to hot tub sessions. One of the highlights of Tigh-Na Mara is that pets are welcome in some of the cabins – you don't have to worry about kenneling your furry baby!
Tigh-Na Mara is the perfect blend of nature. You'll be able to walk the beach and wander straight into the forest for a hike. With three kilometers of beach swimming, it's one of the largest private beaches in British Columbia. There is an outdoor playground and indoor pool to keep kids of all ages happy.
We love our kids, but sometimes we need a break. Tigh-Na Mara offers babysitting services with tons of activities, so your kids will have fun, and you can, too! Take a walk on the beach or sit down in one of the award-winning restaurants to complete this relaxing, family vacation.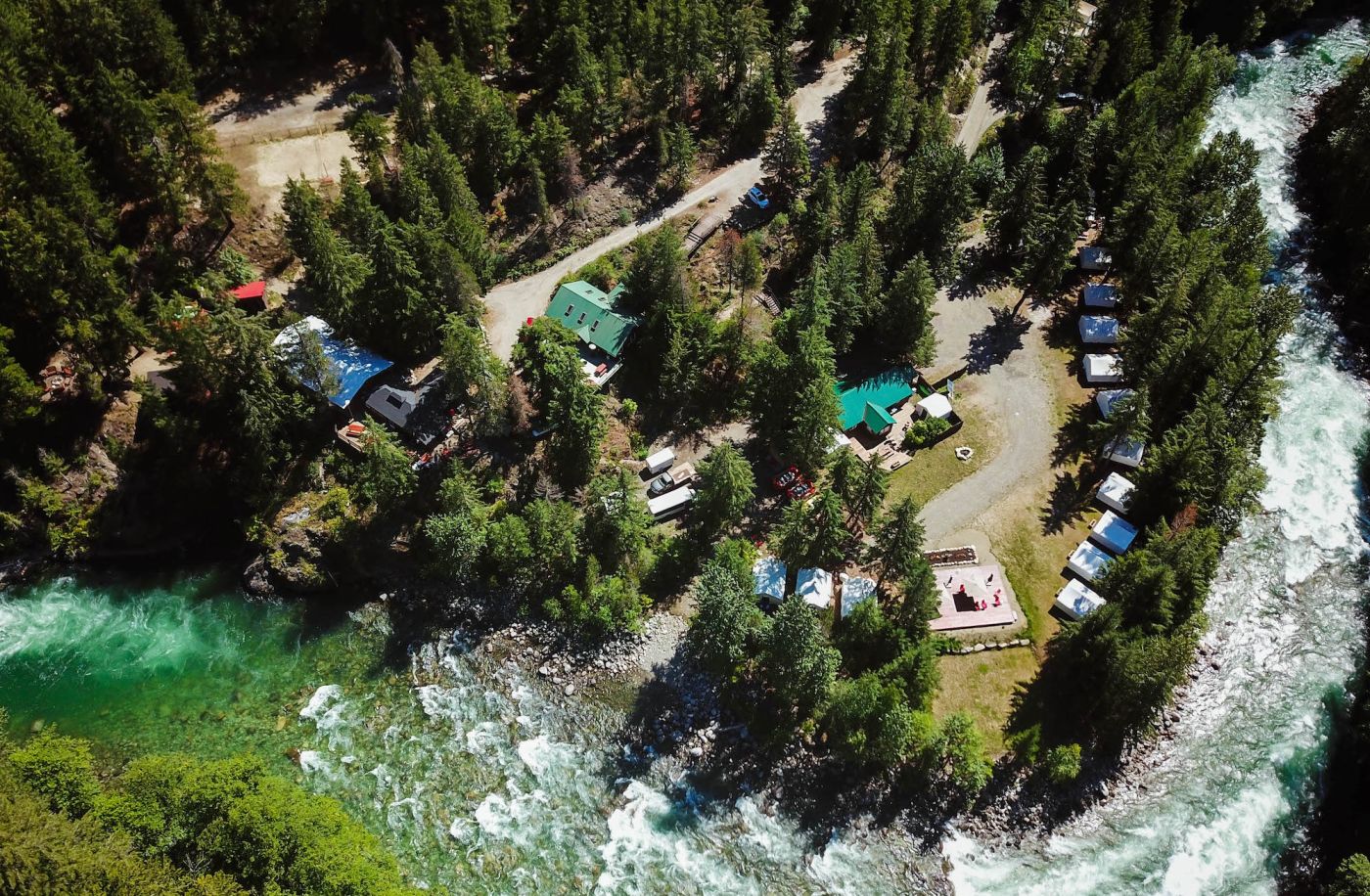 If you have slightly older kids and want to try a bonding adventure, I highly recommend REO Rafting Resort. It's geared for the more adventurous families and also offers the classic resort amenities – relaxing spa days, poolside drinks, and a private beach.
However, the main attraction of the resort is (you guessed it) the white water rafting. With instruction from professionals, you and your family will plunge the rapids and work together to keep from tipping. The rivers range from a beginner-friendly Class 2 to an expert-ready Class 5, and your family can pick whichever one they're comfortable with.
Once you're done on the river, enjoy the resort's private beach, hot tub, and on-site restaurant. The resort also offers overnight camping trips for families who want to get a taste of the Canadian wilderness – it's the perfect place to do it safely and with guidance (and also with a hot tub nearby).
Copper Point Resort is another resort that's open year-round. You can ski in the winter or play outside in the summer. It's a few miles from a golf course and close to Radium Hot Springs (open throughout the summer months). The resort itself has plenty of amenities, as well, if you don't want to leave.
The play areas are great for little kids, and there's a huge selection of games to keep older kids occupied. Of course, the resort offers an indoor pool and hot tub, as well as a tennis court, fitness center, and on-site restaurant. All of these amenities are top-notch and of the highest quality.
However, the main draw of Copper Point Resort is its location. Invermere is home to the best ski resorts in the nation, and many of them are within driving distance of Copper Point. There is also cross country skiing, snowshoeing, and all kinds of winter sports available near the resort.
Harrison Hot Springs Resort and Spa, located in Harrison, is one of the oldest resorts in British Columbia. It's a quaint and delightful little place, perfect for families with small children who want a weekend getaway.
The resort boasts three restaurants, a bar, several pools, and of course, the hot springs themselves. The spa is full service but not quite as family-friendly as the rest of the resort (more geared towards adults). The real attraction for kids is the pool situation – with five mineral pools and a kiddy pool, it's perfect to splash around in.
Harrison Hot Springs is not the fanciest resort on this list, but it is less expensive, easy to get to, and family-friendly. You'll be able to eat at the restaurants, splash in the pool, and stay in the lovely little cabins in the woods. Active family members will love the gym and hiking opportunities around the resort.
Walnut Beach Resort is in Osoyoos and sits right on the Pacific Ocean. It has a huge heated pool and a private beach, so your kids can swim in clean or saltwater and play in the sand. The resort itself is family-friendly and luxurious, with a poolside bar, restaurant, and flat-screen TVs in every room.
Just a few kilometers from the resort, you find the stunning views atop Anarchist Mountain. You can show your kids the beauties of nature and the ocean with this hiking trail, or stay in the hotel and splash around for your whole vacation.
Walnut Beach has all of the regular amenities – free wifi, an exercise room, and an outdoor pool, as well as a hot tub, poolside bar, and a view of the ocean. It's a great place for a romantic getaway or to bring kids – after all, kids under a certain age stay free at Walnut Beach Resort!
Located in Kelowna, BC, Playa Del Sol has an unlikely name for a Canadian resort. Meaning "The Beach of the Sun" in Spanish, this beach doesn't disappoint. Instead of staying in multiple hotel rooms with a big family, you can rent an entire condo and have some privacy with your kids.
Condos have fully furnished kitchens and are great for the family on a budget – plan one fancy meal out and cook the rest at home before splitting off to go to the pool and beach. These vacation houses vary from one to two bedrooms (plus a den for extra sleeping space) and have enough space for a larger family.
There are plenty of kid-friendly activities at Playa Del Sol, as well. A little over a kilometer from the beach, you can take your family to the ocean for a day or stay in the outdoor heated pool and hot tub area. There is a restaurant and coffee shop and a lovely landscaped courtyard.
What to Look For in a Family Resort
When booking a family vacation, there are several factors to consider. A well-planned resort trip will be fun for the entire family and make lasting memories. When you're planning, consider these factors, and you're sure to have an unforgettable week!
Cost
The cost of a resort vacation is the first thing to look at. Don't promise your kids something you can't afford. Resorts are convenient because the activities are usually included in the cost or come at a discounted rate for resort guests. You can save money and do more if you spend the week at a resort instead of a hotel.
Activities
Always look at what activities a resort offers before you book it! If you end up at a spa-based resort with massages and facials but not many children's activities, that might not be great for your hyperactive six-year-old boy. Instead, plan for a resort with activities for all ages (and maybe includes some spa days for mom).
Location
These are all located in British Columbia, but it does not mean that they are easy driving distances. It might be worth it to take a road trip for the perfect resort vacation, but know how far you're willing to go before you decide to book the hotel rooms. The ideal location is far enough away to be special but close enough to be within driving distance.
Time of Year
We don't need to say it, but these resorts are in Canada. When you take a vacation is just as important as where. For a ski trip, winter or spring break will be perfect. But if your family wants a beachside vacation, you might want to wait until summer or find somewhere else to go. 
Also, many resorts are closed during the off-season, so make sure that the resort you're looking at is open when you want to travel.
Your Family
When it comes down to it, the main factor to consider is what your family will love. You are the person who knows them the best, and it's up to you to pick the perfect resort vacation. We know you'll do great because it's hard to go wrong with any of these resort options!
Final Thoughts
Whether you and your family end up at Playa Del Sol or Predator Ridge, they're sure to have a blast. Ski trips, water rafting, and lying on the beach are all equally fun in different ways, and your family will love any of these resorts in British Columbia.
More about our TFVG Author
A seasoned traveller, Dad, and avid sports tourist, James foundered The Family Vacation Guide to share his expert vacation experiences- especially when it comes to being a travelling family man.
Featured in Travel articles such as Travel + Leisure, TripSavvy and SFGate, you know you're reading some of the best vacation tips online.