In eastern Canada lies one of their most popular provinces, Quebec. It's the largest Canadian province by area and second in population after Ontario. It's also the home to Canada's oldest city, Quebec City. 
If you're thinking of whisking your family away to Quebec for a weekend or longer, you have dozens of great cities and smaller areas that you can visit. Family-friendly resorts are some of the best options because they have plenty of things to do for people of all ages.
Before you jump in your car or board your flight, you'll want to find the perfect resort for you and your family. To narrow down and hasten your search, here are 13 of the best family resorts in Quebec.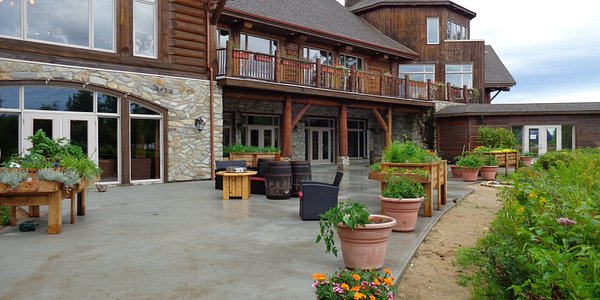 One of the best lakeside resorts in Quebec is the Les Condos Du Lac Taureau. The resort is on the Baie du Milieu in Sainte-Michel-des-Saints. It's a great resort when you and your family need to rest, recharge, and disconnect from reality for a few days.
The accommodation options range from one to two bedrooms, but you can easily fit around six people in most larger rooms. They're beautiful comfortable, and many of them have some of the most beautiful views of the lake.
The resort sits on the water, and there are several sandy shores for you to lounge on when it's warm outside. People come to this resort to participate in lake activities like swimming, boating, sunbathing, and more. Every night, they offer kayaks, tennis, two swimming pools, barbeques, and live music.
Even though it seems like a more summer destination, you can visit any time during the year. If you plan on visiting when it's not beach weather, you can go mountain biking, soak in their hot tubs, hike, and participate in other winter activities around the lake. They even have a spa.
Near Mont-Tremblant is the affordable and comfortable Homewood Suites. It's another wonderful year-round destination at the foot of Mont-Tremblant. This 3-star, eco-certified hotel is perfect for families who want to spend in and outdoors.
The area is stunning, with tons of shopping, restaurants, and things to do outside of the resort, but you have more than enough to do at the resort if you choose to stay on the grounds. Each accommodation option is suite-style with plenty of room, a TV, a kitchenette, and enough room for everyone to spread out.
When you stay here, you get free breakfast and WiFi, and you'll be close to many of the ski lifts in the area. They have one outdoor pool that's perfect if you're here during the summer to cool down. Their hot tubs are perfect for warming up after a day on the slopes in the winter.
If you're looking for a great mountain getaway, the Residence Inn at the base of Mont-Tremblant is perfect. The Residence Inn Mont Tremblant Manoir Labelle is a wonderful option for you and your family all 12 months of the year. You can enjoy your time here regardless of the season.
The rooms at this resort vary, but many of them offer full kitchens, flat-screen TVs, and some of the best views you'll find in Quebec. The best part is that they have small and large rooms to accommodate almost any size of the family.
For adventurous families, you'll have access to some of the best skiing in North America. The lifts are close by, and you can ski or snowboard your heart out all day long. They also offer ice skating, dog sledding, and other winter activities during the cold months.
Other amenities you and your family can take advantage of here include the hiking and biking trails nearby, helicopter tours, indoor and outdoor pools, hot tubs, and more. If you're interested in booking excursions outside of the resort, the staff at the front desk can assist you.
You'll find Le Grand R on Lake Bouillon amidst 2,500 acres of mostly undisturbed land. The beautiful mountains and lakes surround you. This resort looks and feels like a massive country estate that's only 90 minutes away from the bustling city of Montreal.
The rooms here range in size, but they're all very comfortable and have that rustic aesthetic. For larger families or ones who want a whole Le Grand R experience, their condos and larger suites are the way to go. They have all the comfort of home with the added luxury of being on vacation.
They have fantastic summer and spring activities and ones that are better suited for the fall and winter. During the spring and summer, you can take advantage of their outdoor swimming pool, hiking trails, tennis courts, pedal boats, canoes, go sailing, hit the golf courses, and mini-golf nearby.
They have an indoor swimming pool in the fall and winter, so you don't have to miss out on water fun. Other things to do here include snowshoeing, using their fitness center, snowmobiling, and skiing nearby. Regardless of what you want to do, Le Grand R is an excellent option for families.
In the beautiful lakeside town of Mille-Isles is Fiddler Lake Resort. It's only about an hour's drive from Montreal and is the perfect lakeside escape for you and your family. Fiddler Lake Resort is more than just a resort. People refer to it as a whole Laurentians lifestyle experience.
You and your family can rent log cabins in the Saint-Sauveur valley and enjoy the beauty of Quebec. There are 50 luxurious cabins for you and your family to stay in. They range from three to six bedrooms, making sure almost every family can stay here comfortably.
When you approach Fiddler Lake Resort, you'll notice the entire resort property is gated, providing some extra safety and security while on your vacation. Every log cabin features a barrel sauna, hot tub, fireplace, loft-style bedrooms, and stunning furnishings that will have you rethinking your decor at home.
As you explore the resort property, you'll find an outdoor pool for the summer and an indoor one you can use during the winter if you want. They also have an ice rink, tennis courts, a game room, and other family-friendly activities.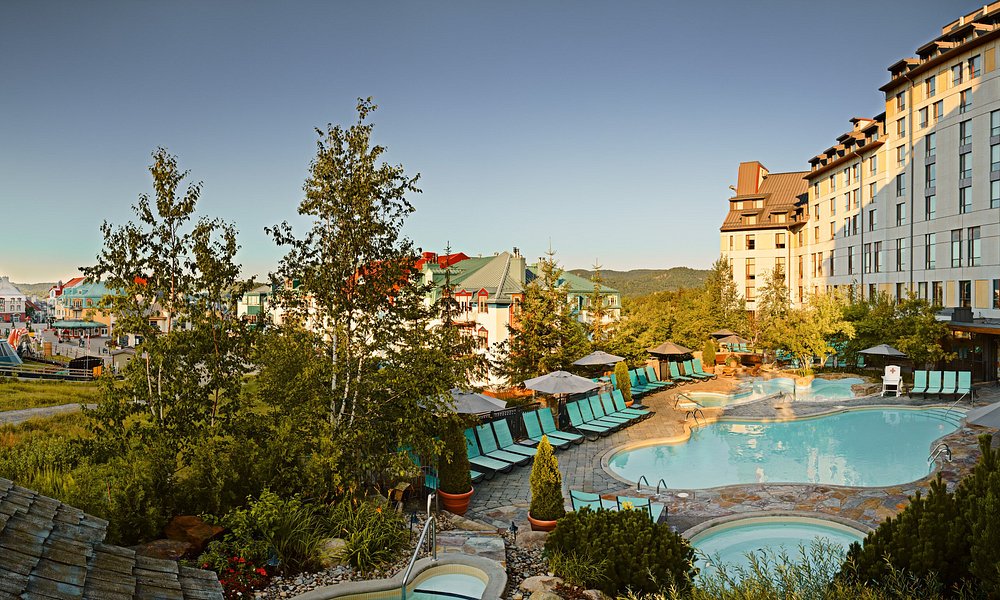 Mont-Tremblant is a famous resort town for people of all ages, so it's no surprise we're bringing up another great resort option in that area. The Fairmont Tremblant Resort is the perfect combination of sophisticated and charming.
This resort is relatively large, with over 300 room options for you and your family to choose from. You can go with a primary option or something larger and more spacious. Either way, even their most simple rooms are elegant, and you'll feel right at home.
The resort is in a central location where you can access the ski lifts during the winter, plenty of delicious restaurants, and great shopping. You're more than welcome to eat at their on-site restaurants, but it's nice to have extra options.
Winter activities include skiing, snowboarding, ice skating, and more. During the summer or warmer months, you can go golfing and even river rafting. You can use their pools, hot tubs, fitness center, and spa inside the resort.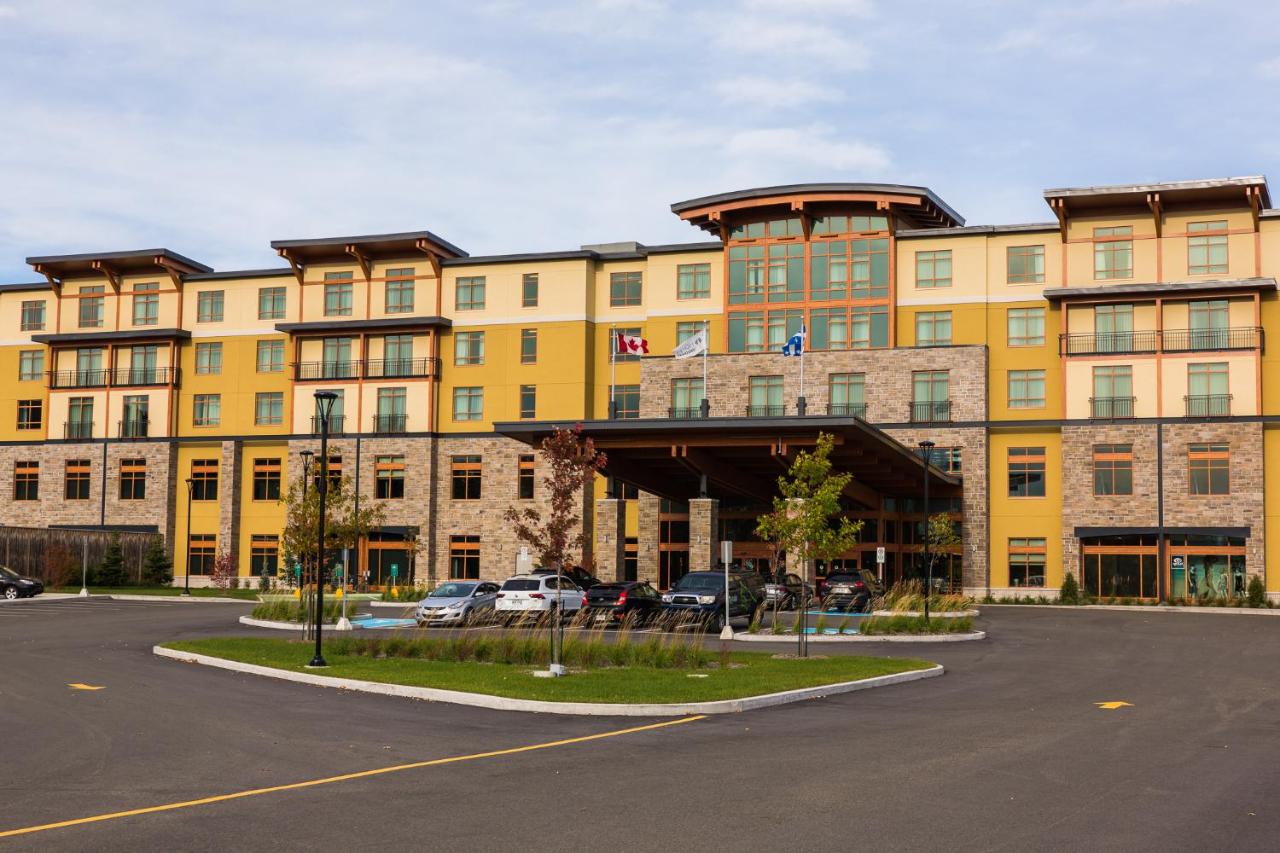 If you're looking for another great resort that's a short drive from a major city, Hotel Valcartier needs to be on your list to check out. It's only 20 minutes from Quebec City, and they have everything you could ever want in a resort.
Hotel Valcartier sits on a massive resort complex and offers packages for families that are worth looking into. There are 153 rooms to choose from here. You can stay in their standard rooms, suites, or their dorms. But for families, we suggest rooms or suites.
Something people of all ages love about this 4-star hotel is that it has an indoor waterpark. It's entertaining, and your kids won't want to get out of the water. They also have a spa, game room, and plenty of dining options in the hotel and nearby.
During the spring and summer, they open their outdoor waterpark so you can soak up the sun while splashing in the water. Within walking distance is another excellent activity, the Hotel de Glace. It's an ice hotel made entirely out of ice that's worth seeing.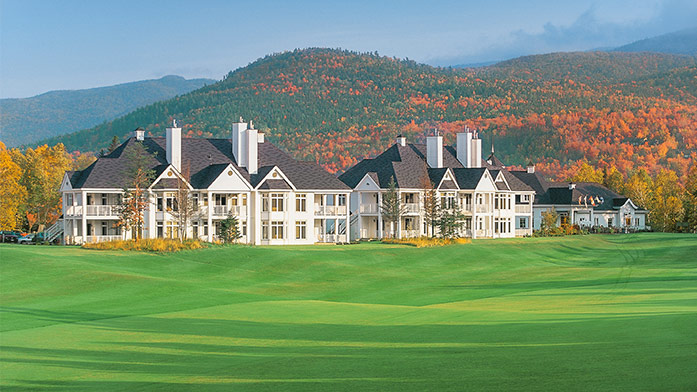 Embarc Tremblant is a stunning resort by Diamond Resorts that's close to the base of Mont Tremblant in Quebec. The property is huge and feels like an estate surrounded by beautiful mountains and a lake. The European architecture and cobblestone streets make you feel like you've traveled across the Atlantic to Europe and not outside of Montreal.
They have hundreds of rooms for you and your family. They can sleep up to eight people in their largest room and as few as four comfortably in their average-sized rooms. Many of the rooms offer cozy fireplaces, kitchenettes, and TVs with kid-friendly channels.
You and your family will love playing in their pool during the summer and hitting the slopes during the winter. They have several championship golf courses nearby if you want to practice your swing or play a game.
Other things to do while you're here include hiking, fishing, biking, enjoying the spa, and dining at any of the nearby restaurants.
If you want to visit the village of Saint-Sauveur, then Hotel Manoir Saint-Sauveur is one of the best options. It's only 45 minutes from Montreal but feels like a completely different world. This romantic hotel is wonderful for couples, but they enjoy hosting families too.
You and your partner can enjoy the spa and relaxation time with one another while your kids play all day. There's something for everyone here. You can frolic through the snow during the winter, whereas hiking and shopping nearby are popular activities in the summer.
Their ski package is worth looking into for those visiting in the winter. It offers you tickets to the lift and complimentary breakfast for the duration of your stay. All 250 of their rooms have been recently renovated to provide you with a cozy yet modern room you'll love.
Kipawa Lodge is a charming resort that sits on the stunning Lake Kipawa, 22 miles from the Village of Kipawa. While many people refer to this resort as a great romantic getaway, it's great for families! If you love being outdoors, this is the perfect resort to spend time at during the summer when it's nice and warm.
Room options at Kipawa Lodge range from standard rooms to cabins. The cabins are great if you want something with more privacy or space for your larger family. The standard rooms are in the main lodge, where most of the activities are.
People love coming to Kipawa Lodge to spend time on the lake and outdoors. Boating is very popular, and the lodge offers aluminum and fiberglass boats for you to use. You can sail around the lake, take in the views, fish, and swim.
There's also hunting, hiking, and plenty of room for your kids to run around and have a blast. The lodge serves breakfast and dinner every day in their dining room, but they offer lunchboxes you can take with you on the day's adventure. There's also a store nearby if you want snacks or to prepare your food.
The Chalets Mont-Sainte-Anne is another popular tourist destination in Quebec for people of all ages. These stunning condos are in the heart of the Mont-Sainte-Anne ski resort and offer your family the perfect mountain getaway any time of the year.
All the condos you can rent here come with everything you need to enjoy your time in the mountains. Each condo features at least one bedroom and bathroom, a kitchen, dining room, and living space after a long day of exploring. Some of them even have a sauna or hot tub!
They designed the condos for families or larger groups, so you shouldn't have an issue fitting the whole family in one. The resort offers swimming pools, hot tubs, restaurants, and access to ski lifts if you're in town during the winter season.
Activities you and your family can do while you're here include skiing, snowboarding, cross-country skiing, mountain biking, golfing, and hiking. The resort is a little less than an hour from Quebec City, so it's easy to get to.
Le Baluchon Eco first opened their doors in 1990 with only 12 rooms, but the owners had a vision they weren't going to let it die. The resort has expanded over the years to a much larger size in Saint-Paulin, Quebec.
This eco-resort offers guests the option of staying in standard hotel rooms or renting a cottage. The cottages are an excellent option for a family because they're adorable, but they give you more space to enjoy your vacation.
You'll have access to all their activities and amenities when you stay here. They offer a pool, fitness center, spa, biking trails, kayaks, and more. You can go on excursions outside the resort-like horseback riding, ice skating, cross-country skiing, and snowmobiling.
They have a lovely dining room at the resort where you can eat all of your meals if you want. They serve delicious classics with an elevated tone. They do have kid-friendly and approved options.
L'Auberge du Lac Champlain, Chalet et Spa overlooks the Missisquoi Bay off of route 202. It's not far from Philipsburg Migratory Bird Sanctuary and the town of Saint-Jean-sur-Richelieu. The hotel looks like several small houses next to one another, making it feel more like a neighborhood than a vacation accommodation.
All of their rooms include internet access, TVs, coffeemakers, minifridges, and beautiful furnishings. If you're interested in staying in their cottages, you'll have access to a full kitchen. Their cottages have one or two-bedroom options.
While you stay here, you can take advantage of their pool, hot tub, sauna, and even get a massage from the spa. You can walk down to the sandy shore and lounge in their lawn chairs or swim in the water during the summer. Kids will love playing in the sand while you relax with a good book or cold drink.
Be sure to check out their on-site dining option! This bistro offers some fantastic panoramic water views that you won't want to miss.
Final Thoughts
Whether you're looking for the perfect winter mountain getaway, a summer by the lake, or a resort closer to a significant town, Quebec has plenty of options for you to consider. Most resorts offer activities for families, like dance lessons, great food, pools, hot tubs, and other fun things to keep you entertained for the duration of your stay.
Regardless of where you want to spend your vacation in Quebec, you can't go wrong with any of these fantastic family-friendly resorts.
More about our TFVG Author
A seasoned traveller, Dad, and avid sports tourist, James foundered The Family Vacation Guide to share his expert vacation experiences- especially when it comes to being a travelling family man.
Featured in Travel articles such as Travel + Leisure, TripSavvy and SFGate, you know you're reading some of the best vacation tips online.