The country of Canada is a vast and beautiful natural landscape filled with unique destinations for families to visit on vacation. Within Canada, you will have the opportunity to experience cultures and scenery of all varieties. 
From a bustling city vacation to mountain getaways and even locations that make you feel like you stepped into Europe, finding a fun destination to enjoy on your next family vacation won't be difficult!
But how do you know which location is the best one for a vacation with kids? This comprehensive guide outlines the best places to vacation in Canada with kids.
We take all the information from the top getaways in the country and report back all the highlights that make them conducive to families and children.
Banff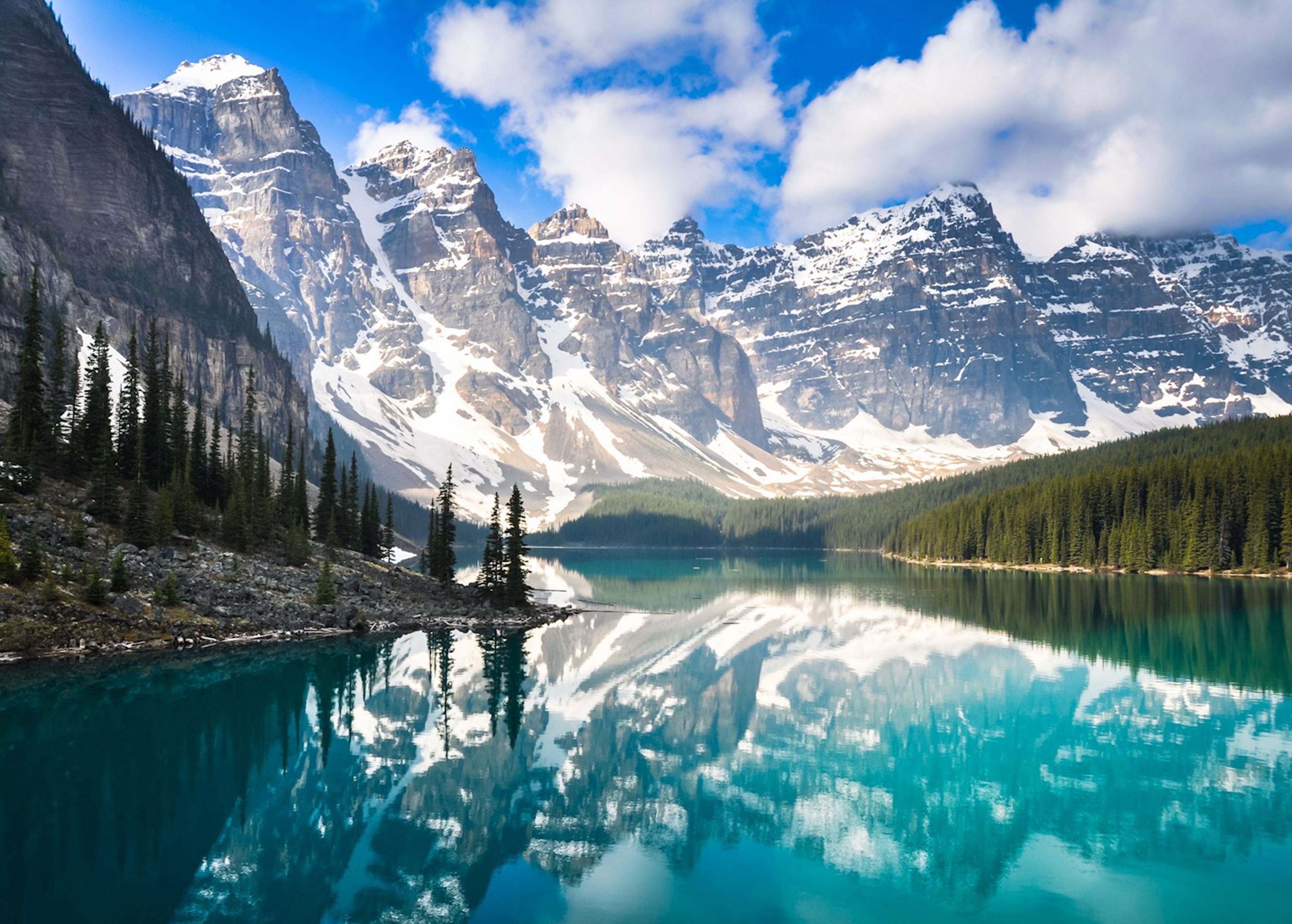 Residents of Canada travel to Banff routinely for vacations of their own to enjoy the beauty that the mountain area provides. Therefore, it's no surprise that it's a top choice for those traveling in from outside Canada as well.
Located in Alberta, Banff is a picturesque resort town with ample skiing and snowboarding opportunities. You are likely to experience some wildlife during your visit, especially elk, deer, and bighorn sheep. However, it is also possible that you will get a chance to see bears, moose, coyotes, and mountain goats.
The immediate area of Banff has many resorts, as well as various restaurants and boutique shops. While recreational activities will vary based on the season that you visit, some of the most popular options include:
Canoeing
Rafting
Horseback Riding
Kayaking
Wildlife Tours
ATV Tours
Gondola Rides
Bicycling
Hiking
Cave Tours
Ziplining
Columbia Icefield Skywalk
Dog Sledding
Snowmobiling
Snowshoeing
For those into the culture, there is the Banff Cultural Centre and the Banff Park Museum National Historic Site. For nature enthusiasts or those that want a space to decompress and enjoy some time off-grid, a trip to Banff in Alberta, Canada, will be the perfect fit.
Niagara Falls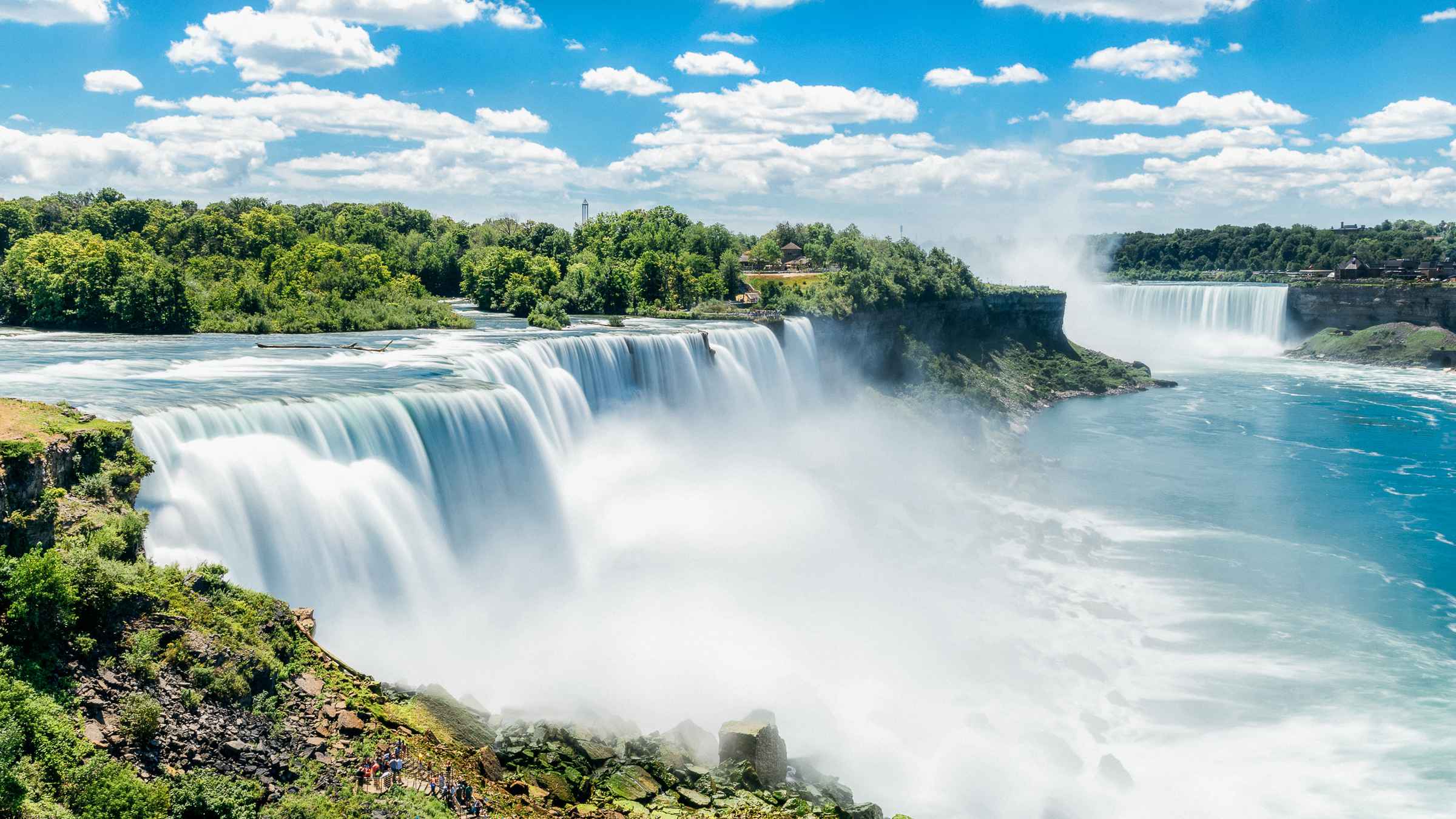 One of the most popular tourist attractions in both Canada and the United States, Niagara Falls has activities and opportunities that are fun for individuals and families alike.
The main attraction of the Falls has many in awe right off the bat. While you can view it at all hours of the day, it is even more magical at night. Once the sun goes down, the falls are lit up with different colored lights that provide a unique perspective to a fantastic landmark.
Outside of the Falls, there are various small shops and restaurants to explore. You can also partake in a spa day, enjoy a show or the casino, zipline over the falls, Skylon Tower, among many others. If golf is your thing, you can head out for a day on the course or visit one of the local kid-friendly breweries.
In addition to the above, Niagara Falls offers the following attractions for families:
Fallsview Indoor WaterPark
Adventure City
Ax Throwing
Big Top Amazing Mirror and Laser Maze
Bird Kingdom
Butterfly Conservatory
Fort Erie Race Track
Great Canadian Midway
Iwerks 4D Moving Theatre
Locomoland
Mystery Maze
Niagara Parks Power Station
Niagara Skywheel
Ripley's Believe It Or Not
Upside Down House
Many of the activities within Niagara Falls are tourist-related and aren't necessarily unique to the location. The biggest draw to the area is the Falls and the activities you can participate in while exploring them. You can also take a cruise under the falls to see this world wonder from a unique perspective.
Vancouver
Located in British Columbia, Canada, Vancouver is an area that offers a great mix of nature and culture.
The city is surrounded by mountains, which is ideal for winter family vacations as it provides ample opportunities for skiing, snowboarding, snowshoeing, snowmobiling, and sledding. However, that doesn't mean that visiting in the summer is any less fun!
If you choose to take a family vacation to Vancouver in the summer, you can participate in various nature activities, including:
Kayaking
Beaches
Camping
Ziplining
Mountain Biking
Logger Shows
Hiking
Whale Watching
Grizzly Bear Habitat
Bird Watching
One of the most unique features of Vancouver is the outdoor pools that are available to the public. While many cities provide one or two public spaces for pool swimming, Vancouver has over 25 that are available throughout the summer. Many of these are free to visit, but some require a small fee to utilize.
In addition to those activities, other establishments within Vancouver are worthy of a visit during your time in the city. Some of the most popular include:
Vancouver Aquarium
VanDusen Botanical Garden
Granville Island
Stanley Park
Granville Island Public Market
Queen Elizabeth Park
Vancouver Seawall
Vancouver Lookout
The Aquabus
Museum of Anthropology
Chinatown
English Bay
Museum of Vancouver
Science World
Whatever you choose to do during your visit to Vancouver, you are guaranteed to have a great time. The restaurants provide various options that will please all the members of your family. In addition, with all the available activities, everyone will be able to choose an option that speaks to them.
Quebec City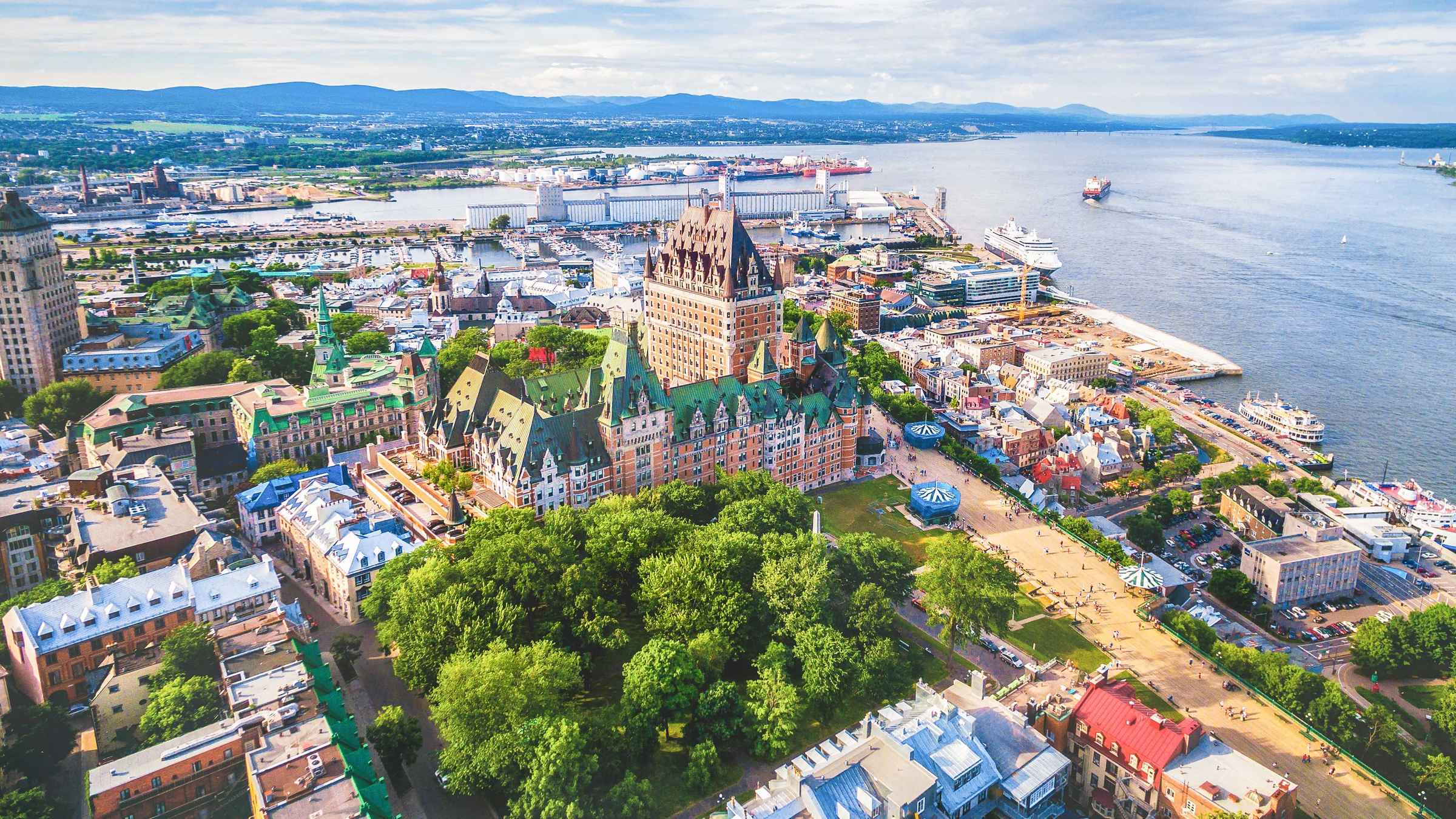 Located in Quebec, this North American city has the perfect blend of both English and French-speaking residents.
Stepping into Quebec City will have you in an area that is captivating and unique. You will feel like you traveled over the Atlantic instead of the country of Canada.
When you are in Quebec City, you will be surrounded by beautiful architecture, exquisite waterfalls, and excellent museums. With a plethora of resorts and hotels, you will be able to find the perfect family-friendly accommodation for your family vacation. Whether it's a suite, an Airbnb, or a cabin, each scenario is available to you on your getaway to Quebec City.
There is no shortage of nature activities within Quebec City as well. When engaging in a getaway to this magical location, you can participate in the following:
Snowshoeing
Mountain Biking
Kayaking
ATV Riding
Camping
Cani-Karting
Canicross
Canoe Camping
Canyoning
Cross Country Skiing
Snowboarding
Hiking
Fat Biking
Dog Sledding
When you feel like you need a break from outdoor activities, there are plenty of cultural and entertainment options you can engage in. Attractions that are fitting for all members of your family include:
Place Royale
Notre-Dame des Victoires
Musée de la Civilisation
La Citadelle de Québec
Musée de la civilisation
Musée de l'Amérique Francophone
Château Frontenac
Grand Théâtre
Palais des Congrès
Basilica of Sainte-Anne-de-Beaupré
La Basilique-Cathédrale Notre-Dame-de-Québec
Observatoire de la Capitale
Funicular
Fortifications of Quebec National Historic Site
Grande Allée
A trip to Quebec City provides an experience like no other. Not only will you leave the city feeling highly entertained and in tune with nature, but you'll also find yourself with a new level of education after taking part in all the cultural opportunities the area provides.
Toronto
Located in Ontario, Canada, Toronto is a cultural hub of entertainment and experience. As the largest city in Canada, there are many activities to participate in during your stay.
For starters, taking a ride up into the CN Tower gives you a birds-eye view of the city and provides an excellent backdrop for group pictures. You can even dine in the tower and get a 360 view of the city while you eat.
When you are in the CN Tower, you can stand on the glass floor to feel like you're standing on thin air in the middle of the Toronto sky. Or if you're courageous, you can take on the Edge Walk. This experience attaches you to a safety harness so that you can walk around the outside of the tower. You will be at heights of up to 365 meters up in the air!
If your family enjoys museums and learning about the different components of history and culture, Toronto has numerous options to choose from, including:
The Royal Ontario Museum
Hockey Hall of Fame
Aga Khan Museum
Art Gallery of Ontario
Bata Shoe Museum
Casa Loma
Black Creek Pioneer Village
Spadina Museum
Ontario Science Center
Gardiner Museum
Toronto Railway Museum
Textile Museum of Canada
Fort York National Historic Site
Brookfield Place
Mackenzie House
MZTV Museum of Television
Toronto Police Museum
Each area of Toronto offers a different perspective of the city and the diversity it offers. Many hotels are renovated historic buildings that preserve the charm of the city. The public transportation system allows you to go in between locations and attractions with ease. There are also many restaurants to choose from, each offering diverse menus and ethnicities.
While there are some nature-oriented aspects to Toronto, it isn't the city's focus. However, during your visit, you can visit several different beaches, various parks, and even the Toronto Islands. The Toronto Islands is a short ferry ride away and includes an amusement park and many options for hiking.
Other entertainment options while in Toronto include:
Toronto Zoo
Ripley's Aquarium
Royal Alexandra Theater
Toronto Symphony Orchestra
St. Lawrence Market
Nathan Phillips Square
Eaton Centre Mall
Yonge Dundas Square
Kensington Market
Rogers Centre
Toronto is an exciting place to visit and is reminiscent of New York City. With all of the different activities to choose from and the various pockets of the city to explore, you won't experience boredom during your stay.
Prince Edward Island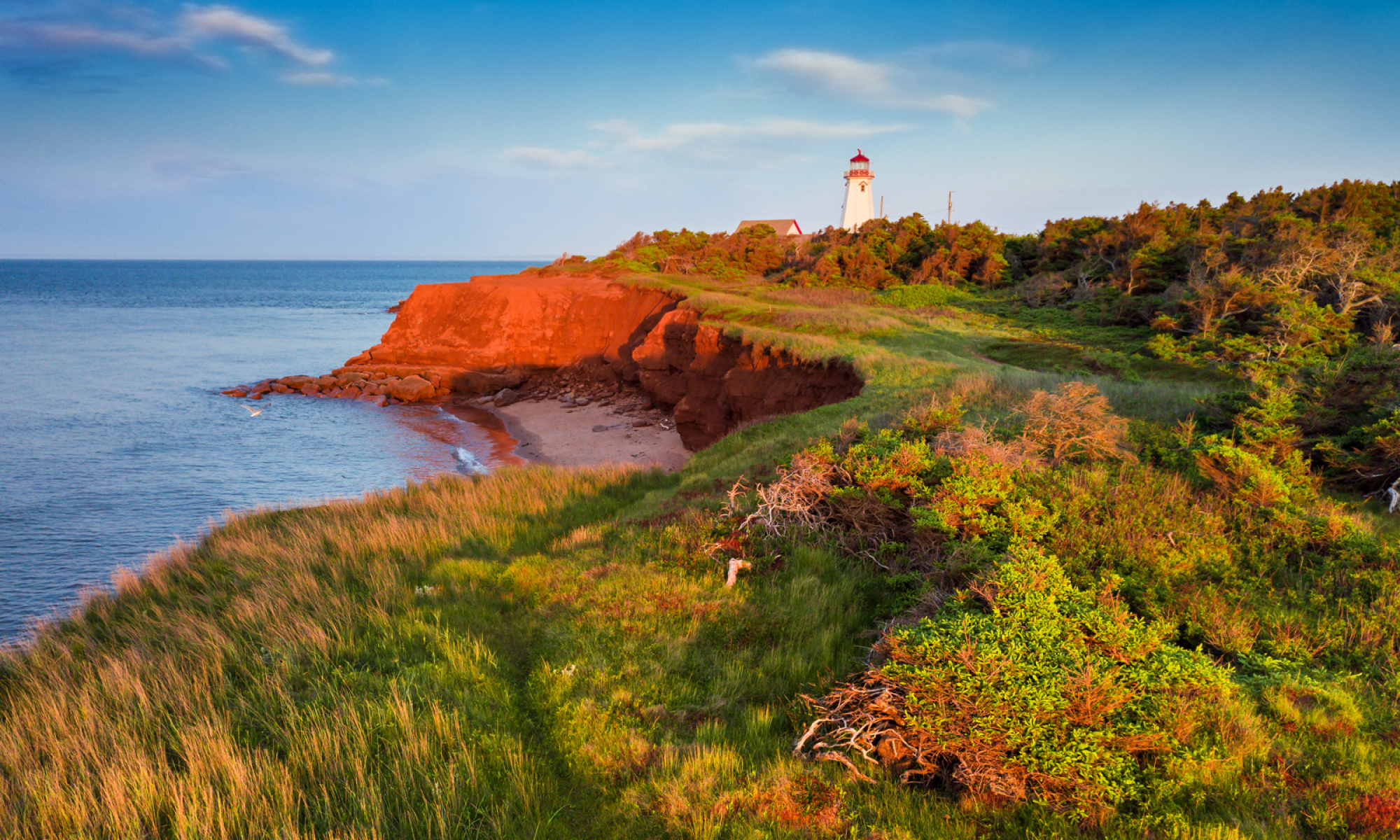 If a vacation to a bustling city isn't for you, then the lowkey nature of Prince Edward Island may be a better fit.
Lovingly referred to as PEI, the area is further removed from mainland Canada and focuses on nature. There will be no shortage of activities to participate in on the natural playground that Prince Edward Island provides.
The location of Prince Edward Island is off of the province of Nova Scotia. For perspective, it is a nine-hour drive from the previously mentioned getaway spot of Quebec City. The island is also a 16-hour drive to Toronto. You can reach the island by car or airplane, and the island has its own airport for easy access.
If pictures of Prince Edward Island seem familiar to you, it is likely because the backdrop and location are the settings of classic novels like Anne of Green Gables. Throughout the pages of the books, you get detailed imagery of Prince Edward Island.
While on the island, you even get the opportunity to dress up like the characters and visit the heritage place that is part of the beloved stories.
When it comes to enjoying the activities that nature provides, Prince Edward Island has you covered. No matter your level of outdoor recreation expertise, Prince Edward Island will have an activity you can participate in during your vacation. Whether you're hiking, biking, or enjoying a day on the beach, there is something for everyone to partake in and enjoy.
Outside of nature activities, there are various other entertainment options that your family may enjoy. While the island is much smaller than other areas of Canada and doesn't offer as much as the more populated locations, there are numerous attractions that tourists love, including:
Green Gables Heritage Place (must-visit for fans of the books!)
West Point Lighthouse
Covehead Harbour Lighthouse
Canadian Potato Museum
Sandspit Amusement Park
Shining Waters Family Fun Park
Jurassic Bart's Dinosaur Museum
Avonlea Village
Brackley Drive-In Theatre
Victoria by the Sea
Acadian Museum
Village Musical Acadian
Spinnaker's Landing
Confederation Centre
Bottle Houses
Gateway Village
While there are various restaurant types for your family to enjoy during your stay, most of them revolve around seafood due to the island location. The fresh seafood you will enjoy during your vacation will have you craving it for years after the fact.
You can find all the culinary staples around the island outside of seafood, including pizza, barbecue, Italian, steak, and more. There are also several local coffee shops, diners, and cafes for you to enjoy.
All in all, Prince Edward Island is an excellent destination for your next family vacation. A little oasis off on its own, it provides a quaint village experience, lots of history, and every nature activity you could want.
Saskatoon
One of the most incredible things about Saskatoon is that if you are on the fence about visiting, you can take a virtual visit to their town's welcome center and see everything that the area has to offer before committing to traveling there! This modern-day convenience is highly beneficial, but visiting Saskatoon in person won't disappoint!
The locals have a term for experiencing all that the area offers, which they have lovingly dubbed "saskatooning." Therefore, whatever you set out to do for the day can be considered "going saskatooning."
Visiting a nearby cafe? Saskatooning. Going ice skating? Saskatooning. It's a universal phrase that fits the need exceptionally well, given the variety of options you can partake in while in Saskatoon.
While Canada isn't typically the first destination people have in mind when planning a getaway in winter, the number of fun activities that are available will make you want to bump the country up on your list of locations. Visiting in the winter season gives you and your family access to the following outdoor adventures and attractions:
Ice Skating
Skiing
Snowshoeing
Snowboarding
Tobogganing
Sledding
Kicksledding
Cross Country Skiing
Winter Biking
Curling
Additionally, many people take advantage of the beautiful snow and landscape to get phenomenal winter photography. There are also various festivals that take place in Saskatoon during the winter months, including several directly related to the holidays.
For the times when you are looking for a break from the cold, or you decide to plan a family visit for the warmer months, there are many attractions that are accessible no matter the weather conditions.
Barn Playhouse
Duck Lake Regional Interpretive Centre
Glitchy's Oddities
Marr Residence
Nutrien Wonderhub
Remai Modern
Saskatchewan Aviation Museum and Learning Centre
Western Development Museum
Taking in a visit during the warmer months allows you to take advantage of more recreational activities and spaces. Visit the following areas and participate in the sports available:
Saskatoon Horticulture Society
Saskatoon Natural Grassland
Batoche National Historic Site
Beaver Creek Conservation Area
Cranberry Flats Conservation Area
Fort Battleford
Meewasin Trail
Prairie Fire Alpacas
Nutrien Children's Festival
SaskTel Saskatchewan Jazz Festival
Saskatoon Pride Festival
The Rock 102 Show & Shine Weekend
Rock the River Music Festival
As they say, if it's a thing in Saskatoon, they will make a festival out of it! Therefore, you know that you are in for a good time when you plan a vacation to the province of Saskatchewan, and more specifically, the city of Saskatoon.
With a variety of beautiful restaurants, extraordinary shopping, and a plethora of hotels and resorts, you won't lack anything during your trip.
Victoria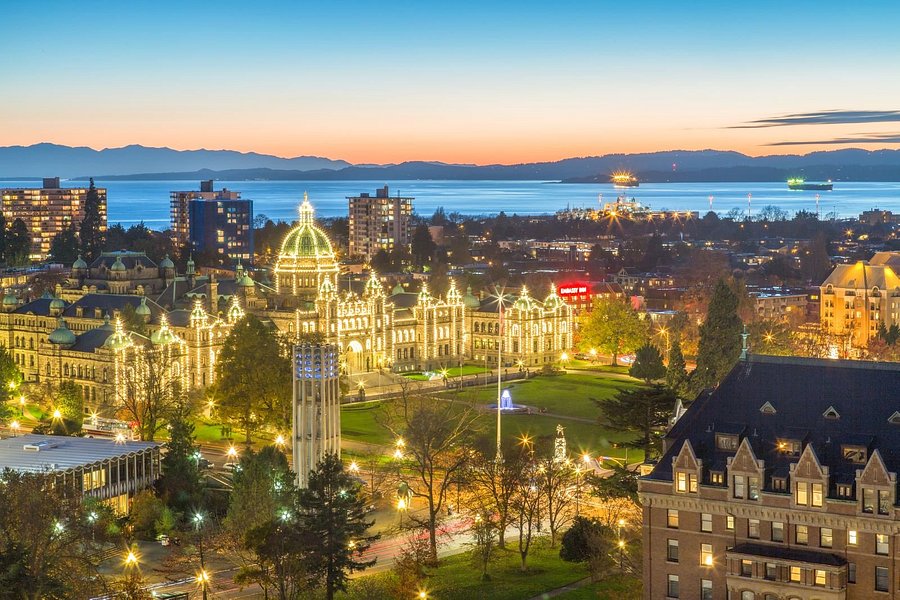 Traveling back to British Columbia, another great option outside of Vancouver is Victoria. As the capital of British Columbia, it houses many of the governmental bodies for the province. The buildings have the aesthetic of old European establishments and give an awe factor as soon as you enter the city.
Like Vancouver, Victoria has easy access to many of nature's finest activities. The beautiful mountains set the perfect backdrop for your stay. Additionally, the water surrounding the area gives opportunities for many recreational activities.
Being in the middle of a vast natural landscape provides visitors ample opportunities for bird watching and wildlife observing.
One of the most unique attractions that you can participate in during your vacation is to take a tour of the area via seaplane. With the ability to land on water and land, you can see all of the sights that Victoria has to offer from a perspective that isn't readily available anywhere else!
Other great attractions that Victoria, British Columbia, offers include:
Art Gallery of Greater Victoria
Maritime Museum of British Columbia
Bateman Gallery
Shaw Centre for the Salish Sea
West End Gallery
Sooke Region Museum & Visitor Centre
Hatley Park National Historic Site
Belfry Theatre
Winchester Galleries
Wentworth Villa Architecture Heritage Museum
St Jean Baptiste Paroisse Française
Craigdarroch Castle Historic House Museum
Naval & Military Museum
Hatley Park National Historic Site
Out of the Mist Gallery
Langham Court Theatre
In addition to local attractions and natural landscape, Victoria offers a multitude of family-friendly restaurants and hotels. Some of those that parents highly rate include:
Moxie's Grill & Bar
Points West Oceanfront Resort
Sassy's Family Restaurant
Moon Water Lodge & Malahat Chalet
Floyd's Diner
Hotel Grand Pacific
Lido Waterfront Bistro
The Westin Bear Mountain Golf Resort & Spa
Big Wheel Burger
Spinnakers Guesthouse
When in Victoria, British Columbia, don't forget to take advantage of skiing, tobogganing, snowshoeing, and ice skating in the winter. In the summer, be sure to seek out the multitude of splash pads, kayak rentals, hiking areas, and mountain biking. There is no shortage of activities you can participate in, no matter the season!
Dawson City
Moving over to the Yukon Territory, Dawson City is the center of the historical Klondike Gold Rush. Due to that, it is a portal for artifacts and history and provides a space to enjoy a vacation that is equal parts entertainment and education.
One of the most unique excursions you can participate in during your visit to the Yukon Territory, specifically Dawson City and the other areas of the Klondike Gold Rush, is that you and your family members can go panning for gold.
While it is a tedious process, the area is known for it, and the experience will provide many memories for you and your family to carry with you long past the end of the vacation.
Located on the edge of Canada, right next to Alaska, Dawson City has a great view of the Northern Lights for visitors to enjoy during their stay. Additionally, the vicinity of mountain ranges makes it a beautiful area to connect with nature and enjoy a restful and nourishing vacation with your family.
Visitors to Dawson City enjoy kayaking, sailing, fishing, canoeing, hiking, mountain biking, wildlife viewing, swimming, paddle boarding, and waterskiing in the summer. Those traveling in colder times can take part in skiing, snowboarding, snowshoeing, ice skating, dog sledding, tobogganing, cross country skiing, and winter biking in the winter.
For those looking for indoor attractions, the area offers many different options for families to take part in, including:
Jack London Interpretive Centre
Dawson City Firefighting Museum
Commissioner's Residence
Dänojà Zho Cultural Centre
Robert Service Cabin
Palace Grand Theatre
Klondike Institute of Arts and Culture
Yukon Quest
While Dawson City isn't as expansive as the cities covered in the list, it does offer many different festivals and competitions for locals and tourists to participate in throughout the year. The locals greatly anticipate these occasions, and plans are made for them throughout the year in preparation.
If you are looking for an excellent fishing exploration, you can take the day and rent a chartered fishing boat, complete with a guide that can take you to all of the best fishing spots in the area.
The conditions surrounding Dawson City are ripe for fishing, with all of the natural water beds and incoming sources from other large bodies of water.
Due to the optimal fishing conditions, you will find no shortage of seafood restaurants to enjoy during your stay. However, some of the top eateries aren't seafood-focused. Therefore, you will have many different options to choose from for the diverse palettes that your family members have.
Some of the top restaurants in Dawson City, Yukon Territory include:
Sourdough Joe's Restaurant
Jack London's Grill
The Drunken Goat Taverna
Klondike Kate's
Gold Village Chinese
Sourdough Saloon
Red Mammoth Bistro
Pan of Gold
For a unique vacation experience, Dawson City in the Yukon Territory provides a fun opportunity for all members of your group. From gold panning to charter fishing trips and everything in between, nobody will have a moment of boredom.
What makes these Locations Best to Vacation in with Kids?
Canada is a massive country with many possibilities for exploration. Within the different provinces and territories, you will find a surplus of different cultures, various nature experiences, and many historical references.
Whether you are the type of family that enjoys traveling to big cities for vacation or to remote country villages, there are endless opportunities for both when visiting the northern country of Canada.
While there are many options for vacation destinations in Canada, the endless opportunities can be overwhelming to choose from in the vacation research phase.
Because of this, we took the top getaway locations and created this comprehensive guide to outline the highlights of the areas and why they are a good fit for families and children.
In this listing of the best places to vacation in Canada with kids, you will see options that fit every interest and need. What all the locations have in common is their conduciveness to children and families and the ease of inclusion for them into the top attractions and activities in the area.
The above list is sure to have some of the most desirable spots for your family to visit for your next vacation in Canada!
More about our TFVG Author
A seasoned traveller, Dad, and avid sports tourist, James foundered The Family Vacation Guide to share his expert vacation experiences- especially when it comes to being a travelling family man.
Featured in Travel articles such as Travel + Leisure, TripSavvy and SFGate, you know you're reading some of the best vacation tips online.