Along the west coast of Canada in British Columbia is the bustling city of Vancouver. This large port city is one of the most ethnically diverse towns in the country, making it a popular place for people of all ages to visit. There are more than enough things to do and see with so many different cultures. 
Vancouver is a beautiful city that combines almost all types of vacations into one. You can visit the coast, walk through a busy city, and spend time in the mountains all in one place.
If you're thinking of grabbing your kids and packing up to head to Vancouver, you won't have a shortage of things to do. Here are 13 of the best things to do in Vancouver with kids. 
Tour the Vancouver Aquarium
Who doesn't love spending time at an aquarium? The Vancouver Aquarium houses over 300 species of fish, 60 mammals, and other reptiles and invertebrates. Besides being a place where you and your kids can observe the animals, it's also a place for marine research and ocean conservation.
With over 300 species of fish and other animals, you and your kids can see upwards of 65,000 animals while you're here. Their most popular exhibits include rescued sea lions and seals, jellyfish, sea otters, and penguins.
Throughout the aquarium, you'll find exhibits that showcase different marine regions of the world. There are penguins from South America, endangered frogs and amphibians, and a fascinating exhibition on creatures from the Canadian arctic.
Something you and your adventurous kids will love is their touch tanks. Under the supervision of aquarium employees, you and your kids can gently touch giant sea cucumbers, starfish, and sea anemones.
There's a spot to grab lunch while you're here if you and your kids get hungry. Before you leave, be sure to check out the gift shop for a souvenir to take home with you!
See Vancouver From the Aquabus
When a city is on the water, it's always nice to see it from the sea if possible. In Vancouver, you can ride the Aquabus around the seas and see Vancouver like you wouldn't usually have. The Aquabus is a ferry service that runs from the mainland through the waters and Granville Island.
They also provide various sightseeing tours that are worth looking into for you and your kids. They launch from eight different docks around Vancouver, so you can pick the one that's closest to where you'll be.
The ferries run every 15 minutes or so and make 13 different stops throughout False Creek. This is one of the best ways to see the Vancouver skyline. You'll want to have a camera or your phone so that you can take photos throughout your ride.
The best thing about the Aquabus is that it runs seven days a week, for 12 hours a day. Being open seven days a week and year-round makes it a great activity to do regardless of the time of year you're visiting.
Walk Around Granville Island
Granville Island isn't actually an island; it's a peninsula. Either way, this area of Vancouver is beloved by locals and heavily populated with tourists. It's across from downtown Vancouver and while you can drive to the site, taking the Aquabus is a fun way to travel.
This peninsula is a shopping district that has so much more than just shopping. They have a public market that's open daily for you to explore, several restaurants and food stands, and a kids' market. The kids market is terrific to do with your kids because it caters to the young ones with different activities.
Inside the kid market, they also have an arcade, play area, and a cafe to enjoy some kid-friendly meals at. On one side of Granville, you'll find a playground and a small water play area that your kids will love. You can sit back and relax while they burn off all their energy.
They also host annual festivals on the island throughout the year. You can find out more information about them online.
Learn New Things at Science World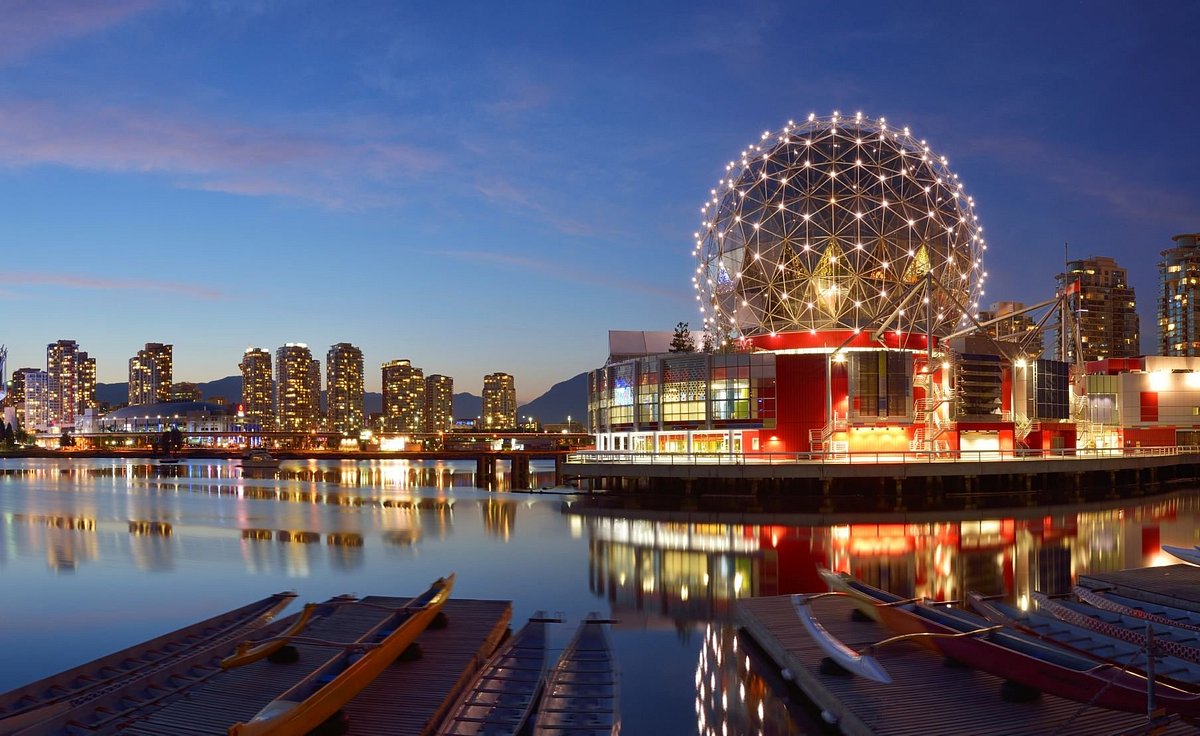 Not all museums are boring for kids. Science World in Vancouver is a nonprofit science center that kids and adults both love. There are several permanent and temporary exhibits to view for you and your kids. You will love watching your kids learn new things, and they'll have a blast doing so.
Some of the exhibits you'll see as you tour the science center include all about the human body, dinosaurs, birds, kid-friendly physics, and some that feature puzzles and illusions. If you're not afraid of bugs, you can get up close and personal with their Madagascar Hissing Cockroaches. They are huge!
If your kids are more hands-on, you can visit the tinkering space. Here, they can build items and put things together to learn about different topics. They offer a daily program in this area that's worth looking into.
They're open seven days a week, most of the year. The best part is that whether it's rain or shine, this is a great activity to do with your kids. They have a snack lab for light refreshments, as well.
Visit Robson Street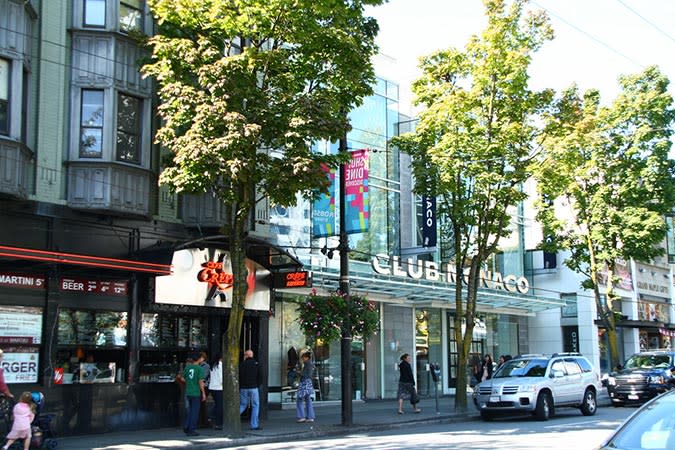 You may be wondering why we're mentioning visiting a specific street in Vancouver, but stay with us. Robson Street is Vancouver's oldest commercial street, and it runs from southeast to northwest, through downtown.
It's a major shopping district that features plenty of restaurants, too. It's also a great place to hang out around before heading to a hockey game nearby. With its central location, you'll probably end up on the road at some point or another during your trip.
There are plenty of kid-friendly restaurants and other culturally influenced options if you have less picky eaters. You and your kids can wander the street, taking in the beauty of the city and shopping for souvenirs and gifts for friends and family back home.
Walk Across the Capilano Suspension Bridge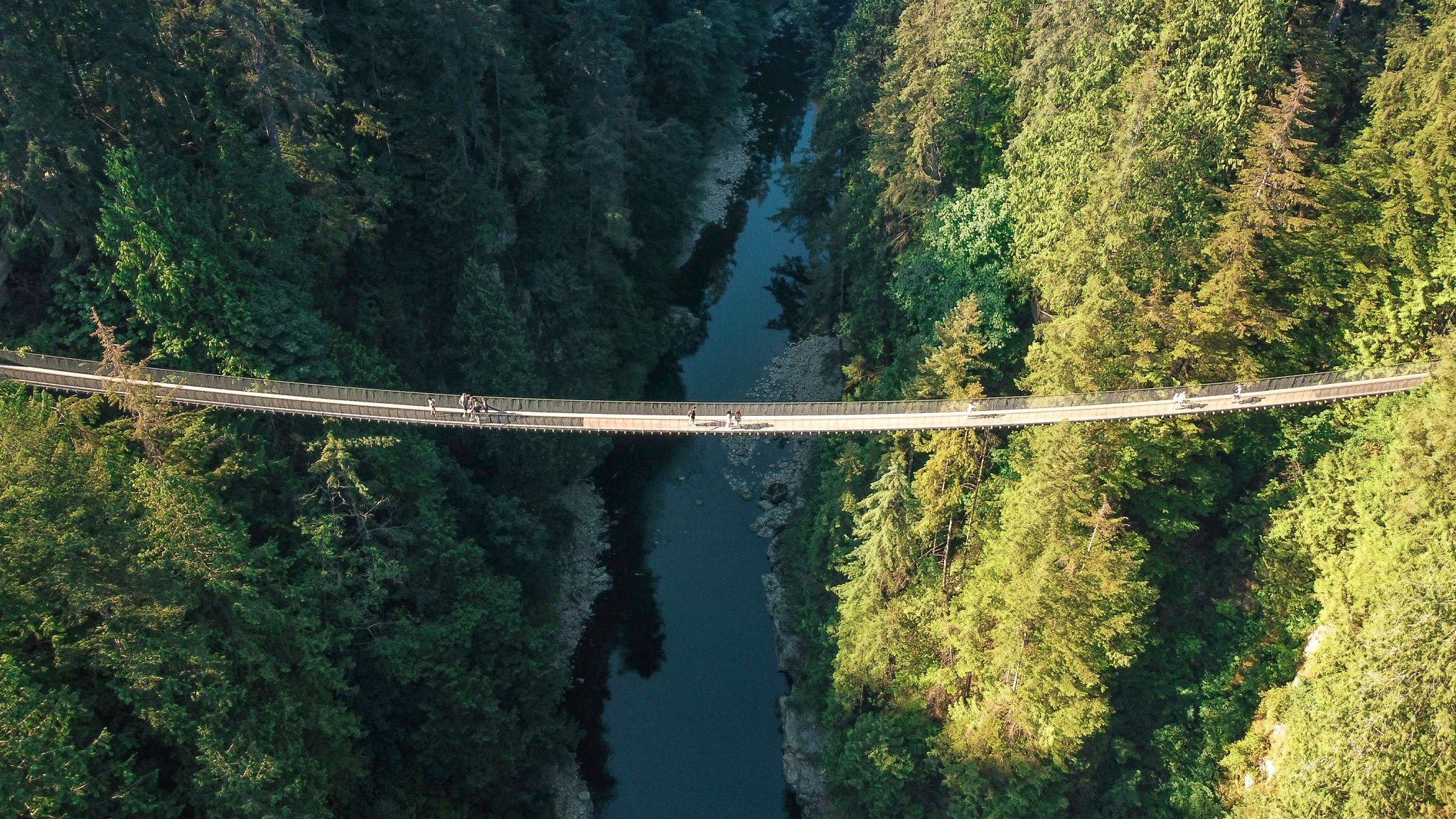 Enjoying time outdoors is popular in Vancouver, and one of the most incredible places to do that is at the Capilano Suspension Bridge. Fair warning, it's not ideal for anyone who is scared of heights. Or, it may be the perfect time to tackle that fear.
The bridge is about 460 feet long and suspended about 100 feet high. The bridge is stable, and people flock to this area of Vancouver to take great photos and get some fresh air. At night, the bridge lights up with colorful lights, and during the holidays, they have special events you and your kids can attend.
Even though the suspension bridge is the main attraction, it's situated in a park that's worth exploring, too. As in most parks, you have to stay on the designated trails for your safety and preserve the natural area.
You'll need tickets to visit the park, and you can purchase them ahead of time online or at the ticket counter when you arrive.
Wander Around Stanley Park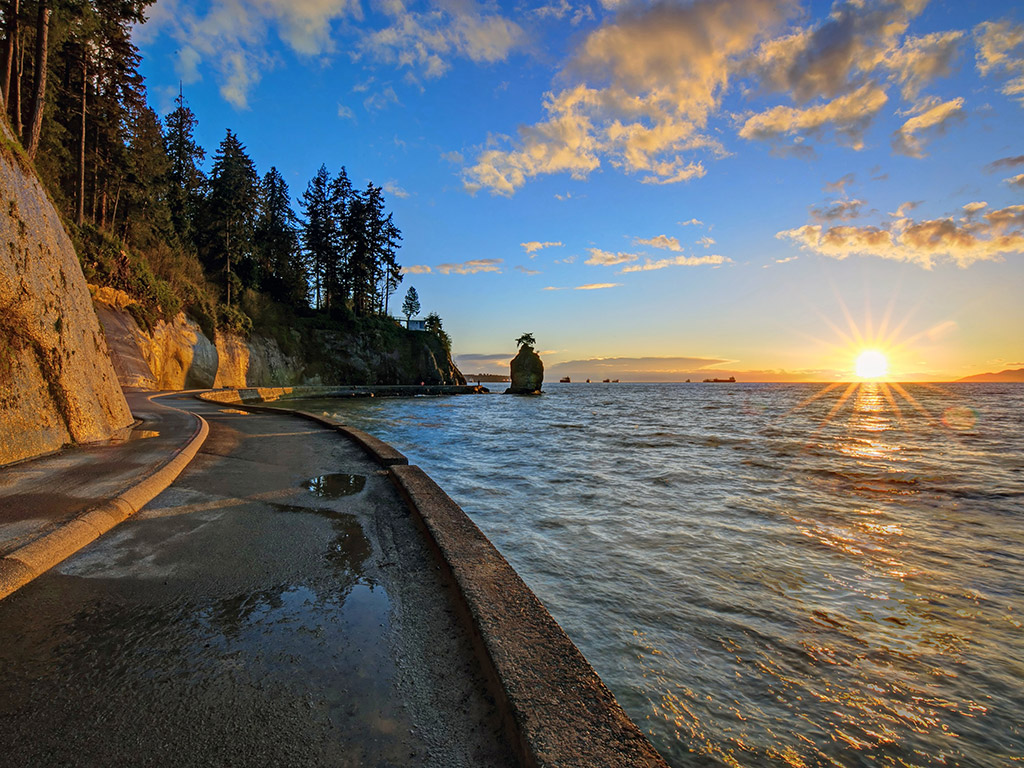 One of the best places to spend time outdoors in the city is Stanley Park. The park is near the city's west end and jets out into the water. It offers some of the best views of the Vancouver skyline you'll find.
The park is vast and features biking, walking, and jogging trails. Sunset Beach is a popular spot in the park for picnics and watching the sunset in the sand. During the summer, you can bring a beach chair or towel and sunbathe on the sandy shores if you're visiting.
Stanley Park has all your classic park features like grills, picnic tables, bathrooms, and a playground for the kids to run around on. It's a great place to visit before or after you spend time at the Vancouver Aquarium since it's located within the park's perimeter.
There are several restaurants in the park for you and your kids to eat at when you get hungry. They offer great dishes and some fantastic ocean views.
Visit Kits Beach 
Kitsilano Beach, better known as Kits Beach, is one of the most popular beaches in Vancouver. It's a beautiful spot just outside of the city center that you can visit all 12 months of the year. Of course, it's much more crowded during the summer months.
This stretch of beach offers you beautiful views of downtown and the ocean at the same time. When the sun is shining and the weather's warm, you'll see families and individuals packing the beach. It's an excellent spot for sunbathing, sports, walking, and swimming.
Even when the weather isn't ideal for bathing suits, taking a walk or having a meal at the beach is popular. It's a great way to sit back and relax while you enjoy your time in Vancouver. It's a great place to watch the sunset, too, if you're in the area in the evening.
In the grassy areas near the beach, you'll have access to a playground, bathrooms, basketball and volleyball courts, and a concession stand for snacks and drinks.
Head to Canada's Oldest Chinatown
Most major cities worldwide have what's referred to as Chinatown, and Vancouver isn't an exception. Chinatown in Vancouver is Canada's oldest Chinatown and should be on your list of places to see while in town.
It's the perfect place in Vancouver to grab something to eat if you're craving traditional Chinese cuisine. You'll be able to find Chinese restaurants serving dim sum, bakeries with sweets, and everything in between.
There's also some shopping that you can do while in the area. You'll notice some traditional Chinese decor and architecture throughout with a great atmosphere. There's a beautiful Chinese garden in the area that you need to stop at before you leave.
Tour the Vancouver Art Gallery
In the heart of downtown Vancouver sits a stunning art gallery that you and your kids may want to stop at. The Vancouver Art Gallery encompasses over 16,000 square feet and is across from Robson Street.
Like many other museums, the Vancouver Art Gallery features several permanent and temporary exhibits for you to view. Some of the exhibits you can view currently include culture in the face of artificial intelligence, the Shakespeare first folio, the young activist reading room, and so much more.
The art gallery is a nonprofit organization that's well aware they're situated on Indigenous land. Everyone on the board is mindful of this, and they make efforts to respect this; it's even one of their pillars.
Your kids will love stopping at the gallery store before leaving for the day. You'll find tee shirts, art supplies, socks, puzzles, and other goodies to browse.
Spend the Day on Grouse Mountain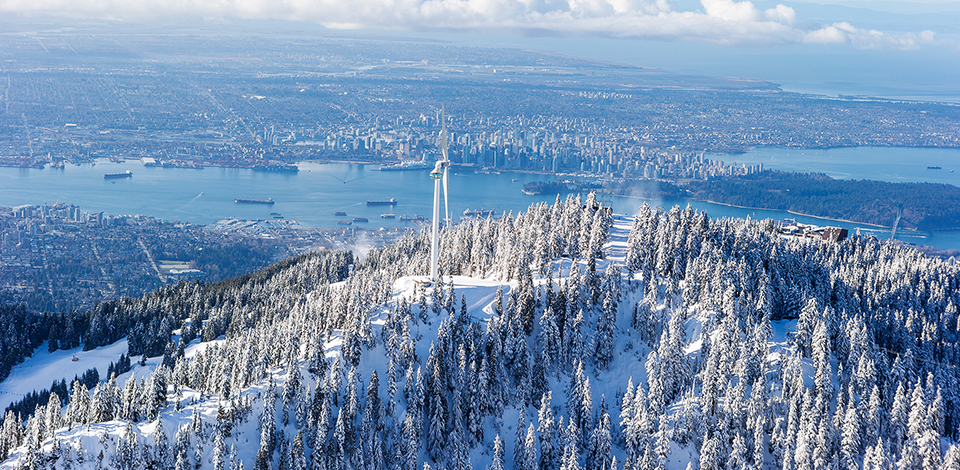 Grouse Mountain is one of the several mountains that surround the city of Vancouver. If you're interested in spending some of your time in the mountains, Grouse Mountain is one of the best options. This mountain stands almost 4,000 feet tall and offers plenty of family-friendly activities.
During the winter, skiing and snowboarding are popular activities on Grouse Mountain. Don't worry if you're not interested in that, though. You can go for walks, take a ride on the Skyride and see the mountains from new heights, ice skate, and so much more.
The Skyride is one of the most popular options because it's easy and offers excellent views. It operates year-round and runs every 15 minutes or so. It's covered in windows, so you'll have unobstructed views of Grouse Mountain and the city below.
There are several dining options on the mountain for you and your kids to choose from. You can choose something more casual or opt for a fancy night out. Either way, the restaurants are very kid-friendly and offer options they'll approve of.
Get a Great View of the City at the Vancouver Lookout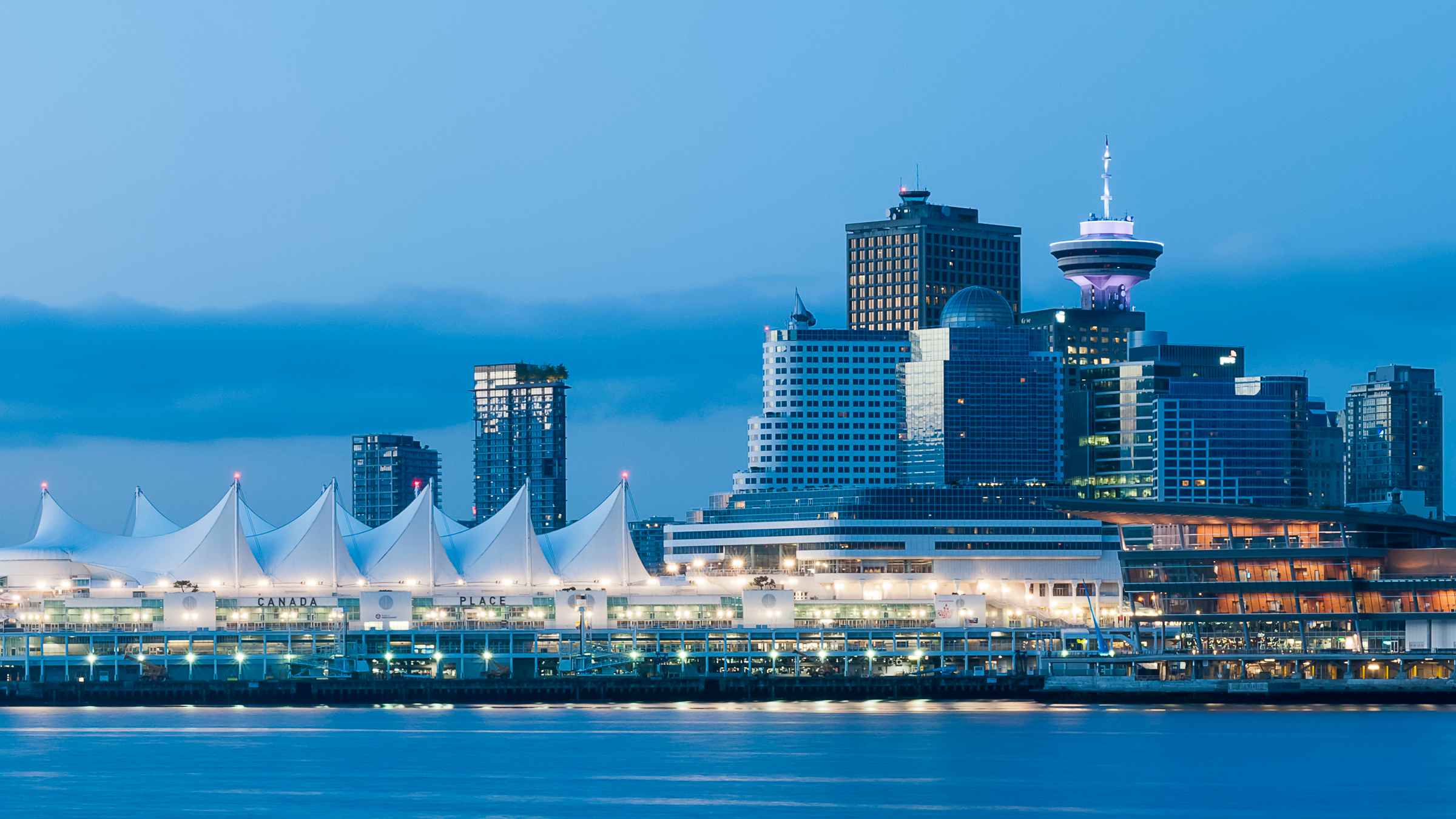 Another option for families that aren't afraid of heights is to visit the Vancouver Lookout. This observation deck is in downtown and offers visitors a glass elevator ride all the way to the top. Since opening in 1977, it's been a popular attraction for visitors.
You'll have 360-degree views of the beautiful city, ocean, and some of the mountains from the top of the tower. The building stands at 553 feet tall, but the elevator ride only takes about 40 seconds.
If you're planning on going, you'll want to make sure that the deck isn't closed due to a private event.
Play All Day at Playland Amusement Park
It's no secret that kids love amusement parks, so why not head to Playland Amusement Park for a few hours while in Vancouver? Even adults love spending time at this thrilling park. You'll head to Hastings Park, where you'll find the entrance of the amusement park.
Playland is British Columbia's most iconic amusement park because they have something for everyone. There are children's rides, thrilling rides, games, and plenty of places to eat throughout your day here.
Adults and older children love their wooden roller coaster, and there is one called the Hellevator that takes you high into the air and then drops you repeatedly. For the little ones, they have teacups and other low-speed rides that are perfect for them.
If you're looking for the perfect family activity that doesn't require riding something, they offer a mini-golf course! Something to keep in mind is that it's not open during October, though. Regardless of how you want to spend time at Playland, your kids will thank you.
Go Whale Watching
Whale watching is a popular attraction on the west coast of North America, and Vancouver is no different. Many tourists and locals love going on tours to see these massive and majestic creatures in the wild, hopefully.
Several tour companies in the city will bring you out to sea, but a popular one is Wild Whales Vancouver. They've been a premier whale watching company in the area since opening in 2003. The guides love sharing their love for Vancouver and whales with guests.
The company focuses on marine conservation and educating the whales that roam through the nearby waters. The best part about their company is that they offer a whale watching tour for every adventurer.
They have a partly sheltered boat for those who want to see whales but feel somewhat protected from the open air. They have an open airboat that provides a smooth ride like a relatively sheltered boat, and then there's the zodiac, which is an open airboat with a smaller tour size that gets you up close and personal with the animals, safely, of course.
Final Thoughts
Vancouver is a great Canadian city that has a little bit of everything. There are exciting museums, great beaches, beautiful parks, and plenty of cultures to expose yourself and your kids to.
Whether you're planning an activity-packed vacation or are picking a few of these things to do, you won't be disappointed in your time in Vancouver. Your kids will be begging you to bring them back again and again!
More about our TFVG Author
A seasoned traveller, Dad, and avid sports tourist, James foundered The Family Vacation Guide to share his expert vacation experiences- especially when it comes to being a travelling family man.
Featured in Travel articles such as Travel + Leisure, TripSavvy and SFGate, you know you're reading some of the best vacation tips online.