Ontario is a prominent Canadian province that sits in east-central Canada. It's home to many beautiful areas like Niagra Falls, the capital of Ontario, Toronto, and Ottawa, the capital of Canada.
The province is massive and has various landscapes for you to vacation in. If you're looking for a lakeside retreat, Ontario has it. If you're looking for a snowy mountain escape, Ontario won't let you down.
There's nothing like escaping your day-to-day life to a beautiful resort to rest, recharge and explore. We've gathered 12 of the best family resorts in Ontario so you and your family can have the time of your lives.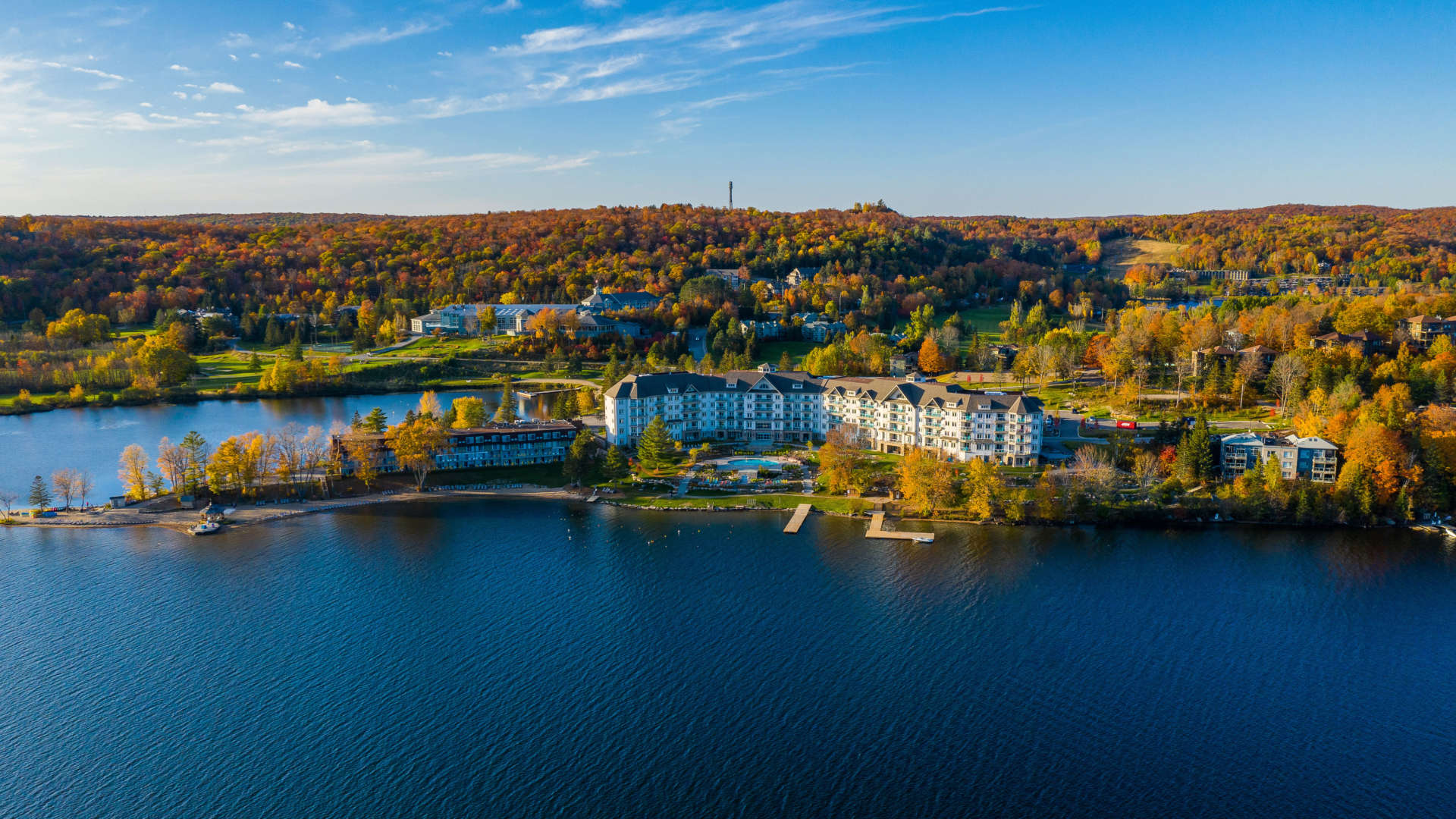 Right on the lake in Huntsville, Ontario, is Deerhurst Resort. This is a beautiful, waterfront, year-round resort that you and your family will love. Huntsville is in Ontario's famous Cottage Country, so you can expect the atmosphere to be laid-back, relaxed, and fairly quiet.
The resort has been welcoming families and other travellers since opening in 1896. They're famous for their great golf courses nearby—specifically, the top-ranked Deerhurst Highlands, delicious cuisine, and live entertainment.
You and your family will have access to four onsite restaurants with everything you could ever want. Popular activities during the summer here include paddle boarding, canoeing, wakeboarding, and boating. Skiing, snowboarding, snowshoeing, and ice skating are typical of the winter months.
There are great hiking trails nearby, too, if that's how you enjoy spending your time. You can choose standard hotel rooms, lakeside rooms, villas, and resort homes for larger families for lodging.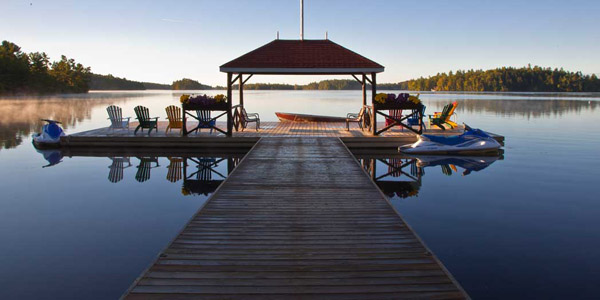 Severn Lodge is a premier lakeside resort in the Muskoka Georgian Bay lake district. Offering one of the best family resorts in Ontario, people flock from all over Canada to visit the Muskoka lake country because the water is stunning and clear, and the sunsets are like nothing else.
The resort is only 90 miles north of Toronto and is one of the few historic Muskoka resorts left. It's near Georgian Bay and has approximately 100 acres of property. The waters are calm here since it's near a sheltered bay, so you can play all day without worrying about strong waters.
You can participate in all your favourite lakeside activities like fishing, swimming, boating, and more. Kids love it here because they have activities like face painting, a kids' club with bonfires, cookouts, and more. They'll meet other kids and possibly make lifelong friends.
Glen House Resort is on the St. Lawrence River in Lansdowne, Ontario. It's a historic and beautiful resort that's perfect for family reunions, weddings, banquets, and a standard family vacation.
You can choose from standard hotel rooms and suites, chalets, and cottages when booking your stay here. Each room has at least one bathroom, a TV, and other things you'll need to enjoy your vacation. For the larger families or those who prefer more space, their cottages and chalets are the way to go.
You're more than welcome to explore outside the resort grounds, but you might not want to leave once you arrive. You'll have two dining options onsite, like their Shipman's Dining Room when you want a casual fine dining experience and their Smuggler's Lounge for more bar food and a casual environment.
This resort's amenities include an indoor and outdoor pool, hot tubs, boat rentals, spa services, a fitness centre, and other outdoor activities based on the season.
Huntsville is a popular destination in Ontario for family vacations because several great family-friendly resorts are available. One of the best is Hidden Valley Resort. It's affordable, comfortable, and high-quality.
The room options at Hidden Valley Resort are your standard hotel room and suites. You can get double queen beds, a king bed, and suites with additional sleeping options. Each room has a refrigerator, air conditioning in the summer, free Wi-Fi, and a TV to watch after a long day.
Like other Ontario resorts, there's a restaurant on the resort property for you to dine at. You don't have to eat all your meals here; you can explore the surrounding area if you like. Many delicious restaurants are within walking distance.
Amenities at Hidden Valley Resort include 24-hour front desk service, an outdoor pool, free parking, babysitting services, boat rentals, an indoor pool, tennis courts, and more.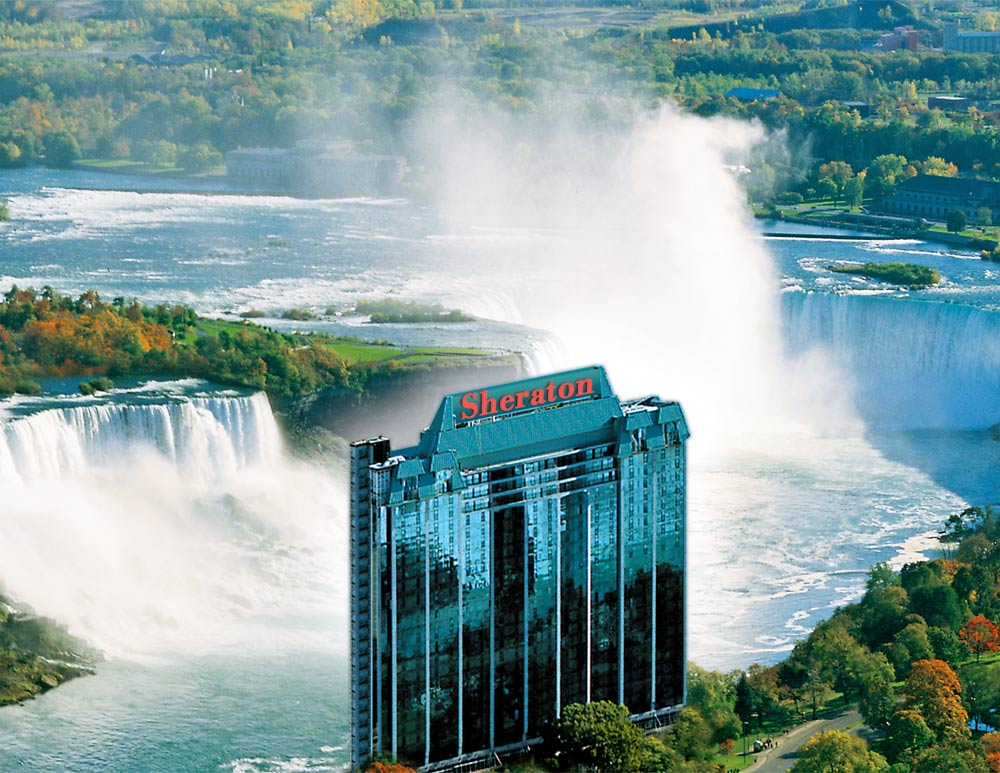 Let's face it. One of the most famous attractions in Ontario, and possibly all of Canada, is Niagara Falls. The mesmerizing waterfall is in the city of Niagara Falls and offers you and your family one of the closest resorts to the waterfall.
It's in the heart of the town, which provides you with great hotel amenities and an excellent location for all the city's fun. You'll be within walking distance of Niagara Parks, the Niagara Iconic Boat Ride, and more.
Many of the Sheraton Fallsview Hotel rooms offer stunning views of the falls, and if you want to stay here, you should try and get a room with this view. Even if you don't, you can still thoroughly enjoy your stay here. Some have floor-to-ceiling windows for the best view of the falls possible.
There are eight different dining and beverage options in the hotel, a rooftop pool, an indoor pool, and a fitness centre that you can use 24 hours a day.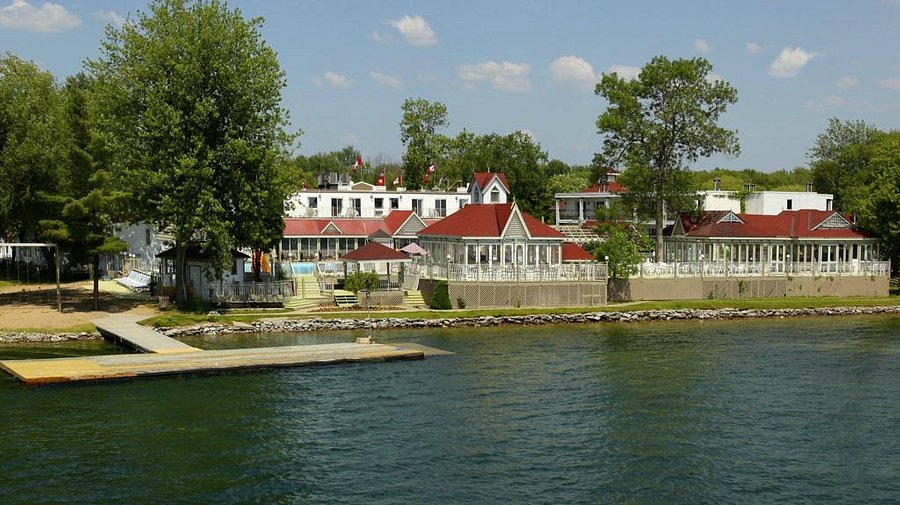 Another beautiful lakeside resort in Ontario is Fern Resort. It sits on Lake Couchiching in Orillia, about two hours north of the central city of Toronto. One of the best things about Fern Resort is that the amenities are abundant, but they have an all-inclusive option worth taking advantage of!
When booking their all-inclusive package, all your meals are included, along with various activities and even child care if the adults want to spend some time without their kids knowing they're safe. They're open year-round and offer the best activities for every season.
They have several accommodation options that range from one-bedroom to two, and larger suites to consider. The lakeside rooms offer beautiful views, and each room is comfortable, has air conditioning in the warmer months, and even has Wi-Fi.
They offer different packages per season to ensure you can take full advantage of all the activities you and your family want to. They have a great dining room with various cuisines, and they're able to accommodate any allergies.
Bayview Wildwood Resort is set on Sparrow Lake, and one family has been running the resort for six generations. Knowing that the Stanton family has kept this resort in their family for so long means families love coming here and feel comfortable bringing their kids with them.
You can choose from a few room options for your family. They have three-bedroom suites and smaller rooms if you need less space. The vistas on the shores of the lake offer some fantastic views and are worth getting if you can.
You and your family can visit the Bayview Wildwood Resort and enjoy exciting activities at any time of the year. You can go cross-country skiing, snowboarding, skating, sleigh rides, and snowshoeing during the winter. They have an outdoor pool, a sandy lakeshore to sunbathe during the warmer months, and water sports.
You can take advantage of their indoor pool when it's too cold outside, go hiking, golfing, and play tennis on their courts. Your kids will love the supervised children's activities!
White Oaks Resort and Spa is in the city of Niagara-On-The-Lake, Ontario. It's the perfect resort to stay at with your family if you want something closer to the city. You can take advantage of all the amenities on the 13-acre property while being near shopping plazas, parks, and other fun things to do nearby.
Staying here means you're near Niagara Wine Country, Casino Niagara, Niagara Falls, and more. All the accommodation options are luxurious and modern. The executive suites are perfect for larger families, but you'll feel like royalty in any room you choose.
Adults will love the deluxe spa, fitness centre, and fantastic bars on the property. Children will love spending time splashing in the pool and playing outside. Everyone in the family will love the 4-Diamond LIV restaurant that's situated in the resort.
The Lumina Resort is a family resort that's been run by the same family for four generations. It's the largest cottage resort on the Lake of Bays, with 350 feet of sandy shoreline. The resort has over a mile of shoreline.
Thirty-six cottages provide you and your family with comfortable lodging that feels like a home away from home during your stay. The best part is that you'll have privacy and space from other vacationers since the cottages don't share walls.
You'll have access to all water activities like kayaking, swimming, boating, and more. The resort offers a children's program where they'll play child-friendly games and make new friends.
Your dinner and breakfast are included when you book your stay. They have a dining room with lakefront views and even make your own pizza night.
A tremendous family-friendly resort in Picton is Isaiah Tubbs Resort. This resort offers 74 rooms, 12 cottages, and two large lake houses for families to book. The lake houses are lovely if you have a large family and everyone's heading to Picton.
Every lodging option features comfortable beds, TVs, air conditioning, free Wi-Fi, and a kitchenette. Those who opt for the lake house or cottages will have a larger kitchen to use during their stay.
While you stay at Isaiah Tubbs Resort, you can take advantage of their beautiful pool, water sports, lake, and sandy beach in the summer. Kids will love building sandcastles and swimming while you can lounge on the beach.
Be sure to check out their onsite restaurants during your stay. They have Sand and Pearl Raw Bar and Fish Fry, which has delicious seafood. The Sandbar Lounge is popular for the adults to kick back and relax with fantastic wine.
Niagara Falls is one of the most famous destinations in Ontario, and one of the best places to stay is Americana Resort. This resort features a great spa and waterpark that make for an ultimate family getaway.
The Americana has over 200 rooms, and some feature bunk beds for little travellers. Some of the rooms have a fireplace, and a whirlpool spa and most have a microwave, minifridge, and TV for you to relax after exploring all day.
The water park is something that everyone can enjoy. They have a retractable roof, so the sun shines in, and there are even slides and pools to play in. There's also a large outdoor recreation area to enjoy the fresh air and a playground for children. They have barbecues for you to grill out on.
Americana Resort features an onsite spa and delicious restaurant and bar. You can enjoy the spa by booking services at the front desk.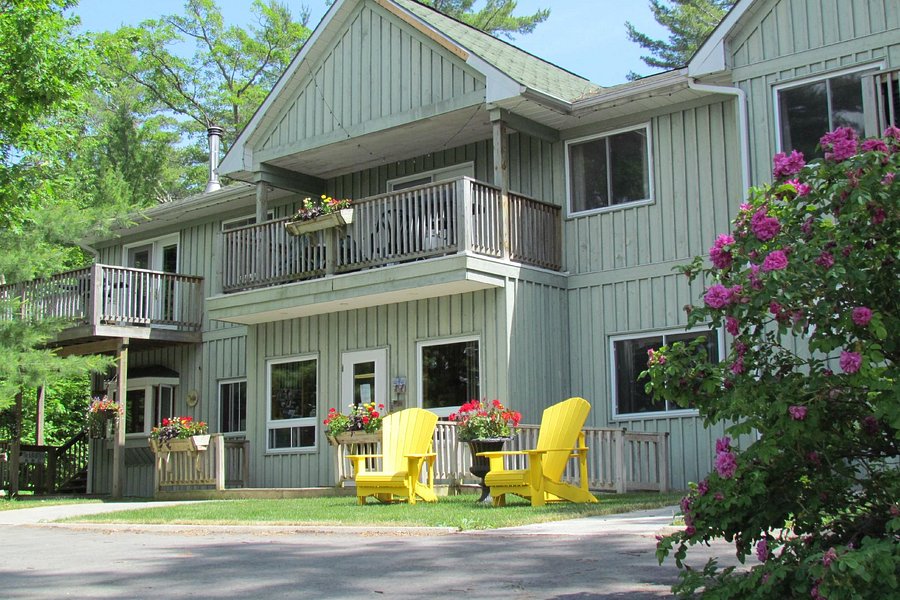 In Lakefield, Ontario, near Gilchrist Bay, is the Pine Vista Resort. Even though most people visit this lakeside resort in the summer, it's open year-round and offers activities all 12 months of the year.
They have a ton of lodging options that are suitable for any size of the family. You can go the traditional route or look for something more spacious. Either way, they're all great with comfortable beds, TVs, bathrooms, and a kitchenette to store any food and drinks.
Activities are designed for families to enjoy themselves to the fullest. During the summer there are hiking and water activities. There's sleighing, snowshoeing, and other snow activities for the winter.
Amenities at this resort include an indoor and outdoor pool, hot tubs, a game room, a fitness centre, a play area for kids, and massages for adults.
Final Thoughts
Ontario is a unique Canadian province that has a little bit of something for everyone. You can visit resorts near the majestic Niagara Falls, lakeside resorts for swimming and sunbathing in the summer, and mountain resorts for skiing in the winter.
Regardless of how you like to spend time on your family vacation, you're sure to find your favourite one out of the many family resorts in Ontario.
Want some more tips on travelling across Canada as a whole? Check out the articles linked below!
More about our TFVG Author
Karly is a The Family Vacation Guide guest travel contributor.