When you think of Barbados, what springs to mind? Is it the postcard-worthy white sand beaches? Or maybe it's the jaw-dropping, all-inclusive family resorts? Barbados offers a paradise and an escape from the hustle and bustle of life.
Whether you've visited Barbados before or not, taking a vacation as a family in Barbados is sure to be an unforgettable experience. The greatest legacy you can leave for your children is happy memories, so why not choose from some of the best Barbados all-inclusive family resorts for your next vacation?
In this article, we'll share twenty of the best resorts in Barbados so that your experience of the Caribbean is one that'll have you coming back for more.
Offering the experience of a 'Caribbean Dream' is the Accra Beach Hotel & Spa. Overlooking the stunning Rockley Beach, this resort is the perfect escape for families and has something for everyone.
Enjoy a light bite and refreshments at the swim-up pool bar during the day. Delight your taste buds with local and international cuisine at any of the three restaurants situated within the resort. Accra's all-inclusive package means you can enjoy a cocktail or two at their beach bar whilst watching the sun go down.
Keep the whole family entertained with nightly entertainment whether it's exciting floorshows, live music, or even heart-stopping fire-eaters! Need to relax and unwind? Let one of the many on-site spa therapists massage that stress away. There's nothing like a deep-tissue massage or decadent facial to start your vacation in the best way.
All the rooms offer panoramic views of the ocean, pool, or island surrounding the resort. Whether you choose a guest room or suite, Accra Beach Hotel & Spa offers premium accommodation that ticks off all the boxes for a restful and comfortable stay.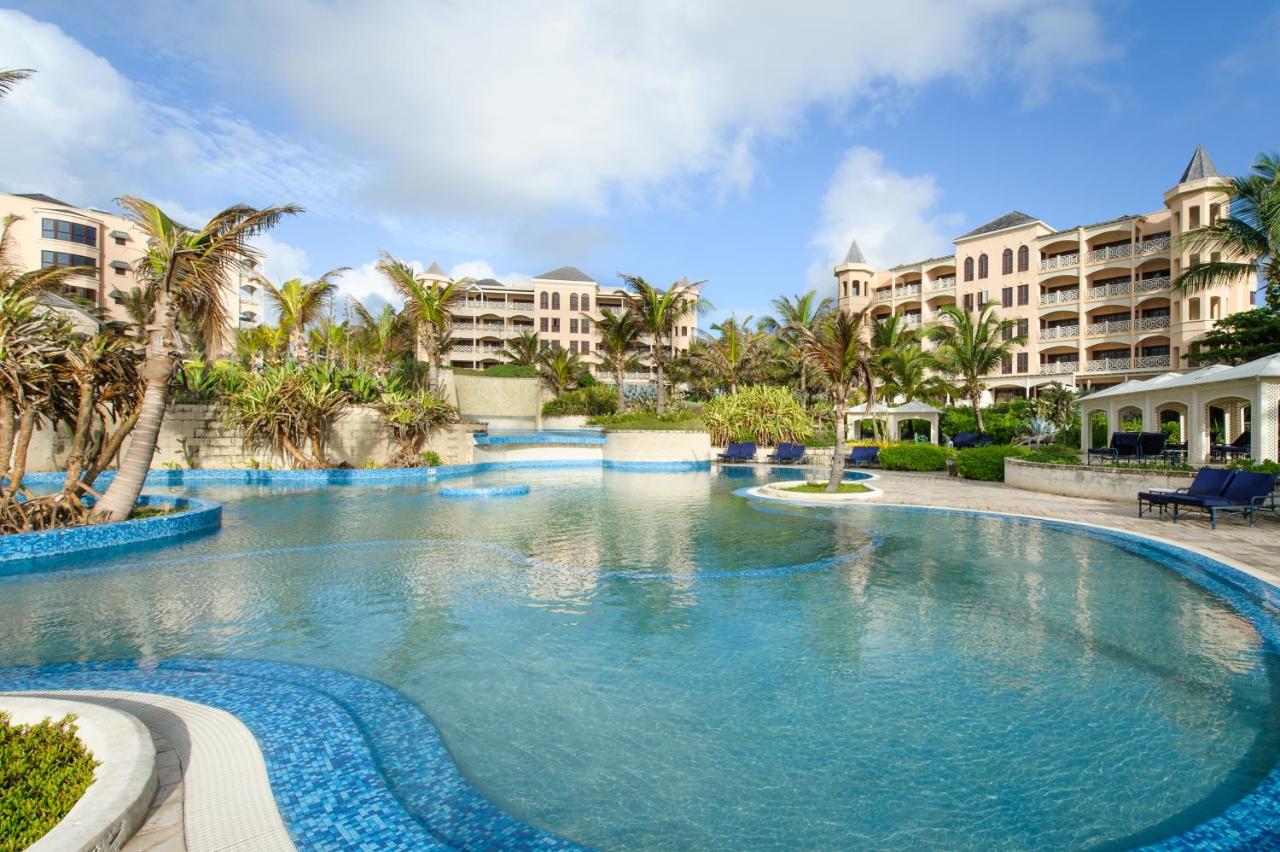 When it comes to the most reputable all-inclusive hotels, The Crane Resort has a long and rich history. Since 1887, this tropical paradise in Barbados has welcomed vacationers from all corners of the world.
Overlooking the award-winning Crane Beach, guests can enjoy a combination of old-world charm, whilst still receiving the modern amenities and services that are expected in today's travel.
Get a taste of international cuisine with on-site restaurants like Zen, which has been rated the top restaurant for Zagat in Barbados. The Carriage House offers some poolside favorites and D'Onofrio's whisks you off to Italy with plenty of classic Italian dishes.
The centerpiece for this family-friendly resort is the 55,000 sq. ft. of retail space. Offering any shopaholic the advantage of duty-free shopping whilst providing a range of amenities from a fitness center to a kids club to keep the youngsters busy. The Crane Resort is a great vacation to enjoy with all the family.
Sugar Bay Barbados is a resort for all ages. With stunning views and top-rated dining, it's the perfect place for all the family to relax and have fun.
For luxurious resorts, Sugar Bay Barbados has everything you'll need to make the most of your vacation. Just a stone's throw away from an ocean lagoon, the resort is an oasis of solitude and serenity.
Newly renovated, guests can enjoy five restaurants and five different bars to choose from, including a pub and swim-up bar. With lovely gardens to walk through, a spa and CrossFit-stylized gym, hair salon, and arcade, the resort alone will keep you busy.
For the kids, you've got amenities for all age groups. The teens clubs offer a mix of outdoor activities like kayaking or paddleboarding. For the young kids, you've got the kid's club as well as babysitting services and a Creche. This is the perfect resort for taking some guilt-free time off from parenting duties.
Sited in the UNESCO World Heritage Garrison Historic Area, Sugar Bay Barbados is a short walk to Bridgetown's South Coast Boardwalk. Offering a vibrant and entertaining nightlife, there's a lot to discover in this all-inclusive family resort.
If boutique accommodation is your preferred choice then South Gap Hotel offers that without compromising on stunning ocean views and the finest services. This modern and trendy hotel is located in the popular St. Lawrence Gap, an area known for its restaurants, bars, and most importantly, the nightlife.
Whilst catering for the adults, it's also a great place to bring the kids for a truly memorable experience of Barbados. Watch local fishermen down at St. Lawrence Bay or browse the local vendors in the area selling their art, crafts, and jewelry.
Once the sun sets, the nightlife of St. Lawerence Gap is one that comes alive. Visit the Cove or Sharkey's where you can dance the night away, all within a stone's throw of the hotel.
Only seven miles away from the airport and five miles away from the island's capital of Bridgetown, the hotel is perfectly placed for you and your family to enjoy. South Gap Hotel immerses you into the heart of Barbados, its people, culture, and food.
For family-friendly resorts, Waves Hotel & Spa by Elegant Hotels located on the Platinum West Coast of the island offers a unique getaway. Its core focus is on providing mindfulness and wellness to all its guests, helping them to unwind and reconnect.
This ocean-front hotel provides an all-inclusive package and authentic experience of Barbados. With premium accommodation and a variety of dining opportunities, it's a vacation that all the family will love.
Waves Hotel & Spa by Elegant Hotels offers all meals and beverages to cater to even the fussiest of kids…and adults. From Mediterranean-inspired cuisine at Seascape to their Dine Around Program that expands your family's dining options to sister properties around the area. For a top-quality experience, their Private Dining is a must-try.
There are activities for the whole family to get involved with, meaning plenty of quality time together. Each stay comes with complimentary motorized and non-motorized water sports like water-skiing, WiFi, a fitness center, yoga, bespoke daily activities, and even a complimentary water taxi. What more could you want?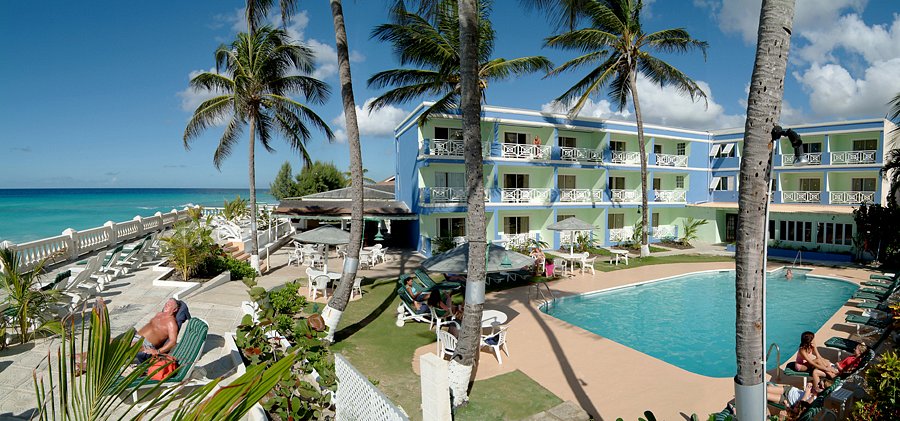 Nestled away from the busy area of St. Lawrence Gap lies the Dover Beach Hotel. It is a family-owned, friendly hotel that boasts panoramic views of the ocean and the tropic gardens that surround the accommodation.
Renovated in 2007, all of the rooms and amenities have been modernized to cater to the 21st-century vacationer, from air-conditioning to rooms with full kitchenettes, in-room safes, cable television, private balconies, and daily housekeeping service.
If you're looking for resorts in Barbados that are more intimate, this 59-room affordable hotel is just what you're after. As a family-owned hotel, guests can enjoy customer services that are second to none. As described by the Dover Beach team, service is their hallmark and they're extremely proud of every employee that contributes towards it.
It's the perfect destination for families, weddings, honeymooners – well, anyone really! As a beachfront resort, it's a beautiful spot for any family looking for a sweet escape.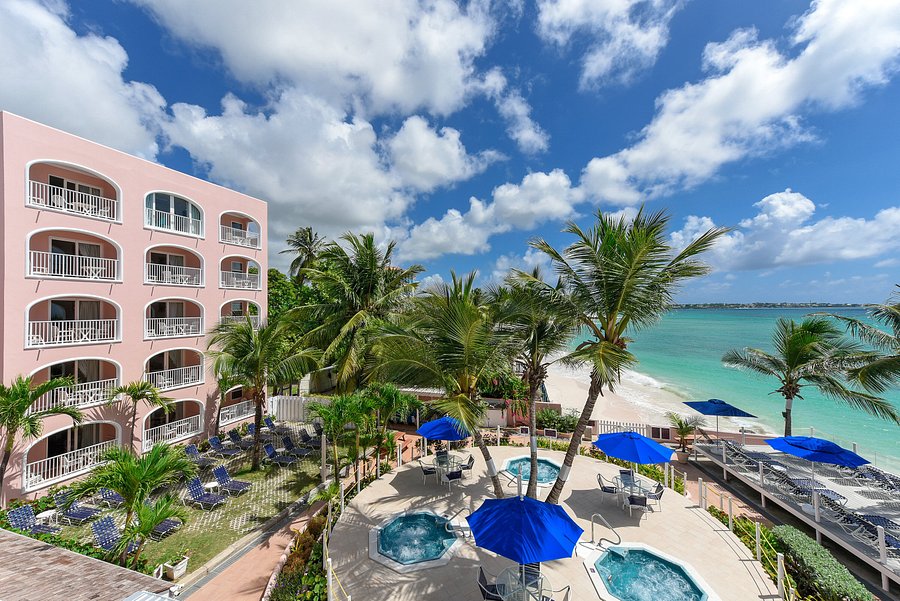 Situated on the Barbados south coast, jaws will drop when you cast your sights on this ocean-front setting. With easy access to a white sand beach, this all-inclusive resort is a great place that offers value for money and for family travel.
Enjoy tasty dishes from the casual Reef Bar and Grill that offers a buffet breakfast, á la carte lunch, as well as daytime snacks and dinner options. For kid-friendly hotels, Butterfly Beach offers plenty of delicious food choices to satisfy every little tummy.
Relax in this beautiful resort with an assortment of swimming pools and whirlpools. Soak up the sun in one of the many lounge chairs located around the hotel. If you're the type that can't keep still, then the local Barbados Golf Club is only a short 10-minute drive away.
You'll find everything you need at this beach-side resort whether you're looking for something within walking distance or a quick drive away.
The Elegant Hotels chain offers some of the very best in all-inclusive resort stays. Turtle Beach is a stunning combination of contemporary design and laid-back elegance. With 161 suites to choose from, this property is located along the vibrant south coast of Barbados with easy access to Maxwell Beach and Dover Beach.
Turtle Beach offers an endless list of facilities, suitable for all ages whether that's the kids club to all of the inclusions you'll get in your vacation package. Your stay at Turtle Bay includes all meals and beverages, water sports, WiFi, a fitness center and classes, as well as some bespoke daily activities.
Entertain your kids with two swimming pools, a whirlpool, and a kids splash pool. If that's not enough, the aqua school provides free sailing lessons and other water activities to provide memorable experiences your kids will love. We all know kids can get restless on vacation, so there's plenty to keep them occupied, including the Flying Fish Kids Club.
Fill your holiday boots with food and drink from five restaurants and bars. From local cuisine to international delights, this is more than just a vacation – it's the experience of a lifetime! The luxury accommodation at Turtle Beach Elegant Hotels offers spacious suites to cater to families needing the extra room to kick back and relax.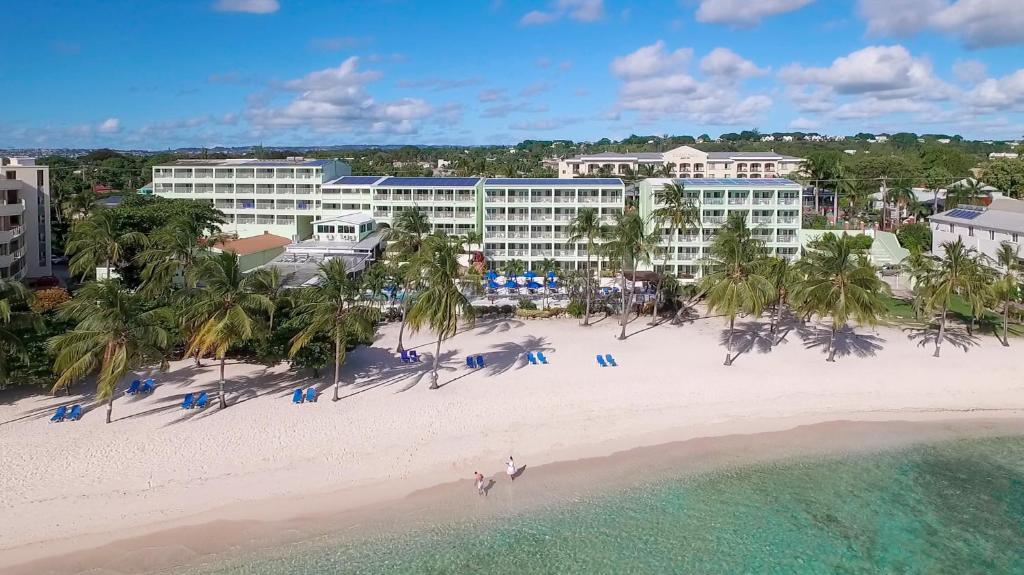 If you're looking for a truly authentic experience of a Caribbean beach hotel, then the Coconut Court Beach Hotel is worth exploring.
As a family-owned and managed business, this hotel is a tropical getaway that caters to family vacationers. One of many family resorts in Barbados, Coconut Court is located on the south coast. This is an area that has a wealth of activity from art galleries to fine restaurants and lively bars.
The hotel has a wonderful history, established back in 1975 by Charlie and Lorraine Blades and now run by their children who understand the need for a warm and friendly approach to hospitality. As a family party, you'll get the best experience of Barbados and what this area of the Caribbean has to offer.
There's a reason why so many flock to Coconut Court Beach Hotel, which has won both the coveted Trip Advisor Customer Choice award and the Trip Advisor Hall of Fame award.
Close by is the Boardwalk, St. Lawrence Gap, and Bridgetown, and so you have everything you need, right on the doorstep. Breathe in some fresh sea air as you take in the ocean views and swaying palm trees directly from your room.
Every room boasts a private patio, a king or two twin beds, and a queen-size sofa bed. Comfort, cleanliness, and modern amenities are what make Coconut Court one of the best all-inclusive resorts on the map.
Mango Bay Hotel is found in the Holetown area, a place that's rich in history and on the famous gold coast of Barbados. Adventures await with these all-inclusive resorts and Mango Bay Hotel is no different.
It's an ideal spot if you're after something smaller and in a more intimate setting. This 76-room hotel offers great value and an excellent location with many local amenities just a stone's throw away, with restaurants, bars, and fashionable boutiques in Holetown, St. James.
In addition, Limegrove Lifestyle Centre is only across the road from the resort, so there's plenty to see and do.
Delight your kids with complimentary two-hour catamaran cruises to see the local wildlife on their glass-bottom boat rides. If the youngsters are looking for something adrenaline-fueled, sap their energy levels with a bit of waterskiing. Barbados is truly an island of paradise and Mango Bay Hotel offers a healthy slice of that, topped with all the extras you and your family could possibly want.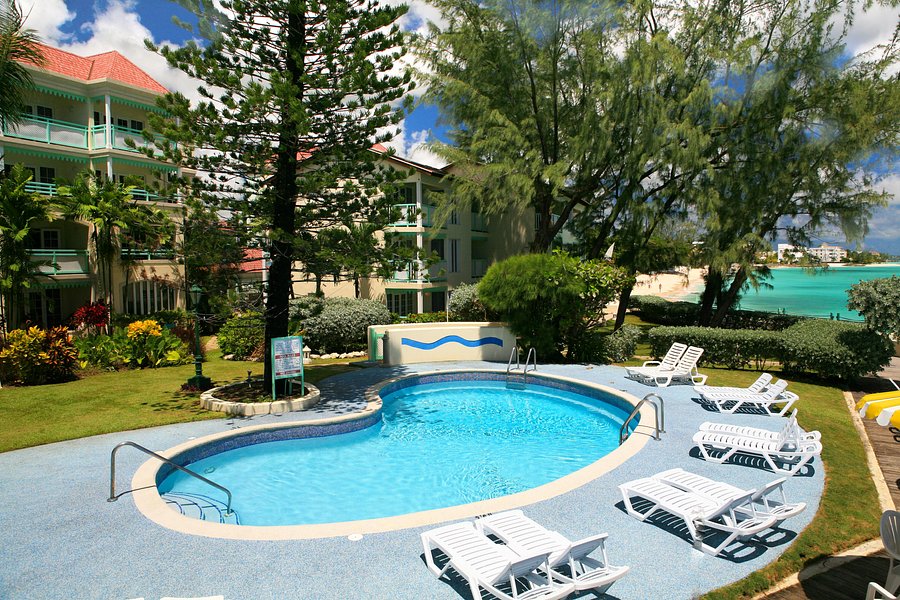 Filling your family's life with experiences rather than things is a lot more rewarding as a parent. It's why Blue Orchids Beach Hotel is a fabulous choice for families and groups looking to escape to a tropical resort for a week or two.
The intimate and stylish all-inclusive resort features 31 rooms, all providing a private balcony to enjoy the surrounding landscapes of lush gardens. The young kids will love the flat-screen TV and free WiFi for those that are often glued to their phones. The hotel has a restaurant and novelty shop on site as well as exhilarating water sports.
This hotel is a fantastic option for those looking to visit Christ Church Parish and many guests have mentioned its "home away from home" feel. With access to a 24-hour front desk, room, and babysitting services, there's always help on hand. Inclusive family resorts like Blue Orchids Beach Hotel can cater to those looking for a quiet vacation.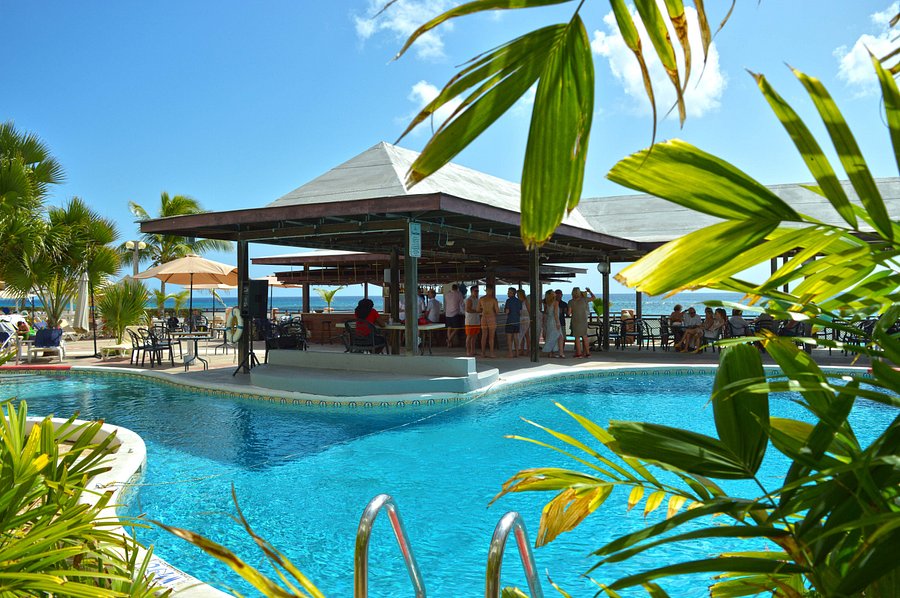 Consider a trip to Barbados Beach Club, where all-inclusive has never felt so good! A 3-star, Caribbean resort located on the beautiful southern coast of Barbados, it boasts a dreamy destination that offers value for families both big and small.
Everything is included when you book at the Barbados Beach Club, from the food and drinks to the activities and entertainment. The only difficult decisions you'll need to make are what to do, see, eat and drink first!
Guests of the hotel can enjoy spacious guest rooms with a 32″ flat-screen TV, air-conditioning to combat the Caribbean heat, and free WiFi. On the resort, there's a selection of outdoor pools, complimentary tennis courts, and basketball courts. Free parking is also available if you've chosen to hire a car for your vacation.
If you're on a limited budget, this hotel offers everything your family will need for a vacation they'll remember and look back on fondly. It's also a great introduction to Barbados that will have you coming back for more.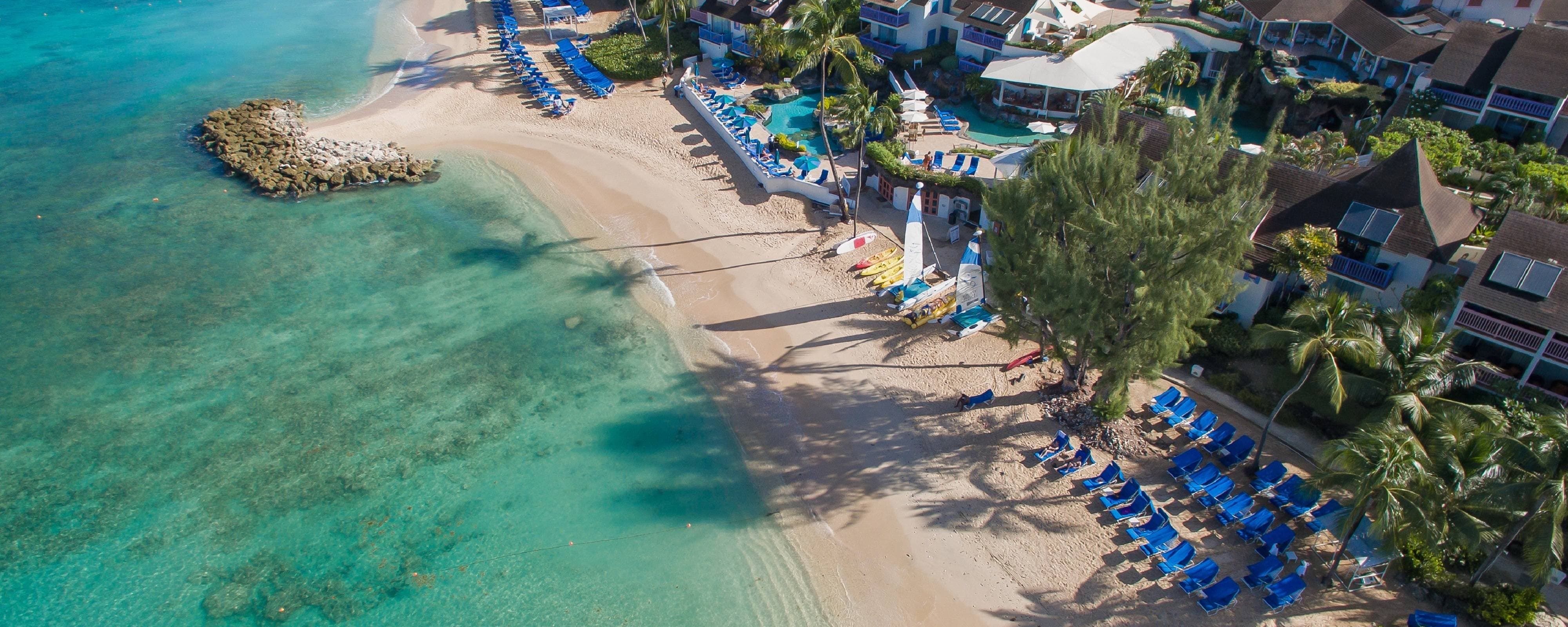 Uncover Elegant Hotels chain of stunning Barbados resorts. Crystal Cove is a luxury escape to a remote and charming village located just 30 minutes drive away from Grantley Adams International Airport.
A picturesque setting that'll make your family vacation one to remember. With modern and vibrant decor, every room comes with all the very best in amenities as well as balcony and terrace views to wake up to.
Crystal Cove certainly has that Caribbean charm about it and with just 88 rooms, it's a secluded spot that's a fifteen-minute drive away from Bridgetown city center. The warm and ambient service provided can also help relieve the pressures of parent life with a supervised kids club and plenty of bespoke daily activities to keep them occupied.
Crystal Cove Elegant Hotels provide free meals and beverages, WiFi, a fitness center, and tennis courts. They even have a beach ambassador service so you can continue the all-inclusive package whilst lounging on the white sand beaches of Barbados.
The Radisson hotel chain is renowned across the world for excellence in service and experiences wherever you may be vacationing. For both leisure or work purposes, there's a Radisson available for every individual or party.
The Radisson Aquatica Resort Barbados is positioned perfectly on a white sand beach. Situated along Needham's Point peninsula, you and your family can take in the truly breathtaking views that the Caribbean has to offer.
Dip your toes into crystal-clear waters in Carlisle Bay or visit some of the iconic landmarks in the Barbados capital city of Bridgetown. Whether you're a family that enjoys lounging on the beach, getting fit with outdoor activities, or exploring the culinary delights of the Caribbean, there's something for every family member to do.
At the end of a long day sunbathing or exploring the area, put your feet up in one of 124 newly renovated rooms, featuring 42″ flat TV screens, laptop-size safes, and complimentary WiFi. This resort offers just what you need for a Barbados all-inclusive getaway.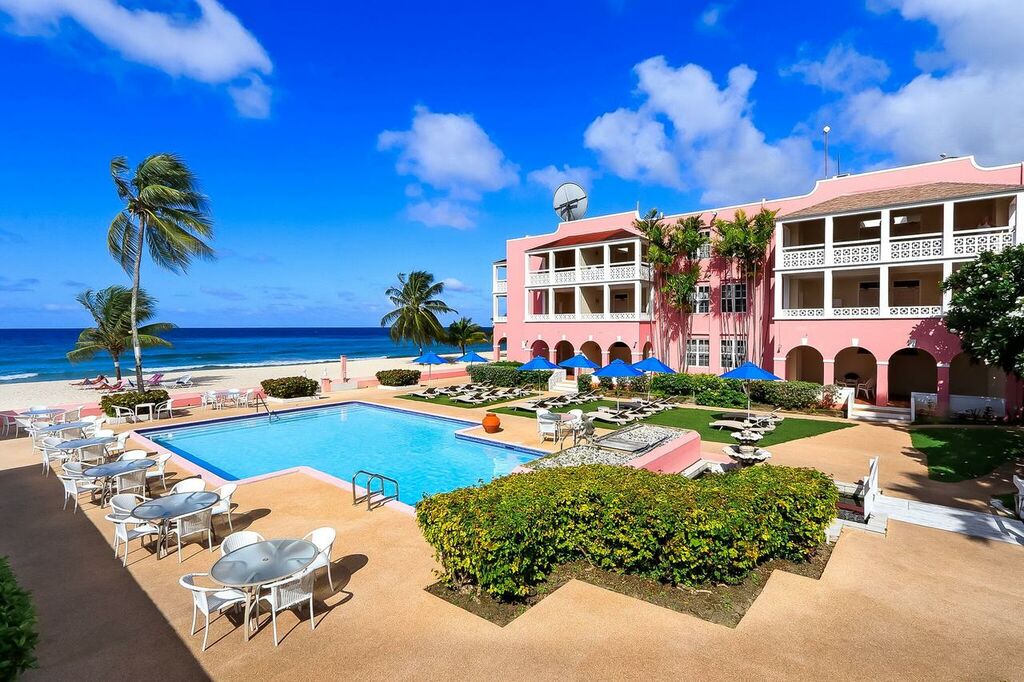 All-inclusive resorts are music to the ears of parents who need a stress-free escape from daily life. With Southern Palms Beach Club, you can enjoy the beautiful setting of the Caribbean Sea. With striking pink exteriors and the beach right on your doorstep, it's the ideal vacation spot for picture-perfect memories.
When choosing Barbados all-inclusive family resorts, you may need to continue working even whilst on vacation. You may not be working as much (we all need to switch off sometimes!) but a place that accommodates busy working parents is beneficial. This hotel offers all the amenities to work remotely.
Guests at the resort can enjoy a swim in the two freshwater pools available or explore the St. Lawrence Gap's shops and restaurants. There are lots nearby too with popular places like Harrison's Cave or the capital Bridgetown.
During your stay, you'll get all the benefits that are typical of an all-inclusive vacation, from 24-hour front desk services, room services, and even a concierge. If you should have any questions about what to do or see during your time in Barbados, the team at Southern Palms Beach Club can help.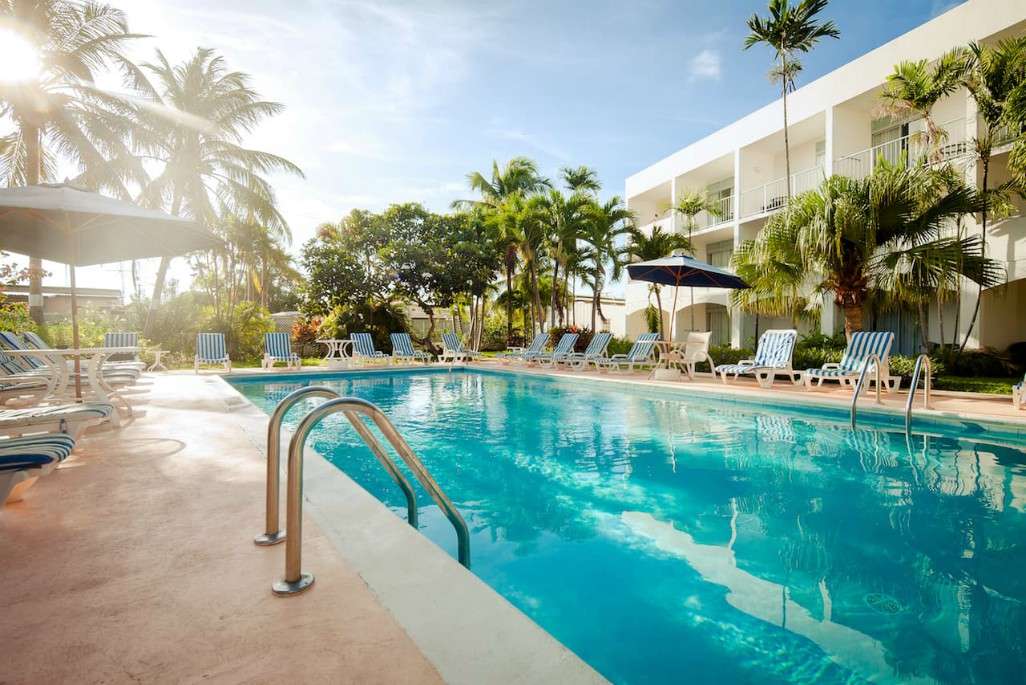 Who said that you can't have all of the fun on a family vacation? Time Out Hotel offers a unique combination of relaxation and nightlife to keep family members entertained during your stay in the Caribbean.
As one of the many resorts in Barbados to choose from, Time Out Hotel has everything you could want. Benefit from direct access to Dover Beach for a dip in the ocean or relax around one of the swimming pools within the hotel itself. The resort consists of 76 rooms where you can choose from standard up to pool view and deluxe rooms.
Enhance your stay with a wealth of upgrades to make your Barbados vacation one that you'll make once-in-a-lifetime memories on. The Gap is where you'll find all you'll need for fine dining experiences, casual eating, and music to dance the night away to. Time Out Hotel is made for families who want to enjoy the best of Barbados' daytime and nighttime attractions.
There's a reason why Beach View has its name and when it comes to all-inclusive resorts, this family-run hotel is a beautiful paradise. Just across the road from Paynes Bay, this stunning hotel features three pools and one kid's pool to cater to young children. There's an open-air cafe that serves breakfast, lunch, and dinner as well as an on-site spa, salon, and even a gym.
With five acres of lush gardens, the accommodation provided is spacious, offering a mix of classic and luxury suites that cater to families of all sizes. Free WiFi helps you stay connected with the rest of the world and the knowledgable concierge team is on hand to ensure every part of your vacation is jam-packed with as much or as little sightseeing as desired.
Beach View was made with kids in mind and has a range of local activities to partake in, whether that's water sports like water skiing or glass-bottom boat trips, horse riding on the beach, and exploring the local Wildlife Reserve.
When looking for Barbados' all-inclusive family resorts, a true treasure can be found in the form of Treasure Beach. As one of many resorts offered by Elegant Hotels, you can expect only the best when choosing this as your destination for your next vacation.
A family-friendly environment isn't something that every hotel offers but Treasure Beach understands the needs of parents who just want to have fun and relax on vacation too!
This sophisticated, boutique hotel has 35 suites, all recently renovated and reimagined to appeal to the modern-day traveler. Guests can enjoy spacious living with access to private balconies or patios that look onto the Caribbean sea.
The Tapestry Restaurant offers delicious delights for breakfast, lunch, and dinner, whilst the Wine Cellar and Batik Bar will sure to keep you refreshed up with cold drinks, whether that be alcoholic or non-alcoholic. As an added benefit that can cater to those with a particular palate, Elegant Hotels' 'Taste of Elegance' concept allows you to dine at over fifteen restaurants at the sister properties.
Another Elegant Hotels resort? You only need to visit Tamarind to understand how and why this hotel chain features so often on this list. Tamarind is one of the best resorts in Barbados with an average of 4.5 stars on the trusted Tripadvisor site.
The resort caters to both families and adult-only spaces where necessary. It means you can relax, knowing you're not going to get any disapproving looks from other guests. Featuring contemporary guest rooms, a heavenly spa, and two restaurants, this wonderful hotel is just what you and your family need to decompress from daily life back at home.
Tamarind offers excellent value for money as the all-inclusive package offers motorized and non-motorized watersports, daily buffets, a fitness center, and classes to keep the heart pumping on your vacation.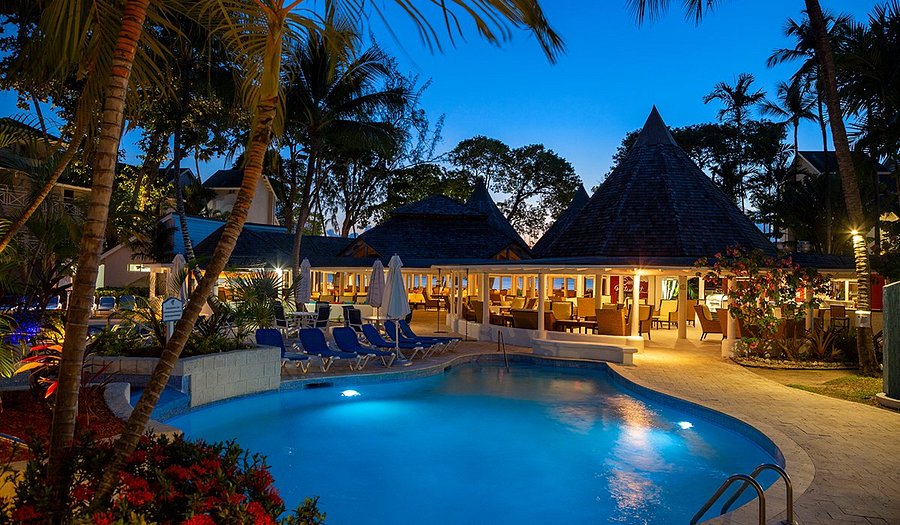 For oceanfront views, The Club Barbados Resort & Spa is one of the best hotels located across Barbados' West Coast. With three freshwater swimming pools, you'll be spoilt for choice on where to lounge and swim during the day.
There's a luxurious Spa & Salon and plenty of entertainment to keep you and your youngsters busy during the trip.
The warm hospitality provided by the team at The Club is one that's not easy to forget. You've got a great mix of dining experiences, shopping, beaches, tours of the island, and excursions just minutes away from the resort.
With 160 rooms to choose from that span seven different categories. All rooms offer comfort and convenience for guests from a bath/shower or walk-in shower, an in-room safe, hairdryer, tea/coffee maker, mini-fridge, and even beach towels.
In Summary
Is Barbados a good place for a family vacation? Absolutely. You'll certainly have the experience to remember when you holiday in Barbados. Now all you need to figure out is which of these beautiful resorts you should stay in!
More about our TFVG Author
A seasoned traveller, Dad, and avid sports tourist, James foundered The Family Vacation Guide to share his expert vacation experiences- especially when it comes to being a travelling family man.
Featured in Travel articles such as Travel + Leisure, TripSavvy and SFGate, you know you're reading some of the best vacation tips online.