Going on a Disney Cruise with your family is an unforgettable experience. You stop off at many beautiful places and the onboard entertainment is unbeatable.
One of the most popular destinations on a Disney Cruise is Castaway Cay. This is the picturesque private island in the Caribbean that's owned by Disney. The turquoise waters and sandy beaches make it a true tropical paradise.
In this guide, we'll give you all the information you need about Disney's Castaway Cay to make your visit as enjoyable as possible. So you can kick back on the cruise ship and wait to get there.
Arriving At Disney's Private Island, Castaway Cay
The Disney Cruise Line has five different ships, but only one of them docks at Castaway Cay each day. This means that the private island won't be overcrowded when you visit.
The captain of your ship will make an announcement, and then you're free to disembark. You can then get on and off the ship freely throughout the day.
If you've registered to run the Castaway Cay 5K, then you'll be able to leave the ship first. This is usually from around 8:30 am. This is also the case if you've registered for an excursion.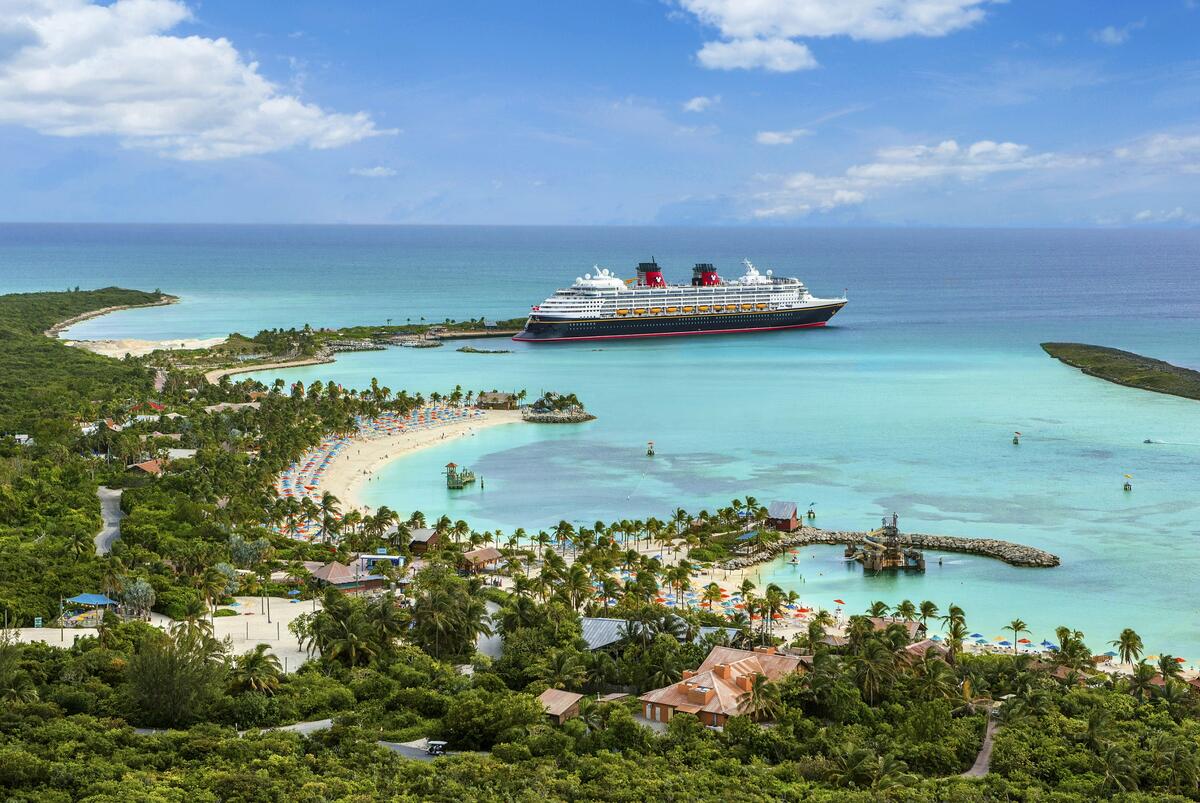 What Things Are Included At Castaway Cay?
All guests at Disney's private island are provided with complimentary beach towels, hammocks, and lounge chairs. You're also given free tram rides, free beachside BBQ, and unlimited soft-serve ice cream. All guests have free access to the beaches.
It's also free for guests to use the Spring-A-Leak splash pad and Pelican Plunge areas. The snorkeling lagoon, which is located just off the Castaway Family Beach, is free if you bring your own snorkel equipment. If not, you need to rent the equipment.
What Things Aren't Included At Castaway Cay?
The majority of the additional activities on Castaway Cay come at an extra cost. This includes:
bikes
floats
tubes
banana boats
snorkel gear
aqua trikes.
These additional charges can be charged directly to your Disney cruise line cabin.
Alcoholic drinks also cost extra whilst you're on the island. This is because the Disney cruise line doesn't have a drinks program. The Serenity Bay Beach Cabanas, as well as their relaxing massages, must also be paid for.
The Best Things To Do On Castaway Cay
Spend time on the beaches
Castaway Cay has three white sandy beaches for you and your family to enjoy:
Family Beach
Teen Beach
Serenity Bay
The Family Beach area is perfect for families with younger kids. There's a snorkeling and swimming area near the Family Beach. This comes with hammocks, umbrellas, and chairs. However, you need to get there nice and early to secure them.
To access Pelican Plunge, you need to swim a short distance from the Family Beach. Pelican Plunge is a waterpark with two water slides and is 2,400 square feet in size. Kids must be over 38 inches to be able to use it.
For families with older kids, there's Teen Beach. Teen Beach has lots of equipment for various sports, such as beach volleyball.
Serenity Bay is an adults-only beach that's peaceful and has beautiful views. It is the perfect place to unwind whilst on the private island.
If you choose to rent a private cabana at Serenity Bay, you'll have access to lots of extras. This includes non-alcoholic drinks, snacks, free bike hire, and snorkeling gear.
Go shopping
There are two stores on Castaway Cay that sell items you won't be able to buy on the Disney Cruise Line ship. This includes:
hats
beach toys
beach essentials
handicrafts
Try watersports
One of the best things to do on this Disney Cruise Line private island is watersports. Gil's Fins and Boats have kayaks, paddle boats, and aqua bikes that you can rent. If you need floats or inflatable toys, then you can rent them from Flippers and Floats.
The clear waters just off the Family Beach are also ideal for snorkeling. Your kids can search for the hidden Mickey Mouse and explore the Discover Trail. They can also spot tropical fish and sunken submarine-ride vehicles.
Use the Kids Clubs
If you need some time away from the kids, then make sure you use the Kids Club on Castaway Cay. It's called Scuttle Cove and provides supervised activities for kids aged between 3 and 12. There's also the Teen Hideout club for kids aged 14 to 17.
Traveling Around Castaway Cay
Traveling around Castaway Cay is really easy. Once you disembark your Disney Cruise Line ship, you can use one of the complimentary trams to reach Family Beach or any other destination. If you want to go to Serenity Bay, then you can hop on another tram.
You can also easily walk around the island. There are signposts all over Castaway Cay, and it takes around 20 minutes to walk to Serenity Bay from the Disney Cruise Line ship.
What Should You Bring To Castaway Cay?
Most of the things you need at Castaway Cay are provided for you. The main things to remember to bring with you are your Disney Cruise cabin key card and your photo ID.
You should also bring some essentials like sunglasses, sunscreen, and a hat.
Excursions, Tours, And Add-On Experiences At Castaway Cay
Extreme Getaway
The Extreme Getaway package helps you to get the most out of your trip to Castaway Cay. It includes four different adventures. With this package, you'll snorkel in the Caribbean and ride a tube. You'll also cycle along the offshore nature trail and swim with stingrays.
Stingray Adventure
The Stingray Adventure allows you and the kids to get up close to these majestic creatures. You'll be able to stroke a stingray as it glides through a shallow pool.
Parasailing
If you're feeling adventurous, why not book a parasailing tour of Castaway Cay? This allows you to view the island in all its glory from above.
Watercraft Ski Adventure
Whilst on the island, you can learn all about the history of Castaway Cay on a jet ski tour. This is a great way to explore the area's marine life while having fun on the water.
Scenic boat cruises
When you visit Castaway Cay, take the opportunity to have a Glass Bottom Boat Voyage. This allows you to view the marine life and corals that thrive in the pristine waters. During the tour, you'll also hear some amazing tales about the pirates that used to occupy the island.
Fishing
There are a number of fishing tours that you can take part in whilst at Castaway Cay. The tours include:
bait
equipment
a fishing permit
The Backcountry Fishing Tour gives you the opportunity to catch tarpon, barracuda, and bonefish.
Don't worry, all of these tours are catch-and-release. This means that they're fully sustainable.
The Bottom Fishing excursions are also very popular. They involve half-day fishing trips around the Abaco Islands. You can catch grouper, yellowtail, and snapper if you're lucky.
Snorkel excursions
Snorkeling is one of the main attractions at Castaway Cay and you can pay extra for snorkeling tours. These tours take place on rigid-hull boats and give you the chance to see some amazing marine creatures.
Places To Eat On Castaway Cay
Serenity BBQ
Serenity Bay, the adults-only beach, has its own BBQ. Serenity BBQ serves up hot dogs, ribs, burgers, and chicken. Plus, all the side dishes you'd expect from a great BBQ. The ribeye steaks that it serves are exclusive to the adults-only area. Sorry kids!
Cookies BBQ and Cookies Too BBQ
Cookies BBQ is located just off the Family Beach. Cookies Too BBQ is just a little further away. Both locations are quick-service BBQ restaurants. They serve burgers, chicken, and ribs. You can also get cold sides like potato salad, pasta, and fresh fruit.
The menu is the same at both restaurants and they're only a short distance from each other. The free soft-serve ice cream stands are also close by. Both of these BBQ spots are complimentary which means you can fill up for free.
Bars On Castaway Cay
If you fancy an alcoholic drink whilst on Castaway Cay then there are four bars to choose from:
Head's Up Bar
Castaway Air Bar
Sand Bar
Conched Out Bar
One of the bars is in the adults-only area and the other three are near the Family Beach.
The Konk Cooler is the signature drink of the island. It's made from tropical juices and rum. Most of the drinks on the menu are made with rum. However, if you'd prefer a different spirit, feel free to ask. The bars are all fully stocked.
Just remember, you have to pay extra for alcoholic drinks on the island.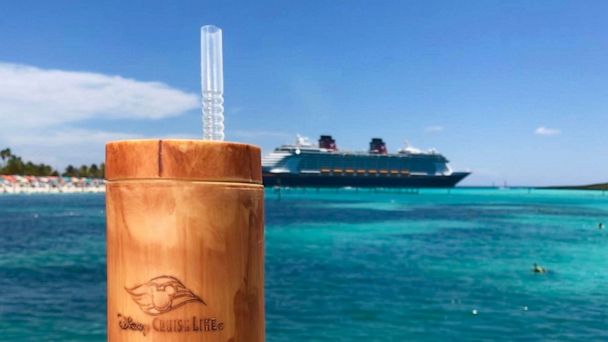 FAQs
When did Disney buy Castaway Cay?
The Disney Cruise Line purchased Castaway Cay in 1997. At the time, it was called Gorda Cay but it was renamed by Disney. They paid for a 99-year lease from the Bahamian government. They then spent $25 million on construction over the next 18 months.
How long do guests stay at Castaway Cay?
Typically, guests are on Castaway Cay for between 6 to 7 hours. You usually disembark your ship around 9 am and leave the island around 4 pm. This can vary depending on the weather and the itinerary of your cruise ship.
Do I need to bring water shoes onto Castaway Cay?
Although Disney provides you with many of the things you need on the island, you should definitely bring water shoes. This is because the sand and paved walkways can get really hot. There are also crushed seashells on the island that could cut your feet.
Can I walk the Castaway Cay 5K?
Yes, you can walk the 5K on Castaway Cay. The 5K is self-paced so you can do it at any pace that you like. Many families enjoy doing this activity together. It's common to see adults and kids walking the 5K route slowly and taking in the scenery. Others, however, might enjoy the leg stretch and pick up the pace for a little 5k jog!
More about our TFVG Author
A seasoned traveller, Dad, and avid sports tourist, James foundered The Family Vacation Guide to share his expert vacation experiences- especially when it comes to being a travelling family man.
Featured in Travel articles such as Travel + Leisure, TripSavvy and SFGate, you know you're reading some of the best vacation tips online.