If you're thinking of taking a family holiday to Antigua, you've made an excellent choice. Located in the eastern Caribbean Sea, Antigua offers beautiful beaches, fantastic tropical weather, and plenty of fun activities for all ages.
You'll find plenty of fun activities to enjoy as a family in Antigua. There's plenty to do, from snorkeling with turtles to stingray safaris, mangrove kayaking, and more. You won't have to worry about the kids complaining that they're bored on this holiday!
Since Antigua is also the capital of the independent island state of Antigua and Barbados, it's also well-connected. You'll find an international airport near the capital of St. John's. Many hotels offer an airport pickup and dropoff service to simplify your travel planning.
But where should you stay once you've arrived in this tropical paradise? That's the big question! There are many all-inclusive family resorts to choose from on the island. The below list provides a roundup of some of the most popular choices.
9 of the Best Antigua All-Inclusive Family Resorts
When traveling with your family, an all-inclusive resort offers many advantages. There's no need to worry about figuring out food or activities. You'll get everything you need conveniently in one place. By cutting out the hassle, you can make even more time for fun with your family.
Here are some of the best options for all-inclusive family resorts on the island of Antigua.
1. St. James's Club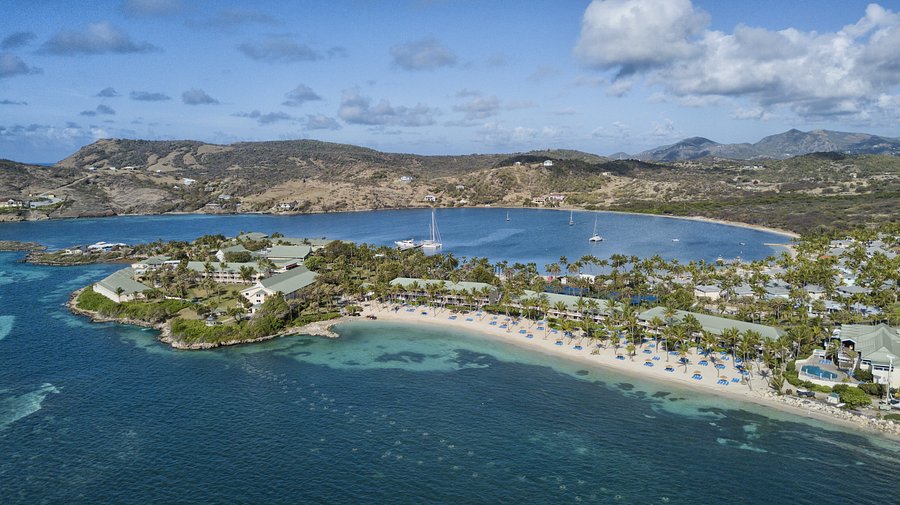 If you're looking for paradise, you've found it. St. James's Club Antigua is nestled on a secluded stretch of Antigua's southeastern coast. Set on a 100-acre peninsula, this serene hideaway allows you to retreat from the world.
There are two white-sand beaches on-site, allowing you to participate in paddle boarding, sailing, and kayaking. Choose from six different pools for splashing around and soaking up the sun.
Are you looking to stay active during the holiday? The resort features a cutting-edge modern fitness center. The gym even offers stunning sea views thanks to its floor-to-ceiling windows. There are also four tennis courts, which are lit at night to permit play when it's dark out.
For parents who need a little break, there's also a complimentary Kids Club. The club is open for kids ages four to 12. Little ones should be potty trained and capable of communicating. Drop the little ones off when you need some time to rekindle the romance without children around!
When it comes to eating, you'll find all your needs are covered. The resort features five restaurants offering an array of cuisines, from casual to international dining. Some restaurants provide seaside dining with panoramic views. You can also enjoy a drink at the pool bars.
With its many amenities and top-quality service, it's no wonder that St. James's Resort Antigua has won numerous travelers' choice awards. For basic accommodation, you can choose from a selection of rooms, suites, and villas, depending on your family's size and preferences.
Finally, if you're looking to get away from the resort, you'll find plenty of options nearby. Explore the surf of Coco Beach or the crystal-blue waters of Mamora Bay. This is a hotspot for snorkeling, and you'll see everything from fish to sea turtles.
Finally, when you're ready to take a break, enjoy rejuvenating treatments at the spa and salon. Choose from massages, facials, full-body scrubs, and more. Salon services cover everything from waxing to nail care and hair care.
2. The Verandah Resort and Spa
The Verandah Resort & Spa Antigua offers a breathtaking spot on a tranquil oasis featuring 30 beachfront acres. This beautiful luxury accommodation is so picturesque that it's a favorite for wedding events. You'll find lush green gardens, the azure sea, and lovely tropical views.
This resort features all the amenities your family needs to make the most of your holiday. Parents will enjoy the fitness center, featuring Cybex cardio equipment, weight training gear, and more. Meanwhile, the entire family can enjoy water sports like sailing, snorkeling, and paddle boats.
There are also land activities and a Kids Club. The Kids Club is ideally set under shady trees and offers kids a splash pool for cooling off. It's open every day from 09:00 a.m. to 10:00 p.m. and welcomes little ones aged two to 11 (kids need to be potty trained to attend).
If you're ready to ramp up the relaxation, head to the Tranquility Body & Soul Spa. The spa offers everything for pampering, including massages, facial therapies, and full-body therapies like seaweed wraps. There is also a salon to take care of everything from hair to nail care.
The Verandah Resort & Spa Antigua also offers a diversity of restaurants—you won't go hungry here! The Seabreeze restaurant offers buffet-style dining, Nicole's offers fine cuisine, and the Buccaneer provides Caribbean dishes. There are also many beach bars and lounges.
Finally, the Verandah is a Green Globe Certified Resort. They pride themselves on their environmentally friendly approach to tourism. You can thus rest easy knowing you are supporting eco-friendly accommodation.
3. Jolly Beach Resort and Spa
Jolly Beach Resort & Spa is another favorite among families looking for an all-inclusive experience in Antigua. It's set on 40 acres of seafront paradise, with crystal white sand and Antigua's signature turquoise waters.
The resort features 464 rooms, many of them with private terraces or balconies. The rooms are configured with comfort in mind, offering complimentary television and blackout curtains. You can also request interconnected rooms for larger families.
Enjoy water activities at the pool or beaches. You can rent water sports equipment for activities like snorkeling. If you get stuck with bad weather, don't stress. There's a game room to keep you busy indoors as well as plenty of board games and puzzles.
You'll also find organized activities like yoga glasses. Check out the fitness center if you want to get in some exercise but don't want to take a course. Other activities include table tennis, aerobics, squash, hiking, and more.
Of course, the family-friendly resort makes sure to cater to kids. There is a children's play area and a playground. Parents can also leave potty-trained little ones at the dedicated Kids Club. Leave the kids and take a break with a romantic dinner for two at one of the many restaurants.
Jolly Beach Resort & Spa also offers plenty of pampering, including massages and facials. The salon provides various services, including makeup, hair, manicures, pedicures, waxing, and more.
If you're looking for some off-site activities, you'll be pleased to find a golf course nearby. The marina is also within easy reach, giving you the chance to explore some of Antigua's sights beyond the resort property.
Before you book, make sure the resort is open. As of September 8, 2021, the resort announced a closure until April 28, 2022. Here's hoping that this lovely resort will be back and better than ever come spring 2022!
4. Jumby Bay Resort
Jumby Bay Resort in Antigua offers a unique mix of resort, villa, and private residence accommodations. You can get the space you need in a family-friendly villa or maximize your room by selecting from one of the luxurious private residences.
For extensive family trips, a private residence can be a great option. These all have anywhere from four to nine bedrooms, providing plenty of space for a full-scale family reunion. The residences offer some added privacy, which is excellent if you prefer to get away from the crowds.
You'll find plenty to do on this secluded island, including plenty of poolside and oceanside activities, including sailing, windsurfing, snorkeling, paddle boarding, and water skiing. There is even an infinity pool, making for plenty of picture-perfect moments.
Sailing is one of the main draws here, and you can take part in a sailing academy. Accredited instruction is available for all ages, allowing you to give your kids their first sailing experience early on. You can also charter sailing excursions and let a pro take you out on the water.
After a busy day on the water, your family is sure to be famished. You'll find many restaurants and bars available at Jumby Bay Resort, which offers everything from international to Caribbean cuisine. You can also enjoy organic farm-to-table dining at "The Farm" restaurant.
With its lush tropical foliage, beautiful beaches, and glittering sea, this family-friendly resort is also an excellent spot for private events. You can plan private events like family reunions at the Caribbean getaway and even reserve the island for one-of-a-kind exclusive buy-outs.
5. Starfish Halcyon Cove by Rex Resorts
Starfish Halcyon Cove by Rex Resorts is set in a unique location along a mile-long stretch of protected coral reef. If your family loves snorkeling, this is a great spot to go, as you'll have plenty to see right off the beach.
The all-inclusive resort offers daily activities to keep the whole family busy, as well as a Kids Club and outdoor play area. Enjoy non-motorized water sports like kayaking, paddleboard, and snorkeling. There is also a fitness area and four tennis courts.
A variety of room options is available to suit every need and price point. Choose from garden, seafront, or pool-view rooms, depending on your preference. There are also mini-suites to accommodate larger families.
Starfish Halcyon Cove by Rex Resorts also doesn't disappoint when it comes to fine dining. Enjoy international cuisine at The Arawak Terrace restaurant or try the seafood at the Warri Pier a la cart establishment.
Are you looking for something more casual? Head to the Beach BBQ for Antiguan specialties like jerk chicken in an open-air dining atmosphere. There is also the Carib Beach Bar to quench your thirst. The beach bar is also where you'll find nightly entertainment, from DJs to songstresses.
In addition to the all-inclusive features, there are some other extras you can enjoy for a fee. Schedule your tee time at the nearby Cedar Valley golf spot, for example, or request a horseback riding excursion on the beach. There are many options to keep you busy.
Finally, if you're looking to host a special event like a wedding or family reunion, it's possible here. The resort's event planners can help you plan your occasion, ensuring every detail goes off without a hitch.
6. Blue Waters Resort & Spa Antigua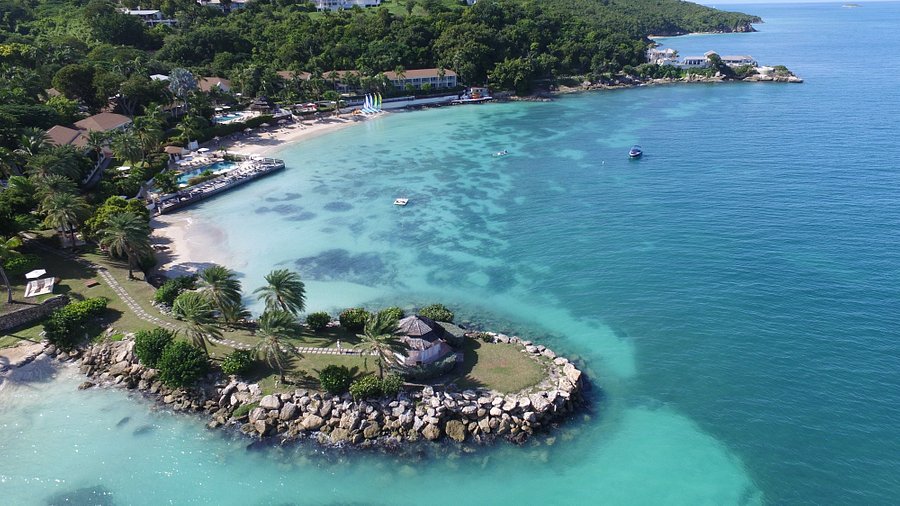 Blue Waters Resort & Spa Antigua has won a slew of awards, and once you get a look at this place, you'll see why. Set on the northwestern shore of Antigua, it offers an idyllic paradise that's straight out of a storybook.
This elegant all-inclusive resort features 17 acres of gorgeous tropical gardens and multiple freshwater pools. Fitness activities include yoga, pilates, tennis, aqua aerobics, golf, and instructor-led cardio. You can also schedule fishing, kayak tours, snorkeling, and windsurfing.
Guests further have exclusive access to Monty Wave, a 24-foot Axopar with seating for up to six people. You can book the boat for two hours or make a day of it with a full-day charter (for an extra charge).
There is also plenty to do in the way of land activities. You can take a garden tour to explore the local flora and fauna with the resort's gardener. Adults may enjoy a break from the kids by heading to a wine tasting or a rum tasting.
If you're looking to boost your relaxation even further, head to the spa and salon. You can get a variety of massages, from deep tissue to reflexology rubdowns. The salon offers waxing, makeup services, hair therapy, and more. You'll find everything to look and feel your best.
Finally, there's the food. Blue Waters Resort & Spa Antigua has many restaurants to suit every taste. The Cover offers a unique mix of French and Caribbean cuisine. The Palm Restaurant offers traditional Caribbean cuisine with fresh-caught seafood.
There's Carolyn's for something less formal, which provides open-air dining by the beach and pool. Last but not least, you can organize private dining experiences, selecting from many of the resort's stunning locations. You can enjoy a meal on a clifftop, for example.
7. COCOS Hotel
Sometimes after the family holiday, you need a break just for the parents. Enter COCOS Hotel, an adults-only resort. This spot is excellent for couples who are looking to relax and get away from it all. This resort prides itself on its soothing atmosphere and mellow vibes.
COCOS Hotel is located on a lush hillside sandwiched between two white sandy beaches. It's surrounded by miles of blue sea, offering plenty of swimming and other water sports opportunities, like jet ski rides, short boat rides, and paddleboarding.
The unique accommodation offers stand-alone cottages made of indigenous materials like wattle and wood. Each cottage offers a small balcony or terrace and hammock. Some also have private pools.
Couples can enjoy a romantic moment at the spa, which offers couple massages and a slew of other treatments. Choose from hot stone massages, foot reflexology massages, deep tissue massages, and more.
This resort caters to health buffs. You can enjoy outdoor yoga, taking part in professionally led courses with the stunning backdrop of the sea. Classes are taught by an acclaimed instructor with more than a decade of experience. Novice and advanced yogis are welcome.
Beyond fitness, there is plenty of other entertainment to keep busy. You can take part in cooking classes, play beach volleyball, or participate in sand-bag throwing competitions. Additionally, you have the unique opportunity to learn how to play the Caribbean steel pan.
One of the best parts of a couples holiday is romantic meals. COCOS Hotel offers many opportunities to do just that. The all-inclusive meal plan includes beachfront dinners and wines. If you book a room with a plunge pool, you'll also get floating canape treats served at sunset.
8. Carlisle Bay Antigua
Carlisle Bay Antigua is a luxury resort set against the backdrop of the stunning green rainforest. On the other side, the stylish resort looks over calm turquoise waters. You'll find this resort offers the perfect mix of calm and action.
This boutique resort is on the smaller side, featuring just 87 suites. This makes for a more intimate and calm atmosphere. The suites range from 72 to 150 square meters, featuring contemporary decor in soothing hues like white and blue.
The diversity of restaurants covers an array of cuisines. East offers traditional Japanese, Indonesian, and Thai cuisine. Ottimo provides authentic Italian flavors, while the Jetty Grill serves up the finest Caribbean cuisine. You can also enjoy beachfront dining at Indigo.
Choose from water sports like paddleboarding, rafting, snorkeling, windsurfing, wakeboarding, kayaking, and sailing for an active day. If you want to spend a little extra money, you can also book the resort's luxury yacht for a day trip.
There are many land activities as well. You can play tennis on one of nine courts, book a private pilates or yoga lesson, or schedule a personal training session. There's also an outdoor gym. If you're looking to get more rugged, take a hike.
Need a break? Retreat to a private screening room to chill out and relax. There are also plenty of organized activities like Firepit Fridays. Adults can sip on local rum punch, and the whole family can listen to tunes from a local singer and songwriter.
Other additional activities you can take part in for a fee include helicopter tours, horseback riding, zip line tours, and a visit to the Stingray City Antigua. However, the resort is so luxurious that you probably won't ever want to leave.
9. Royalton Antigua
When it comes to luxury experiences, Royalton is hard to beat. The Royalton Antigua Resort & Spa offers luxury accommodations with high thread-count sheets, rain showers, satellite television, and more. Every room has its own balcony or terrace, air conditioning, and a minibar.
This luxury accommodation offers a slew of fine dining. Choose from Grazie Italian Trattoria, Gourmet Marche International Buffet, The Caribbean Restaurant & Grill, or Hunter Steakhouse. For more casual dining, check out SCORE Brewhouse Pub & Grill or the Beach Club Grill.
If you're worried about what all that delicious food might do to your waistline, don't stress. There are loads of fitness opportunities available. There is a beachside boot camp, cardio courses, spinning classes, yoga, and even pool yoga. You can also hit the gym for a private workout.
After a challenging workout, you deserve to be pampered. Hit the spa and salon and choose from a range of massage, facial, and body treatments. You'll find everything from exfoliation treatments to manicures available.
What about the kids? They'll be well taken care of while the adults are getting pampered. The Clubhouse Kids Club is available for kids ages four to 12. There is also a teens lounge for older kids (aged 13 to 17) to hang out and get some privacy from their siblings and parents.
The teen lounge features all the basics older kids need to enjoy, from PlayStation lounges to unlimited Wi-Fi. There are also ping pong tables, billiards, board games, and more. For families with older children, this provides independence for kids while assuring parents of supervision.
Younger kids can also take advantage of the seaside summer camp programs. Activities include arts and crafts, nature hikes, cooking courses, and summer fun like campfire sing-alongs and karaoke. The camp program runs from early June to September.
The Final Word on All-Inclusive Family Resorts in Antigua
As you can see, you have many options when it comes to family-friendly all-inclusive resorts in Antigua. The above list provides some of the highlights, giving you nine solid choices to select from. With this roundup, you're sure to find at least one accommodation that suits your needs.
An all-inclusive resort is generally preferable when traveling with family. You'll save time and energy with all of your needs taken care of directly on the property. You can also benefit from things like Kids Clubs or Teen Lounges, ensuring everybody's needs are met.
This will give you and your loved ones the chance to relax and make the most of your holiday. Do your research beforehand and choose the right resort to suit your needs. Then all you have to do is prepare for fun in the sun.
If you're unsure where you want to go on your family vacation but know you want to travel all inclusive, we've got a variety of destinations for you to discover that will help you decide.
More about our TFVG Author
A seasoned traveller, Dad, and avid sports tourist, James foundered The Family Vacation Guide to share his expert vacation experiences- especially when it comes to being a travelling family man.
Featured in Travel articles such as Travel + Leisure, TripSavvy and SFGate, you know you're reading some of the best vacation tips online.