Family vacations are one of the greatest ways to make memories. As you carefully plan how to spend your hard-earned vacation time, choosing a location where your family can play, relax, and enjoy time together is important. The Caribbean is one of those perfect destinations.
Safety, comfort, convenience, and more inform the decision-making process when planning your vacation. Not every resort offers the same level of luxury, nor can they all meet your family's needs. But a variety of options in Aruba mean that there is a resort that fits your ideal vacation plans.
Aruba is a beautiful destination – one your family will never forget. From beachside resorts to shopping-friendly locations, all-inclusive resorts make planning even easier. Here are 11 of the best all-inclusive resorts in Aruba for families.
Hotel Riu Palace Aruba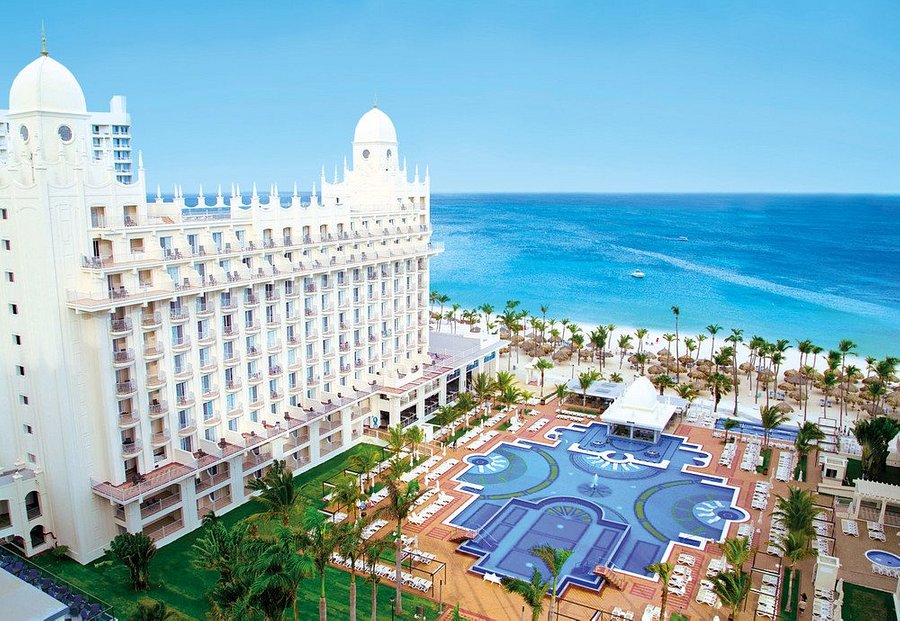 First on our list is the Hotel Riu Palace, Aruba. This beautiful seaside resort is located on Palm Beach and offers 24-hour services to patrons. With 400 rooms and all the amenities, you can think of – from WiFi to minibars – Hotel Riu Palace is one of the most warm and inviting places to stay.
An all-inclusive resort, Hotel Riu Palace offers entertainment options day and night, a gym, volleyball, and has paddle surfing, diving, and kayaking for active families. If your preference is a relaxing stay, their spa has a whirlpool bath and a full menu of treatments to enjoy.
If food is your favorite part of vacationing, Hotel Riu Palace's Japanese and Italian restaurants are sure to please. They also have several bars where you can stop in for an appetizer or a quick snack in between all the glorious relaxation.
Hotel Riu Palace is family-friendly year-round as they are not open to spring breakers. They take pride in their safe, quiet, relaxed atmosphere and work hard to ensure guests have their best vacation ever while staying there.
Only 6 miles from the airport and set right on the beach, this resort offers close access to shopping and other tourist attractions, though, with all the amazing features within the resort itself, you never have to leave the grounds.
From honeymoons to friend trips, family vacations, to solo outings, Hotel Riu Palace Aruba is a beautiful resort with some handicap accessible features, excellent staff, and access to one of the greatest beachfronts in the world. Hotel Riu Palace does not disappoint, and guests often return summer after summer.
Divi Aruba All-Inclusive Resort
When choosing your family-friendly vacation, look no further than Divi Aruba. With their Kids Corner and Sea Turtle Club, they offer a weekly schedule of activities to keep your little ones engaged and active. From beachside scavenger hunts to sandcastle building contests, the fun never stops.
Aruba is a beautiful island with lots of sunny days, and you can enjoy every one of them poolside at Divi Aruba, where the pools are designed to soak in the most sunlight you can take all day long. A cabana is available for shady breaks, and the step-down pools are crisp and clean.
Enjoy mountain biking and private island tours to places like Boca Catalina and the Light House before settling in for a game of tennis at the nightly lit tennis courts. Windsurfing, snorkeling, and floats are available for the more adventurous guests and provide an experience that can't be beaten.
All-Inclusive truly means all. With your stay at Divi Aruba, your family has ten restaurants total to choose from, and all meals are included in the all-inclusive restaurants. Three meals a day are covered by your resort fees.
With five restaurants offering all-inclusive meal options, you can choose from two a la carte options, two bars and grilles, and one live-cooking restaurant where you can watch the cooks prepare your meal before your eyes. Whatever you choose, you'll never go to bed hungry.
One of the most well-reviewed services at Divi Aruba All-Inclusive Resort is its restaurant options. Guests are pleased by the quality of their meals and enjoy the comforts of the hotel. Friendly staff, great rooms, and even better food make for an all-around memorable vacation experience.
Amsterdam Manor Beach Resort
Amsterdam Manor Beach Resort offers beautiful one or two-bedroom suites for rental, leaving you enough room to bring your family along. Each suite has a full kitchen, so if you miss a meal, you can cook in the comfort of your own suite.
The freshwater pool boasts a stunning waterfall and is right beside the kid pool, so parents can relax while keeping an eye on their young swimmers. On Tuesdays, Amsterdam Manor offers free scuba diving lessons, and on Wednesdays, they have a family movie night, ensuring entertainment at every speed.
Mangos is their American buffet restaurant, and they offer breakfast, lunch, and dinner with all-you-can-eat options to satisfy even your heartiest eater. Amsterdam Manor offers a walking tour of Oranjestad so you can work off those extra calories.
Snorkel masks, bicycles, and more are available to rent, keeping your busy family active through your vacation. With several booking packages to choose from and add ons for couples, friends, and families, there is no shortage of things to do while staying at Amsterdam Manor Beach Resort.
The Dutch Colonial architecture and bright, vibrant colors make Amsterdam Manor an exciting, comfortable, and fun place to stay while in Aruba.
Across the street from Eagle Beach, Amsterdam Manor Beach Resort is a favorite among guests who are always glad to spend their time in spacious rooms. Guests here are loyal and return for many vacations over the years, making Amsterdam Manor part of their family traditions.
Renaissance Aruba Resort & Casino
Right on the beach, the Renaissance Aruba Resort and Casino is a part of the Marriott hotel and resort family, making it one of the best-known resort options around. While Renaissance has several adult-only lodging options, they aren't strictly for adults.
The Ocean View Rooms, Island Suite, Oceanfront Suite, Ambassador Suite, Royal Suite, and Presidential Suite offer a wide variety of experiences while staying at Renaissance Aruba Resort and Casino. From small rooms to full apartment-sized suites, you can choose how closely-knit your family stays.
Dining options have as much variety as the rooms, as you can choose between steakhouses and a bar and grille atmosphere. The L.G. Smith's Steak and Chophouse offers fine-dining options with a relaxed atmosphere. Their dress code is casual dressy, but no need to bring the three-piece suit.
Family-friendly pizza is served oceanside at the Papagayo Bar and Grille. Local Aruban cuisine fills the Aquarius restaurant, and Fresco offers delicious breakfasts to start your day. Sole features a swim-up bar with snacks, and the nightlife continues at The Lounge, and BLUE, giving options for adults to step away from the kids for a little while.
Renaissance Island has a family beach for your enjoyment that includes kayaking around the island and a nature trail where you can feed iguanas. Patamingo kids club provides day and evening activities as well as babysitting services so you can get out to enjoy the casino or bars before heading home.
Access by boat to the private island is what draws guests to Renaissance Aruba Resort and Casino, but the fantastic staff, fine dining, and comfortable rooms are what keeps them coming back.
Divi Dutch Village Beach Resort
With an impressive list of amenities, Divi Dutch Village Beach Resort is an excellent place to take your family for your vacation. Three freshwater pools and a swim-up bar offer cool alternatives to the ocean while enjoying the beautiful sunny days of Aruba.
Beach umbrellas, pool cabanas, and poolside snacks and lunches ensure your comfort throughout the day, whether sun or shade is your preference. Beach volleyball and tennis courts keep you active out of the water, and for an extra fee, stop by the golf course or climbing wall.
Poolside activities keep the kids entertained, and spa services provide relaxation and stress relief for parents. All-inclusive meal plans, WiFi, and family activities make for an enjoyable family get-away at Divi Dutch Village Beach Resorts.
Hiking and island tours are only a few miles away, and water activities are accessible from the resort with just a short walk.
Handicap accessibility is a feature Divi Dutch Village is proud to offer, too, ensuring that everyone is welcome in this oceanside resort. Their suites have full kitchens and come in one or two-bedroom options with comfortable beds promising a good night's rest.
The excellent location of Divi Dutch Village Beach Resort entices guests to book here, and their friendly staff, excellent rooms, and top-notch facilities keep people coming back vacation after vacation.
Barcelo Aruba
An easily accessible beachfront resort, Barcelo Aruba is another stunning option for places to stay on your vacation. Every one of the 373 rooms has its own balcony from which you can view the sunrise or sunset each day. Located on Palm Beach, Barcelo Aruba can't wait to welcome you.
This beautiful resort offers seven restaurant options and three different bars for variety in dining that certainly has something to offer for everyone in your family. Picky eaters can't be stopped here, and you never have to eat the same thing twice. Dining in or a quick snack, something is ready whenever you're hungry.
Their lake-shaped natural pool, surrounded by palm trees, umbrellas, hammocks, and more, leaves you feeling like you're relaxing in nature. Unlike nature, though, the poolside drinks and snacks are fantastic. They also have two hydromassage pools, making this a much calmer choice than swimming in the ocean.
Don't worry, though; the ocean isn't far away. Access to the beach from the resort is quick and easy, and the resort offers beach entertainment, too. Whether you want bar services or something active like windsurfing, kite surfing, snorkeling, or scuba diving, Barcelo Aruba has something for everyone.
Kid's Club offers services and activities during the day, keeping your kids focused and happy while you enjoy your visit. Poolside activities are also planned daily, and for exciting nightlife, Barcelo Aruba boasts a full casino and live music several nights of the week.
Their laid-back atmosphere draws in guests from all over the world, and they're known for their friendly staff and wonderful rooms.
Divi Village Golf & Beach Resort
Sister property to the Divi Aruba All-Inclusive Resort, the Divi Village Golf and Beach Resort is farther south on the island of Aruba. Located across from the beach and surrounding an infinity pool, this resort offers exclusive privacy and comfort in their one or two-bedroom suites or golf villas. Each suite has a private balcony or patio with a view of the pool or their beautiful garden.
Being farther south on the island makes the Divi Village Golf and Beach Resort an oasis of its own, close enough to the amenities of the island while remaining secluded and private. Caribbean coordinators are on-site to help you plan your island adventures, ensuring you know where to go and how to get there.
Children are welcome here, and the suites can accommodate 4-6 people comfortably. With four freshwater swimming pools, a children's pool, poolside dining, and a beach volleyball court, there is plenty to do outdoors.
For extra fees, they have a 9-hole golf course and climbing wall. Water sports and activities like kayaks, snorkeling gear, rafts, sunfish, and personal watercraft, as well as bicycle rentals, keep your heart pumping. At the end of the day, you can relax in their day spa.
Guests are most impressed by the large pools, and once you've stayed with Divi Village Golf and Beach Resort, there's not much reason to look elsewhere. Guests are loyal to the resort and return year after year.
Tamarijin Aruba All-Inclusive Resort
Placed between Divi Beach and Drulf Beach, Tamarijin Aruba All Inclusive Resort is a sister property to Divi Aruba All Inclusive Resort. Like Diva Aruba, Tamarijin offers family-friendly activities such as Kids Corner, which provides a wide variety of activities during the day, such as trivia, stained glass, and tie-dye.
Their Sea Turtles Club for kids also offers kid-friendly dining options with their familiar kid's menu. For the more sophisticated diners in the family, there are ten dining options. Italian, Asian, pizza and more are available on the resort property and offer anything from a la carte choices to their live-cooking restaurant, Cunucu Terrace.
There's more to do, though, than just hang out at the resort all day. Tamarijin Aruba offers transportation to a variety of experiences around the island to get you out exploring and experiencing Aruba in all its glory. From off-roading around the natural pools to an evening sunset sail, there's something here for every adventurer.
Alhambra Casino and Shops at Tamarijin offer yet another way to pass the time. The casino has first-class service and welcomes locals and visitors alike. The shops have anything from apparel to souvenirs and even a convenience store for all those little items you might want along the way. There's no shortage of ways to stay busy here.
Whether you're a long-time guest or just passing by, there's no denying that the appeal to Tamarijin Aruba All Inclusive Resort stretches far and wide.
Holiday Inn Resort Aruba
Like its namesake and parent company, Holiday Inn Resort Aruba offers luxury vacationing at affordable rates. Located on Palm Beach in the high-rise area of Aruba, Holiday Inn Resort finds itself in the middle of all the action. If you're looking for a busy and popular area, Palm Beach is the place to go, and Holiday in Resort Aruba is the place to stay.
Within walking distance to the beach and a snorkeling and sailing school, Holiday Inn holds on to its tradition that kids under 19 stay free and kids under 12 eat free, making this an even more exciting way to spend your money.
An activity center in Palm Tower has daily activities for children, and they have a babysitting service as well as nanny services. This family-friendly resort wants to be sure you're able to reconnect with your partner as well as enjoy making memories with your entire family. The activity center includes crafts, games, video games, ping-pong, and air hockey tables, and so much more.
Holiday Inn Resort Aruba's Beach Family Fun package comes with daily breakfast, two 12-inch pizzas a day, activities, and 50% off your second room. Live entertainment, an outdoor pool and whirlpool, a full-service gym, and a cocktail lounge mean there's no reason for anyone to be bored here.
Their top-notch spa facilities offer beauty treatments, body scrub, body wrap, facials, manicures, and pedicures, so you feel confident showing off your beach body every day of your vacation.
Guests are pleased by the clean resort, friendly staff, and proximity to other services across the island. Holiday Inn Resort Aruba lives up to the Holiday Inn reputation.
Manchebo Beach Resort & Spa
Listed as the number one wellness spa in Aruba, the Manchebo Beach Resort and Spa believes that your meals are the key to a well-enjoyed vacation experience. Their Premium Culinary All-Inclusive program, which is an optional add-on, features daily a la carte breakfast, lunch, and dinner, with premium open bar cocktails, wines, and beverages.
If you've added the Premium Culinary program, after your fourth night with Manchebo Beach Resort and Spa, they'll treat you to a dinner off-site where you can experience some of the local flavors at no added expense, though with four on-site, full restaurants, they're certain you'll be back for more.
Yoga and Pilates classes are complimentary, and they have two beautiful outdoor pavilions where classes are led each day. The freshwater infinity pool is newly renovated, and the lounge chairs, umbrellas, and comfortable atmosphere make you want to spend the entire day at the pool.
If by some chance you tire of the pool and yoga, the spa offers full-service, beachside massage, body scrubs, wraps, and more, all accompanied by the sounds of the sea and relaxing music. They even offer prenatal massages for expectant mothers.
With choices between ocean view and garden view for your suite, there's no such thing as an unacceptable room here at Manchebo Beach Resort and Spa. Each room has a TV, WiFi, microwave, refrigerator, iHome docking stations, air conditioning and ceiling fans, and more. It's hard to go wrong at this luxury resort.
Known for their friendly staff and large rooms, guests of Manchebo Beach Resort and Spa are often pleased by their stay, and many come back again.
Aruba Ocean Villas
Located toward the southern end of the island, Aruba Ocean Villas provide an entirely different Aruba experience. Catering to guests with a desire to connect with nature and live more simply within their luxury experience, Aruba Ocean Villas look like small island huts. They offer a way to "return to life with a purpose."
The only hotel in Aruba with beach bungalows and overwater villas, this adults-only resort is less family-friendly than other hotels in the area. Not to worry, though; there is plenty to do without the kids around. From the open-air in The Old Man and the Sea Restaurant to the quaint and environmentally friendly rooms, being beachfront means direct access to the water no matter where you go.
Massage treatments are available daily and offer a full range of services to help relax your body and mind when you've finished your water adventures. To keep your sense of adventure alive and well, take a chance on the water with kayaking, snorkeling, paddleboarding, and paddle boating as you reconnect with the world around you.
Every Tuesday and Saturday, the resort provides live music with a local flair, and on Sundays, enjoy a large BBQ gathering with other guests. At the end of the day, take a chance on their over-water dining bungalow at The Old Man and the Sea Restaurant and finish it off with a delicious Bananas Foster for dessert.
Whether it is your first time staying or your 20th, Aruba Ocean Villas keep guests coming back for more.
Other destinations to think about for your all inclusive family vacation in the sun
If you're considering other resort and destination choices for your perfect family vacation, look no further than our round-up below!