Family vacations can be some of the best memories of childhood. Taking a spring break trip somewhere warm and tropical becomes the best thing that could happen to a kid. Who doesn't dream of the beach and freedom during the cold school year?
If you're bringing your kids to a Caribbean island, you've probably narrowed it down to a few. Some are famous for being kid-friendly, and others, not so much. However, both Turks and Caicos and St. Lucia are excellent spots to bring a family—the question is, which one is better?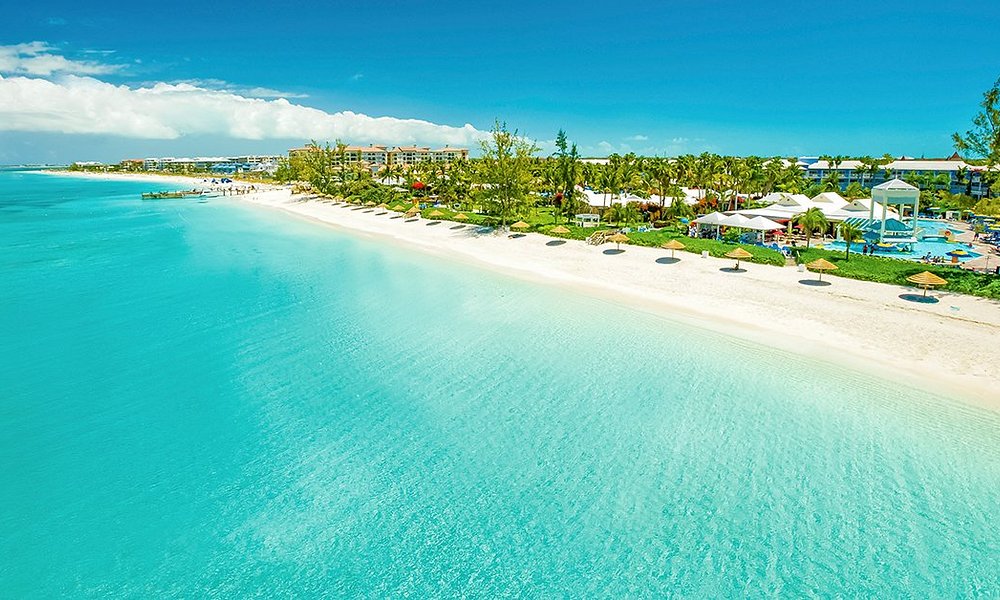 Turks and Caicos vs. St. Lucia
The Turks and Caicos Islands are a small archipelago of coral-based islands in the Caribbean. Providenciales, the most visited island, is commonly referred to as Turks and Caicos. With a population of just under 40,000, Turks and Caicos welcome over 1.5 million visitors a year.
St. Lucia has a population of 184,000 and is a much larger island than the Turks and Caicos archipelago. The island receives 1.2 million guests a year and is known for its variety of landscapes based on the two volcanic mountains, the Pitons.
Although each of these islands has a rich history, great tourist attractions, and beautiful beaches, you might find that one is better for your family. We've broken down the basic considerations for either trip and compared the two islands. Take a look, and decide for yourself which is better.
Cost
One of the biggest considerations when planning a family vacation is cost. If you're thinking about the Caribbean, you're probably prepared to spend some money on your trip. However, it might surprise you to find out that each island has a different pay scale, and some are more expensive than others.
St. Lucia is not a cheap island. However, you can visit the island on a budget. While you could stay in resorts and spend thousands of dollars a day wining and dining, there are ways to stay in St. Lucia without breaking the bank. Finding a cheap hotel and packing lunches are both great ways to save some money.
Turks and Caicos, on the other hand, are a little pricier than St. Lucia. Because it's a more Americanized island and built for tourism, the housing, dining, and shopping will all cost more in Turks and Caicos than in St. Lucia. Flights are also a tad more expensive.
Before deciding where you are taking your family, make sure you budget the trip out well. Whether you are taking a cruise or flying and staying in hotels, you'll be able to enjoy it more knowing that you've planned for all the expenses.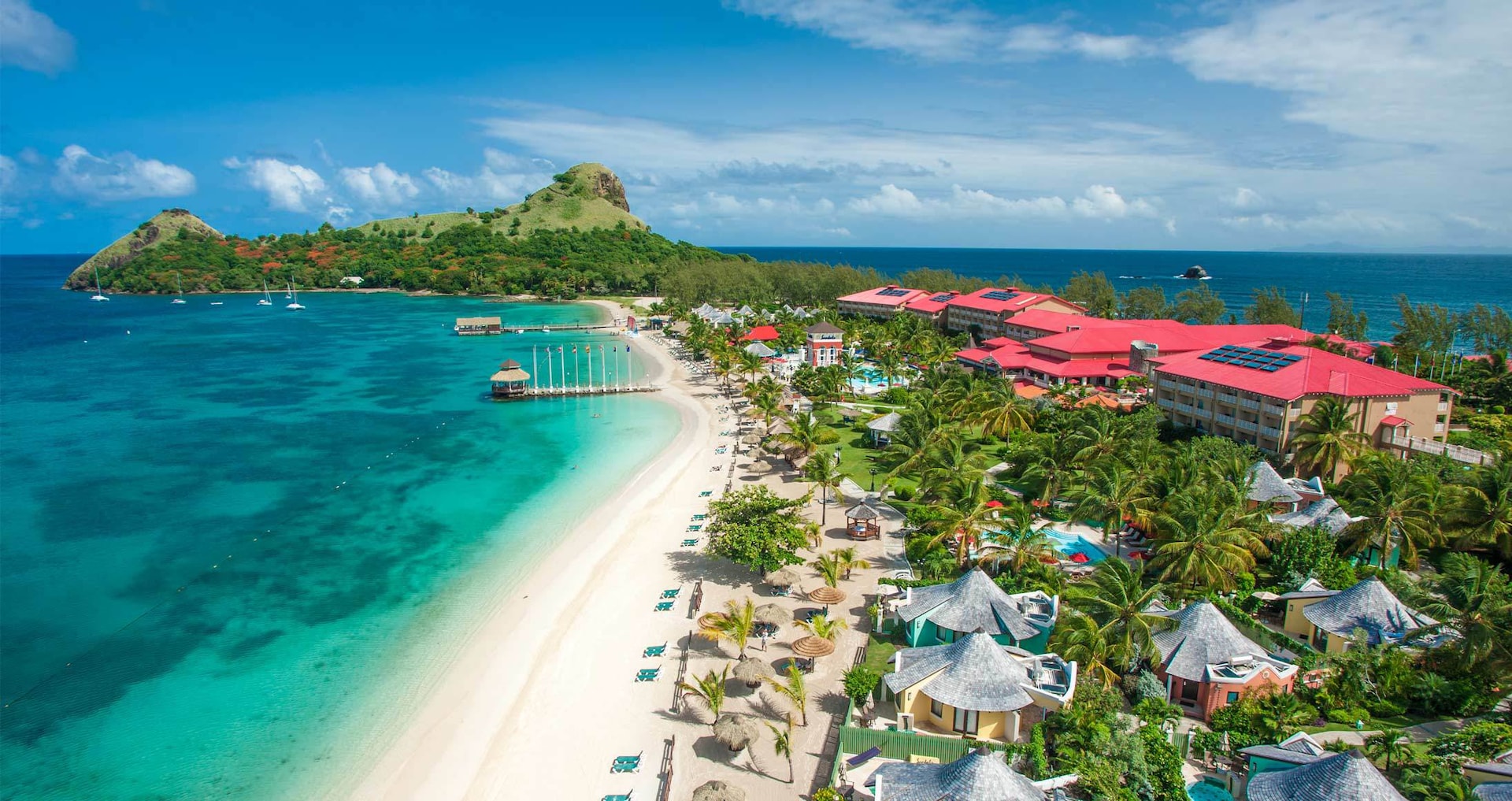 Geography
Whether you are a hiking family or a swimming family, the geography of the island is essential to your enjoyment of the vacation. While these islands are both in the Caribbean and are both islands (so they have beaches and shorelines), there are some pretty significant differences between St. Lucia and Turks and Caicos.
St Lucia is more varied in topography than Turks and Caicos. There are mountains, beaches, and vegetation. Because St. Lucia has a dormant volcano, you can sit in the hot springs and climb the mountain. The island boasts hiking trails, rainforests, mountains, coves, and beaches.
Turks and Caicos, on the other hand, are much more focused on the beaches and the island itself. While it is much flatter, the island has many small lakes and ponds (which are often visited by flamingos). The beaches stretch for miles on their coral base. There's less to do nature-wise, but it's easier to get around Turks and Caicos than St. Lucia.
The main difference between the two islands is how each island was formed. St. Lucia was once an active volcano, so it has much more wildlife, vegetation, and mountainous areas. Turks and Caicos, on the other hand, grew out of a coral base. There's less room for vegetation but more flatland for long, sandy beaches.
Both of these islands are beautiful, and it's hard to decide which one has better geography. The question then becomes: what is better for your family? If you love hiking and exploring, St. Lucia is the place for you. However, a family-focused on the beach and getting around might prefer Turks and Caicos. 

Activities
Both islands boast many tourist attractions and activities, from underwater scuba tours to indoor playgrounds. Here is a brief overview of some of the highlights from both St. Lucia and Turks and Caicos.
Turks and Caicos have a huge indoor playground, lots of beaches, and several historical tours. Like any Caribbean island, you can schedule scuba diving and clear glass-bottom boat tours, lie on the beach, or shop in the stores.
Here are some of the best family and kid activities available in Turks and Caicos:
Provo Ponies—pony rides on the beach
Thursday Fish Fry—cultural event at a children's park every Thursday
Playland TCI—a huge indoor playground
Adventure tours—a variety of nature activities (great for older kids)
Flamingo Pond—hiking trail and tons of flamingos
Grand Turk Lighthouse—historical tour and kids activities (they have a zipline!)
Turks and Caicos National Museum—educational museum
St. Lucia has many of the same attractions as Turks and Caicos but offers a few unique activities for the kiddos. In addition to beaches, playgrounds, and history tours, St. Lucia has the highest zipline in the Caribbean AND an outdoor waterpark. Either of these places has adjustments for younger kids.
Here are some of the kid and family activities you can do in St. Lucia:
Splash Island Water Park (on the beach!)
Helmet Diving Tours—underwater tours without the hassle of a scuba license (ages 8+)
Riding Stables—horseback tours of the island
Diamond Botanical Gardens
Pigeon Island National Landmark—beach and historical activities
Castries Aerial Tram Tours—a great way to see the jungle from above!
Various boat charters and tours (for up-close wildlife)
Morne Coubaril—a historical plantation and adventure park
Tet Paul Trail—a short hiking trail for all ages
Treetop Adventures—ziplines for big kids and mini zip lines for toddlers
From this list, it seems as though there is a clear winner: when it comes to kid-friendly activities on the island, St. Lucia has a wider variety. The presence of the waterpark and huge zipline should entice any kid, and several of the other activities are highly popular with families as well.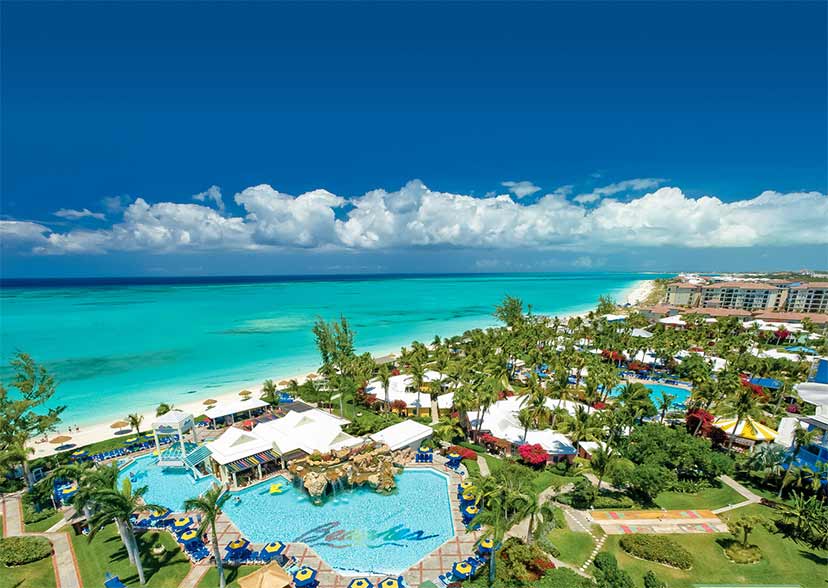 Kid-Friendly Beaches
We didn't include the beach on the activities list because it's a given that you're going to go to the beach if you're on a tropical island. The islands come out about even when it comes to kid-friendly beaches.
Our definition of a kid-friendly beach is a beach with soft sands, few waves, and shallow waters. A bonus goes to the beaches that also have sandbars or beach playgrounds. Here are some of the best kid-friendly beaches on each island.
Here are some popular beaches to visit in St. Lucia:
Sandy Beach
Pigeon Island National Landmark
Reduit Beach (water park and ocean obstacle course on this beach)
Anse Chastanet Beach (black sands)
Sugar Beach
These are some great beaches to visit in Turks and Caicos:
Taylor Bay Beach
Long Bay Beach
The Bight (has a playground!)
Leeward Beach
Chalk Sound
As it turns out, most of the beaches on both St. Lucia and Turks and Caicos are pretty kid-friendly. Beaches are closed during inclement weather, and signs are posted about tides. However, the beaches on both of these islands are great for kids of all ages, with shallow waters and no steep drop-offs.
There's no clear winner in this category, although we will say that Turks and Caicos is a little windier. This is great for older kids who are eager to try surfing or windsurfing. Younger kids (and their parents) might not love the larger waves and higher winds. 
Free Attractions
Trying to save money on an expensive Caribbean vacation can be difficult. However, both islands offer some free activities and parks to go to. With kids, this can be a life-saver. You'll be able to spend a day on the beach or at the park without spending any extra money.
Here are some of the free activities in St. Lucia:
Rodney Bay—a free Marina and shopping center
Castries Market—full of local craftsmanship and food
Jalousie Beach—free beach with coves and options for water activities
Errand Falls—hike to a waterfall
Rudy John Beach Park—beach with playground and activities
Here are some of the free activities available on Turks and Caicos:
Sapodilla Hill—historic engravings on the hillside after a walk
Potcake Place—Dog shelter where you can walk a puppy on the beach
West Harbor Bluff—a great place to hike and explore the caves
Chalk Sound National Park—beaches and hiking
National Environmental Center—free tours and education about the island
Of course, we didn't list most of the beaches, which are accessible to the public up to high tide marks. Both of these islands have several free activities. While most of these are nature-based, you and your family will be able to explore the nature and history of the islands. For cultural history, St. Lucia offers a bit more in the way of free attractions.
Restaurants
Nothing is worse than being on vacation, trying new and exotic foods, and having to deal with a screaming toddler who wants chicken nuggets. We've been there, and we feel you. Instead of avoiding eating out while you're on vacation, check out some of the restaurants that the islands offer with kid-friendly options.
There are tons of restaurants on each island, so we're not going to list the highlights here. All of them offer delicious Caribbean and familiar Western flavors, so you'll be able to find something you and your family like. However, St. Lucia offers a wider selection of kid-friendly options and restaurants, if only because the island has more restaurants in general.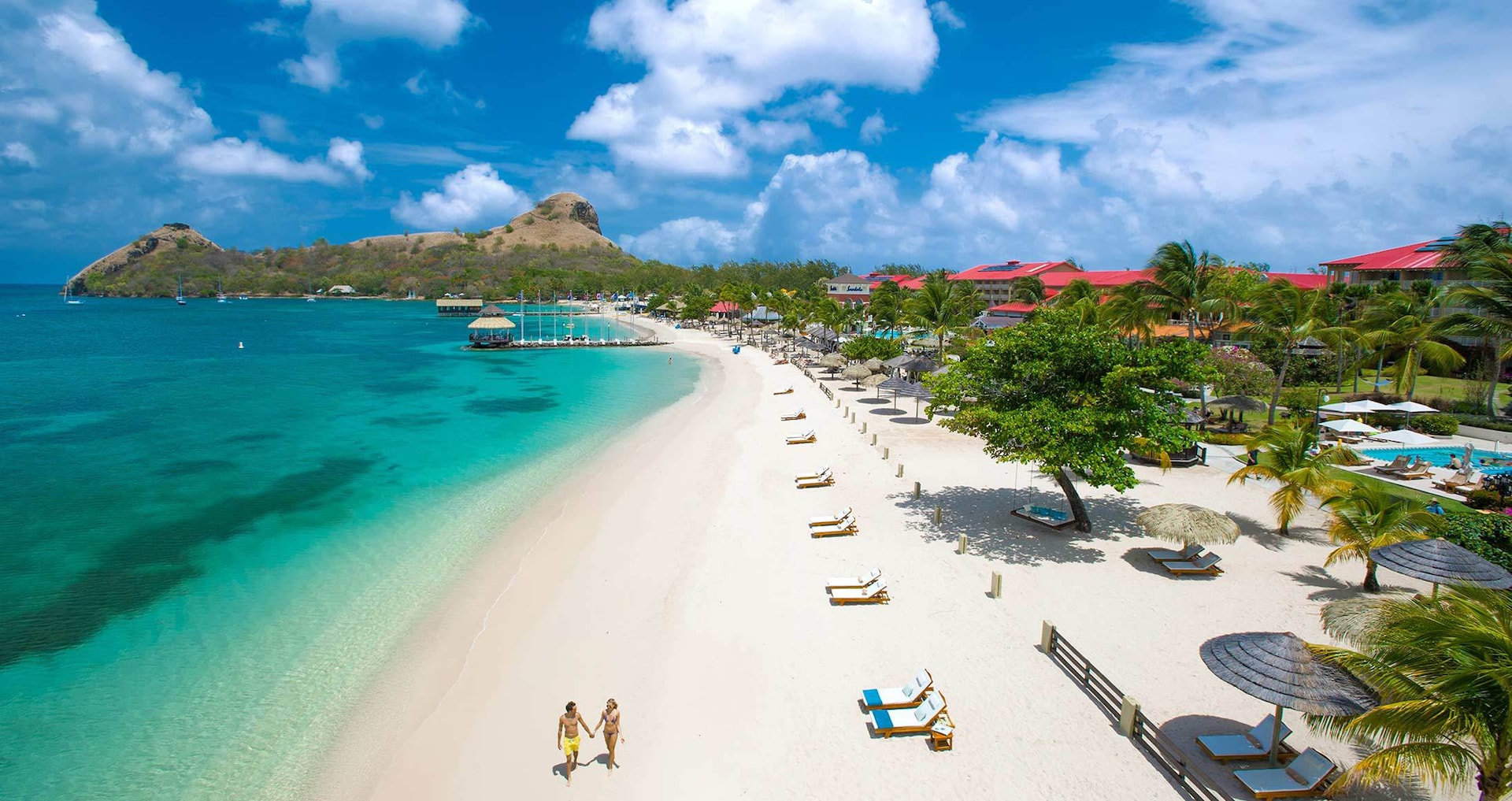 Weather
There's not a ton to compare in the weather category: both islands are in the Caribbean, so both of them are gorgeous year-round and have very little bad weather. Turks and Caicos and St. Lucia have the same season schedule. As long as you know it, there are no downsides to either island.
In the Caribbean, hurricane season is from June 1st to November 30th. However, most hurricanes occur between August and October, near the peak of the rainy season.
Both St. Lucia and Turks and Caicos are in the "hurricane belt," but St. Lucia is in the very southern part of it. There is very little risk for the island to get hit by a hurricane and none at all outside of hurricane season. However, tropical storms can occur year-round.
Time of Year
These two islands are both beautiful and luxurious travel destinations, but you have to make sure you're going at the right time of year. Of course, you might not have a choice if you're planning spring break or a summer vacation, but knowing the best (and cheapest) times of year to visit each island might help you decide.
The best time of year to visit St. Lucia is late April through early June. This coincides with the balmiest weather, lowest prices, and least crowded islands. While you might get a busy week if you go during spring break, the island is lovely during April, May, and June.
Turks and Caicos have a similar window: April to June is also the best time for weather. However, it's also a very expensive time to visit, as many people decide to take a trip to the island during this time. If you want to save money, getting early August tickets would be the cheapest time (while avoiding the rainy season).
If you're planning a trip for spring break, you're in luck when it comes to weather. However, it might be more expensive for you to take a trip to Turks and Caicos during this time. If you're willing to risk a little rain to come during the summer, you might not regret saving the money and still visiting either lovely island.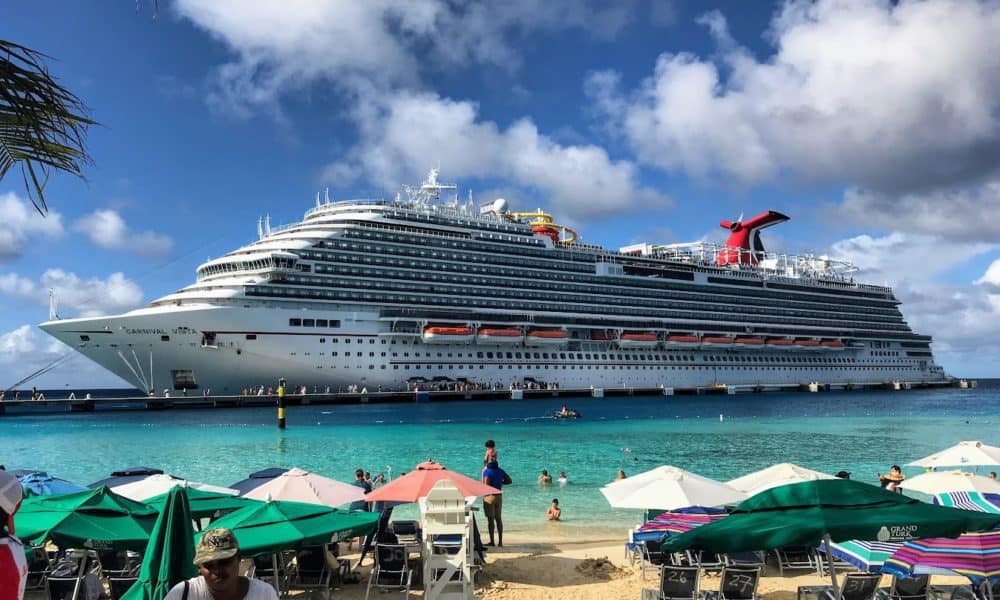 Cruises
If you plan to take a family cruise to one of these islands, knowing which cruise lines stop at which islands is essential. Cruises can be extremely kid-friendly, with tons of onboard activities, shows, and even pools to make the trip pass quickly.
Many cruises end up being cheaper than flights with hotels because they are all-inclusive: although you'll pay a hefty sum upfront, you'll be able to save money on resort packages, food, and activities.
These cruise lines visit St. Lucia:
Holland America
Carnival
Celebrity Cruises
Disney Cruises
Princess Cruises
Norwegian
Royal Caribbean
Here are some of the cruise lines that visit Turks and Caicos:
Carnival
Norwegian
Royal Caribbean
Celebrity Cruises
Princess Cruises
Marella Cruises
Windstar Cruises
Holland America
Both islands get many cruise lines each year. If you have a cruise line you are faithful to, check if it makes a stop at either island. Some cruises stop at both islands, so if you're considering a cruise and can't decide on an island, that might be your answer!
St. Lucia Vs. Turks and Caicos
Both islands are stunningly beautiful, and both are worth visiting. The question becomes: which island is better? We've explored many of the ways that Turks and Caicos and St. Lucia offer kid-friendly activities, places, and prices.
When it comes down to it, St. Lucia is a less expensive island and offers more kid-friendly activities. However, Turks and Caicos are preferable for adventurous teenagers who want to try windsurfing or other aquatic sports.
In reality, this mini-tour of both islands should give you an idea of which one you would want to bring your children to. It depends on the kind of vacation you want to have and the types of activities your family enjoys. Either of these islands would make amazing vacations—the final answer is up to you and your family. 
Which Island Should I Bring My Kids To?
Overall, our choice for a family vacation is St. Lucia. Unless you have older kids who wouldn't be interested in the more traditional kid activities, you're likely to have lots of fun zip lining, swimming, and hiking around St. Lucia. It's also a slightly cheaper trip option, and that's nothing to sneer at.
Of course, there are several great things to do on Turks and Caicos as well. Either island would be an excellent option for a family vacation, but the price, location, and amount of activities on St. Lucia pulled it ahead just a bit. Final answer: St. Lucia has our vote for the most kid-friendly island!
Final Thoughts
No matter which island you choose to bring your family to, you'll be able to find activities and food to enjoy. Your children will enjoy the weather, the beaches, and the new experiences. Whether you end up at a Thursday Fish Fry on Turks and Caicos or the Splash Island Water Park on St. Lucia, this trip is sure to be one they'll never forget.
More about our TFVG Author
A seasoned traveller, Dad, and avid sports tourist, James foundered The Family Vacation Guide to share his expert vacation experiences- especially when it comes to being a travelling family man.
Featured in Travel articles such as Travel + Leisure, TripSavvy and SFGate, you know you're reading some of the best vacation tips online.