If you're looking for a genuinely unforgettable Caribbean experience, add swimming with the pigs in the Bahamas to your docket!
A once-in-a-lifetime adventure for all ages, swimming with the pigs throughout the Bahamas will be the highlight of your next family Caribbean vacation. 
While the pigs aren't native to any of the Bahamian islands where they can be found, locals and experts still aren't sure how the pigs turned up on Pig Beach in Major Cay, where they were originally sighted.
Perhaps they were stranded by seafarers? Maybe they swam? The mystery of the pigs makes the original Pig Beach all the more charming.
Luckily, additional pig beaches have been established throughout the Bahamas, so your family has multiple islands to choose from. Currently, there are pig beaches in the following locations:
Big Major Cay (the original Pig Beach)
Abaco
Rose Island
Freeport
In this article, we'll explore each of the five options for pig-swimming adventures in the Bahamas to help you choose the perfect excursion for your family vacation!
Big Major Cay
Big Major Cay, often dubbed "Pig Island," is home to the first Pig Beach in the Bahamas. Big Major Cay is one of the numerous islands in the Exumas, a Bahamian region boasting some of the clearest water in the Caribbean. 
Big Major Cay is uninhabited—save the 20-something pigs that call the island home. Located close to Staniel Cay and Fowl Cay, Pig Island has potential lodging options nearby.
However, since the island is uninhabited, you can only get there by boat. Since chartering a boat is necessary, it can get expensive for larger families.
How to Get to Big Major Cay
Since you can't fly directly into Big Major Cay (but imagining a pig guiding a plane down a runway is very cute), you'll have to charter a boat (or a seaplane!) from somewhere nearby. 
If you're staying at Fowl Cay Resort (the Exuma island immediately to the northwest), you might think that a brisk canoe or kayak trip to Pig Beach is a good idea. While you may be physically up for the challenge, the pigs themselves present a boating hazard.
The pigs will quickly approach any boat that gets near the shore for food, and since kayaks and canoes are liable to tip, you don't want to risk a pig capsizing your boat. Stick with an organized tour of the original Pig Beach for the safest experience.
Where to Stay in Big Major Cay
Since Big Major Cay is uninhabited, you'll need to stay at a nearby island. The two closest resorts are:
Fowl Cay Resort, where vacationers can rent villas (or the entire island!) and enjoy tons of included amenities like golf carts, food, and adventuring equipment like kayaks and fishing gear. 
Staniel Cay Yacht Club, which offers bungalows, suites, and villas for rent. Vacationers can also rent floating lodging, including a 55-foot catamaran that sleeps eight. 
More resorts are available on Staniel Cay, an Exuma island neighboring the Pig Beach, but Fowl Cay Resort and the Staniel Cay Yacht Club are closest to Pig Island.
How to Get to the Swimming Pigs
Vacationers have multiple options for getting to the Big Major Cay swimming pigs:
The last option, hitching a ride with a local angler, presents a high-risk, high-reward opportunity. Vacationers will have a private boat ride, negotiable prices, and can spend as much time on Pig Island as the captain permits.
But, safety is paramount. Ask Exuma locals for recommendations and try to secure a ride at least a day in advance. If an opportunity feels too good to be true, it probably is.
Abaco
The northeastern-most group of Bahamian islands, the Abaco Islands, are home to another Bahamian pig beach: No Name Cay.
No Name Cay is just southeast of Green Turtle Cay, a small island with lodging options, beaches, and the Black Sound Cay National Reserve. Like Big Major Cay, No Name Cay is uninhabited by humans, and long-time Abaco residents are unsure how the pigs originally appeared on No Name Cay.
The pigs roam the island freely, but they mostly congregate on the northwest shore, directly across from the pristine beaches of Gillam Bay on Green Turtle Cay. No Name Cay can only be reached by boat, but luckily the Abaco locals have devised a few chartered boat services available to traveling families.
How to Get to Abaco
You can reach the Abaco island chain via Treasure Cay International Airport. After a short taxi ride from the airport to the Treasure Cay Ferry Dock, enjoy a scenic ride across the Sea of Abaco in an inexpensive water taxi. 
You can reach Abaco from Freeport (home of the Grand Bahama Airport) via a car ferry, but trips can be both time-consuming and pricey.
If seeing the swimming pigs on No Name Key is one of the highlights of your stay in the Bahamas, staying on Green Turtle Cay will offer the most convenience for hitching a hide to No Name.
But rest assured, you can reach the No Name Cay pigs from anywhere in the Abacos. You may just need to be prepared for a multiple-leg trip.
Where to Stay in Abaco
If you choose to stay on Green Turtle Cay, you have a few options for lodging just a short boat ride away from the No Name Cay pigs:
The Pink Bikini Island Cottage is a charming vacation rental for large families or travel parties that sleeps ten. 
Bluff House Beach Resort offers both upstairs and downstairs suites, along with rental cottages containing one, two, three, or four bedrooms. 
Cocobay Cottages range in size, but each offers a beautiful view in an authentic Abaco atmosphere. 
There are more lodging options throughout Abaco, particularly on Treasure Cay and Great Abaco:
 The Bahama Beach Club offers an array of condo units in various sizes. The resort is surrounded by lush vegetation, beautiful views, and outstanding amenities. 
Treasure Cay Beach Marina and Golf Resort truly has something for everyone. Their marina with 160+ slips ensures that a seafarer is always on-hand to take you to Piggyville. 
Located on Marsh Harbor's Restaurant Row, The Conch Inn and Marina offers stellar yacht and boat chartering and rentals. 
How to Get to the Swimming Pigs
Since No Name Key is uninhabited, you'll have to stay on another Abaco island and hop on a boat to get to the Abaco pigs.
This all-day tour adventure includes multiple stops and a final destination of Guana Cay for their Sunday evening pig roast on the beach. 
Sunset Marine and Boat Rentals offers a fleet of rental boats for experienced seamen. You're free to take your own boat to No Name Cay; just remember to mind the pigs and anchor responsibly. 
Check out Abaco Charters in Treasure Cay for charter boats for hire. Inquire about No Name Cay, island-hopping, snorkeling, and many more adventures. 
If you're staying near a local marina, you can ask locals for recommendations for charters, boat rentals, and all-day adventures not on this list. They may even be able to connect you with a local captain who can provide a custom, private trip at a negotiable price.
Rose Island
Located just east of Nassau and Paradise Island—one of the most sought-after, well-loved Bahamian destinations—is the sparsely-populated Rose Island, a picturesque Caribbean oasis with warm water, teeming wildlife, and (of course) swimming pigs!
One notable difference between the Rose Island Pigs and the Abaco and Big Major Cay pigs: The Rose Island Pigs are in the care of Sandy Toes, a vacation-excursions and lodging company based out of Paradise Island.
The pigs are tamer, they're fed and watered daily, and they even have names! Hanging out with the Rose Island pigs is one of many activities available to families as a part of Sandy Toes' all-day excursions.
How to Get to Rose Island
There are very few proper lodging accommodations on Rose Island, so most adventurers seeking a jaunt with the pigs opt to stay in Nassau or on Paradise Island.
Rose Island is only accessible by boat and is located about eight miles east of Nassau's harbor. You can rent a boat that you pilot yourself (you can even rent a boat from an individual, AirBnB-style) or charter a captained boat from one of many Nassau- or Paradise Island-based purveyors. 
Getting to Nassau or Paradise Island, however, is quite simple. These accessible destinations make the two locations some of the most popular Caribbean vacation destinations since you can reach them by plane. Travelers can drive to Paradise Island from Nassau by car.
Where to Stay in Rose Island
There are very few places to stay overnight in Rose Island since the island is more of an untouched wildlife habitat than a developed tourist destination. Remember that Rose Island can only be reached by boat, so make sure to book your boat transportation (whether you'll be chartering a boat or renting one) as soon as you book your lodging.
If you want a rental on the island itself, the following two locales are fantastic options:
Footprints Beach Bar and Grill, located right on Rose Island, offers rental cottages for a two-night minimum stay. They offer a meal package and help visitors book boat transportation to and from the island. 
Sandy Toes Eco Lodge is an ultra-private luxury villa on Rose Island proper. Shuttles are available to and from the villa throughout the day, and the property boasts two treetop bungalows overlooking the shore. 
Paradise Island, just a quick boat ride away from Rose island, offers numerous lodging opportunities:
Atlantis Bahamas is a Bahamian institution. Atlantis has something for everyone, featuring pools, a giant aquarium, and a casino for the grown-ups. 
Paradise Island Beach Club offers rental villas and accommodations like daily maid service, cabana service, and an on-site bar and restaurant. 
Mainland Nassau is also an excellent place to stay for convenient access to Rose Island (and the pigs). Travelers seeking AirBnB accommodations are likely to find them here, along with:
The Nassau/Paradise Island/Rose Island cluster is perfect for adventuring families looking for outstanding lodging choices.
How to Get to the Swimming Pigs
Since the pigs on Rose Island are cared for by Sandy Toes, you can only reach them by signing up for one of their excursions. Daily excursions depart from Nassau Harbor on the Paradise Island side, and the ferry trip to Rose Island is leisurely, lasting about 25 minutes one way. 
Once the ferry arrives at Rose Island, families can partake in several activities:
Snorkeling
Kayaking
Beach volleyball
Hammocks
Beachside massages
Chowing down and sipping drinks at the Sandy Toes Beach Bar
Most importantly, guests can interact with, feed, and photograph the Rose Island swimming pigs for as long as they like. Any members of your family who feel a little hesitant about the pig hangout can simply enjoy one of the numerous other activities that Sandy Toes has to offer.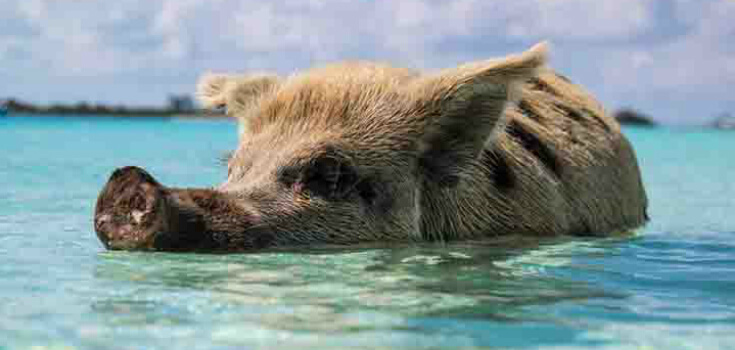 Freeport
A well-populated and vibrant city on Grand Bahama Island, Freeport offers a pig-swimming adventure in addition to a variety of other experiences.
Freeport is an outstanding vacation destination for various reasons: The city offers tons of lodging and dining experiences, multiple golf courses, nature centers, and stunning beaches.
While swimming with the pigs may be the main event on your Freeport trip, be sure to make time for the many other perks Freeport has to offer!
How to Get to Freeport
Freeport is accessible by plane via the Grand Bahama Airport and is a common stop on some cruise ship lines. 
Since Crystal Beach (the city's swimming pig locale) is only a 25-minute drive from the Freeport Cruise Port, grab a taxi and head northwest for a cruise excursion you'll never forget!
It should be noted that, since Grand Bahama Island is less than 100 miles from West Palm Beach, FL, there are many daily shuttles available from the Florida mainland, and experienced boaters can captain their own vessels from southeast Florida to the island. 
For those from Florida looking for a quick Caribbean getaway with the kids for a weekend, a shuttle boat is an excellent way to experience island life on a short timeline.
Where to Stay in Freeport
There are numerous lodging options in Freeport, some closer to Crystal Beach than others. Whether you're staying for one night or seven, the following Grand Bahama lodging experiences all make a great home base for a trip to Crystal Beach's swimming pigs:
How to Get to the Swimming Pigs
Travelers have two options for accessing Crystal Beach's swimming pigs:
You can hop on a driving tour excursion of Freeport or Grand Bahama at large (make sure the swimming pigs are on the itinerary!).
You can rent a car or hop in a taxi from your hotel, rental accommodations, or cruise port and enter Crystal Beach via your own car.
Since it's a private beach, you'll have to pay to access the beach even if you don't plan on visiting the pigs. Have some cash on hand for the piggie entrance fee, sunning on the beach, and ordering food and drinks.
Tips for Swimming with Pigs
While it may not sound like rocket science, there are steps travelers can take to improve their pig-swimming experience.
Book Early
As soon as you've decided on a venue for your Bahamian getaway, make sure to book your pig excursion early! Novelty tours and adventures book quickly, especially for travelers on cruise ships.
If you're planning an all-inclusive trip, ask your cruise or hotel concierge for tips on booking a piggy adventure before you even start packing. You're not the first person to book a pig trip, and you won't be the last, so trust the expertise of professionals where you can get it.
Confirm Lodging Arrangements First
Don't book a visit to a swimming pig beach without making arrangements for lodging first. Lots of vacation tours, excursions, and adventures like swimming pig interactions are non-refundable, and you don't want to forfeit your funds or your chance to swim with pigs.
Pick a place to stay, confirm that your desired dates are available for both the lodging and pig attraction of your choice, and book your lodging right before you book the pig trip. Making sure you have a place to lay your head is paramount!
Ask Locals for Tips
Once you arrive in your Bahamian paradise, seek out a local angler, waitstaff, or dockhand for tips about the area where you're staying. After all, you'll need a hearty meal after running and swimming with pigs all day, and locals know all of the best restaurants.
Some locals might have tips for how to make the most of pig-related excursions too!
Be Selfie-Ready
How did pig beaches even become popular? Instagram. If you're looking to join in on all of the #selfieswithpigs fun, you'll need to take some precautions to protect your precious hardware and yourself:
Bring a waterproof phone case to keep your precious camera from getting waterlogged.
Bring a selfie stick: They make taking selfies so much easier!
Use sun protection before and during your trip: You don't want to look like a tomato on Instagram.
And, of course, make sure to follow all safety protocols given by your trip guide. Ending up with pig-related injuries will put a damper on your vacation.
Pigs May Not Fly, But They Can Swim!
If you're ready to see the swimming pigs of the Bahamas, look no further than Big Major Cay, Abaco, Rose Island, and Freeport. Each locale offers excellent nearby accommodations, delicious dining and cocktails, and crystal-clear Caribbean water to die for.
From Instagramming teens to parents and grandparents and adventure-loving kiddos, a trip to a swimming pig beach in the Bahamas is a must-do itinerary item for your next Caribbean vacation!
More about our TFVG Author
A seasoned traveller, Dad, and avid sports tourist, James foundered The Family Vacation Guide to share his expert vacation experiences- especially when it comes to being a travelling family man.
Featured in Travel articles such as Travel + Leisure, TripSavvy and SFGate, you know you're reading some of the best vacation tips online.