Puerto Rico is a gorgeous island destination with plenty of opportunities for fun, but few stand out quite as much as the Puerto Rico all-inclusive family resorts.
Here are the top resorts to stay at with larger groups when you're visiting the area. If you've got your heart set on staying by the ocean, why not check out our guide to the best family beach resorts in Puerto Rico?
Marriott's La Concha Renaissance San Juan Resort is a comfortably tropical center with numerous dining and entertainment options to keep you busy. The outdoor infinity pool offers a comfortable place for everyone to relax, while flat-panel televisions offer some fun if you want to stay cool on the inside of the resort.
Room sizes vary at this hotel, but most affordable family rooms offer a single king bed and a sofa bed for kids to share. There's also plenty of choice for location, with some of the resort suites offering significantly better views of the area. The Whirlpool rooms are incredibly nice, with a unique balcony-situated tub holding up to four people.
Dining options at this resort include a poolside restaurant with classic Puerto Rican fate, a sushi bar, a cafe with grab-and-go meals, a beach grill, and an upscale Italian restaurant. Room delivery of all meals is available, including from local restaurants if you want to get meals from somewhere outside the resort itself.
Overall, La Concha Renaissance is a great place to visit for moderate luxury and on-site amenities with easy access to all the sights and entertainment in San Juan itself. It's not quite the peak of luxury, but it's clean, affordable, and about the best you can realistically expect to get without a huge jump in price.
The Caribe Hilton hotel is a standout fixture among this brand's resorts for a simple reason: It's the very first international Hilton hotel ever built. It's been around since 1949 and has seen plenty of history ever since, including being the site of the first Pina Colada brewed. Most hotels and resorts can't even begin to approach the Caribe Hilton's history.
Despite its age, the Caribe Hilton remains an outstanding family-friendly location with enough institutional experience to handle almost any matter that can arise. It offers cribs for small children, high chairs and kids' menus at restaurants, and even on-site currency exchange to make things easier for you.
This hotel is immediately adjacent to the Old San Juan area, making it a great place to explore Puerto Rico. However, if you prefer to stay inside, the lobby and restaurant enforce a decent dress code during the day that switches to an elegant resort-style at night. This means you don't have to worry about your kids seeing anyone dressed too strangely.
Spacious rooms are available to keep costs lower, while the larger one-level and two-level suites provide more luxury for visitors. In addition, the Caribe Hilton has accessible rooms for guests with special needs, including friendliness for service animals, accessible routes to major areas, and extra assistance from staff if needed.
Wyndham's Candelero is part of the larger Palmas del Mar resort community. It includes both all-inclusive and room-only packages for visitors, but this guide is for all-inclusive trips, so we'll be focusing on that. Notable features of this resort include two outdoor pools, adjacency to the beach, and easy access to the Old San Juan area.
Dining is easy with several on-site restaurants in this area, beginning with the Marlin Pool Bar and its traditional burgers and fries. The Carey Poolside Grill offers relatively similar fare with a pleasant partially outdoor dining area, while the Syrah Wine Bar is only available for private gatherings of smaller groups.
Room options at this resort are comfortably diverse and include complimentary wireless Internet access, mini-refrigerators, wake-up calls, air conditioning, and more. Most features are standard across all rooms, though two queen beds are the best choice for most family visits. In addition, some rooms are accessible for visitors with mobility concerns.
Between the reasonable pricing, on-site parking, variety of food options, and proximity to other entertainments, the Wyndham Candelero is worth considering for a family trip.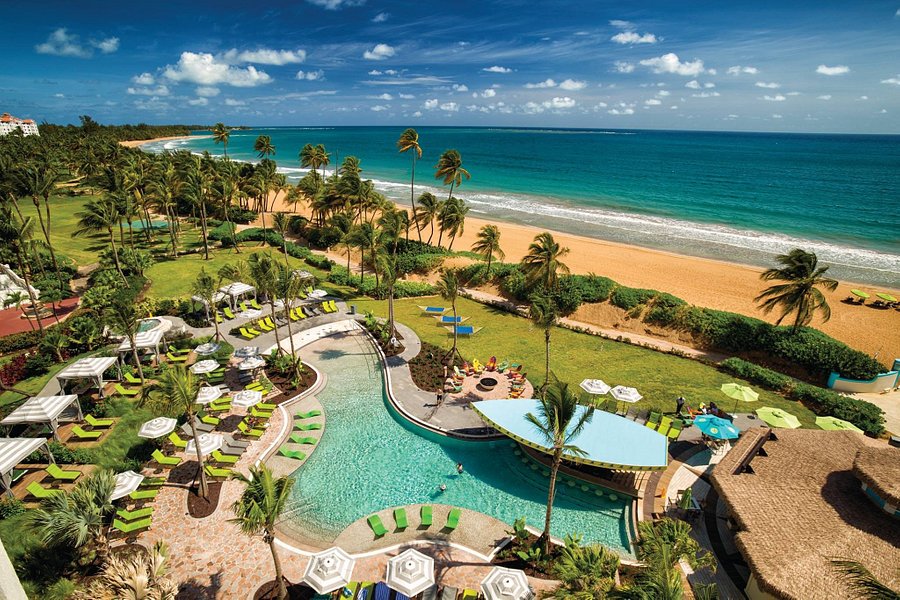 The Candelero isn't the only Wyndham resort worth visiting in Puerto Rico. The Grand Rio Mar is one of the larger options in the area, with about four hundred guest rooms of varying shapes and sizes. Several massive lagoon-style pools offer plenty of space for kids to play around, while two championship golf courses provide casual exercise.
The on-site casino offers live music, slots, and several table games if your family prefers more exciting entertainment. Don't expect to bet or win millions at a resort casino, but you could win enough to pay off the entire vacation.
For other relaxation, the Grand Rio Mar has about two miles of well-tended beach areas, complete with plenty of umbrellas and amenities so you can enjoy it the way you want to. Meanwhile, a 7000-square foot spa offers massages, botanical treatments, meditation chambers, steam rooms, and more.
Tours are available straight from the resort, including travel to some of Puerto Rico's best experiences. Even the transportation is top-notch here, with accessible screens and plenty of legroom to make sure you can enjoy your trip.
Dining options complete the experience, starting with luxurious dinners at the Iguanas Cocina Puertorriquena. You can also find more traditional fare, including seafood and steakhouse, a coastal kitchen, and even a pizza/barbeque place if your kids get a craving for that. In-room dining options are available, with some specialty fare available around the clock.
Like many Wyndham facilities, sleeping facilities here are split into rooms and suites. Many regular rooms have the option for two queen-size beds, which is enough for many families, while the suites can offer more exciting variations like bunk beds for children.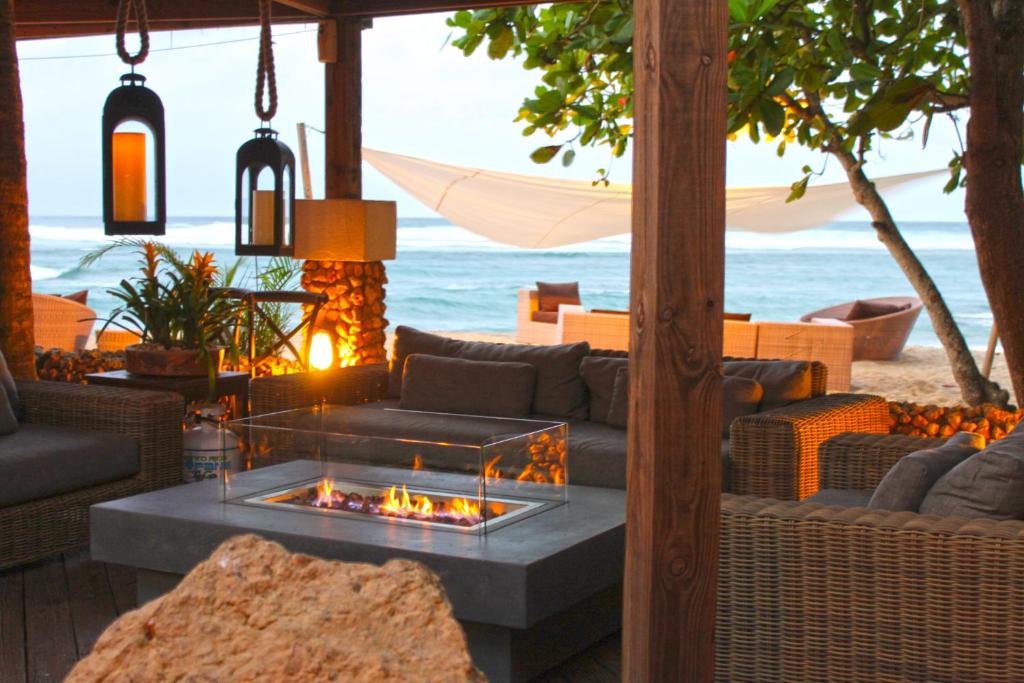 Villa Montana is one of the more upscale Puerto Rico all-inclusive family resorts you're likely to find, starting with its 35 acres of space along three miles of beach. The resort has a plantation style, with handcrafted furniture and spacious accommodations that provide more comfort and privacy than many competitors.
While hotel rooms are available, these only sleep two people and aren't suitable for family trips. Instead, they offer luxurious villas ranging from a one-bedroom location of about 650 square feet to a three-bedroom location sleeping as many as ten people. These are arguably fewer villas and more houses, but they're among the best resort setups you'll find.
The villas include kitchenettes (or full kitchens for the larger areas), unique art, wireless internet access, and televisions. In addition, all of the villas have either a private patio or a terrace. Despite their space and luxury, these villas are impressively affordable and stand out as a reasonable option for even budget-conscious visitors.
Villa Montana's primary dining option is The Eclipse Restaurant, which blends retro-industrial pieces with driftwood tables and proximity to the pool. The robust menu offers everything from wood-fired pizza to fresh-caught fish and signature cocktails.
The Eclipse Restaurant is excellent, but since it's only one restaurant, they have a limited number of recipes compared to resorts with half a dozen or more places to eat. Accordingly, you might want to get meals delivered, or at least try different options from their menu to help keep things fresh.
El Conquistador is one of Puerto Rico's most notable resort destinations, and it's easy to see why as soon as you arrive. Set against a sloping hillside, this 230-room resort features an Arthur Hills golf course, five restaurants, and a rare marina at the bottom of the hotel for people who want to head out onto the water.
El Conquistador is also freshly refurbished and renovated, reopening in late 2021 after some damage from Hurricane Maria. What truly sets this apart as an all-inclusive-family destination is the on-site Coqui Water Park, with about 2.4 acres of slides, rapids, and dining options. Put simply, most resorts don't have an entire water park, so kids are sure to love this place.
Dining options start with Las Brisas Courtyard Cafe, which offers traditional Puerto Rican coffee and meals throughout the day. A coffee shop offers more drinks and pastries, while a rooftop bar offers great nighttime views and fine drinks for visitors.
Rooms at this resort include LCD televisions, private balconies, DVD players, an in-room safe, refrigerators, and deep tubs. This is a truly all-inclusive destination with a mix of fine dining, on-site entertainment, and comfortable rooms, so it's one of the Puerto Rico all-inclusive family resorts most worth visiting.
If this place has one flaw, it's that dining options are relatively limited outside the Courtyard Cafe. So you may want to eat a few meals at local restaurants or bring the food to your room instead.
Copamarina is a somewhat interior resort, with just half a mile of private beach. That's not small, but it's not as much as some other resorts offer. However, what it lacks on the coast it makes up for in its interior thanks to nearly 20 acres of brilliant tropical gardens.
Budget-focused families may want to look at the oceanfront rooms, which can come with either a king bed and a sofa bed or two queen-size beds. These are reasonably affordable and have standard amenities, including high-speed wireless internet, a balcony or patio, and an in-room safe.
If you're looking for something more luxurious, this resort also has luxury one-bedroom suites and three-bedroom private villas. The villas come with two bathrooms, a chef's kitchen, a deluxe home theater system, and space for up to ten guests. The space is the real value here, as the amenities are otherwise similar to the rest of the resort.
Copamarina offers two on-site dining options. The first is Las Palmas Restaurant, which is open throughout the day and offers a mix of seafood, meat, and sandwich dishes. Lighter and healthier options are also available, though the restaurant closes for about half an hour between each menu switch to prepare the new dishes.
Restaurante Alexandra is the fine dining option at Copamarina, with excellent sea views and an elegant environment. Although only open for dinner three days a week, it offers stylish fare for many palates. This restaurant also has a dining experience with its executive chef, which is ideal for food lovers who want to know more about the inspiration for each piece.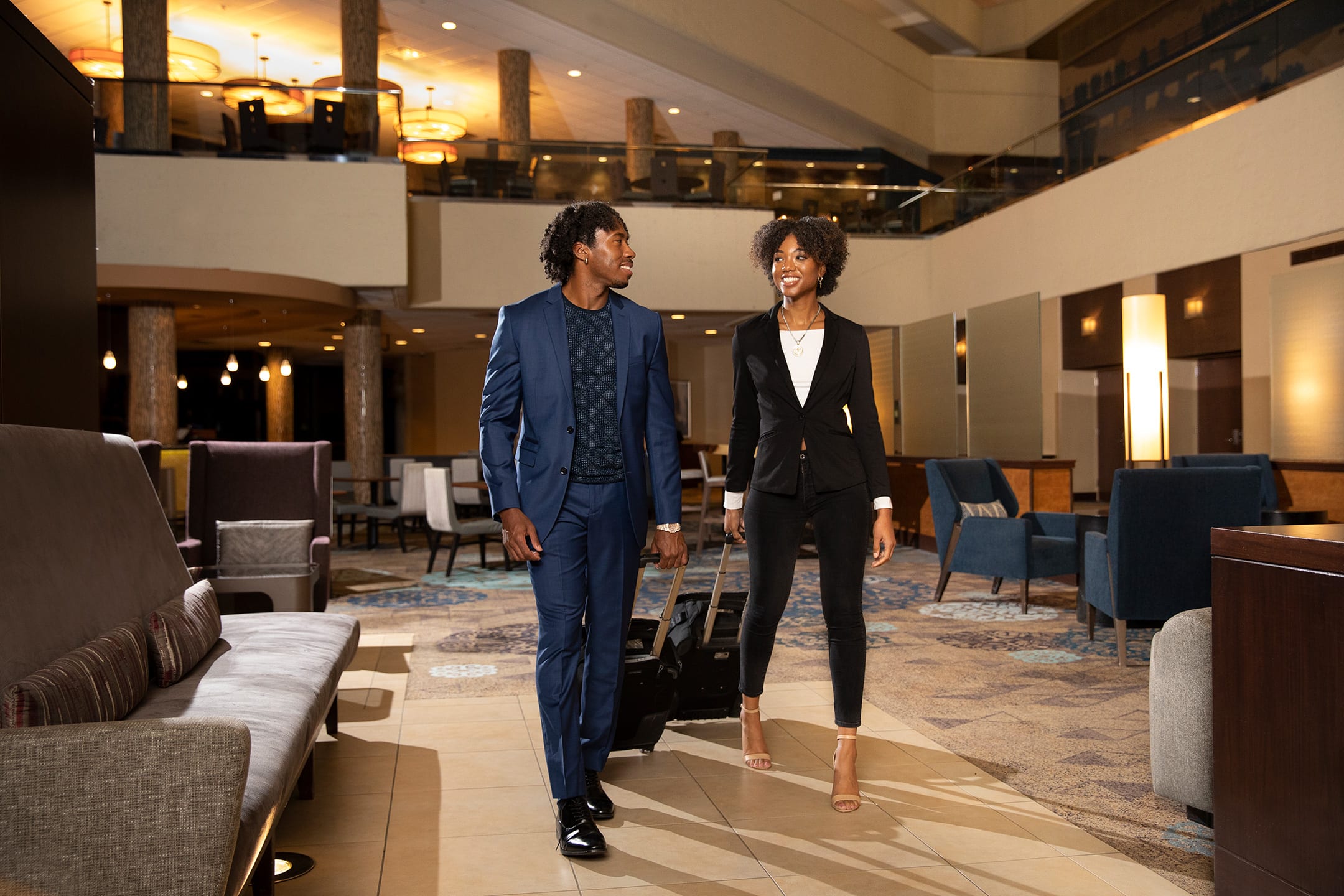 Previously part of Club Melia's family, Hyatt took over the site in 2019 and has reopened it as their Regency Grand Reserve in Puerto Rico. This is a family-focused resort, with its proximity to the beautiful El Yunque rainforest and the massive lagoon pool.
What sets this resort apart is the pair of 18-hole golf courses on-site. Of course, it's not unusual for an excellent resort to have a golf course, but two championship-level courses in one place make this a golfer's paradise.
This is a large resort, with 579 chambers available. But, as with most resorts in Puerto Rico, the suites are better than the rooms if you're bringing a family. The largest suites reach over a thousand square feet, but even many of the smaller rooms have sleeper sofas alongside a king bed so you can fit your whole family inside.
Dining is excellent here, with five restaurants and three bars in the area. The Water's Edge focuses on local cuisine, while The Market offers pastries, sandwiches, and smoothies. A food truck offers Mexican-style fare if you're by the pool, while Pasion by Chef Myrta Perez offers upscale dining on Friday and Saturday.
Make sure you get at least one meal at Nori Teppanyaki, an elegant location that offers both dinner and a show as chefs cook the meal directly at your table. For a calmer experience, Nori Asian provides Japanese and Peruvian-style dinners.
Marriott's Sheraton Puerto Rico Hotel and Casino is a luxurious premium getaway with an outstanding view of the Bay of San Juan below. A sundeck offers plenty of space to enjoy the breeze and temperature, while the hotel's convenient location offers easy access to the historic city just behind it.
Rooms here come in many sizes and styles, but families generally want to start with one of the suites offering a king-size bed and a sofa bed for the kids. These come with your choice of bay or city views. Most other rooms and suites here have either one King bed or two double beds, which isn't enough for families to enjoy.
Six on-site and nearby restaurants provide a comfortable variety of dining options, starting with The Bay Pool Bar & Grill for lunch items. This is a small restaurant so you might want to eat away from it, but it's situated on the fourth floor by an infinity pool for excellent views of the bay.
Asian fare is available at The District Lounge & Sushi Bar, which is open for dinner and offers live entertainment in the latter half of the week.
Other options nearby include a mix of Texan and Brazilian fare, an urban bistro with modern influences, and local Caribbean fare at the Metropol Restaurant.
The massive Zen Spa offers head-to-toe treatments for those looking at luxury options, while a 24-hour fitness center can help you stay in shape with weights and aerobic exercises.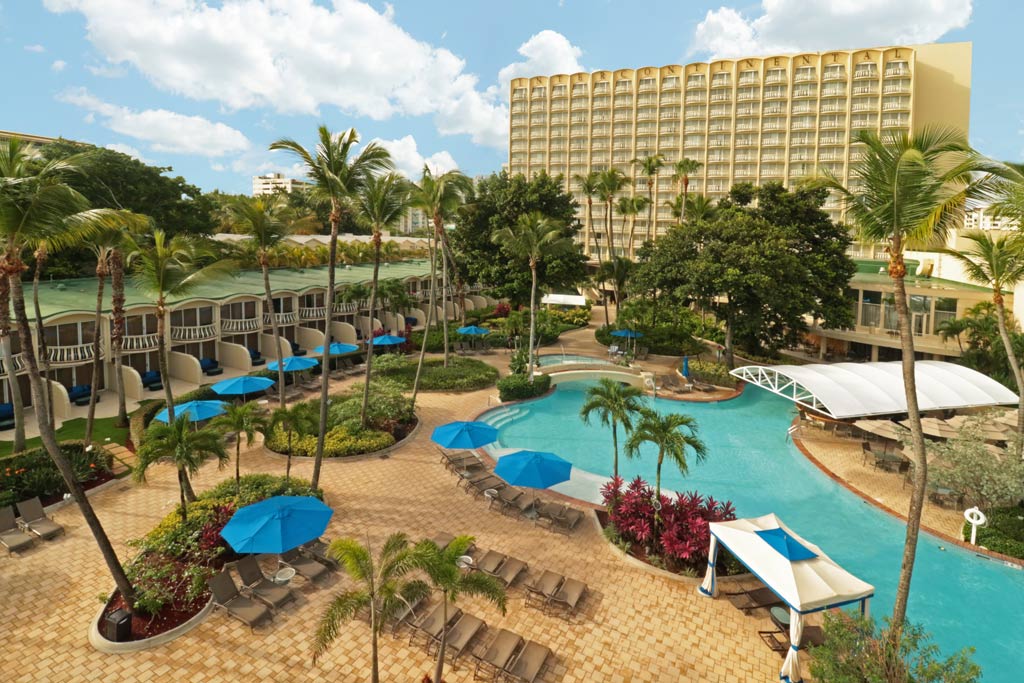 The InterContinental San Juan is an upscale hotel that's won the AAA's four-diamond award, which signifies upscale locations with excellent service and amenities. At just a mile and a half from San Juan airport, it's highly accessible. It offers standard amenities like a large lagoon-style pool, complimentary wireless internet, and a full-service spa.
This resort also includes a sauna, a whirlpool relaxation area, laundry services, and a safety deposit box. However, the thing that truly sets it apart is the on-site babysitting service. That's something you don't see very often, but it means you can enjoy a trip with especially small children without having to bring them everywhere you go.
That alone would make the InterContinental San Juan a serious contender, but it also has access to two miles of white sand beach and a beauty salon. If you're more interested in exploring the area, this resort has a fully-equipped tour desk and rental car desk area, plus on-site foreign currency exchange.
The InterContinental San Juan is within easy walking distance of various restaurants and shops, with on-site restaurants offering plenty of flavors to enjoy. It has almost four hundred rooms total, with minibars, televisions, and access to balconies.
The decor here is somewhat generic, and the balconies are usually unfurnished, but it's still a comfortable resort with nice dining, swimming, and beach access opportunities. The childcare service is hard to beat, though, especially since it comes with a complete outdoor playground to keep them occupied.
This isn't the height of luxury, but it's at least on the middle floors. The one thing to keep in mind is that it's so close to the airport that you may want to bring some earplugs if you have trouble sleeping.
Other places to look in to for your all inclusive family vacation in the sun
If you're considering other destinations for your perfect family getaway, look no further than our round-up below!
More about our TFVG Author
A seasoned traveller, Dad, and avid sports tourist, James foundered The Family Vacation Guide to share his expert vacation experiences- especially when it comes to being a travelling family man.
Featured in Travel articles such as Travel + Leisure, TripSavvy and SFGate, you know you're reading some of the best vacation tips online.