If you want to pick a family vacation spot surrounded by beautiful mountain landscapes and crisp air, Colorado is the perfect destination for your next trip.
Colorado isn't just the Rocky Mountains, though. The Centennial State sits in the western United States and has river canyons with cliff dwellings, small towns as well as big cities, amazing family ski resorts and an amazingly beautiful variety of parks to explore. 
In order to check off several locations on your list, you may want to consider making a family road trip part of your vacation. If the thought of road tripping with your kids is enough to give you a headache, don't worry, we have an entire article full of road trip activities for the whole family.
If your kids had a Disneyland vacation in mind, Colorado might not sound like the most interesting place in the world to their little ears. But before they break out the "but mooooom" chorus, be sure to share with them the cool places to visit and things to do listed below. 
Why not also check out our guides to the best weekend getaways in Colorado for families, the best Colorado Springs family hotels and the best family hotels in Denver?
Garden of the Gods
Voted top 20 places to take your kids in Denver in 2021, you're not going to want to pass up the gorgeous Garden of the Gods.
Jam-packed with an array of entertaining activities, this is not your average park. The 300' red sandstone rock formations are a National Natural Landmark. You can explore the park with Jeep and Segway tours, or ride around on an electric bike.
Want to try out rock climbing with the family? They have a Front Range Climbing Tour that departs the Garden of the Gods Visitor Center every 30 minutes. These guided tours are family-appropriate, but you'll need to book ahead of time.
They also have hiking trails, gift shops, and the Bean Sprouts Cafe. Not only that, but there are a ton of different interactive exhibits in the Nature Center you won't want to skip. If your kids love dinosaurs but want to see a new species, the Garden of the Gods Visitor Center was the first to announce the newly discovered species Theiophytalia Kerri.
Be sure to check out their calendar of adventure programs. Every day they have something fun to do like Meditation in the Park, Craft classes, and scavenger hunts.
Great Sand Dunes National Park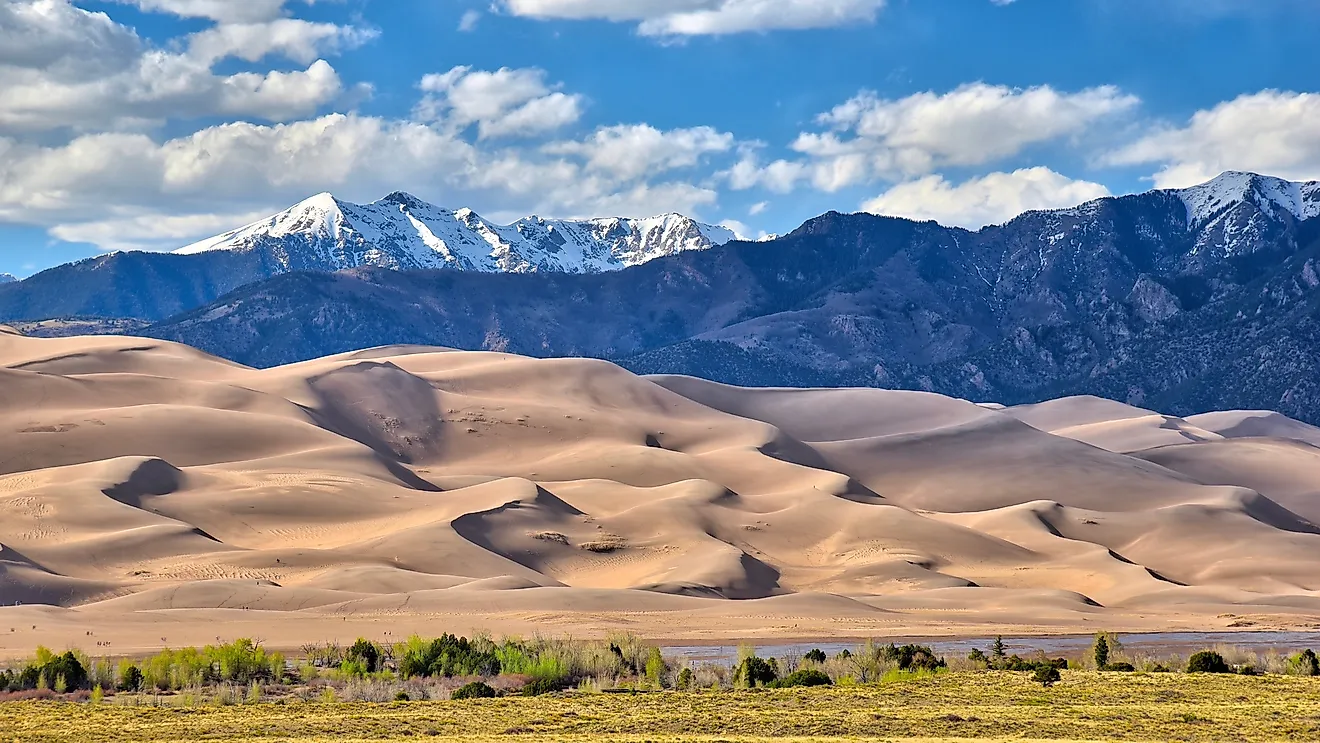 Who says you can't go sledding in the summer? Well, you can at the Great Sand Dunes National Park in southern Colorado. This dune park is always open and you're welcome to go sand sledding and sandboarding anywhere on the dune field.
If you have small children, the small slopes – about a .7 mile hike from the Dunes Parking Area – are great for little sand boarders. If the teens and adults want something more challenging, you'll have to hike a little further to get to the higher slopes.
You can't use regular snowboards on the sand, so be sure to grab some sandboards designed specifically for the sand. The park does not rent out sand sleds or sandboards, but you can find them at the Oasis Store just 4 miles from the Great Sand Dunes Visitor Center. You'll also want to make sure you have goggles and something to protect your face from the sand.
When visiting the dunes in the summer, be sure to plan your hike for the morning or evening. The afternoon sand gets a scorching 150F degree and can cause burns and heat exhaustion.
If you want to switch the scenery up a bit, you can also hike on the forest nature trails nearby or splash around in Medano Creek. Although Medano Creek is dry most of the year, May to Mid-June is the best time to enjoy the creek, but you might want to visit during the week because the weekends get crowded. Late June and July the mosquitos swarm.
Mesa Verde National Park
Ancient cliff dwellings and deep canyons are just a couple of features that make Mesa Verde National Park a unique place to venture. This park is also home to several species that can't be found anywhere else in the world.
The communities built within the cliffs of Mesa Verde National Park were home to the Ancestral Pueblo people for over 700 years. You can tour these cliffs with a ranger from late May through Mid-October. The only way to be able to see these beautiful cliff dwellings is through a guided tour. However, there is one cliff dwelling you can check out on your own and that's Step House, on Wetherill Mesa.
There are other more strenuous tours available but not recommended for young children.
There are 3 trails to hike that are ranked "easy" by the park and 2 of which are less than a mile round trip. If you want to hike to see more of where the Ancestral Pueblo people lived between 900 and 1300 CE, Far View sites are the hiking trail you won't want to skip.
Glenwood Caverns Adventure Park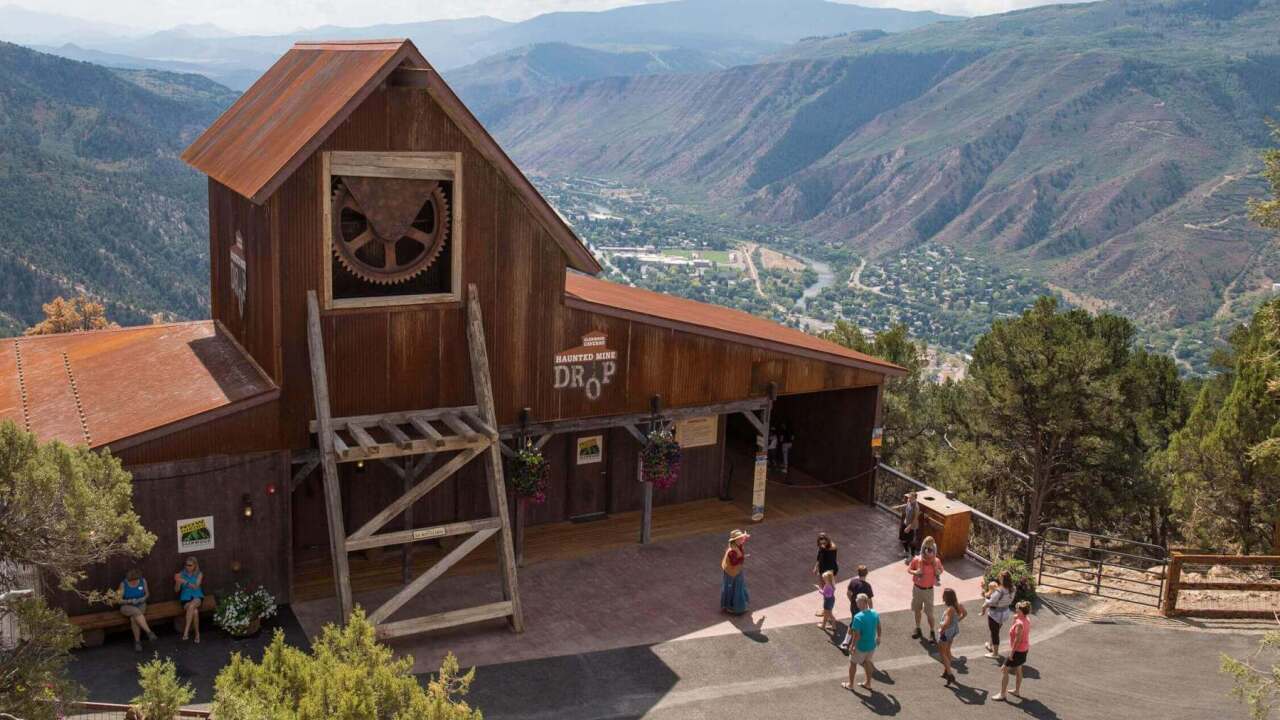 The only mountain top theme park in North America, Glenwood Caverns Adventure Park is a guaranteed hit with the kids. This park sits above Glenwood Canyon and provides rides on the Glenwood Gondola – a cable car – up the mountain to the park.
Once you arrive at Glenwood Caverns Adventure Park, you can enjoy roller coasters, cave tours, laser tag, and zip rides. Among the cave tours, there are 2 that kids would love including the Historic Fairy Caves. This particular tour is a 40 minute underground walking tour along the winding pathways of the cave and is suitable for most ages.
If you have little thrill-seekers in the family, they're going to love the roller coasters at Glenwood Caverns. Unlike most theme parks that don't allow young children on coasters, Glenwood has the Alpine coaster which allows children as small as 38" tall – at least 3 years of age – to ride. They also have the Giant Canyon Swing, the Cliffhanger Roller Coaster, and the Glenwood Canyon Flyer.
If you want to try out a zip ride, little ones at least 42" tall can enjoy this one as well. Some of these rides are only available seasonally, so be sure to check with the Glenwood Caverns official website to check availability.
Glenwood isn't all about the thrills. After a day of roller coaster rides, you can go to Iron Mountain Hot Spring and enjoy a soak in the natural iron-rich mineral waters.
The Royal Gorge Dinosaur Experience
If you have a child who's dino-obsessed, they're going to love this entire dinosaur-filled attraction. The Royal Gorge Dinosaur Experience gives you the full Jurassic experience with their life-like full-scale dinosaur animatronics and guided tours of dinosaur fossils.
Spend a day immersed in prehistoric fun as you make your way through each of the attractions at this dinosaur park. You can start at the walking park which is full of life-sized dinosaur animatronics that move around and react to your movements!
If the kids want to get out some of the bottled-up energy from traveling, take them over to the ropes courses. There are two different courses appropriate for different ages.
The smaller one is perfect for toddlers and small children under 48" tall. The ropes course for older kids and adults are over 3-stories tall and feature encounters with a Diplodocus that's 80 ft long and a T-Rex that's over 20 ft tall. Don't forget to take some pictures!
They have an indoor exhibit that features games and multimedia stations to educate young children as well as a paleo lab. But the fascination with fossils should not end there, they also have a Kids' Dig area where young kids can play archeologist and unearth faux fossils.
Walsenburg Wild Waters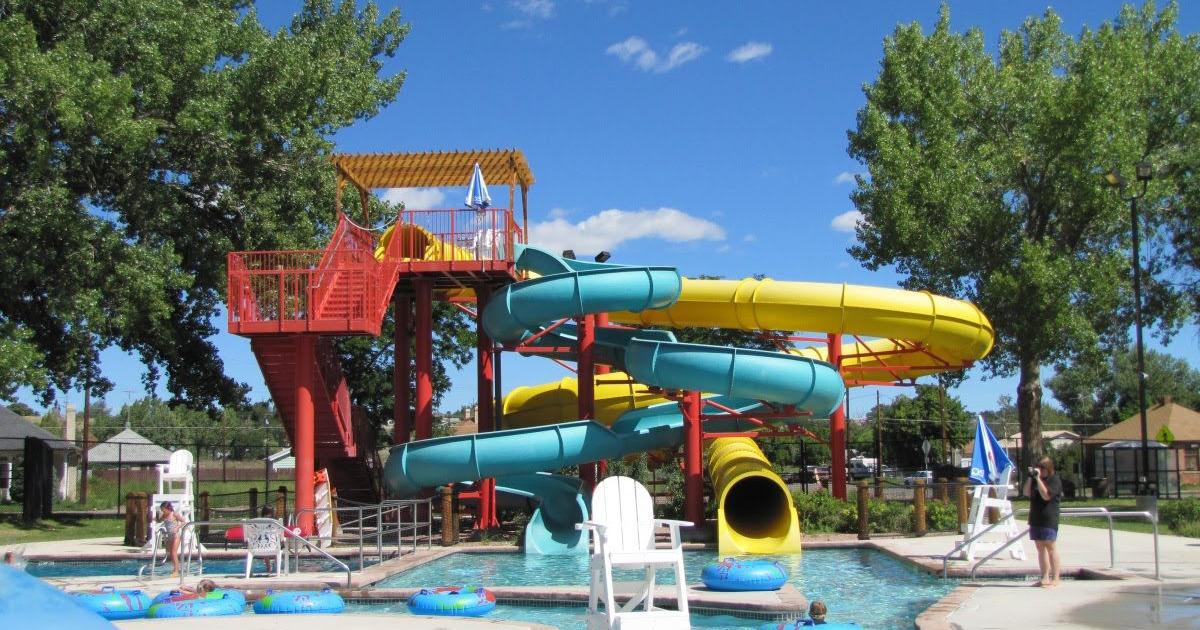 Walsenburg Wild Water is a water park perfect for all ages. They feature 3 different swimming pools, water slides, a lazy river, and tons of fountains to splash around in.
For older kids and adults, there are diving boards and 2 large 30-foot water slides. One water slide has an open top and the other is completely enclosed.
Younger swimmers have a zero-entry pool that gently slopes downward just like the beach and the Seal Slide that goes into the 3-foot deep pool. Everyone is sure to enjoy the rest of the features as well. There are tons of fountains and dumping buckets that will entertain for hours.
If you want an affordable afternoon trip to cool off in the summer, be sure to check out Walsenburg Wild Waters.
The Small Town of Durango 
There's a ton of fun family-friendly activities in Durango, CO. This picturesque historic western town is close to Schneider Park, Pinkerton Hot Springs, Animas River Trail, Durango & Silverton Narrow Gauge Railroad, and Museum, and more.
If you want to take a break from all the outdoor attractions, try out the Powerhouse Science Center on Camino Del Rio. This science center was designed for children up to 10 years old so you know there's a lot of interactive exhibits to check out.
Experience a modern historic town with that "old west" quality by heading toward the downtown area in the evening. You can take a stroll down the sidewalk, have dinner at one of the restaurants and enjoy live entertainment. Be sure to check out their local calendar of events to find out when the next festival is happening.
If you want to feel like you're in the 1800s, be sure to hitch a ride on the vintage steam-powered train along the Durango & Silverton Narrow Gauge Railroad. This train ride was once ranked among the best train rides in the world.
Nearby, your family can also enjoy the Pinkerton Hot Springs. Colorado has a plethora of hot springs, but this one is truly unique. The state had to reroute the natural flow of the springs due to hazardous conditions it caused on nearby roads. The rerouted springs now go to man-made pools and thus created the Pinkerton Hot Springs resort.
Aspen/Snowmass
When you think of Aspen Colorado, the first thing that probably comes to mind is skiing. And you wouldn't be wrong, but along with skiing, there are so many other family fun activities to do in Aspen.
If you want to plan a summer trip to Aspen, you should check out the whitewater rapids. They offer rafting guides for any age, so even the tiny humans can enjoy this adventure.
If you'd rather get your feet wet and not pay a dime, head over to Hyman Avenue Mall to experience the World Famous Aspen Dancing Fountain. It was built over 40 years ago and is still an entertaining attraction people all over the world enjoy seeing.
Aspen Mountain has just as many activities in the summer as they do in the winter months. You can live music, disc golf and go hiking. In the recreation center, you can take the kids ice-skating, rock climbing or swimming.
But of course, what everyone wants to do is go skiing or tubing. Aspen Skiing Company has its ski school to teach kids how to ski and snowboard.
Rocky Mountain National Park
It's hard to think of a trip to Colorado without considering a stop at Rocky Mountain National Park. And if your family loves outdoor adventure and camping, Rocky Mountain National Park should be on your bucket list. If camping, hiking, swimming, and horseback riding sound like a dream vacation, you can do all that and more at Rocky Mountain.
You can find guided horseback rides in the park and they are available for kids as little as 2 years old provided they ride with an adult. Children 5 and up can ride on their own and you can plan a short trip or go all out and take the day riding.
There's a ton of hiking trails in the Rocky Mountains and some of them are easy shorter trails that are less than 2 miles long. These are perfect for beginner hikers and small children. Coyote Valley Trail is only 1 mile long. If you have older kids who want more of a challenge, take them on the Cub Lake or Calypso Cascades which range from 3 to 4.6 miles.
If you plan to camp out during your stay, check out the popular family campgrounds that host evening programs. Aspenglen and Moraine Park are among family favorites. It's a great way to meet new people who are into the same activities your family loves.
If you want to plan a winter trip, you won't want to miss out on sledding at Hidden Valley. But make sure you bring your toboggan because the park doesn't have an option to rent.
The Home Ranch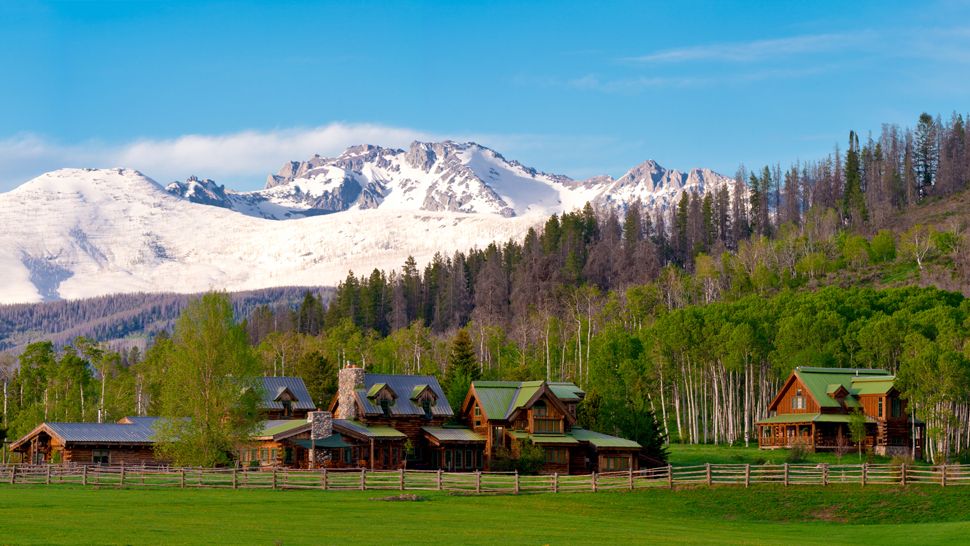 Is your family craving to unplug and soak up some western culture? If so you're going to love the 600-acre luxury all-inclusive ranch resort The Home Ranch. You'll be surrounded by green pastures and the rocky mountains as the backdrop.
They only accommodate up to 45 guests at one time so your experience while staying at the ranch is personalized. Everything is included in your stay, the activities and the food except for wine. The included meals at the ranch are communal so this also allows you to meet the other guests who are there during your stay.
You can choose to stay in the main lodge or rent a cabin if you prefer more privacy.
They have a kids program so you can enjoy some kid-free time on your vacation. This program is available from 8:30 am – 9 pm! You get to enjoy the freedom of hiking, soaking it up in a hot tub, going fishing, or anything you can dream of without having to supervise. And they get the freedom to play with other kids and have some parent-free time as well. It's a win-win.
The Home Ranch is known for the horseback riding program, so regardless of whether you're an expert rider or complete novice, they'll match you up with a horse that's perfect for you.
If you're not into horses, that's ok too. You can spend your days fishing or chill out by the pool.
Cheyenne Mountain Zoo
Ranked #4 as America's Best Zoo, Cheyenne Mountain Zoo is sure to give you a unique vacation experience. If you and your family love animals of all shapes, sizes, and species you'll love the fact that you can get up close to several of these luxury animals.
The Cheyenne Mountain Zoo provides feeding activities so you can feed an elephant, giraffe, and an African Rhino. Feed the Giraffe Herd is one of the most popular activities at the zoo.
If you want to have a bird's eye view of all the animals and Colorado Springs, you can take a ride on the Mountaineer Sky Ride. This is a chair lift that's open year-round so long as the weather cooperates.
The Cheyenne Mountain Zoo even has a program for families with children ages 12 months to 4 years old. The Stroller Safari is a 1-hour program that includes a story, some activities engaging all 5 senses, and animal feeding. The Stroller Safari program has to be booked in advance.
Pikes Peak
Get that shout-from-the-mountaintop experience without having to climb the mountain at Pikes Peak. Although Colorado has more than 50 mountains called "Fourteeners" – a mountain that reaches above 14,000 ft above sea level – this mountain is one of the few "Fourteeners" with a paved road that drives up to the summit.
If you want to give your kids a truly unique experience of taking in the surrounding views from a mountaintop, there are two ways to get there. One is by car, which is fine if you have a well-maintained one with good brakes, but it can cause a bit of wear and tear by the time you make it back down the mountain. The other way is by train.
The Pikes Peak Cog Railway is a great way to travel up to the summit because you can sit back and relax and not worry about driving up a mountain. The train operates daily from 8 am – 4:30 pm and costs $40 per adult and $22 per child. You will need to take the free shuttle to the train from Mile 16.
There are several ways to get to the summit, including the old-fashioned climb, but if you're planning a family vacation, the 2 methods of transportation mentioned here are the most recommended.
Cave of the Winds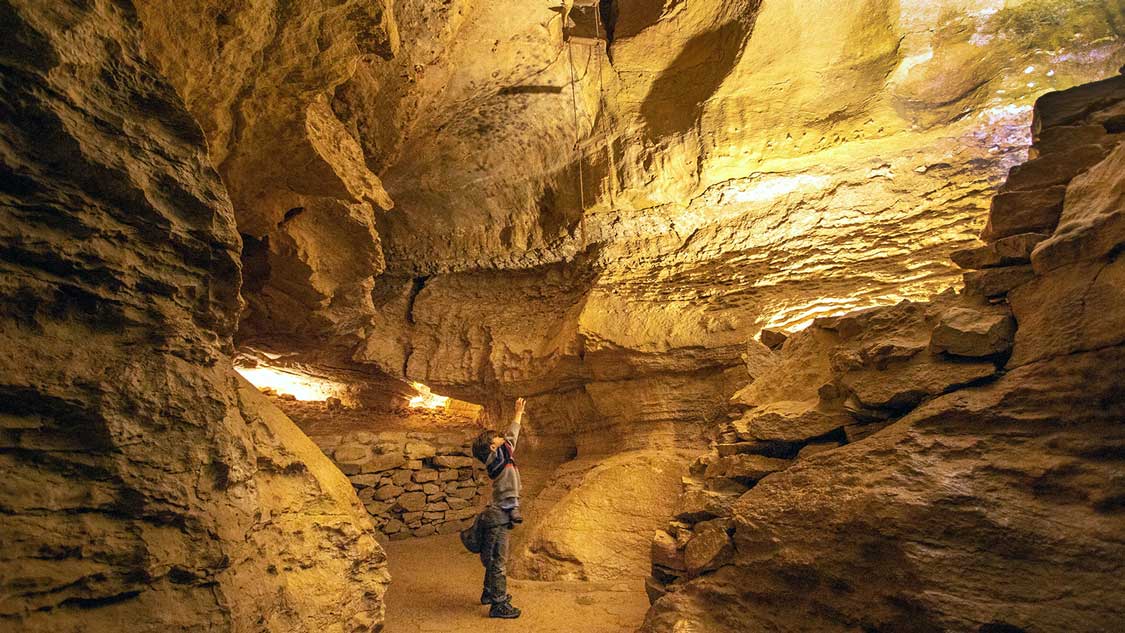 Take in all the mountain experiences you can by exploring the Caves of the Winds. This attraction is more than just caves, they have a Mountain Park, a variety of tours, and other adventurous activities such as ziplining.
You can enjoy attractions above ground as well as a cave tour, but know that packages to enjoy both are sold separately.
At the Cave of the Winds Mountain Park, you can climb the Wind Walker Challenge Course. This 3 story obstacle course is on the edge of Williams Canyon so you get to have a miniature heart attack any time your kids get near the 600 ft drop.
But not to worry, they are secured in a full-body harness, and children below 48" tall must be accompanied by an adult. Children under 42" tall cannot participate.
They also have the Bat-a-Pult where you will be launched at a 40 mph aerial ride across William Canyon, Cliffhanger Climbing Wall, and Geronimo's Leap. So if you are not a thrill-seeker, you may want to head on into the caves for a tour.
There are 2 different cave tours to choose from. A family-friendly discovery tour that takes 45-60 minutes where you learn about the history of the caves. If your kids are older and you love to be spooked, check out their Haunted Lantern Tour. This is a 90-minute tour filled with ghost stories, lore, and unexplained phenomena. The haunted tour is not open to children under 8 years old.
Conclusion
Colorado has some of the most unique and adventurous places to explore and vacation with your family. Whether you're a thrill-seeker or want to have a quiet vacation, each of these destinations will be fun-filled for the whole family.
More about our TFVG Author
A seasoned traveller, Dad, and avid sports tourist, James foundered The Family Vacation Guide to share his expert vacation experiences- especially when it comes to being a travelling family man.
Featured in Travel articles such as Travel + Leisure, TripSavvy and SFGate, you know you're reading some of the best vacation tips online.