Breathe in that fresh Rocky Mountain air!
Colorado is perhaps best-known for mountains, but the state has far more diverse geography than many people realize. The Centennial State is home to sweeping grasslands, lush forests, deep canyons, and even the largest sand dunes in North America.
If you're in search of a weekend getaway in Colorado, you'll find plenty to do, as well as many cozy mountain towns where you can spend a night or two in a relaxing lodge, resort, or hotel.
No matter where you're headed for the weekend, bring the kids because Colorado weekend getaways are filled with family-friendly activities, such as educational nature tours, historic buildings, and more than a few dinosaur trails.
Here's a look at the best family weekend getaways in Colorado.
Rocky Mountain National Park

Rocky Mountain National Park is one of the largest, most beautiful, and most visited parks within the entire National Park System. It spreads across 265,461 acres and includes a huge variety of climates, environments, and wildlife.
You'll have no problem finding RMNP. It's about two hours away from Denver International Airport, between the towns of Estes Park on the east and Grand Lake on the west. The park is divided into five geographical zones, called Regions.
Region 1 – Known for its lush meadows, moose, and LuLu City, an abandoned silver mining town from the 1880s.
Region 2 – The park's alpine region offers one-of-a-kind views of the Continental Divide and the Chapin Creek Valley.
Region 3 – This northern wilderness area is packed with trails such as Cow Creek Trail, Beaver Mountain Loop, and Lawn Lake Trail.
Region 4 – Region four is known as the heart of the park, with Bear Lake, Glacier Basin, and The Pool, a turbulent water pocket at the nexus of Spruce and Fern Creeks.
Region 5 – South of Estes Park, you'll find waterfalls, backcountry hiking, and Longs Peak, one of the most famous fourteeners in the state.
Originally, the regions were used for hunting and camping by Ute and Arapaho tribes before European settlers arrived in the mid-1800s. The area also had a long history of gold and silver mining until the national park was established on January 26, 1915, by President Woodrow Wilson.
Families will find no shortage of fun activities. Visitors to the park can hike on the many trails, fish, cross-country ski, rock climb, and more.
Glenwood Springs
Glenwood Springs is a quaint and cozy town nestled near the base of Lookout Mountain. Home to less than 10,000 permanent residents, it's a popular spot for visitors from around the state and beyond. It's just south of the White River National Forest, about a three-hour drive west of Denver along I-70.
Although the town is small, it offers up a ton of fun attractions as well as a fascinating look into Colorado history. President Theodore Roosevelt once spent an entire summer living in the city's Hotel Colorado, and Doc Holliday lived out the final months of his life here. You can visit his grave in the town's Pioneer Cemetery.
Of course, you can't visit Glenwood Springs without taking a dip in the town's famous Hot Springs. Several pools are located throughout the area, ranging in temperature from 93° to 104°. The most famous spot is the Glenwood Springs Hot Springs Resort, which features the largest pool in the city along with a 107-room lodge, including connecting rooms that are perfect for families.
Whether you want to lounge around the resort and relax in the hot springs or use the city as a home base for outdoor adventures, you and your family will love spending time in what USA Today called one of the Most Fun Towns in America.
Breckenridge
Commonly referred to as "Breck" by the locals, the city of Breckenridge is known for skiing, hiking, watersports, and plenty of family fun. The town (and ski resort) are located in Summit County, about an hour and a half west of the Denver metro area.
Many folks confuse the town of Breckenridge with the ski resort of the same name, but they're two separate entities. Although certainly well-known as a ski town, skiing began relatively late in the town's history, with the first trials cut in 1961. Over fifty years later, the ski area has expanded greatly, with runs on Peaks 6, 7, 8, 9, and 10.
The town itself has a delightful, Old West feel with many buildings featuring clapboard and log exteriors. You and the fam will love strolling up and down Main Street, where you can shop, eat, and visit historic buildings.
There's always something going on in Breck, regardless of when you visit. In the winter months, the city holds the Winter Dew Tour, an international skiing and snowboarding exhibition, in December and the International Snow Sculpture Championships in January. The National Repertory Orchestra performs public concerts several times a week during the summer, and the Breckenridge Film Festival is held every September.
Mesa Verde National Park
You might have seen pictures of Mesa Verde National Park and not even known it. The park is home to the largest cliff dwellings in North America, with more than 600 separate dwellings along with over 5,000 sites of archaeological significance. Ancestral Puebloans turned the natural cliff formations into a city of sorts, with villages, storage rooms, and more.
The Cliff Palace is the largest and most well-known site, a truly breath-taking structure with over 150 rooms. It's thought that the Palace was used for administrative duties related to the society and as a center for religious ceremonies. Ranger-guided tours allow you to walk through sections of the Palace, which feels like you're stepping back in time!
Aside from the cliff dwellings, Mesa Verde National Park also has a fantastic assortment of ruins (called "Houses") located on top of the mesas. If your family is up for some adventure, check out Balcony House, a 45-room structure accessible only by climbing a 32-foot ladder and crawling through a 12-foot tunnel. Other notable sites include the Long, Mug, Oak Tree, and Square Tower Houses.
While the ancient architecture is the major draw, there are plenty of other great reasons to visit Mesa Verde National Park with your family. It's an excellent place for hiking, stargazing, birdwatching, and camping. Insider tip: Check out Morefield Campground, a beautiful spot that flies under the radar and rarely gets crowded.
Royal Gorge Bridge and Park
If you and your family head to the Royal Gorge National Park for the weekend, make sure to leave your fear of heights at home. Also known as the Grand Canyon of the Arkansas (referring to the river), the Royal Gorge is a naturally-formed canyon with a depth of 1,250 feet. It's found west of Canon City, starting at Grape Creek and running northwest for about six miles before ending at US 50.
Aside from the natural wonder that is the Gorge, the park is also home to the Royal Gorge Bridge, an awe-inspiring human-made creation. The Royal Gorge Bridge is the highest bridge in America and among the top 10 tallest in the world. It extends 956 feet above the Arkansas River, consisting of 4,1000 steel cables and 1,257 wooden planks. Visitors can cross the bridge on foot – it's perfectly safe but certainly more than a little nerve-wracking!
The bridge isn't the only thrilling adventure waiting at the Royal Gorge Park. The Royal Rush Skycoaster straps riders into a spherical carriage that swings 1,200 feet over the canyon at speeds reaching up to 50 mph.
If that's not enough of an adrenaline boost for you, check out the Cloudscraper Zip Line, where you'll "fly" across the Gorge in a secure but sparse harness. Be sure and grab your photo at the photo booth to show your friends.
Comanche National Grassland
Located in the state's southeastern corner, across Las Animas, Baca, and Otero counties, the Comanche National Grassland is a federally-designated National Grassland with historical significance, beautiful views, and plenty of opportunities for outdoor recreation and family fun.
When walking through the Grasslands, you'll be stepping into the footprints of animals and people from throughout history. Millions of years ago, dinosaurs roamed what was then a shoreline, while more recently (well, 150 years ago), Mexican and American traders traveled along the Santa Fe National Historic Trail.
Today, popular attractions include:
Picketwire Canyon – The canyon contains one of the world's most extensive dinosaur trackways, including 1,300 tracks from Brontosauruses and Allosauruses.
Vogel Canyon – Along the Purgatory River, you'll find a picnic area and hiking trails suitable for beginners.
Picture Canyon – One of the most popular spots in the Grassland, Picture Canyon contains a scenic six-mile hike.
You'll also find plenty of historic buildings, such as the Dolores Mission and the Rourke Range, a designated National Historic Site.
Great Sand Dunes National Park and Preserve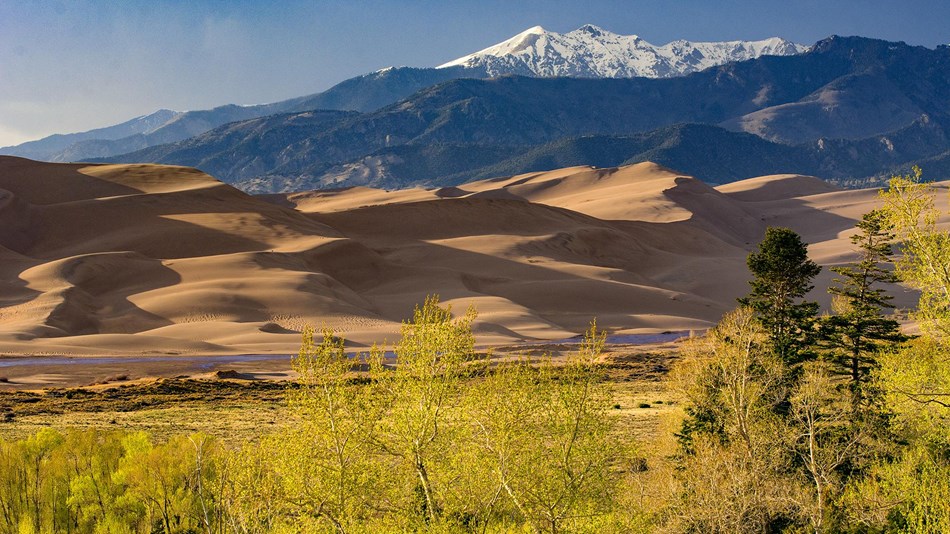 Colorado's snowy mountains are world-famous, but did you know that the state is also home to the tallest sand dunes in North America?
The Great Sand Dunes are quite a sight to see on the horizon. You'll find them near the city of Alamosa, about four hours south of Denver. They cover about 30 square miles and contain an estimated 1.2 cubic miles of sand.
Visitors can hike across the dunes as they please, but keep in mind that the sand gets hot — sometimes 150° or higher. However, during cooler times of the year and in the evenings and mornings, the dunes are usually quite comfortable to play on.
If you've never seen sand sledding or sandboarding, you're in for a treat. Both are easy to learn and require just a cheap snowboard or plastic disc sled. In an area of the park near Medano Creek, street-legal four-wheel-drive vehicles are allowed to cruise around on four miles of deep sand.
The dunes sit in the middle of snow-capped mountains, forests, and wetlands, creating a truly one-of-a-kind experience.
The City of Boulder
The city of Boulder, Colorado, is perfect for a family weekend getaway. You'll find a thriving city with world-class entertainment as well as easy access to a wide variety of outdoor recreation.
Head over to Pearl Street, a fun and funky outdoor mall with unique shops, live busker performances, and many restaurants, including family-friendly favorites like pizza places and burger joints.
Does your family love swimming, water skiing, and other watersports? Head over to the Boulder Reservoir, a 700-acre multi-use body of water managed by the city.
Another popular attraction near Boulder are the Flatirons, five flat, angled rock formations. They're a popular spot for hikers and rock climbers, with trails and climbing routes available for all skills levels. If you look closely, you can see a faint "C" and "U" on the Flatirons, remnants of an elaborate prank from the 1950s.
If you're looking for a great place to stay, the Hotel Boulderado is a local institution dating back to 1909, combining classic Victorian design with a unique mountain style. Even if you don't book a room, stop by for lunch or dinner at the Spruce Fish & Farm restaurant.
Cave of the Winds
The Cave of the Winds is an extensive network of caves that the whole family will love to explore. It's located just west of Colorado Springs on US Highway 24. Tours are given every day, and no reservations are required.
Families with younger kids, and those scared of the dark, should take the Discovery Tour, a well-lit, guided tour that focuses on education. You'll learn the fascinating natural processes that created the cave, the history of its discovery, and more.
Those with a more adventurous spirit will love the Lantern Tour, where everyone is given their own handheld lantern. You'll squeeze through tight passages, walk across muddy floors, and otherwise experience what it was like for early explorers. (The tour gets eerily dark at times, which might not be suitable for younger kids.)
The Silent Splendor room is another part of the Cave of the Winds you won't want to miss. The unique helictites that grow in this area seemingly defy gravity. Due to its delicate nature, the Silent Splendor room is sealed off from the general public, but you can check it out through a special viewing window.
Cheyenne Mountain Zoo
Are you and your family fans of animals? You're in luck because the chances are good you've never seen a zoo quite like this one. The Cheyenne Mountain Zoo is the highest zoo in the country, at an elevation of 6.174 feet. It's located southwest of Colorado Springs near Cheyenne Mountain.
The zoo has a fascinating history. In the early 1900s, successful businessman and hotelier Spencer Primrose started collecting exotic animals. He kept them at his hotel, the Broadmoor, until one fateful day when a monkey bit a guest. Realizing he'd need to move the animals, he decided to open a zoo, which he later gave to the city of Colorado Springs.
Today, the zoo is home to over 750 animals of more than 150 species. Some popular exhibits include Rocky Mountain Wild, featuring bald eagles and bighorn sheep, and Bear Grottos, where you'll see black and Spectacled bears.
The most famous animal inhabitants of Cheyenne Mountain Zoo are the giraffes. Over 200 have been born at the zoo since 1954. Stop by the giraffe area during feeding time, when zoo guests are allowed to feed them by hand.
If you're looking for a place to stay, consider Cheyenne Mountain Resort, a gorgeous mountain resort with tennis, golf, hiking, and even a kids' club.
Garden of the Gods
The Garden of the Gods has fascinated humankind since 1300 BC and possibly even earlier. These gigantic, red sandstorm formations jut from the landscape and form sharp, fin-like structures.
The most famous formation is Balanced Rock, where a large boulder appears to balance at an impossible angle on top of a sloping structure. More than just amazing to look at, these rocks tell a fascinating geological story about ancient seas and long-gone mountain ranges.
The Garden of the Gods Visitor and Nature center recently celebrated its 25th Anniversary, and they feature more events and programs than ever before. Some popular activities include meditation in the Garden, a scavenger hunt for the kids, and guided nature hikes.
If you don't feel like hiking, electric bikes and Segways are available to rent. You can also tour the park on the custom, open-air trolley. It's a replica of the trolleys used over 100 years ago when Garden of the Gods was a city park!
All members of the family are welcome as the Garden of the God is pet-friendly. Dogs can even run free in three designated areas (but must be leashed otherwise).
Ouray
Colorado seems to get busier by the year. If you're looking for a spot away from the major tourist destinations, where you can slow down some and relax, head to the southwest corner of the state to Ouray, Colorado.
The town, home to less than 1,000 full-time residents, proudly proclaims that they're the "Switzerland of America" due to the surrounding alpine landscape, which does indeed resemble the Alps.
The town has a charming, old-fashioned feel. It was formerly a mining town, and today you can tour the former Bachelor-Syracuse silver mine.
Many weekend visitors stay at the Beaumont Hotel and Spa, but all lodgings in Ouray provide quick and easy access to a wealth of outdoor activities. In the summer, you can hike in Cascade Falls Park, rock climb, or explore the four-wheel-drive vehicle trails. Visit in the winter for world-class ice climbing on the nearby frozen waterfalls.
No trip to Ouray is complete without a trip to the Ouray Hot Springs. They have three geothermal pools with temperatures that range from 75° to 150°. These mineral-rich pools have been used for relaxation and rejuvenation for hundreds of years, including by the Ute. One aspect of their mineral pools is that they're entirely odorless.
Aside from the geothermal pools, the Hot Springs also has two non-heated pools, including a Winter Pool for those who love a dip when the water's cold enough to make your teeth chatter.
Pawnee National Grasslands
If you're looking for a family weekend getaway that won't break the bank, visit the Pawnee National Grasslands. You'll find gorgeous vistas, plenty of places to camp, and a peaceful, relaxing environment. The Grasslands are located near Greeley, Colorado, with the easternmost part of the area touching both the Nebraska and Kansas border.
Tent camping is allowed throughout the area, with a smaller (but still sizeable) selection of RV camping spots as well. With wide, unobstructed views of the sky, stargazing is often a wonderful way to spend your evening.
Additionally, birdwatchers flock from around the world to the Pawnee National Grasslands. You'll easily see all sorts of beautiful birds, including:
Lark buntings (the Colorado state bird)
Burrowing owl
Mountain plover
Many birds of prey are also common in the area.
Prairie wildlife is abundant. Pronghorns, mule deer, foxes, coyotes, and snakes all make their home here.
You won't find much in the way of facilities or recreational opportunities, but the forest service roads allow you to drive or walk to several historical sites, such as old cemeteries and buildings left behind after the Dust Bowl.
Crested Butte
Crested Butte has everything you would want in a Colorado Weekend Getaway. It's a charming mountain town that remains faithful to its origins as a mining hub in the 1800s. The town is in Gunnison County near Aspen.
Trailheads are found all over town. Hikes are easy for the whole family, and lead through forests and meadows. One of the most famous is the West Maroon Pass Hike, a moderate 12-mile trek that delivers stunning views of Maroon Lake and the Maroon Bells mountains.
Crested Butte is mainly known for two main activities:
Skiing – The backcountry skiing is some of the state's best, and the area also attracts lots of extreme skiers.
Mountain Biking – The sport was invented here, and it's the original home of the Mountain Bike Hall of Fame.
(To be fair, a few other places also claim to have invented mountain biking.)
The people of Crested Butte love to get together. The city typically hosts over ten festivals a year plus several parades.
Morrison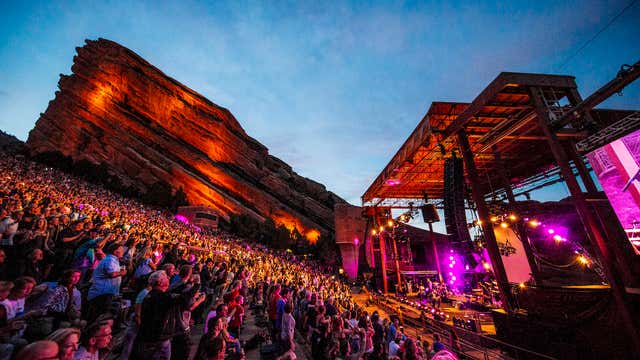 Morrison is one of the smallest towns on this list, but it offers up plenty of fun for a weekend getaway. It's close to two fascinating attractions:
Red Rocks Park and Amphitheater
Dinosaur Ridge
Red Rocks is one of the largest open-air amphitheaters in the world. It's built directly into a large rock structure, which frames the stage and amplifies the sound. The Grateful Dead, John Denver, U2, and many other music legends have played notable concerts at the venue over the years. In 1964, The Beatles performed one of the first rock-and-roll shows at Red Rocks, but the venue was so obscure at the time that it remains the only non-sold-out show the group had during their first US tour.
Also near Morrison is Dinosaur Ridge. It's another place in Colorado where you can see preserved Dinosaur footprints. Tour guides are available to give short presentations during the day, and you can also learn more in the nearby visitor's center.
Morrison has limited accommodations, consisting of the Highland Haven Creekside Inn and two bed-and-breakfasts. While all of those places are lovely, if they're full, the closest hotels are in the cities of Golden and Lakewood.
Loveland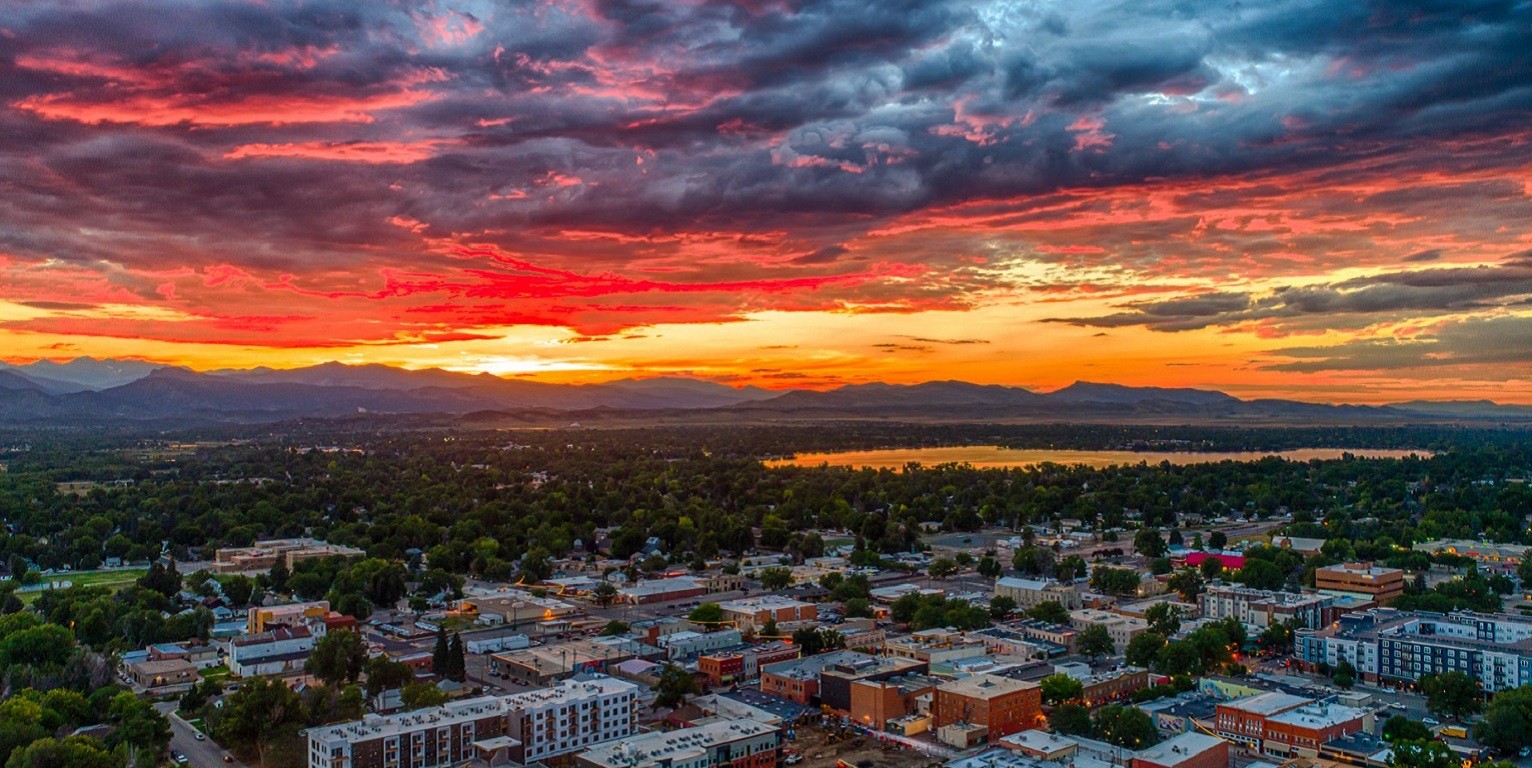 What's not to love about this charming Colorado town? Loveland is a lovely getaway, with hiking, restaurants, and a thriving arts scene.
For decades, artists have called Loveland home. The city holds numerous arts festivals throughout the year, and they have over 475 pieces of art installed in public spaces, mainly sculptures and murals. In August, sculptors from around the world display their work in the city's Sculpture in the Park show.
Hiking trails are within a short distance of downtown. The most popular trail is the Devil's Backbone, which you can hike or mountain bike. If you're on a bike, you can take the path all the way to Horsetooth Mountain.
If you're ever near Loveland on Valentine's Day, be sure to stop by, as the town truly goes all out with decorations. Even if you can't visit in person, you can join in on the fun with the city's Valentine Re-Mailing Program. Every February, people from around the world send their Valentine's Day cards to the Loveland post office, where volunteers add a special postmark before forwarding the letter to the intended recipient.
Telluride
Life just feels a little easier when you're strolling through the streets of Telluride. This laid-back mountain town is a former mining town now known for skiing, hiking, and water sports. The town is in a box valley, which means it's surrounded by mountains, including the San Juan Mountains.
Telluride is one of Colorado's most popular all-season towns, which means tourists visit year-round. During the summer, you can walk or mountain bike on over 30 trails. Mountain bikers can also ride along a unique trail made along old railroad tracks.
In the winter, the attention turns to the Telluride Ski Resort, consistently rated as one of the best in the state. Over a weekend, other popular winter activities you can do include dog sledding, fat bike rides (bikes you ride in the snow), helicopter skiing, ice skating, and sleigh rides.
Many different lodging accommodations are available for a weekend stay. Camel's Garden is located in the middle of town, and you can find many lodges closer to the ski slopes.
Beaver Creek
Beaver Creek is known as a town with a world-class ski resort, and while it's certainly a great winter weekend getaway if you love to ski, it's also one of the best spots for a quick trip during the summer.
Beaver Creek Resort isn't all that old. The hotel and ski slope first opened in 1980 and quickly became one of the most popular places to ski in the entire state, and frequent host of the World Ski Championships and other major events.
Once the weather warms, visitors arrive in town to shop, dine, and enjoy outdoor activities. If you've brought your fishing gear, head to Flood's Fishing Hole, a favorite local spot. The Beaver Creek Golf Club is another big draw. It's the oldest golf course in Vail Valley, with challenging fairways and incredible scenery.
Beaver Creek is right next to both the Holy Cross Wilderness and the White River National Forest. Holy Cross is a beautiful spot for backpacking and hiking, but it's definitely not for amateurs. White River is a much larger area with a greater variety of trails and multiple ski areas.
Denver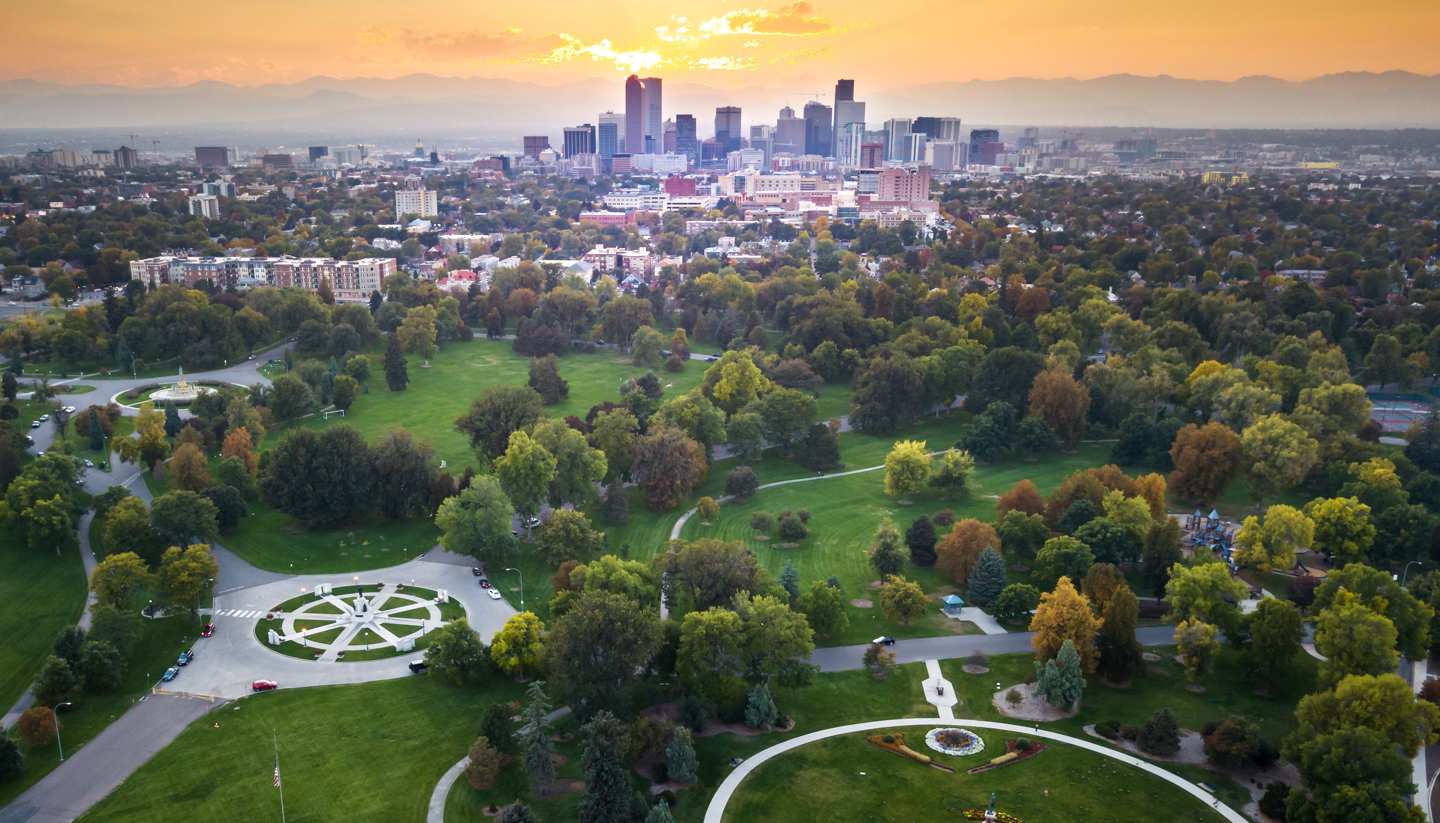 Don't forget about the Mile High City. While you won't find skiing or hiking within the Denver city limits, there's no shortage of fun, family-friendly activities to fill a weekend.
Attractions in the heart of Denver include the Denver Zoo, with over 3,000 animals, City Park, where you'll find lakes and free concerts, and the Denver Museum of Nature and Science, which has a planetarium and IMAX theater.
While there's certainly no shortage of hotels downtown, reserve a room at The Brown Palace if you want an authentic Denver experience. It's been a fixture of the city since it first opened in the late 1890s, when it was Denver's tallest building for many years. Famous guests include presidents, gangsters, and Denver's own "Unsinkable" Molly Brown.
Denver is also home to one of only four US mints. The Denver Mint has operated for over 120 years, and they're the largest producer of coins in the world. They offer tours to the public.
Conclusion
Family weekend getaways in Colorado are perfect for families. From authentic mountain towns such as Telluride and Crested Butte to natural wonders such as the Garden of the Gods and the Great Sand Dunes, you can find somewhere fun to visit for the weekend at any time of year.
Colorado is filled with natural beauty, friendly people, and fascinating history. The next time you and your family need a break, head out to any of the great getaways the state has to offer.
Other places to consider for your family weekend getaway
If you're considering other destinations for your weekend away with the kids, take inspiration from our other handy guides below!
More about our TFVG Author
A seasoned traveller, Dad, and avid sports tourist, James foundered The Family Vacation Guide to share his expert vacation experiences- especially when it comes to being a travelling family man.
Featured in Travel articles such as Travel + Leisure, TripSavvy and SFGate, you know you're reading some of the best vacation tips online.