Are you looking for the best beaches in Costa Rica for families and trips to the area?
Here are 15 of the best options, including what makes them worth visiting and what sets them apart from the other beaches lining this area's coastline.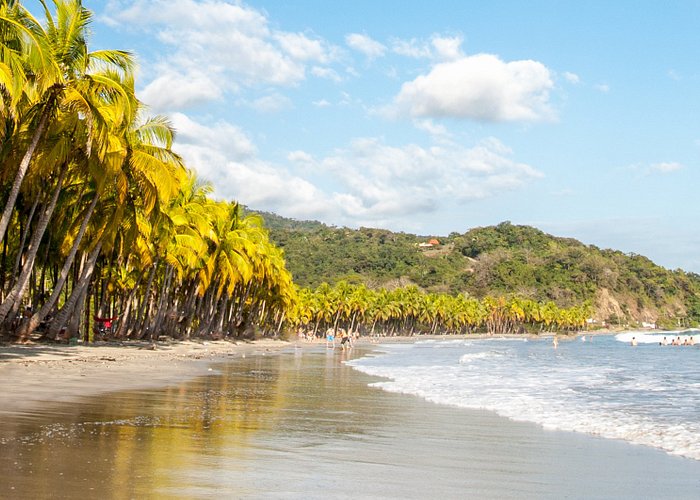 Playa Samara
Set in the middle of the western side of Costa Rica's Nicoya Peninsula, Samara is a relatively small town with gorgeous scenery and a thriving resort area. It's also one of the safer areas in the country, which is a significant factor in deciding the best beaches in Costa Rica for families.
The resorts are pretty affordable here, thanks to the local economy's pricing policies, making Samra a budget-friendly destination as well as a family-friendly one. Activities in the area include popular things like canopy tours, fishing, kayaking, and visits to fishing and farming areas.
The waves are particularly good in this area, so consider bringing or renting equipment like paddle boards or surfboards. Or, if you want to do something a little more exciting, there are several nightclubs in town for music and entertainment.
Getting to Samara is slightly tricky for a vacation in Costa Rica. The shortest route is usually flying into an international airport, then taking a domestic flight to Nosara. That's about 20 minutes away from Samara by car. You can also drive about two hours from Nicoya, or four hours if you drive into San Jose.
Playa Hermosa
Playa Hermosa is an award-winning beach on Costa Rica's western coastline. Specifically, the Bandera Azul ("Blue Flag") award is for beaches that have exceptionally high environmental and safety standards, making it easily one of the best places for families in the country. The beach itself is about two kilometers long, with tropical rainforest and volcanic rocks surrounding it.
This area's entertainment focuses more on the water than the beach, with outstanding scuba diving and snorkeling areas. If you prefer to remain above water, sailboards, windsurfing, jet-skiing, and similar activities are all viable in the area. You can hire a local tourist company for a more relaxed route and go on a fishing expedition.
Make sure to visit the nearby Arenal Volcano area if you have time. This area has invigorating canopy and rappelling tours, soothing hot springs, and hikes through a diverse rainforest area. This is quite different from the beach trip, but so close you're practically getting two vacations in one.
There's one other thing to remember about a trip here: Costa Rica has two beaches named Playa Hermosa. This one is in the Guanacaste area, while the other is in Puntarenas. So make sure you double-check the map when you're arranging your trip to the country, or you may end up at the wrong beach.
Playa Santa Teresa
Playa Santa Teresa is a beach town area set near the southern tip of the Nicoya Peninsula. It's especially notable for consistent winds throughout the year, making it ideal for surfing and many other aquatic activities. May to December is the best time for catching more giant waves, although beginners may want to visit when the waves aren't relatively as high.
Santa Teresa is mainly an activity-focused area. You'll find everyday things like canopy tours, horseback riding, and various water sports along the beach, but the local town is more tourist-focused than luxury-focused. You'll find plenty of food, but don't expect modern high-rises or other notably upscale entertainment.
If you head inland, you can visit the Cabo Blanco Nature Reserve, the oldest national park in the country. This area is perfect if you enjoy watching birds since it hosts over 200 species of them. The plantlife is similarly diverse, with over a hundred and fifty varieties of trees dotting the area.
Reaching the area is relatively easy. You can take a ferry directly from Paquera, which has the added benefit of circling the nature reserve and letting you take a look at the birds from the water. Alternatively, you can take a domestic flight to Tambor Domestic Airport, then rent a car or get a ride to the Santa Teresa area.
Playa Conchal
Playa Conchal is another beast on the west coast, this time located near the country's westernmost point. Playa Conchal is one of the more exotic beaches in the area, with sand composed of countless tiny shells. It also benefits from incredibly consistent weather and temperatures throughout the year, with plenty of daylight to enjoy the activities.
The water is quite warm here, making it comfortable for swimming and diving practically anytime. Stingrays and fish frequent the area, while the inland area has cattle ranches, nature reserves, and other parks to enjoy.
The Garra de Leon championship golf course offers scenic games and occasional glimpses of wildlife like monkeys if you like more relaxed visits. Deep-sea fishing is more practical here than on some of Costa Rica's other beaches, though make sure you hire locals who can take you to the best fishing spots instead of trying to find them on your own.
Reaching Playa Conchal is relatively easy. With the fewest number of flights, the trip involves going to Liberia's Daniel Oduber International Airport, then driving south to the Playa Conchal area. You can also catch a domestic flight to Tamarindo Domestic Airport, which is about ten minutes away.
Manuel Antonio
Set almost exactly in the middle of Costa Rica's Pacific coast, Manuel Antonio is a relatively cozy area with a mix of luxurious condos and small hotels. It features an excellently central location, with the nearby Quepos area offering fantastic fishing opportunities while the public Playa Espadilla beach provides enough space to relax and move around.
This is one of the best beaches in Costa Rica for families for a surprisingly rare reason: the Playa Espadilla beach area in Manuel Antonio has lifeguards on duty. You don't often see that at public beaches, but they're on-hand to help people with the rip currents present in this area.
The interior of this area features the Manuel Antonio National Park. It is one of the smaller parks in the country, but it's incredibly diverse in its range. You can expect to see mammals from sloths to monkeys, as well as over 180 confirmed species of birds. The park is open from morning to mid-afternoon most days of the week and is easily worth the trip.
Getting to the area is relatively easy. Several daily buses from San Jose take about 4 hours but can deposit you directly in the tourism district. This is the most affordable route and allows seeing some of the inland sights of the area. However, if you prefer getting there faster, a domestic flight to the Quepos area leaves you only a few minutes away.
Jaco
Jaco is a bit of a party beach, making it a better choice for families with older children who want to have fun somewhere besides just the sand. It's set just north of the second Playa Hermosa beach (not the one described above), which is a great place to visit if you want to go surfing.
Jaco is a beach that works best specifically as a beach, thanks to its comfortable and attractive sands. However, swimming and water activities are more challenging here because of the powerful riptide, so children, in particular, should avoid going too far into the water.
There's plenty of nightlife to enjoy here, making it worth sleeping in and staying up late to get the most of the experience. Some of the local archaeological sites are over two thousand years old if you're looking for daytime activities off the beach. The nearby Carara Biological Reserve features numerous animals, including jaguars, monkeys, and macaws.
This beach is moderately accessible, situated about one and a half hours away from Juan Santamaria International Airport (SJO). It's also the closest major beach to San Jose, so you can expect to see moderate crowds in the area. Jaco knows its focus, though, and the entire area is redeveloping to be increasingly family-friendly.
Puerto Viejo de Talamanca
The first Caribbean-side beach on this list is Puerto Viejo de Talamanca. This gorgeous area is on the southern side of Costa Rica's eastern border, with sparkling golden sand beaches that make it a pleasure to explore. It's also competitively priced, with decent hotels at budget-friendly prices, making it easier to plan a vacation here than in other areas.
Puerto Viejo is great for surfing, with strong waves throughout much of the year. Activities on the water's surface are generally fine, but a powerful rip current in the area means it's better to avoid swimming and diving. Surfing amateurs may prefer going somewhere else to train and only visiting here after getting more experience.
The local city area has more of a rustic feel, with few paved roads so far. There aren't too many shopping areas, so this is a better choice for a family vacation if you want to focus on the beach and not worry too much about inland activities. Biking and horseback tours are available, though.
You can get to Puerto Viejo through airports near Sixaola or Bratsi. However, it may be better to go through the Limon area, a bigger city for buying supplies and a scenic drive along the coast.
Tambor
Tambor is a luxurious, laid-back beach area set along a small inlet on the southeastern corner of the Nicoya Peninsula. This makes it a relatively unusual beach in Costa Rica since it doesn't have direct Pacific or Caribbean activity. Most of the other sheltered areas along the nearby Gulf of Nicoya aren't particularly developed or accessible.
The waters are relatively placid here, making them poor for surfing but excellent for floating and casual diving. Fishing is also pleasant in the area, with trips ranging from excursions alongside professional guides to renting a small, private boat and doing it yourself.
Beach walks are also pleasant here, with a relatively unusual path through the Panica river only available at low tide. If you want to go horseback riding, you can get excellent views across a large part of the country, as well as more localized sites like shallow rivers, waterfalls, and howler monkeys.
Tambor is more accessible than most local beaches, thanks to a local airport offering domestic flights across much of the country. Alternatively, you can drive in from Nicoya or take the road out of San Jose to Puntarenas, then take a ferry across to Paquera. That leaves you just a few minutes away from Tambor.
Playa Tortuguero
Playa Tortuguero is one of the most unusual beaches in Costa Rica and, notably, not somewhere most people go for the beach itself. The sand is volcanic dirt, much darker than most beaches, while the beach has too many rip currents to make swimming practical. The town isn't much to speak of, either, being a small and generally rustic area.
The thing that makes Playa Tortuguero worth visiting is the turtles. This is a special nesting area, and if you visit at the right time, you can see turtles nesting and protecting eggs in the warm, comfortable sands. Make sure you don't get too close, though, as these animals benefit from numerous legal protections throughout the country.
More something a little more exciting, the Tortuguero National Park has several family-friendly activities, including hiking and boat tours that can bring you close to some of the area's jungle animals. This isn't anything close to a traditional beach experience, but it's worth considering if your family loves turtles.
The best way to reach this area is by boat. You can look for a ferry or get a private rental to bring you over. Alternatively, you can fly in, but that's significantly more expensive and more distracting to the wildlife.
Playa Blanca
Playa Blanca is a white sand beach about twenty minutes north of Jaco, which means you can go there as part of the same trip. However, unlike its more popular cousin to the south, Playa Blanca is somewhat hidden and doesn't have anywhere near as many crowds. It's not entirely private, but it's a good choice if you want to stay away from people.
The low-key nature of this area is even more evident with the general lack of development in the area. There are no special restaurants or amenities in the area, and even the nearby parking is relatively limited and a bit of a hike away. That means you should bring all the food and supplies with you.
Ultimately, Playa Blanca works best as a single-day trip from Jaco unless you stay at Hotel Punta Leona, a reasonably comfortable resort set within walking distance of Playa Blanca beach. This hotel also has quick access to some other great beaches and adventures, so it's one of the best places in the area to stay.
The easiest way to get to Playa Blanca is starting from Jaco, then going north along the road. If you need directions, ask people for help reaching Playa Mantas, adjacent to Playa Blanca and close enough to let you find your way to this beach.
Playa Flamingo
Set a little way north of Tamarindo on Costa Rica's Gold Coast, Playa Flamingo is a sparkling area with numerous visitors' entertainment. Notably, it has one of the largest full-service marinas in the area, complete with rental excursions. Scuba diving, swimming, surfing, and sailing are all practical here.
Fishing is particularly good in this area, with exciting catches like tuna, mahi-mahi, and snapper available. If your family enjoys golf, Playa Flamingo is close to the 18-hole Hacienda Pinilla championship course. Interior entertainments include access to the Palo Verde reserve and Santa Rosa National Park, one of Costa Rica's biggest and best.
The easiest way to get to Playa Flamingo is by driving north from the airport in Tamarindo. Alternatively, you can head south from Daniel Oduber International Airport, which may be more practical for some visitors. Neither option involves a long drive, but going through Tamarindo gives more opportunities for shopping and gathering beach supplies before you set out.
Playa Tamarindo
Speaking of Tamarindo, the city has its own beach area and serves as one of its best-developed areas. Surfing is quite popular here, with consistent wind and waves that make it ideal for beginners who want to learn this sport. Of course, the waves aren't quite big enough for experts, but that's rarely the focus of a family vacation anyway.
Fishing, kayaking, and sailing are also popular in this area. The sportfishing scene is particularly active thanks to some spots known to provide bigger fish. If you'd rather stay on the beach, you can walk down to the sands and enjoy them.
The interior area has plenty of restaurants and easy access to national parks. Hotels for all price ranges ensure that you're not likely to get priced out, either, despite the advancing commercial developments.
You can fly straight into Tamarindo through its local airport, which makes it quite accessible. Alternatively, you can fly in through Daniel Oduber International Airport or San Jose International Airport, then drive into the city. Expect to be on the road for about four hours if you're coming through San Jose or one hour if you're driving from Daniel Oduber.
Playa Platanares
Playa Platanares is a little-known destination on the interior of Costa Rica's Sweet Gulf area. The area is minimally developed, with long stretches of beach splitting the forest and the ocean. A few rental properties in the area provide residences, while the general distance from Costa Rica's cities ensures this is one of the calmest and most private areas for a trip.
The closest proper residential area is the nearby Puerto Jimenez, a town of about three thousand people. It's probably easier to stay the night in town than drive out to Playa Platanares for the day instead of finding a rental immediately adjacent to the beach.
However, while the beach is nice, the real value of this area is its adjacency to the massive Corcovado National Park. This area has the only primary lowland tropical rainforest known globally, with hundreds of birds, reptiles, mammals, fish, and trees calling it home. Make sure you get a tour guide because there are plenty of wild animals in the area.
The easiest way to get to Puerto Jimenez is flying indirectly. Alternatively, you can fly into Golfito and take a ferry across the Gulf or drive down from someone like Palmar Sur.
Playa San Juanillo
Playa San Juanillo is one of Guanacaste's most scenic areas. However, despite its growing popularity, the locals prefer it clean and quiet and take measures to ensure it doesn't get as dirty as some beaches can become.
This is a beach-focused area since the local town is small. One thing that sets this area apart is that it consists of two beaches, one on either side of a path leading out to a rocky outcropping. This means the waters on either side have somewhat different characteristics, making it ideal for those who like various activities.
The best access to the area is flying into Daniel Oduber International Airport, then going down through Tamarindo. Make sure to rent an off road 4×4 vehicle with large wheels because you may encounter some potholes and similar issues along the way.
Isla Tortuga
Isla Tortuga is less beach and more island, but it's definitely worth a visit if you can get the vacation. Activities include space on one of the broad beaches, canopy tours, and hiking. Try to go scuba diving if you can, as many of this island's best areas are underwater. This includes three sunken ships, which kids may find particularly fun.
Staying the night here isn't necessary, either. Many people make a day trip out here, visiting from Jaco, Montezuma, or Puntarenas. Make sure you come in the dry season, though, which usually means December to May. This is when the island is sunniest and likely to provide the best trip.
More about our TFVG Author
A seasoned traveller, Dad, and avid sports tourist, James foundered The Family Vacation Guide to share his expert vacation experiences- especially when it comes to being a travelling family man.
Featured in Travel articles such as Travel + Leisure, TripSavvy and SFGate, you know you're reading some of the best vacation tips online.