When planning a family vacation in Costa Rica, you probably want to make it the best possible experience for your kids. Fortunately, there are many different luxury hotels and resorts for you to choose from.
The great thing about luxury hotels in Costa Rica is that they're also family-friendly, so your kids won't get in trouble at the adults-only pool, and you won't be bothered by college parties and such. 
Below, we've rounded up 8 of the best luxury hotels to give you all the inspiration you need on where to stay, but why not also check out our guides to the best all-inclusive resorts in Costa Rica for families, the best family beaches in Costa Rica and whether or not you need a passport to go to Costa Rica.
The Best Luxury Hotels in Costa Rica for Families
The following hotels represent the high-end options for your stay in Costa Rica. You and your family will be able to enjoy the utmost comfort of their luxury in between exploring Costa Rica's diverse nature and other attractions.
Within walking distance of Manuel Antonio, one of Costa Rica's many beach towns, Tulemar Resort has it all. The resort is placed on 33 acres of wildlife preserve, with a private beach, hiking trails, and wildlife.
Free watersports are available at the beach for your more adventurous kids, while others can swim in one of three infinity pools (there are four, but one is for adults only). With hot tubs, on-site restaurants, snack bars, and a shuttle to take you anywhere on the property, this resort is like living in a small village.
The best part for families with small children is that you can rent out entire villas with private patios and front yards. So if you're worried about having enough space for your kids on vacation, don't stress at Tulemar. It's the perfect place for kids of all ages.
Barcelo Tambor Beach is perfect for kids of all ages. Set right by the ocean, this resort has options for younger and older kids alike. There are even supervised activities, so the parents can sneak away to the spa or a restaurant for some fine dining.
Barcelo Tambor Beach is on volcanic sands, so it might not be the white sandy beaches that you are used to. However, the dark sand makes a stunning contrast with the blue ocean and sky. There is also an outdoor pool complex, a kiddie pool, and plenty of activities both in and out of the water.
Barcelo Tambor has three separate restaurants, a bar, and a dance floor. In addition to this, the resort offers tennis courts and a gym. If the beach and pools aren't enough for you and your family, you'll find plenty to do at the all-inclusive resort.
In Costa Rica, you and your family might be experiencing a lot of new cultural sensations. However, some names are international, and Marriott is one of them. This JW Marriott resort and spa sits on the Guanacaste peninsula and offers the very best of resort life: a spa, restaurants, and the largest infinity pool in Central America.
The spa is usually the highlight of this resort, and to fully appreciate it, Marriott Guanacaste offers free supervised Kids Club activities. Drop the little ones off and go get a massage. After all, it's your vacation too! There is also beachfront access and an extensive gym.
Marriott Guanacaste is known for its luxury. If you're trying to save money, this isn't the place to go. However, if you want to give your kids a taste of the high life, bring them to JW Marriott Guanacaste. You will all have a great time!
Dreams Las Mareas is a place of dreams. Consider this all-inclusive resort if your family isn't into city life and wants a more secluded beach vacation. Your room fee will cover everything from alcoholic drinks to water sports at the hotel, so prepare to pay for nothing extra! 
While this is a kid-friendly resort, there are several amenities just for adults. Seven bars (including a swim-up bar), a luxurious spa, and an adults-only pool are just a few of the things the parents will enjoy.
Don't worry–supervised kids and teens clubs have water sports, beach trips, and other fun activities. There are also several kid-friendly restaurants and pools, including a pool with waterslides and inner tubes.
If some of the resorts on this list are enormous and cover everything you could imagine, Ylang Ylang is a smaller, more intimate feeling. The hotel is family-owned and operated, so it's a more authentic Costa Rican experience. Where else will you get freshly made coconut milk every day?
Ylang Ylang is almost all-inclusive–every package comes with dinner and breakfast for two, but you'll have to buy meals for the kids. However, there are boogie boards and kayaks for rent, and you can take the kids on an adventure during the day. The hotel also offers spa treatments, yoga classes, and happy hour specials every day.
This resort is smaller and located on the coast of Montezuma. It is near the rainforest and sits right on the edge of the beach, teetering between forest and ocean. You couldn't imagine a more calm and picturesque spot, perfect for a relaxing beach vacation away from it all.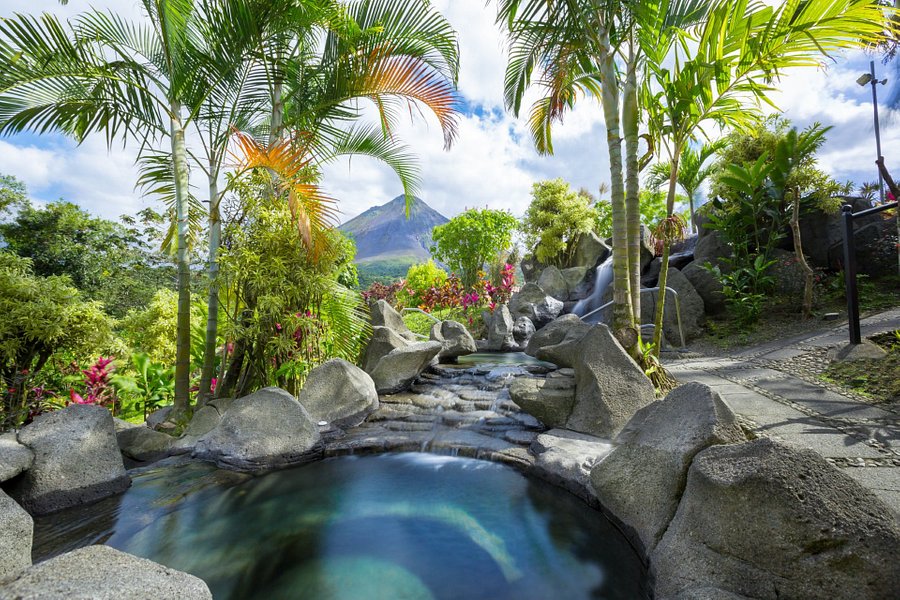 What's cooler than a Costa Rican beach vacation? How about a Costa Rican beach vacation at the foot of a volcano? No, seriously, Arenal Kioro is located at the base of Arenal volcano in San Carlos (don't worry, not currently active). It's a stunning place to vacation and memorable for the whole family.
The hotel has thermal hot springs, pools, and a private hot tub in every room. The rooms themselves are very private, so you won't have to worry about your kids waking up the neighbors (and vice versa). You can see the volcano from the balcony in your room and explore the jungle during the day.
While there's not quite as much for young kids at this resort, teenagers will enjoy the rainforest, the spa, and the entertainment center. Family hikes are a must in the lush rainforest, and dinner at the restaurant is delicious.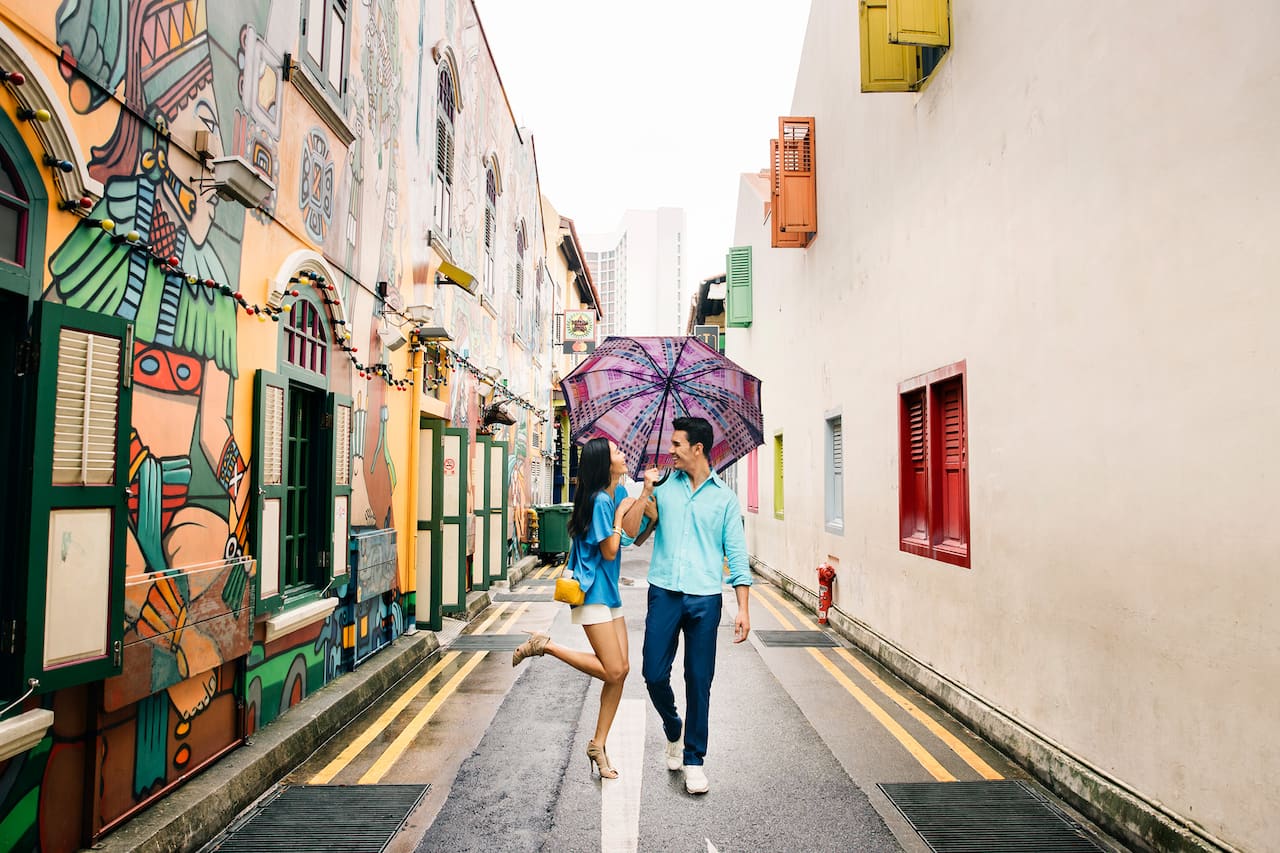 If you have a kid into architecture, treehouses, landscaping, or howler monkeys, you've just found the perfect place to bring them. Andaz Peninsula Papagayo Resort is impressively built into the side of a cliff and looks stunning.
The architecture combines minimalism and treehouse vibes with crisp, pristine lawns. This isn't like your ordinary sprawling resort–instead, it's nestled into rocks and trees, with long winding paths to reach the two beaches. Along those paths, howler monkeys can be seen and heard.
Don't want to walk the howler monkey path to get to the ocean? You can swim in the pools (one is adult only) or eat at the ocean-view restaurant. This upscale, fancy luxury hotel is a great way to show your kids the finer things in life.
Fiesta Resort, owned by Hilton Doubletree, is located in El Roble, Costa Rica. Not far from Puntarenas, this resort hits all the marks for a huge luxury hotel: it has plenty of kids' activities, great food, quality pools and beaches, and a great spa.
Some of the rooms at Fiesta Resort have spas or hot tubs, but even the ones that don't are equipped with flat-screen TVs and minibars. There are tons of sports and activities available for all ages, including supervised fun for the kids.
Instead of an adult-only pool, Fiesta Resort has a pool dedicated entirely to kids. There are three pools, but one is a kids' area with slides and water toys. Overall, Fiesta Resort offers everything you could ask for in an all-inclusive resort stay.
What To Look for in a Luxury Hotel
There are various things worth taking into consideration when looking for the ideal luxury hotel. Learning more about the different hotels can help you get the most out of your family vacation from its location to amenities.
Price
Whether you are looking for the best possible luxury hotels or the more budget-friendly ones, planning the expenses in advance is always good. Once you've set the price range, it will help you narrow down the hotels tailor-made for your family vacation. 
Activities
If you book a hotel that only has a spa, your four-year son might not be the happiest. When looking at hotels, check what they have to offer for all family members. Many hotels have supervised child activities, so you can get away and have a mini-vacation with your significant other!
Location
The fanciest hotel might not be worth it if it's 65 miles away from the nearest town. Make a list of everything you want to do in Costa Rica and plan for a hotel within walking, driving, or taxi distance of those activities. Check any potential hotel's location and whether they offer shuttles to big cultural attractions.
Food
Luxury hotels may have some unique cuisine on offer or snack options your kids will love. Likewise, some hotels serve a free breakfast and other useful amenities that may alleviate the cost of food during your stay, which can be of importance if you are looking to trim the cost of your vacation.
When To Visit Costa Rica
If you're already looking at hotels, you've probably planned the timing of your vacation. However, it's good to know some background information on Costa Rica and the weather throughout the year. While there's no bad time to visit Costa Rica, some months will be much hotter (and more crowded) than others.
The sunniest, mildest, and most crowded time of the year is from December to April. This is because the weather is beautiful, and many people are on spring break (especially in March and April).
In Costa Rica, hurricane season is technically from June to November. However, hurricanes are extremely rare, with only three occurrences in the last ten years. All three of the most recent hurricanes occurred in late October or early November.
Shoulder season (between on and off-season) is also a great time to visit. There are fewer people on the beaches, but it's not as hot or rainy as in the summer months. May-June and November are great months for lower prices.
Final Thoughts
Of course, the best luxury hotel for you and your family will depend on your preferences. So take your time exploring the available options to ensure all of your family members will be happy with the choice. Whichever hotel you end up choosing, Costa Rica is such an amazing destination that you're sure to have a wonderful family vacation.
More about our TFVG Author
A seasoned traveller, Dad, and avid sports tourist, James foundered The Family Vacation Guide to share his expert vacation experiences- especially when it comes to being a travelling family man.
Featured in Travel articles such as Travel + Leisure, TripSavvy and SFGate, you know you're reading some of the best vacation tips online.