Airbnb rentals are a convenient alternative to hotel or condo rentals.
Renting an Airbnb guarantees a unique lodging experience where you often don't encounter interruptions as you do at a hotel or large resort. When taking a family vacation, Airbnb rentals help ensure the entire family can stay in the same location, and each family member has a space to call their own.
Florida is full of family Airbnb rentals that take your vacation stay to the next level. Whether you prefer a smaller unit next to the beach or a large rental further inland, Florida has what you and your family needs. 
From the beach views of Palm Coast Skyfall to the convenience of Davenport Solterra Resort, the uniqueness of Florida Airbnbs allows the hosts' personality to shine through as you get a feel for who they are as they cater to any needs you may experience while on vacation.
Skip the hassle of renting through a travel agency or going through the cumbersome hotel rental process. Book through Airbnb for an easy and straightforward process as you communicate directly with the rental host.
Some of the best family Airbnbs in Florida are waiting for you and your family to enjoy, and your host can't wait to guarantee everything you need to make your vacation unforgettable.
The Best Family Airbnbs in Florida
The best Airbnbs in Florida for Families offer an experience you can't get elsewhere and are conveniently located, so you don't have to travel far for excitement. They also ensure comfortable living space and a unique lodging opportunity.
Check out these top 12 Airbnbs in Florida for Families, and start planning your vacation today!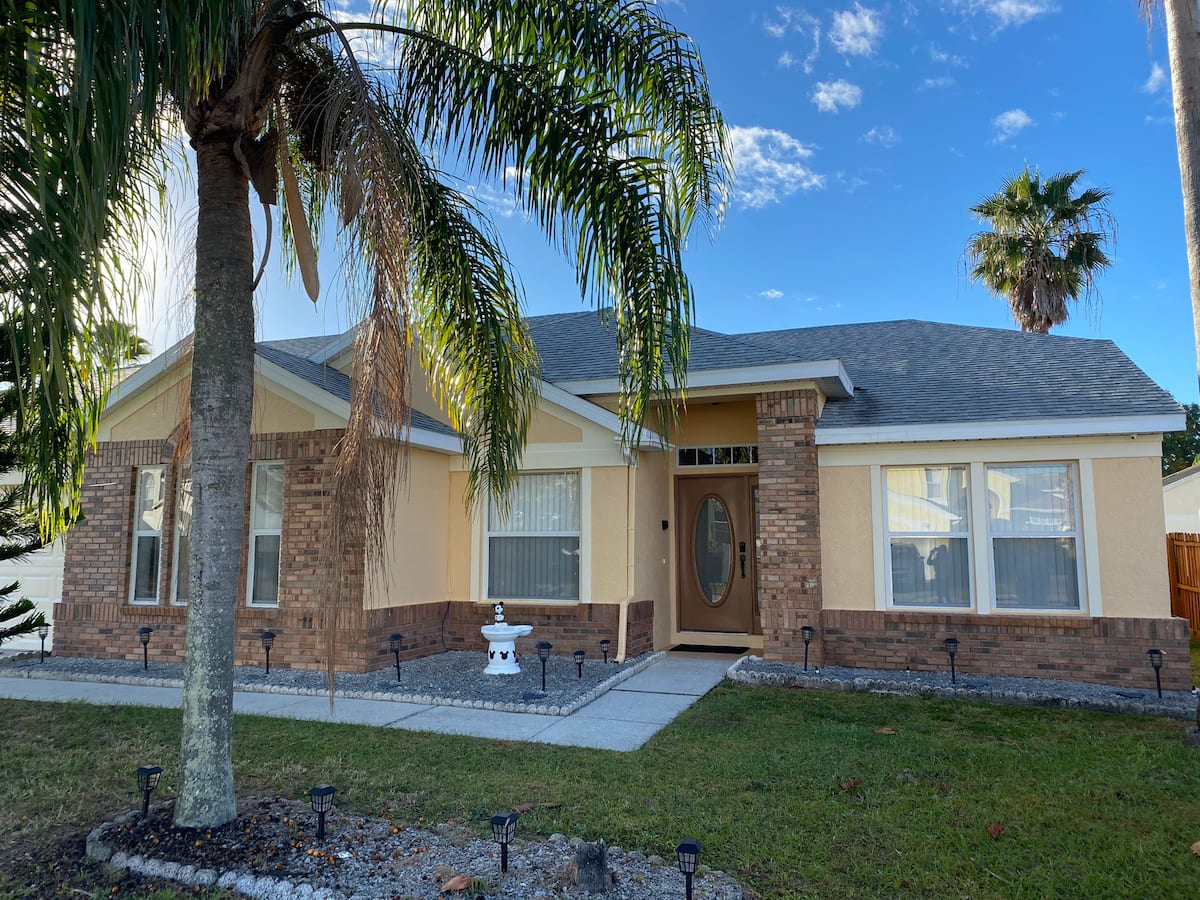 Not only does this stunning vacation home offer a private pool for the kids to enjoy, but also a convenient location for Disney fans. These two factors alone ensure a stay at this Airbnb will be perfect for your family. However, there are additional luxuries that will further influence a stay here.
Only 5.5 miles from Disney Parks and Disney Springs means that booking a stay here ensures a convenient trip to enjoy everything Disney offers in the area. Packing up the kids for a day at Disney or spending the day at the vacation house while enjoying the pool and hot tub are popular guest experiences.
In addition, the Sunset Walk shopping mall, Studio Movie Grill, and H20 water park are waiting for you and your family at Margaritaville Resort, just 1.5 miles away.
The Kissimmee Disney Orlando Vacation Home sleeps six guests with one king bedroom, one queen bedroom, and a third bedroom with two single beds. A full kitchen, free on-site parking, a highchair, and a washer and dryer ensure guests have everything they need during their stay.
The quiet neighborhood means noisy neighbors won't awaken the kids in the middle of the night, and you can sleep well knowing a security system borders the vacation home's property line.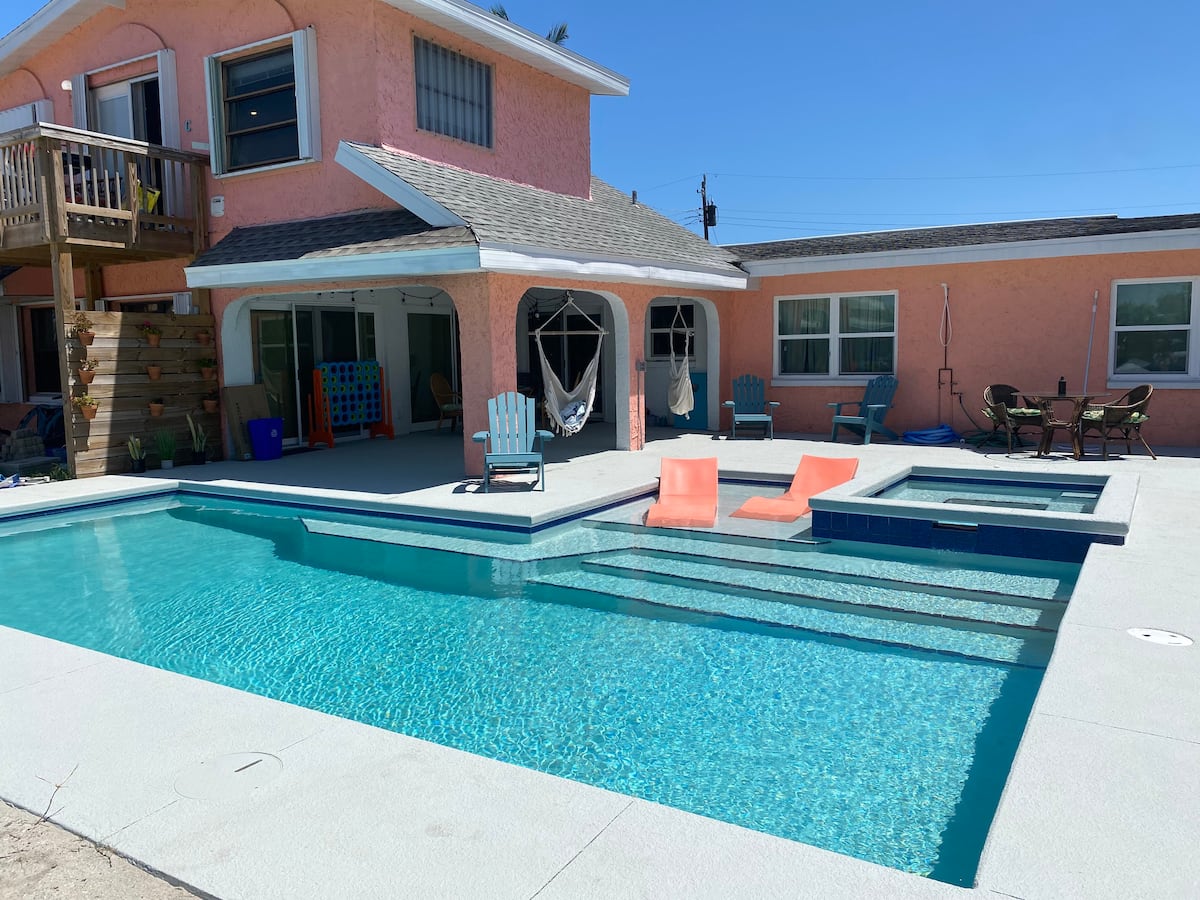 The Coral Beach House provides guests with water views and is within walking distance of the pristine beaches of Cocoa Beach, Florida. The waterfront and canal views create a relaxing atmosphere for your family to enjoy throughout your stay.
The three-bedroom, two-bathroom home provides ample space for you and your family to roam around as you get ready to enjoy the beach. Sleeping arrangements consist of two bedrooms with queen beds and a third bedroom with two single beds.
Amenities include a full kitchen, free on-site parking, a washer and dryer, and complimentary WiFi. Furthermore, when you spend a Florida vacation at The Coral Beach House, you get to enjoy ample indoor features and various outdoor amenities.
Outdoor amenities include a private patio, outdoor furniture, outdoor dining area, BBQ grill, beach essentials, bikes, and kayaks. The self-check-in process ensures easy access, and long-term stay approval may be granted upon request.
Cocoa Beach is known for its pristine sand and refreshing ocean waters, and The Coral Beach House gives you convenient beach access. If you're looking for a place to take your family that offers convenient beach access and everything you need to enjoy the beach, The Coral Beach House is a must!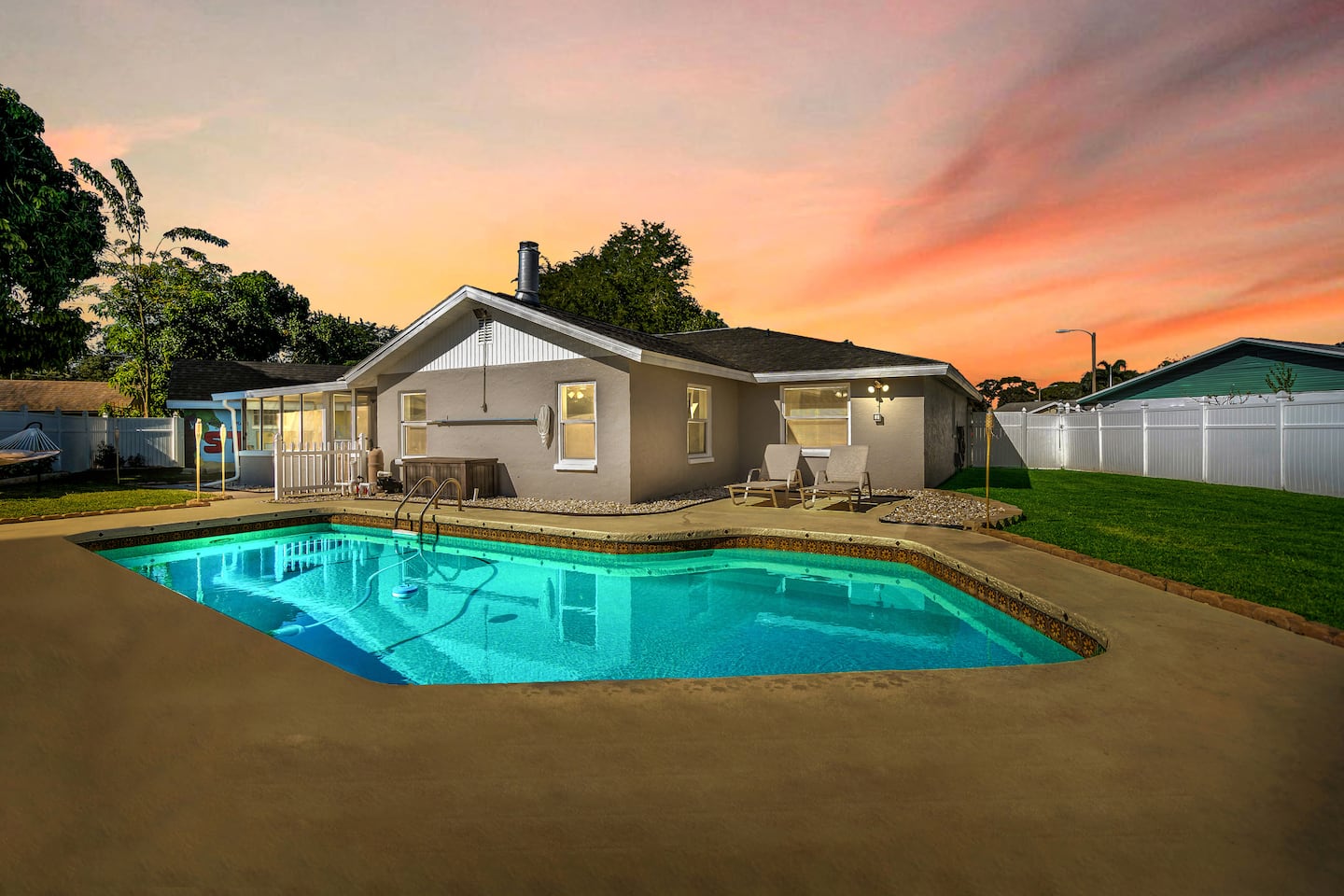 Paradise is the only word that can even come close to describing the St. Pete Paradise Airbnb hosted by Josh. With an excellent location rating and easy check-in process, it's tough to go wrong with this Airbnb rental.
Situated in the heart of St. Pete, this Airbnb is less than ten minutes away from the beaches that make St. Pete famous and only fifteen minutes from downtown. With a private outdoor pool, WiFi, and parking for up to four vehicles, you don't have to leave to have a good time.
Sleeping arrangements consist of two bedrooms with queen beds, a bedroom with two single beds, and a living room with a sofa bed and couch, resulting in sleeping spots for eight guests. With 2,000 sq. ft. of living space, this St. Pete Paradise beach getaway will satisfy your Florida family vacation needs.
If the full kitchen, ample space, outdoor pool, and convenient location aren't enough to sell you on this Airbnb, consider the on-site washer and dryer, indoor and outdoor fireplaces, and fenced backyard as an additional incentive.
Whether you are visiting St. Pete for the pristine beaches or to experience the lavish Florida lifestyle, the St. Pete Paradise Airbnb offers everything from close beach access to walking trails and luxurious housing.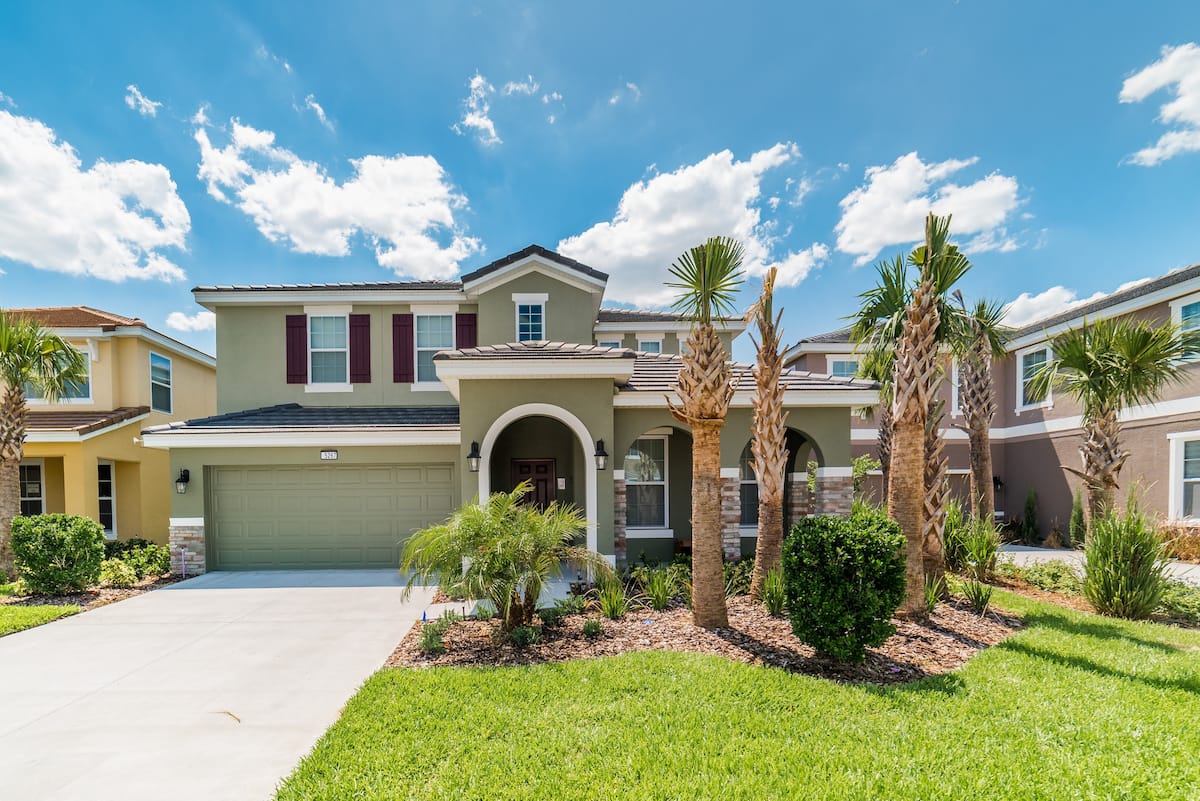 If you're looking for an Airbnb rental that will house a large family that is close to entertainment, the Davenport Solterra Resort is what you need to book. With a max capacity of twelve guests, five bedrooms, four and a half bathrooms, and within twenty miles of five Orlando theme parks, you will not be disappointed with this rental.
Davenport Solterra Resort is one of the most popular and upscale resort communities in Orlando, as it offers a variety of amenities that will make you question whether or not you want to leave. The private pool and spa, free WiFi, washer and dryer, and fully equipped kitchen are some of the notable conveniences of the rental.
Sleeping arrangements are plentiful, with the second floor holding most of the sleeping space. Two bedrooms contain double beds, one bedroom with a queen, another bedroom with two single beds, and a fifth bedroom with two double beds.
While this Airbnb rental boasts lavish amenities and convenience to area attractions, it also is a short distance from a commercial shopping center that has a variety of restaurants, grocery stores, and retail shopping options.
Don't miss the opportunity to live in luxury during your family vacation to Florida. The Davenport Solterra Resort Airbnb has everything you need to conveniently stay in one of the most luxurious communities in Orlando, FL.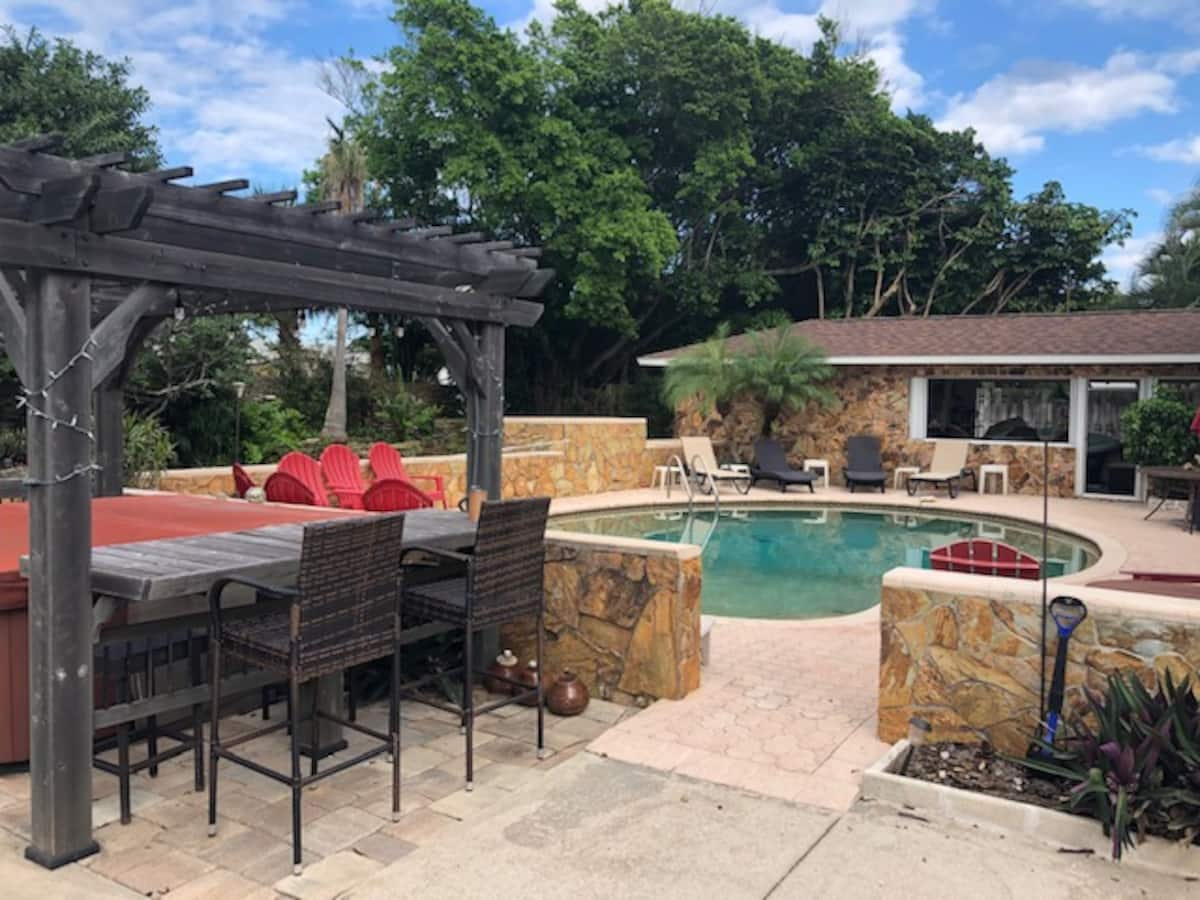 The Melbourne Beach House has a little bit of everything. With indoor exercise equipment, an outdoor pool, hot tub, and within walking distance of the beach, you're sure to feel like the star of the show when you rent this Airbnb for your family vacation.
With a maximum capacity of eight guests, you and your family can enjoy a spacious beach house without worrying about tripping over one another. The bed situation proves plentiful as one bedroom contains a king bed, another bedroom is equipped with a queen bed, single bed, and a crib, while the third bedroom has one queen bed, one single bed, and a sofa bed.
A fenced-in backyard provides privacy for evenings outdoors around the fire table as the grill carefully sears your dinner. The backyard also has a pool, hot tub, fire pit, and breezeway sitting area that offers the perfect setting for quality family time.
When it comes time to venture away from the beach house for a day full of relaxing in the sun or Florida excitement, you won't have to go far to have a good time. This beach house is steps away from the beach and three blocks from the river.
Guests also have free reign of multiple outdoor and beach toys provided by the Superhost. With bikes, kayaks, boogie boards, and additional beach gear to choose from, this rental makes spending time outdoors a convenient must.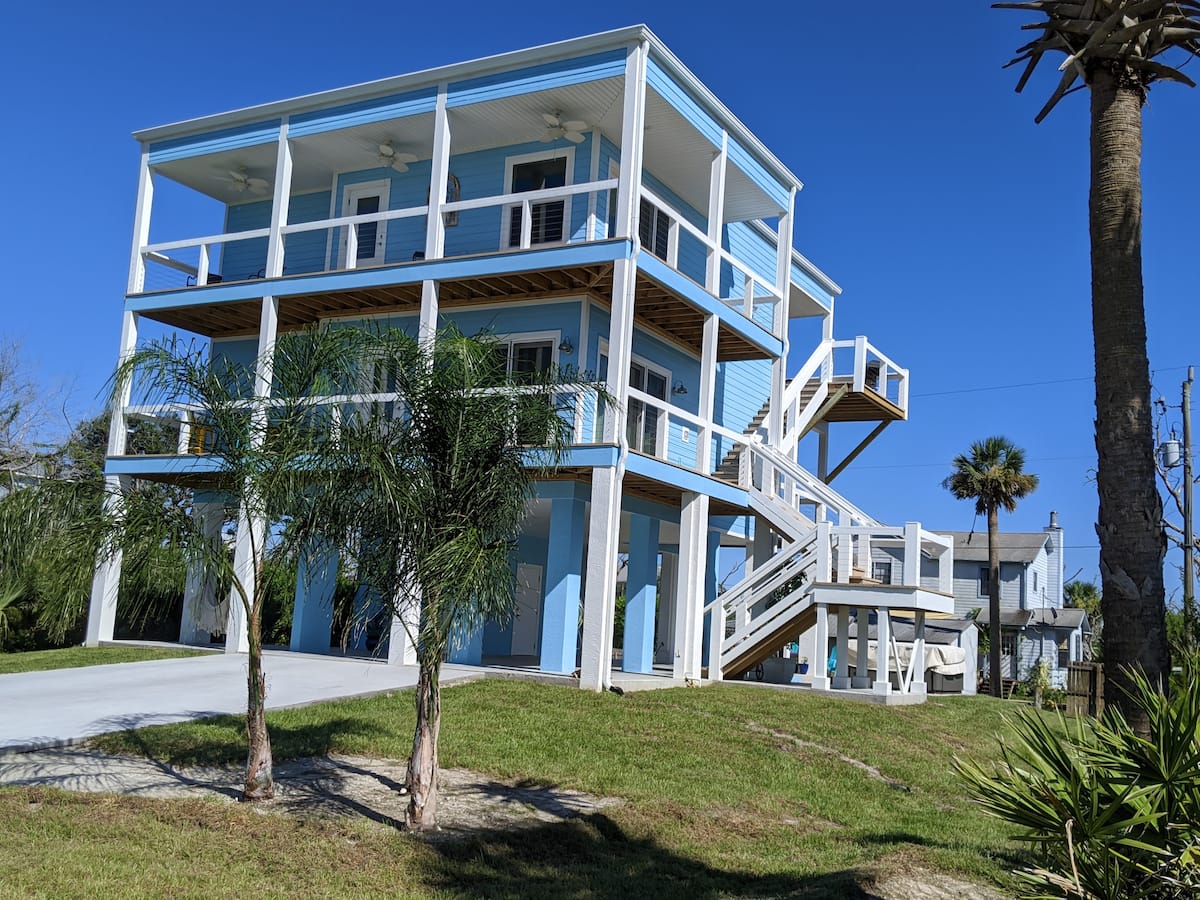 Ocean views, a private beach, and a treetop balcony are just a few of the features that make the Palm Coast Skyfall Airbnb one of the best Airbnbs in Florida for families. This new construction beach getaway provides guests with serene ocean views as the crashing waves interrupt your quiet morning on the balcony.
The Palm Coast Skyfall guest suite is located on the second story of this beach home and offers guests a private entrance. With a guest capacity of six, you and your family can enjoy a quaint beach getaway without someone sleeping on the floor.
The two-bedroom suite has one room with a king bed for the parents, and the second bedroom has full-sized bunk beds for the kids. Free on-site parking, WiFi, and a full kitchen are just some of the interior amenities that ensure your stay is fruitful.
If the ocean views, private beach, and exceptional interior aren't enough to convince a booking of Palm Coast Skyfall, consider the hot tub, grass-covered backyard, and complimentary beach essentials an additional incentive.
Florida vacations are all about enjoying the sunshine and salty air while digging your toes into the sand. The Palm Coast Skyfall Airbnb ensures you and your family have everything you need to do just that.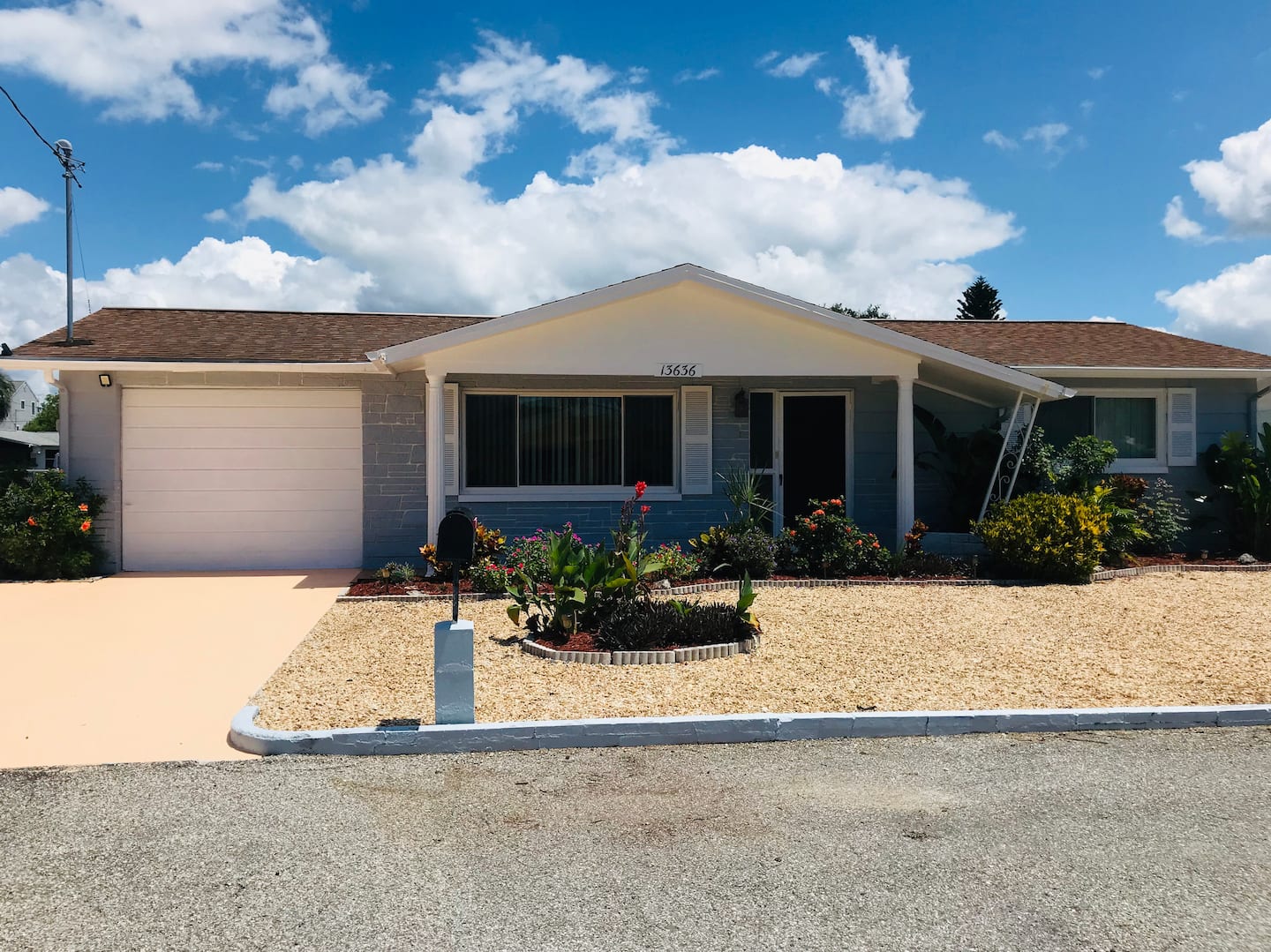 At the Waterfront Retreat: Pelican Landing at Sea Ranch, guests are sure to have the ultimate Florida vacation experience. With a backyard that spills into the canal, a waterfront retreat is the only way to describe this Airbnb.
This Airbnb sleeps up to eight guests with two bedrooms. One bedroom has a queen bed, and the second has a double bed. The living room is where the bulk of the beds are found, with one queen, one sofa bed, one bunk bed, and a crib.
Explore the Gulf of Mexico directly from your rental when you take out a sea kayak from the backyard. If you don't feel like putting in the work of paddling the Gulf waters, swim in the lanai-covered heated pool or relax in the hot tub. You can even watch dolphins from the backyard!
An on-site washer and dryer ensure guests have the luxuries of their home while living a Florida lifestyle. Guests are encouraged to use all the available amenities with the option to book long-term stays.
This rental provides canal views, WiFi, a full kitchen, superb outdoor space, and is conveniently located near the beach. Take your family on the ultimate Florida vacation by renting the Waterfront Retreat: Pelican Landing at Sea Ranch Airbnb.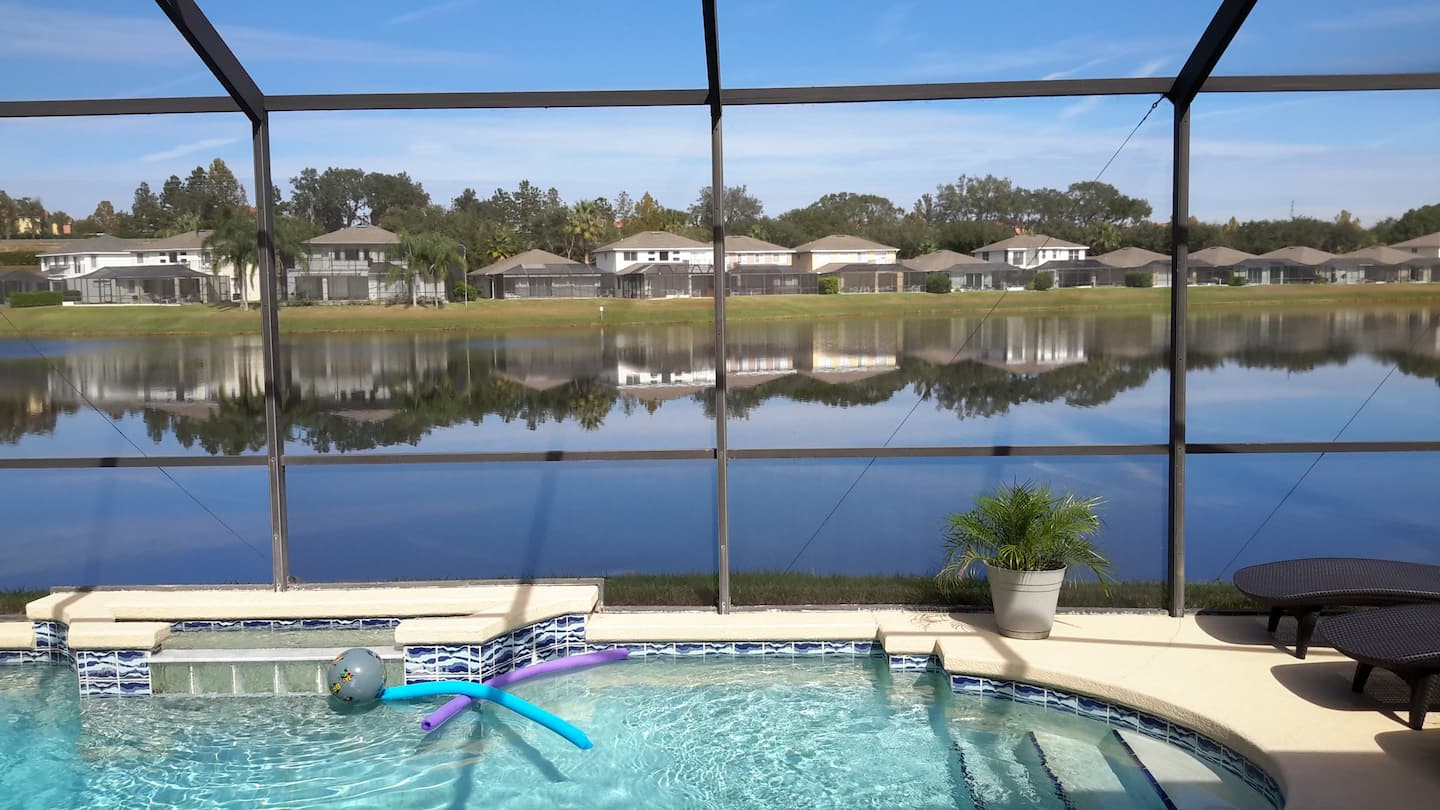 Just because you are in Florida doesn't mean the only waterfront rentals are on the beach. Lakefront views, a private swimming pool, and ample space are just a few of the things that make the Kissimmee Lakefront Villa one you and your family can enjoy on your Florida vacation.
This luxurious lakefront villa offers a cozy and quiet environment for families to enjoy. With a max capacity of eight guests, sleeping arrangements are plentiful for the average size family. The first bedroom offers one king bed, and the second a queen bed. Bedrooms three and four offer two single beds each. 
With four bedrooms and three full bathrooms, your family will have all the space they need to enjoy a spacious lodging experience. The Kissimmee Lakefront Villa is conveniently located less than ten minutes from Disney, making it a popular rental.
On-site amenities also provide reasoning to book this Airbnb as a private pool, lake view, full kitchen, beach essentials, and outdoor dining area are just some of the amenities your family will enjoy.
The lakefront views and access and the convenience of Disney make the Kissimmee Lakefront Villa a top choice among families looking for Airbnb rentals in Florida.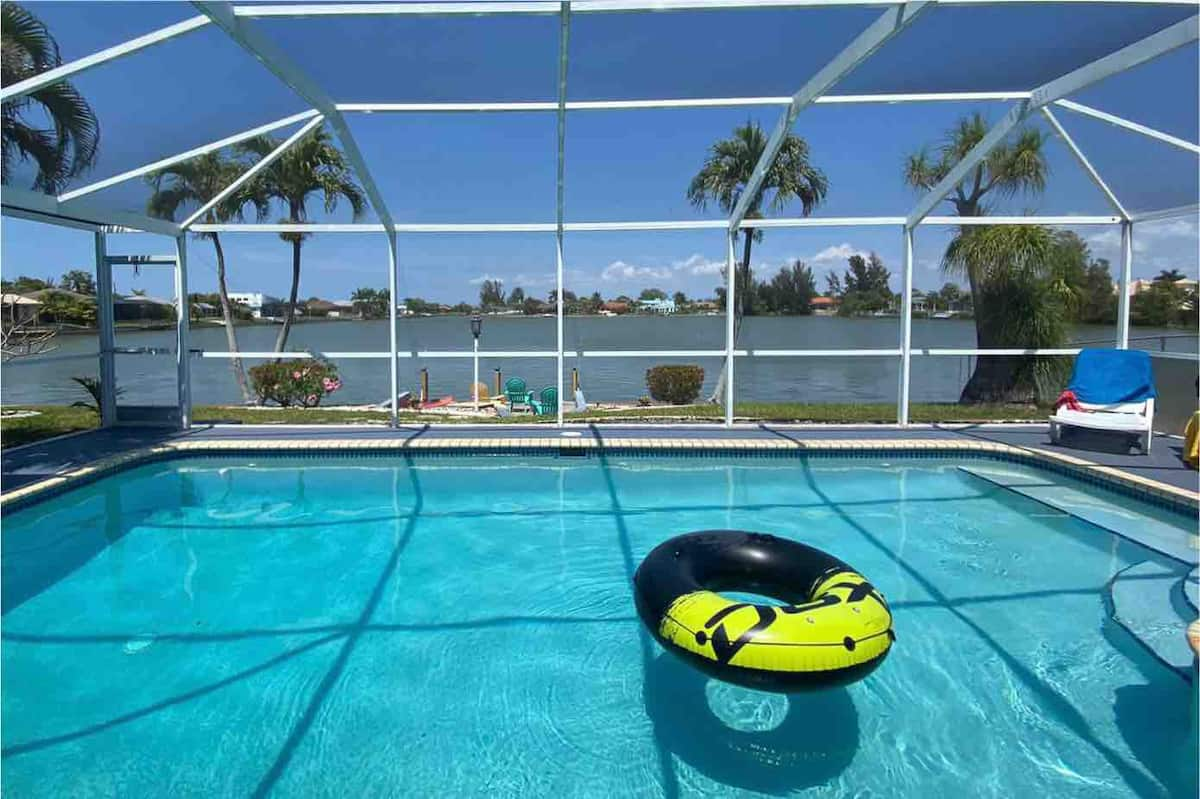 Located in the highly sought-after SW area of Cape Coral, the Cape Coral Sunny Lakefront Home provides guests with a spacious and fun-filled stay. Only 40 minutes from RSW Airport, you and your family don't have to wait long to enjoy this getaway after landing in Florida.
With space for up to six guests, you and your family can have the privacy of separate bedrooms and the spaciousness of a traditional home. Two of the bedrooms have a queen-sized bed, and the third has two single beds making it easy for everyone to have their area.
The outdoor space at Cape Coral Sunny Lakefront Home is marvelous, as the canal views and large outdoor pool radiate relaxation. Guests can also enjoy complimentary bicycles, tennis rackets, kayaks, and fishing poles.
A gas grill and outdoor dining table mean you don't have to go inside to cook or enjoy your evening dinner. If the weather doesn't allow for outdoor dining, the fully equipped kitchen in the home has everything you need to whip up some of your favorite dishes.
Free parking is a bonus to the convenience of this Airbnb. If you're looking for a vacation home that is conveniently located near RSW airport and offers spectacular canal views, this Cape Coral getaway is an excellent option.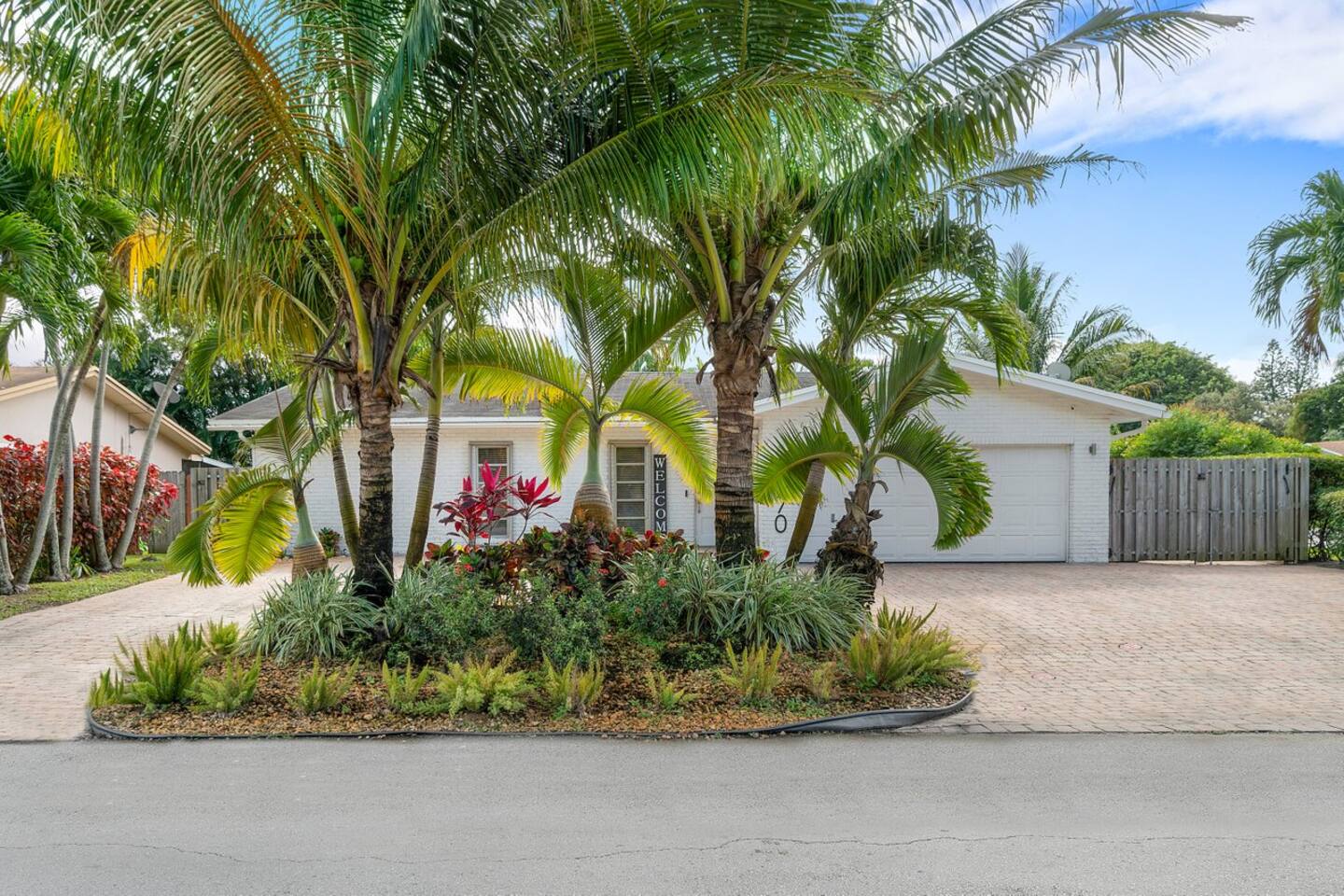 Right off the shores of Fort Lauderdale, Florida, the Peaceful Little Retreat Airbnb is waiting for your rental confirmation. Surrounded by palm trees, this tropical getaway portrays a serene setting perfect for a family vacation. Located in a peaceful neighborhood, we assure you that you won't be disappointed in this rental!
This vacation rental has three large bedrooms, two of which have queen beds and one with a king bed. Free, on-premises parking and security cameras throughout the property give peace of mind knowing you and your personal property will remain protected.
Interior amenities include a full kitchen, bathroom essentials, air conditioning, WiFi, and extra pillows and blankets, just to name a few. Guests also have access to a variety of reading books and a TV.
Outdoor amenities are in abundance as the private patio has outdoor furniture, a dining area, a BBQ grill, and a fully fenced private backyard. In addition, the outdoor pool is spacious and readily available for the guests to enjoy at their convenience.
If you wish to be certain your family has everything they need for an ultimate Florida experience, book the Peaceful Little Retreat Airbnb in Fort Lauderdale.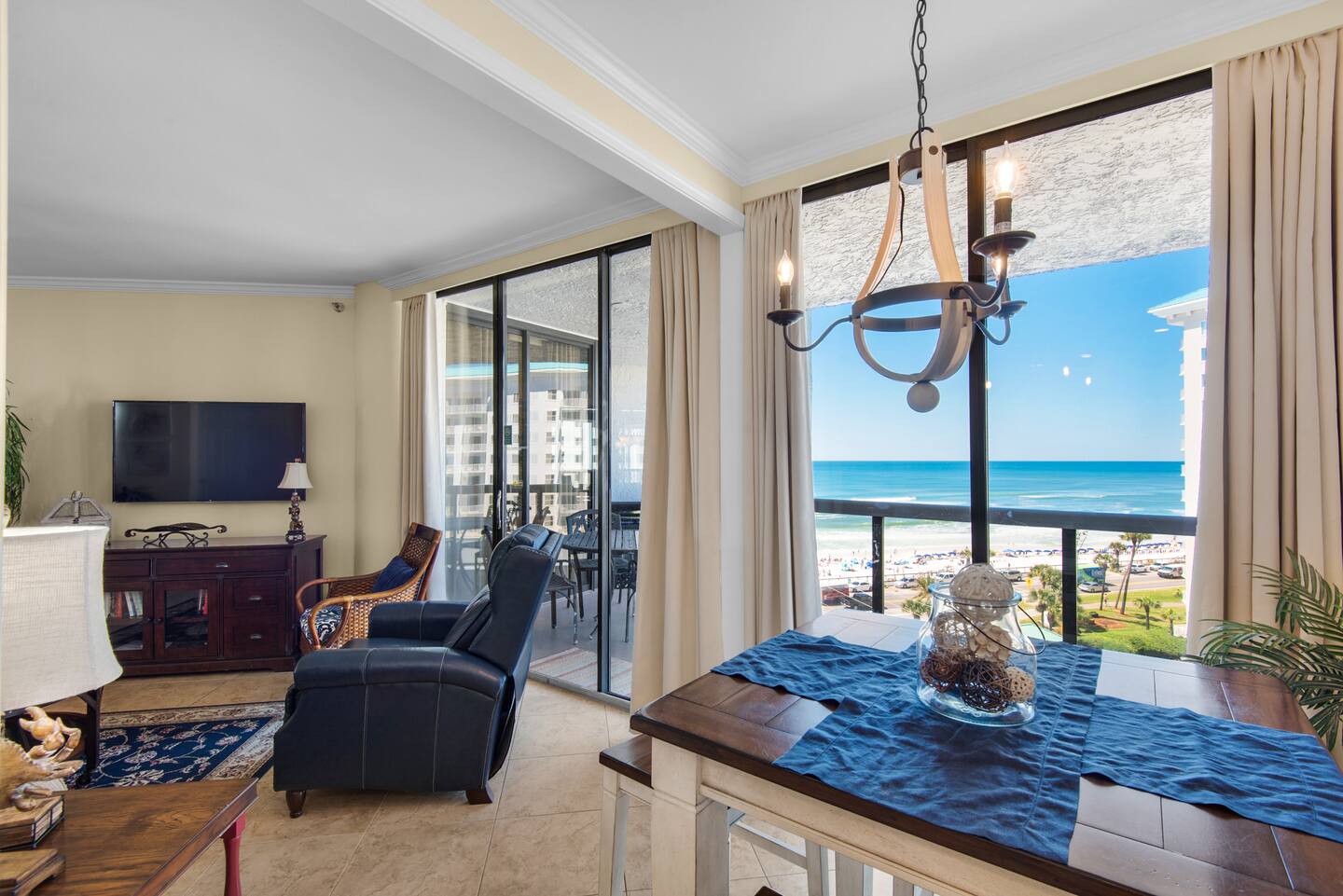 Destin is known for its bright white sandy beaches and crystal clear ocean waters. The spectacular beaches and the family-friendly atmosphere make Destin a popular family vacation destination.
With enough room for eight guests, this spacious condo offers spectacular beach views and has ample space for your family. Bedrooms are situated to ensure the parents have some much-needed privacy. One bedroom is equipped with a king bed while the second bedroom contains two double beds. You will also find a sofa bed in the common living space. 
Free parking, beach access, a pool, hot tub, gym, and WiFi are available at this condo rental for guests' convenience. Guests will find a full kitchen, washer and dryer, bathroom and bedroom essentials inside the condo.
This rental allows guests to enjoy an afternoon out on the balcony overlooking the waves crashing on the shore or digging their toes in the sand, just steps away from the rental. Whatever your vacation style, the Surfside Resort Beach Condo is sure to fulfill every need.
Don't let the term 'condo' steer you away from booking this Airbnb. You and your family will live in utmost comfort throughout your stay at Surfside Resort Beach Condo in Destin, Florida.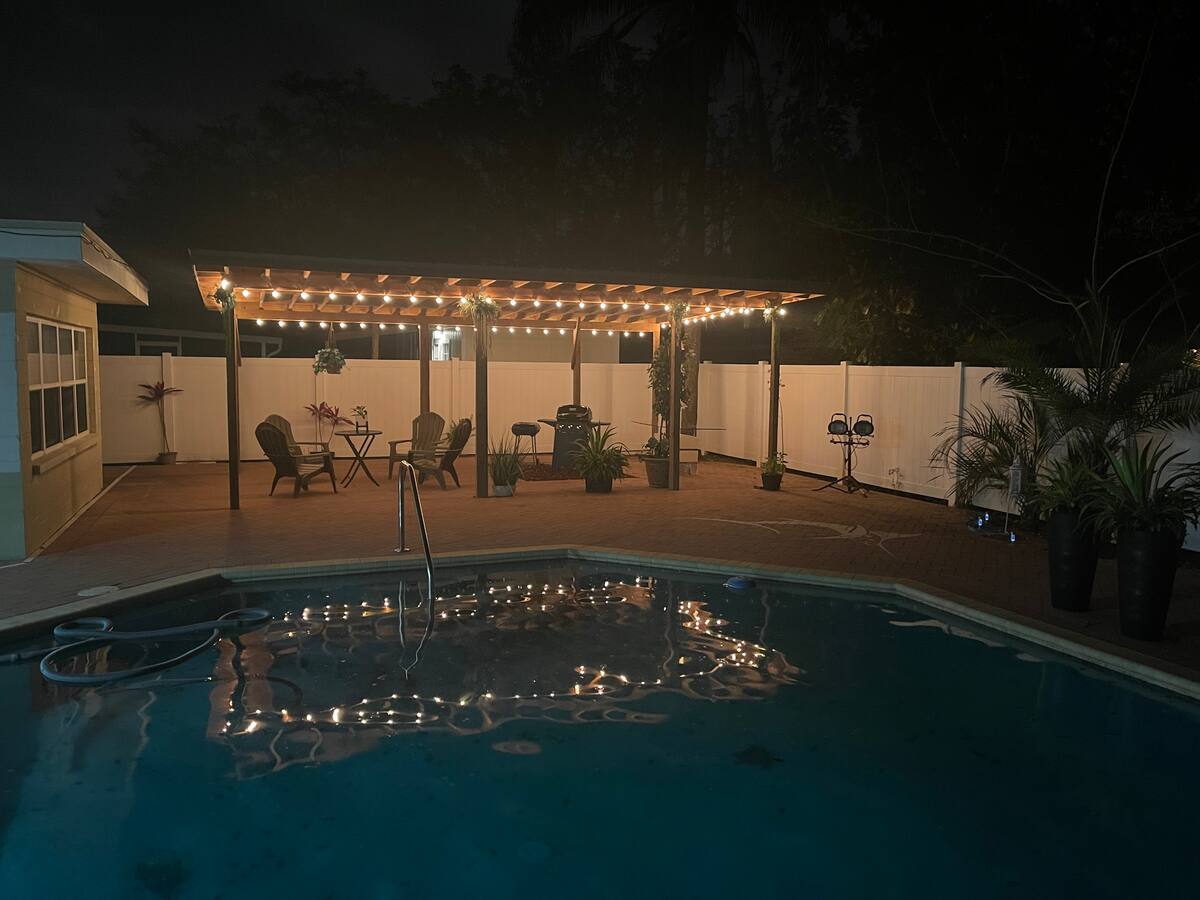 Villa Gonzalez is a pristine Airbnb rental in Tampa, Florida. This rental is an entire villa hosted by Lazaro, a Tampa native. The excellent location, positive check-in experience, and top-notch communication with the host ensure all your vacation needs are met.
With space for seven guests, including four bedrooms and four beds, you and your family won't feel cramped in the living space. Interior amenities seem endless, as the fully equipped kitchen, WiFi, crib, TV, and washer and dryer highlight the list. Lazaro even provides guests with safety and entertainment for a baby or toddler by providing baby safety gates and toys.
While the interior expresses the modern and tropical taste of the host, the exterior is where you will want to spend most of your time. The fully fenced, private backyard includes an outdoor dining area, charcoal, and gas BBQ grills. The best part is that your family can splash in the private pool while you're busy on the grill.
Beach access is granted directly from the rental, meaning you don't have to pack up the car to enjoy an afternoon on the beach. The location, variety of amenities, and attention to detail from the host make the Villa Gonzalez an excellent Florida family vacation Airbnb rental.
Conclusion
Whether you prefer Destin's calm, luxurious beaches or the popular and unique area surrounding Miami, Florida is packed with Airbnbs for your next family vacation. Airbnb ensures you will have everything you need to enjoy your trip, as the hosts pay attention to every detail and offer extras you won't get through a standard condo rental.
Enjoy the privacy of a pool in your backyard as you watch the sunset over the lake at Kissimmee Lakefront Villa. Or consider renting The Coral Beach House, steps away from the beach. No matter your preferences, there is an Airbnb out there that will make your vacation in Florida that much more enjoyable.
More about our TFVG Author
Caitlin is one of The Family Vacation Guide's long standing contributors. She enjoys taking vacation to busy, vibrant cities and has stretched her traveling legs out towards Europe in recent months, enjoying new experiences in Barcelona in Spain, and Nice in France.