The Florida Keys is one of the best areas to visit on a family vacation, especially if your family loves to play in and on the water. In this part of Florida, you can go swimming, sport fishing, boating, stand-up paddleboarding, kayaking, scuba diving, and more. 
Outside of the water, you and your family may want to check out the museums, galleries, cafes, and bars on Duval Street, tour Ernest Hemingway's former house, or view crocodiles at Crocodile Lake National Wildlife Refuge. 
But given the different "Keys" and plethora of accommodation options, many families wonder where they should stay during their trip.
This article lists 18 of the best Airbnbs in the Florida Keys for families to make it easier to select which one will be the most suitable for their needs and preferences.
Each of the following Airbnbs has enough room for a small family, with at least two bedrooms, while some have enough room for larger families or combined family events.
Keep reading to discover the Florida Keys vacation homes that'll work best for you! 
Bedrooms: 2
Standout Feature: 37.5 feet concrete dock
This waterfront home has a bright, open interior with two spacious bedrooms and a full bathroom. It's positioned on a 37.5-feet dock, so it's well-suited for a boat-loving family. 
You'll get views of the canal throughout the house, which brings a calming and natural touch to your stay. And if you want to get on the water immediately, you'll appreciate the two kayaks available for guest use, included free of charge with your stay!
This Airbnb is also walking or biking distance from major attractions in the area, such as the marina, Sunset Dock, and several restaurants.
You can also partake in other fun, family-friendly activities such as golf, tennis, basketball, basketball, basketball, pickleball, and more.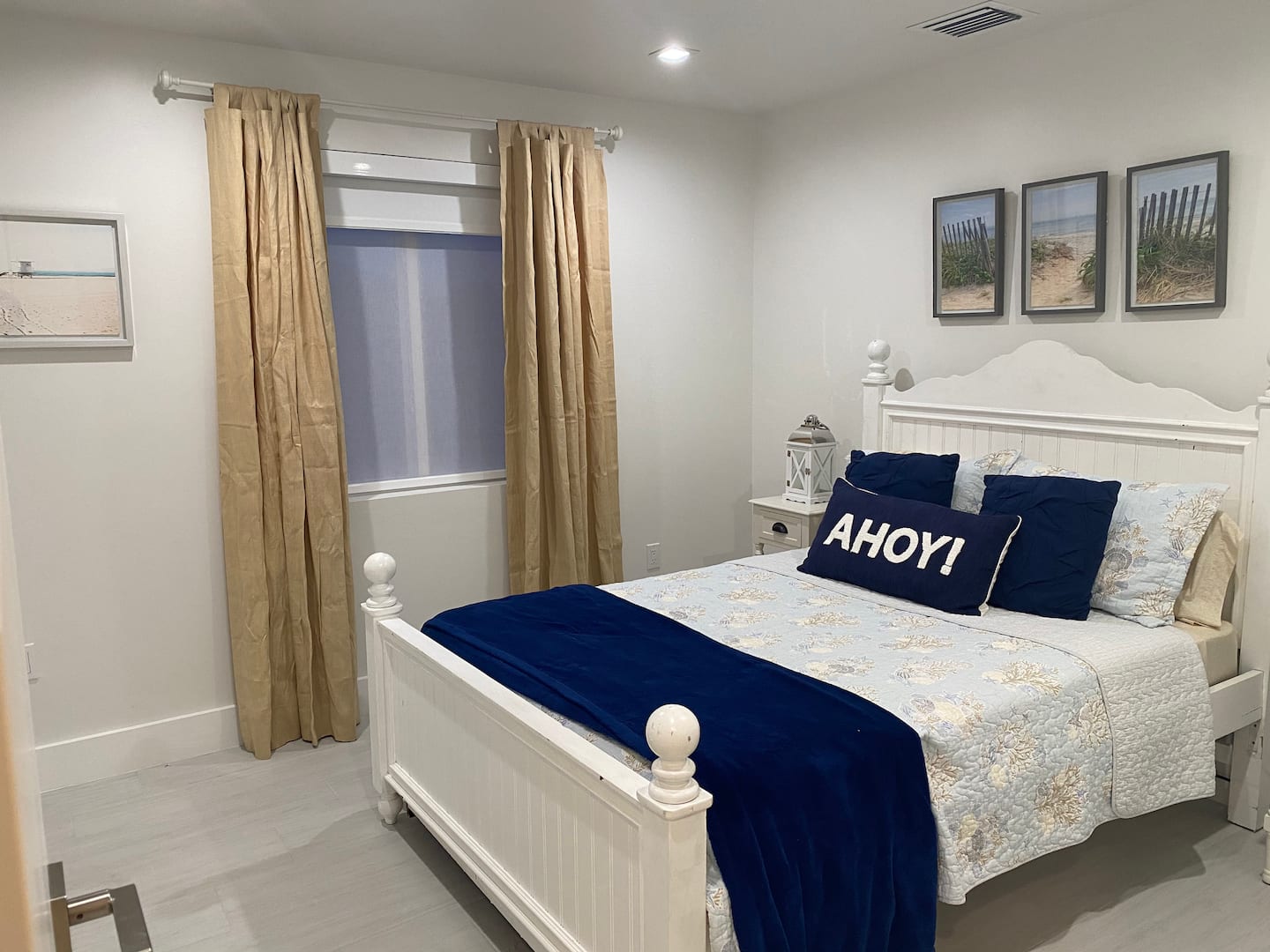 Bedrooms: 3
Standout Feature: Gated oceanfront community
This clean, comfortable, and luxury beach house is well-designed and newly constructed, suitable for modern families who pay attention to the details. With three spacious bedrooms and two and a half bathrooms, you'll have ample room for a family of 4-6 individuals.
This is also an excellent accommodation option for families who appreciate safety and security while having many entertainment options. It's within a gated community with a pool house, basketball court, tennis court, inflatable paddleboards, kayaks, and a BBQ.
Plus, if you have young children, they'll also appreciate the new playground on the premises.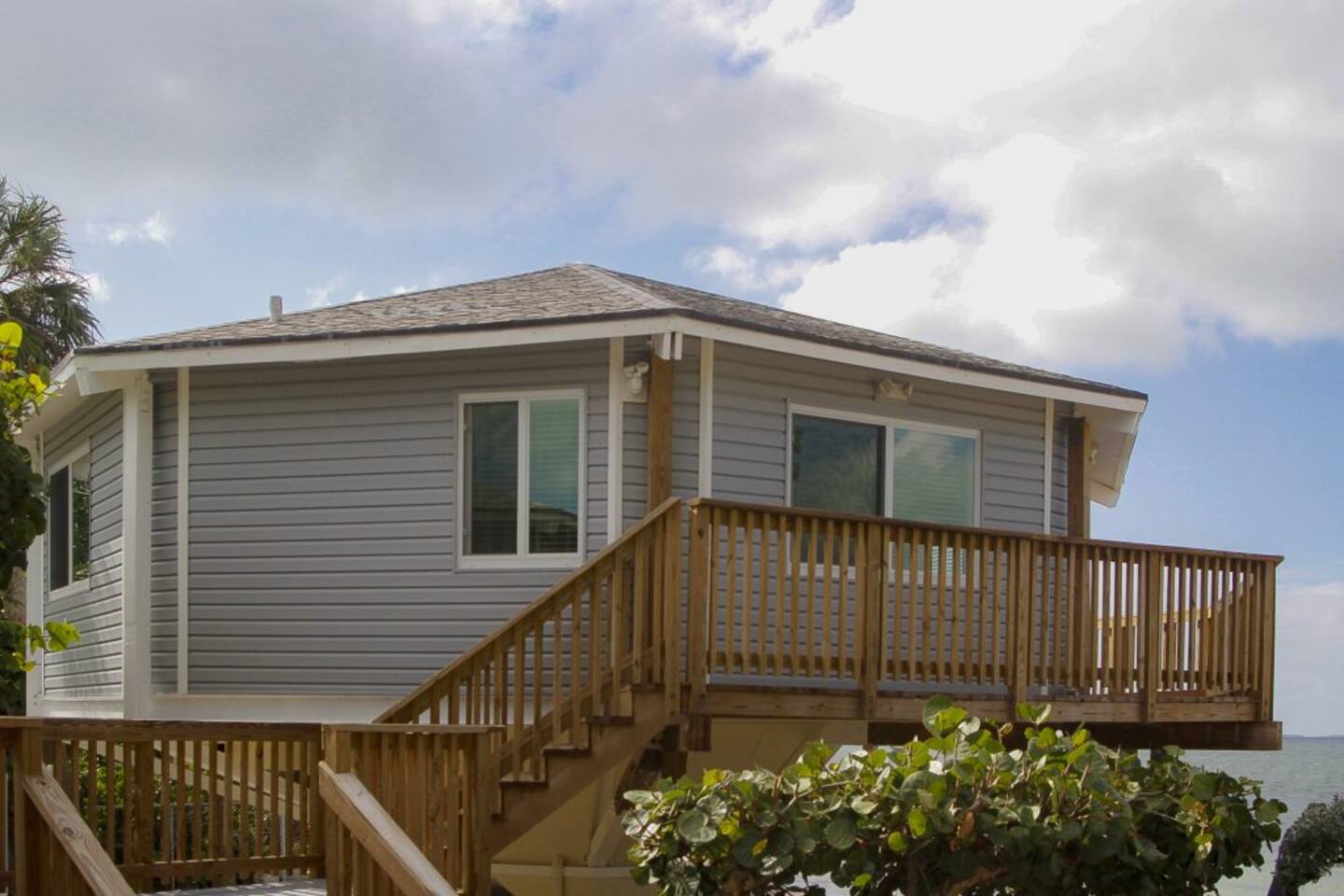 Bedrooms: 2
Standout Feature: Private beach access
The Topsider Resort provides guests with private access to a pristine, white sand beach steps away from their cozy family condo.
There are also many special amenities, such as a jacuzzi, heated pool, tennis court, etc. Your family can also borrow kayaks and bicycles to explore the area in an entertaining manner, both on water and land! 
Additionally, if your family has a boat, you can dock it on the resort's dock, free of charge – as long as it's 23 feet long or less.
You're not guaranteed the best ocean views because the views will depend on which condo you are assigned. Either way, you and your family will be able to access the beach from a short walk.
Plus, this Airbnb host has a high communication score and will make sure you have everything you need for a wonderful, comfortable, and memorable stay.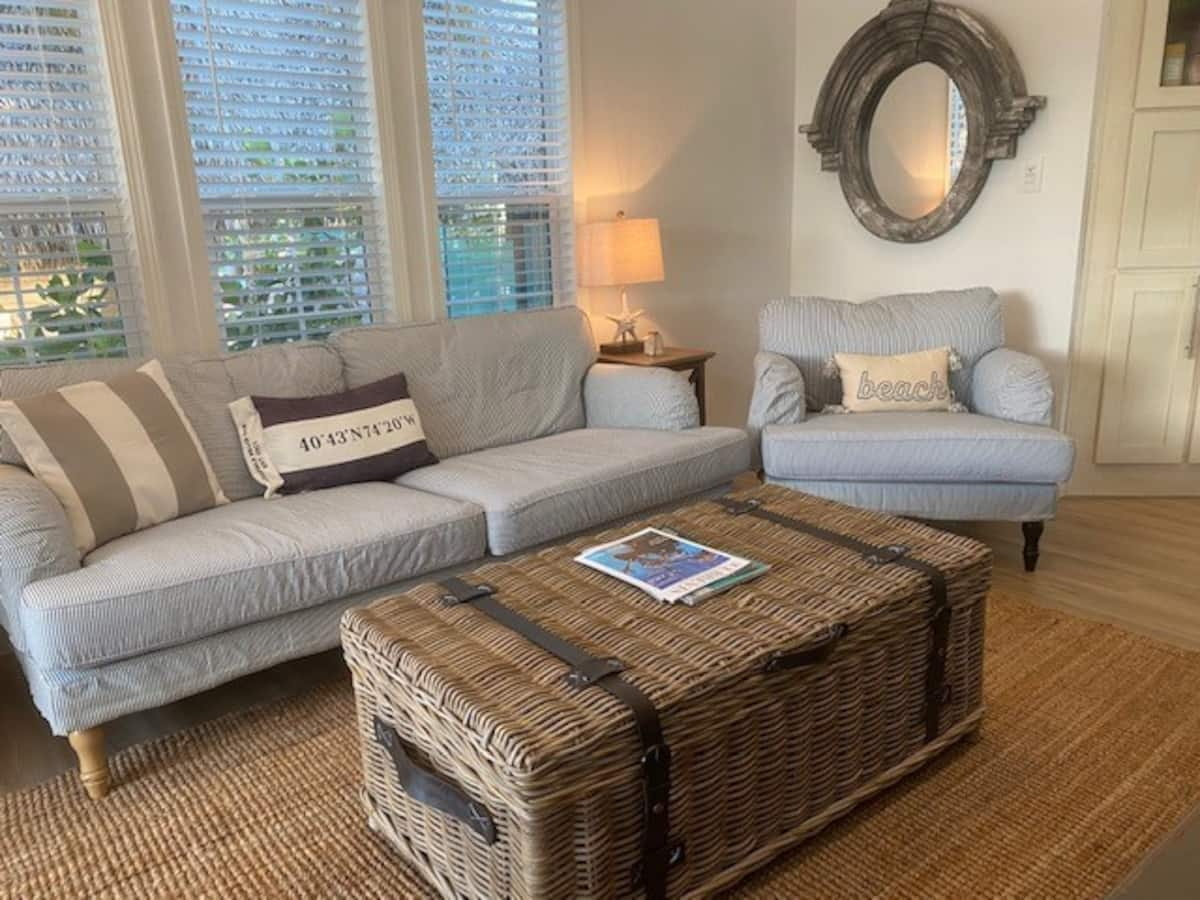 Bedrooms: 3
Standout Feature: Multi-purpose outdoor space
This Key Largo vacation home has a tiny house vibe and aesthetic while still being spacious enough for a family of four.
There is a semi-grassy hangout spot with cozy outdoor seating and lounge chairs on the deck, ensuring a restful and peaceful stay for any family.
It's an excellent place to stay for boating or fishing families because you can dock your boat or fish right off of the outdoor space. If you are bringing your own boat or jet ski, be sure to message the host and inform them ahead of time.
This Airbnb is also suitable for food-loving families, as the kitchen is well-stocked with pots, pans, utensils, and even spices. Plus, there is a BBQ grill in the outdoor area as well!
Finally, Key Largo is a lovely area for kayaking and paddleboarding, so you'll appreciate that two tandem kayaks and two paddleboards are available for complimentary guest use. 
5. Casa Fish – Key Largo, Florida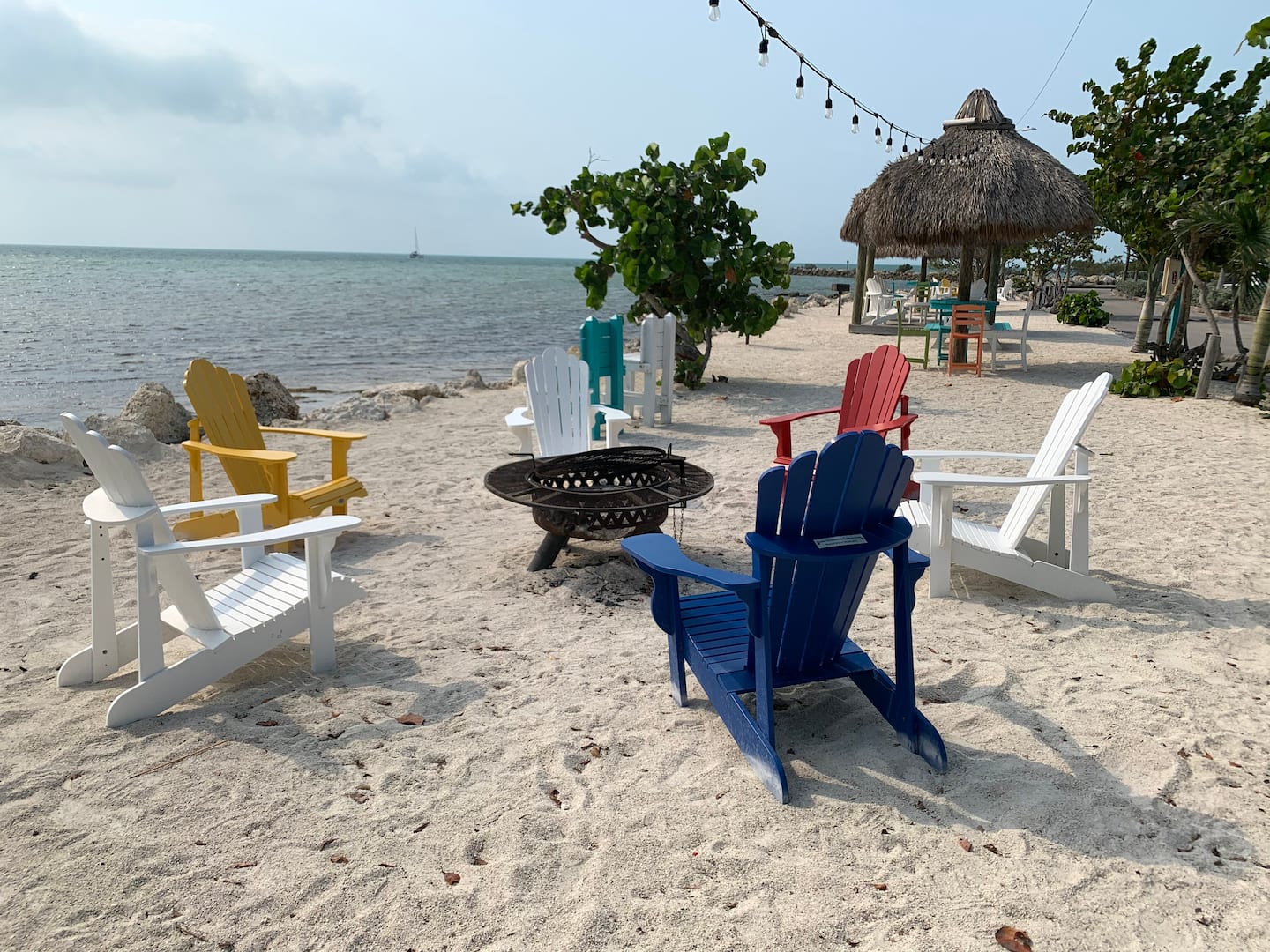 Bedrooms: 2
Standout Feature: Near a saltwater lagoon for snorkeling
Casa Fish is a comfortable, cozy Airbnb with a homely feel, located strategically in a friendly community and overlooking the nearby lagoon.
You can head to the lagoon to swim, snorkel, kayak, fish, or gather around a small beach bonfire.
On other days, you can hang out at a community pool right outside the condo. And if your family wants to switch things up, a second pool is within walking distance from the apartment. 
The condo itself is spotless, well-decorated, and well-stocked, with everything you need to cook your own meals. There is also a convenient gas BBQ on the front porch if you want to prepare some smokey meat and veggies outside of the kitchen.
If you prefer to eat out, you'll appreciate being near several tasty restaurants, such as The Fishery, Bayside Grill, The Pilot House, DiGiornos, and Mrs. Mac's.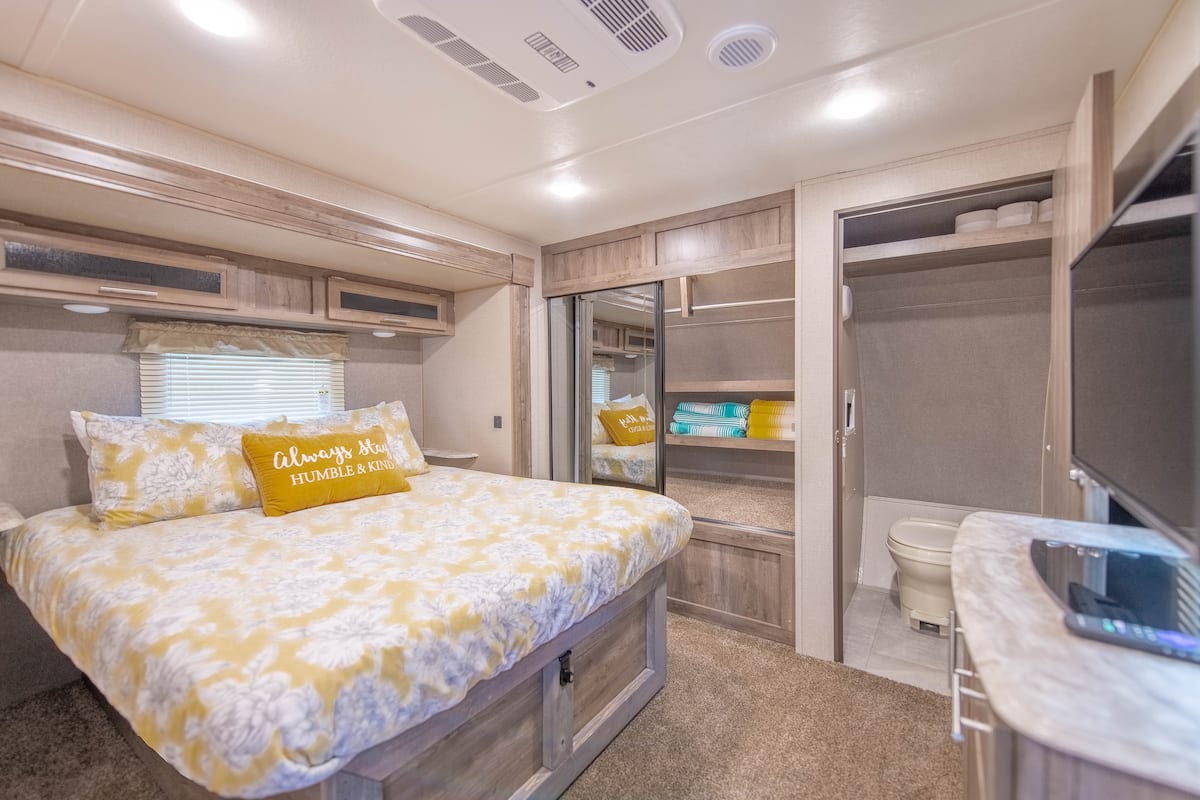 Bedrooms: 2
Standout Feature: Easy access to many forms of entertainment
Staying in a camper for your vacation is fun, simple, and inspiring. You'll feel like a true adventurous family when you stay in a trailer on a resort and campground that offers many amenities and easy access to a wide variety of aquatic sports.
You can use this camper as a base for going scuba diving, snorkeling, jet-skiing, kayaking, boating, and more. If you bring your own boat, you'll be able to dock it on the resort's boat ramp.
The inside of the camper is surprisingly spacious, equipped with two bedrooms, two smart TVs, and a full bathroom with a hot-cold shower so that you can maintain a few creature comforts on your adventurous getaway!
Your family can enjoy a covered patio area with a BBQ grill, ping pong table, and picnic table right outside the camper.
There are also two sinks that conveniently allow you to clean your outdoor gear without getting the inside of the camper dirty or cluttering up your sleeping spaces.
Finally, the resort itself will provide even more options for entertainment, such as a tennis court, basketball court, a playground, a heated pool, and relaxing beach hammocks. You certainly won't get bored at this resort.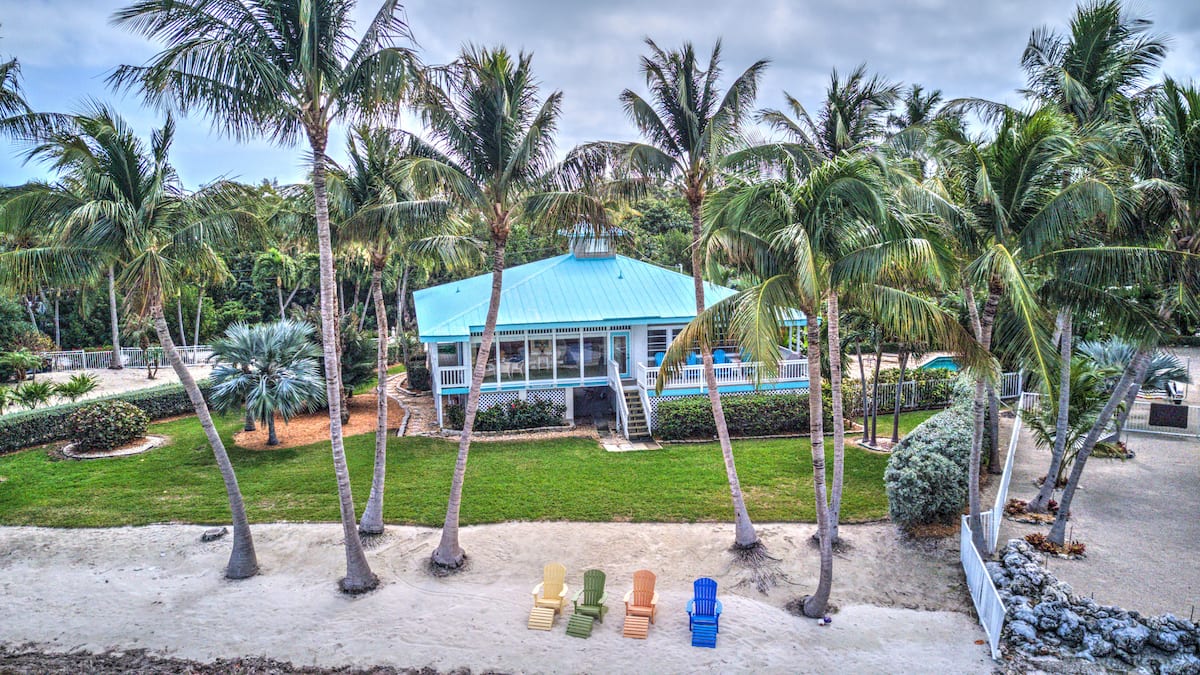 Bedrooms: 2
Standout Feature: Privacy
If your family is looking for a private, calming, and spacious place to stay away from the crowds, look no further than this incredible beach house in Grassy Key, near Marathon, Florida.
Everything within this home is high quality, from the kitchen amenities to the bedroom linens.
You'll have immediate access to the beach, right in front of the house, with four beach chairs ready to help you relax under the Florida sun.
Your family will also enjoy the private pool area with a highly tropical feel, complimenting the modern tropical interior design. You can choose to go swimming in the pool, snorkeling in the ocean, or fishing off the dock.
The host recommends that guests avoid laying directly under the coconut trees to avoid being hit on the head by a heavy coconut!
Bedrooms: 4
Standout Feature: Heated pool on the dock
This massive, spacious, four-bedroom home is well-located on a 200-feet wide canal. It has a big, 60 feet dock with a large heated swimming pool right behind it and a jacuzzi as an extra perk.
This Airbnb is an excellent option for a large, multi-generational family gathering, or a two-family vacation, given its spaciousness. It's suitable for 10-12 people to sleep comfortably and has enough dockage space for up to three boats.
Additionally, there is a large outdoor dining area, a living room area with a smart TV, a newly remodeled kitchen, and two hammocks for whoever needs some private relaxation time.
For safety purposes, especially in the Covid-era, the Airbnb staff disinfect the entire space with a hospital-grade ULV Fogger.
Also, keep in mind that you will need to heat the pool and the hot tub simultaneously, as one cannot be heated while the other stays cool. This heating system comes with an additional fee.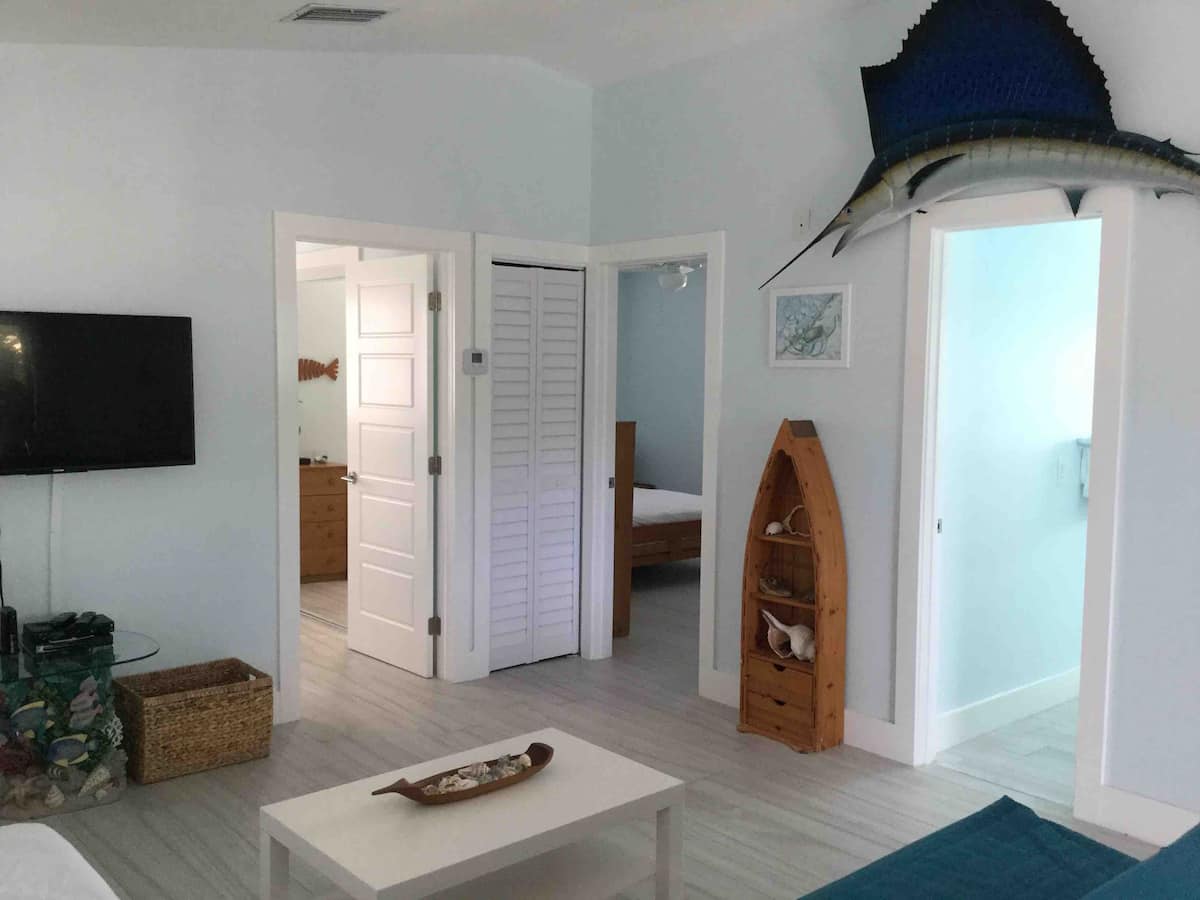 Bedrooms: 2
Standout Feature: Affordable base location for exploring the Keys
If you want to be right on the water or have easy access to the water from your accommodation, then this is not your vacation rental.
However, this home is super clean, relatively affordable, and easily accessible to various attractions across the Florida Keys.
Therefore, this is an excellent Airbnb choice for families who want a comfortable, well-positioned resting area for their on-the-go adventures and explorations.
There is a breezy veranda where your family can enjoy relaxing outdoor meals. It is also fenced all the way around, providing a safe and secure area for young kids to play in.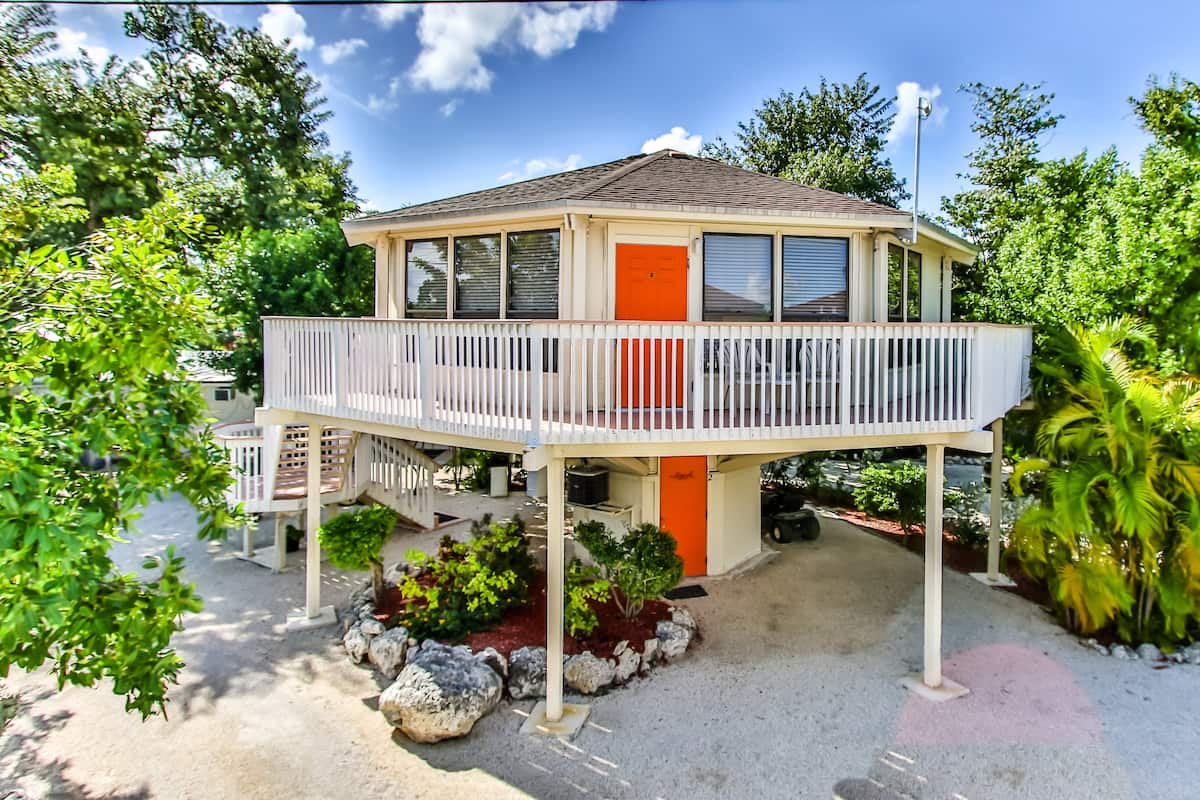 Bedrooms: 2
Standout Feature: Amenities for boaters and anglers
The wooden interior design of this Airbnb gives it a cozy, homey, and welcoming atmosphere that almost any family would love.
This is another excellent Airbnb option for exploring the Florida Keys as it is in a central position, especially considering the best fishing spots.
Although it can technically sleep up to six people, we would recommend this two-bedroom condo for a family of four, as there is a queen bed in the Master bedroom and two twin beds in the second bedroom.
However, it is feasible to sleep two more people on the sleeper sofa in the living room and still have a comfortable and enjoyable stay.
There are numerous activity amenities available for complimentary guest use right onsite, including but not limited to bicycles, kayaks, and canoes. There is also a heated pool, tennis court, shuffleboard court, BBQ grills, and a boat ramp – all onsite as well.
If you love fishing, you'll also appreciate the community's convenient fish-cleaning station.
Overall, this is a well-equipped, conveniently located, super clean, and cozy space that's perfect for boating and fishing families.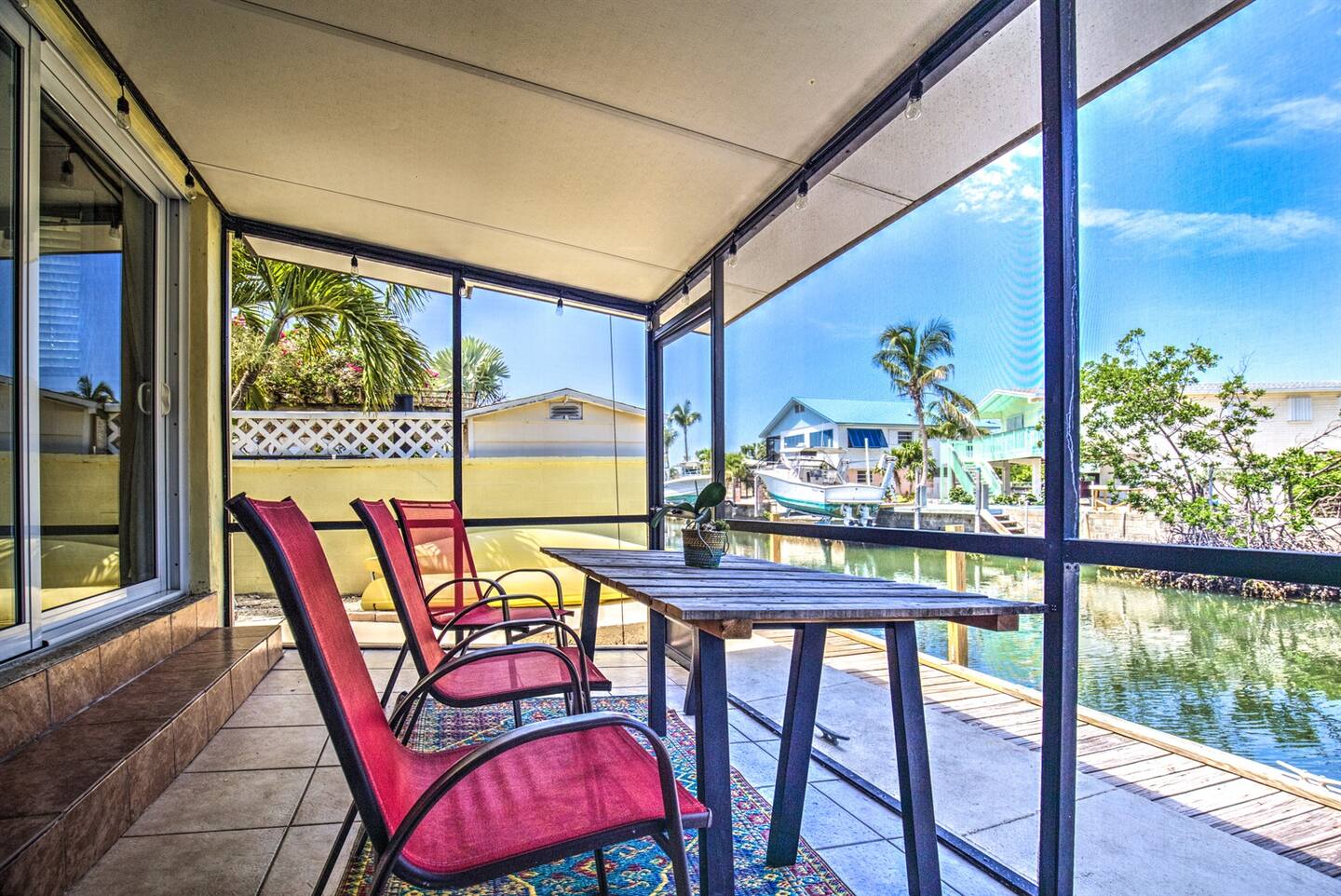 Bedrooms: 2
Standout Feature: Boat dock
Guests may appreciate the various shades of blue inside this comfortable Marathon home. This canal front, 2-bedroom accommodation allows renters to dock a boat up to 24-feet long right out front and park up to four cars in the driveway.
This house is ideal for a boat-loving family, and your family can take a boat ride through the canal and reach open water in 20 minutes. If you don't have or want to rent a boat, you can use the kayaks provided to row down the canal that way instead.
Further, this is an excellent choice for long-term stays given the fully-equipped kitchen and inclusion of a washer and dryer.
This Airbnb sleeps up to six people but is not as spacious as some alternative options. Thus, we recommend this stay for a family of up to three or four people. 
Additionally, since there is no gate between the sideyard and the canal, this Airbnb is more suitable for families with older children than young kids or babies.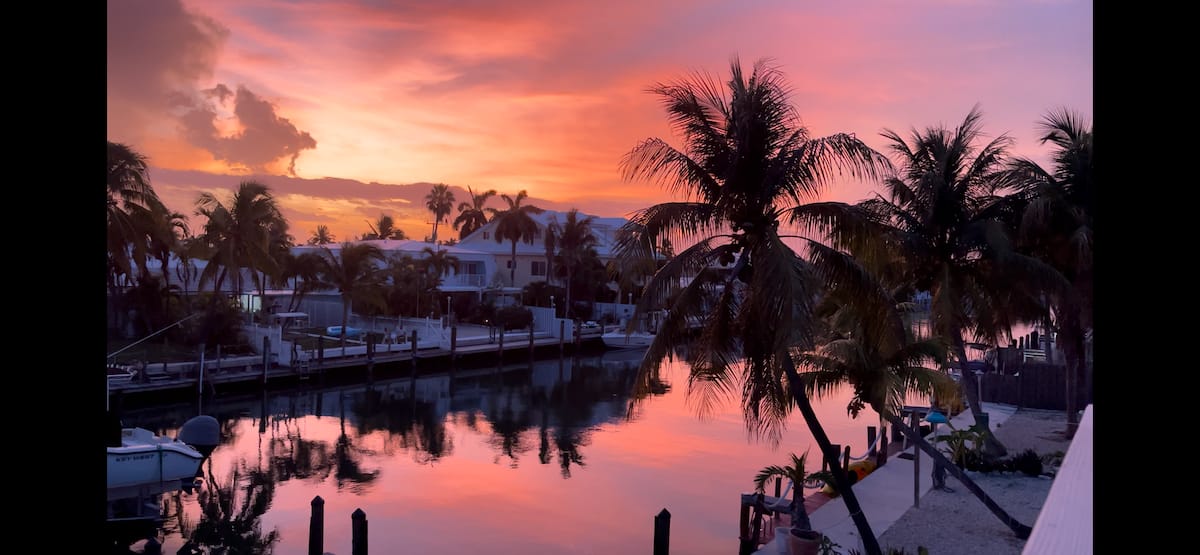 Bedrooms: 3
Standout Feature: Pool, beach, and gym membership
The Second Wind home on Key Colony Beach is perfect for families looking for a longer-term stay or seasonal vacation home.
Membership to two pools, a white sand beach, and a gym are all included. Plus, the Airbnb is well located as it's only a two-minute walk to famous Sunset Park. And although there is no dock available on site, there is a public use dock located only 1.5 miles away.
Additionally, your family can enjoy several activities provided by the space, including biking, kayaking, and paddleboarding. In the Key Colony Beach area, it's common to go golfing, charter fishing, and diving.
Your family can also access basketball, tennis, and bocce ball courts for additional entertainment. Your younger kids can enjoy the children's playground that is within walking distance from the accommodation. 
The space itself is open, bright, and airy, with only a slightly tropical design to maintain a more clean and modern overall look.
Bedrooms: 3
Standout Feature: Beachfront
This beautiful, quiet, and safe two-story home has everything a family needs to enjoy staying in Key Largo and exploring the greater Keys area.
It's a comfortable, modern, clean, spacious, and open-concept home with an interior design that's agreeable to many tastes. If your family is a motley crew that has difficulty agreeing on things, this might be a vacation home that everyone can get behind.
Plus, the home's location is the best part, positioned right on the beach in front of the sea. You'll have access to a sandy, relaxing backyard with comfortable lounge chairs, a sea view patio, and a small, refreshing pool for quick dips.
This accommodation does not provide kayaks, but you can rent them – along with jet skis and paddleboards – at rental shops within walking distance.
When you've had enough adventure for the day, your family can relax on the couch, enjoy cable on the flat-screen TV, or get dinner at one of the nearby restaurants.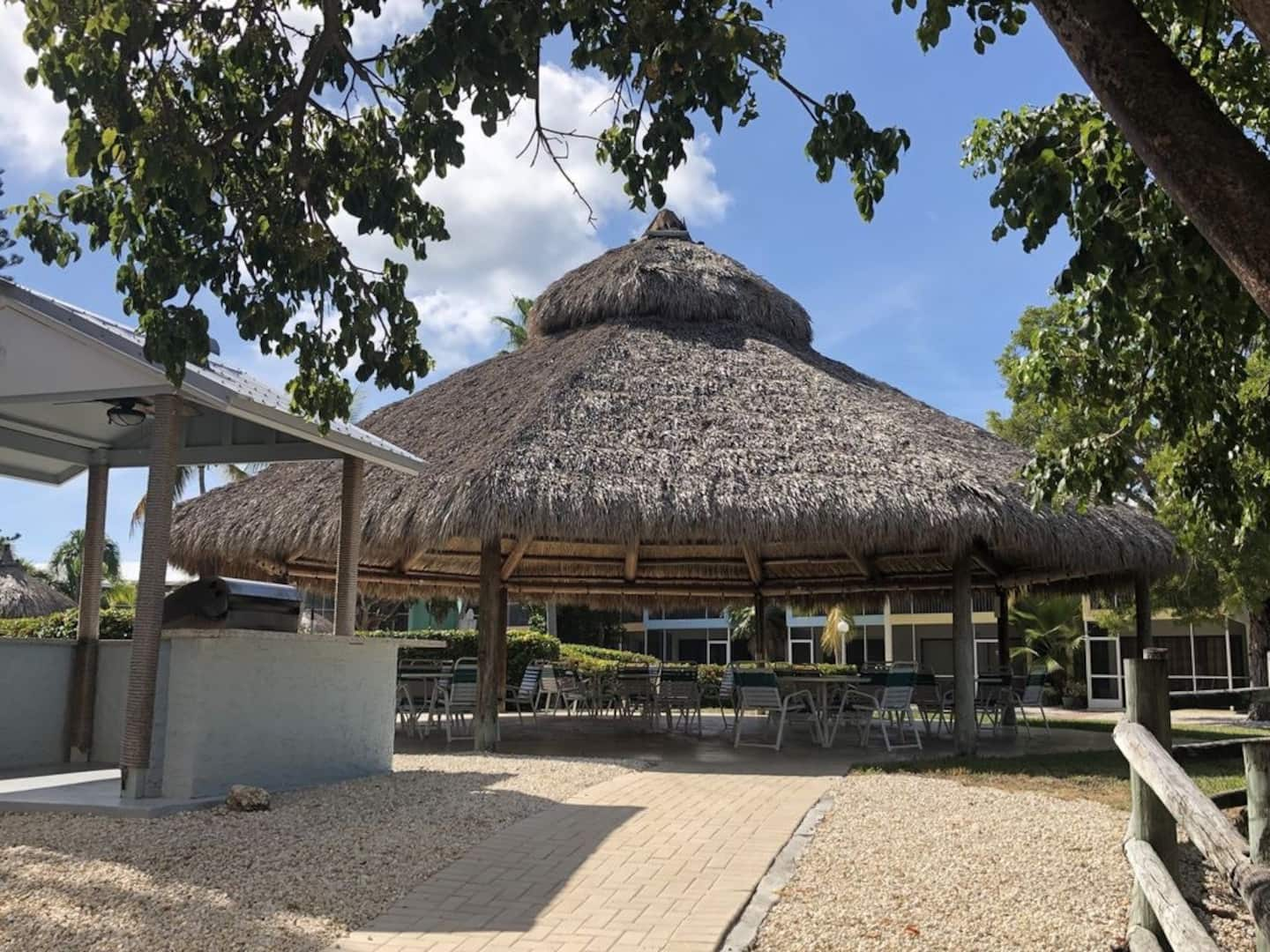 Bedrooms: 3
Standout Feature: Free golf cart
This highly-rated waterfront vacation home is similar to Seaview Escape above in that it provides easy access to the water. However, this option is more suitable for larger families, as it can sleep up to eight people.
Additionally, there are many amenities and gear included in this Airbnb rental. You'll have complimentary access to two pools, four kayaks (two adult and two kid kayaks), two bicycles, two tennis courts, free car parking, and a free boat ramp.
Your family will also be able to take full advantage of a free golf cart, making it that much easier to explore the neighborhood – and more fun too!
Your family will also enjoy being able to dip into the saltwater lagoon for a swim, and your young ones can enjoy the Pirate-themed playground.
The home itself is well-stocked and even includes teas, spices, and canned goods in the kitchen. Additionally, the water out front has a beautiful coral reef, making this home a wonderful place to stay for snorkelers and divers.
Keep in mind that while many Airbnbs allow you to rent if you're at least 18, this Airbnb requires you to be 28 years of age, so younger families may need to find a different option.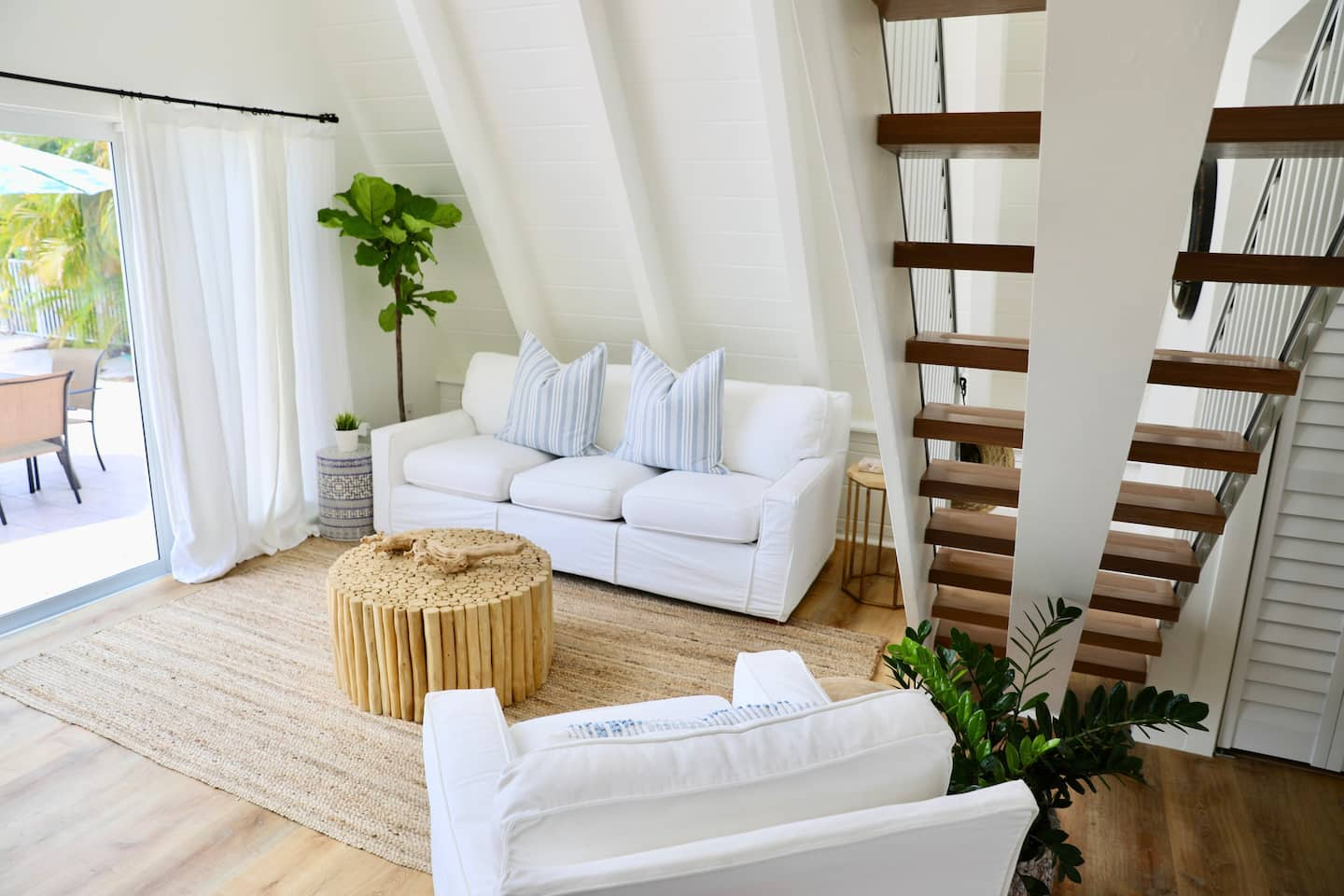 Bedrooms: 2
Standout Feature: Aquatic viewing from the dock
A Beach Bungalow is a relaxing and welcoming home away from home right on the water.
It's a charming, private A-frame home with a yard and a dock that provides ample space for both relaxation and play. You'll also have access to a large shared pool for fun and refreshing dips.
Inside, you'll find a well-equipped kitchen, a flat-screen TV, and a bright living area. The design is elegant and straightforward, which is a nice change of pace from the overly-tropical designs that some people may find distasteful (e.g., seashells, beads, fake hanging lobsters and crabs, etc.).
One of the most notable aspects of staying at this beach bungalow is the aquatic life and wildlife you can view right from your private dock. Guests have seen a number of animals, including lobsters, bull sharks, iguanas, manatees, and more.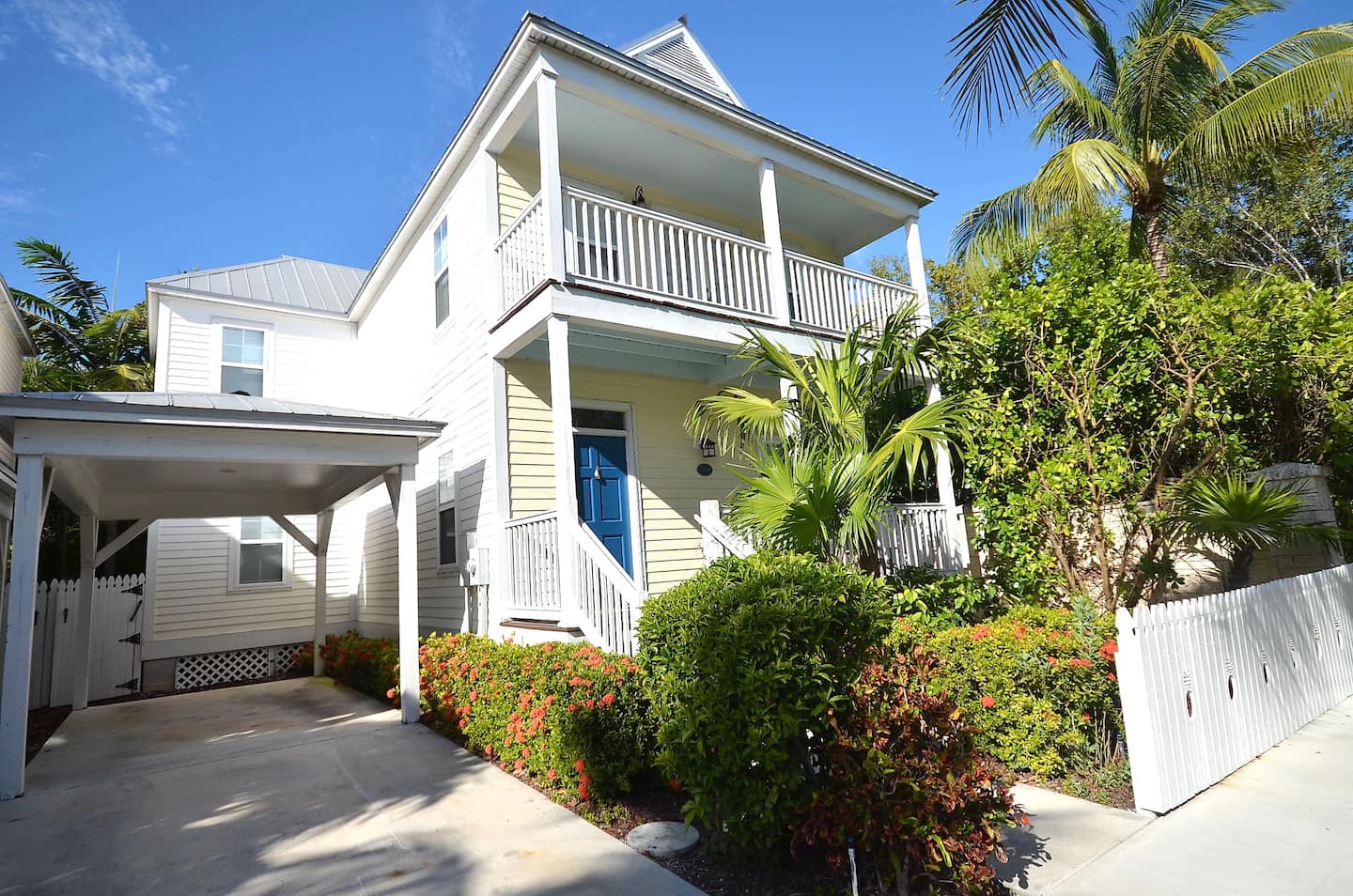 Bedrooms: 4
Standout Feature: Private pool
If you're looking for a larger private home for a big family gathering or simply for the ability to have more space, then the Sanctuary Villa might be a nice option for you.
This villa has four bedrooms and can accommodate up to 10 guests, although six to eight might feel more comfortable.
This villa has an agreeable interior design, with darker touches for a more calming effect. Additionally, it has a private backyard pool, which is a great space for the family to come together and hang out at the end of an adventurous day. 
You'll have access to a BBQ grill, where you can cook up some delicious food while admiring the surrounding tropical trees.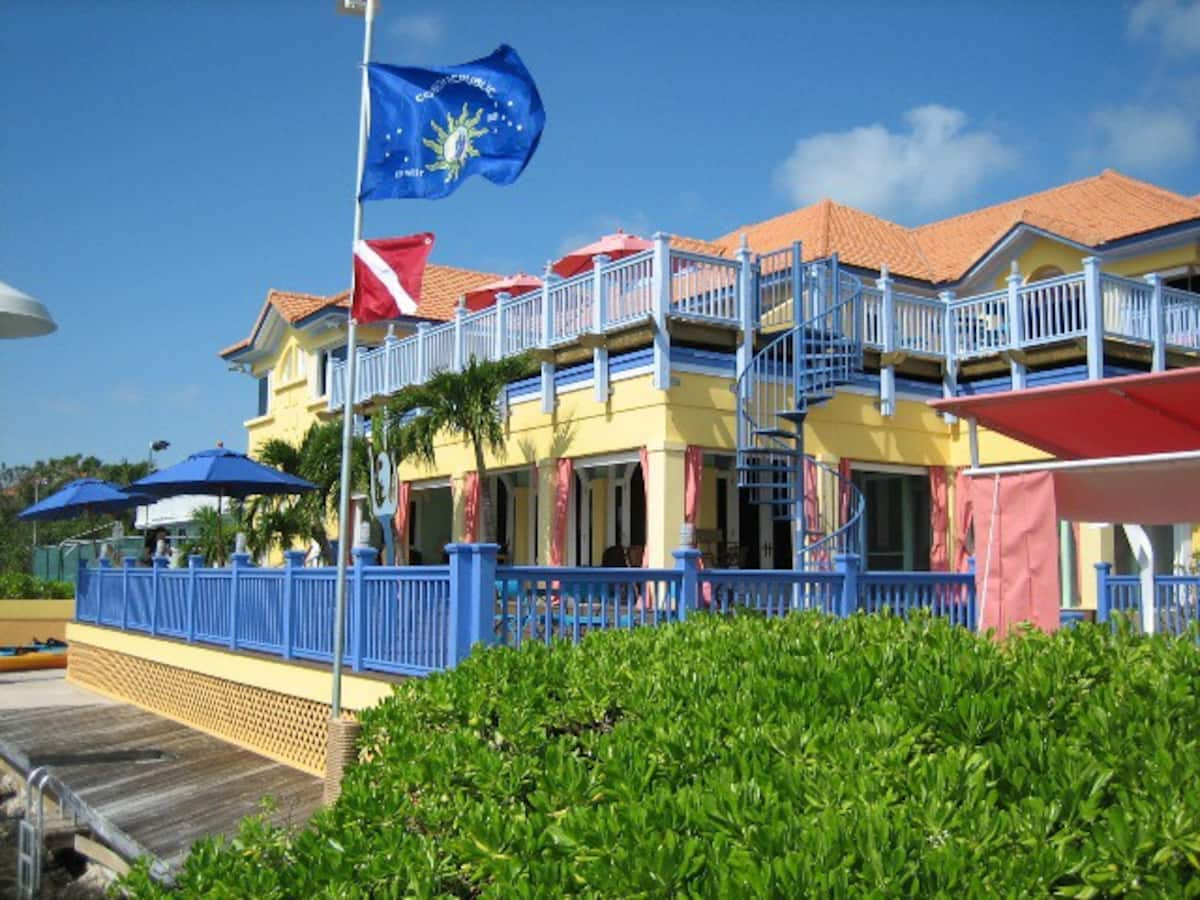 Bedrooms: 10
Standout Feature: Entertainment and massive space
If you watched MTV's 2006 Real World in Key West, you might recognize this vast, colorful, and arguably gimmicky house.
And if you and your family want to pretend you're on a reality show or simply admire the wild, bold design, this could be a fun, entertaining, and comical place to stay.
The house has ten bedrooms, with the ability to sleep up to 20 people, making it an excellent location for a large family reunion, multi-family vacation, or special event.
You can do many activities at this private resort, from playing tennis or racquetball to paddleboarding to watching a movie on one of the 14 plasma screen TVs.
You can also relax on the hammocks, play basketball at the onsite basketball court, or relax near the ocean right outside. There's also a pool, outdoor hot tub, sports deck, and pretty everything you can think of for a highly entertaining time.
Bedrooms: 3
Standout Feature: Right on the beach
If your idea of a perfect vacation includes being able to walk from your front door right onto a vast beach with white sand, tall palm trees, comfy lounge chairs, and a relaxing hammock, then look no further than this high-value Vacasa Florida home in Islamorada.
You must stay for 28 days or longer, so this is an excellent option for a family looking for a full-season home-away-from-home.
This family-friendly retreat offers plenty of perks and freebies, including four beach cruisers, beach chairs and umbrellas, an outdoor shower, a boat dock for shallow boats, and a screened-in back patio for when you want to enjoy the sea while staying out of the sun.
You'll also be close to plenty of Islamorada attractions, such as the Indian Historic Key State Park, the History of Diving Museum, the Keys History and Discovery Center, and the Theater of the Sea.
Remember that with palm trees comes falling coconuts, which may not be ideal for very young kids who'd like to play freely on the beach.
Conclusion
There are plenty of fantastic vacation rental homes throughout the Florida Keys, and we've listed 18 of the best Airbnbs in the Florida Keys for families in particular.
We hope that this article helps you and your family choose the most suitable accommodation for your vacation needs and dreams!