Although airboats were invented in Canada about 100 years ago, they have become a crucial staple in the tourism industry of sunny Florida.
Airboats are small boats with flat bottoms that cruise through mostly inland, shallow waters. These unique boats come equipped with giant fans that serve as a propeller, driving these contraptions through the water.
Sounds like fun, right?
Today we're going to talk about 12 of the best airboat tours in Florida for you to check out while you're on the vacation of a lifetime.
Reasons to Head Out on an Airboat Tour During Your Vacation
If you've never heard of an airboat tour, you're missing out!
Traditionally, many airboats are used for recreational and even military purposes. The US Coast Guard implements them into their boat fleets, while the average, everyday person often uses them for fishing and hunting.
But the tourism industry noticed these boats and recognized that their large size, open concept, and smooth ride were perfect for showing visitors all the aquatic wildlife and views.
When you go on an airboat tour, your guide directs the boat through portions of calm and usually shallow waters in an effort to get you the best views of the nature around you. And naturally, there are many pros to taking an airboat tour during your Florida vacation:
Airboats have flat bottoms, which make for a smooth, comfortable ride
Most commercial airboats travel around 40 mph, which can be very fun and exciting
Airboat tours give you access to shallow and narrow waterways, which you couldn't otherwise see
Airboat tours give you an up-close view of nature and aquatic beauty
Airboat tours are very informative and educational, making them perfect for family outings
If you've got a gap in your plans for your Florida vacation, consider filling that time with an airboat tour. You and your loved ones can learn a lot about the area's waterways and hopefully see tons of wildlife like gators, eagles, fish, birds, and more.
You can find locations that offer airboat tours throughout the entire state of Florida, which can be pretty overwhelming. So, we've put together a list of our 12 favorite airboat tours in the state below.
Wild Florida is a highly popular Orlando airboat tour that lets visitors and locals alike explore the famous Everglades. With experienced captains on board and in charge, guests have a real chance to see exciting wildlife like gators and eagles.
One of the reasons we love Wild Florida is because all of its airboats are US Coast Guard approved. The location also provides jackets and ear protection for all of its guests, leaving you with one less thing to worry about.
So, if you're traveling with little ones or simply get nervous around boats, there's nothing to fear; you're safe with this team.
Wild Florida is more than happy to discuss its airboat tours over the phone with you. You can book via phone call or online, and the location offers discounts for groups of 10 or more.
For an additional cost, guests can also book an animal encounter. You can choose from one of their current animal options: sloths, giraffes, gators, porcupines, and more.
Wild Florida also offers a safari experience where you can ride through their grounds in a van and experience real Florida wildlife.
Located in Fort Lauderdale, Florida, the Everglades Holiday Park airboat tours are some of the best the state has to offer.
When you book your adventure with Everglades Holiday Park, you sign up for a unique experience with the Everglades, alligators, and nature.
These tours are 60 minutes long and come fully equipped with experts who narrate the whole journey. The airboats peak at speeds of almost 60 mph for an exciting and fun ride that you won't soon forget.
In the case of the Holiday Park, education is anything but boring. Whether you're a child or an adult, you can enjoy the breathtaking views of the Everglades while learning a little something along the way.
One of the stand-out features of Everglades Holiday Park airboat tours is that the company offers one of the only covered airboat experiences in the area. The premium boats are not only safe but comfortable as they protect you from the hot Florida sun.
The park is always running group deals and special events, so you should check out their website before settling on your adventure.
Boggy Creek Airboat Adventures is famous for its airboat tours in Orlando. This location offers both half-hour and one-hour tours, along with VIP private tours. The half-hour ride lets you quickly explore Florida's marshy wildlife, while the hour-long ride lets you get even deeper.
In addition to these options, you can also book a sunset tour or a night tour. The first gives you a front-row seat to the beautiful sunset over the water. This exciting tour gets you up close and personal with both daytime and nighttime wildlife.
The latter tour brings you through the water at nighttime, introducing you to an adrenaline-pumping world and taking you deep into the unknown. Many of the wildlife in Florida's water are nocturnal, such as the American Alligator, so a night tour may just show you something you won't see during the day.
We're not sure what we love more: the US Coast Guard inspected airboats of the all-inclusive ticket bundles that include your ride, lunch, a gem mine, and admission to the Boggy Creek Park.
No one offers you a more interactive airboat ride than Captain Jack's Airboat Tours.
The Mangrove tours offer an exciting glimpse through the Everglades, where riders wear headsets so they can hear their tour guide even better.
When you book a tour with Captain Jack's, you also get free admission into the Animal Sanctuary, where you can explore wildlife even further. Current packages also include free alligator hugs and a trip to the alligator show.
Captain Jack's runs its airboat tours 365 days a year, so no matter when your vacation is, you will always have a chance to visit. Each captain of the safe and smooth airboats has tons of knowledge about history, folklore, and wildlife, keeping you entertained and educated.
These tours focus particularly on the Mangrove tunnels in addition to zipping through water and plants. You will always have a captain who is licensed by the US Coast Guard, as well as highly maintained boats and a close-up view of Florida's coolest creatures.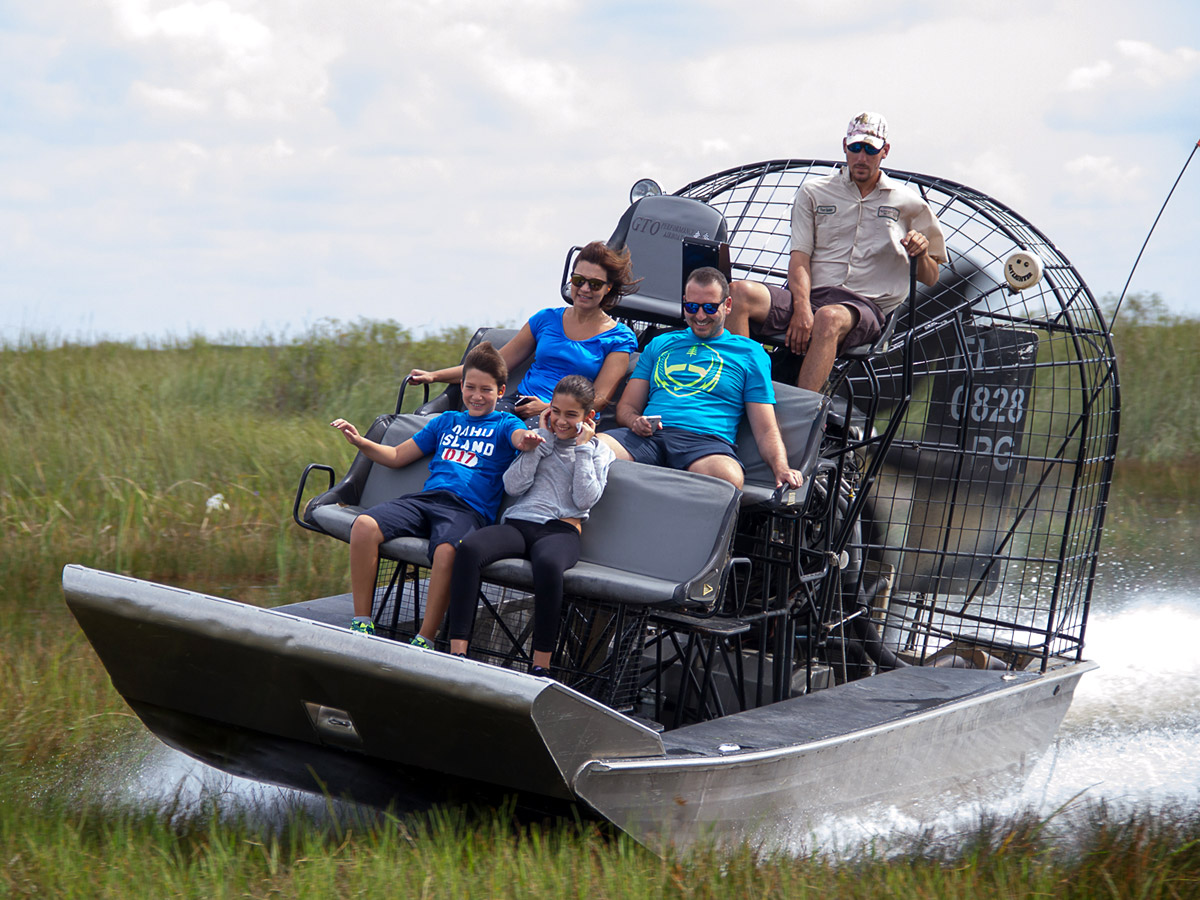 Gator Park is a reputable airboat tour that works directly with the Everglades National Park. In fact, you can book your reservations directly through the national park's website, so you know it's a location you can trust.
Gator Park is all-around just an awesome business to work with. Its staff is always friendly and knowledgeable, with excellent customer service and approachable workers.
You can expect your tour with Gator Park to begin by following the canal down to the rivers of grass. The expert tour guides are very intelligent and experienced; they will even give you tips on how to spot alligators, turtles, birds, and more.
Your tour will explore the vast wetlands of the Everglades, using high-performing airplane propellers to keep the boats moving quickly. You can hop on a tour with others or book a private trip – the choice is yours!
In addition to these tours, this Miami-based business also has a fun souvenir shop, dining options, and wildlife shows for a full day of fun and learning.
Orlando beaches and city life are fun for a while; the Wild Willy's focuses on offering an escape from manmade adventures with an all-natural experience.
Wild Willy's Airboat Tours offers standard and private tours in either a 6-person airboat or its newly added 14-passenger boat. All of its captains are fully insured and fully licensed, giving you a worry-free adventure from start to finish.
Wild Willy's has accumulated over 6,000 positive reviews online. Its one-hour tours are affordable and provide the perfect way to connect with nature.
On the tour with Wild Willy, you're likely to see alligators, snakes, bald eagles, snails, and more. The tour guides will tell you all about the area while keeping an eye out for the resident gators: Sergio, Blue, Cricket, and Splash.
You can count on your guides to be not only knowledgeable but funny, personable, and above all, safe. The whole crew at Wild Willy's makes every guest feel at home, and the extensive online photo gallery gives you an idea of what this experience is like.
If you're looking for some of the best touring of the Everglades, you won't want to miss out on a day of adventure with Wooten's Everglades Airboat Tours. Located in sunny Ochopee, Wooten's has been operating since 1953 and offers a wide range of experiences.
The business has 259 acres of private property, including large portions of the Everglades. It provides guests with standard airboat tours along with private experiences and extended tours. The animal sanctuary is home to over 100 alligators as well as tigers, lions, otters, and other animals.
Wrap up your trip with some refreshments and a trip to the gift shop, or extend your visit with the live alligator show. The experts at Wooten's show you what it's like to hug an alligator in a safe and exciting experience.
Wooten's knows what every group needs, so be sure to check out its website for more information. The tours are surprisingly affordable, and you can find options for an exclusive small tour and discounts for large groups.
This tour business even offers options for educational field trips, making it perfect for students. Just ask the friendly staff at Wooten's, and they'll help you find the best package for your plans.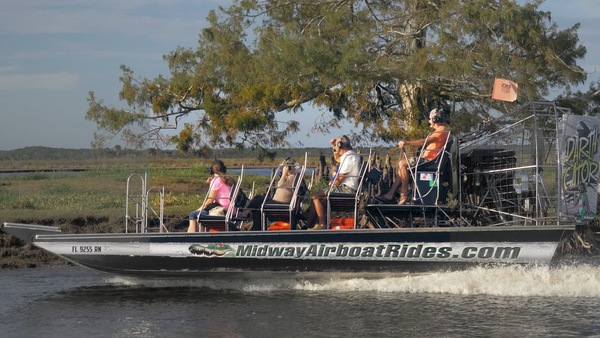 Airboat Rides at Midway delivers the perfect experience, where you come for the airboats, but you stay for the animals. The features offered at this location will have you signing up faster than you can say "airboat!"
At Midway, all of the airboats are captained by US Coast Guard Master Captains. These professionals have military-grade experience and knowledge, so they truly know what they're doing.
Additionally, the boats at Midway are all a part of a custom fleet – all of which have been thoroughly inspected and certified by the Coast Guard, too.
Every guest on board one of Midway's airboats gets their own set of two-way communication headsets. You can clearly hear your guide's instructions and narration, and you can ask questions along the way.
Stadium seating in the boats ensures that everyone has the best seat in the house. They are engineered for visibility, and they guarantee you don't miss a thing.
You can finish off your trip to Midway with a free alligator encounter. Everyone who wants to can hold an alligator and capture a once-in-a-lifetime picture, and that sounds like an adventure that you don't want to miss.
Fort Lauderdale has tons of access to the Everglades; the Sawgrass Recreation is the perfect avenue into those wetlands. Named Travelers' Choice by Tripadvisor in 2020, this location has a strong reputation and tons of packages to back it up.
Sawgrass has six main packages available for purchase: Everglades Airboat Adventure, Gator Nights, the Annual Pass, the Adventure Package, the Deluxe Adventure Package, and the South Florida Adventure Pass.
These packages offer a wide range of inclusions, such as the Adventure Pass, which includes an airboat ride and access to the animal exhibit.
One of the most popular bookings is the Everglades Airboat Adventure. This airboat tour takes you on a ride hitting speeds of 40 mph through the Everglades. Following this exciting ride, guests can explore the exhibit to see over 100 reptiles and mammals – and even meet a baby alligator.
Sawgrass also has food for purchase, but even more exciting than that is the Gator Nights Airboat Rides. You can take a walk on the wild side and explore the Everglades at night when all the wildlife truly comes to life.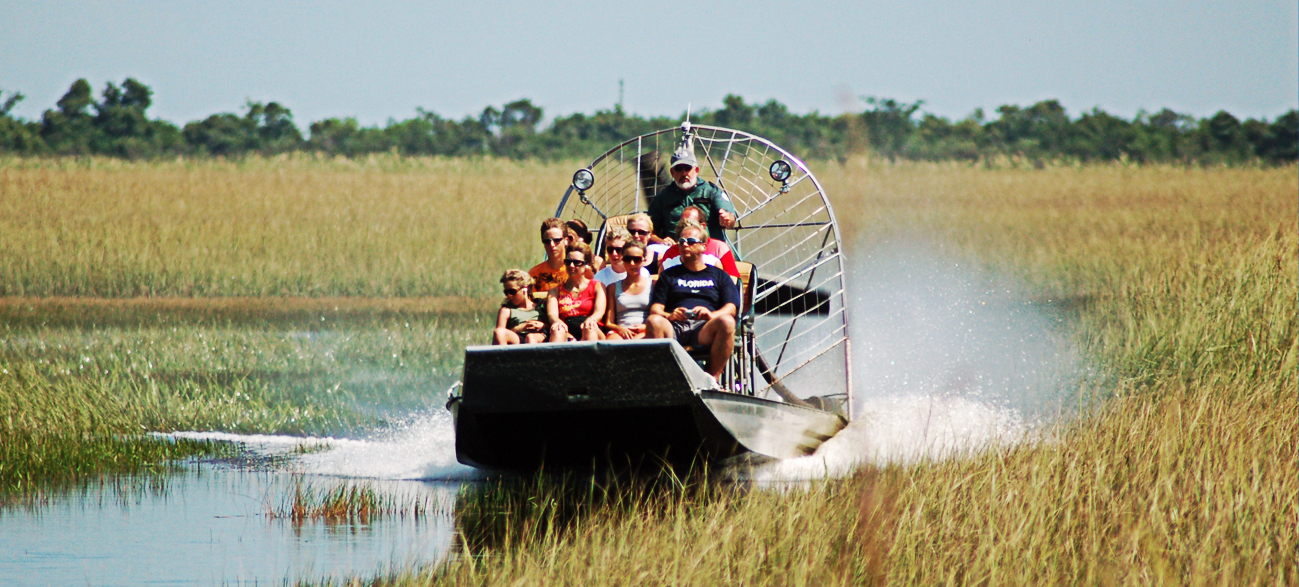 Miami is so much more than parties and beaches, and Coopertown Airboats knows that. The small, friendly town of Coopertown is home to only eight residents, but it offers the perfect entry point to Florida's Everglades.
Though small, Coopertown Airboats is mighty and has a lot to be proud of. This business has been used in several TV and film productions over the years and has hosted numerous magazine photoshoots.
It's also been rated #1 for airboat tours by the Miami Herald over the last 60 years.
Coopertown has seven airboats, but the largest of the group can seat a whopping 24 people. Its smallest boat seats just two people and is perfect for private tours or professional work.
Coopertown Airboat tours cover about 9 miles of wetlands, getting you close to the Coopertown gators and other wildlife. The location also features an exciting restaurant with tasty delicacies like gator tails, catfish, frog legs, and more.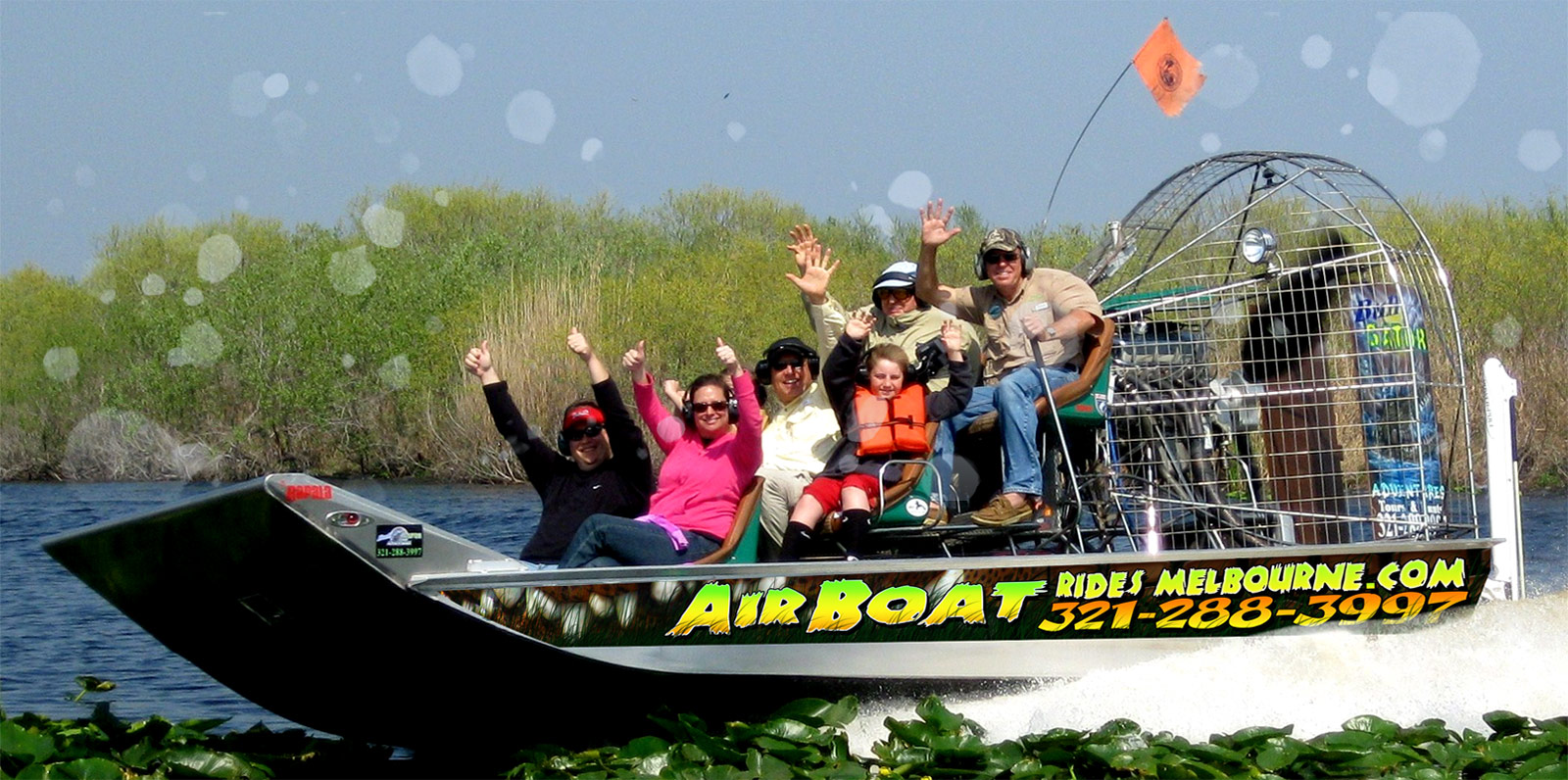 Airboat Rides Melbourne is a great tourist spot located in Melbourne, FL. Having been featured in several magazines, including Space Coast Living, Florida Travel, and Outdoor Life, you can bet it's worth a visit.
These airboat rides let you experience the natural beauty of Central Florida. It includes views of the gorgeous waterways, beautiful sunsets, and even full moons. But best of all, Melbourne rides get you close to wildlife that you've never seen up close before, such as the frightening and exciting alligator.
No matter the size of your group, Airboat Rides Melbourne makes it work. In fact, they can even handle groups as large as 50 people! Its sunset and night rides are exceedingly popular. Sunset rides show you the same areas as the sun sheds incredible colors over the water.
Night rides really get your adrenaline pumping, as you can see gators waking up, deer swimming in lakes, and other nocturnal creatures.
Melbourne's certified boats can hold up to 15 people. The private rides are no-rush, personalized affairs that guarantee personal attention to your small group. At Melbourne, you are in charge. Simply tell your guide what you want to see and where you want to go, and he will get you there.
In the heart of Everglades City, Florida, you can find our last (but not least) great airboat touring adventure: Jungle Erv's. Jungle Erv's Airboats gives you full access to the Florida Everglades by airboat, allowing you to see the subtropical wilderness up close.
Erv's captains are all natives of the area, so they can give guests an insider's view of the Everglades. They know where all the best spots are, and their experience lets them share the best spots to see the wildlife.
The Mangrove small airboat tour fits a group of six and includes a speedy ride with a Coast Guard licensed captain, as well as Jungle Erv's boardwalk and an educational alligator show. The show is filled with fun stories and educational tidbits, and it wraps up with an up-close photo with a live alligator.
Erv's Airboat Tours consistently scores high reviews on Tripadvisor and gets extra points from us for its affordable prices.
More about our TFVG Author
A seasoned traveller, Dad, and avid sports tourist, James foundered The Family Vacation Guide to share his expert vacation experiences- especially when it comes to being a travelling family man.
Featured in Travel articles such as Travel + Leisure, TripSavvy and SFGate, you know you're reading some of the best vacation tips online.