With 1,350 miles of coastline, Florida has some of the best beaches on the country's East Coast. From white sandy beaches with calm water from the Gulf of Mexico to the vast and mesmerizing beaches on the Atlantic coast, there's a beach in Florida for everyone. 
Some people tend to forget that you don't need to travel to central or South Florida to experience great beaches. The Panhandle has close to 200 miles of coastline with beaches that are sure to impress.
With 200 miles of coastline, you have many choices when picking a beach to relax on all day. If you're ready to experience all the best beaches in Florida's Panhandle, here are 11 of the best beaches in that part of the state.  
Destin is one of the most popular destinations with one of the best beaches in Florida's Panhandle because it's a beautiful beachside town with lots of charm that everyone will love. When you visit Destin, one of the best beaches in the area is Henderson Beach State Park.
Henderson Beach State Park is open 365 days a year from dusk until dawn, and it only costs $6 to park all day. When you arrive at the beach, you'll be greeted by the warm waters of the Gulf of Mexico and tons of white dunes.
Whether you prefer to spend your day with your toes in the sand, reading a good book, swimming in the warm water, or fishing, this beach in Destin has something for everyone. This quiet beach is perfect for relaxing but be careful as there aren't usually any on-duty lifeguards.
Keep in mind that during peak season, during the Spring and Summer, the parking lot fills up quickly. You'll want to arrive earlier to avoid having to wait for parking or attendants closing it completely.
Even if you've never visited Florida, you've probably heard of Panama City Beach (PCB). Named one of the top three best beaches in the country by Tripadvisor, this area of the Panhandle has 27 miles of beaches from which you can choose.
Visiting Panama City Beach is ideal for those looking for a more lively beach. Vacationers flock to the sandy shores of PCB every year to lounge on the beach and experience the shopping and dining minutes from the sand.
You'll find several rental companies lining the beaches ready to get you on the water in a jet ski or on a paddleboard. Of course, building sandcastles all day is still a great option if you're not so sure about getting in the water.
Minutes from the beach are shops and restaurants you'll want to try when you need a break from the sun.
You'll be able to dine on freshly caught seafood or look for souvenirs to bring back to your friends and family before venturing back to the beach to finish your day.
In the past, PCB was a central spring break hub for college students that deterred many families from visiting during that time of the year. But in recent years, the spring break crowds have calmed, and it's become a much more family-friendly location throughout the year.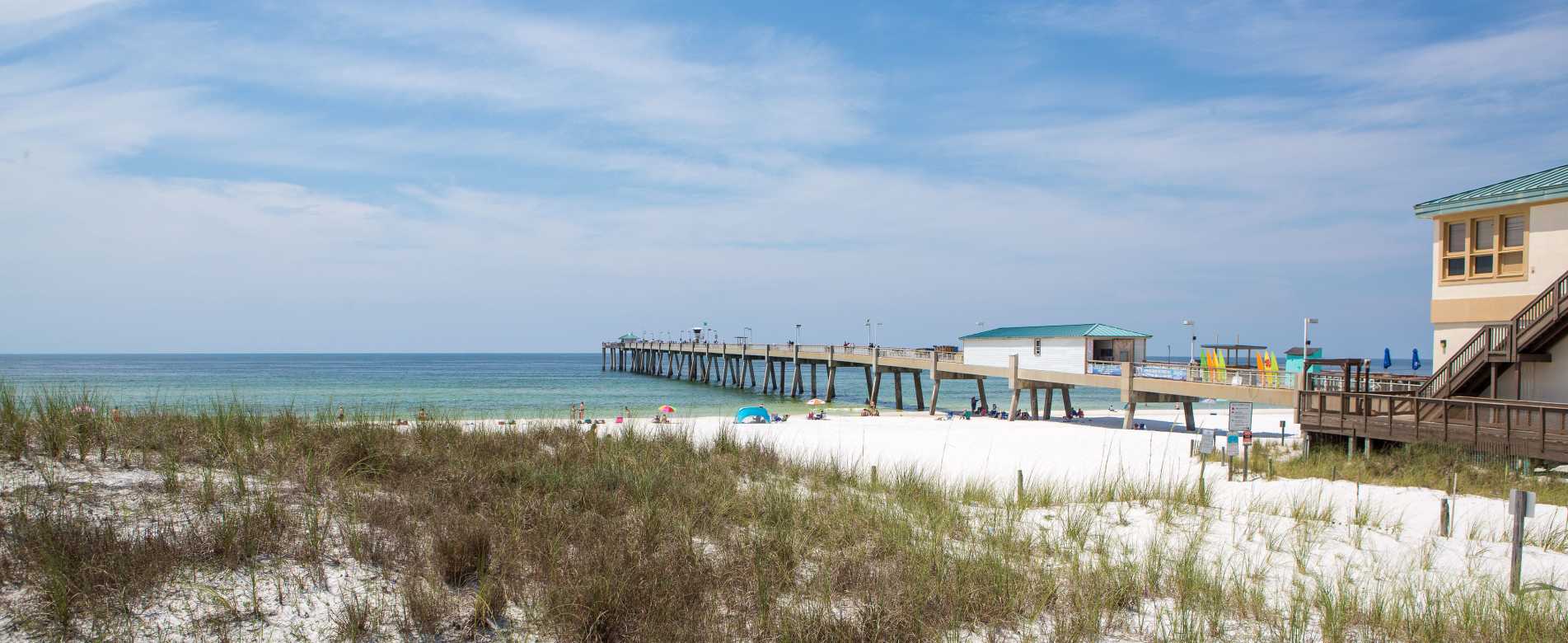 Okaloosa Island is a barrier island with the Gulf of Mexico on one side and the Choctawhatchee Bay on the other side. Many people refer to this area as Santa Rosa Island, but the eastern side of Santa Rosa Island is where you'll find Okaloosa Island.
The island has three miles of coastline on either side, spanning from Destin to Fort Walton Beach. Visiting Okaloosa Island gives you a slightly different beach experience than some of the other beautiful options around.
If you're looking for a beach in the Panhandle that is a little quieter than your traditional beach, any of the beaches on Okaloosa Island will give you that peaceful experience you're seeking.
Okaloosa Island is home to various wildlife that you may get lucky enough to see while you're visiting. You're able to visit the beaches on Okaloosa Island from eight in the morning until sunset.
Are you looking to visit a popular Emerald Coast beach but aren't sold on visiting Panama City Beach? Pensacola Beach is another world-famous beach that has been named the Best Florida Beach by USA Today.
Pensacola Beach is on a barrier island and offers visitors beautiful green waters and a boardwalk with several shops and restaurants.
The promenade here is one of the biggest draws. Of course, there's the beautiful beach to lounge and play on, but the boardwalk is the perfect break from the sometimes brutal Florida sun.
You can pop into one of the shops and browse, then grab a bite to eat or drink at one of the several fantastic restaurants.
It's a great place to spend the evening with live music and the Premier Adventure Park. The adventure park offers several water activities, and you can even go go-karting.
Some of the best beaches in the world aren't popular tourist attractions, so you may not have heard of them.
If you're searching for a beach where the locals go, you need to visit Navarre Beach. Located in Santa Rosa County, just east of Pensacola, Florida, Navarre is one of the area's best-kept secrets.
While Navarre Beach is a popular destination for nature-lovers and eco-tourists, the number of classic tourists is low. There are duck ponds, butterfly houses, and areas for children to play in.
One of the biggest draws to Navarre Beach is their fishing pier. The fishing pier here is the longest in Florida, and you'll constantly see people casting a line from the dock.
More and more people are discovering this beautiful beach, but you can still expect it to be less crowded than others.
Located in South Walton Beach, Florida, Santa Rosa Beach is by far one of the most beautiful beaches in Florida and maybe the world.
While many of the beaches in the Panhandle have sandy white sand, the sane at Santa Rosa Beach just feels different.
The white powder-like sand is warm, inviting, and makes for one of the most relaxing beach days.
One of the reasons people think Santa Rosa Beach is one of the most beautiful in the area is because, unlike some other beaches in the Panhandle, your views won't be obstructed by high-rise buildings or businesses.
There's nothing wrong with high-rise buildings, but having low buildings lets the scenery stand independently.
You'll have all your basic amenities when you visit, like parking, restrooms, and lifeguards on duty.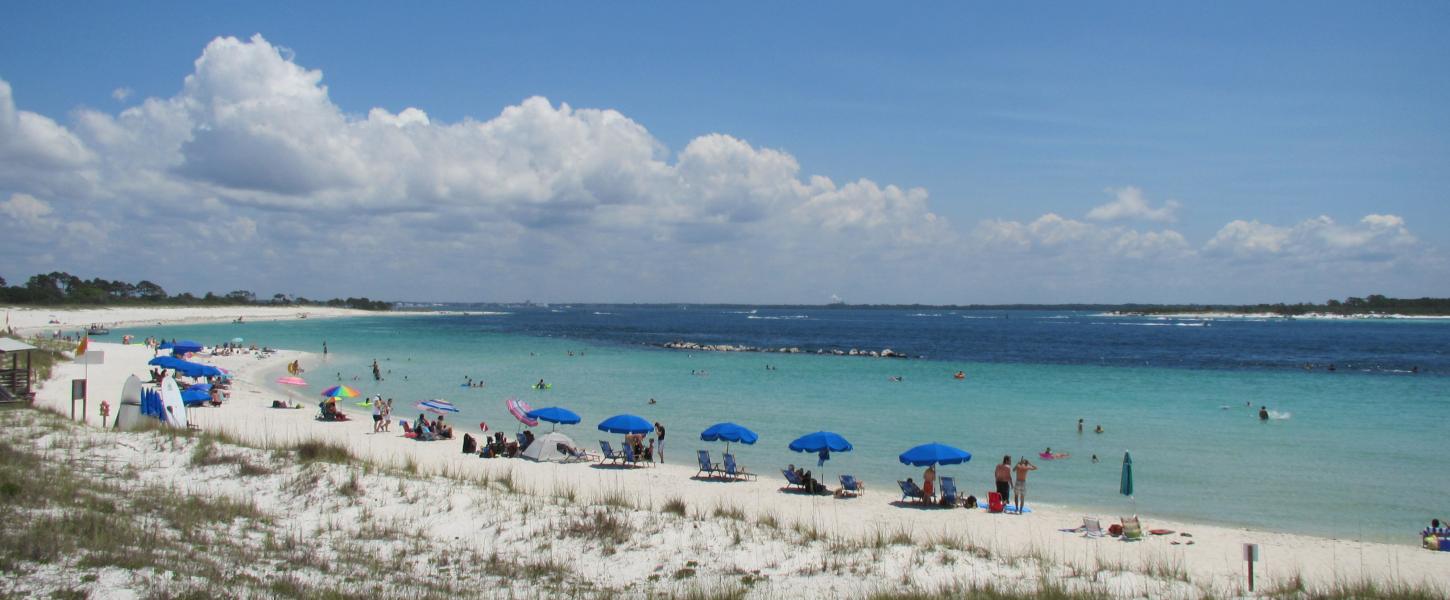 Like many other beaches in the Panhandle, St. Andrews State Park acts as a barrier between the Gulf of Mexico and another bay. St. Andrews State Park is in Panama City and is famous for its powder beaches and beautiful water.
When people visit this state park and beach, they love kayaking, boating, fishing, and visiting Shell Island on the Southside of the park.
Shell Island is undeveloped and is perfect for swimming and snorkeling due to the clear waters. If you want to visit Shell Island, the park service offers a shuttle from the park entrance, so you don't need to walk several miles.
There are five different ecological landscapes in St. Andrews State Park, making it a unique beach experience.
Parking at beaches can get expensive, but you'll pay a flat rate of $8 for the entire day when you visit St. Andrews.
Destin, Florida is sometimes referred to as the Hamptons of the South, and when you arrive, you'll see why. Crystal Sands Beach in Destin gives off a more luxurious feel, and you'll see that based on all the white and blue houses and businesses in the area.
The beach is one of the most peaceful beaches in the Panhandle due to the majority of the sand belonging to private residents or hotels.
If you do plan on visiting Destin and, specifically, Crystal Sands Beach, you'll want to make sure you're not intruding on a private beach. The best way to avoid this is to choose a hotel or resort so you can spend the day on their beach.
Don't worry if you're staying somewhere without a private beach. There are still plenty of public access points for Crystal Sands Beach.
The locals really care about their beach and do their best to keep it as clean as possible for themselves and visitors. If you hate seaweed, you'll love this beach because it's one of the few where seaweed is hardly present.
One of the most picturesque beaches and beach towns in the Panhandle is Seaside Beach. Most of the streets are brick, and the follow-along buildings are painted in refreshing pastel tones. There are several bike paths, local boutiques, and delicious restaurants.
The main beach in Seaside is similar to other beaches in the Panhandle because it has crystal blue water and white sugary sand. But Seaside Beach is another relatively peaceful beach compared to some of the more popular beach areas.
The peaceful nature of Seaside Beach makes it the perfect getaway for families and couples looking to spend some quality time with each other or even taking a solo vacation to clear your head.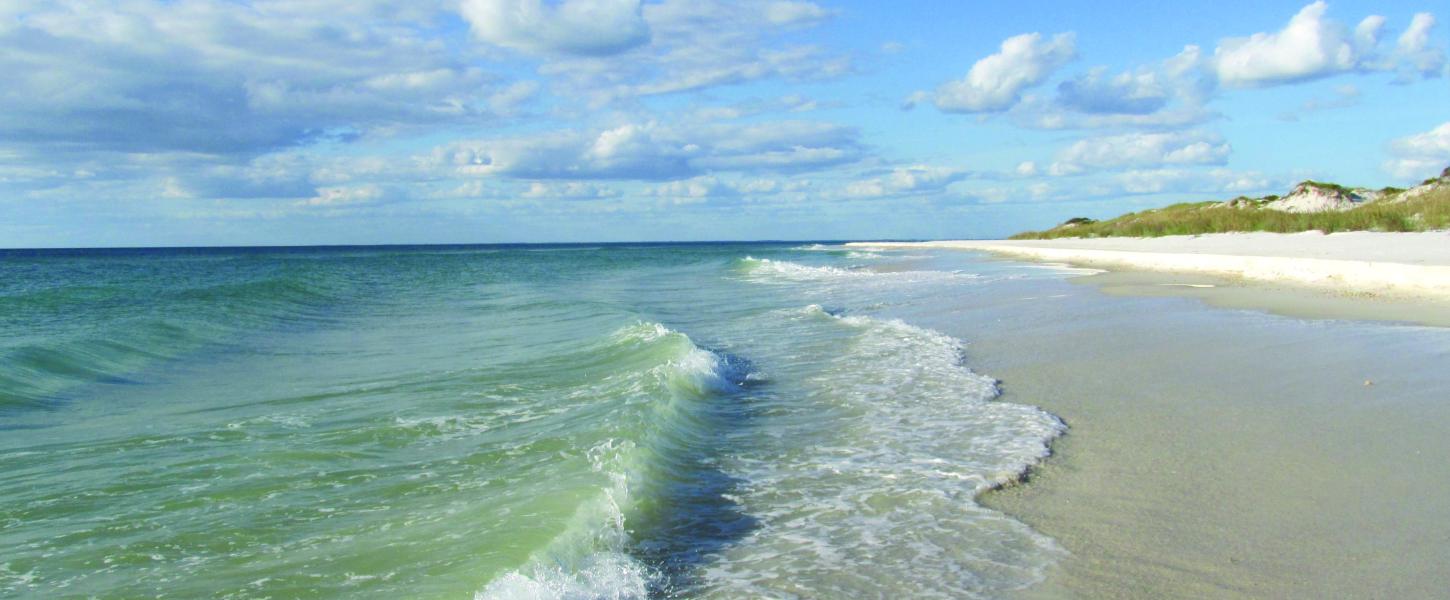 Approximately 50 miles south of Panama City Beach is the beautiful St. Joseph Peninsula State Park. For only $6 a day, you can lounge on their beach, rent kayaks or pontoon boats, and spend your day soaking up the sun and saltwater.
You're more than welcome to bring your boat if you have one and launch it from the boat ramp in Eagle Harbor.
Even though this park is situated with the Gulf on one side and St. Joseph's Bay on the other, you'll want to park yourself on the Gulf side beaches. Usually, the park offers visitors the option to camp in one of their campsites or their cabins, but they're currently closed.
St. Joseph Peninsula Park suffered severe damage in 2018 from Hurricane Michael, and they're still recovering in many areas of the park. But, even with the damage, this is still a gorgeous beach location, and many of the amenities are still open for visitors.
Another popular spot in Santa Rosa Beach, Florida, is Blue Mountain Beach. Even though it's a reasonably famous beach with locals, it's somewhat secluded and small.
It's still very close to local shops and restaurants but far enough away from larger beaches that you can still hear the waves crashing on the shore.
You'll see stunning blue flowers lining the area from the parking lots to the beach in many entrances to the beach. If you don't want to sit on your towel in the sand, several beach chair rental companies are on the beach and in town.
The area is known for its perfect and tranquil beach and is a haven for foodies. There's a restaurant for every taste. You'll find barbeque, an Irish pub, and of course fantastic Gulf seafood at almost every restaurant you visit.
Regardless of how you spend your day on the beach, you can't leave without grabbing some ice cream.
The best place to grab a cone or cup of ice cream is at Blue Mountain Creamery. Remember to be patient when you go here because it's incredibly popular, especially during the Summer.
Final Thoughts
You don't need to travel to Central or South Florida or even the Florida Keys to experience premier beaches. Many people overlook the Florida Panhandle when planning a beach getaway, but hundreds are well worth the visit. 
Whether you're looking to visit a famous beach like Panama City Beach or Pensacola, or for something more secluded and quiet like Navarre Beach or St. Andrews State Park, look no further. There's a choice for every preference when you've got a list of the best beaches in Florida's Panhandle.
More about our TFVG Author
A seasoned traveller, Dad, and avid sports tourist, James foundered The Family Vacation Guide to share his expert vacation experiences- especially when it comes to being a travelling family man.
Featured in Travel articles such as Travel + Leisure, TripSavvy and SFGate, you know you're reading some of the best vacation tips online.