Florida has some of the most incredible beaches with white sandy shores and clear ocean waters. While Miami is known as the best place for party beaches, Fort Lauderdale has just as beautiful vistas without the crowds.
Fort Lauderdale is only 25 miles north of Miami along the Gold Coast. This beautiful family-friendly getaway spot has amazing beaches, top-rated restaurants, and opportunities to shop till you drop.
Known as the yachting capital of the world, Fort Lauderdale is an excellent place to set sail, smell the ocean breeze, and feel the warmth of the sun on your skin.
We've analyzed, enjoyed, and collected seashells at the top-rated Fort Lauderdale beaches to give you the full scoop as to which beaches are, in fact, the best beaches in Fort Lauderdale. There are so many amazing beaches to choose from you'll be hard-pressed to pick just one. Let's dive in!
1. Fort Lauderdale Beach Park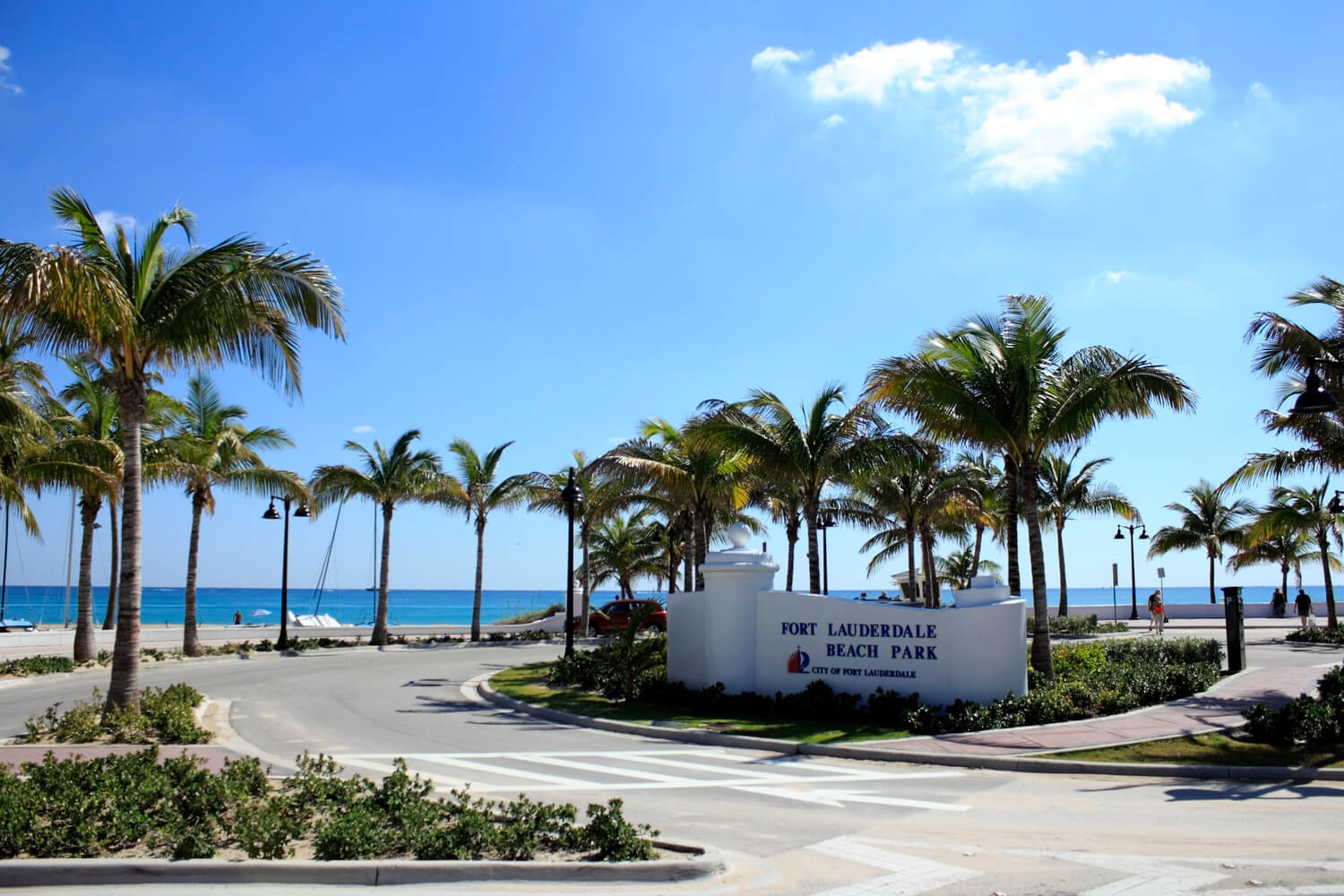 Fort Lauderdale Beach Park is one of the best beaches in Fort Lauderdale that's steps away from amazing shopping and delicious dining.
Sit back and relax with breathtaking views and a chill vibe near the ocean. Fort Lauderdale Beach Park is ideal for couples, families, and solo travelers looking to soak up the sun and play in the soft sand.
The seven-mile stretch of white sand beach has ample places for everyone to lay down a beach blanket and enjoy a day in nature. Another perk? This family-friendly beach in Florida is chock-full of parking spaces. Parking is $4 an hour, so budget this into your trip if you're taking your car.
Play a fiery game of basketball or volleyball at the beachside courts. Pack some snacks, or grab takeout and enjoy picnics under the tall palm trees. There are plenty of restrooms nearby, so there's no worry about staying hydrated with beachside beers and lots of water.
Bring your furry friends along with you; Fort Lauderdale Beach Park lets dogs enjoy the beach as long as they're on a leash.
What could be better than beach yoga as the sun sets on the calm ocean waters? Or, enjoy parasailing, pirate adventures, the Bonnet House Museum and Gardens, sport-fishing, and more.
Another fun thing to do near Fort Lauderdale Beach Park is to visit Hugh Taylor Birch State Park. This beautiful state park has winding paths through forests and streams. Make some vacation memories as you hike the nature trails and immerse yourself in the lush greenery.
Tip: Take the Community Shuttle (formerly the Sun Trolley) to get around for free.
2. Loggerhead Park Beach
Loggerhead Park Beach is one of the best beaches in Fort Lauderdale for anyone who loves marine life and sea turtles. Explore the breathtaking ocean shores on this stretch of paradise in Florida. This beach is named Loggerhead Park Beach because Loggerhead sea turtles come here to nest.
Visitors will enjoy the Loggerhead Marinelife Center, where families and travel groups can learn about Loggerhead sea turtles.
This beach in Fort Lauderdale is dog-friendly, so feel free to bring your furry best friend along for the journey. Loggerhead Park Beach also has restrooms and picnic areas so you can spend the day enjoying the sounds of the ocean lapping against the sandy shore.
Kids will have a blast playing on the two different play structures, building sand castles, or splashing in the ocean. You can also enjoy hiking the nature trails for a deeper appreciation of the beauty surrounding this beach.
3. Hallandale Beach 
Hallandale Beach is easily recognized by the giant beach-ball-shaped water tower marking your arrival. Hallandale Beach is at the southernmost edge of the Greater Fort Lauderdale area and the closest beach to Miami. You can expect clear turquoise waters and soft white sand beaches without the crowds.
Families will love spending time at Hallandale Beach because there are plenty of outdoor sports like stand-up paddleboarding, kayaking, kitesurfing, boating tours, body boarding, and more. All ages will want to check out the South City Beach Park to play volleyball, have a snack, use the restrooms, or find some respite in the shade.
Hallandale Beach is a relaxed beach paradise with lots of space to set up an umbrella and lay down your towel. Try to win big at the Gulfstream Park Racing and Casino, or look for some action with deep sea fishing excursions.
Tip: Don't leave Hallandale Beach without trying at least one of the delicious seaside restaurants. The Japanese restaurant ETARU is one of the ways to enjoy the sea even when you're enjoying the shade.
4. North Ocean Park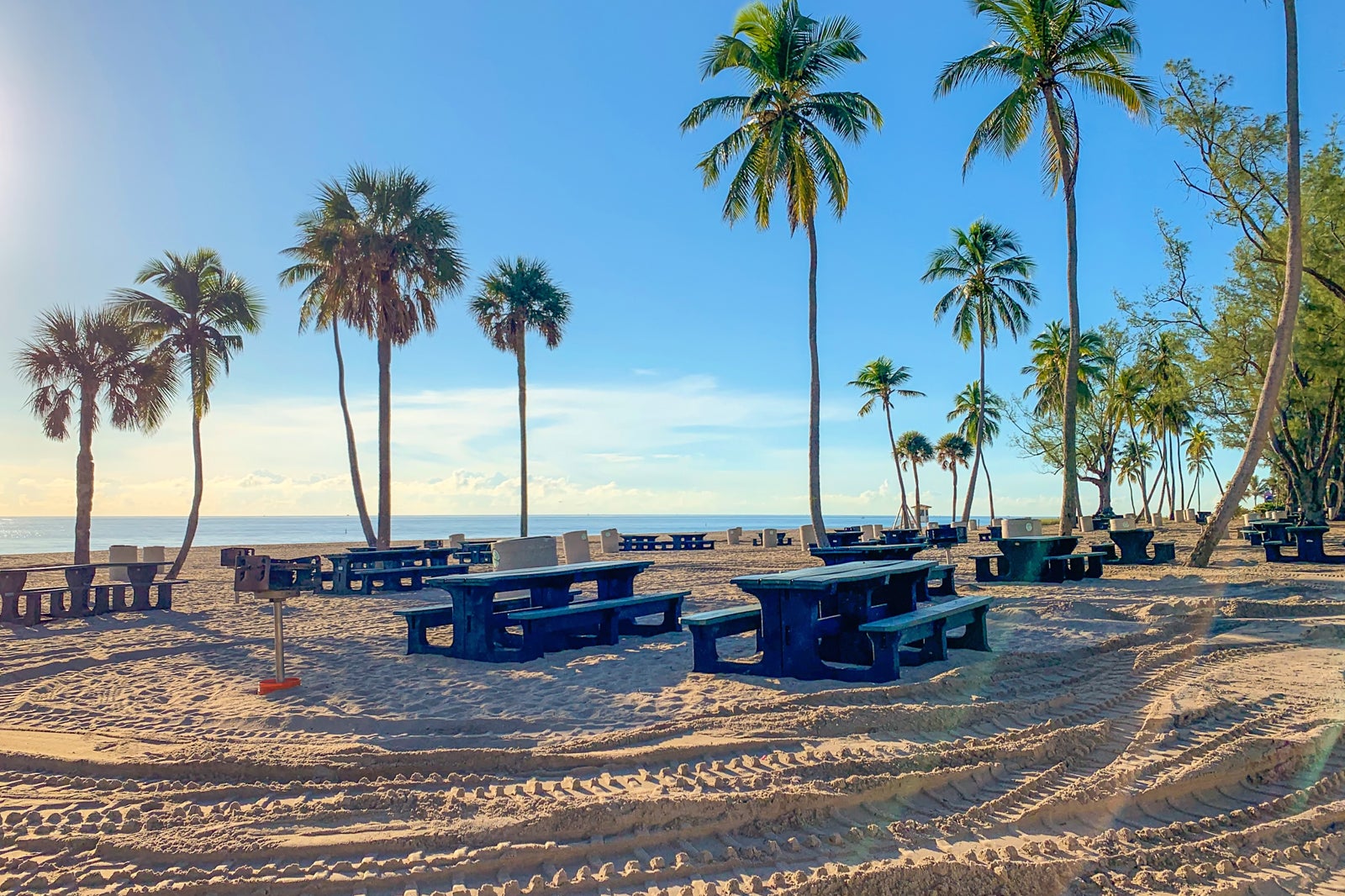 North Ocean Park is easily one of the best beaches in Fort Lauderdale because it is a quiet spot with gorgeous coastal views.
This beach near Fort Lauderdale is quieter than other beaches on this list because there are fewer parking spots. While you won't find conveniently accessible restaurants or cute boutique stores around here, this is the draw! Families come here to enjoy a picnic on the beach and have some much-deserved downtime.
North Ocean Park is north of Pompano Beach Pier and is an incredible spot for kids to catch their first fish. The clear water and soft sand are perfect for taking long walks along the shore.
This beach is great for anyone with a photographer's eye because it is a popular spot for windsurfers to set sail. The colorful sails dot the horizon, adding something unique to your backdrop.
Why so many windsurfers, you ask? This beach gets more wind than some of the other Fort Lauderdale beaches; this is a con for some but a pro for anyone who enjoys wind sports like kitesurfing, parasailing, and windsurfing.
5. Dania Beach
Dania Beach has it all—a pier, a marina, and an exquisite beach. Dania Beach is one of the best beaches in Fort Lauderdale for full days and nights of fun. This beach is clean and surrounded by lush greenery rather than towering hotels. The nearby marina gives the entire town a friendly beach vibe that will make you feel right at home.
You and your travel buddies can enjoy premier shopping, fine dining, and fun water excursions. Dania Beach has a nearby bowling alley, an outdoor shopping center, and a long stretch of white sandy beach.
Enjoy a walk along the Dania Beach Pier and feel the wind through your hair as you take in the full panorama of the crystal blue ocean waves on the Golden Coast.
If you're feeling lucky, head to the Casino @ Dania Beach with 900 Vegas-style slot machines, card tables, and live performances.
Dania Beach is perfect for beachgoers that also like to get their hearts racing with a good-fashioned sports game. Enjoy soccer, football, basketball, softball, and baseball, alongside a plethora of adrenaline-pumping water sports.
6. Las Olas Beach
Las Olas Beach is a busy beach that gets crowded for a reason; it's beautiful and conveniently located near everything you need.
Las Olas is just north of Fort Lauderdale Beach Park, so enjoy beach-hopping and pick which one is your favorite.
All ages will enjoy this beach. There are plenty of activities for families, couples, and friends to enjoy. Go on sightseeing boat tours and spot dolphins playing in the waves, or rent beach chairs and watersports equipment and pack the day with fun.
This beach has all the amenities you need to stay all day. There is metered parking where you can conveniently grab anything forgotten in the car. You'll also find restrooms for those times when nature calls.
Another noteworthy feature about this amazing beach is that it's close to shops where you can pick up a cute new bathing suit, sunglasses, hats, and any other essentials that might have accidentally been left at home.
You'll smell the delicious food wafting in from the restaurants across the street. With lots of choices, we recommend picking a place before anyone in your group gets hangry.
You'll be hard-pressed to leave the clean sand beach lapped by the crystal clear ocean waves because this 24-hour public beach is popular for parties during the night.
Tip: The free Community Shuttle has a Las Olas link that lets you get around easily on a budget.
7. Hollywood Beach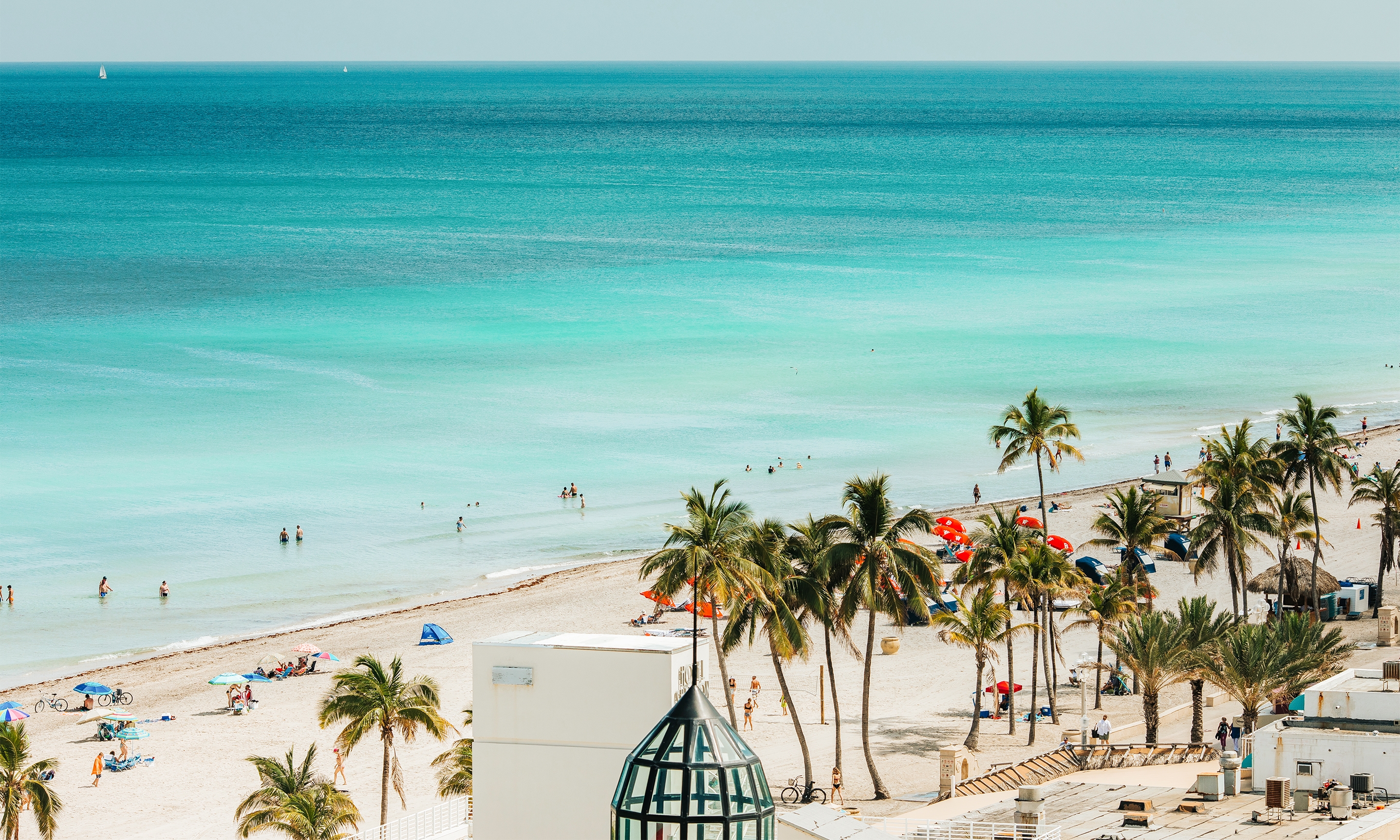 Hollywood Beach is one of the best beaches in Fort Lauderdale for lively activities and entertainment that lives up to its name. While this beach is not nearly as crowded as LA's Hollywood Boulevard, this beautiful beach draws people in to enjoy the restaurants, bars, and long stretch of white sand beaches.
The Hollywood Beach Boardwalk is a long pier that stretches nearly 2.5 miles offshore. Amble down this boardwalk and take in the sights and sounds of the Atlantic Ocean. This is an idyllic place to get a photo, but you might need to wait your turn to get that perfect shot.
There's plenty of shopping nearby for anyone wanting some retail therapy. The mouthwatering restaurants and fully-stocked bars will have you hungrier than you'd imagined, especially if you've been enjoying watersports all day.
We especially loved the live music that frequents this stretch of beach. With plenty of oceanfront hotels, resorts, bars, and restaurants, you can always hear music floating amidst the ocean breeze.
Tip: The Hollywood Sun Shuttle is a cheap and convenient way to get from A to B and back. The service is $1 per person for each ride.
8. Pompano Beach
Pompano Beach is an incredible beach to explore in Fort Lauderdale because it has endless activities and amenities to keep everyone in the family having fun and happy.
Choose between valet parking and metered parking to store your car as you head to the clean beach for the day.
If you're staying at one of the oceanfront hotels or resorts, we recommend a sunrise yoga session or jog on the beach to start your day with some activity. If those aren't your kind of sports, then tee off at the nearby golf course or use the beachside fitness equipment for ocean views as you pump some iron.
Your day will be filled with the sun, ocean, and smiles. There are plenty of water activities to choose from, including parasailing, kayaking, paddle boarding, kite surfing, and more.
Catch the sunset at the Pompano Beach Pier for enviable vacation photos. The sunset doesn't need to mark the end of an incredible day at the beach. Pompano Beach has Music Under the Stars, a live event where local musicians perform. Other creative activities include taking art classes at Ali Cultural Arts.
Pompano Beach has a lot of local breweries and delicious restaurants to give you a taste of Florida flavors from the land and sea.
9. Sebastian Street Beach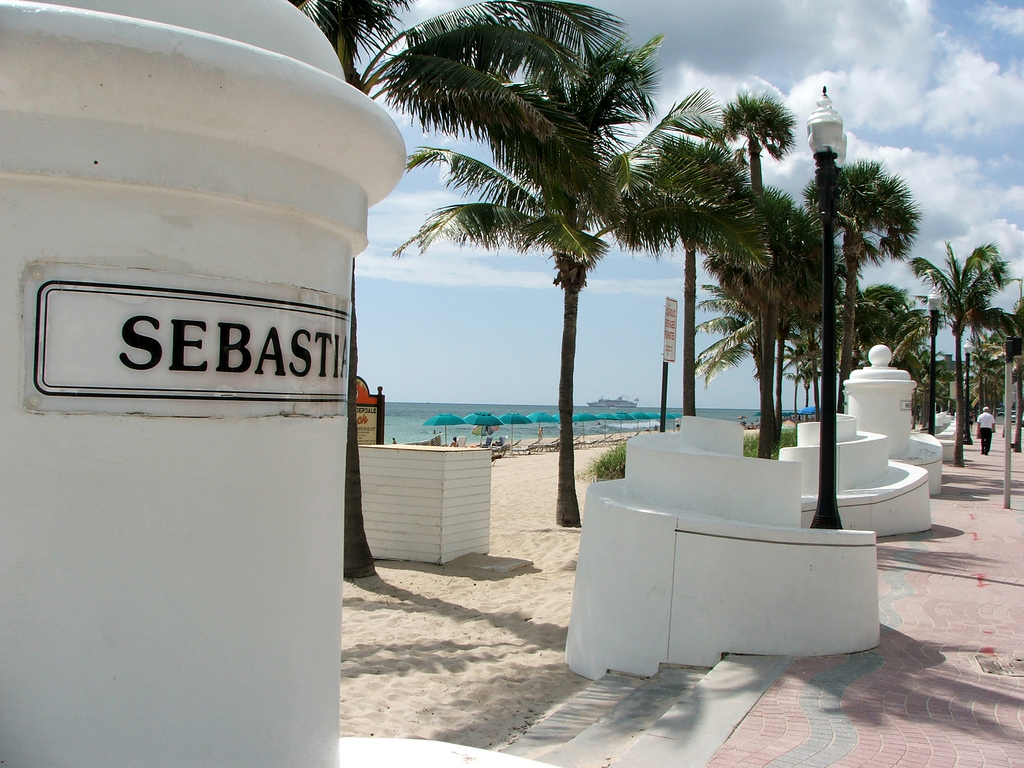 Sebastian Street Beach is just north of Las Olas Beach and is one of the best beaches in Fort Lauderdale for the LGBTQ+ community. In fact, Out Traveler named Sebastian Street Beach the "Hottest U.S. Gay Beach."
This gorgeous beach boasts beautiful coastal views of the Atlantic Ocean with restaurants, shops, and parking close by. Watersports, like stand-up paddle boarding and parasailing, are easily within reach, so bring along long-lasting sunscreen for those times when you are having too much fun to reapply.
Sebastian Street Beach is a low-key beach that is not overly crowded, so you are likely to get a good spot by the shore. Pack light and rent an umbrella and lounge chair when you get there.
Kids will have a blast playing in the waves or the soft white sand. There's also a playground with jungle gyms and slides.
10. Hillsboro Beach
Hillsboro Beach is one of the bestselling beaches in Fort Lauderdale for a quiet getaway spot away from the crowds. 
This pristine beach is about 15 miles north of Fort Lauderdale Beach Park. We enjoyed that Hillsboro Beach is a less frequented spot than other more popular options closer to shopping and restaurants.
The downside to this public beach is that parking can be frustrating. You might need to circle a few times before finding a spot.
One of the best parts about Hillsboro Beach is that this is a common spot for turtles to nest, making it a great place to teach kids something new about nature.
If you are looking for a framable photo of your Florida trip, head to the Hillsboro Inlet Lighthouse. This is a stunning place to be during sunset since you get a panorama of the ocean with views of palm trees and the lighthouse.
Tip: Pack some food with you for a picnic by the ocean instead of planning to drive to a nearby restaurant so that you don't lose your parking space.
11. Dr. Von D. Mizell-Eula Johnson State Park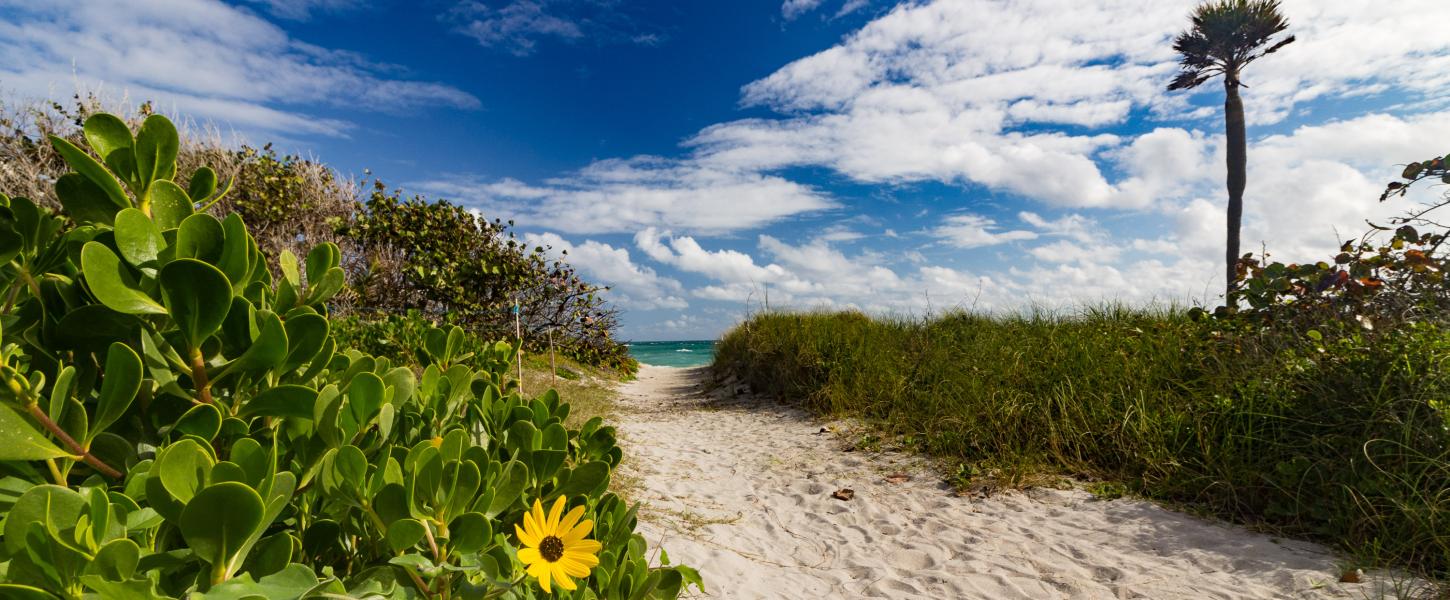 Dr. Von D. Mizell-Eula Johnson State Park is located in Dania Beach and is the perfect hideaway spot for a tranquil beach day with hardly anyone else in sight.
This beach is more rustic than others on the list. You will find seaweed and driftwood washed ashore, but it keeps the crowds away and makes it an awesome spot to look for sea shells and other ocean treasures.
Dr. Von D. Mizell-Eula Johnson State Park is the perfect place to balance out relaxation with fun activities like kayaking, canoeing, hiking, or biking.
12. Lauderdale-by-the-Sea
Last but certainly not least, Lauderdale-by-the-Sea is one of the best beaches in Fort Lauderdale for people who like to immerse themselves in the ocean.
Lauderdale-by-the-Sea is a beach just five miles north of Fort Lauderdale. This incredible beach paradise is on a barrier island, so it's the perfect place to go snorkeling and diving to spot the natural wonders within the coral reef.
Head to the Anglins Fishing Pier for beautiful views or to try your hand casting your rod. All fishing levels are welcome here since you don't need a fishing license to cast when you're on the pier.
On Fridays, the main road is closed to cars and open for pedestrians to enjoy open-air live music and other fun happenings.
Tip: Boat tours are another awesome way to catch sight of marine wildlife without getting your hair wet.
Wrapping Up
If you have been overtaken with wanderlust, head to some of the best beaches in Fort Lauderdale to quench your need for Vitamin Sea.
Fort Lauderdale boasts world-class dining options, outdoor shopping centers with all the best brands, and beaches that are kissed by crystal clear ocean water.
Stay landbound and explore the nature trails and state parks, build sandcastles, and play beach sports. Or, hop aboard a yacht or catamaran and explore the Golden Coast from a new vantage point. Fort Lauderdale has something for every member of the family to enjoy, whether that's a place to read a good book, collect sea shells, ride the waves, shop till you drop, or win big.
Now that you know about the best beaches in Fort Lauderdale, which one will you choose for your next beachside getaway? Happy travels!
More about our TFVG Author
A seasoned traveller, Dad, and avid sports tourist, James foundered The Family Vacation Guide to share his expert vacation experiences- especially when it comes to being a travelling family man.
Featured in Travel articles such as Travel + Leisure, TripSavvy and SFGate, you know you're reading some of the best vacation tips online.