If you're planning a vacation to Daytona, Florida, you can find several amazing things to do with your kids. One thing you and your family shouldn't miss out on during your stay is visiting the city's loveliest beaches with the smoothest, most compact sand.
We compiled this list of the best beaches near Daytona to help you narrow down where to spend most of your day to enjoy the city's sunniest days.
Smyrna Dunes Park
The first destination that we recommend checking out on our list of the best beaches near Daytona is Smyrna Dunes Park. This beach stretches about 17 miles along the northern tip of the New Smyrna Beach peninsula.
This beach has several elevated boardwalks with lovely waterfront views of the Atlantic Ocean, the Indian River, and the Ponce de Leon Inlet that shimmer on the brightest days. These boardwalks stretch over two miles of sand dunes and are handicap-accessible, making them ideal for several family members interested in taking a relaxing nature walk.
If you're looking for a place to enjoy the sun and water with your family dog, Smyrna Dunes Park has several dog-friendly areas near the inlet shore to play with your pup. However, your dog has to stay leashed at all times.
If you're looking for a great place to fish for local saltwater marine life, consider stopping by their fishing pier for an engaging outdoor experience.
You can also find several picnic pavilions for unwinding and enjoying a packed snack after a long afternoon.
Daytona Beach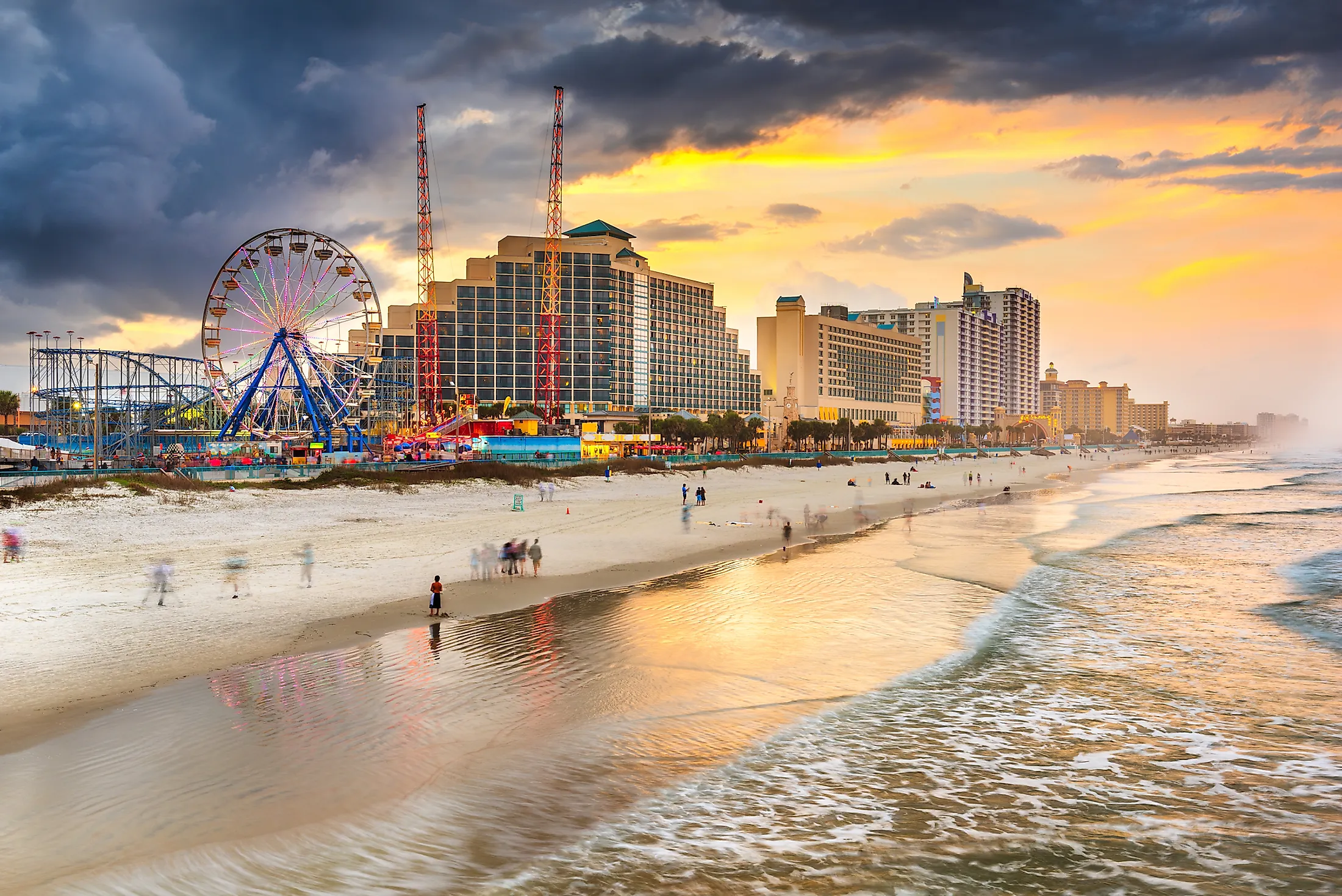 Also known as "The World's Most Famous Beach," Daytona Beach is one destination you shouldn't skip during your family vacation. This beach stretches 23 miles and offers plenty of land and water activities for your family to enjoy.
Daytona Beach has several designated zones for people interested in driving their cars on the hard-packed white sand. Although you can't reach breakneck speeds like the International Speedway, you can cruise at ten mph. You can also ride golf carts and bikes in these areas.
Enjoy a volleyball game on the warm sand, surf the local waves, or stop by the 1000-foot-long fishing pier to catch local fish and enjoy the Atlantic Ocean's salty breeze.
If you visit Daytona Beach between May and October, you might see sea turtles laying eggs on the beach or hatchlings crawling toward the ocean. Consider watching them from a distance to avoid disturbing them.
The nearby boardwalk has plenty of gift shops, restaurants, and an arcade to check out for anyone looking for something fun to do. You can also find several beachside parks with picnic tables and restrooms to freshen up after a long day in the sun.
Ormond Beach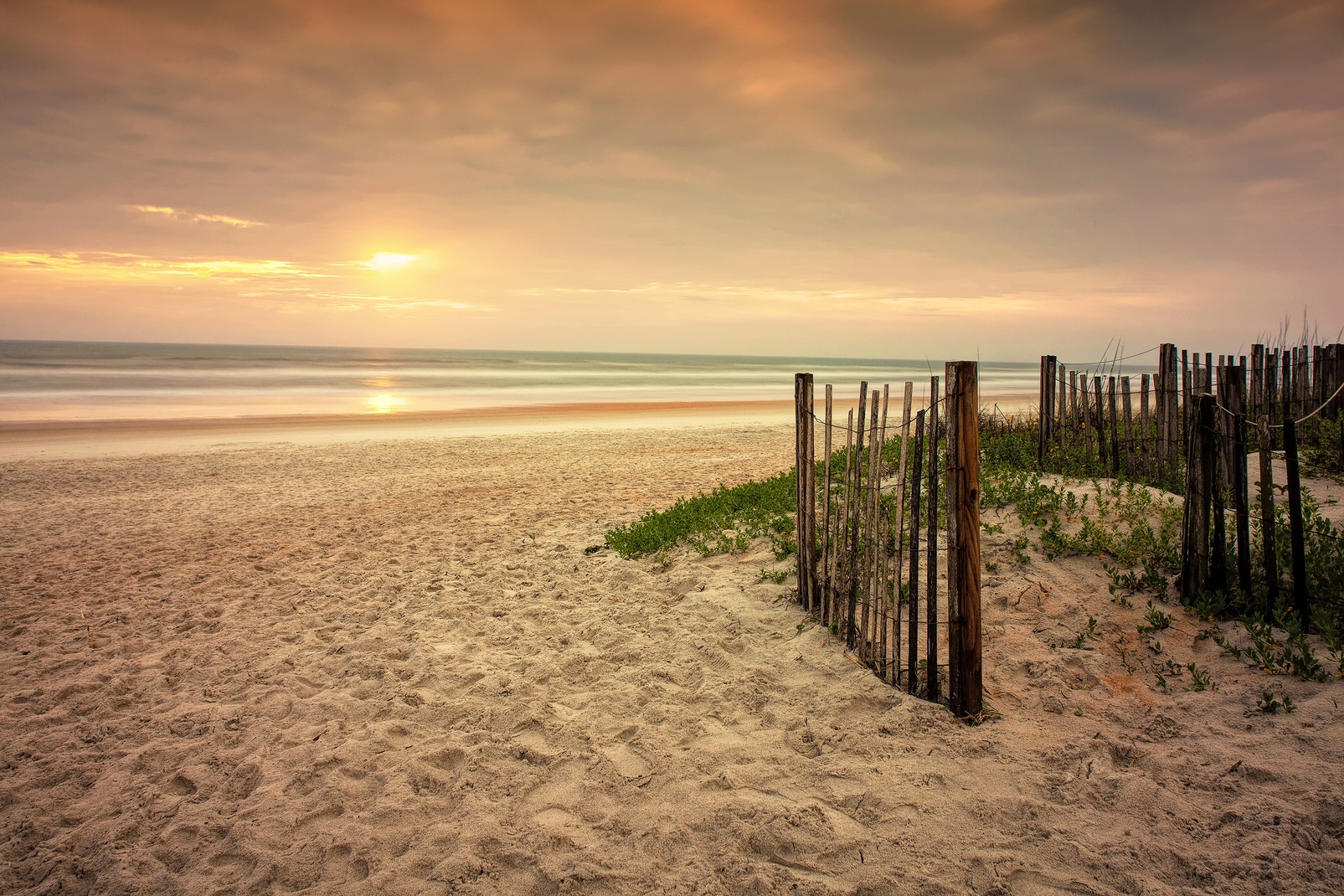 Another one of the best beaches near Daytona is Ormond Beach, located six miles north of Daytona Beach. This beach's clear, blue waters are a sight to behold if you're looking for a peaceful spot to enjoy observing the waves.
It's less crowded than Daytona Beach, making it a great option for enjoying a quiet sunbathing session. In addition, some areas of the beach are open for slow-speed driving.
Suppose you're looking for a great place to regroup with your family after spending time by the water. In that case, you can stop by Andy Romano Beachfront Park, a four-acre family-friendly spot overlooking the shoreline. This park has direct access to the beach, a kid's playground, a shaded picnic area, a grill area, and a refreshing splash pad for beating the heat.
If you stop by later in the day, you can enjoy the sunset without worrying about crowds or loud noises or stroll on the nearby dune walkovers to take in the fresh, nighttime air.
Playalinda Beach
You can find Playalinda Beach about an hour southeast of Daytona Beach, nestled on the southern end of the Canaveral National Seashore. We consider it one of the best beaches near Daytona because of its proximity to the Merritt Island National Wildlife Refuge and the Kennedy Space Center. This beach's name translates to "beautiful beach."
Playalinda Beach has several parking spaces scattered throughout the area. However, you'll need to pay an entrance fee to access the beach grounds, unlike the other options on this list.
Each beach area has expansive boardwalks that let you access the shoreline. Unfortunately, visitors aren't allowed to walk on the sand dunes covered with thick shrubs.
This beach has plenty of space to sunbathe, build sandcastles, fish, and play volleyball with your friends or family. Occasionally, you might be able to watch a rocket launch from the Kennedy Space Center.
If you're looking for a nice place to eat after a day at the beach, consider stopping by Pier 220 Seafood and Grill or Cafe Paradiso for quality food and scenic waterfront views of the Indian River.
Ponce Inlet
Another one of the best beaches near Dayton offering a laid-back atmosphere with minimal crowds is Ponce Inlet, about 11 miles south of downtown Daytona Beach. Its white sands and clear waters can make any trip to Florida unforgettable.
Like most of the other beaches near Daytona, its sand is white and compact, perfect for driving or biking in marked areas. Ponce Inlet is also home to hundreds of plant and animal species, like the piping plover.
If you're looking for something else to do besides relaxing in the sand or surfing in the ocean, you can visit Lighthouse Point Park, five minutes south of the beach. You can walk on a nature trail, grill food near the picnic area, and get a nice waterfront view from the park's observation deck or lighthouse tower.
If you're looking for a great restaurant to enjoy local seafood by the beach, consider treating your family to dinner at Off the Hook by Inlet Harbor. They also have a dog-friendly park on the southernmost coast of the area.
Mary McLeod Bethune Beach Park
Despite this beach park's small, six-acre coverage, Mary McLeod Bethune Beach Park is an excellent place to enjoy Florida's sun and surf south of Daytona. You can find it nestled between the Atlantic Ocean and the North Indian River.
You can enter this beach for free, unlike several other beaches in the area, making it ideal for families looking for great savings during their stay.
They have restrooms, showers, and changing areas if you want to freshen up throughout the day. It has a beachside boardwalk stretching over 800 feet for anyone interested in taking a brisk walk on a warm, sunny day or fishing in the ocean.
If you're looking for fun activities to do with your family, you can participate in engaging basketball, tennis, pickleball, or volleyball games by the riverside. They also have a playground for younger children and several picnic areas for anyone interested in hosting a beachside barbecue.
Got time to look at the local wildlife? Then, consider stopping by the beach's nearby river to watch pelicans, manatees, and dolphins in their natural environment.
Winterhaven Park
One of the best beaches near Daytona offering a safe, family-friendly experience for anyone on vacation is Winterhaven Park, about 10 minutes south of Daytona Beach's downtown area and roughly a mile away from Ponce Inlet.
Unlike many beaches near Daytona, Winterhaven Park doesn't allow driving on the beachfront, making it one of the safer places to take your children for a fun day out. You can find several lifeguards stationed across the beach, especially on the weekends. It's also less crowded than The World's Most Famous Beach.
It has several covered picnic pavilions for enjoying a light snack away from direct sunlight, surrounded by a beautiful landscape with the perfect balance of white sand and tropical greenery. It also offers a lovely view of a lighthouse in the distance. We recommend staying to watch the sunset if you're looking for an atmospheric way to end your family's beach day.
The beach's sturdy boardwalk has an accessible exit and entry ramp to help you carry your luggage across the beach a bit easier. Don't miss out on tasty seafood dishes at Racing's North Turn after an exciting day at Winterhaven Park.
Al Weeks Sr. North Shore Park
If you're looking for one of the best beaches near Daytona offering plenty of things to do, consider taking your family to Al Weeks Sr. North Shore Park for unforgettable summertime fun. This destination has wide, unobstructed oceanfront views, perfect for taking photos for your digital scrapbook. It's about ten minutes north of Dayton Beach.

If you want to stop by before it becomes too crowded, consider arriving early to find a parking space close to the beach area and reserve a spot in the sand. This destination has several dune walkovers scattered across the beach, including handicap-accessible ramps for easy access.
We consider it one of the safest beaches in the area because of the abundance of lifeguard stations, ensuring visitors a safe swim in the ocean.
They offer the cleanest showers in the area if you need to cool off after a hot day or want to wash the beach's sand out of your hair.
Sun Splash Park
If you're looking for an excellent, family-friendly beach suitable for kids of all ages, consider visiting Sun Splash Park, located a few minutes from the center of Daytona Beach. Despite its four-acre size, it offers plenty of beautiful oceanfront views on the clearest days.
This beach park's freshwater splash pad has 42 water jets that shoot water four to six feet into the air, giving kids a fun way to keep cool and stay active throughout the day. The splash pad is open every day from 8 AM to 7 PM, from the start of March to the end of November. The beach's white sand is perfect for making a picturesque sandcastle with your kids.
Sun Splash Park has a few picnic table stations, a covered kid's playground, outdoor showers, and a few volleyball courts. You can find several lifeguards on duty whenever you visit. We consider this beach a great place to watch the sunset and go stargazing.
Conclusion
Finding the best beaches near Daytona can be time-consuming, especially if you're interested in visiting places with larger crowds. Thankfully, several offer excellent amenities, white and sandy backdrops, and the clearest waters on Florida's eastern coast.
Each white-sand beach offers something different everyone can enjoy, from the quietest destinations with beautiful wildlife to lively settings with designated driving zones. Many of them are a short walk or drive from popular tourist landmarks, ideal for families interested in visiting several places in one day.
Hopefully, our list can help you narrow down the best places for the perfect family beach day. If you don't have time to visit one, you can always stop by during your next trip to Daytona.
More about our TFVG Author
A seasoned traveller, Dad, and avid sports tourist, James foundered The Family Vacation Guide to share his expert vacation experiences- especially when it comes to being a travelling family man.
Featured in Travel articles such as Travel + Leisure, TripSavvy and SFGate, you know you're reading some of the best vacation tips online.