Breakfast has often been the most important meal of the day, but brunch, it's still equally important. It's a big deal, especially if you can enjoy this meal at one of the best brunch spots at Disney World in Florida. 
Knowing the best places to have brunch lets you start the day on the right foot. It doesn't matter whether you're taking a break from Disney parks or want to enjoy a relaxed morning; this list of Disney Brunch spots featured herein will surely give you the treat to remember.
It's important to note that brunch offerings differ from one restaurant to another. Some serve brunch on specific days, especially during the weekends. Others serve brunch as a combination of breakfast and lunch daily. Either way, brunch is the perfect option for those who want breakfast a little later in the day. Here's a look at the best spots to enjoy your brunch while at Disney World.
Chef Art Smith's Homecomin'
With so many exciting brunch spots to choose from at Disney World, it's always difficult to pick the best. However, Chef Art Smith's Homecomin' stands out. It's not just a popular spot but a great dining option.
The name itself speaks volumes about what to expect when you want to have your brunch at this restaurant. It serves delicious, home-cooked meals that are almost similar to brunch classics.
Some of the comforting Southern brunch meal treats include buttermilk fried chicken, pimento cheese grits, pecan smoked bacon, and biscuits. The potent cocktails will seal the deal if you haven't had enough of these treats.
At Chef Art Smith's Homecomin', brunch starts every weekend from 9:30 am to 1:00 pm. With the plenty of meal options served during this time, you get to tempt your taste buds with a savory selection of scrumptious dishes. Perhaps the best part for most people looking to relax is having a sip of their favorite cocktails. You can enjoy crafty libations, such as mimosas topped with fresh-squeezed juices and white peach sangria.
Wine Bar George
At Wine Bar George, every meal is an exceptional experience. Brunch is also served during the weekends from 10:30 am to 2:00 pm. If you're visiting Disney Springs, this is probably the first place that most people will recommend to have brunch or any other meal for that matter. For a more adventurous experience, ask for a table on the balcony to enjoy the views from up there.
You'd want to kick things off with the restaurant's Wake Up Call cocktail with Caffè Borghetti Espresso Liqueur and Espresso-Infused Barsol Pisco. You can also choose from the filling entrée selections, including French toast, fried chicken biscuits, steak and eggs, fried chicken biscuits, and sausage gravy and biscuits.
For a more savory experience, you can top your plate with traditional sides. Your brunch experience wouldn't be complete without the sweet sendoffs like key lime pie, pecan and chocolate chess pie, and olive oil cake.
Olivia's Café at Old Key West Resort
Brunch is often more about laidback relaxation as you wine and dine with friends and family. The Florida Keys islands will surpass your expectations, making it an ideal spot to brunch. Take a trip to the islands and create time to have brunch at Olivia's Café, served during the weekend from 7:30 am to 2:00 pm.
As you may have expected, the restaurant serves novelty brunch meals like spam-cheddar biscuits, southernmost buttermilk chicken, shrimp and grits, conch flats club sandwich, oatmeal, brûlée, sombrero beach omelet, banana bread pudding, and other specialties. You can also mix things up with their traditional breakfast and lunch favorites.
The best thing about your trip to Olivia's Café is that you'll have brunch while enjoying the relaxed atmosphere.
Maria & Enzo's Ristorante
Italian cuisines never disappoint, and that's the same case when you take a trip to Maria & Enzo's Ristorante at Disney Springs. The only issue with this place is that you might feel a little bit limited since brunch is only served on Sundays from 10:00 am to 1:30 pm. However, the excellent dishes served here should make you clear your schedule and avail yourself at this great spot.
Brunch exclusives at Maria & Enzo's Ristorante include their crunch toast, smoked salmon board, an eggs Benedetto feature, frittata al Forno, and their creative spaghetti carbonara American. They also serve various salads, appetizers, sides, and other usual menu presentations.
House of Blues Restaurant & Bar
Any fan of soul music and soul food will attest that the House of Blues Restaurant & Bar has been serving the best brunch for years. The restaurant is well-known for its Gospel Brunch, which has been running for years now. Gospel Brunch occurs every Sunday in the Music Hall.
They also have another brunch, the Bayou Brunch, which operates on both days during the weekend from 10:00 am to 2:00 pm.
Plenty of brunch time compilations blend traditional breakfast meals and later options. Their breakfast burrito features maple spiked pork sausage, scrambled eggs, onions, peppers, cotija, cilantro crema, roasted tomato cream salsa, and cheddar cheese. You can also take advantage of the restaurant's familiar hits, such as steak & eggs, chicken biscuits & gravy, and chicken 'n' donuts.
STK Orlando
In for something more upscale? A retreat to STK Orlando will offer you an ultra-modern steakhouse experience with an innovative menu, a superb outdoor patio, and an in-house DJ.
Brunch is available during the weekend from 11:00 am to 3:00 pm. Ensure you try specialties like smoked pork belly benedict, hot chicken & waffle, and truffle steak & egg. While at it, don't forget to snag bottomless mimosas, a bag o' donuts, and bloody marys.
Wolfgang Puck Bar & Grill
Visit the Wolfgang Puck Bar & Grill for another epic extravaganza during your visit to Disney Springs. Make yourself available during the weekends for an exciting brunch time experience from 10:00 am to 3:00 pm. Exclusives offered include crispy chicken & waffles, cajun shrimp & grits, smashed avocado toast, and sweet corn pancakes.
If you're into breakfast pizza, savor your taste buds with pizza that features bacon, eggs, potatoes, sausage, and tabasco cream.
Wolfgang Puck Bar & Grill also serves the usual menu items like desserts, appetizers, salads, and other pizza varieties.
Raglan Road Irish Pub & Restaurant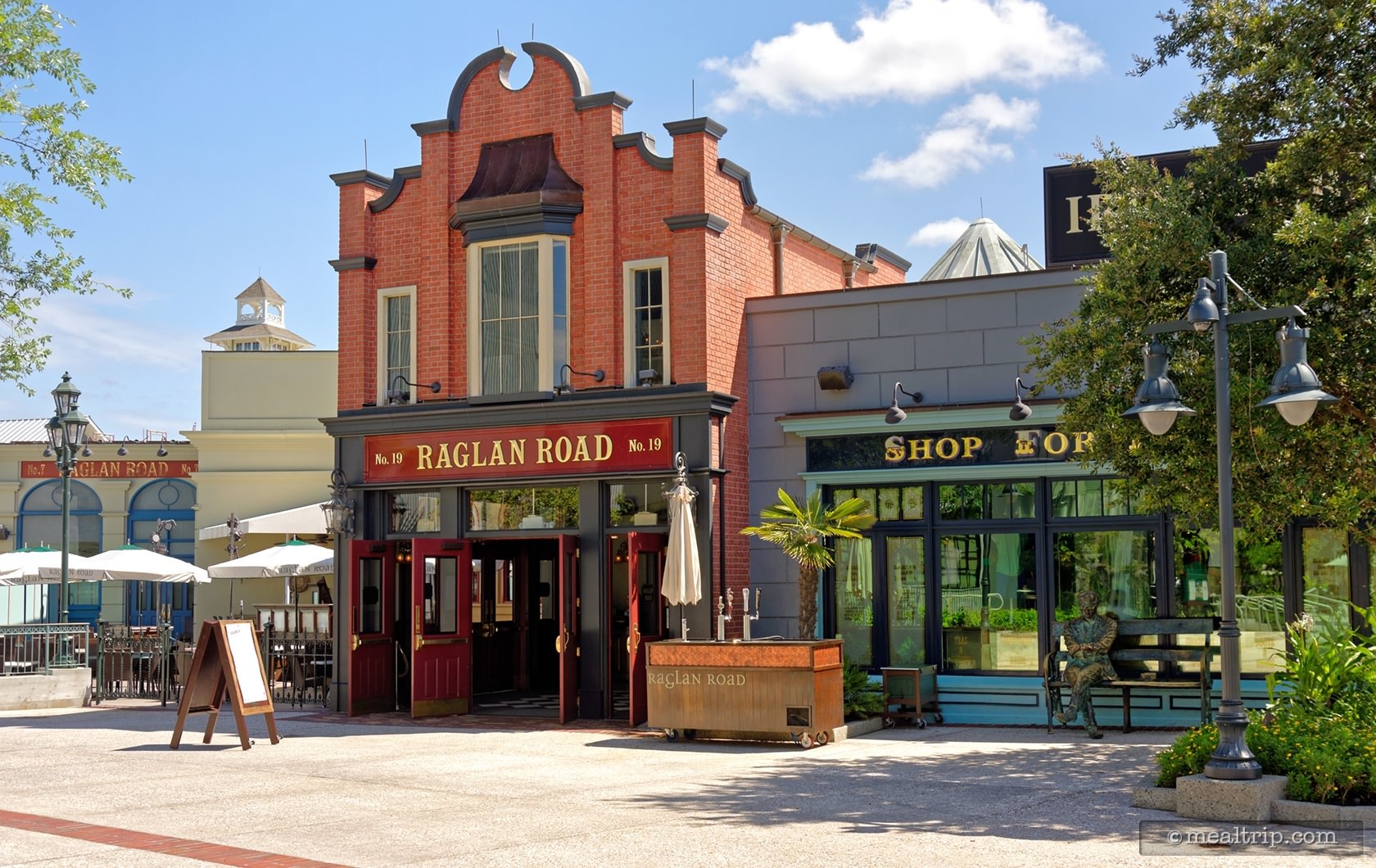 Brunch at Raglan Road Irish Pub & Restaurant is magically delicious. The place is open daily from 11:00 am during the weekday and from 9:00 am to 3:00 pm on the weekends. Brunch served here combines traditional treats with creative twists, all with their creative names.
Refreshing drinks are always included with the brunchtime menus.
The menu is divided between Brunchy Stuff like pork hashtagged, the Anglo-Irish eggs benedict, and the full Irish, or the Lunchy Stuff like the conventional fish and chips.
City Works Eatery & Pour House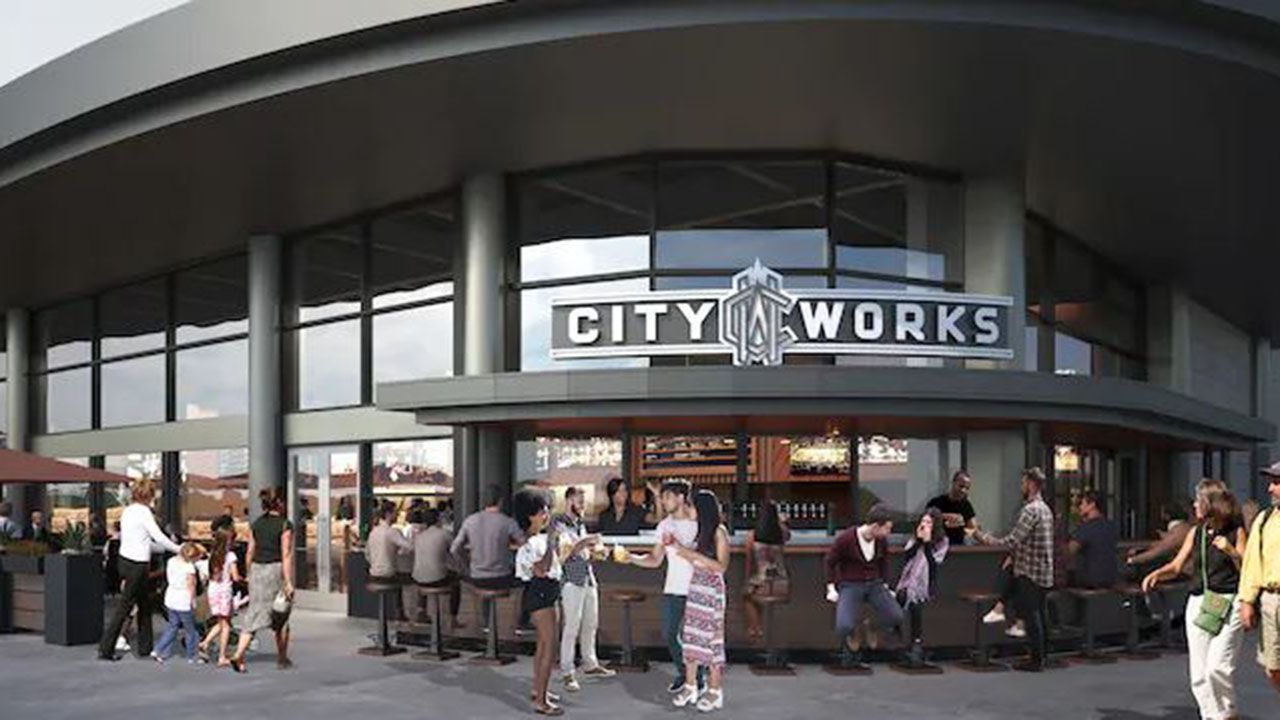 The City Works Eatery & Pour House is the place to be for beer lovers. This restaurant is on the West side of Disney Springs. Brunch is available on Saturday and Sunday and features a rock n roll-themed brunch running from 10:00 am to around 3:00 pm.
There are various novelty concoctions and creatively named meals. Some of these include sharables like Donut Stop Believin', Jon Bun Jovi, and more. Visit the City Works Eatery & Pour House to enjoy a rocking start to your weekend adventure.
Topolino's Terrace Breakfast A la Art
Topolino's Terrace Breakfast A la Art also offers a unique character dining brunchtime engagement that extends to 12:15 pm. Kids would love to mingle with classic Disney characters, including Mickey and Minnie Mouse, Donald Duck, and Daisy Duck.
There are various entrées to choose from, including house-made pancetta, smoked salmon, sour cream waffle, bread pudding, wood-fired butcher's steak, and a wild mushroom scramble.
Whispering Canyon Café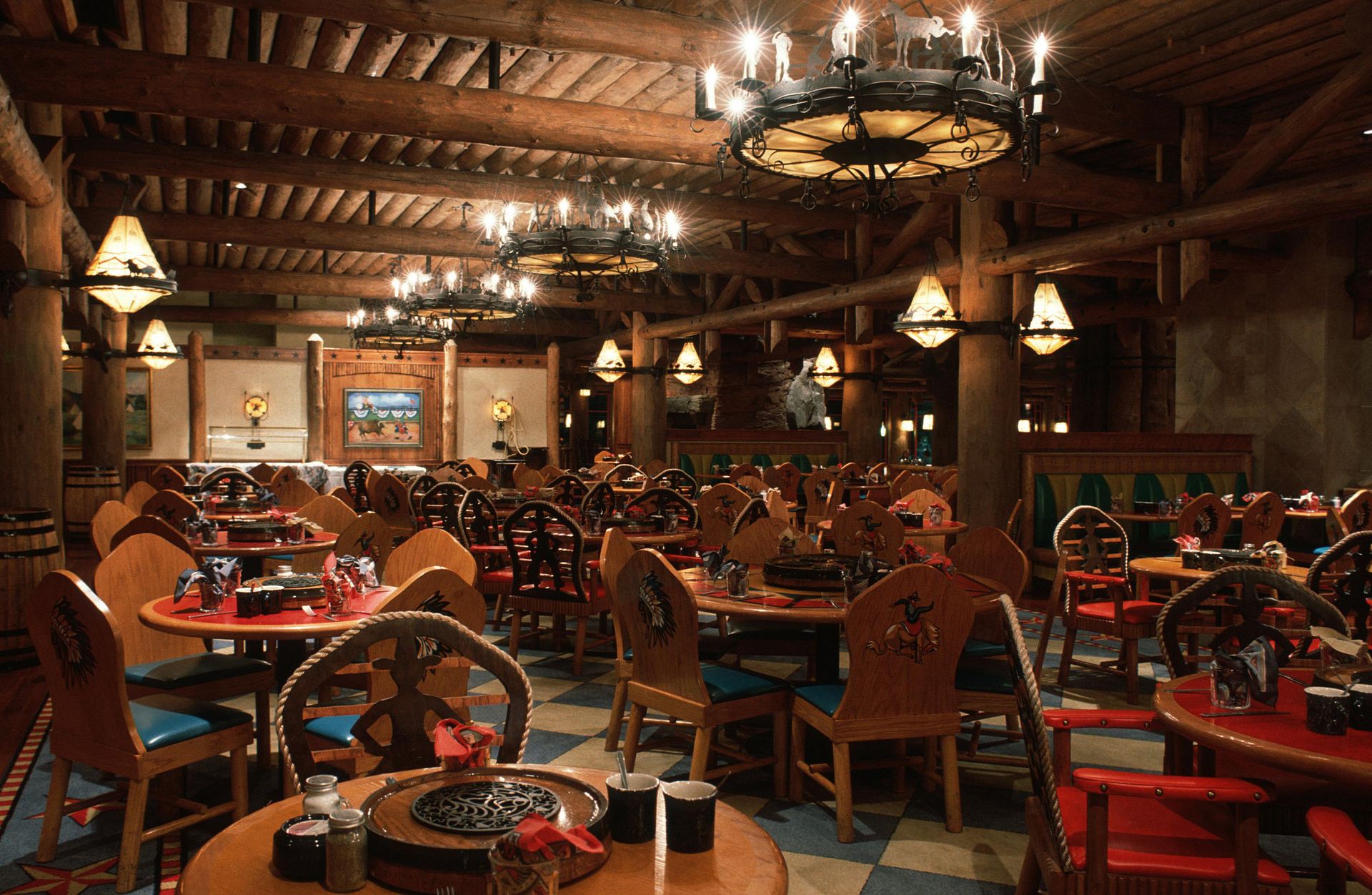 At Whispering Canyon Café, you get to enjoy "Brunch-B-Q" dishes. These meals feature a combination of breakfast or lunch meals from the restaurant's all-you-care-to-enjoy signature skillets. Breakfast starts from 7:30 am to 11:25 am. Later, lunch starts from 11:30 am to 2:00 pm.
The Heritage features buttermilk cheddar biscuits served with sausage gravy, country potatoes, scrambled eggs, bacon, and waffles shaped like the Mickey Mouse character. Another signature skillet is the Carnivore. It offers in-house cornbread, maple chipotle pork ribs, barbecued pulled pork, country potatoes, charred carrots, citrus-herb chicken, and buttered corn.
The Lighter Side Skillet serves fresh fruits, muesli, egg white frittata, yogurt, turkey bacon, country potatoes and more.
Grand Floridian Café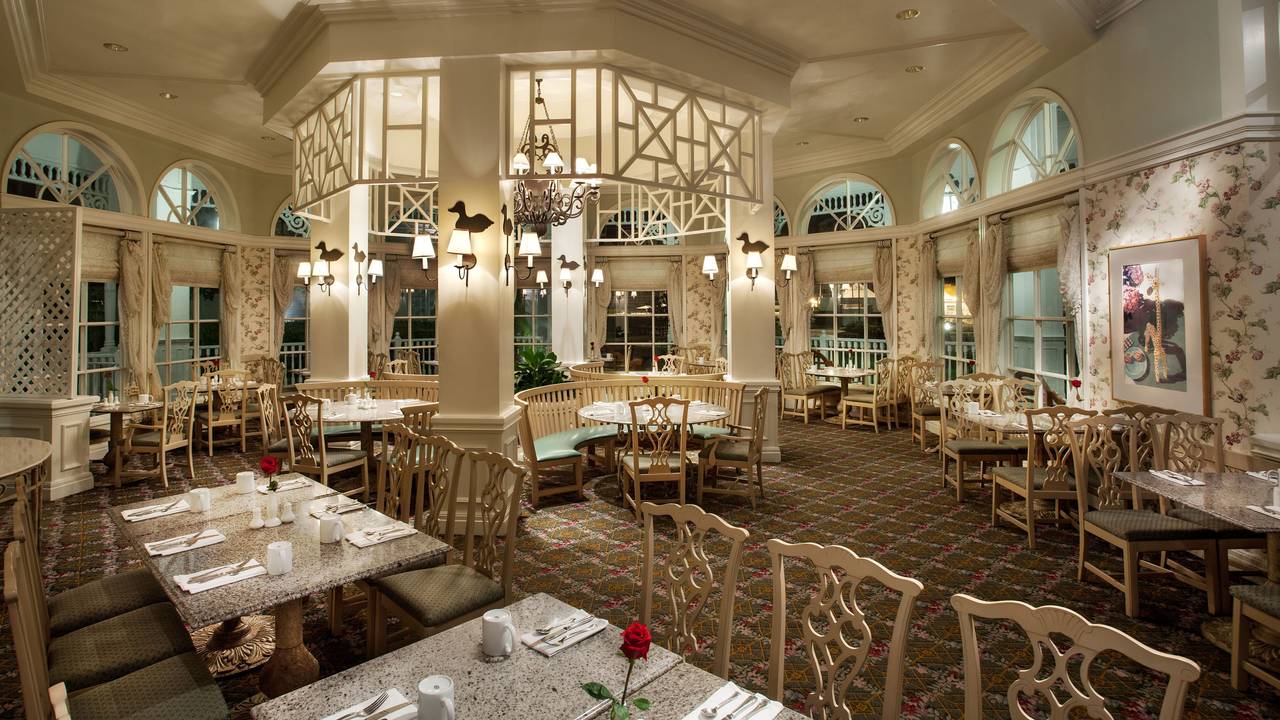 There's no better way to start your day in an enchanting manner other than a visit to the Grand Floridian Café. You can explore what the Grand Floridian Resort offers before or after your brunch. The classic atmosphere delivers interesting views of the resort. Breakfast is only served
from 7:30 am to 11:00 am. Lunch starts at 11:05 am and to 2:00 pm.
The brunch menu features tasty highlights like Lobster' Thermidor' Burger, Feta Quiche, and Roasted Tomato. You can also enjoy Breakfast classics like Mickey waffles, pancakes, and brioche French toast.
Boma – Flavors of Africa
Boma is the best place to visit if you're on a Disney date without necessarily entering the theme park. The restaurant offers a cultural treat featuring African art and dazzling African animals surrounding the outdoor areas. Whether you want to sleep in or are an early riser, Boma's brunch is the perfect way to start your day. Their buffet features exotic meals like Turkey boboties and other traditional omelets.
Cape May Café
Into buffet meals to kickstart the day? Cape May Café is a New England-inspired venue with delicious meals. It's a fun-filled venue with Disney characters onsite. This means that kids would love to be part of the brunchtime dishes. Kids can mingle with characters like Minnie Mouse, Donald Duck, Daisy Duck, and Goody.
Typically, breakfast starts at 7:30 am and ends at 11:30 am. Visitors can enjoy brunch from 10:00 am as they wait for lunch later in the day.
Ale & Compass Restaurant
If reviews are something to go by, the Ale & Compass Restaurant is one of the best places to have brunch at Disney World. While there's no specific menu for brunch, this meal is normallyserved between breakfast and lunch.
Visitors tricking in from 10:00 am can enjoy the breakfast buffet or entrées, like the American breakfast, dark chocolate waffle, shrimp and white cheddar grits, crab cake benedict, breakfast flatbread, and more. There are various brunch options to choose from, making it easier for guests to find something to enjoy.
Terralina Crafted Italian
Why not delight in waterfront views while enjoying classic Italian dishes at Terralina Crafted Italian? Your family will quickly fall in love with the rustic setting, not to mention the fact that they will enjoy the various authentic Italian classic dishes.
Everything at Terralina Crafted Italian is prepared with the visitors' tastes and preferences. You can have brunch at this restaurant every Sunday from noon until 3:00 pm. This gives you plenty of time to have the hearty conversation you've always wanted with friends and family.
The brunch menu features exciting meals, like breakfast pizza, bread pudding, French toast, omelet, bloody Mary, poached eggs, and mimosa flight. You can also explore the wine options to choose from after your meal.
Wrapping Up
Ready to indulge in these great meal options at any of the restaurants featured in this list? Well, the whole concept of brunch is a brilliant idea, especially for folks who want to eat both breakfast and lunch at the same time.
Finding the right spot to have the first meal of the day can make a huge difference to how you start the day. We've researched for you, and you now have a list of the great places that serve the most delicious brunch meals in Disney World.
Make your reservations early or avail yourself at the right time to ensure you enjoy the taste of different cuisines served at these popular eateries. Remember, brunch is about enjoying a nice meal in a uniquely quiet place where you can relax and unwind.
More about our TFVG Author
A seasoned traveller, Dad, and avid sports tourist, James foundered The Family Vacation Guide to share his expert vacation experiences- especially when it comes to being a travelling family man.
Featured in Travel articles such as Travel + Leisure, TripSavvy and SFGate, you know you're reading some of the best vacation tips online.