Miami is famous for many things ‒ lovely weather, incredible scenery, sunny beaches, Cuban culture, just to name a few. You might even hear people call it "The Magic City." It received that moniker because of its exponential population growth in a matter of just more than a century.
So, if you're thinking of visiting this iconic Florida city and you want to bring your pup, here are nine of the best dog-friendly hotels in Miami.
1. Novotel Miami Brickell
Located at 1500 S.W. 1st Ave., smackdab in the middle of downtown Brickell, is the Novotel Miami Brickell Hotel. Everything you need is reasonably close, with no longer than a half-hour walk to get to parks, shopping centers, and tourist attractions. 
Novotel features amenities that include an outdoor pool, a lounge, and a rooftop terrace that overlooks a beautiful view of the beach. This location has everything you might need during your stay in The Magic City, loaded with free internet, premium TV, breakfast, storage, laundry, tour assistance, and 24-hour service.
You get all the comforts of home, including air conditioning, minibars, blackout curtains, free local calling, and plush furniture to lounge in after a long day. At just $180 per night, who can go wrong with an extra pet fee starting at $125.
Address: 1500 S.W. 1st Ave.

What's nearby:

City center
Shopping
Miami beaches
Brickell Station
Airport
Bayfront Park
Bayside marketplace
Calle Ocho Walk of Fame


What makes Novotel unique?

Outdoor pool
Large suites/adjoining rooms upon request
Lounge and minibar
Room service
24-hour fitness
Rooftop terrace with a beautiful view


Languages:
What to do:

Nearby biking and hiking trails
24-hour swimming
Scuba diving
Drinking lounge
Nightclubbing
Tourist events


Prices:

$125 for pets
Room rates start at $180 per night
Novotel Miami Brickell Hotel is the right place to be if you're seeking a family vacation with endless hours of fun that entertains people of all ages.
2. Hyde Midtown Miami
Just as its name highlights, Hyde Midtown Miami is located in the heart of midtown Miami at a place called Beverly Terrace. Hyde Midtown is a non-smoking hotel close to shopping centers at 101 N.E. 34th St.
Like the Novotel, the Hyde Midtown is the best place for families that plan to stay awhile, as most suites come equipped with a complete kitchenette and dishware. When you're not in one of the 60 rooms available, you can entertain yourself with an outdoor pool, tennis court, and restaurant. While Hyde Midtown is family-friendly, there are no cribs for infants, but you're allowed to bring two children up to age 12.
What makes Hyde Midtown so unique is that you can go home with a fresh new haircut from the salon on the hotel's premises. Also, Hyde Midtown features in-room spa services.
The suites accommodate blind and deaf people, as visual fire alarms, closed-caption TV, and braille signage are standard.
Address: 101 N.E. 34th St.

What's nearby:

Perez Art Museum
Design Shopping District
Miami Station
Hialeah Market Station
FTX Arena
Midtown Shops
Two Airports


What makes Hyde unique?

Family-friendly kitchenettes
Free WI-FI
Hair salon
Outdoor pool/tennis
Spa services
Concierge
Comfortable slippers, robes, towels, blankets
Accessible for the deaf and blind
Business center with computers
Daily housekeeping
55-inch TV


Languages:
What to do:

Free Netflix
Premium cable
Swimming/tanning
Fitness
Spa


Prices:

Pets: $50/day under 20 pounds (service animals exempt)
Valet parking: $40/day
Resort fees: $20 per accommodation plus night
Room rates start at $195
If you're planning to stay at Hyde Midtown, the hotel requires you to be vaccinated against COVID-19 or first be tested and quarantined upon arrival. Hyde Midtown is an excellent place for small families who like great views and culture or anyone on a business trip. No matter what kind of trip you plan, consider Hyde Midtown for ultimate relaxation.
3. Four Seasons Hotel Miami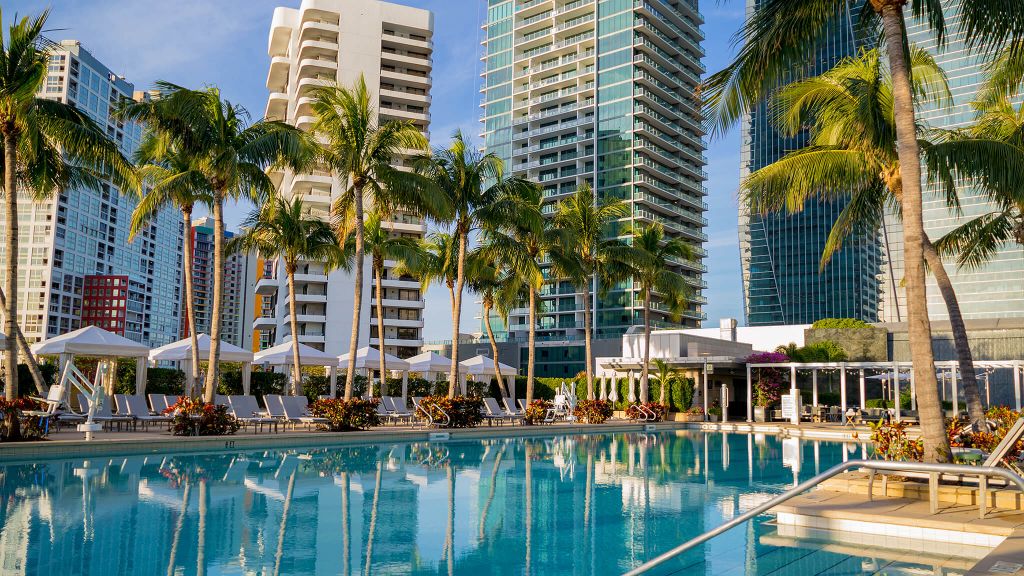 This five-star hotel has tons of things to do, such as yoga, saunas, two pools, fitness equipment, children's areas, a hair salon, and wedding services, to name a few. With exquisite sights and the utmost comfortable premium bedding, you and your family won't want to leave The Four Seasons Hotel Miami.
Located at 1435 Brickell Ave., The Four Seasons might be a bit pricey, but you can rest assured that you won't have to worry about paying for your lovable pup.
Enjoy your stay in your room equipped with hypoallergenic bedding, blackout drapes, a pillow-top mattress, and a down comforter. Also enjoy premium TV, free WI-FI, and laundry facilities.
Don't want to stay in your room? The Four Seasons has many things to do outside your suite as well. Suppose you don't want to tow along your children to your excursion, no worries. The hotel offers the option for in-room child care at an extra cost.
Address: 1435 Brickell Ave.

What's nearby:

Hialeah Market
Calle Ocho Walk of Fame
Perez Art Museum
FTX Arena
Brickell City Centre
Downtown Miami Shopping District
Vizcaya Museum and Gardens
Bayside Marketplace
Two airports


What makes The Four Seasons unique?

Wedding services
No charge for pets up to 15 pounds
24-hour business services

Conference room
Meeting rooms

Lounge
Coffee shop
Poolside bar
Town car or limo services
Premium TV
Exquisite bedding and furniture
Daily housekeeping


Languages:

English
French
Spanish
Turkish
Portuguese
Italian
German
Dutch


What to do:

Hair salon
Yoga
Sauna
Children's area
Swimming
Health clubs


Prices:

Self parking: $38/night
Valet parking: $42/night
Breakfast: $15-$30/person
Rooms starting from $325
If you're thinking of staying at The Four Seasons, not only is it child-friendly and your pup can stay free of charge, your visit is sure to be fun-filled and relaxing. Bring your whole family, as there are no age restrictions.
4. Mr. C Miami Coconut Grove
At 2988 Mcfarlane Road, you'll find Mr. C Miami Coconut Grove Hotel. Similar to the other hotels we mentioned so far, this pet-friendly lodging facility features amenities including a spa, an outdoor pool, and a rooftop terrace overlooking some of the best views in Miami.
Mr. C was named for its location in the middle of the Coconut Grove area of Miami, with other popular tourist attractions nearby for you to enjoy during your stay. Equipped with premium TV channels, adjoining rooms, and infant beds, Mr. C Miami Coconut Grove Hotel is comfortable for the entire family.
If you're planning on bringing your dog or dog(s), Mr. C allows more than one family pup as long as they weigh 25 pounds or less. Enjoy your stay with the knowledge that all rooms are soundproof (meaning you won't hear barking from other furry guests), pillow-top mattresses, and, best of all, an MP3 docking station for all your tunes.
Address: 2988 Mcfarlane Road

What's nearby:

FTX Arena
Miracle Mile
Bayside Marketplace
Miami Beach Convention Center
Ocean Drive
Miami Beach Boardwalk
Two airports


What makes Mr. C unique?

Disability features

Shower grab bar
Wheelchair accessible
Low height counters

Concierge services
Laundry service
In-suite massages
Tour assistance
Storage
Business accommodations
Furnished balcony
65-inch TV
Soundproof rooms
Premium TV channels
Slippers/bathrobes
Air conditioning


What to do:

Spa
Fitness classes
Pool
Garden
Terrace
Restaurant
Three lounges


Languages:

English
French
Italian
Spanish


Prices:

Rooms start from $206
Pets stay for $150 per pet, per visit
Resort fee of $25 per night, per amenity
Mr. C Miami Coconut Grove Hotel is best if you want to vacay away from the noise and enjoy time by yourself or with your romantic partner, or lodge somewhere that will make your business trip exemplary. Bring more than one dog and take them for a stroll at the Beach Boardwalk.
5. Residence Inn by Marriott Miami Airport
If you know the location of Miami International Airport, Residence Inn by Marriott Miami Airport is a short five-minute drive from there. The hotel's address, 1201 N.W. 42nd Ave., puts these lodging facilities in an excellent spot for touring and getting around The Magic City.
Residence Inn has 163 rooms, features a complimentary daily buffet breakfast, boasts lots of activities to enjoy, and even has an excellent working station for those visitors doing business while they stay. In your room, you can enjoy a flatscreen TV with premium channels, a washer, and a dryer, along with a comfortable Futon and full kitchenette.
Address: 1201 N.W. 42nd Ave.

What's nearby:

Dolphin Mall
Jackson Memorial Hospital
Hard Rock Stadium
Two airports
Shopping center


What makes Residence Inn unique?

In-room laundry facilities
Free grocery shopping service
Wedding services
Limited hours of room service
Braille or raised signage
Picnic area
Safe at the front desk for essential belongings
Terrace
Business center

Computers
Meeting room
Conference area

Daily housekeeping
Climate control air conditioning


What to do:

Nearby golfing
Hiking/biking trails
Surfing/boarding sports
Windsurfing
Water skiing
Sailing
Scuba diving
Snorkeling

Language:
Price:

Starting from $150
Self-parking: $23 per day
Valet parking: $28 per day
Pets: $150 per accommodation, per stay

Not including service animals

$140 damage deposit per accommodation, per stay
For the most fun and entertaining visit, Residence Inn is the place to go. Why spend hours inside your hotel when you can spend endless hours of entertainment nearby? Whether you're here for business, family vacation, or date night, the Residence Inn is perfect for all.
6. Kimpton EPIC Hotel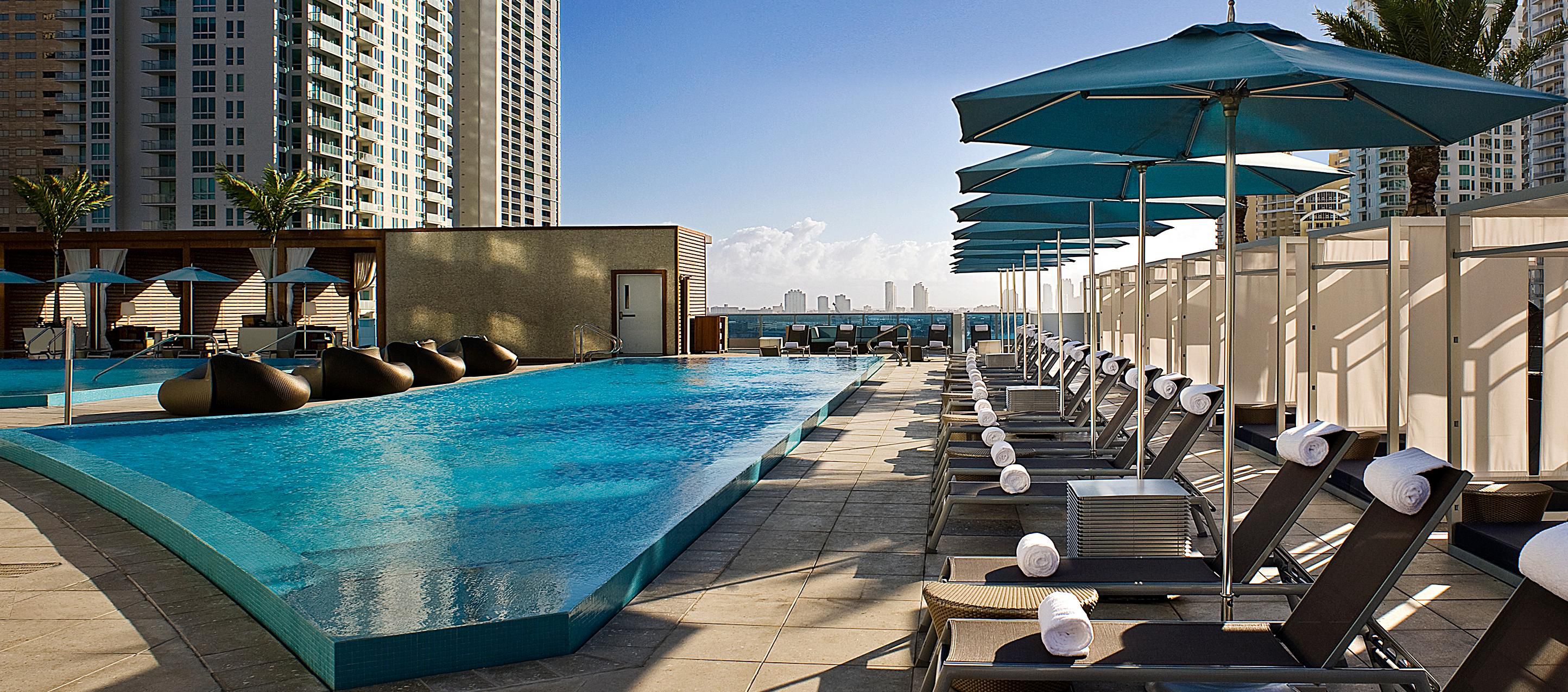 This five-star hotel brings your vacation of paradise to 270 Biscayne Boulevard Way. This location in iconic downtown Miami sets the pace for what The Magic City has to offer. You can meet locals, go shopping three minutes away, and do loads of other stuff.
The Kimpton EPIC Hotel is the one place where if you can dream it, you can do it. Of all the hotels we reviewed so far, Kimpton is the No. 1 place with the most to do. Kimpton includes laundry facilities, wedding services, limo or town car services, two restaurants, three bars, and much more.
In your suite, you will find a minibar, premium hypoallergenic bedding, a deep soaker tub, a 55-inch flatscreen, and blackout drapes. Kimpton has everything!
Address: 270 Biscayne Boulevard Way

What's nearby?

Bayfront Park
Brickell City Center
Calle Ocho Walk of Fame
Bayside Marketplace
Downtown Miami Shopping District
Two airports
Riverwalk Metromover Station


What makes Kimpton unique?

Storage for luggage
Room door peephole/lowered peephole
All disability-accessible rooms and lobbies
Porter/bellhop
Concierge services
Rooftop terrace
Terrace
Business center with all amenities
Pool
In-room massage


What to do:

On-site fitness classes
On-site free bicycles
On-site Pilates classes
On-site yoga classes
Nearby amenities

Kayaking
Mountain biking/hiking
Parasailing/sailing
Rafting
Scooter and moped rentals
Surfing/boarding
Golfing and lessons


Languages:

French
English
Spanish
Portuguese


Prices:

Starting from $207
Valet parking: $44 per night
WI-FI: $13 per 24-hour period
Breakfast: $15-$30
Damage: $150 per night
Contact Kimpton for pet fees and restrictions
Kimpton EPIC Hotel has it all, with spa treatments, fitness classes, nearby sporting activities, lazing in the sun, massages, and everything you could imagine on holiday. Kimpton is best for anyone who just needs a royal escape from their busy lives.
7. Hyatt House Miami Airport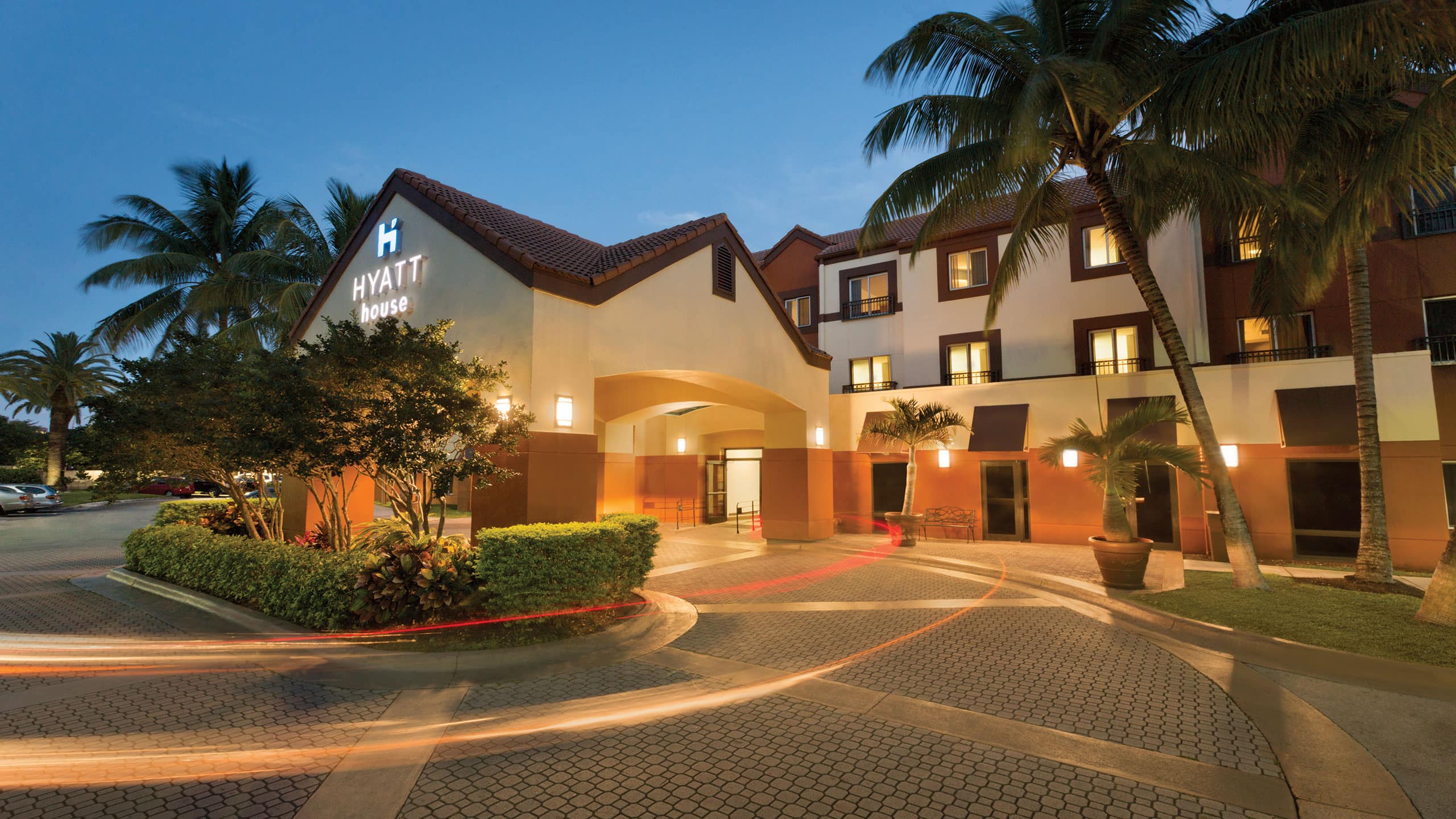 One of Miami's more significant and cheaper hotels is the Hyatt House Miami Airport, located at 5710 Blue Lagoon Drive. You have access to Magic City Casino, two airports, and more beautiful views in this part of Miami.
Two pets per room are acceptable with fees and deposits, so with this vacation rental, you can bring a friend for your canine. Are you looking for a relaxing weekend with your friend, soulmate, or family? Hyatt House is a safe and convenient option.
Address: 5710 Blue Lagoon Drive

What's nearby:

FTX Arena
Hialeah Market Station
Downtown Miami Shopping District
Calle Ocho Walk of Fame
CityPlace Doral
Miami International Mall


What makes Hyatt House unique?

24-hour front desk service
Laundry facilities
Restaurant
Free breakfast buffet
Free reception
Barbecue
Free WI-FI
Soaker tub
Air conditioning
32-inch flatscreen TV


What to do:

24-hr fitness
Spa tub
Outdoor pool
Nearby windsurfing/water skiing/scuba diving/snorkeling
Nearby sailing
Nearby golfing


Languages:
Prices:

Starting from $138
Self-parking: $23 per night
Pets: $75 per accommodation, per stay, plus a one-time cleaning fee of $100
Enjoy a short or long vacation with as many people as you like at this Miami hotel. Hyatt House might not be best for business trips; although, it is suitable for more intimate gatherings.
8. Hyatt Centric Brickell Miami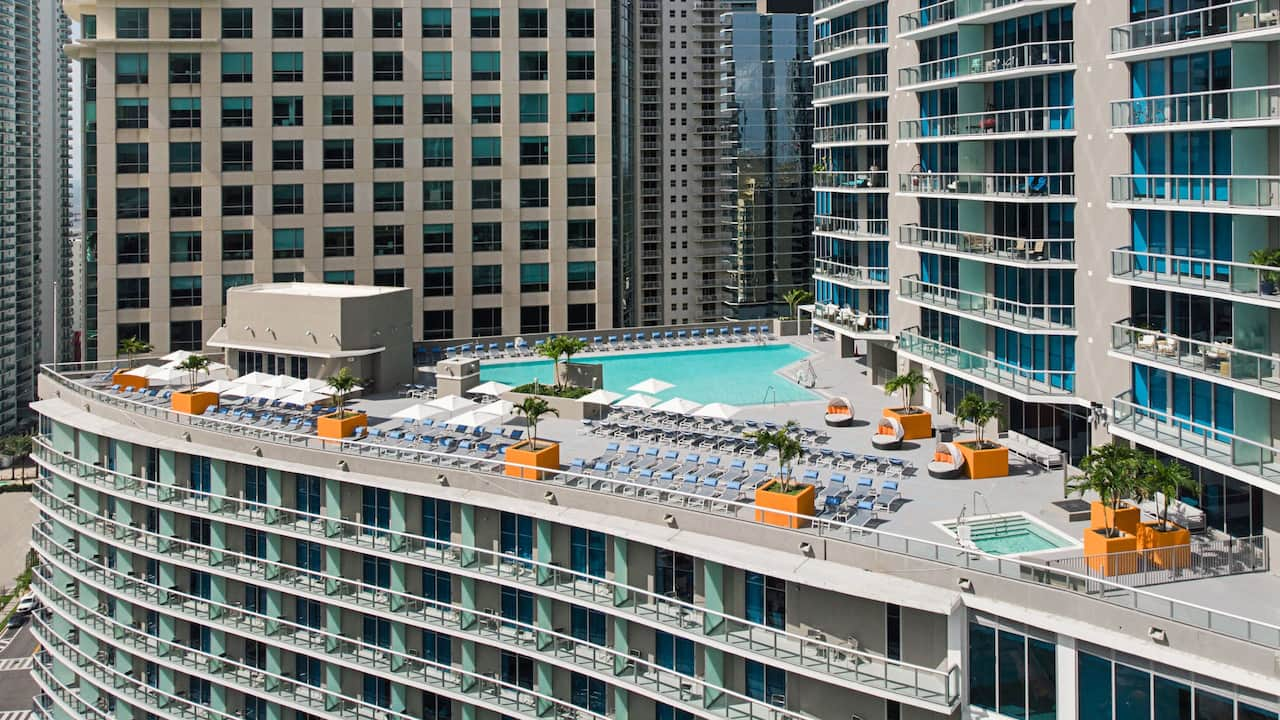 This pet-friendly hotel's location, 1102 Brickell Bay Drive, is in downtown Miami, meaning you can enjoy the city life. Brickell City Centre is only about 10 minutes away from the Hyatt Centric Brickell hotel.
In your Hyatt Centric suite, you can enjoy an iPod docking station, a 55-inch flatscreen TV with premium channels, and a balcony that overlooks Miami's gorgeous views. Enjoy blackout drapes, air conditioning, and premium bedding to suit your and your dog's needs.
Here are some additional attributes:
Address: 1102 Brickell Bay Drive

What's nearby:

Brickell City Centre
Vizcaya Museum and Gardens
Mary Brickell Village
Bayside Marketplace
Lincoln Road Mall
Two airports
Hialeah Market Station


What makes Hyatt Centric Brickell unique?

Full daily breakfast for an extra charge
24-hour front desk service
Wedding services
Storage for your luggage
24-hour business center
Free WI-FI


What to do:

24-hour fitness activities


Languages:

French
Spanish
English
Polish


Prices:

Starting from $155
Valet parking: $41 per day
Breakfast: $5-$28
Pets 50 pounds and less: $100 per stay, per accommodation. Maximum of two pets.
Hyatt Centric Brickell Miami might not have many things to do; however, it has a convenient business setup for people on work trips. Although, if you're someone who doesn't want to do much and needs a place to stay for an escape, Hyatt Centric is the right place for you.
9. W Miami
Perhaps the most expensive hotel is the last one on our list, starting from $348. Located at 485 Brickell Ave., the W Miami hotel sets such a high price because of its many accommodations, and pets are welcome at no charge.
At W Miami, there are so many activities and amenities to enjoy, you might not have enough time to do them all, and because of its location, it's perfect for touring this Magic City. In your suite, you have hypoallergenic bedding, complimentary bottled water, a minibar, 32-inch TV with premium channels, and daily housekeeping.
More about the W Miami:
Address: 485 Brickell Ave.

What's nearby:

James L. Knight Center
Bayside Marketplace
FTX Arena
Perez Art Museum
Calle Ocho Walk of Fame
Two airports
Fifth Street Metro Mover Station
Adrienne Arsht Center


What makes W Miami unique?

Daily breakfast at an extra charge
24-hour room service
Laundry facilities
Wedding services
Tours assistance
Swim-up bar
Restaurant
Outdoor pool
Terrace
Garden
Accessibility for the elderly, blind, and deaf


What to do:

Full spa
Sauna
Pool loungers
Spa treatment
Fitness equipment and classes
Tourism


Languages:
Prices:

Starting from $348
WI-FI: $14.95 per day
Breakfast: $17-$28
Valet parking: $42
W Miami is the only hotel in Miami that doesn't charge a pet deposit or a fee to have your loving canines stay with you. Although that is a massive pro for dog lovers, the price might not be worth the commitment for some. On the other hand, W Miami is the perfect location for tourism, shopping, and exciting entertainment. W Miami would suit vacationers looking for a lovely time in a convenient location and comfortable setting.
Summary of the Best Dog Hotels in Miami
We started with Novotel, which provides employees who can speak three languages, fair pricing, comfortable rooms, and beautiful views.
Hyde Midtown is child-friendly, and the rooms are beautiful. At Hyde, you can choose to stay in and relax or go wandering to places nearby, including shopping opportunities and places to view pleasant art.
Our third on the list is The Four Seasons, where employees are fluent in eight different languages. The Four Seasons is very child-friendly, equipped with children's areas and in-room day care services. This hotel is also great for getting around and has a 24-hour business program for work trips.
Mr. C Coconut Grove has one of the most comforting suites around, with premium bedding and furniture, large TVs, and even in-room massages. Enjoy what this lodging has available on-site with fitness classes, lounges, and spas.
Another fair-priced hotel is Residence Inn. This Miami hotel offers the most activities to enjoy; however, the least amount of places to tour around are within walking distance. What makes Residence Inn great is you get complimentary breakfast every morning.
The sixth hotel discussed, the Kimpton EPIC Hotel, is the most accommodating, with a fair price, the most to do, the best suites, the best view, and a location right in the middle of all the action.
Next, we have Hyatt House Miami Airport. Of all the hotels on the list that charge fees for pets, this facility has the lowest price for a pet deposit but requires a cleanup fee. Equipped with a spa, 24-hour fitness opportunities, soaker tubs in your suite, Free WI-FI, and laundry availability, you can feel right at home.
Eighth on our list is Hyatt Centric Brickell Miami. Also equipped with free WI-FI, you might need it here because the hotel's only activity is 24-hour fitness. While one activity might be sufficient for many people, there are amenities The Magic City offers nearby for those who want to take in the sights or get out of their room. Also, two pets are welcome here with a charge of only $100.
Lastly, we talked about W Miami, perhaps the most expensive hotel on our list, but also the most glorious. W Miami has the most accessibility for the disabled, is located near most art places, and has a terrace and garden for guests to enjoy. To compensate for the high price, your pets stay free of charge when you visit W Miami.
Whether you're working on a business trip, taking your spouse and canine for a vacation, or spending quality time with the entire family, there is a dog-friendly place in Miami for everyone.
More about our TFVG Author
A seasoned traveller, Dad, and avid sports tourist, James foundered The Family Vacation Guide to share his expert vacation experiences- especially when it comes to being a travelling family man.
Featured in Travel articles such as Travel + Leisure, TripSavvy and SFGate, you know you're reading some of the best vacation tips online.