Are you looking to plan your next family vacation to the coast?
Whether you already live in-state or are coming from elsewhere, a trip to the sunshine state is sure to tick all your boxes striking the perfect balance of exciting activities, local attractions, and deep relaxation.
Located in the Florida panhandle at the Westernmost tip of the state, Pensacola is home to scenic beaches, a bustling downtown, and extensive cultural history, making it a compelling tourist destination for people of all ages and an excellent spot for families.
Here is a collection of some of the best family-friendly hotels in Pensacola:
1. Margaritaville Beach Hotel
A Jimmy Buffet-inspired hotel with family fun for everyone, the Margaritaville Beach Hotel is a fantastic tropical escape with beachfront access and phenomenal ocean views. The hotel has 162 guest rooms, including a number of executive suites with wrap-around balconies.
The hotel offers several family-friendly activities, including beach bike rentals, kayaking and paddleboarding, snorkeling, and fishing. They also can help book Dolphin cruises, sailing lessons, and a nightly sunset cruise.
Hotel amenities include a private outdoor pool deck, an indoor fitness facility, a business center, and free Wi-Fi. The hotel also offers booking options for offsite spa services. The hotel offers several locations for dining and drinks, including the Frank & Lola Love Pensacola Cafe, Landshark Landing, and a tiki bar.
With proximity to the beach and plenty of nearby activities, a trip to Margaritaville provides a great mix of adventure and relaxation that the whole family is sure to enjoy.
2. Portofino Island Resort
If you and the family are looking to combine the beautiful coastline with adventure in a luxurious setting, look no further than the Portofino Island Resort. Located directly between the Gulf of Mexico and Santa Rosa Sound, the hotel provides access to multiple beach fronts and no shortage of fun and exciting exploration.
The resort offers adventure packages for the winter, spring, and summer seasons. The packages include fun water sports activities such as paddle boarding, kayaking, and boogie boarding. They also provide fun beach games like cornhole, bocce, and spike ball. You can also rent golf carts or electric bicycles and explore all corners of the island.
The resort offers outstanding amenities, including a spa & wellness center, beach condo towers with stunning views, and plenty of dining and shopping options. With plenty of exceptional features, Portofino Island Resort offers a serene location and unique island adventures, earning its place among the best family-friendly hotels in Pensacola.
3. Hilton Pensacola Beach
Hilton is a brand synonymous with top quality and leisure, and their Pensacola location does not miss a beat. The hotel is located directly on the famous Pensacola Beach, which is among the most beautiful beaches in the entire country. With two large pools, a jacuzzi, and ocean views as far as the eye can see, this hotel is a tropical paradise with an aquatic theme.
The Hilton Pensacola Beach hotel offers several different lodging options, including one, two, and three-bedroom suites with views of the bay and the Santa Rosa Sound. There are on-site dining options, a 24-hour fitness center, and seasonal children's programs with fun activities for different age groups.
The hotel also offers booking options for pontoon rentals, dolphin cruises, jet skis, and sightseeing cruises. With tons of activities, stunning beauty on all sides, and a relaxed vibe Hilton Pensacola Beach will provide good times for all ages.
4. Springhill Suites Pensacola Beach
Springhill Suites Pensacola Beach by the Marriot is another excellent option for families with convenient and spacious suites, ocean views, and white sands right out front.
The hotel offers a fitness center and multiple pools, including a child/family-friendly option. The oceanfront is also ideal for snorkeling. The hotel provides some dining options, and its central location allows easy access to nearby restaurants.
If you want to get out and explore, there are plenty of nearby attractions, including the Cordova Mall, Gulf Breeze Zoo, Bayou Grande Marina, and explorations all around the Gulf of Mexico. Pensacola Bay Center offers year-round concerts and expos, and an outing to Fort Pickens National Park just 10 miles away makes for a great family excursion.
5. Surf & Sand Hotel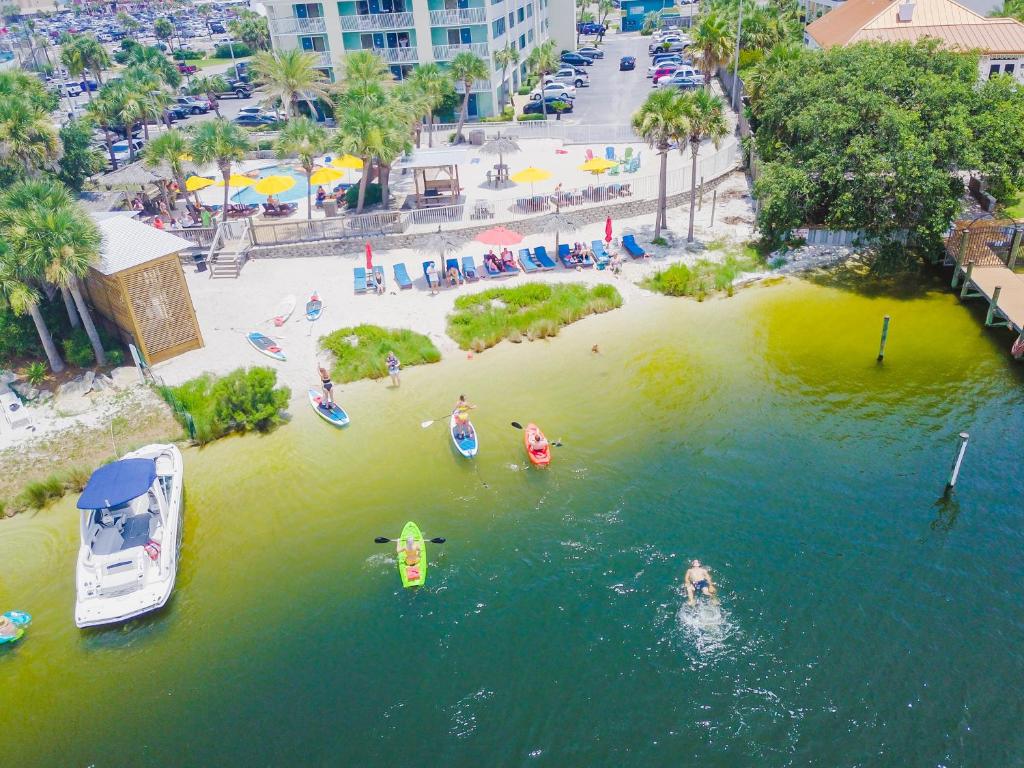 If you are looking for relaxation and leisure at an affordable price, the Surf & Sand Hotel offers excellent accommodation. Self-referred to as "the most fun hotel on Pensacola Beach," Surf & Sand Sand offers a scenic outdoor pool deck overlooking the bay, fire pits, pet-friendly rooms, and a whole lot of free stuff, including bikes, kayaks, and water floats. The hotel offers fun weekly events, including Float Fridays and Saturday Pool Parties.
Surf & Sand is an excellent reminder that you don't need to break the bank to stay at one of the best family-friendly hotels in Pensacola. The hotel has an ideal location among some of the best restaurants in Pensacola, including The H20 Grill, Bonsai, and Water Pig BBQ.
You'll also find a lot of fun nearby activities that include boat rentals and cruises, providing no shortage of fun activities.
6. Beach Club Resort Residence and Spa
If you are looking for a more personal and natural homey feel, the Beach Club Resort Residence and Spa is a great alternative to traditional hotel chains.
The property offers three and four-bedroom condo rentals that provide ideal space for larger families. Each condo has a gourmet kitchen, dining room, bathrooms, spacious bedrooms, and balconies overlooking the Gulf of Mexico.
With prime access to downtown, a stay at Beach Club provides premium luxury and convenience with tons of fun activities. Beach Club amenities include access to the fitness center, indoor pool & jacuzzi, outdoor pool & hot tub, and spa center.
Some great nearby attractions include the National Museum of Naval Aviation, Laguna's Adventure Park, Pensacola Beach boardwalk, and go-karts.
7. Holiday Inn Express Pensacola Beach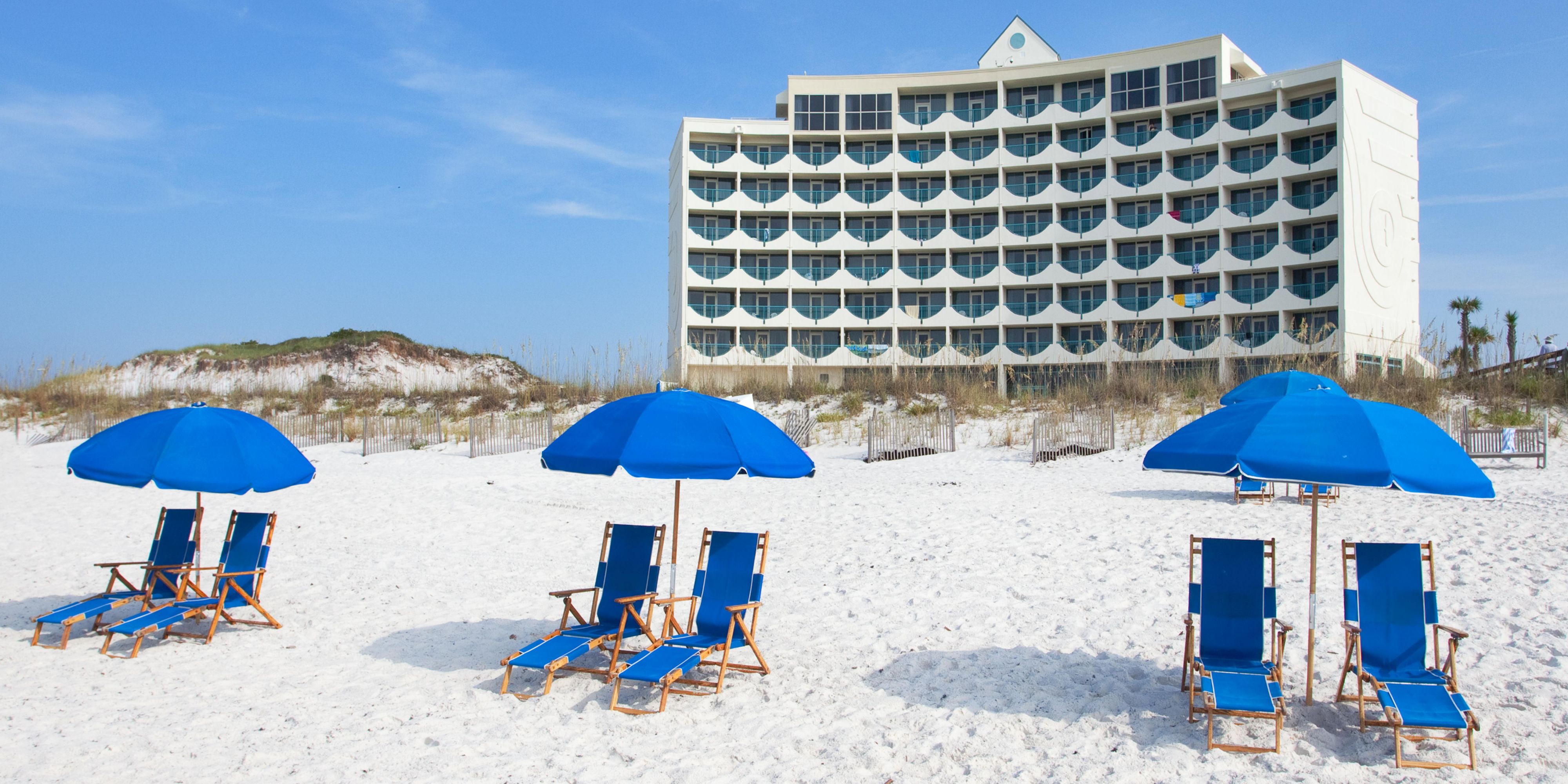 Another great hotel for families is the Holiday Inn Express Pensacola Beach. The hotel is located right on the beach with excellent ocean views and uncrowded white sands right outside the door. All rooms are newly renovated and overlook the Gulf of Mexico. Amenities include an outdoor pool, a fitness center, and a complimentary breakfast.
Nearby attractions include Fort Pickens National Seashore, Veterans Memorial Park, and Pensacola Fishing Pier. While regular bookings offer plenty of fun family activities, the hotel also offers some great promotional packages, including several family-oriented deals and activities that you can find on their website.
8. Hampton Inn Pensacola Beach
The Hampton Inn is another trusted name that offers quality service and great rates. Right on the beach and centrally located, the Hampton Inn Pensacola Beach hotel is in the perfect spot to get in on all Pensacola has to offer, including swimming, water sports, restaurants, and shopping.
The hotel has some really cool features, including a beachfront pool and a tiki bar. The hotel also offers a complimentary breakfast, a business center, and lounge chairs for the beach.
Suppose you are looking for things to do around Pensacola. In that case, Hampton Inn has a knowledgeable and friendly staff that can assist you and help plan some excellent family excursions, including boat trips, paddleboard rentals, and other sightseeing adventures.
9. Residence Inn Pensacola Downtown
Yet another Marriot offering, the Residence Inn Pensacola Downtown, provides a casual, laid-back vibe with great outdoor space and is perfect for extended vacation stays with ideal rates. The hotel offers an assortment of different rooming options, including studios, doubles, and suites, and has an outdoor pool, patio, and fitness center.
What really makes this location one of the best hotels family-friendly hotels in Pensacola is its excellent location with access to all sorts of fun activities.
The kids will love nearby attractions, including Sam's Fun City Amusement Park and Fast Eddie's Fun Center. There are also plenty of nearby shops and restaurants, and the hotel is just seven miles from the famous Pensacola Beach.
10. Beach N' Bay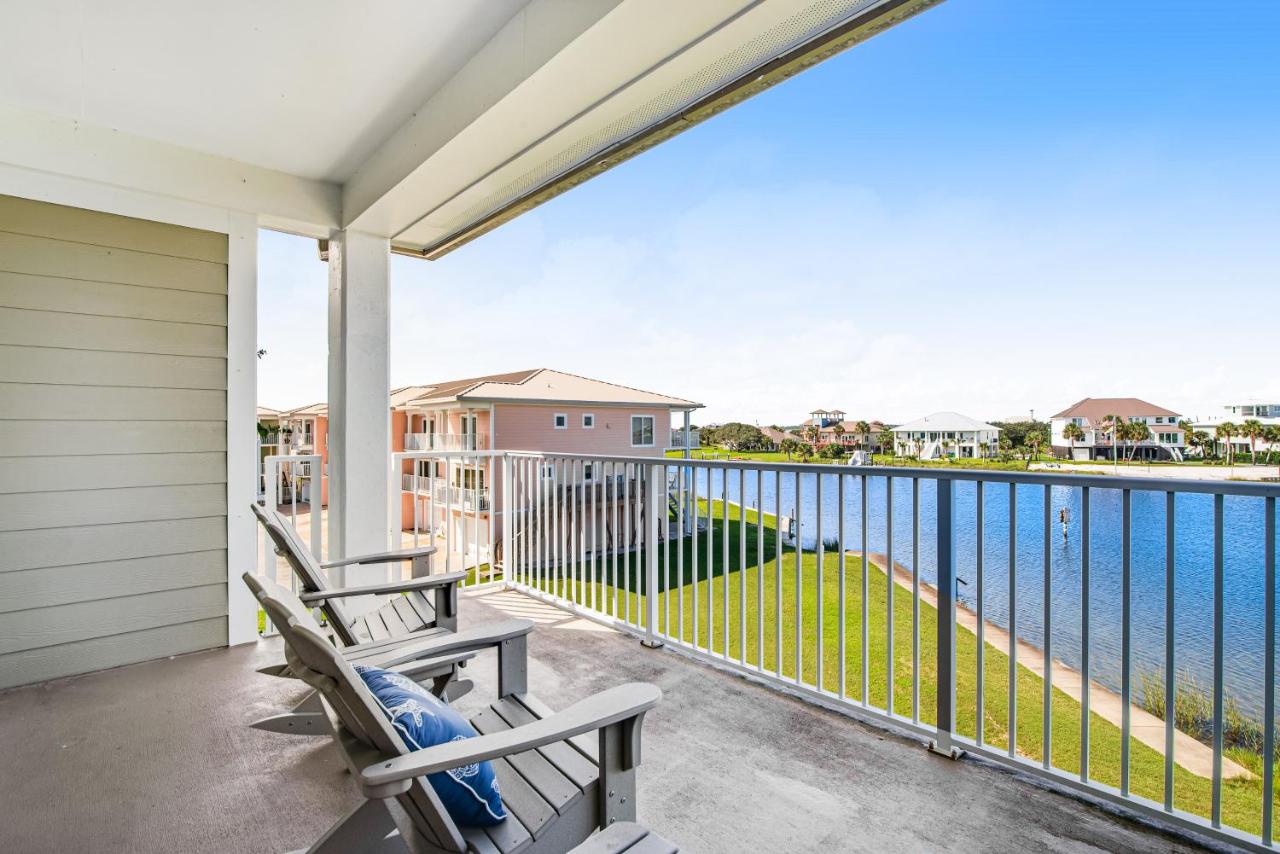 Beach N' Bay is a Bayfront townhouse perfect for families with condos that fit up to six people. The property provides enhanced levels of privacy, with spacious bedrooms, an entire living room, a kitchen, and 2.5 bathrooms. Other perks include a gas grill, patio, and balcony. Views depend on your location but include both Gulf and sound views.
If you're booking a trip for the whole family, a stay at Beach N' Bay is a nice change of pace from the traditional beachfront hotels while still providing beach access and plenty of nearby fun activities and attractions. Take in all Pensacola has to offer in the privacy of your own family condo.
11. Quality Inn & Suites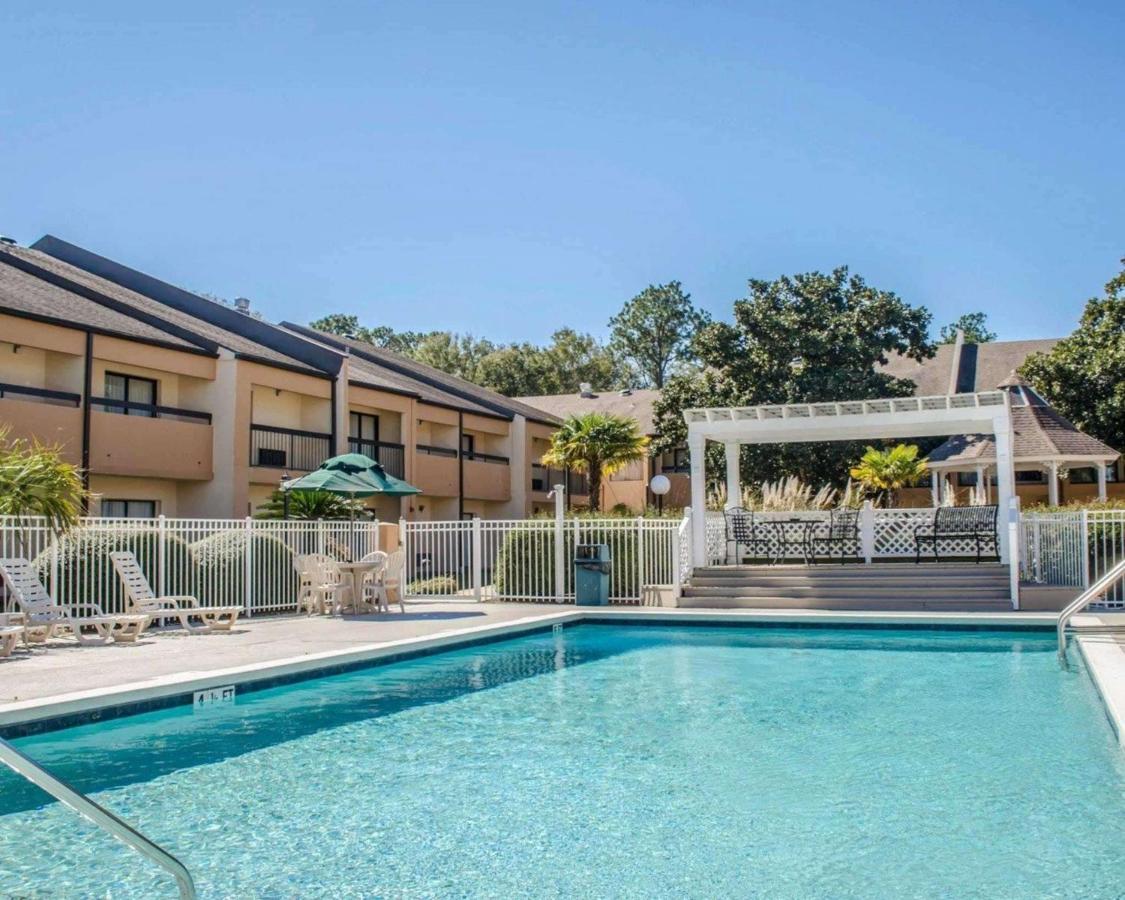 Another excellent option for families is the Quality Inn & Suites, which provides similar leisure activities and adventure levels while staying on budget. The hotel includes a seasonal outdoor pool, lounge area, and complimentary breakfast.
The hotel has a convenient location with easy access to the beach and coastline with no shortage of fun local activities that kids will love, including Dinosaur Adventure Land, Uncle Sandy's Macaw Bird Park, and Pensacola Lighthouse. You don't have to spend heaps of money to have a great vacation. A stay at the Quality Inn & Suites will keep you and the family right in the middle of all the action.
12. Paradise Inn
If you are looking for a throwback, Paradise Inn offers a vintage Motel experience while sitting directly on the shores of the Gulf of Mexico. The Inn offers an outdoor pool, private beach access, and a pier. They also provide an excellent dining option at the Paradise Inn Bar and Grill with frequent live entertainment.
There is no shortage of dining alternatives with some great seafood options nearby including, Peg Leg Pete's, The Grand Marlin, and Flounder's Chowder House.
There is never a dull moment at Paradise Inn, with events and festivals ongoing year-round, while kids will love the nearby Dolphin Express Cruises, Gulf Breeze Zoo, and Gulfarium. The Inn is also close to many historical sites, including Fort Pickens, Fort Barrancas, Historic Pensacola Village, and Veterans Memorial Park.
Visit Pensacola
If you are looking for some fun in the sun, Pensacola has just what you need. With no shortage of swimming, water sports, scenic views, and historic sites, a trip to this iconic western Florida town will be both unique and memorable.
Of course, a key to any good stay is finding the proper accommodations. Fortunately, many options in Pensacola will meet any type of experience you are looking for. Consider our list of the best family-friendly hotels in Pensacola when planning your next trip.
More about our TFVG Author
Caitlin is one of The Family Vacation Guide's long standing contributors. She enjoys taking vacation to busy, vibrant cities and has stretched her traveling legs out towards Europe in recent months, enjoying new experiences in Barcelona in Spain, and Nice in France.