A summer vacation to Florida is sure to be filled with sunshine and relaxation. During your stay, you'll want to choose a hotel that will pamper you, and what could be more luxurious than floating down a lazy river?
Lazy rivers are the crown jewel of tranquility and simply the best way to spend an afternoon soaking up some vitamin D. Fortunately, Florida has plenty to choose from. Many of them will be at some of the most excellent resorts in the state. So, before you book a room, find out what kind of amenities your hotel has to offer.
If you haven't quite decided what kind of lodging you'll be staying at, consider one of these 15 of the best hotels in Florida with a lazy river.
1. Signia by Hilton
Surrounded by the Walt Disney Resorts, Signia by Hilton offers a luxurious stay in a hotel that brings you within arms reach of Disney World. Daily shuttles are ready to take you to the happiest place on earth.
This incredible hotel offers many spectacular amenities. It's a popular pick for hotels in Florida with a lazy river since this resort boasts one that is 3 acres long! After spending the day at the theme park, you can cool off and relax.
When you're not floating and admiring the view, you'll be able to take advantage of this hotel's beautiful modern rooms, restaurants, spa, and much more.
2. Pelican Grand Beach Resort
Pelican Grand Beach Resort is a coastal hotel in Fort Lauderdale, Florida. This destination is ideal for anyone looking for a vacation close to the water. What trip to Florida would be complete without a day at the beach?
During your stay, you'll be within a few miles of Fort Lauderdale's excellent dining and nightlife. Take a stroll down Las Olas Boulevard or admire this town's gorgeous waterfront views on the Fort Lauderdale Riverwalk.
That is assuming you'll be willing to leave your room. You might struggle to leave your hotel with incredible amenities such as a private beach, outdoor pool, and lazy river. What more could you possibly need? Choose from standard rooms or suites with balconies and ocean views, but try not to get too attached. You will have to check out eventually.
3. Universal's Cabana Bay Beach Resort
Universal's Cabana Bay Beach Resort is a casual, retro-themed getaway located just 1 mile from Universal Studios in Florida. A complimentary shuttle can get you to and from this iconic theme park. Plus, you'll be right across the road from Universal's Volcano Bay.
When you aren't exploring Universal Studios or gorgeous Orlando, you'll enjoy this resort's excellent amenities, including the food court and cocktail bar.
Of course, no resort is complete without a pool and lazy river, and this hotel won't let you down. Spend the afternoon drifting away while your kids splash in the shallows at the pool, or take a ride down a waterslide.
4. Hilton Orlando Buena Vista Palace, Disney Springs
Hilton Orlando Buena Vista Palace in Disney Springs is in a prime location for enjoying some of Orlando's best entertainment. A stay at this hotel will put you within 1 mile of Disney World and 4 miles of Epcot.
This high-rise luxury hotel offers incredible views of the theme park, and some rooms are positioned for watching the fireworks.
Because lazy rivers are likely at the top of your list of amenities, you can put this hotel there, too. Not only can you float on the river, but you can also take advantage of any of the three heated pools, a poolside bar, and several restaurants.
5. Villas at Regal Palms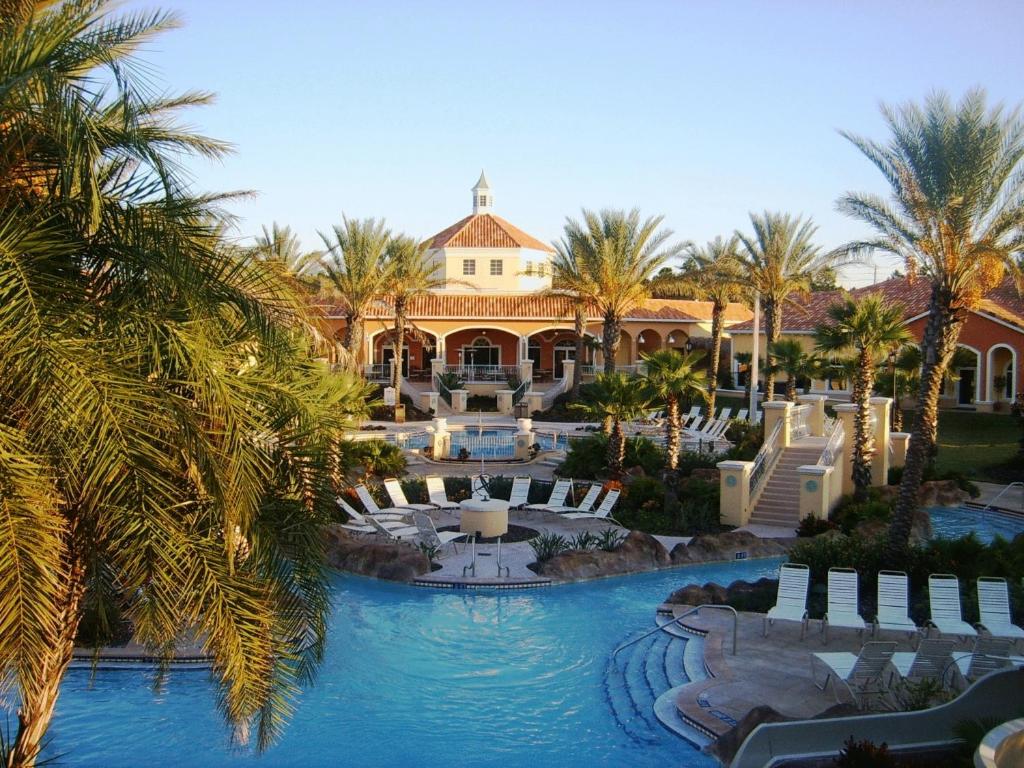 If you want to be close to the action without spending your entire day dodging children and strollers, the Villas at Regal Palms is the place for you.
The villas are informal and homey and house 3 to 5 bedrooms. This is a perfect stay for a large group or family, and the resort's excellent amenities are sure to please everyone in your party.
Spend an afternoon at the spa and follow up with a long luxurious trip around the lazy river. Kids will enjoy the pools, waterslide, and games room while you sit back and relax. At the end of the day, check out Frankie Ferrell's Pub and Grill, located in the clubhouse.
6. Naples Bay Resort and Marina
Naples Bay is a must-see for anyone taking a trip to Florida, and Naples Bay Resort and Marina should be at the top of your list for lodging.
This resort is located just a mile from downtown and 3 miles from The breathtaking Naples Botanical Garden. While you're getting in touch with nature, make sure to take a tour of the Everglades. It's the ideal place for rejuvenation.
Choose from stylish rooms or suites, or try a vacation rental. These modern cottages provide a breezy getaway feel, and pampering is only a few feet away. With five pools, a spa, a gym, and a lazy river, the opportunities for relaxation are endless. Make sure to check out the marina and enjoy Naples's beauty.
7. The Henderson Beach Resort and Spa

Just across the road from a white sand beach on the Gulf of Mexico is the Henderson Beach Resort and Spa. Its ideal location makes it perfect for anyone that wants to explore the gulf or Big Kahuna's Water and Adventure Park.
Casual, comfortable rooms offer furnished balconies and some with sweeping views of the water. Southern charm is a staple at this resort, so comfort is guaranteed. Eye-catching decor and an inviting atmosphere will be waiting to greet you as soon as you enter.
Of course, no tropical escape is complete without access to plenty of pampering. This resort offers an outdoor pool, lazy river, and a spa. There's no shortage of luxury at this hotel.
8. Omni Orlando Resort at ChampionsGate
Omni Orlando Resort at ChampionsGate is an enchanting hotel located just 8.3 miles from Disney World.
This beautiful resort offers gorgeous rooms that are spacious and accessible, but you do have the option to upgrade to a suite or villa. You can expect five-star service, including flat-screen TVs and free Wi-Fi no matter how you lodge.
This resort offers top-of-the-line amenities, including golf, shopping, and other recreation. Adults will have a good time at the child-free pools and lounging areas and won't have to worry about entertaining. A lazy river, wave pool, and kid's pool complete with water slides will keep them occupied. Or, take the whole gang for a dip in the family pool.
9. Springhill Suites Panama City Beachfront
Orlando and Tampa Bay are certainly popular destinations in Florida, but you won't want to miss out on the popular panhandle locale, Panama City. When you visit, you'll want to consider the Springhill Suites Panama City Beachfront for a place to lay your head when you're not exploring.
This upscale hotel consists only of suites and is a luxurious place to spend your vacation. You will be within walking distance of Shipwreck Island Waterpark and only 4 miles from Pier Park, the ideal venue for shopping, dining, and entertainment.
The outdoor pool is complete with a poolside bar and a lazy river. When you're not drifting along this dreamy landscape, check out the wine bar, snack bar, or take a soak in the hot tub. When picturing a Florida vacation, it probably looks something like this resort.
10. Holiday Inn Resort Fort Walton Beach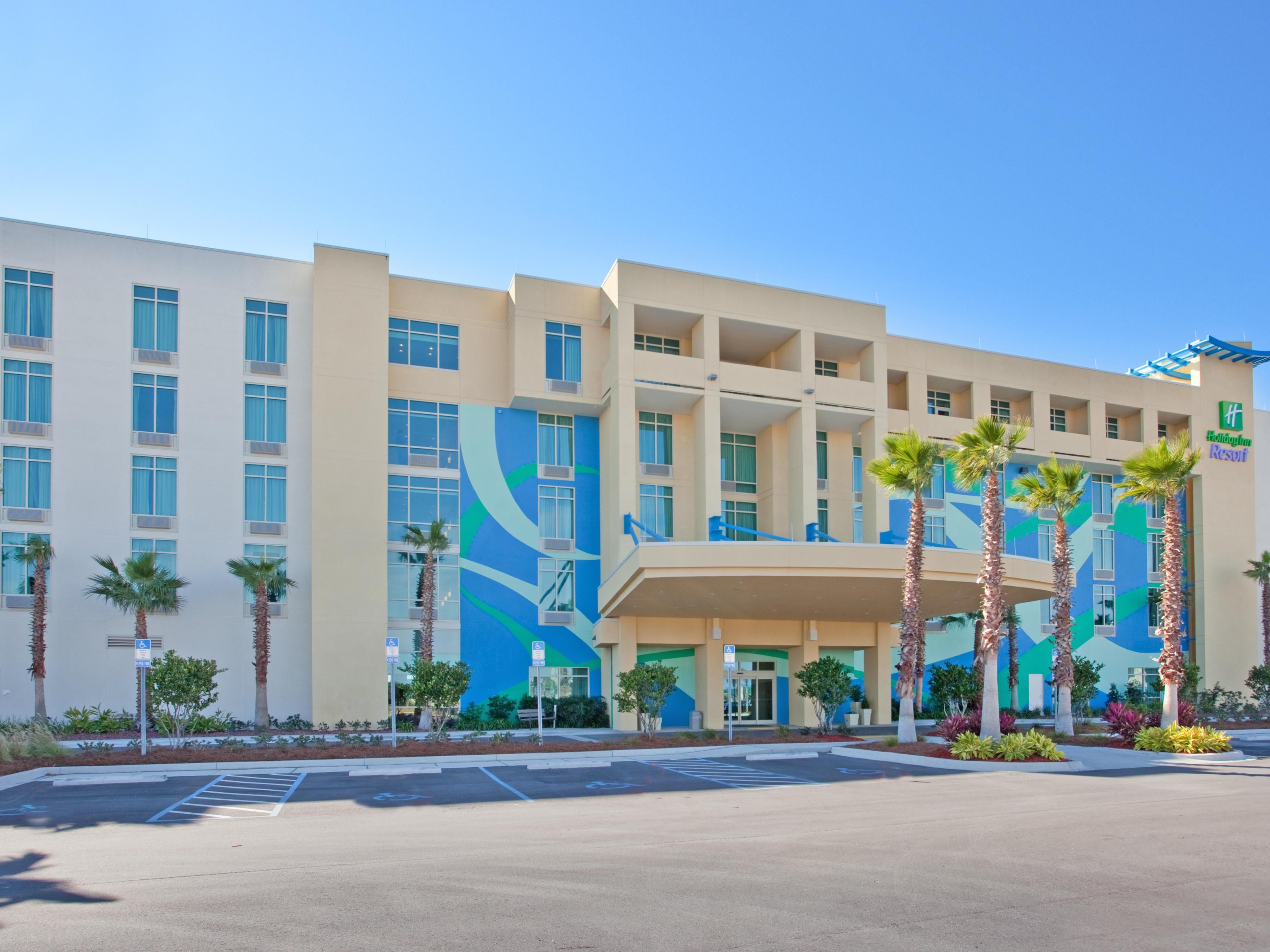 Holiday Inn Resort Fort Walton Beach is a waterfront hotel perfect for families seeking a sunny getaway. Located adjacent to the Emerald Coast Convention Center, you'll be just a five-minute walk from the Gulfarium Marine Adventure Park.
This contemporary resort offers plenty of excellent amenities so that you will be guaranteed a rejuvenating stay. You can choose from a standard room or select one of the suites for additional space. Plus, kids under 12 stay and eat for free, so this resort is an A+ for people on a budget.
You won't have to sacrifice quality for affordability, however. Take advantage of the pool, which is heated during cooler months, or relax in the lazy river.
11. WaterColor Inn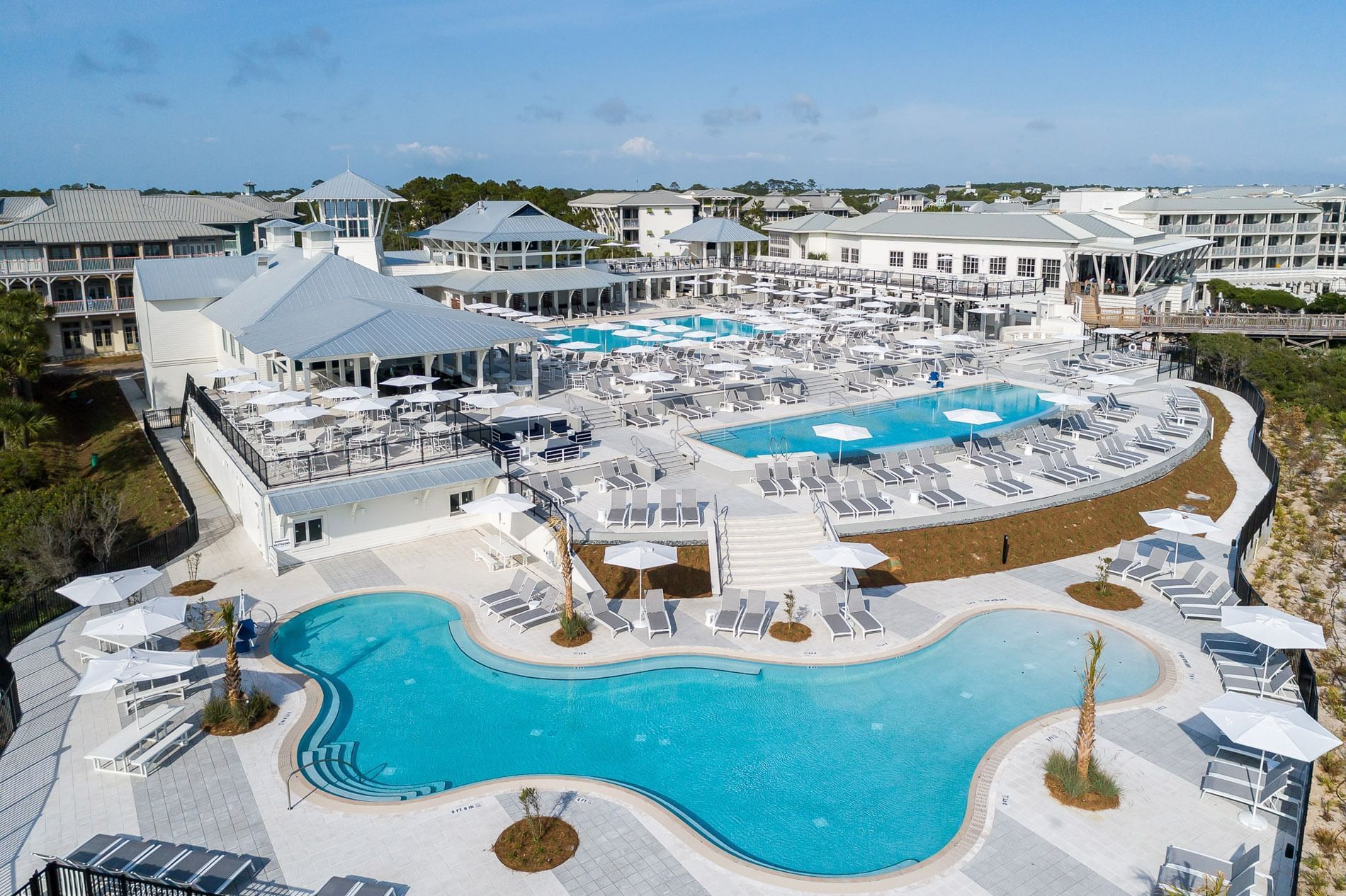 For a beachfront destination with access to Florida's beautiful nature, book a stay at the WaterColor Inn. Each guest room overlooks coastal sand dunes, and the resort is located just 4 miles from Point Washington State Forest.
Quiet, casual rooms create a breezy atmosphere, and guests can enjoy easy access to the beach. The surrounding town also has plenty of exciting entertainment and local favorites. Enjoy a meal at an on-site restaurant or join your family on the beach for a bonfire.
If splashing in the ocean isn't your thing, try out one of the pools, lazy river, or the spa. This resort even offers adult-only areas and a kids club known as Camp WaterColor.
12. Marriotts Lakeshore Reserve
For an elegant and comfortable vacation, Marriotts Lakeshore Reserve offers a home away from home. Surrounded by 500 hundred acres of a garden landscape, this resort feels like something out of a fairytale.
A stay at this hotel brings you within 5 miles of Gatorland and 10 miles of Universal Orlando. This tranquil retreat is perfectly situated for easy access to Orlando's best entertainment.
When you aren't taking a tour, golfing, or sunbathing at the cabana, you can swim in the zero-entry pool or drift on the lazy river. A trip to the sauna may also be in order. Don't worry about wrangling the little ones; your kids will find plenty of entertainment on the waterslides.
13. The Cove on Ormond Beach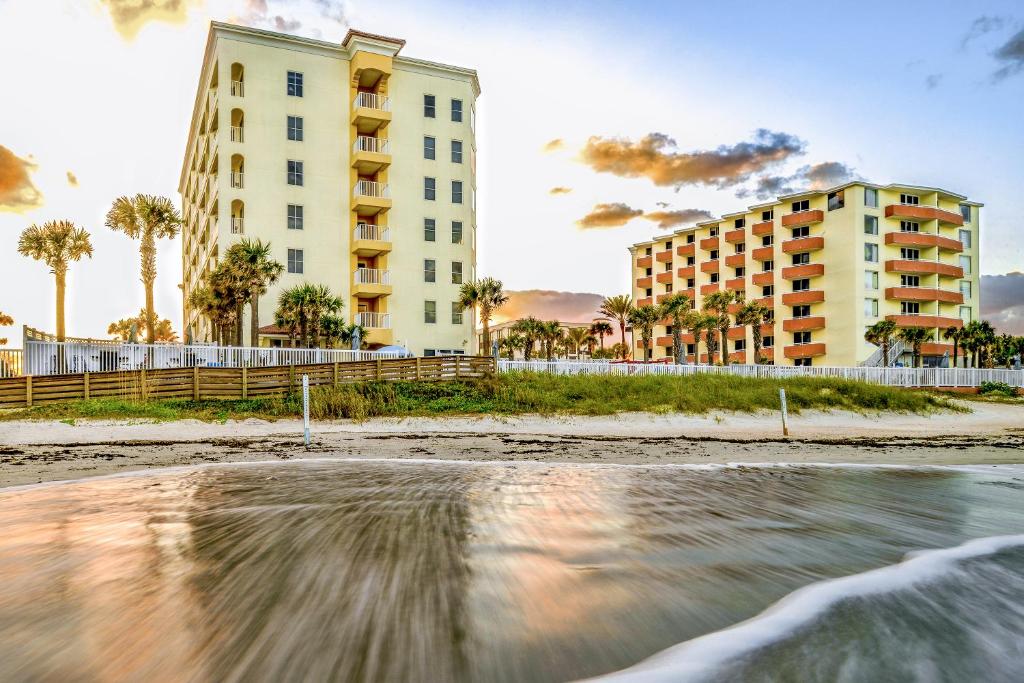 The Cove on Ormond Beach is an oceanfront resort located in Ormond Beach, Florida. Ormond Beach can be found on the West Coast and is situated just north of Daytona Beach, another Florida destination worth visiting. This makes it an excellent getaway for anyone in the area.
Comfortable studios and one and two-bedroom accommodations are available. Wherever you decide to lodge in this hotel, you will have access to free Wi-Fi and private balconies.
When you're not enjoying your room, you can explore the resort's private beach or beachfront hot tub. If you're looking for some freshwater fun, check out the pool and lazy river. A two-story water slide is also available for your kids to enjoy.
14. Hyatt Residence Club Bonita Springs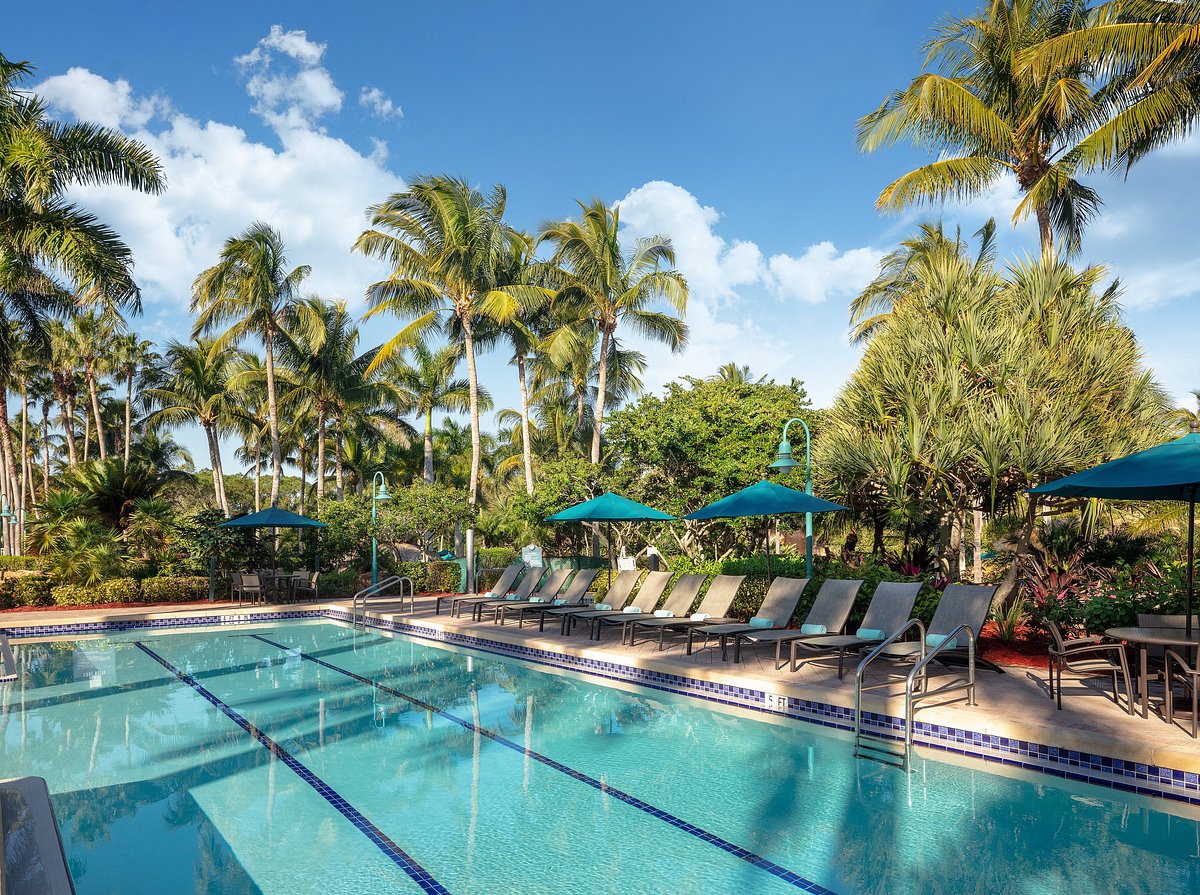 Hyatt Residence Club Bonita Springs is an upscale resort with a homey vibe. Located adjacent to an expansive golf course and situated on the Gulf Coast, this tranquil location is sure to rejuvenate.
Modern rooms with a homey touch come in studio to two-bedroom sizes. Every room or suite comes with a kitchen area, living area, and a private balcony.
During your stay, take advantage of the restaurant, tiki bar, or convenience store. Once you've fueled up, you'll be ready to take on shuffleboard, volleyball, swimming, or just sleep it off in the lazy river.
15. Disney's Yacht Club Resort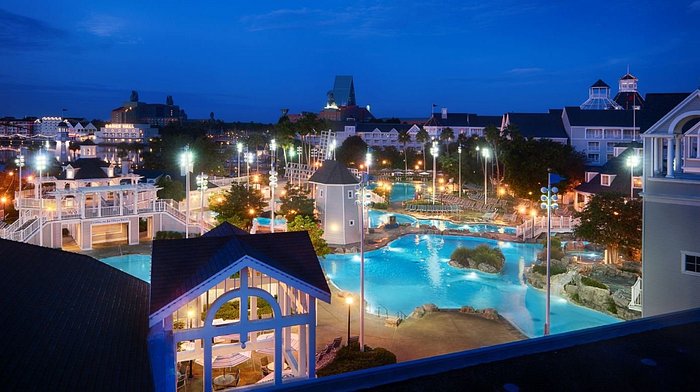 Situated next to the lagoon at the Walt Disney Resort is Disney's Yacht Club Resort. This upscale, themed hotel features nautical style decor and lodging.
This hotel is perfect for families looking to get the most out of their Disney vacation. Kids and parents will be grateful for the extensive amenity and recreation options. Nobody in your party will feel left out during your stay.
Catch a movie under the stars or gather around the campfire. If you're looking for some water recreation, choose from one of the many pools. Your kids will love exploring a life-size shipwreck or sliding down one of the tallest hotel waterslides in Florida. This kid-friendly destination makes it one of the best hotels in Florida with a lazy river.
Finding a Hotel in Florida With a Lazy River
Florida is abundant in water recreation and poolside fun. Whether you choose to stay in Orlando or Panama City, you will almost certainly find a resort waiting for you. Narrowing down your favorite one with a lazy river can be quite a task, but it's worth the research.
Don't wait until the end of the season and miss your chance to luxuriate. Book a room now and drift to the vacation of your dreams.
More about our TFVG Author
A seasoned traveller, Dad, and avid sports tourist, James foundered The Family Vacation Guide to share his expert vacation experiences- especially when it comes to being a travelling family man.
Featured in Travel articles such as Travel + Leisure, TripSavvy and SFGate, you know you're reading some of the best vacation tips online.