If you're traveling, you're likely going to need a high-quality hotel to stay at. If you're traveling with a large family to For Lauderdale, there are tons of hotels at your fingertips. Families often have difficulty finding the necessary accommodations when they have a large group or children along for the ride.
The Fort Lauderdale hotels on this list welcome large groups of all ages, and they're specially designed with families in mind. Each hotel has food and attractions nearby to keep everyone entertained while you await your flight or departure from the airport. Additionally, every location has a shuttle, either complementary or for a small fee.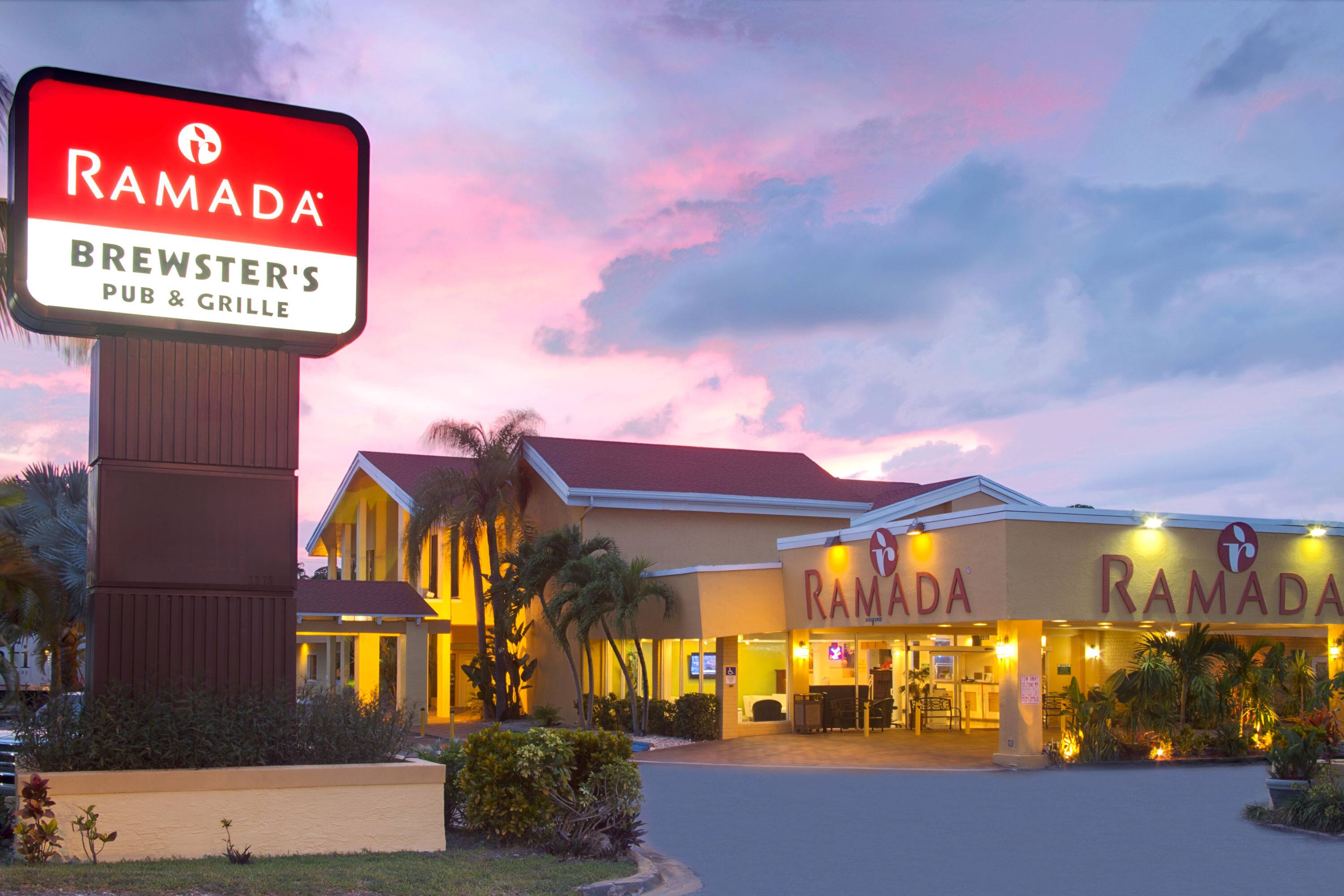 Ramada by Wyndham is near Highway 84, by Marina Mile Blvd, just a few miles from the airport. This hotel takes the guest experience by going above and beyond to offer extra amenities to make your stay pleasurable.
The Ramada hotel offers affordable rates on long-term parking for guests that will be leaving on a cruise or flight, and you can park for free during your stay. Next to their outdoor pool, feel free to enjoy the sundeck or the poolside Tiki bar for your convenience.
Each morning guests wake up to a full and hot breakfast (compliments of the hotel), as well as a USA Today newspaper at no additional charge. Full access to the fitness center, laundry facilities, and dining at the on-site restaurants is also available. You can also order room service if you prefer.
The hotel is smoke-free, but guests can smoke outdoors in designated areas. Near the Ramada by Wyndham, families will find:
Boating and fishing excursions
Beach activities
Trails
Shopping centers
Plenty of dining options
After a fun-filled day, you can relax in a spacious room or suite with standard amenities such as a mini-fridge, coffee maker, iron and ironing board, desk, flat-screen TV, and more. The free shuttle offers transportation to and from the airport or cruise port upon request.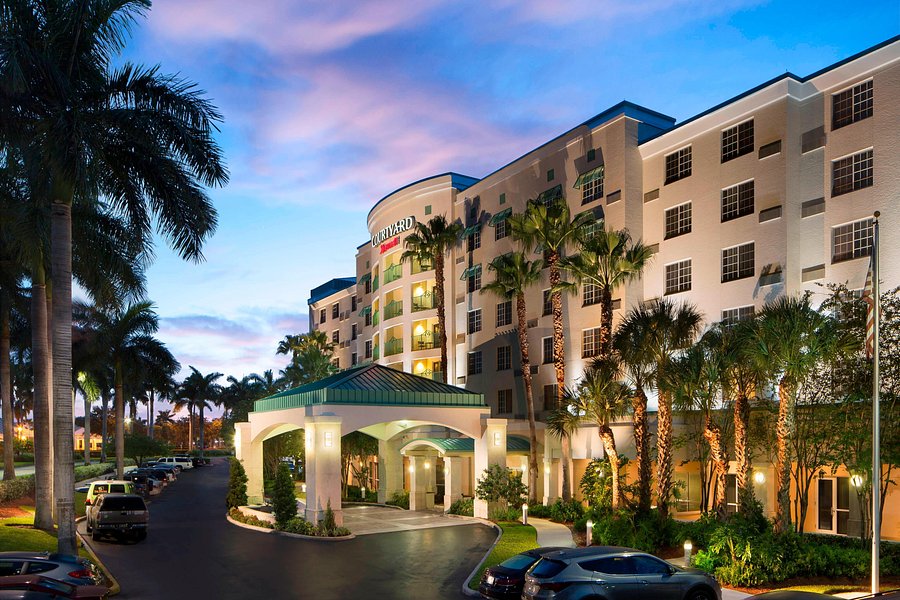 Just a little over three miles from the Ft. Lauderdale Airport-Cruise Port is the Courtyard by Marriott. This hotel is pet-friendly, and all of its guest rooms are modern and have plenty of space. If you need transportation from the cruise port or the airport, don't hesitate to call and ask the receptionist for assistance.
The famous Fort Lauderdale beach is about five miles from the hotel, where families can enjoy s day at the beach, swimming and frolicking in the clear blue waters.
There is always a game to catch at the Hard Rock Stadium, or perhaps you'd like to visit the many shopping centers along the Strip. Either way, there's tons to do and much to see in the area.
Finish off your afternoon by enjoying lunch or dinner at the Bistro located on-site, or lounge around in the lobby with a fresh cup of Starbucks coffee in hand. If it's sweltering, take the family for a dip in the outside pool, where you can hang out on the patio and enjoy a specialty cocktail or beer.
At the close of the day, head up to a relaxing room or suite with free WiFi, a smart TV, luxury bedding, and other amenities to make your stay memorable.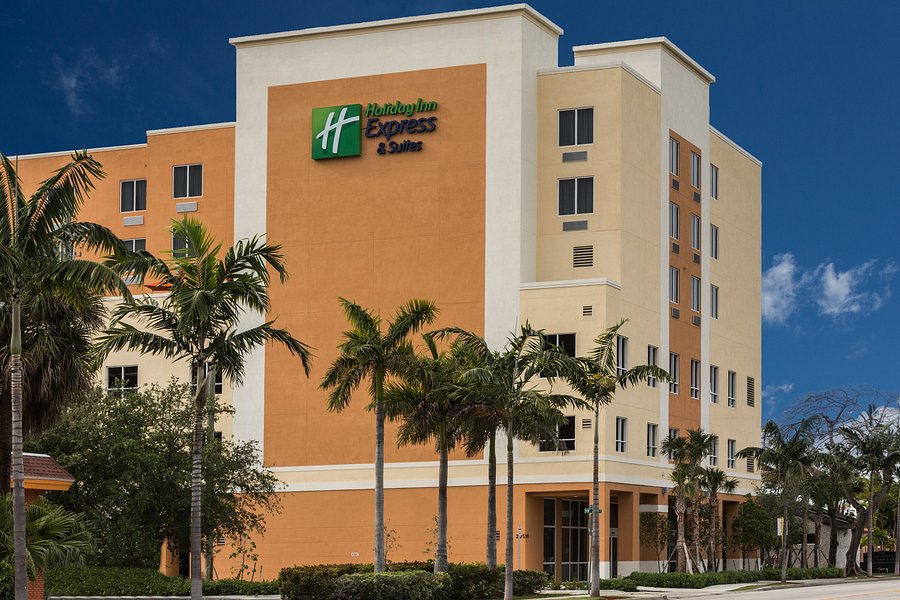 The Holiday Inn Express is about a mile from Ft. Lauderdale Hollywood International Airport. This Holiday Inn location is an excellent choice if you intend on enjoying fun in the sun or if you have to do business downtown.
Don't forget to take full advantage of the hotel's free shuttle service, which conveniently picks you up and drops you off.
If you happen to be heading to Fort Lauderdale cruise port, allow their friendly staff to handle all the arrangements. Keep in mind that the Dolphin Stadium and Bank Atlantic Center are a mere ten miles away from the hotel.
Furthermore, if you're interested in crushing the streets and perusing the shops, take a trip to the renowned Las Olas Blvd. If all else fails, there's always something incredible happening downtown at the Riverwalk!
The Holiday Express Inn has superb accommodations and amenities, such as its heated outdoor pool and fitness center. Moreover, every morning you can enjoy a hot Express Start Breakfast Bar with everything from sausage, eggs, and bacon, to delectable cinnamon rolls for the kids (and the adults!).
You can find everything that you and your family will need in the comfort of this hotel. Your stay includes:
Free WiFi
A microwave oven
A mini-fridge
A flat-screen tv
All the in-room conveniences assured to make you feel at home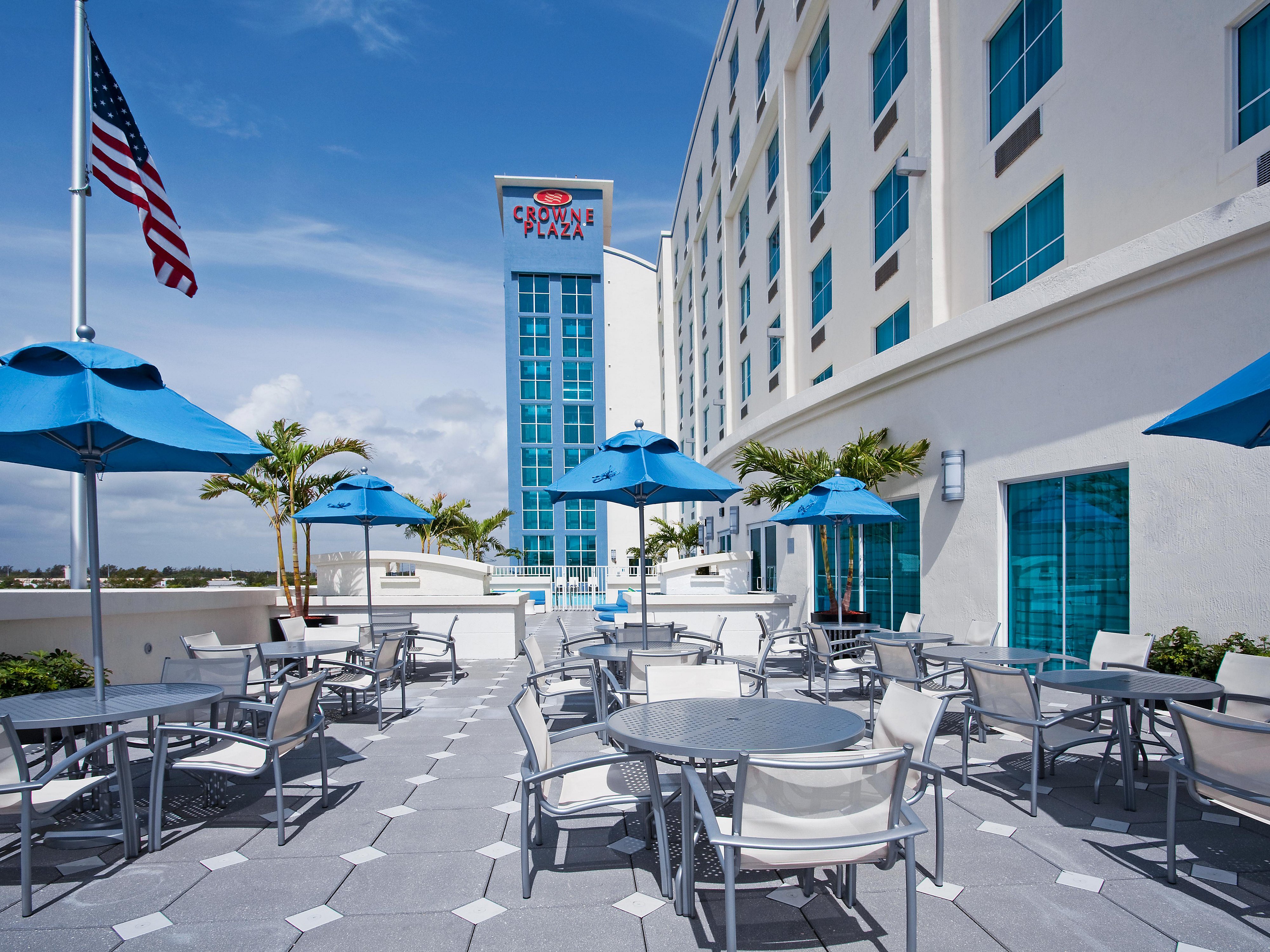 The Crowne Plaza Hotel is conveniently located just five minutes out from the airport. Not only this, but the hotel is just moments away from numerous attractions that are perfect for family fun.
Enjoy a friendly game of basketball, baseball, and even some good old-fashioned football at the stadium if you're interested. Additionally, the front desk can help arrange tours for snorkeling, jet skiing, or sailing with friends and family. You can also do other water activities like scuba diving or just throwing your reel in to catch some fish.
At the Crowne Plaza Hotel & Resorts for Fort Lauderdale, there's free WiFi, so you don't have to deal with being charged periodically just to check your email. There are both dry cleaning and laundry services available for anyone in need. This feature is very beneficial for families with toddlers in tow!
Around the hotel, you'll find:
Vending machines
A fitness center
An on-site restaurant and bar
An outdoor pool for family enjoyment
In addition to standard room amenities such as the coffee and tea maker, designated work area, and comfortable bedding, the staff will accommodate you and your family in whatever way possible.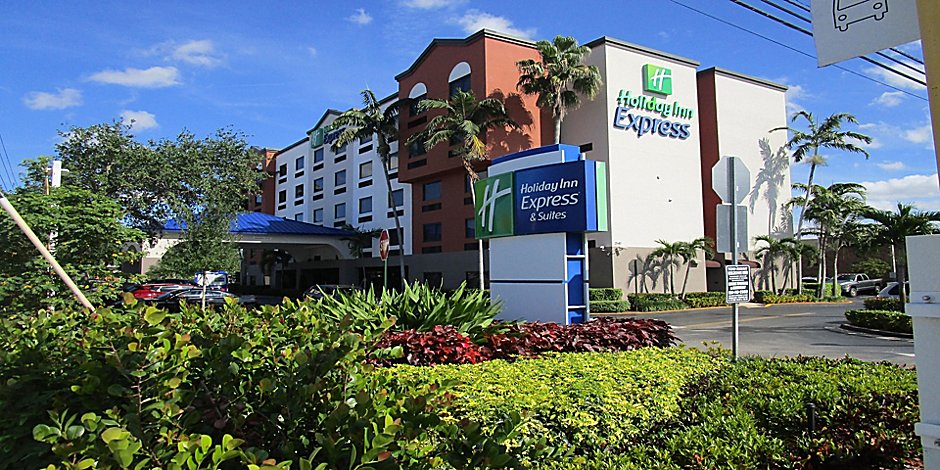 Candlewood Suites of Fort Lauderdale provides the comforts of a home while being conveniently located. You can find this hotel two miles from the Ft. Lauderdale Hollywood International Airport and the Amtrak Tri-Rail Station.
There are many exciting attractions to get into while lodging in Ft. Lauderdale. Try touring famous districts such as:
The Riverwalk Arts
Las Olas
The Entertainment District
All of these attractions are only three miles away from the extended-stay hotel.
You can even spend an eventful day exploring Fort Lauderdale's waterways on a Jungle Queen boat tour. It may go without saying that Ft. Lauderdale is home to many of Florida's star-studded sports teams. Catch a game at the stadium if you have the time. The energy is always electric!
Candlewood Suites offers their guests complimentary amenities such as movie and CD rentals from their lending library. They also offer free high-speed wired and wireless internet access.
If necessary, utilize the laundry services available upon request. Lastly, purchase your essentials and snacks from the Candlewood Cupboard store moments away from your room.
TRYP by Wyndham Maritime is a few minutes from the cruise terminals of Port Everglades and the Ft. Lauderdale Airport. You can find TRYP nestled in the Marina Bay Resort on the New River, which covers 25-acres. Here you'll find the city's premier luxury yacht marina.
There are so many attractions for you and your family to delve into nearby, from the Bonnet House Museum & Gardens to the Jungle Queen Riverboat.
You can enjoy an eventful day with the children at the beach or park and end the day with some shopping on Las Olas Blvd. There's the Seminole Hard Rock Casino to stop by and have a good time for those who are able.
This hotel has cozy family rooms with two murphy-style bunk beds, allowing the children to sleep in the same suite as parents in a separate sleeping area.
Additionally, you can find free and fast WiFi, as well as a wall-mounted TV for your viewing pleasure. There are other amenities to enjoy, like the individual climate controls, mini-fridge, filtered water faucet, in-room coffee, a writing desk, standard bath amenities, and more.
Four Points by Sheraton is approximately three and a half miles from the airport, off I-95 S. Check to see if their shuttle service operates during your stay and for any health mandates.
There are a plethora of attractions to immerse yourself in, beginning with the Sawgrass Mills Mall. With so many gift shops, clothing boutiques, and general stores, there's no doubt that you can find some things that you and the family would like to take back home with you.
As you know, in Florida, there's plenty of sun, and you can enjoy it all at the Fort Lauderdale Beach nearby. You can even take a stroll down Riverwalk, where there's always something exciting and new to get into!
There are many nearby family activities to do. Only five miles away from the hotel, there's a bowling alley, and six miles away, you can take part in jet skiing activities. You may also enjoy tennis and miniature golf just five and ten miles away, respectively.
The hotel provides amenities such as:
Free WiFi
Housekeeping service daily
On-site laundry
A pool
Coffee in the lobby
Free hot breakfast
Dry cleaning services
In your room, you'll find a microwave, a mini-fridge, and a flat-screen tv that you can use for late-night snacks or leftovers. The Four Points hotel is clean, comfortable, and welcoming to families small and large.
If you're looking for a quality hotel with reputable service and comfortable amenities, The Hampton Inn is an excellent selection. This location is right off of Highway 84, close to I-95. It's a short six-mile drive from the Ft. Lauderdale International Airport and Cruise Port terminal (Everglades).
For your convenience, the hotel offers a complimentary shuttle to and from the hotel to the airport. You can call ahead of time to make a request and to reserve your seats. If you have a large family, this option is convenient to ensure that everyone has a place to sit. They even welcome your pets up to 30 lbs, with a non-refundable deposit required.
You can easily reach multiple restaurants, the Southland Shopping Center, and even the convention center in the hotel's vicinity. All of these places are within ten minutes by foot.
The rooms at the Hampton Inn are spacious and can accommodate large families that need multiple rooms. The housekeeping service is free upon request, which is a huge help for families that have small children.
You will also find:
A flat-screen TV
Hairdryer
Iron and ironing board
Work desk
Soft bedding
The hotel offers free WiFi (with a strong signal), a delicious hot breakfast each morning, a fitness center, and an indoor and outdoor pool. No smoking is allowed at this property. The Hampton Inn near Fort Lauderdale airport is the perfect location for families.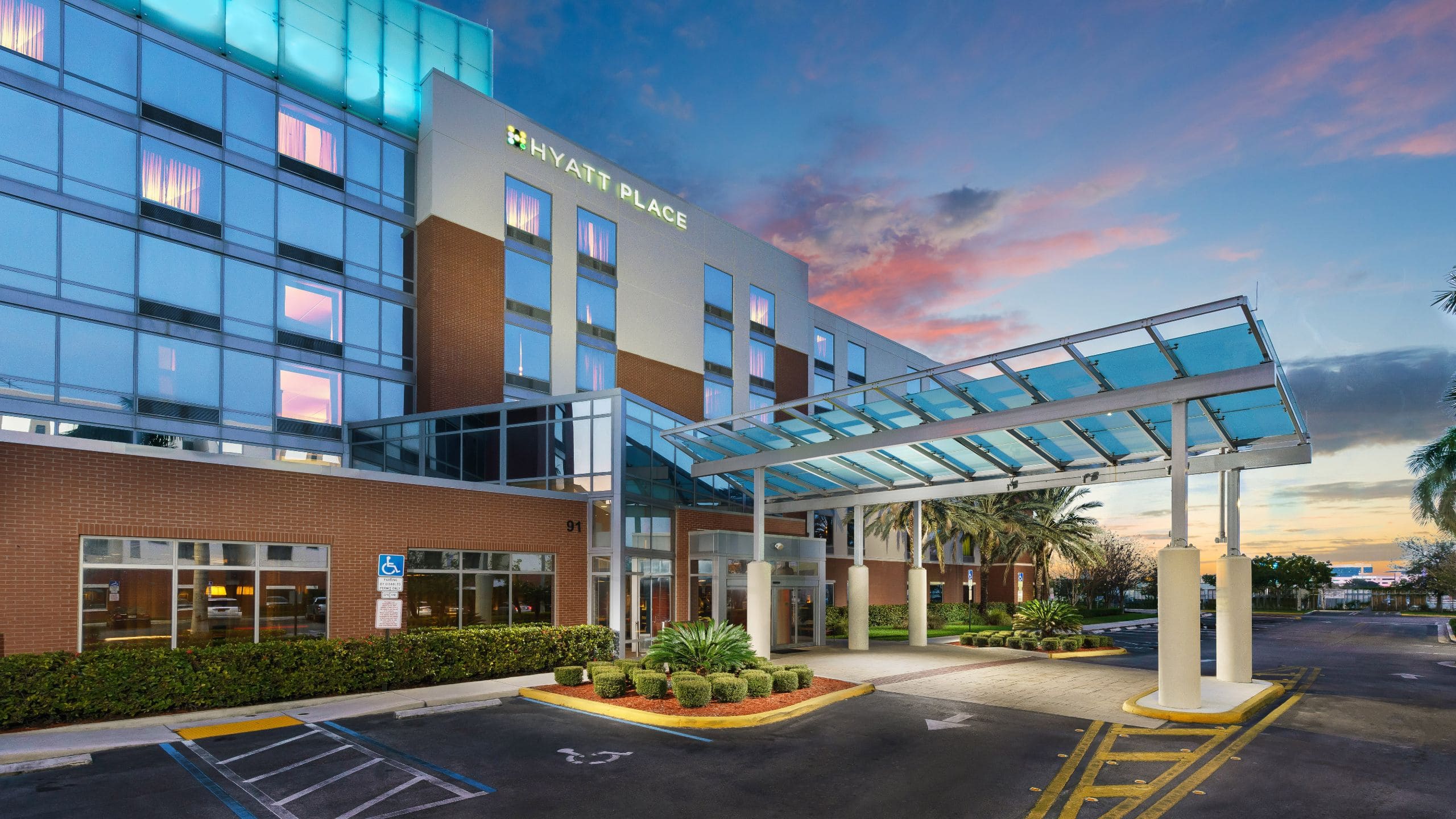 The Hyatt Place Ft. Lauderdale Airport/Cruise terminal is a stylish hotel that readily welcomes families and pets into a comfortable and safe environment.
You can find Hyatt Place 7.7 miles away from the airport, off the I-95 express, near SW 18th Ave. The hotel is surrounded by multiple family-friendly attractions such as the Museum of Discovery and Science, Dania Pointe, and the Broward Performing Arts Center.
There are also multiple dining options near Hyatt Place, but you might be content staying in because they have a restaurant on-site. The staff is always ready and willing to assist with tours, tickets, event registration, and more. All Hyatt hotels are smoke-free.
The large rooms have free WiFi, a mini-fridge, a separate workspace, 42-inch HDTVs, a dry bar, and other amenities. Guests can also take part in the complimentary breakfast served daily or visit the fitness center, outdoor pool, and limited-service bar.
Due to the number of activities and guest accommodations, we'd say Hyatt Place is well-equipped to meet your family's needs.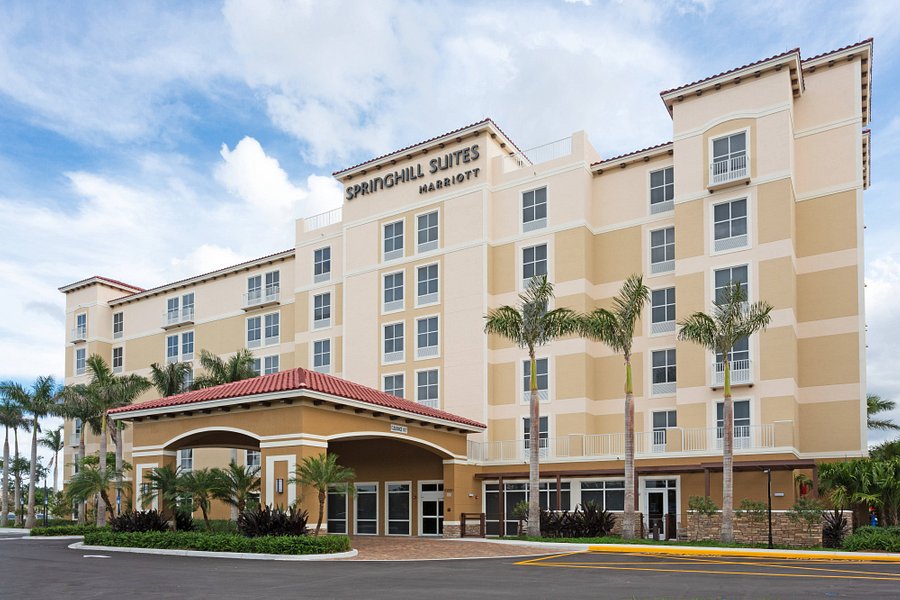 The SpringHill Suites Ft. Lauderdale Airport location is one of the top family-friendly hotels in the city for a good reason. Located just 3.5 miles from the airport and cruise port, SpringHill Suites covers all the bases.
Recent renovations have brought more modern and spacious rooms that allow guests to stretch out and relax after long flights or cruises. You get free WiFi, various channels on the new 32″ TVs, a fitness center, an outdoor pool, and an all-day on-site market if you forget a few things at home.
Cribs are available for your room, great for families with small children or babies. There are also vending machines throughout the hotel and a local restaurant that delivers to this location. Furthermore, there is a full hot breakfast served each day, giving you the energy to enjoy the multitude of nearby activities for the family. Within 15 minutes of the hotel are:
Horseback riding
Miniature golf
Beaches
Kayaking
Jet-skiing
Bike trails
Much more
SpringHill is the perfect hotel to suit families that want to enjoy their surroundings while also having the opportunity to lounge around. The complimentary airport shuttle is available to transport you and your family upon request. With so much to do, you can't go wrong by booking with SpringHill Suites.
The Hilton Garden Inn is just three short miles away from the Ft. Lauderdale International Airport. You can catch the free shuttle there and back with a quick phone call to the front desk.
The hotel is less than six miles from downtown Ft. Lauderdale, which has plenty of shops and nightclubs to visit. The Oakwood Plaza is within ten minutes' walking distance of the Hilton Garden, and Dania Pointe is less than a mile away.
The area has something for every member of the family to enjoy. Art galleries, parks, toy stores, malls, the beach, boat tours, and more are at your disposal.
The Hilton Garden has a fitness center and outdoor pool, free WiFi, and non-smoking rooms. The rooms that guests will stay in have a microwave oven and mini-fridge, which is excellent for heating up or storing leftovers from dinner. The hotel offers room service every evening, as well as an on-site restaurant.
Should you have any questions during your stay, the staff is personable, and families have found this location suitable for intimate and large groups.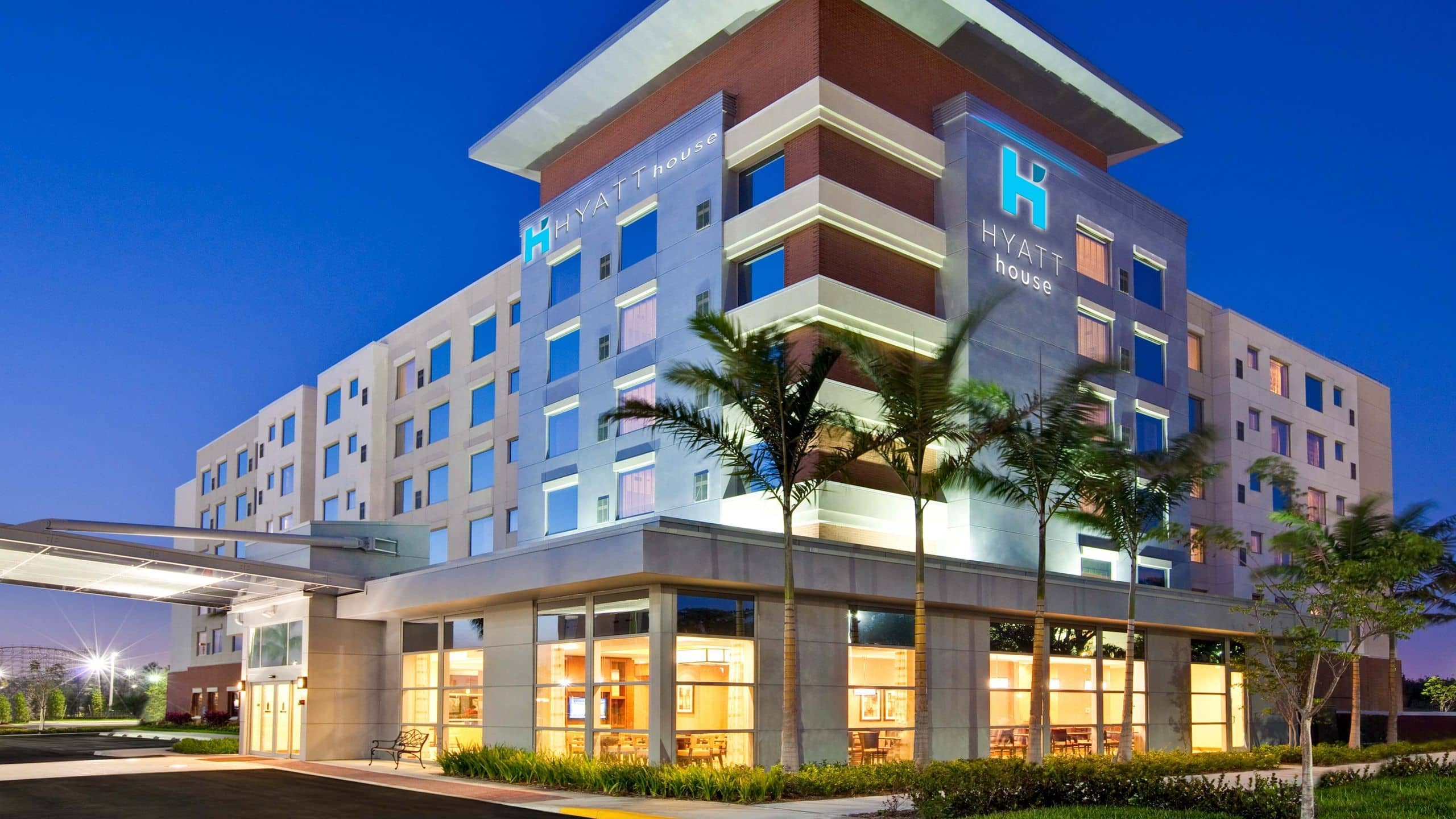 If you're looking for a home away from home, check out Hyatt House, less than two miles away from the Ft. Lauderdale Airport-Cruise Port. There are many activities in the area that are perfect for families with older and younger children.
For food options, there's an elegant steakhouse nearby, a laid-back Cuban restaurant, and several fast food choices if you're in a hurry. The beautiful beach is also nearby, with shopping centers, wildlife reserves, play areas, theatres, and more.
The hotel itself has large, luxurious apartment-style suites that guarantee a comfortable stay. The rooms have fully-equipped kitchens with dishware, utensils, tables, and chairs to feed your family.
There's also plush bedding and separate feeding areas. Guests have plenty of space to work or just watch tv and relax. The WiFi signal is strong all around the property also.
There is a 24-hour market where you can get snacks or pre-packaged food items, a restaurant on-site serving dinner and drinks each evening, and complimentary breakfast.
You'll also have access to a fitness center and outdoor pool for your enjoyment. Call the front desk to request shuttle arrangements to or from the airport or cruise port.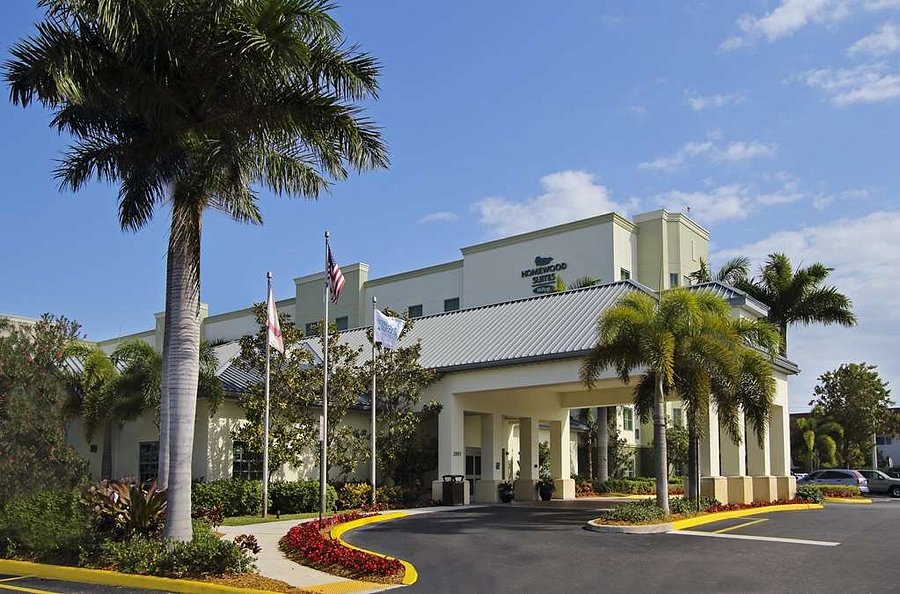 Homewood Suites by Hilton is just a half block to the west of the I-95 express, on Griffin Rd. One of their shuttles can easily pick you up or drop you off, just one mile away from the airport.
This hotel specializes in simplicity and hospitality. While the rooms aren't the largest, they are comfortable and suitable for small to midsize families. You get free internet service, a fitness center, an outdoor pool, a complimentary hot breakfast every morning, and more.
The rooms offer:
32-inch and 50-inch flat-screen TVs
A workspace
Comfy sofa sleepers
A full kitchen
Homewood Suites also has free parking and non-smoking rooms available. Take advantage of their friendly staff that is happy to arrange activities upon request.
There are many things to do in the area like shopping, eating, going to the beach, going to the city center, and pretty much anything else you can think of doing in this popular neighborhood. This location is ideal for short stays in the Ft. Lauderdale area.
Staying in Fort Lauderdale
Please take note of the following information for your stay:
Always check the local laws and regulations when traveling. Ask your chosen hotel if they have any health warnings when you visit.

Check out Fort Lauderdale's sightseeing and attractions when you visit. There are tons of options available, including accommodations, bars, restaurants, boutiques, parks, toy stores, and gift shops.

If making your booking in advance, be sure to let the hotel know the number of guests staying with you and if you have any pets with you.
Most importantly, enjoy your trip to For Lauderdale and have fun!
More about our TFVG Author
A seasoned traveller, Dad, and avid sports tourist, James foundered The Family Vacation Guide to share his expert vacation experiences- especially when it comes to being a travelling family man.
Featured in Travel articles such as Travel + Leisure, TripSavvy and SFGate, you know you're reading some of the best vacation tips online.