If you plan on touching down in Pensacola, Florida soon, you and your family will want to stay in the perfect hotel. 
The best family-style hotels in Pensacola feature a little something for everyone, like lounges for mom, gyms for dad, and play areas for the kids.
We featured some of the best hotels for families on this list, so be sure to check them all out to find the one perfect for your vacation.
While in Pensacola, also be sure to check out their tranquil beaches and historical museums. 
161 Airport Lane,
Pensacola, FL, USA
32504
When you first arrive at the hotel, you'll know you're home. The exterior of the building is a vibrant orange brick with a glass awning with astonishing detail.
Amenities
The hotel features many family-friendly amenities including:
Complimentary breakfast
Free WiFi
On-site dining
A fitness center
A huge sparkling pool
Business services
And more!
Location
Hyatt Pensacola is located 5 miles from Five Sisters Blues Cafe, a popular speakeasy-like club with tasteful music and a charming display. It's the perfect outing for the adults while the children are away.
It's also near Hopjacks Pizza Kitchen & Tap Room, a fun, upbeat style joint for the entire family.
When you stay at the Hyatt Pensacola, you'll be staying in some of the nicest rooms in the city. Most of their family rooms feature two large Queen beds and a sleeper sofa.
The hotel features multiple grocery options on-site for families, including a full breakfast bar, an all-day restaurant, and a mini-market downstairs in the lobby.
5049 Corporate Woods Drive
Pensacola, FL, USA
32504
Upon arrival, you'll instantly feel greeted by the coziness of villa living. But don't be fooled, the exterior of the hotel resembles a retirement home, but I can assure you all the fun happens on the inside.
The hotel retains its homey feel by providing guests with a family-style experience they won't forget. Their open-kitchen concept reminds me of weekends with Grandma. You'll especially appreciate this hotel because of its unique interior, which resembles an antique shop.
Amenities
This hotel is best for families without small children, who may find it a little harder to be entertained. Nonetheless, this hotel still offers premier amenities such as:
Complimentary breakfast
Free WiFi
Digital keys
An airport shuttle
Huge sparkling outdoor pool
Fitness center
Multiple meeting rooms
This hotel is excellent for families on business trips because of its extensive access to meeting rooms.
While the family is away enjoying the day in Pensacola, business members of the family can enjoy the allotted deskspace in each room and the reserved time in business rooms.
Location
Homewood Suites is located just steps outside of PNS; however, the hotel also provides a shuttle to and from the airport.
Near Homewood is a variety of attractions for the family, including the Cordova Mall, which has over 100 stores, and the Downtown Historic District, home to one of the oldest churches in Florida.
It's also conveniently located near popular brunch spot The Leisure Club Coffee Bar & Restaurant, which has the best crab cake po boy in the city.
7601 Scenic Highway
Pensacola, FL, USA
32504
This is the best hotel if you're looking for resort-style. The exterior will remind you of Disney, but it's quiet dainty neighborhood will remind you why you didn't choose Disney.
Families will enjoy this hotel because it's close by the bay, so they'll be right next to maritime adventures such as the lighthouse and the aviation museum.
Most of the guests that stay here are the families of students at the nearby college.
Amenities
Free WiFi
Complimentary breakfast
Sparkling outdoor pool (seasonal)
Near the Gulf
Lounge and bar on-site
Fitness center
Meeting rooms
The rooms are pretty large, but they don't feature king-size beds for families. This hotel might not be the best stay for large families, but definitely a good choice for single families and couples.
Quality Inn Pensacola is also a more budget-friendly option.
Location
This may be the perfect hotel for history fanatics. It's close to historic neighborhoods, lighthouses, and museums.
It's also near the water, making this neighborhood the perfect mix of military pride and cruising down the coast.
When staying at Quality Inn Pensacola, you'll also be near downtown's nightlife which includes giant theatres, watchful bird parks, and shopping centers all throughout.
There's also a popular Irish pub just down the street from the hotel that's known for making a mean Irish coffee.
2187 Airport Boulevard
Pensacola, FL, USA
32504
The Hampton Inn is a great standard option for all kinds of travel families. Their complimentary shuttle also makes it easy to get back and forth from the hotel to the airport.
It may not seem like it at first glance, but this is the perfect place to stay for families near PNS.
Amenities
Complimentary breakfast
Free parking
Free WiFi
Non-smoking rooms
Digital keys
Airport shuttle
Sparkling outdoor pool
Fitness center
Business rooms

One downside is that this hotel is not pet-friendly, so your furry family member will have to stay home.
The rooms are large and bright, and most of them feature a divider between the living room and the bedroom—an excellent privacy feature for families with children.
Location
When staying at the Hampton Inn in Pensacola, you'll really be in the heart of it all.
Right around the corner from your hotel is a large mall, a bowling alley, and Fort Pickens.
Fort Pickens is a historical military fort on Santa Rosa Island. The scenery is amazing in the area, and the historic site is fascinating for the family.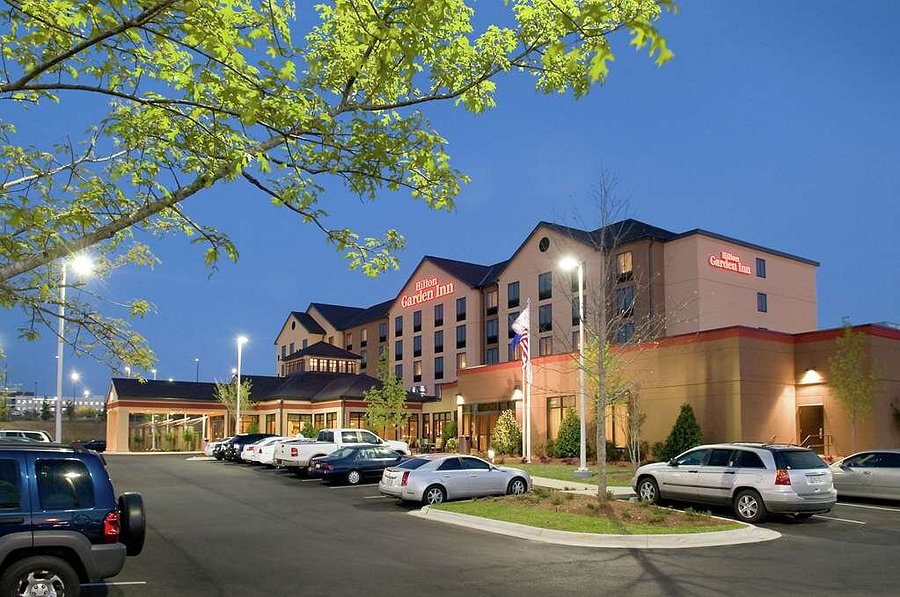 1144 Airport Boulevard
Pensacola, FL, USA
32504
The Hilton never fails to make their guests feel at home, even when they're away from home.
Guests enjoy staying at this hotel because it looks the most attractive of all the area's other hotels, especially at night. At night, the hotel lights glow vibrantly, showing off the hotel's sleek brick exterior.
Amenities
Free WiFi
Non-smoking rooms
Digital keys
Airport shuttle
On-site dining
Sparkling outdoor pool
Fitness center
Room service
Meeting rooms
And while this hotel does feature some of the best amenities in the game, they do restrict furry friends from staying on their property.
Aside from their pet policy, this hotel is one of the best in the PNS area because the rooms resemble home. Most of the rooms feature multiple beds, a couch, a desk area, and a fridge.
Location
Just 23 miles from the hotel is a spectacular Zoo for the entire family to enjoy.
It's also close to a museum for all of you history fans out there.
There are tons of popular food joints in the area, including Ichiban, Mellow Mushroom, and Jason's Deli.
7325 N Davis Highway
Pensacola, FL, USA
32504
This colorfully decorated hotel is excellent for families. The rooms are well-maintained and modestly priced for the value you receive.
Amenities
Complimentary coffee/tea in each room
Safe deposit boxes
Valet dry-cleaning
Fitness center
Indoor pool
Location
Pensacola Christian College is just a few short miles from the hotel and is the perfect tour for a relaxed day in Pensacola.
The stadium is also nearby, so when business is done for the day you and the family can watch a game.
You'll also be heartened to know Sam's Fun City is in the area, so the kids can enjoy a fun day at the amusement park.
Verdict
We've included these hotels on the list of best hotels near Pensacola Airport because they're all family-friendly and affordable. And their close proximity to the airport makes getting around the area seamless.
More about our TFVG Author
A seasoned traveller, Dad, and avid sports tourist, James foundered The Family Vacation Guide to share his expert vacation experiences- especially when it comes to being a travelling family man.
Featured in Travel articles such as Travel + Leisure, TripSavvy and SFGate, you know you're reading some of the best vacation tips online.