Fort Walton Beach, located on Florida's Emerald Coast, is a popular vacation spot with its many alluring beaches, beautiful green waters, and leisure activities.
If you love relaxing in the water on a warm day and sunbathing in the sand, Fort Walton Beach might be the perfect place for you. Fun attractions in the area include the Gulfarium Marine Adventure Park, the Fort Walton Beach Heritage Park & Cultural Center, and the Island Pier and Boardwalk.
But if you're also looking to unwind at your hotel, you might want to consider one with a lazy river. This is a type of pool that can provide you with an idyllic experience of floating peacefully in a pool raft, carried along by a slow, winding water current.
If this image is one that you find enticing, then keep reading to browse through our selection of the best hotels with a lazy river in Fort Walton Beach.
1. Henderson Beach Resort & Spa
Location: 200 Henderson Resort Way, Destin, Florida
Website: hendersonbeachresort.com
Henderson Beach Resort & Spa sits directly on the resort's private beach. This destination has plenty of suite options for different-sized groups. Stay in a one, two, or three-bedroom condo and sleep in a king or queen-sized bed.
You'll have the chance to take in beautiful scenery from your window, with choices of pool, beach, and nature views. You can even take a soak in your very own sunken tub in the bathroom.
The whole family can relax and have fun in the resort's pools. Enjoy floating in the lazy river, surrounded by beautiful, statuesque palm trees. At the same time, your kids can jump around in the splash pad, only a few steps away.
Afterwards, you can retreat into the pleasant shade of the resort's luxury cabana, located by the upper deck pool.
Water adventures aren't limited to the pool. Henderson Beach Resort also has plenty of opportunities for kayaking, paddle boarding, fishing, and water sports. Feel tired after a long day in the sun? Take advantage of the hotel's spa offers facials, manicures, pedicures, scrubs, and even flotation therapy.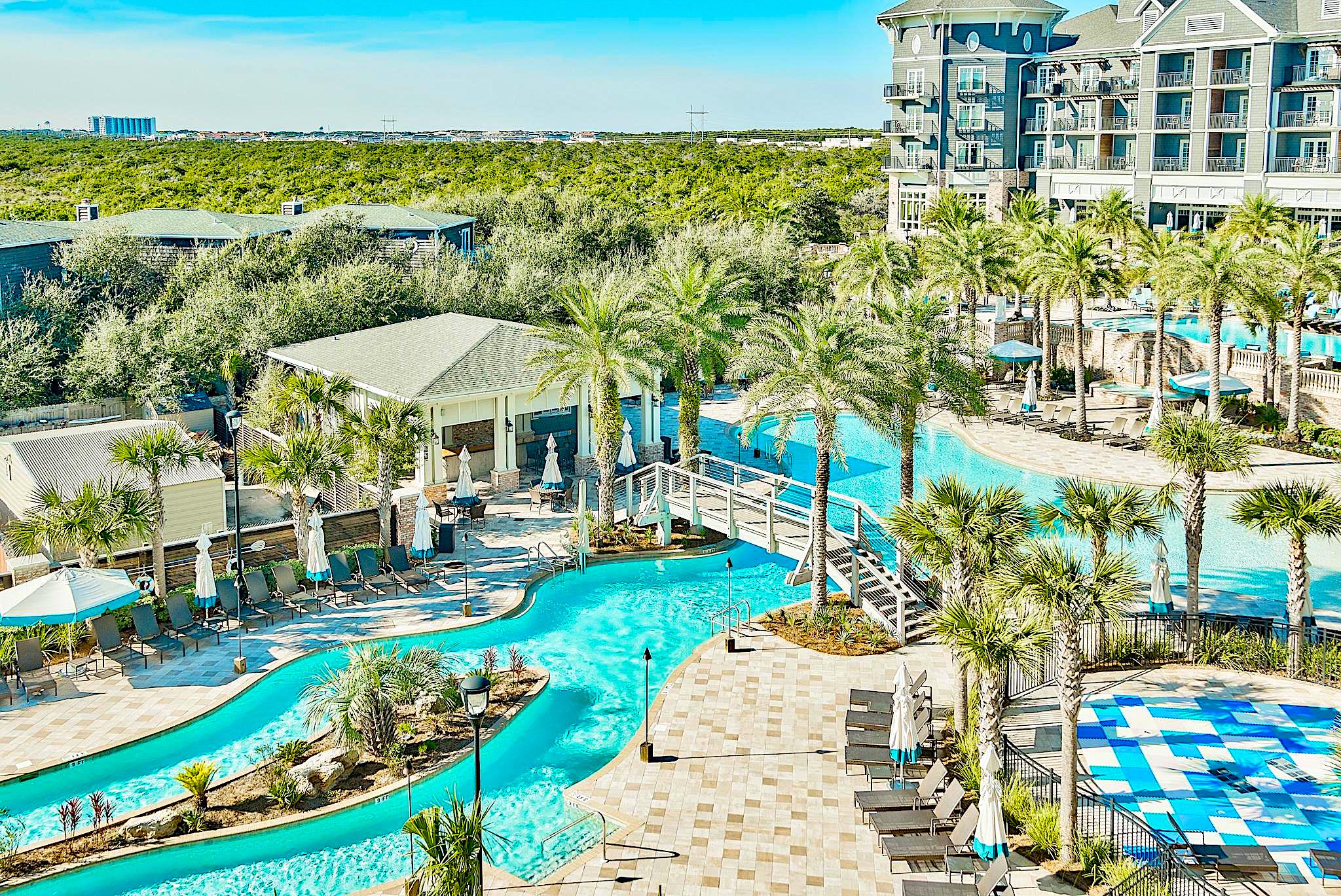 2. Hilton Garden Inn Fort Walton Beach
Location: 1297 Miracle Strip Pkwy SE, Fort Walton Beach, Florida
Website: hiltongardeninnfortwaltonbeach.com
Standing directly on the beach, Fort Walton Beach's Hilton Garden Inn, this hotel offers rooms with choices to sleep in king or queen-sized beds. You can also have a partial or full view of the Gulf of Mexico through your window, or even from the comfort of a private balcony connected to your room.
Some rooms have amenities fit for children too. There are options for twin bunk beds and Xbox gaming systems that the kids are sure to adore.
You'll find a total of three pools on the hotel property. Drift along in the lazy river or sit in the calming hot tub, both of which have a lovely view of the beach. Or, if you're feeling tired of the sun, swim some laps in the hotel's indoor pool.
If you're interested in relaxation activities that don't involve water, check out the hotel's fitness room, gift shop, and indoor lounge. There are also fire pits in the courtyard lounge area.
The hotel offers a bed and breakfast package as an additional extra. So, if breakfast is an important meal to you, consider this option to have access to a varied buffet.
In addition, try out the hotel's full-service restaurant, which is open during all three meal times. If you're in the mood for a refreshing drink, you'll have access to an indoor and outdoor bar! And, be sure to stop by their large outdoor tiki bar for a perfect tropical experience.
3. Holiday Inn Resort Fort Walton Beach
Location: Holiday Inn Resort at 1299 Miracle Strip Pkwy SE, Fort Walton Beach, Florida
Website: ihg.com
Here, you can stay in either a guest room or a suite. Their rooms are complete with flat-screen TVs with access to premium channels. You'll also have kitchen supplies, including a mini-fridge, microwave, coffee maker, tea maker, and supplies for coffee and tea.
This beachfront resort has many pool options. Take your pick of either the seasonally heated lazy river, an indoor heated pool, or the hot tub for a relaxing soak.
Bring the kids, too, as children under 12 can stay at the hotel (and eat in the restaurant!) for free. The hotel even offers on-site kids' activities to keep them busy and entertained.
Other convenient amenities include a dry cleaning pickup service, laundry valet, and a fully-equipped fitness center. Elsewhere, you'll find table tennis and ping-pong facilities, as well as a cocktail lounge.
Head down to the hotel's on-site restaurant for breakfast, lunch, or dinner where you'll be served American cuisine, with plenty of fresh seafood. If you enjoy watching sports while eating, pay a visit to the Riptides Sports Grill, located in the hotel lobby. Room service is available while there are options for delivery from off-site restaurants too.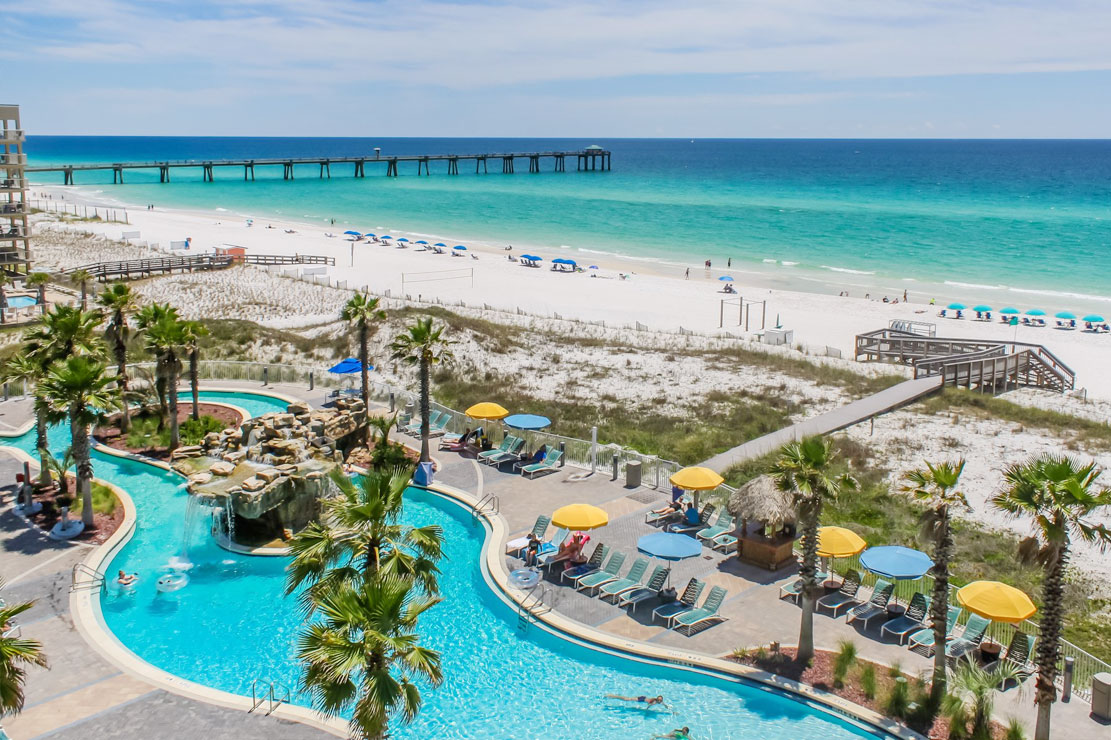 4. Waterscape Resort in Fort Walton Beach
Location: 1110 Santa Rosa Blvd, Fort Walton Beach, Florida
Website: waterscapefortwalton.com
One of the most impressive hotels with a lazy river in Fort Walton Beach is the Waterscape Resort. With choices to stay in a one, two, or three-bedroom condo, you can sleep up to ten people in one of their units. You can also enjoy a beautiful view of the beach from your private balcony or floor-to-ceiling window.
The resort's condos have several helpful amenities, such as a fully-equipped kitchen (complete with a dishwasher and microwave). The condos feature living and dining room areas, as well as a full-sized washer and dryer.
In addition to the beach right nearby, the resort offers many fun water activities. Besides a serene Lay-Z River, Waterscape Resort delivers two whirlpool hot tubs, three pools, and a spectacular ten-foot waterfall. If you have younger children, there is also a smaller pool and splash pad for lots of safe frolicking.
The resort also has other activities for a relaxing stay, even if you'd rather not get wet. Spend time in their game room and utilize their impressive fitness facilities, and be sure to explore and lounge in their beautiful, expansive courtyard. It's in the middle of the resort, where the pools, waterfall, and Lay-Z River are located. It is a stunning 10,000-square-foot courtyard built on multiple levels and shaded by tall palm trees.
The courtyard even has features for a summer cookout. There are gas grills for barbecuing scattered throughout the area, and a courtyard pavilion where guests can gather and eat together.
5. Destin West Beach and Bay Resort
Location: 1320 Miracle Strip Pkwy SE, Fort Walton Beach, Florida
Website: destinwest.com
Destin West Beach and Bay Resort offers several choices of chic beachfront condos overlooking the Gulf of Mexico, as well as bayfront units facing the Choctawhatchee Bay. In addition to these options, you'll have choices for one, two, or three bedrooms and bathrooms. It is perfect for groups, couples, or families.
If you're feeling the spirit of luxury and adventure, you might want to consider staying in one of their penthouse suites. These special suites offer an array of exceptional amenities, including the comfort of a hot tub on your private roof terrace.
Be sure to also check out the resort's grand, 700-foot-long lazy river. It's one of their most popular attractions and includes an assortment of charming floats. Or, relax by one of their seven total pools, six of which are heated.
Other features at the resort include a state-of-the-art fitness center, a gorgeous bayside marina, and a beach rental service. With the rental service, you can rent any equipment for the water that you might need.
Explore the area and take a walk along the resort's elevated walkway, which crosses Highway 98. From here, you'll have picture-perfect views of both the Destin West properties and Florida's majestic Emerald Coast. They also have rentals available in other locations along the Gulf Coast of Florida, including Panama City Beach, Destin, 30A, and of course, Fort Walton Beach.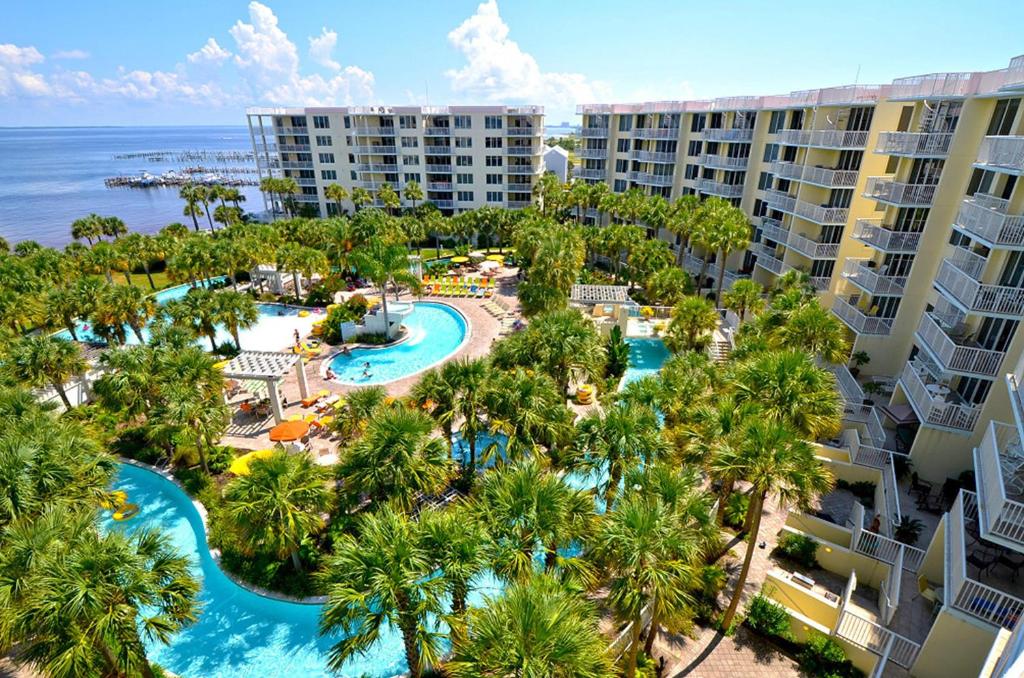 Before You Go
If you're interested in lazy rivers and other fun water rides during your stay in Fort Walton Beach, then pay a visit to Big Kahuna's Water & Adventure Park. Located in Destin, it's just a short 15-minute drive from Fort Walton Beach. It's the largest water park on Florida's Emerald Coast, with over 40 different water play areas and rides, including a wave pool, thunder river, and a lazy river.
After reading through our list of the best hotels with a lazy river in Fort Walton Beach, we hope you have a better idea of what hotel you'd like to stay in, and what amenities to look for. There are plenty of options for a relaxing stay, full of fun new experiences for the whole family.
With this list on hand, all that's left is to decide which hotel is the perfect match for your vacation in Fort Walton Beach!