Islamorada, also known as the Village of Islands, is a hot summer destination in the Florida Keys. Guests can enjoy fishing, swimming, boating, water sports, and more while staying right near the shore.
Restaurants in the region serve fresh-caught seafood, and for an extra-special experience, some places will even cook your catch for a small fee! Pick the right resort, and all these experiences come with a scenic ocean view right from your window.
The start of any vacation is planning. How do you find the best resort for your family? It starts with identifying the pros and cons of each, but with all the options, it can quickly become overwhelming. This article will cover 5 of the best resorts in Islamorada and all the benefits available for your family.
Top 5 Islamorada Family Resorts
Here are the best resorts to try on your stay in Florida's Keys.
Cheeca Lodge & Spa
This 4-star masterpiece greets guests with a giant pier, inviting visitors to check out the beautiful Atlantic ocean below. Each room is covered in tropical decor to make your stay feel that much more exotic.
Kids can spend their days in the resort's game room, pools, or X-Box arcade. There are family activities that everyone can enjoy, like water sports, bicycling, and more.
Not traveling with family? No worries– it provides plenty of exclusive amenities for those looking for a more mature experience. The resort features an adults-only pool and spa to help you unwind when the day is done, so you won't need to worry about interruptions from children.
Other fun activities include fishing, pickleball, tennis, basketball, shuffleboard, and golf! The best part is that all of these are available right from the comfort of your resort. No traveling, no hassle! If you do want to travel off the resort's grounds however, shuttle services and rental bikes allow guests to get around town with ease.
Of course, no resort would be perfect without food, and it is a staple at Cheeca! Three restaurants with fantastic ocean views are just a short walk from your hotel room. These tasty spots feature fresh seafood, sushi, Italian, and seasonal fine-dining.
For adults, there is a coffee bar to help you wake up early with the kids, and in the evening, you can unwind in Cheeca's lobby bar.
Islander Resort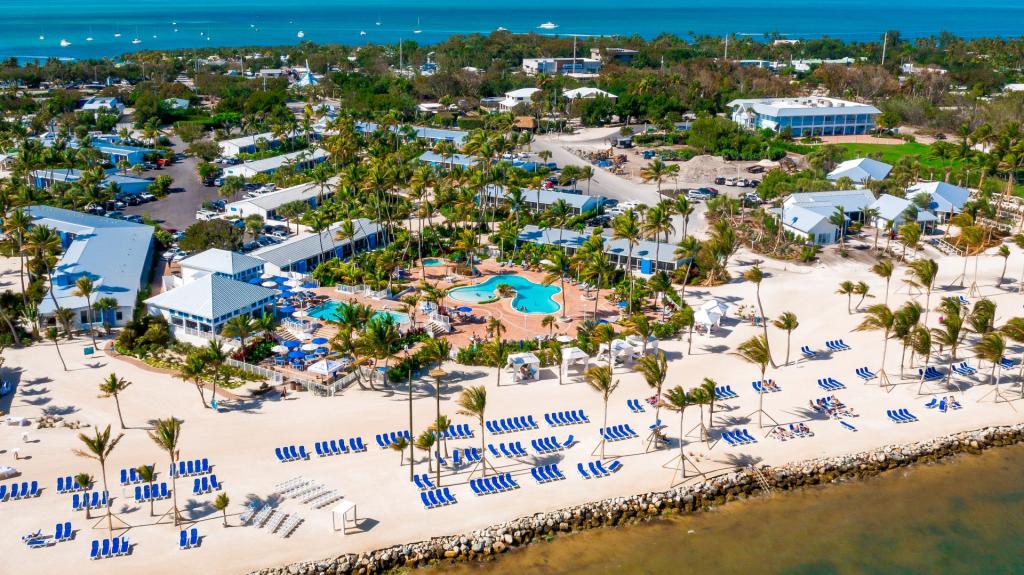 A 4-star picturesque Islamorada family resort, Islander Resort is a fine pick for any stay. This resort is a paradise, covered in a white-sandy shoreline with palm trees, and is sure to make anyone feel like a castaway! (Without all of the problems)! It borders the Atlantic ocean, allowing guests to swim or fish right on resort property.
Islander provides many indemnities perfect for any family. Kids can swim in the heated saltwater pool or run around on the splash pad. At the beach, families can compete in water sports such as snorkeling, kayaking, surfing, and more! If you want some time out of the water, there are yoga classes, table tennis, basketball, shuffleboard, and biking.
Activities are aplenty at Islander! Every day there is some kind of fun activity you or your family can jump in on. Activities range from jewelry making, yoga, tie dye, board games, bingo, kayaking, and our favorite, wine down Wednesdays!
There are even two on-site restaurants to satisfy your taste buds. Tides Beachside Bar & Grill will fill your desire for fresh seafood with their daily caught seafood. Elements Lounge and Restaurant offers breakfast and sides for snacking needs. Elements even offer private dining if you want extra peace and quiet on your getaway.
Amara Cay Resort
Amara Cay is a 4-star resort with the perk of a serene private beach. Hammocks dot the white sand shore with palm trees overhead to give a cooling shade from the hot Florida sun. Take a dip in the pool or ocean right from the comfort of your hotel, or if you are wanting something warmer, sit by the firepit in the evenings.
Relaxing isn't the only thing you and your family will be doing while at Amara Cay! Amara Cay offers many water sport rentals like kayaks and SUPs, or more chilled-out items like lawn games, towels, beach chairs, and bikes (did we mention that this is all included in your resort fee?). There is even a fitness center on-site for those that don't want to skip leg day!
Of course you'll get hungry, so what is there to eat at Amara Cay? Amara Cay has three restaurants at the resort. At the Tiki bar, guests can find tacos, fresh fish, burgers, chicken, and more to satisfy their palate.
Reelcatch offers a lot of the same with added breakfast options. Visit the Coastal Cup & Lounge if you need a coffee or a late-night drink, and if all of that is too much for you, then sit back and relax with in-room dining.
Every day is an adventure at Amara Cay. Look at the events list for tons of family fun activities. Activities include snorkeling, yoga, fishing, cornhole, live music, and more. If the activities at the resort are not your style, explore the nearby town with the free shuttle service!
Pelican Cove Resort & Marina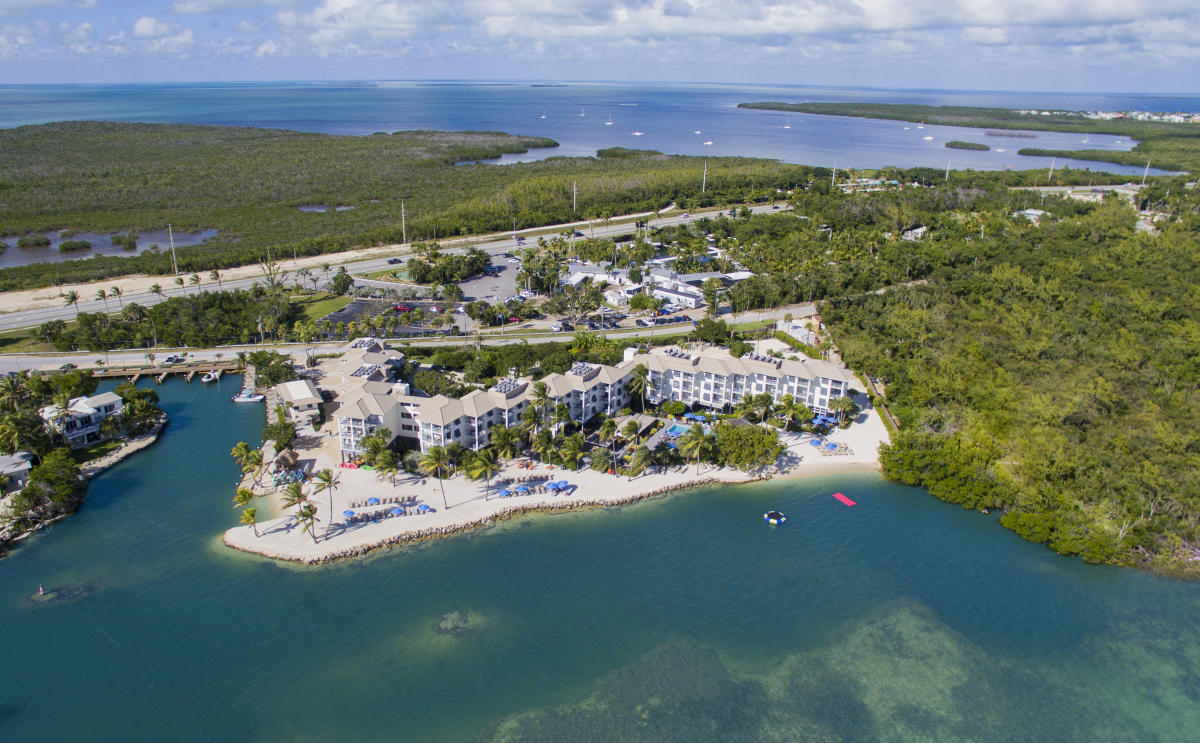 Pelican Cove is a 4-star resort with lots to offer! It features a private beach and even a saltwater lagoon to swim in (the lagoon has a giant water trampoline for the kids to play on)! Step out and relax on the beach or go on an adventure on your own with the resort shuttle included in your resort fee.
While Pelican Cove Resort & Marina is smaller than its sister services (Amara Cay Resort, Siesta Resort & Marina, and Postcard Inn Resort & Marina) the cozy atmosphere has its charm. Your family will feel like royalty for a weekend. Guests also get access to the amenities offered at the sister resorts.
There are many activities you and your family can partake in at Pelican Cove Resort & Marina, including water sports, fishing, snorkeling, yoga, ping pong, and more! Don't forget, you can go and attend the events at the other resorts too!
A popular attraction, the Theater of the Seas, is right next to Pelican Cove Resort & Marina, so your kids can experience swimming with dolphins right from their resort window!
Pines and Palms Resort
Pines and Palms is a 4-star resort featuring large one, two, and three-bedroom suites, all including a kitchen. On-premises, there is heated freshwater for the kids to play in. Other activities include yoga, fishing, biking, kayaking, paddle boarding, and more!
This resort is unique since you can arrive by boat and even dock your boat right on their pier! They even have an orchard nursery for added beauty to the land. Of course, you can always soak up rays on the beachside and get a nice tan!
Frequently Asked Questions
Still have questions about amenities? Here are your answers!
Which Islamorada family resorts allow pets?
Islander Resorts, Cheeca Lodge & Spa, and Amara Cay Resort allow pets. Pelican Cove Resort & Marina and Pine and Palms Resort do not state if they allow pets. Feel free to call the resorts if you have any questions.
Which hotels provide breakfast?
Islander Resorts provides a breakfast buffet. Cheeca Lodge & Spa and Amara Cay Resort have breakfast options on resort grounds. Pelican Cove Resort & Marina do not have a breakfast buffet, but they do have a Starbucks on the grounds. Pine and Palms Resort do not have breakfast.
Which resorts have a gym or fitness studio?
Islander Resorts does not have a gym, though they have an exercise trail and many fitness activities! Cheeca Lodge & Spa and Amara Cay Resort have fitness centers on-site. Pelican Cove Resort & Marina and Pine Cove Resort & Marina do not have fitness centers, but all of the physical activities at the resorts will surely keep you in shape!
Which resorts have an elevator?
There is no indication of an elevator on Islander Resort's and Pelican Cove Resort & Marina's websites, though they do have accessible rooms available. Cheeca Lodge & Spa, Amara Cay Resort, and Pine Cove Resort & Marina do not mention elevators or accessible rooms. Please call the individual resorts if you have any questions.
Final Thoughts
A trip to Islamorada is a trip of a lifetime, so it's critical to find the right resort for you and your family. You can't go wrong with Amara Cay's large amount of activities for a relaxing and exciting time. The private beach evokes a serene getaway for any group.
Cheeca Lodge & Spa will keep your kids entertained while you can relax at the spa or adults-only poolside. All are complete with family activities for everyone to partake in.
Pine and Palms Resort is a secluded spot where you can relax while the kids are at the pool. Enjoy the uniqueness of the orchid nursery or enjoy some fishing. Pelican Cove & Marina has a saltwater lagoon, complete with a trampoline! Let the kids blow off some steam before exploring the Theater of the Seas right next door!
Islander Resort sports a variety of physical and creative activities for you and the kids to create memories. Their fresh-caught seafood will put the perfect end to any vacation experience.
Overall, you can't go wrong with any of these picks. It is all about what works best for you and your family. Happy traveling!
More about our TFVG Author
A seasoned traveller, Dad, and avid sports tourist, James foundered The Family Vacation Guide to share his expert vacation experiences- especially when it comes to being a travelling family man.
Featured in Travel articles such as Travel + Leisure, TripSavvy and SFGate, you know you're reading some of the best vacation tips online.