Key West is full of luxury hotels waiting to be booked as guests flock to the tropical island to enjoy a peaceful beach getaway. Multiple luxury hotels offer a romantic and intimate setting perfect for a young couple enjoying their honeymoon, while others exclude children under a certain age to promote peace.
While these luxury hotels do exist, there are also plenty of lodging amenities scattered throughout the island that boasts both luxury and a family-friendly atmosphere. Whether it's a kids club that provides child care or an on-site water park, luxury doesn't have to be an adult-only attribute.
The best family luxury hotels in Key West possess both five-star amenities and a family-friendly atmosphere. Check out five of the best Key West luxury hotels for families below! 
The Best Luxury Hotels for Families in Key West, Florida
Affordable and spacious hotel rooms are available throughout Key West. These hotels are the perfect destination for your family vacation as family-friendly activities are available throughout the resorts. Don't get stuck in a hotel that doesn't offer the amenities you and your family need for a stress-free vacation. Consider these hotels when booking your tropical getaway!
Southernmost Beach Resort
Advertised as the spot where "tradition meets modern luxury," the Southernmost Beach Resort is an island retreat that offers Old Town charm and beachfront living. With a full renovation under its belt in 2021, this resort is ready to give you and your family the vacation you've always dreamed about.
Lodging suites at the Southernmost Beach Resort range from tropical poolside views to quiet seaside retreats, as each room has a personal touch and is equipped with a coffee machine, mini-fridge, two water bottles, and robes. King and queen-sized beds are available depending on room selection, with most two-bedroom suites containing two queen-sized beds.
If looking for a standard two-bedroom suite to lodge your family, the Southernmost Beach Resort has a wide variety of options both with garden and ocean views.
However, if a two-bedroom suite doesn't sleep your entire family, consider renting the 2,000-square-foot three-bedroom option. This suite has ample living space and ocean views that won't let you leave your balcony.
Things to do at the Southernmost Beach Resort are not in short supply as three pools, direct beach access, and a tanning pier will keep you and your family busy. In addition, private cabanas are available for rent, ensuring privacy for poolside activities that overlook the tranquil oceanic waters.
If the sound of the ocean crashing against the shore and the warm sun kissing your skin isn't enough to give you maximum relaxation, visit the on-site spa. 
This spa offers exclusive services where you can enjoy a massage, manicure, pedicure, facial, or any other spa treatment you desire. The talented estheticians and massage therapists will ensure you are well taken care of and get the attention you need.
A fitness center is also available for guests who want to keep their workout routine. This well-equipped fitness center will help you reach your fitness goals, and outdoor yoga classes will help you maintain flexibility and peace.
Dining at the Southernmost Beach Resort is a treat as options seem endless. Enjoy casual dining at the Pineapple Bar or poolside Shores Bar, or enjoy a sit-down dinner at the Southernmost Beach Cafe, where Asian-fusion cuisine reigns supreme.
Whether you book a stay at the Southernmost Beach Resort for the luxury amenities or the endless activities, we ensure you and your family will not be left wanting more.
Opal Key Resort & Marina Key West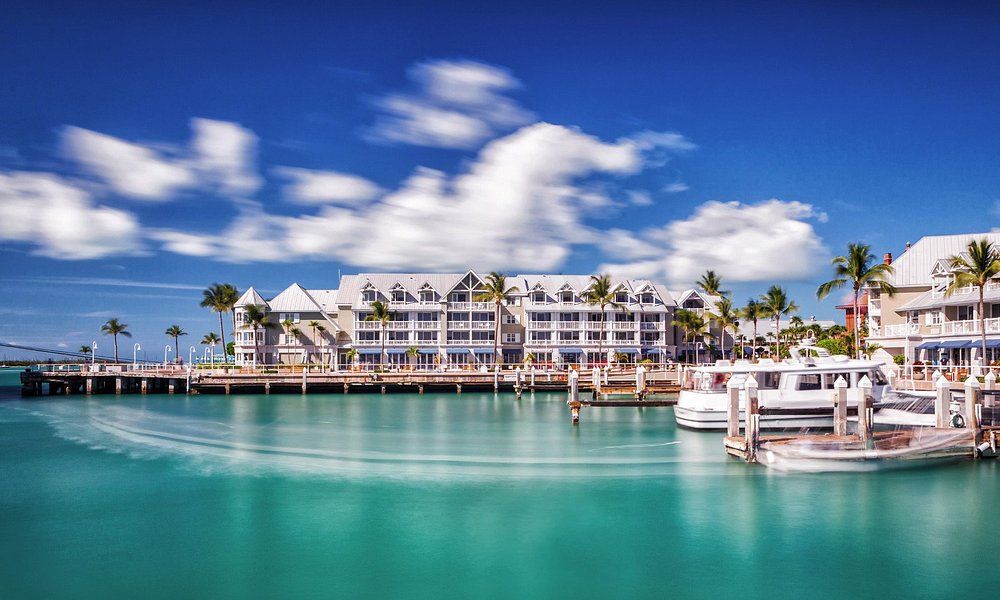 Location is vital at the Opal Key Resort and Marina as it is directly on the waterfront of Old Town Key West. If you're looking for a convenient hotel that boasts luxury accommodations and a variety of activities, this resort is perfect.
Traditional rooms, deluxe rooms, and one and two-bedroom suites make up the lodging at Opal Key Resort and Marina. Traditional rooms offer basic amenities and sleep up to four guests with optimal pool views.
The deluxe rooms provide guests with a private balcony or patio and offer partial or full ocean views.
The one and two-bedroom suites sleep five to six guests and offer a private outdoor space with ample space for you and your family to enjoy the room. The two-bedroom rooms have either a pool, partial ocean, or full ocean views, while the one-bedroom suites only offer pristine ocean views.
While some rooms offer room-specific amenities such as a jacuzzi tub, dog bed, or rollaway bed, all rooms contain plush bedding, bathrobes, premium bath products, room service, and wireless internet access.
So no matter the guest room or suite you book at Opal Key Resort and Marina, you and your family will experience a luxurious stay. 
The resort pool is the star of the show at Opal Key Resort, with its surrounding lush trees and tropical plants making you feel as if you're swimming in a tropical jungle. The private setting around the pool ensures a tranquil and relaxing swim is in store for guests.
Sunsets over the ocean are a sight you don't want to miss, which is why this resort highlights the natural phenomenon in the best way they know how—a celebration. Sunset Celebrations at Opal Key Resort are a hot commodity.
Guests can enjoy the sunset as jugglers, island musicians, artists, food vendors, and other entertainers put on a show for your enjoyment.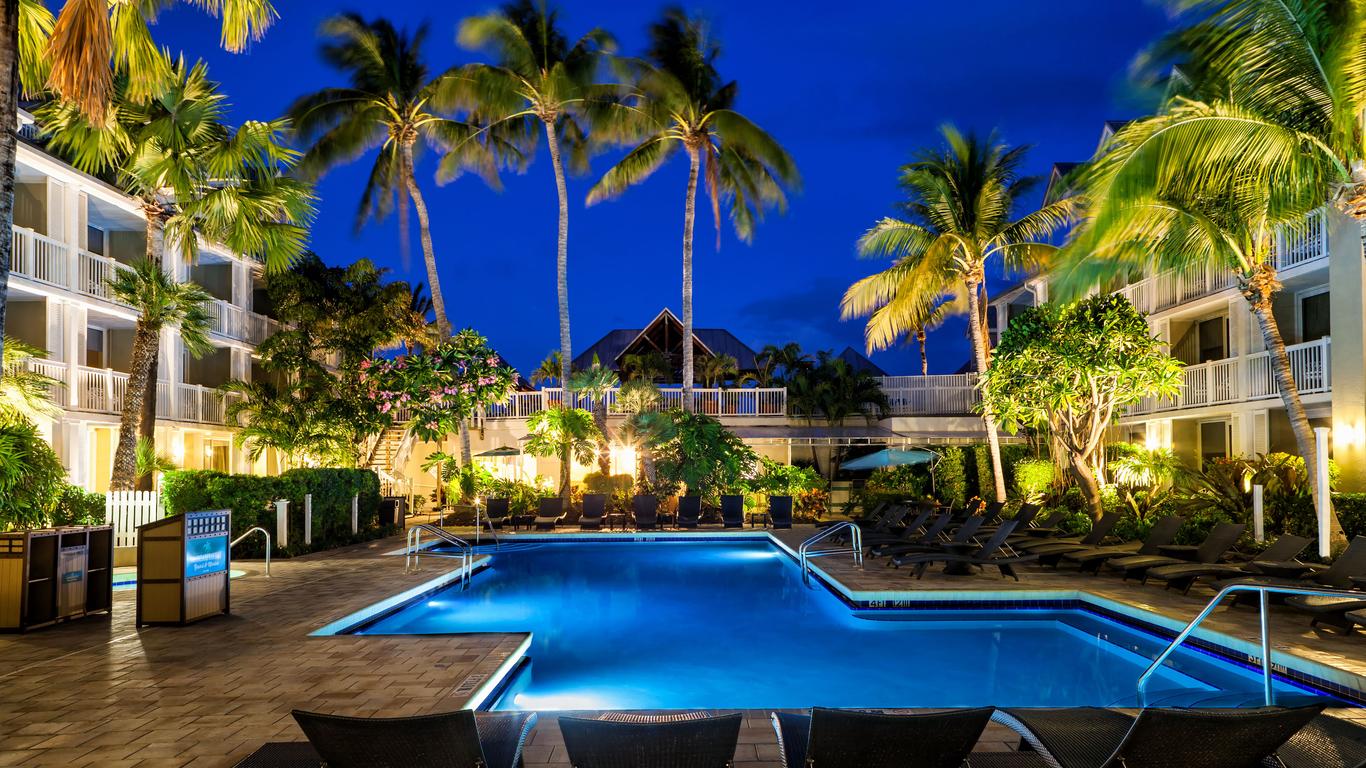 A stay at Opal Key Resort and Marina isn't complete unless you take advantage of the marina and watersports it offers. The perfect afternoon activity to keep the kids entertained is by renting a boat or kayaking the shores of Key West.
Guests can also enjoy parasailing, snorkeling, sunset sailing, and deep-sea fishing as part of the marina amenities. If a fun-filled vacation on the waters is on your bucket list, Opal Key Resort and Marina is where you need to book your stay.
Cheeca Lodge and Spa
Beachfront lodging and luxurious living quarters are what you will experience during your stay at Cheeca Lodge and Spa. Known as a premier destination for anglers, this lodge gives guests the ultimate Florida Key experience. The turquoise waters and bleached sand promote luxury further enhanced in the hotel amenities.
Guests can select a specific room view with choices of resort view, lagoon view, and oceanfront. The Cheeca Lodge and Spa even offer dog-friendly rooms for those that don't want to leave their furry friend behind.
The 214 rooms at the lodge are designed for a glamorous stay while still offering the necessities. The largest rooms at the hotel hold a max capacity of six, providing families with the option to stay together in one space without tripping over one another. 
If you and your family require more privacy than the halls of a hotel can offer, Cheeca Lodge and Spa have several casitas for guests. These stand-alone luxury houses offer large furnished porches, full kitchens, rain showers, and a unique vibe that sets each one apart.
As previously noted, sportfishing is a popular activity in the waters surrounding this luxury hotel. Therefore, if this is an activity that strikes your fancy, there are plenty of options to try your hand at the sport. On the other hand, if sportfishing isn't the activity you were looking for, consider one of the many on-site resort activities Cheeca lodge offers.
Take a break from the sun and take the kids to the game room and compete in table games like foosball, ping-pong, pool, or air hockey. An Xbox arcade, board games, and bingo are also fun family activities that are enjoyed on the resort grounds.
For more extreme and active land entertainment, play a 9-hole game of golf at the Jack Nicklaus-designed exclusive golf course. Or, play tennis on the on-site tennis courts or start a game of beach volleyball. In addition, this resort has other sports courts, including pickleball, basketball, shuffleboard, and hopscotch.
Enjoying a beach vacation isn't complete without trying your hand at various water activities. Reserve stand-up paddleboards or ergonomically-designed sea kayaks, and explore the crystal clear ocean waters. Guests also have the option to try clear kayaks, water hammocks, and beach cruiser bicycles available for children and adults.
Cheeca Lodge and Spa have everything your family needs to enjoy a luxurious beach vacation. The spa offers the perfect opportunity for adult relaxation, while the endless resort activities ensure the kids are entertained at all times.
Santa Maria Suites Resort
If luxury is what you seek, Santa Maria Suites Resort is exactly what you're looking for. With the beach only a few steps in one direction and the famous Duval Street steps in the other direction, guests get both Old Town charm and beach vibes.
Your luxury vacation begins even before you check in as employees greet you with a warm smile as soon as you arrive on the resort grounds. The check-in process is easy, and guests have the option to choose between a variety of luxury suites to best suit their needs.
All 35 rooms at the Santa Maria Suites Resort are two-bedroom flats, meaning you won't miss out on booking a space large enough to fit your family. Choose between pool view or garden view rooms with ADA rooms available upon request.
Whether you book a garden view or pool view room, the options are available for a king or queen-sized beds, depending on availability.  Spacious closets, a pristine kitchen, and bright living quarters are also included in each room.
After checking in and acquainting yourself in your room, wander down the two garden-enclosed heated outdoor pools and wash any stress away. Enjoy chilled towels, frozen drinks, and a variety of other luxuries as you lounge around the pool.
When it comes time to explore the beach, the attendants will ensure you have everything you need, including towels, umbrellas, and chairs. Don't forget to take advantage of the happy hour, where adults can enjoy a glass of wine and kids can get their fill from the snack bar.
Additional hotel amenities include a fitness center with Cybex equipment, in-room laundry facilities, free wi-fi, a poolside bar, and a 24-hour concierge.
Experience Latin cuisine by dining at the on-site Milagro Restaurant or walk the streets of Key West, where you will find endless dining options. If you're looking for a luxury hotel that places a heavy emphasis on tropical getaway vibes, book the Santa Maria Suites Resort.
Sunset Key Cottages
Sunset Key Cottages is a four-star hotel nestled on the beaches of Key West. This beach getaway boasts luxury as the private cottages are the perfect lodging destination for families. You can arrive in style by ferry or drive the famous Overseas Highway to begin your Sunset Key Cottages vacation in Key West.
Two, three, and four-bedroom cottages are available, meaning you and your family can enjoy a vacation together in the same space while still maintaining a level of privacy amongst yourselves.
Enjoy garden views or Atlantic ocean views from your cottage as you sit on the cottage deck and let the calming breeze touch your skin.
The luxury three-bedroom oceanfront cottage is the cottage you want to book for your family if availability allows. This cottage sleeps up to six guests and boasts an impressive 1,700 square feet of living space. An outdoor dining area, open living room, well-equipped kitchen, and unobstructed panoramic ocean views from every room in the cottage make it the ultimate beach paradise.
Don't be dismayed if this cottage is booked during your desired vacation dates. The remaining cottages at Sunset Key Cottages ensure tropical vibes throughout as the towering palms, salty air, and beach access will not disappoint.
If bringing a larger family on your tropical vacation, consider booking the four-bedroom oceanfront cottage. This spacious cottage sleeps nine guests and has everything you need to relax and unwind.
When not in your cottage, the hotel has a variety of activities to enjoy during your stay. Aside from the pristine outdoor pool and white sandy beach, guests can enjoy diving and snorkeling, deep-sea fishing charters, parasailing, and other sailing excursions.
Tennis courts and fitness classes are available for those that want to keep their feet on land but still enjoy what the hotel has to offer. The spa at Sunset Key is all-inclusive and offers a serene atmosphere. Enjoy spa treatment by a nurturing therapist who will help you reach your desired level of relaxation.
Flipper's Pool Bar gives guests an option to grab a quick bite to eat while still enjoying the pool. If looking for a more upscale dining experience, visit Latitudes, the on-site restaurant that serves fresh island cuisine.
Pack your bags and book your stay, as you don't want to miss out on the tropical getaway at Sunset Key Cottages. 
Conclusion
Whether you're looking for a relaxing stay at a hotel with an on-site spa or you seek a beach getaway with a heavy emphasis on tropical luxury, Key West, Florida, can accommodate every vacation style. 
Enjoy the privacy of Sunset Key Cottages as you take in the panoramic ocean views, or book a stay at Cheeca Lodge and Spa and pack in every activity the resort offers. Your family is bound to enjoy a tropical Key West vacation at any of these resorts, as each offers luxurious amenities, spacious rooms, and a plethora of activities.
Book your beach vacation today at one of the best Key West luxury hotels for families!
More about our TFVG Author
A seasoned traveller, Dad, and avid sports tourist, James foundered The Family Vacation Guide to share his expert vacation experiences- especially when it comes to being a travelling family man.
Featured in Travel articles such as Travel + Leisure, TripSavvy and SFGate, you know you're reading some of the best vacation tips online.