Being Florida's state marine animal, many people flock to the state to see this interesting creature. However, despite the Florida manatee being native to the state, that doesn't mean that you can find them in just any body of water.
This can leave you wondering where to see manatees in Florida. Here are some of the best places to go, including what sets them apart from each other.
Sometimes called the Manatee Capital of the World, Crystal River is a great first choice for any trip to see manatees. The area's highlight is the Crystal River National Wildlife Refuge, where the gentle giants can be seen from roughly the middle of November to the end of March.
Boating is allowed in many of these areas, allowing you to get up close and making this easily one of the best places to see manatees in Florida. However, make sure you follow local guidelines for going out onto the water, as this is essential for helping the manatees avoid injuries.
Crystal River also benefits from being a top tourist destination during the winter months, with many resorts, inns, B&Bs, and other places to stay while you enjoy the area. If you're interested in more active opportunities, you can go cycling along trails, dive for scallops, or visit information centers to learn more about the manatees.
Crystal River is big enough and active enough to make this an excellent trip for the whole family. Be sure to check out the seafood dining options while you're in the area, which is a prime part of any trip to the area.
Set just inland from Florida's western coast, roughly north of Tampa and west of Orlando, Homosassa Springs is one of Florida's best state parks and a great place to go if you're looking for close encounters with plenty of wildlife.
Manatee viewing is easy here, thanks to the Fish Bowl Underwater Observatory, which provides an underwater view of animals passing in the river. A live camera feed makes it easy to get a good look at what's going on underwater, all without getting close enough to the manatees to disturb them.
That's a great experience on its own, but this park also hosts other wildlife that can't be on their own for some reason, making it much closer to a zoo than a traditional park. The area is also part of the Great Florida Birding Trail, so bring some binoculars to get the best view of the other wildlife.
Blue Springs is another of Florida's state parks, and it sees several hundred manatees passing each year thanks to several decades of conservation efforts. This park is swimming-friendly, with waters that are consistently 72 degrees throughout much of the year. You can't swim with the manatees, but you might see other wildlife in the area.
If you enjoy guided activities, this park also has a riverboat cruise where you can see birds and the park's scenery from the comfort of a controlled vessel. Kingfishers, eagles, and ospreys are common to the area, and with only a cursory fee per vehicle, it's an affordable trip on even the tightest budgets.
Note that this is a popular park, though, especially during the summer and winter months. For the best experience when deciding where to see manatees in Florida, you'll need to arrive quite early in the day. Otherwise, you run a real risk of the park filling to capacity and stopping you from entering at all. That can ruin any vacation, so be sure to plan ahead.
Set less than an hour north of St. Petersburg, Tarpon Springs is a comfortably warm area with a pleasant historic district and plenty of art galleries and specialty shops. It also boasts a large performing arts center that hosts theater shows, concerts, and similar programs.
One of the best areas to see manatees in Tarpon Springs is around the Spring Bayou area. This is an artificial lagoon that manatees can occasionally pass through, although you may not see too many of them if they only come up for air.
In other words, you won't see nearly as many manatees here during the popular months as you might in areas like Crystal River. That makes Tarpon Springs a poor choice for pure manatee-viewing, but a great option if you're interested in the arts and want to spend most of your trip in the city instead.
Try to talk to some of the conservationists in the area if you have the chance. They can tell you the best spots to see manatees in Tarpon Springs, plus things you should be mindful of so you don't end up disturbing them.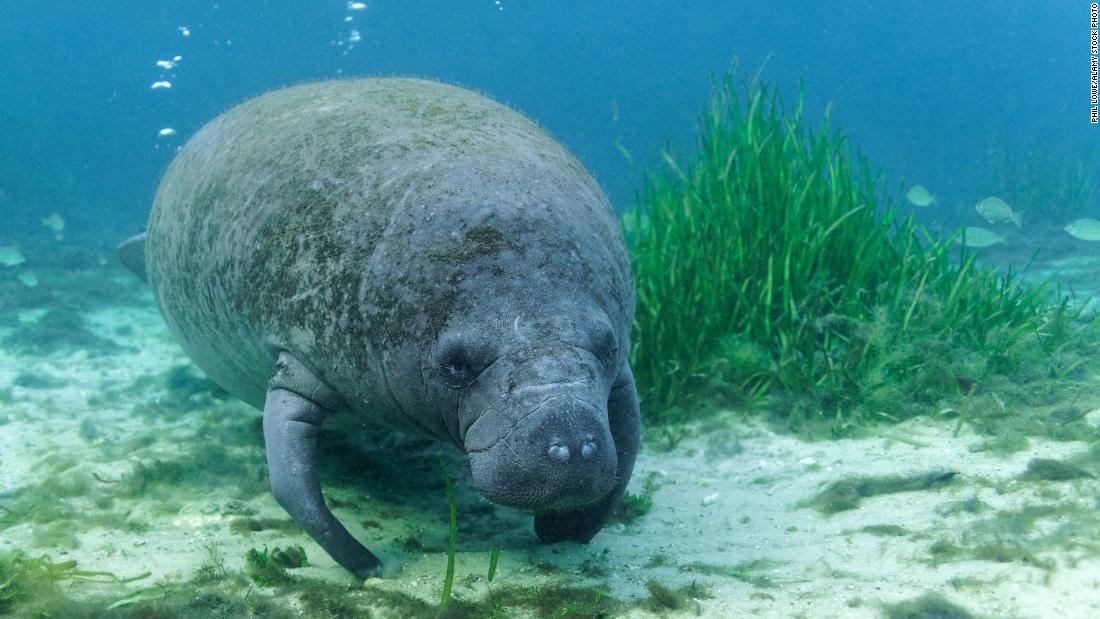 This National Wildlife Refuge (NWR) is another protected space where manatees have additional protected status. This is one of the relatively rare viewing areas on Florida's eastern coast, set immediately north of the famous Cape Canaveral. It's close enough that you can see rocket launches from the area, although it doesn't close during them.
The Visitor Center is open from about eight to four on weekdays, although the park is available beyond those hours. This NWR is part of the larger Merritt Island National Wildlife Refuge Complex, including the Lake Woodruff and St. Johns NWRs.
The best place to see manatees in this area is at the aptly named Manatee Observation Deck, along SR 3 near Haulover Canal. While manatees are easiest to spot in spring and fall, you can catch glimpses of them throughout the year.
This is a noticeable difference from areas on the western coast of Florida, where manatees are often more visible during summer and winter. If your main goal when visiting Florida is to see the manatees, knowing their location beforehand is crucial, so keep that in mind when you're planning your trip.
Open from November to mid-April, the TECO Manatee Viewing Center in Apollo Beach is one of the more unique places to view manatees in the Florida area. This partially artificial viewing area relies on the Tampa Electric company's Big Bend Unit 4, which uses saltwater from Tampa Bay to cool it down.
All that extra heat goes into the water through the discharge canal and back into Tampa Bay. As the bay cools down during winter, manatees flock to the warmer discharge canal. The area is now a protected manatee sanctuary, with strict rules about what can be put into the water.
You can often see manatees in larger groups during the open season, making this a prime viewing area. The nearby education building offers extensive information on the manatees, including details about their life cycle and challenges as a species. On-site staff also help answer questions.
Keep in mind that this is a relatively small viewing area, consisting mainly of the educational area and a large platform in the river. While good for shorter visits, it's not a large habitat like Crystal River. That makes this a poor choice for a long trip, but a decent option if you happen to be in the Tampa area and want to see manatees in winter.
Set in the Fort Myers area, Lee County's Manatee Park is a warm water refuge during the winter months. The park offers various programs to the public, including group tours, dedicated programs, and even fishing opportunities.
This park works best as a day trip, where you can rent kayaks and head onto the water to get closer to manatees. It also has playgrounds and picnic areas, making it a particularly good choice for family trips.
If you prefer to stay on land, the park has a massive butterfly garden that helps attract them whenever the flowers are blooming. This garden is a model for the Florida-Friendly Landscaping program run by the University of Florida and the state's Department of Environmental Protection, showcasing safe and sustainable principles for protecting Florida's famous waterfront.
Unlike many wilderness parks, this is not a good camping park and not particularly suited to visits lasting longer than a day. While you might be able to rent an RV or similar vehicle and sleep nearby, this park works better if you're visiting for a few hours or an all-day trip as part of a longer vacation.
Weeki Wachee Springs State Park is a park that's open throughout the year, from nine in the morning to about 5:30 in the evenings. This is another great family attraction, especially since the park hosts several water slides in the Buccaneer Bay entertainment area.
Beyond the manatee viewing, this park also features underwater shows by talented performers, kayak trips down the run from the spring, and several kid-friendly play areas. This is also a great place for cave diving because the springs are host to the deepest known freshwater cave system in the entirety of the United States.
If you prefer to stay close to the surface, snorkeling gear and opportunities are also available here. Easy access to the beach helps if you want to get some sun, while on-site dining opportunities provide more food than many other viewing areas offer.
Like Lee County's park, this isn't a good place for camping. Part of this is a protective measure to help stop too much waste from contaminating the springs and ruining the area. However, the important part is that it means this area works best as a day trip.
This is a relatively generic name, but it refers specifically to a major observation center in the Fort Pierce area. Opportunities here include guided kayak tours and workshops for children. MOEC itself is a non-profit organization supported by volunteers and various manatee organizations, with a mission to promote the safety and understanding of the area.
This is a surprisingly good choice when you're deciding where to see manatees in Florida because they're known to visit year-round. Most observation areas are season-limited, but they built the center here to maximize opportunities for observing these large, gentle creatures.
Kids have additional options here. Between child-friendly educational areas and scheduled classes at schools throughout the area, MOEC has plenty to offer. This center is also a good place to spot other wildlife native to the area, including pelicans, dolphins, and butterflies.
As with most observation areas, this site is better as a day trip because it doesn't have many camping opportunities. However, if you want to observe manatees in their natural habitat, few locations in all of Florida offer a better chance of seeing them at any time of the year.
Manatee Lagoon is an FPL Eco-Discovery Center offering free parking and admissions in the West Palm Beach area. Events at this center include storytime for kids, guided tours of the facility, adult yoga lessons, and assorted discussions and lectures at least once a month.
This center also hosts corporate events and weddings, so you never know what you might stumble across when you visit. Aside from that, this area is surprisingly similar to the TECO viewing center discussed above.
The outflow area consists mainly of warm-water discharge from Florida Power and Light's modern, clean energy center. The warm water flows have been around for decades, and entire generations of manatees have learned to enjoy the warm water from these plants during the winter months.
Better yet, the area is highly accessible to the public because FPL makes all the money it needs by selling electricity. The center simply highlights the results of some of their programs and activities, so they're able to run it as a free service instead of demanding extra payments to come and see the manatees.
Like most viewing places towards the western coast, this viewing opportunity works best in the winter months. You might have a much harder time seeing manatees here in other months.
Manatee Springs State Park is one of the few areas for seeing manatees suitable for longer trips. This park is open 365 days a year and, importantly, has readily available campgrounds so you can enjoy the area to the fullest.
This park has several miles of nature trails and a long boardwalk going through a cypress forest outside of the manatee-viewing opportunities. The boardwalk overlooks one of Florida's best springs, providing added fun for visitors.
Other features and amenities include a boat ramp, campfire circles, a picnic pavilion, and on-site food if you don't want to make your own. The park supports biking, fishing, paddling, snorkeling, scuba diving, and extensive wildlife viewing opportunities.
The spring itself is worth a visit. It's one of Florida's rare first-magnitude springs, easily exceeding the threshold and releasing an average of 100 million gallons of water every day into the Suwannee River. That means the water in the park is quite active, making for more exciting rafting and paddling opportunities.
Plenty of wildlife inhabits this area, including alligators, turtles, and snakes. Manatees enjoy this area in winter when the spring's 72-degree waters (consistent throughout the year) are more comfortable for them than the colder waters downstream.
Set just north of the Bonita Springs area, Lovers Key State Park on Florida's western coast features a two-mile stretch of protected beach area along a secluded barrier island. The canals and lagoons that cross the area are popular spots with manatees and other aquatic wildlife, who often graze in the area while relaxing in the warmer waters.
This is a great place for strolling, thanks to the long trails and well-shaded pathways. You can also rent general beach equipment like chairs and umbrellas, go biking along the paths or search for shells along the beach. Fishing is allowed in designated areas, though you'll need to keep away from protected wildlife like manatees.
This park is great for a day trip, preferably starting early if you happen to be in the area. This park doesn't have camping opportunities, but it is close to hotels and other places to stay in the city, so it's easy to sleep close by even if you can't camp on the beach itself.
Incidentally, this is one of the most reliably protected areas for viewing manatees. Most state parks have legal protections, but this is a relatively rare beachfront area donated to the people of Florida to maintain an accessible, family-friendly area.
The Wakulla Springs are the last option on this list, but certainly not the least. Set up in Florida's panhandle area, this park hosts some massive freshwater springs that stay a comfortable 70 degrees rather than down the coast like most manatee viewing regions.
Wildlife is plentiful in this area, ranging from manatees and alligators to birds and more. Historic boat tours offer safe and gentle tours of the area, while events like hiking, horseback riding, and even scuba diving let you experience the park in various ways.
This park doesn't allow camping, but it is possible to stay for multiple days by resting at the on-site Spanish lodge. This is a full-service, 24-hour hotel that serves as an excellent base for exploring the waters and caves of the area.
More about our TFVG Author
A seasoned traveller, Dad, and avid sports tourist, James foundered The Family Vacation Guide to share his expert vacation experiences- especially when it comes to being a travelling family man.
Featured in Travel articles such as Travel + Leisure, TripSavvy and SFGate, you know you're reading some of the best vacation tips online.