Universal CityWalk is one of the best places to grab a bite to eat in Orlando. You don't need to have tickets to Universal Studios or Islands of Adventure to go to CityWalk, and it's definitely a place you should eat at, at least once whilst on vacation.
There are several excellent restaurants, all within walking distance from one another, and there's truly something for everyone.
Here's Where You Should Eat as a Family at Universal CityWalk
If you're planning a trip to Universal or Orlando in general, dining at one of the restaurants at Universal CityWalk needs to be on your list. The unique setup of the entertainment plaza is stunning and is the perfect venue for the whole family.
Whether you're popping in for a quick meal or looking to sit down and relax with your family after a long day, here are some of the best places to eat at Universal CityWalk.
Let's face it. Dessert is just about everyone's favorite meal of the day. If you and your family are dessert lovers, you need to try the Toothsome Chocolate Emporium.
This 19th century themed restaurant and chocolate emporium is the perfect spot at CityWalk to eat a delicious meal and then finish it off with one of their specialty desserts.
The Toothsome's menu is rather vast, but it's perfect for families because everyone can find something they'll love. There are fantastic seafood dishes, steak, sandwiches, burgers, and more.
Regardless of what you order for your meal, you'll want to make sure you save room for dessert. You can choose from 15 specialty milkshake recipes, a variety of sundaes, or other desserts.
Even if you'd rather eat at one of the other fantastic restaurants in CityWalk, the Toothsome Chocolate Emporium is the perfect spot to grab dessert before heading back to your hotel for the night.
When you're craving a sweet milkshake to round off your night but aren't interested in waiting for a table, you can order a milkshake at their milkshake bar. If this is more your speed, keep in mind that there may be a line, but their milkshakes are well worth the wait.
One of the best parts of dining at Universal CityWalk is that every restaurant has a different theme. At Bigfire, you'll feel like you're sitting in a cozy lakeside resort or house, even though you're in Central Florida.
What goes hand in hand with spending time at the lake? A bonfire! When you and your family visit Bigfire, you'll be able to experience chefs cooking your meal over an open flame.
Chefs use the perfect firewood for cooking your meal. The wood they choose depends on what you order because they pair your meal of choice with the ideal firewood that will accent your meal nicely.
For those over 21 years of age, you'll want to check out their selection of alcoholic beverages. While you can grab a good drink at most of the restaurants in CityWalk, at Bigfire, you'll be able to try some smoky drinks, such as their smoked amber beer.
Something everyone in the family will enjoy, especially the kids, is eating s'mores. The best part about this is that you get to prepare the s'mores right at your table.
When you order s'mores, you'll get an array of chocolate, graham crackers, and marshmallows to customize your perfect s'more.
You can go the traditional route or make something entirely different. Not only will everyone in the family be excited to eat the s'more, but it's a fun activity to do with the family.
Are you craving authentic Mexican food while you're in Orlando? Antojitos is one of the best Mexican restaurants in the area, and it's located right in the heart of Universal CityWalk.
Antojitos has everything your heart could desire when it comes to Mexican cuisine. There are chips and salsa, tacos, fajitas, enchiladas, and so much more.
You can add a house-made margarita or cold beer to your meal to feel like you've stepped into Mexico.
Servers at this restaurant wear embroidered dresses of traditional Mexican design, and on certain days and times, you'll even see a mariachi band wandering throughout Antojitos.
While there are several alcoholic drink options and entree options for the adults, Antojitos doesn't forget about its smallest patrons. There's plenty of kid-friendly options that your little ones will love.
What's the easiest way to please the entire family (besides dessert, of course)? Pizza! Red Oven Pizza Bakery may seem like a safe option for your meal, but sometimes going with what you know is the best way to make mealtime as smooth as possible with a family.
Every pizza ordered at Red Oven is made to order, so you can be sure that your pizza will be fresh and hot.
Chefs make all of the pizzas in a stone bake oven, and you can watch the chefs work their magic.
One of the best parts of eating at Red Oven Pizza Bakery is that it takes a very short amount of time for your pizza to be ready. The chefs heat the pizzas at an incredible 900 degrees making them perfectly cooked in 90 seconds or less.
You and your family are welcome to enjoy your pizza at the restaurant, but if all you want to do is relax in your hotel room after a long day at the theme parks, you can order your meal to-go.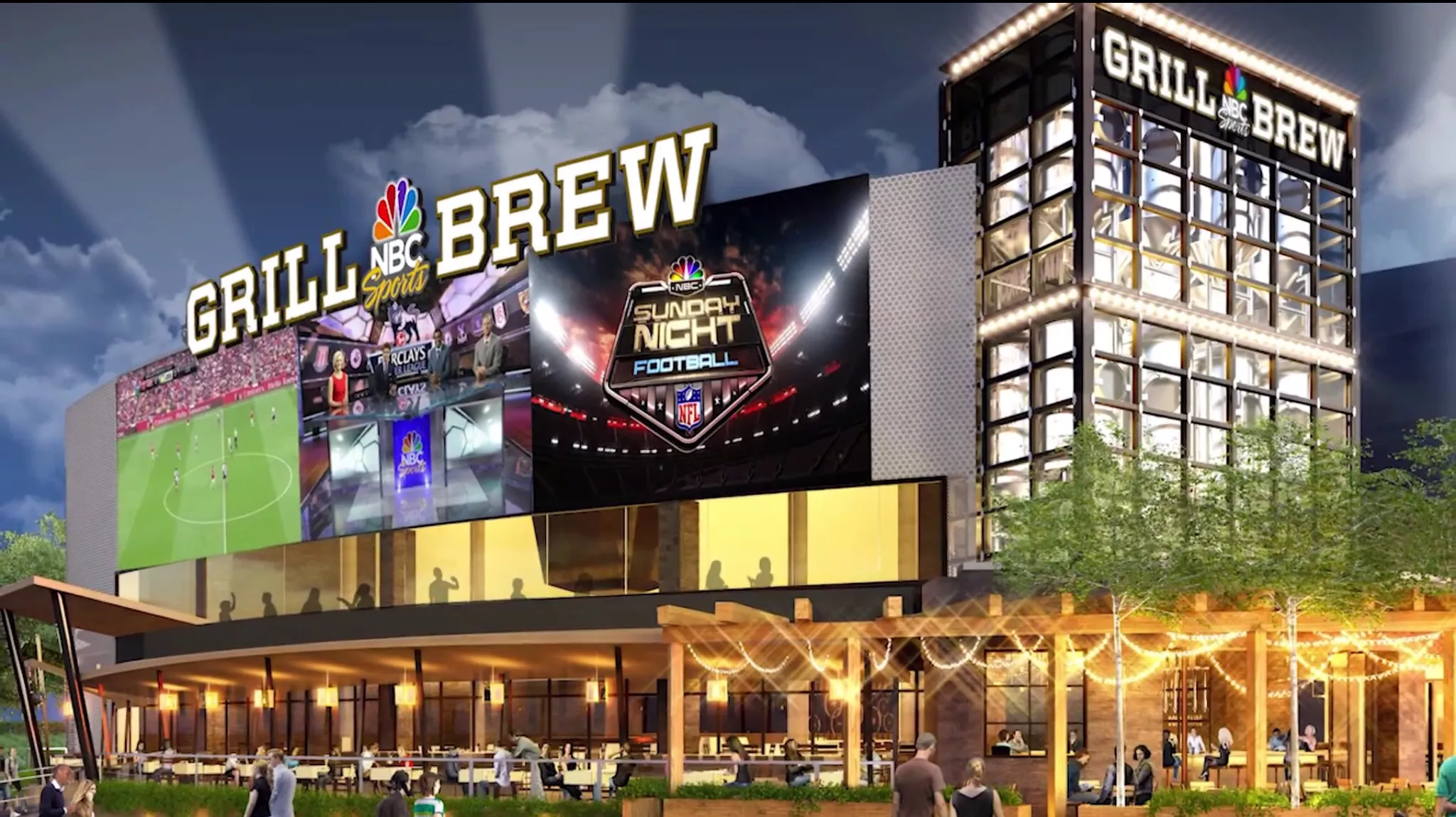 NBC Sports Grill & Brew is the perfect place to watch whatever game is on. But, you don't need to be gearing up to watch a sporting event to enjoy eating here.
When you go to NBC Sports Grill & Brew, it's like going to a full-service sports bar, but bigger. There are roughly 100 high-definition tv screens scattered throughout the restaurant so that no matter where you're seated, you can keep up with the game.
The food you can expect to see on the menu is your typical bar food but upgraded. You'll find chicken wings, burgers, nachos, and other bar bites. There's also plenty of healthier options on the menu if you're not in the mood for something on the greasier side.
Most of the restaurants at Universal CityWalk are family-friendly, and NBC Sports Grill & Brew is no different.
Even though their adult menu has a little bit of everything, they offer a kids menu with classic kid options to satisfy your young ones while you relax and watch sports.
It's hard to imagine going to a sports bar without having a beer, and at NBC Sports Grill & Bar, you don't have to – there are over 100 drafts and bottled beers to choose from. For those that don't drink beer, there's also a full bar.
The only thing better than eating some delicious Italian food is watching the talented chefs prepare it.
VIVO Italian Kitchen has an open kitchen where you'll see chefs preparing everything from pasta, bread, and pizza. They even make most of their mozzarella cheese from scratch.
All the meals prepared at VIVO come from heirloom family recipes. The chefs make the pasta by hand every day. That's right. You'll be eating fresh pasta here if you order a pasta dish, that is.
While everything about the recipes at VIVO is authentic and based on tradition, you and your family will be dining in a beautifully modern setting.
They have dishes for the more refined palette, such as squid ink seafood, as well as plenty of simple but delicious dishes for the little ones. It's the perfect place to wind down from a busy day while eating a filling and satisfying meal.
Whether you're a Jimmy Buffet fan or not, you can't visit Universal CityWalk without stopping into Margaritaville.
This beach-themed restaurant has live music that plays tropical music, making you feel like you've been whisked away from the hustle and bustle of the city.
For the burger lovers, you can't go to Margaritaville without trying the Cheeseburger in Paradise. But there's plenty of other seafood dishes and other menu items to choose from.
You won't want to miss out on trying their famous tropical key lime pie for dessert. You can share a slice or two with the family or have one all to yourself. Their chocolate hurricane dessert is another tasty option if you want to be a real hit with the kids.
The kids love the vibrant colors and tropical feel while the adults stay for the unique margaritas. There are several margarita recipes to choose from, but if you want the authentic Margaritaville experience, ordering one from the Volcano Bar is a must.
If you can't decide on a margarita, their sampler is available to help you make your decision.
You may have been to a Hard Rock Cafe before since there are over 180 locations worldwide, but the largest Hard Rock Cafe has a home in Orlando, Florida. However, unlike other Hard Rock Cafes, this one can seat 1,000 guests.
You'll be surrounded by fantastic music and rock and roll memorabilia as you enjoy your lunch or dinner with your family.
Some of the memorabilia are 100% unique to this location, making it worth stopping in, even if you've been to Hard Rock Cafes in the past.
The Hard Rock Cafe in Orlando has a vast menu, including bar favorites like nachos and chicken wings as well as salads and sandwiches. If you can think of a classic American dish, it's likely on the menu here.
Before or after your meal, you can look at the Hard Rock souvenir shop, where you'll find cups, shirts, other souvenirs, and collectible pins.
Unless you live in Oregon, Texas, California, or Colorado, you won't want to miss trying this doughnut spot. Voodoo Doughnut has made a name for itself in Oregon, where it's based, and has expanded into other states.
While they've grown their business from their single Oregon shop, the Voodoo Doughnut at Universal CityWalk is the only one in the state of Florida. In fact, it's the only one on the east coast of the United States.
Even though Voodoo Doughnut only has nine locations, they've been making waves throughout the country. Voodoo Doughnut has been featured on Access Hollywood, The Today Show, The Travel Channel, and so much more.
They have 50 different doughnut recipes categorized into cake doughnuts, raised yeast doughnuts, and specialty doughnuts. Their dirt doughnut has vanilla frosting with crumbled Oreos and is always a hit.
If you're interested in a more traditional doughnut, their powdered sugar cake doughnut is sure to satisfy you.
Voodoo Doughnut opens promptly at eight in the morning every day and is open until midnight, making it the perfect sugary breakfast or sweet treat to end the day.
The Bubba Gump Shrimp Co. is the perfect place for Forrest Gump fans or anyone ready to eat shrimp and southern food. The restaurant plays Forrest Gump on a loop, and you're able to test your Forrest Gump knowledge via trivia.
Trivia is a fun way to pass the time while you wait for your meal. Even the kids will enjoy learning about the movie.
In addition to the restaurant showing the film on repeat, there are decorations and memorabilia throughout the joint unique to Forrest Gump.
Some of the dishes include ribs, cajun specialties, and plenty of seafood like shrimp po'boys. Once your family has full bellies, you can stop by their merchandise area to shop for souvenirs or take a picture with an iconic replica of the bus bench from the movie.
As great as sitting down at a full-service restaurant is with the family, sometimes all you want is a fantastic meal fast. The Hot Dog Hall of Fame is a quick-service restaurant at CityWalk that is much more than your typical hot dog stand.
Hot dogs are a little different around the United States, and the Hot Dog Hall of Fame is fortunate enough to share some of the best hot dogs at the restaurant.
They have New York-style hot dogs with sauerkraut and spicy mustard if you want to eat like you're in the Big Apple.
Don't worry if a hot dog with sauerkraut on it sounds less than appetizing. This joint also features Chicago-style hot dogs with poppy-seed buns, Milwaukee bratwursts, and Boston hot dogs slathered in relish. They even have a gourmet mustard bar you have to try.
They also have traditional hot dogs with your basic ketchup if you have some pickier eaters in your group. Kids and adults love grabbing a quick meal here because of the fast service, but they have seats that make you feel like you're at a baseball game.
To further elevate the baseball game theme, employees of the Hot Dog Hall of Fame all wear uniforms that mimic baseball uniforms.
The Hot Dog Hall of Fame is in the perfect location to stop by for a quick bite to eat before venturing back into one of the parks.
There's something about a sandwich that screams lunchtime, and Bread Box is the only place in CityWalk that is almost entirely dedicated to the art of sandwiches.
Bread Box is another excellent quick-service restaurant perfect for a quick lunch or a quick and satisfying dinner to end your exciting day.
This retro-style corner deli is a relaxing spot to enjoy a quick meal with your family. The menu at Bread Box is full of cold and hot sandwiches, refreshing salads, and warm soups that pair exceptionally well with cold sandwiches.
Bread Box has all your favorite classic sandwiches, from turkey and ham to roast beef and pastrami. You'll find a variety of patty melts on the menu too, which are well worth a try.
Their combination of classic sandwiches and gourmet options makes it the perfect place for the whole family.
Regardless of the sandwich, salad, or soup you order, you won't want to miss out on getting a side of their potato chips. The potato chips at Bread Box are handmade and fried fresh every day.
If you still have room for dessert after your meal, you don't need to venture to another restaurant unless you want to. They have delicious milkshakes that are great to cool you down in the Florida heat.
Final Thoughts
Whether you're looking for a full-service restaurant or a quick bite to eat with the family, there's plenty of choices for you at Universal CityWalk. Some restaurants make you feel like you're at a baseball game, the beach, and even a lake house.
Regardless of what you're in the mood for, you're sure to find something to satisfy you and the entire family amongst the best restaurants at Universal CityWalk.
More about our TFVG Author
A seasoned traveller, Dad, and avid sports tourist, James foundered The Family Vacation Guide to share his expert vacation experiences- especially when it comes to being a travelling family man.
Featured in Travel articles such as Travel + Leisure, TripSavvy and SFGate, you know you're reading some of the best vacation tips online.