So, you've booked the dates for your holiday to the happiest place on Earth, you've signed off on your fantastic themed hotel and you and the kids are already drawing up a list of things to do – rides, animals, entertainment… but what about eating?
Well, one thing's for certain, everybody loves pizza and if you're headed over to Walt Disney World, there's an assortment of pizza-based restaurants for you to choose from. But when you're so spoilt for choice, how do you choose?
To help make picking the best pizza point a pleasure instead of a chore, we have compiled the following list. So, let's take a slice…
Here Are 13 of the Best Spots for Pizza in Disney World
Below you'll find a pizza spot to suit all needs and tastes. So, whether you're a couple on their honeymoon or a fully-fledged family vacation, there's something here for everyone. However, Disney World's superb eateries and best pizza houses aren't just limited to this list, so don't be afraid to shop around!
1. Via Napoli Ristorante e Pizzeria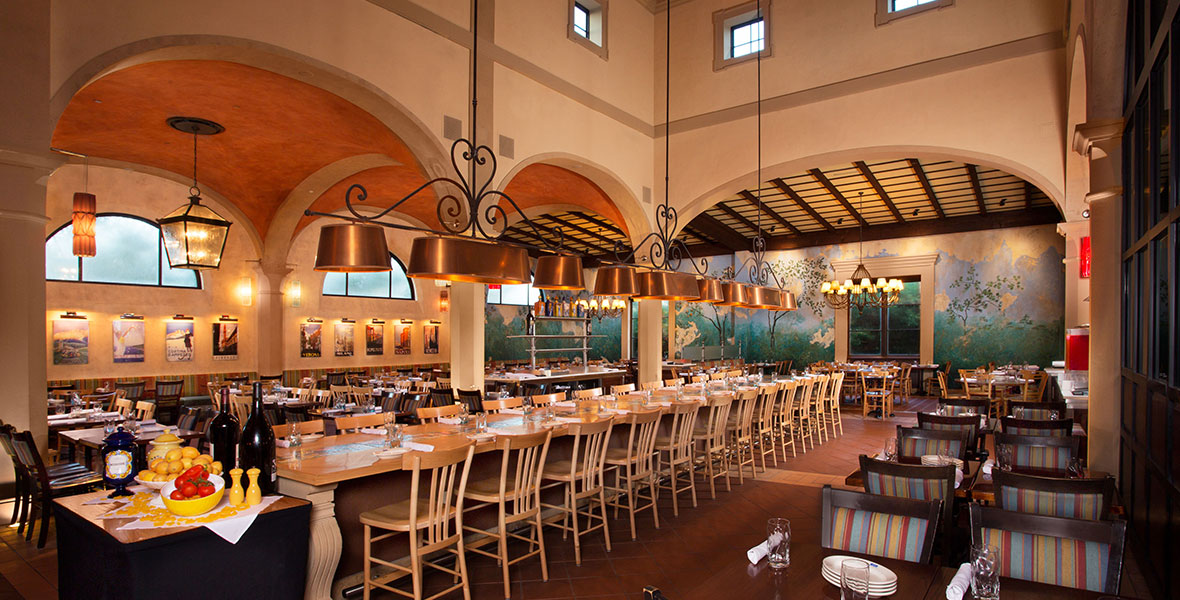 Located in: World Showcase, EPCOT Theme Park
Type of restaurant: Italian, Unique/Themed
Recommendation: First up, and widely regarded as the purveyor of the best pizza at Disney World, is the Via Napoli Ristorante e Pizzeria. Nestled in the Italy Pavilion area of the EPCOT park, the Via Napoli delivers an authentic Neapolitan pizza experience.
Sensational pasta and fried risotto balls come highly recommended here, but the jewel in the Via Napoli's crown is its Disney World-renowned thin-crust pizzas, giving you a true taste of Southern Italy.
2. Blaze Fast Fire'd Pizza
Located in: Town Center, Disney Springs
Type of restaurant: American, Quick Service Restaurant
Recommendation: A top pick for gluten-free pizza lovers, the Blaze Fast Fire'd Pizza restaurant is designed with two things in mind, speed, and customization. With that in mind, this is the joint for those who are on the clock but who don't want to sacrifice quality for speed.
Blaze boasts over 40 fresh topping and sauce choices so that diners can build their best pizza from the ground up. That said, if you're really stuck for time, you can choose from one of the signature Blaze pizza choices. Simply take your pick and watch it rise in the diner's open-hearth oven.
3. Pizza Ponte
Located in: The Landing, Disney Springs
Type of restaurant: Italian
Recommendation: Let's face it, the costs of your dream trip to Disney World can quickly add up and the price of feeding your family is no different. Happily, however, Pizza Pinte, Disney Springs, has the answer – Disney pizza by the slice… or sandwiches and salads, too.
While Pizza Ponte might be your budget pizza point, don't be fooled, their pies are no less delicious and what's more, you won't be short of choice. From parma ham and ricotta cheese to pepperoni or four cheese, the choice is yours. Plus, with a host of beverages available to wash it all down, frugal families should keep this gem on their list of best pizza places.
4. Pizzafari
Located in: Discovery Island, Animal Kingdom Theme Park
Type of restaurant: American, Mobile Orders, Quick Service
Recommendation: If you work up the appetite of a lion during your time in Disney's Animal Kingdom theme park, have no fear, Pizzafari is on hand to fill the stomachs of your pride.
Despite offering less variety than some of our other entries, this wild pizza joint comes with all the classics you need (along with a few Italian specials) to satisfy even the most monstrous appetite. Geared towards quick service and sporting five amazing, colorful themed rooms, eating at Pizzafari is as fast as a cheetah and as funky as a monkey.
5. Pinocchio Village Haus
Located in: Fantasyland, Magic Kingdom Park
Type of restaurant: American, Mobile Orders, Quick Service
Recommendation: Looking for delicious dining with no strings attached? Then look no further.
This quick-service eatery is just the ticket for any Jiminy Crickets who love a slice of pizza at Disney World. Boasting a wide selection of flatbread pizzas, (including mushroom flatbread, margherita flatbread, and even Korean Short Rib) it's safe to say that real boys and girls can have their fill of some of the best pizza at Disney World in the Pinocchio Village Haus (and that's no lie!)
6. Pizza Window
Located in: Disney's Boardwalk
Type of restaurant: American, Mobile, Quick Service
Recommendation: Operating out of the side of the Trattoria al Forno restaurant, the Pizza Window is the Boardwalk park's answer to the drive-thru. Perfect for revelers who simply haven't the time to sit down for a slice, the Window offers large pizzas with a variety of classic toppings.
While you shouldn't expect the same quality as if you were sitting inside the Trattoria, the Window makes up in convenience for what it lacks in style. A fantastic, fast-paced, affordable answer to gurgling stomachs.
7. Mama Melrose's Ristorante Italiano
Located in: Grand Avenue, Disney's Hollywood Studios
Type of restaurant: American, Italian, Casual
Recommendation: Despite offering the best pizza point you'll find in the Hollywood Studios area, our favorite flatbreads are just one aspect of Mama Melrose's expansive, Italian-American menu. As such, you shouldn't expect to find the same variety of pizza options available at certain other places on our list, but fans of classic Sicilian flavors will feel right at home.
The gorgeous fairy-light-lit ceiling is worth your attendance alone. So, if you like cozy, Italian comfort food, this is the place for you.
8. California Grill 
Located in: Disney's Contemporary Resort
Type of restaurant: American, Seafood, Sushi, Fine Dining
Recommendation: Like a view when you chow down on your pizza? Then the California Grill should be at the top of your priorities list. Here, diners can enjoy fantastic, Californian fine dining while taking in spectacular vistas of the Seven Seas Lagoon and Magic Kingdom theme park.
From sushi to steak, this place has got it all and, most importantly, that includes tip-top pizzas. Savor the taste of the Grill's freshly made, wood-burning oven pies, including house-made pepperoni and a special Duck À L'Orange topping made to celebrate the restaurant's 50th anniversary.
Just make sure you adhere to the minimum dress code to keep your booking!
9. Trattoria al Forno
Located in: Disney's Boardwalk
Type of restaurant: Italian, Casual Dining
Recommendation: The Trattoria al Forno has a pizza for all occasions. Step in for breakfast and you'll dive head-first into the Bon Voyage Breakfast, featuring characters including The Little Mermaid herself, Ariel, Prince Eric, Rapunzel, and more!
When we say a pizza for all occasions, we meant it! Yes, this Trattoria even offers a breakfast pizza for the early birds among us. However, come afternoon and evening, the Trattoria's wood-fired pies truly come into their own with fantastic, fresh ingredients that more than makeup for the absence of Ariel & Co.
10. Wolfgang Puck Bar & Grill
Located in: Town Center, Disney Springs
Type of restaurant: Fine/Signature Dining
Recommendation: For the pizza connoisseurs amongst us, the Wolfgang Puck Bar & Grill is on hand to add a certain level of sophistication to your slice. A stalwart of the Disney Springs dining scene thanks to its inspirational celebrity head chef, diners at the Wolfgang Puck will find out just how fine the best pizza at Disney can be.
BBQ pulled pork with avocado or roasted tomatoes with burrata cheese toppings, anyone? This Mediterranean-inspired menu is one to savor for pizza lovers and lovers of food alike thanks to its extensive, exceptional fine dining menu.
11. Tony's Town Square 
Located in: Main Street, U.S.A., Magic Kingdom Park
Type of restaurant: American, Italian, Casual
Recommendation: For the romantics among us, Tony's Town Square is one for the watch list. Based upon the restaurant where Lady and the Tramp first kissed, Tony's represents a change of pace for the Walt Disney Company, providing an escape from the hubbub of the Magic Kingdom outside.
Therein, thick, hand-made pizza pies with a variety of classic toppings are an ideal and filling sharer for all the family. However, if you've had your fill of the best pizza at Disney, you can forgo Tony's pizza pie and choose from the restaurant's trademark selection of tasty pasta dishes.
12. PizzeRizzo
Located in: Grand Avenue, Disney's Hollywood Studios
Type of restaurant: Italian, Mobile Orders, Quick Service
Recommendation: Occupying the site of former favorite, Pizza Planet, and named in honor of its eponymous muppet manager Rizzo the Rat, PizzeRizzo won't appeal to those with a taste for fine dining. Nevertheless, this quirky joint still delivers tasty pizzas with traditional toppings.
That being said, this charming, quick-service pizza joint's true appeal is its accommodation of food intolerances and allergies. As such, parties with gluten or dairy-free members will find a new favorite in this ratty restaurant.
13. Splitsville
Located in: Westside, Disney Springs
Type of restaurant: American, Unique/Themed
Recommendation: Fans of ten-pin bowling will go spare if they miss out on this striking dose of this lively, retro diner. Yes, here you can chow down on beautiful, artisan pizzas, from Fire House Buffalo Chicken to Vegetarian toppings, while reveling in Splitsville's unique 80s arcade atmosphere.
Throw in the opportunity to have some pre-pizza fun on the lanes or billiards tables while rocking out to the live music, and this bubble of nostalgic fun is arguably one of Disney's most electric pizza places.
FAQs
Are Blaze Fast Fire'd Pizzas gluten-free?
Blaze Fast Fire'd Pizza provides the option of free from gluten bases for your pizza. However, not all of Blaze's pizzas are free-from by default.
With that in mind, upon ordering your pizza, you will be given the option to request a free-from base. If you have further concerns, you can also speak to a chef or one of the restaurant's Special Diets Trained Cast Members to find out more about its allergen-friendly menu choices.
Does Via Napoli Ristorante e Pizzeria accept same-day bookings?
Same-day bookings and walk-ups are possible, via the use of the My Disney Experience Mobile app, for all of the Walt Disney World restaurants and eateries. However, it is highly that customers make reservations, for their preferred table service restaurant, in advance due to high demand.
As such, Disney resorts guests must have valid admission and reservation (gained through the Disney Park Pass system) to ensure they can dine at their desired park-specific restaurant. With that in mind, it's worth noting that reservations can be made up to 60 days in advance of your visit.
Are there any pizza restaurants at Disney World that don't require a reservation?
The majority of Disney World pizza restaurants accommodate non-reserved customers, however, due to demand, their ability to do so is usually restricted.
That being said, certain restaurants that provide non-seated dining, such as the Pizza Window at Disney's Boardwalk, operate purely with a drive-thru option. Thus, no reservations are required, however, diners should expect to queue.
What time does Pizza Window open?
The Window opens for service at noon and closes at 11 pm.
Final Thoughts
To conclude, for pizza lovers everywhere, Walt Disney World offers a multitude of options for you to choose from during your stay, all of which serve great pizza.
Your pizza selection will depend on the nature of your party (family, couple, children, etc.), their dietary needs, and also the requirements of your schedule. Luckily, there's a restaurant and pizza joint to accommodate any occasion, and in truth, the 13 we've mentioned are just our pick of the bunch.
Walt Disney World has about 200 places where you can dine and around 30 of those can be found scattered within its many parks. Nevertheless, if you're looking for the best pizza in Disney World, our list is a fantastic place to start.
Be sure to check out our family-friendly guides to Florida for more inspiration and tips for your time in the state that's home to Walt Disney World.
More about our TFVG Author
A seasoned traveller, Dad, and avid sports tourist, James foundered The Family Vacation Guide to share his expert vacation experiences- especially when it comes to being a travelling family man.
Featured in Travel articles such as Travel + Leisure, TripSavvy and SFGate, you know you're reading some of the best vacation tips online.