It is easier to see why Clearwater consistently ranks as one of the best family destinations in the US. The family-friendly Clearwater has so many kids' activities and unique places to explore, and it's no surprise why many families flock to this award-winning destination from all over the US for vacation.
From amusement parks such as Marine Aquarium to museums such as the Great Explorations Children's Museum, you will have a fantastic experience in the pristine sugar-white sandy shores of Clearwater in Florida.
Our guide highlights 15 favorite attractions and the best things to do in Clearwater with kids.
If, like many families, you're staying in or near Orlando, check out our guide on how to get from Orlando to Clearwater.
Let's get started.
Clearwater Marine Aquarium
If you're compiling a list of things to do in Clearwater with your young family, visiting the Clearwater Aquarium should be the first on your list.
Not only is this home to the famous dolphins, Winter and Hope, from the Dolphin Tale movies, but also it is a non-profit organization that focuses on researching, rescuing, rehabilitating, and releasing marine animals.
It is an ideal and fun place for families to spend their day learning about conservation in a fun, enjoyable way.
Reasons to Visit Clearwater Marine Aquarium
Kids will learn about ocean creatures. When we learn through experience, our brain tends to retain more of that information. In Clearwater Marine Aquarium, your kids will learn about ocean creatures through interactions and watching them up close. They will also learn about the creatures' environment and why it's best to preserve it.
Kids will learn the need for conservation. CMA is a non-profit organization that focuses on rescuing and rehabilitating marine creatures to return to the ocean. By learning firsthand about the need to change our way of life to not negatively affect the environment, they'll understand why environmental conservation is important.
Kids will get inspired to overcome obstacles in life. One of the famous stories staff in CMA narrate to kids is that of the Winter, one of the dolphins in Dolphin Tales movies. Winter lost her tail after getting caught in a crab trap line but survived and learned how to swim again. Such stories can motivate them to overcome difficult situations.
Kids will create memories that will last a lifetime. You'll get to spend quality time together as a family sharing new experiences and interacting with animals.
Clearwater Marine is undoubtedly one of the best places to visit in Clearwater, FL, with kids.
Chill Out on Clearwater Beach
Although just 25 miles from St. Petersburg and Tampa, the 2.5-mile Clearwater beach doesn't have an iota of the metropolitan vibe, and thus it's an ideal place to wind up and relax with your family.
Many locals flock here to watch the gorgeous sunsets. As a matter of fact, Clearwater has consistently ranked as one of the best beaches near Orlando, and you can expect to find picturesque places on the beach's sandy shores.
Families and couples will all find activities to do at the beach, including fishing and strolling along the sand. The beach is famous for neighboring Beach Walk and Pier 60.
Reasons Not to Miss Out On This Activity
Its sugar-white sands and gorgeous sunsets make this beach a slice of paradise on earth.
It offers a host of exciting beach activities that suits the entire family. You can swim, sunbathe, build sandcastles, and let kids play with the inflatables in the shallow waters.
There are affordable cabanas that you can rent in Pier 60 to protect your little one.
Clearwater Beach offers mad fun for children, tweens, teens, and adults of all ages. It's an excellent place to unwind for moms with young ones, thanks to the lounge beach chairs provided at affordable rates.
Pier 60
Are you looking for the best free kid-friendly activities in Clearwater, FL? Visit Pier 60 and enjoy a wide range of entertainment and costless toys.
Featuring a 1080-foot fishing pear and a recreation park where you can find telescopes, a bait house, and six pavilions, you will have a plethora of budget-friendly attractions and activities to keep your family entertained and occupied for hours.
In addition, there are nightly celebrations that feature artisans, street performers, and musicians.
Reasons to Visit Piers 60
To go fishing
To enjoy various events and festivals such as Sugar Sand Festival and Sunset Cinema held throughout the year.
To relish the spectacular views of the sunsets.
There are plenty of fun activities, attractions, and games you can engage in Pier 60, and the best part is that they suit people of all ages, including teens and kids.
Sand Key Park
With hefty, sandy shores and plenty of parking, Sandy Key Park has all the amenities a family needs for a fun-full outing. From beach cabanas and a dog park to large bathhouses and a playground, you will have the time of your life with your kids here. Not to mention there are spectacular views for fantastic family photos.
And for disabled visitors, there are free beach wheelchairs that can easily move on the sandy beaches and float in the water.
Why You Should Go to Sand Key Park
To see the pristine, peaceful paradise away from the hustle and bustle of Clearwater Beach.
To see endangered sea turtles and endangered birds
To have a drink as you enjoy the serene setting of the park
Sandy Key Park offers 95-acres of beach with ample opportunities for family outdoor activities and picnics.
The Sea Screamer
Take your kid on a boat ride aboard the Sea Screamer, the largest speed board in the world. The 72′ long speed board will give you thrilling rides you will never forget with dual twin-turbocharged engines.
Traveling at 35 miles per hour, the Sea Screamer gives you comfortable and safe rides. It features comfy bucket seats, refreshments joints, and two restrooms.
Why Consider the Sea Screamer
It will be fun for you and your kids.
The speed board has Coast Guard licenses and thus safe
To take pictures on the world's largest speedboat
You will be delighted to see the smile on your kids' faces when cruising using the Sea Screamer. Whether it's zipping up and down the beaches or taking short breaks deep into the waters, you will be watching the dolphins play. Kids love the Sea Screamer, and yours will love it too.
Moccasin Lake Nature Park
After spending all day on sunny shores, you can take a refreshing break in this 51-acre park with beautiful boardwalks and trails under a canopy of mature oaks.
The Moccasin Lake Nature Park will appeal more to animal lovers as you'll find tons of wildlife, including butterflies, peacocks, birds of prey, gopher turtles, and raccoons.
It is also home to injured birds of prey. In addition, there are kid-friendly programs, camps, and classes at this natural reserve.
Why Visit Moccasin Lake Nature Park
It is a hidden gem with serene nature that cools your body
To have a refreshing break from the sunny Clearwater beach
To take an educational hiking tour
Moccasin Lake Nature Park has trails, programs, and activities that suit kids ages three and above.
The Jolley Trolley
You'll have a fantastic ride by taking the Jolley Trolley to tour Clearwater Beach or when heading out to surrounding spots. Leave your car and join this fun and reliable service to take you to the beach.
The Jolley Trolley operates on the coastal route and beach area seven days a week, and the drivers know local attractions where you can have fun. In addition, friendly drivers can recommend eatery joints where you can eat your favorite meals.
Why Use the Jolley Trolley Rides
To avoid parking fees and traffic problems.
To ride in unique vehicles that have a special ambiance
To see local attractions sites and get recommendations for hidden gems you shouldn't miss
From having beautiful oak-looking interiors to gleaming brass trim, you'll have an enjoyable time using Jolley Trolley to navigate popular coastal routes and surrounding towns.
Laser Ops Arcade
Whether you're looking for a fun place to host your game-loving kid's birthday party or you just want a place you can spend an afternoon with your family, Laser Ops Arcade has something for everything.
There is a large selection of video games you can play – from the greatest classics to the latest game series; you'll have a fantastic gaming experience in this climate-controlled place.
In addition, you'll find virtual reality games to take you to a whole new world. The good thing is that Laser Ops Arcade for Clearwater is open seven days a week, which means you can stop in whenever you're around. No reservation is required, and gaming cards are pretty affordable.
Why Visit Laser Ops Arcade In Clearwater
To play a virtual reality game.
To hold your kid's next birthday party. The staff in this gaming arcade will make your kid feel special, thanks to their different party packages.
It's affordable and will keep your family occupied all afternoon or evening.
Make sure to visit Laser Ops Arcade to feel like a superman in the middle of the action, interacting with 3D elements in real-time.
Congo River Golf
Voted several times as one of the best miniature golf, the Congo River Golf allows you to play stimulating miniature golf as you explore rocky summits and giant waterfalls, tropical rainforests, and mysterious caves.
You'll be following the footsteps of Stanley and Livingstone exploring the Congo as you experience challenging golf holes during the day or night. Challenge your skills and abilities in the arcade by looking for lost artifacts, mining the gemstones, and feeding live gators.
Why Explore the Congo River Golf
To challenge your skills.
To adventure into the wild. You will experience tranquil waterfalls, tropical rainforests, mysterious caves, and more.
It will be fun for all ages.
Give your family a time of their life as they travel to a world of excitement in the Congo River Golf. If you're looking for a spot for your kid's next birthday party, the Congo River Golf will offer mad fun.
Mega Bite Shark Boat
Are you tired of seeing extensive waters from the shore? Take a family-friendly tour in a Mega Bite Shark Boat to see Clearwater landmarks and a bevy of dolphins from another angle.
The Mega Bite cruise will allow your family to see beautiful dolphins swimming freely in the water. In addition, you will be able to see celebrity homes and some of the famous, beloved landmarks of the city.
The 40-foot boat has a unique shark design that will amaze your kids.
Why Cruise By the Mega Bite Shark Boat
To see dolphins play in the water
To have breathtaking views of the Clearwater
Kids will be thrilled by the idea of "riding in a shark."
The Mega Bite Shark Boat offers a unique exploration experience for adults and kids of all ages.
Coachman Park
Located in Downtown Clearwater, the Coachman is an open-air venue where you can find concerts, exhibitions, and festivals throughout the year.
You should visit this park to have a glimpse of live performances from national artists on the Charles Wharton Johnson Pavilion as you enjoy the waterfront views.
Why Visit Coachman Park
To listen to bands and enjoy different festivals.
There are kids events, and the place is kids-friendly
To relax and picnic on the green grass as you savor your favorite meals
The Coachman Park is a great place to be with your family as it's full of activities, festivals, and great foods.
Memorial Causeway Green Trail
We love to stroll down the beach when on vacation, and the Memorial Causeway Green Trail will give you a different experience thanks to the incredible views of the Clearwater you'll have.
If you're looking for biking or hiking trails, this trail has it all for you. You'll find beautiful flowers on this less trafficked trail.
Why Go to Memorial Causeway Green Trail
For hiking and nature trips
For biking and walking
Bird watching. The beautiful wildflowers attract birds of different nature.
The trail is suitable for hiking, biking, walking, and nature trips. Take your family here to enjoy the relaxing feel of nature.
Great Explorations Children's Museum
If you're looking for a fun yet an educational way of spending a few afternoon hours with your family, the Great Explorations Children's Museum is the place to be.
With plenty of hands-on games and activities for children ages twelve and below, the museum is an exceptional place where your kids can have fun and exercise their creative minds.
Surprisingly, it has attractions that will appeal to adults as well.
Why Visit the Great Explorations Children's Museum
There are plenty of fantastic activities for kids, such as creating art masterpieces or play table tennis
You can organize birthday parties and special events for your kid
To see hands-on exhibits
Stimulate your kid's creative mind through play and exploration at the Great Exploration Children's Museum and give them unforgettable memories.
Captain Bligh's Landing Mini-Golf
Captain Bligh's Landing has an arcade with all types of games to suit people of all ages. You can play exciting games and win prizes here. There is an 18-hole mini-golf, waterfalls, caves, game room, and wooden pirate ship.
The mini-golf course is pretty gigantic, and golfers have to go through many different caves and tackle obstacles. During your time on the course, you'll get to a point where you can see the beach. And an interesting fact about Captain Bligh's Landing Mini Golf is that a parrot guards the course.
Why Visit the Captain Bligh's Landing Mini Golf
To play golf in the caves with your kids
To get a better view of the Clearwater Beach
To enjoy various games
Captain Bligh's Landing houses an 18-hole mini-golf course where you can play with your kids. There are several themed caves in this amusement park to make the whole golfing experience thrilling.
It's nestled down the sea to give you picturesque views of Clearwater Beach. There are water fountains in the park and tons of attractions for the whole family.
Tampa Bay Grand Prix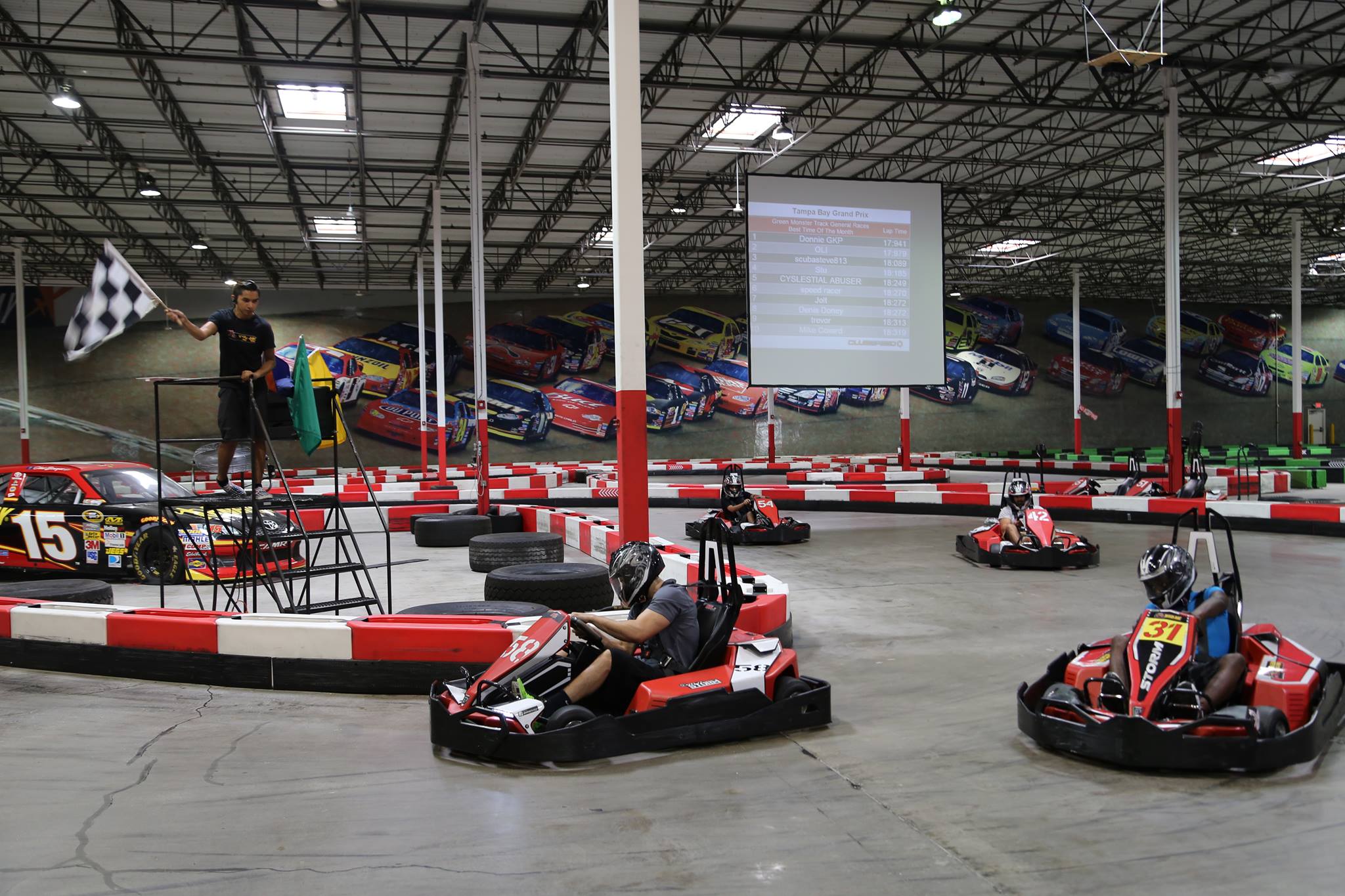 Many people get stranded when it starts to rain at the beach, but it will seem like a transition from outdoor to indoor fun when you have got a plan. The Tampa Bay Grand Prix offers an opportunity for kids and adults to have some exciting indoor fun.
Spend your afternoon riding on the indoor go-kart tracks of Tampa Bay and give your kids an experience of a lifetime.
To ride the karts, the kids must be six years old and above and should be 48 inches tall.
Why Go to Tampa Bay Grand Prix
To race with your family or other racing enthusiasts
To make your kid's racing dream come true
To give your kid a thoughtful birthday party
The Tampa Bay Grand Prix offers an innovative way of spending time indoors with your family. Race using electric karts that can clock 50mph. Racers of all skill levels will have fun and sharpen their racing skills.
Try the 15 Best Things to Do in Clearwater with Kids
Whether you are seeking a relaxing day on Clearwater Beach, or a laid-back family outing at Pier 60 with free activities, there are plenty of options for you and your family in Clearwater. Mini-golf, arcade games, and educational conservations activities all form part of the best things to do in Clearwater with kids. Instead of trying to determine a kid-friendly itinerary, follow this list and enjoy your family vacation!
More about our TFVG Author
A seasoned traveller, Dad, and avid sports tourist, James foundered The Family Vacation Guide to share his expert vacation experiences- especially when it comes to being a travelling family man.
Featured in Travel articles such as Travel + Leisure, TripSavvy and SFGate, you know you're reading some of the best vacation tips online.