Are you looking for the best beaches near Orlando for families? If you're heading to Florida with kids, we'd take a guess that you're probably desperate to hit the state's stunning sands!
Whilst Orlando is, for many tourists, the perfect choice of destination in the Sunshine State due to the many theme parks, water parks and other attractions in the area, there's no getting away from the appeal of a Florida beach vacation.
The great news is that, even for those staying in one of Orlando's many resorts, there are a whole load of stunning family-friendly beaches within driving distance; perfect for a day trip.
Here are twelve of the best options, including some information on what makes them worth visiting and how far away they are.
Distance From Orlando: ~2 hours, 108 miles
Clearwater Beach is one of the furthest beaches within driving distance of Disney World and Orlando, especially timewise, but it remains a top destination thanks to the fantastic, miles-long areas of sparkling sand. Clearwater Beach is exceptionally sunny, seeing it about 361 days a year, and there are plenty of areas to dig for shells and enjoy the sun. There's no denying that Clearwater Beach is one of the best Florida beaches and a must-visit for anyone vacationing in the state.
This is a family-friendly area with activities ranging from dolphin boat tours to casual seafood dining. A nearby children's playground offers some relaxed fun, while a designated swim area with a full-time professional lifeguard helps ensure safety if you're dipping into the water.
Most of Florida's beaches work best if you stay at least one night at a hotel nearby, but Clearwater Beach stands out from everywhere else on this list thanks to the nightly festival at Pier 60. This event hosts all sorts of performers and vendors, giving after-hours entertainment at almost any time of year.
If you're looking for something a little quieter, some local parks and walking opportunities offer relaxed fun for groups of all sizes. Children may enjoy visiting the Clearwater Marine Aquarium and getting much closer to some of the local sea life.
Distance From Orlando: ~1 hour, 55 miles
Daytona Beach is, in many ways, the opposite of Clearwater Beach. It's much closer than many of our other recommendations, to the point you can comfortably drive there and back to Orlando in a single day. It's also great outside the summer months, particularly if you're visiting the Daytona International Speedway and watching some of the motorsports there.
The Speedway is definitely the highlight of the area, but there are plenty of other parks and family entertainment opportunities. Many of these areas include picnic areas, playgrounds, and even splash areas for anyone who brought their swimsuit.
Driving back to Orlando is easy, but Daytona Beach is a surprisingly good place to stay the night. This area still has many smaller hotels and motels located directly on the beach, so it's easier to get a night there than in many other parts of Florida. Meanwhile, the Ponce Inlet area makes for a great day trip thanks to its lighthouse and science center areas.
However, make sure you check your vacation times before you head to this area. Daytona Beach gets packed around Spring Break and during events like the Daytona 500, and the crowds can be more than your family wants to deal with. Outside of those special events, though, the area is far more normal and matches the rest of Florida.
Distance From Orlando: ~1 hour, 60 miles
This beach may not have chocolate shores, but it's still one of the best beaches near Orlando for families to enjoy. It also has a rare distinction among Florida's many beaches: It has an excellent view of the Cape Canaveral area along Florida's Space Coast, which makes it impressively good for watching space shuttle launches. You'll need to time that carefully, though, as weather can delay launches.
Cocoa Beach is quite long, so you'll find plenty of beach parks to enjoy. Depending on the area you visit, you can also find playgrounds for children and lifeguards who can help keep your family safe. The Anova Beach Dog Park is the only canine-friendly park in the area, and it's worth a stop if you're bringing a furry friend along on your vacation.
The Canaveral National Seashore area is particularly nice if you want to enjoy proper dining or rent equipment for heading out onto the water. This area isn't as well known as some other parts of Cocoa Beach, so it offers a fantastic blend of quality and space for families visiting from Orlando.
Make sure to set aside time for lunch down by the beach, where local restaurants offer fresh and creative dishes for visitors of all ages. If you prefer cooking yourself, Lori Wilson Park and Sidney Fisher Park at the beach include barbeque grills and the quick access to the city means you can buy any ingredients you need.
Distance From Orlando: ~1.5 hours, 107 miles
Vero Beach is a middling distance as far as beaches near Orlando go. Notably, it benefits from great highway access that makes it quicker to reach than some other beaches of similar distances. Although not as well-known as areas like Daytona Beach, Vero Beach stands out as a more upscale area with golf courses, fishing, museums, and nature tours. Of course, you'll also find Disney's Vero Beach Resort here.
The McKee Botanical Garden is a must-see while you're in the area. Aside from an impressively diverse collection of plants, this garden features a dedicated children's area and some award-winning art exhibits for adults to enjoy. Special events are quite common, so check their website before you go.
Round Island Beach Park is a great choice if you're going to the beach itself. It's open from dawn to dusk throughout the year, with lifeguards on duty most of the time. It comes with a wide selection of on-site amenities, including pavilions, picnic areas, a playground, a boat launch, and plenty of restrooms and showers. It also has lots of local sea life.
If you're interested in golfing, BigShots Golf Vero Beach is a great location for people of all skill levels. Meanwhile, the Sandridge Golf Club has not one, but two 18-hole championship layouts sure to please any dedicated golfer. Overall, this is a spacious and entertaining beach for cooling off and relaxing after going through the crowds around Orlando.
Distance From Orlando: ~2 hours, 112 miles
St. Pete Beach is set just a short way south of Clearwater Beach and shares many of its benefits, but without quite as many crowds as its better-known neighbor tends to draw. Set entirely on a barrier island, this beach holds the historic Don CeSar hotel, which remains on the National Register of Historic Places and is worth a stay for the access to high society.
The Pink Palace is far from the only great spot near this beach, though. The Salvador Dali Museum is a work of art by itself, and it houses a huge collection of the famous painter's works. Fort De Soto State Park, just south of the beach, has a welcoming dog park and a much quieter atmosphere than the regular beach areas.
The park's northern area also has a great playground, plenty of tidal pools, and numerous kid-friendly areas. As if all of that wasn't enough, you're just a few minutes away from Clearwater Beach and Pier 60, so you can head into that area for some enjoyable nightlife even if you don't go to Clearwater Beach itself.
This entire beach is a great choice for strolling thanks to the many boardwalks in the area. Rental bikes are available if your family prefers to go a little faster, and you'll find some of the best food in Florida if you decide to head into nearby Tampa. Overall, there's a lot to live about St. Pete Beach if you want an area that's just a bit quieter than Clearwater.
Distance From Orlando: ~2.25 hours, 126 miles
Anna Maria Island is one of the furthest beaches from Walt Disney World, both in actual distance and the time it takes to get there. However, while it's located just a little ways off of Tampa, it's exceptionally family-friendly and might be worth staying at for a few days after your time in Orlando.
One thing that sets this seven-mile barrier island apart from other beaches is the general lack of tall residences and traffic. This upscale piece of paradise has plenty of entertainment, but it operates with a relaxed atmosphere that helps amplify the natural beauty of the area and relieve the feeling of being in a crowded, energetic urban environment.
Anna Maria Island has six beaches located along its shore, with plenty of amenities in the middle of the island for easy access. The entire area is small enough to walk over the course of a day, while a local trolley provides easy transportation around the island if you get tired of walking.
Day trip opportunities are plentiful here, including kayaking options and guided boat tours into the Gulf of Mexico. Dining options are plentiful and often feature freshly-caught seafood prepared by expert chefs. This isn't the place to go for technology and adrenaline, but it's perfect for families who want to enjoy a quieter vacation with all the comforts of home.
Distance From Orlando: ~1 hour, 50 miles
As the name suggests, Canaveral National Seashore is more than just another beachfront area with shopping and dining nearby. Instead, it's an undeveloped shoreline managed by the National Park Service, making it one of the few areas in Florida where you can enjoy nature instead of modern civilization while heading out onto the sand.
This is a great area if you like wildlife. Depending on the time of year, you might see sea turtles laying eggs, or rarer wildlife like eagles and manatees. There aren't any shops along these beaches, of course, so you'll need to bring in your own supplies if you want to go snorkeling and relax on the beach.
The Canaveral National Seashore is quite popular, so expect at least some crowds in the area. Like Cocoa Beach, though, it also offers outstanding visibility of the Cape Canaveral area and an opportunity to watch rockets shoot into space. Launches can happen throughout the year, but most are announced several months ahead of time so you have an opportunity to plan.
The park itself is undeveloped, but there are plenty of dining and lodging opportunities outside the park itself. Breakfast, lunch, and dinner are all easy to get in this area, so don't be afraid to wake up early and take a pre-dawn stroll, then head into the developed areas outside the park and enjoy yourself.
Distance From Orlando: ~1 hour, 76 miles
Set along the Atlantic coast, Flagler Beach is a relatively small area for Florida. It also lacks the crowds that many other beaches see, making it a good choice if you want to get away from people for a bit. It's also just a short drive north of Daytona Beach. It's a little too far for people who specifically want to visit Daytona, and that's the secret to how quiet it is.
With about six miles of coastline along the Atlantic Ocean, this area has comfortably warm water, golden sand, and fantastic fishing from the piers. It also has a snazzy collection of restaurants back in town, as well as creative beachside shops and some historic ruins that you can take a stroll through with a family. The Municipal Pier offers plenty of other activities once night falls.
In short, Flagler Beach is most of the fun of Daytona, but without the people. It's also just about an hour away from Orlando, which puts it comfortably in range for a day trip if you don't want to change hotels. The excellent location here makes it a fantastic choice for extending a trip or even visiting on its own someday.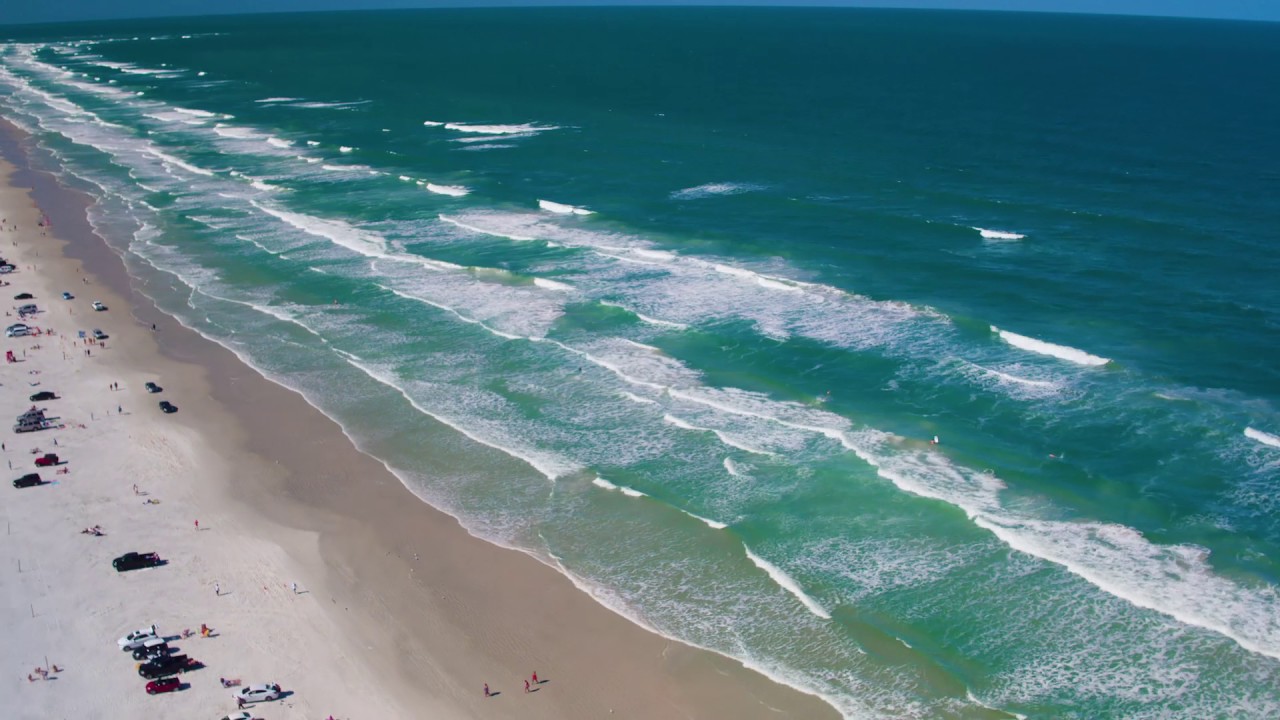 Distance From Orlando: ~1 hour, 55 miles
New Smyrna Beach is competitively close to Orlando, making it another good choice for day trips. Sometimes considered a locals' beach by Orlando residents, its wide and smooth sandy areas make beachside biking far more fun and practical than many other areas can manage. The sand works well for kid-friendly activities like building sand castles.
This is one of Orlando's most popular beaches, so the amenities and options are quite plentiful. Fishing and kayaking are easy enough, and the hard-packed sand even allows for beach driving in certain areas. Head just inland and you'll find rides, arcades, and even the nearby Daytona Lagoon Water Park, which is one of the best parks in all of Florida.
There's one other thing to keep in mind here: New Smyrna Beach is often the closest beach to Orlando when traffic is slower. This means it's a great first choice if you're heading out for a day trip. If you want to stay overnight, or even for a few days, you'll find plenty of hotels. Oh, and bring a surfboard. It's a great spot for that.
Distance From Orlando: ~2 hours, 113 miles
Set by the Gulf of Mexico, Treasure Island Beach is one of the furthest beaches from Orlando that we can still say are reasonably close to it. Three miles of particularly wide beaches and a long trail make for great early-morning walking, while a nearby trolley provides motorized access to different areas and local dining opportunities.
As if that wasn't good enough, this beach is a little quieter than most of our other options thanks to its distance from Orlando and Tampa. It's a top destination for fishing, too, with the opportunity to charter a boat and organize a deep-water trip over one or more days. The quieter beaches and upscale dining make this a fine conclusion for any trip to Florida.
For added fun, bring snorkeling equipment. However, this beach doesn't have lifeguards, so make sure you have someone on lookout duty if anyone is going into the water.
Distance From Orlando: ~1.5 hours, 103 miles
St. Augustine Beach is a mid-range option among the best beaches near Orlando, featuring a massive fishing pier, plenty of pavilions, and a splash park for the kids to enjoy. This area offers a mix of relaxed and active entertainment, so you can spend as much or as little energy as you'd like.
St. Augustine Beach features hard-packed sand, so you can ride bikes comfortably over the top of it. The excellent waves in the area attract people interested in all sorts of other sports, and rentals are easy to get from the local stores. The beach also permits driving in certain areas if you enjoy that.
Dogs are broadly welcome along St. Augustine Beach, which makes it ideal if you're bringing a canine companion along. Some local restaurants are pet-friendly, too, which further improves the experience.
Distance From Orlando: ~2.5 hours, 135 miles
Sarasota is the single furthest beach from Orlando, so it's definitely better to stay the night instead of trying to make a day trip out of it. Wildlife is particularly plentiful here, especially in the Sarasota Bay area that serves as a nursery for many types of aquatic life.
Other opportunities for all-ages fun include the Ringling Circus Museum and the Mote Marine, as well as three beaches in the Lido Key area and a self-guided canoe trail. The whole area is close to Anna Maria Island, although that area is worth a separate stay in its own right.
For a more relaxed trip, consider strolling through the downtown area or visiting the Historic Spanish Point. This area includes prehistoric mounds, a history museum, fantastic gardens, and a full pioneer homestead to explore.
More about our TFVG Author
A seasoned traveller, Dad, and avid sports tourist, James foundered The Family Vacation Guide to share his expert vacation experiences- especially when it comes to being a travelling family man.
Featured in Travel articles such as Travel + Leisure, TripSavvy and SFGate, you know you're reading some of the best vacation tips online.