Tampa is ranked the  #8 when it comes to the most family-friendly cities in the United States. It is filled with theme parks, museums, culture, zoos, waterfront activities, and so much more – making it an ideal vacation spot for the whole family. 
From Busch Gardens to the Glazer Children's Museum to the Bits-n-Pieces Puppet Theater, there are many fun things to do in Tampa with kids.
Zoo Tampa at Lowry Park
At Zoo Tampa at Lowry Park, you can have some wild adventures by coming face-to-face with over 1,300 animals, including the endangered White Rhino and Florida Panther. The 63-acre plot of land that hosts the Zoo Tampa has provided families with exciting animal experiences since the 1930s – even being recognized by Parents Magazine. 
It is home to the David A. Straz, Jr. Manatee Critical Care Center, a non-profit rehabilitation facility dedicated to the treatment and critical care of wild manatees. The facility has treated over four 400 wild manatees and reintroduced them back to the Florida waters.
Zoo Tampa at Lowry Park aims to improve and evolve continuously to offer more authentic human experiences and animal habitats. If you want more than your usual zoo experience, you can interact with a few animals, such as elephants, white and Indian rhinos, and penguins.
There are also guided safari tours hosted by the Africa Expedition Company and animal-themed rides. Additionally, other perks for members are the monthly Toddler Tuesdays, Yoga in the Wild sessions, and several zoo events all year-round.
Location: 1101 West Sligh Avenue, Tampa, FL
Phone: 813-935-8552
Busch Gardens
If you want to spend a great day in Tampa, then you can never go wrong with Busch Gardens. It spans 297 acres and boasts over 12,000 animals, restaurants, roller coasters, live animal shows, games, and shopping centers. 
Interestingly, Busch Gardens has been around Tampa longer – and is more affordable – than the nearby Disney World. It also has interactive themed lands and attractions like the Edge of Africa and animal exhibitions such as the Myombe Reserve and the Serengeti Plain.
Busch Gardens features ten African zones – each has its own rides, roller coasters, live shows, animal encounters, and other forms of entertainment. If you are planning to visit, it's recommended to plan ahead and choose the live shows you want to see and the rides and animals you want to visit.
One ride of interest includes the world's tallest and longest inverted roller coaster called the Montu roller coaster in the Egypt zone. This zone also features an exciting encounter with an 80-foot snake. On the other hand, the Serengeti Plain has a train, gondola, hundreds of animals, and a ride from a safari truck for an up-close animal encounter.
You'll never get bored with the combined education and entertainment you can find at Busch Gardens. Whether you are an animal lover or just a thrill-seeker, you'll find something that interests you at the park. If you aim for the rides, skip the lines and pre-purchase a quick queue unlimited pass – considered an excellent highlight for visitors.
Make sure to check their website for an updated list of events. Also, note that children below three years old have free admission.
Location: 10165 McKinley Drive, Tampa, FL
Phone: 813-884-4386.
The Florida Aquarium
Your trip to Tampa Bay won't be complete without visiting the Florida Aquarium. There is no more exciting adventure than getting up close with the animals, which are native to the shores and waterways of Florida. Snap a picture with some moon jellyfishes, and if you're brave enough, swim with their sand sharks.
The Florida Aquarium gained popularity when featured in some publications like Parents Magazine and USA Today. You and your family can journey to seven exhibits from the freshwater to the open ocean habitats at the Florida Aquarium.
There are simulated beaches and bays, wetlands in glass atria, coral reefs, and a lot more. You can explore them at your own pace or join any of the five offered tours – some running from the Aquarium and leave to head out to the open ocean.
Visitors can also go snorkeling, swim with the marine animals, or dive with the sharks. The Splash Pad is a 4-D multi-sensory theater that brings short films to life and is perfect for kids. Even better, entry to the Splash Pad is covered by admission.
Location: 701 Channelside Drive, Tampa, FL
Phone: 813-273-4000
Glazer Children's Museum
Rain or shine, Glazer Children's Museum is a great place for families to visit. Take a break from the Florida sun, and enjoy the many indoor attractions for the whole family. Children love the museum's obstacle courses, imaginative play spaces, interactive exhibits, and other events –  all found under one roof in downtown Tampa.
The museum is filled with permanent and temporary interactive exhibits that aim to educate kids. Most of the topics are regarding the human body, science, art, and mathematics.
For example, the museum's exhibit called 'Engineers Workshop' enables children to design the train route of Tampa Bay or build it with giant Legos or blocks. Older children can also learn how to make the perfect airplane out of paper.
This interactive museum is where children can play with a purpose. The exhibits allow them to connect with the world, become lifelong leaders, and discover new ideas. With over twenty-two exhibits, you can never run out of opportunities where your children's imaginative ideas come alive.
The museum also offers unique programs for families, such as Board Free Tuesdays where children's admission is waived, Developmental Checkup for children, and Sunshine Sundays for children with special needs.
The Glazer Children's Museum is open every day, and children under a year old have free admission.
Location: 110 W Gasparilla Plaza, Tampa, FL
Phone: 813-443-3861
Tampa Electric's Manatee Viewing Center
There is no doubt that Tampa is made for animal lovers. If you want to include the cuddly and cute manatees in your itinerary, you shouldn't miss the Tampa Electric's Manatee Viewing Center. 
You can surely appreciate a short break from the usual sights and get to see swimming manatees through the electric water plant. Especially surprising is that you don't have to pay anything for the privilege.
The manatees seek refuge in the discharge panel of the power station in Apollo Beach. This is where the warm and clean saltwater from Tampa Bay flows. When the water gets chilly for these cuddly creatures, they swim to this space for warmth, making it a designated sanctuary for the manatees with state and federal regulations and protections.
There are other attractions in the center if you wish to get your eyes out of the water. You can explore the butterfly garden, mangrove exhibit, and some souvenir and gift shops. By climbing up the stairs to reach the viewing tower that is 50 feet high, you can get a bird's eye view of the entire space.
The Viewing Center is great for the families because it includes environmental education, built with numerous exhibits and displays, a manatee sanctuary, award-winning butterfly gardens, and an observation tower.
Location: 6990 Dickman Road, Apollo Beach, FL
Phone: 813-228-4289
Museum of Science & Industry (MOSI)
If you and your kids want to participate in over a hundred hands-on activities, the Museum of Science & Industry (MOSI) is the ultimate destination for you. 
In this scientific playground, you can solve brain puzzles, build robots, explore lunar colonies, or peek into the future with innovative and emerging technologies.
MOSI's exhibits include a tour inside the human body, a look at NASA's Mission Moonbase, Connectus with revolutionary innovations, Idea Zone, Sky Trail Ropes Course, The Saunders Planetarium, and the Virtual Reality Simulator.
A trip to this museum would be a highlight of any vacation.
Location: 4801 E Fowler Avenue, Tampa, FL
Phone: 813-987-6000
Tampa Museum of Art
The Tampa Museum of Art started operating in its new location in 2010. This award-winning museum delivers an innovative style to present art from ancient to contemporary. 
The museum showcases antique collections from Greek and Roman cultures, with rotating exhibits being offered from time to time. Visitors can expect wood and papier-mâché, sculpture retrospectives, painted pottery, monumental landscape sculptures, and many more.
If you want, you can also take a break in their café with a covered terrace – offering the visitors magnificent views. You can also shop around for some exhibit-related gifts, home decors, jewelry, museum catalogs, art books, and other good finds.
Location: 120 Gasparilla Plaza, Tampa, FL
Phone: 813-274-8130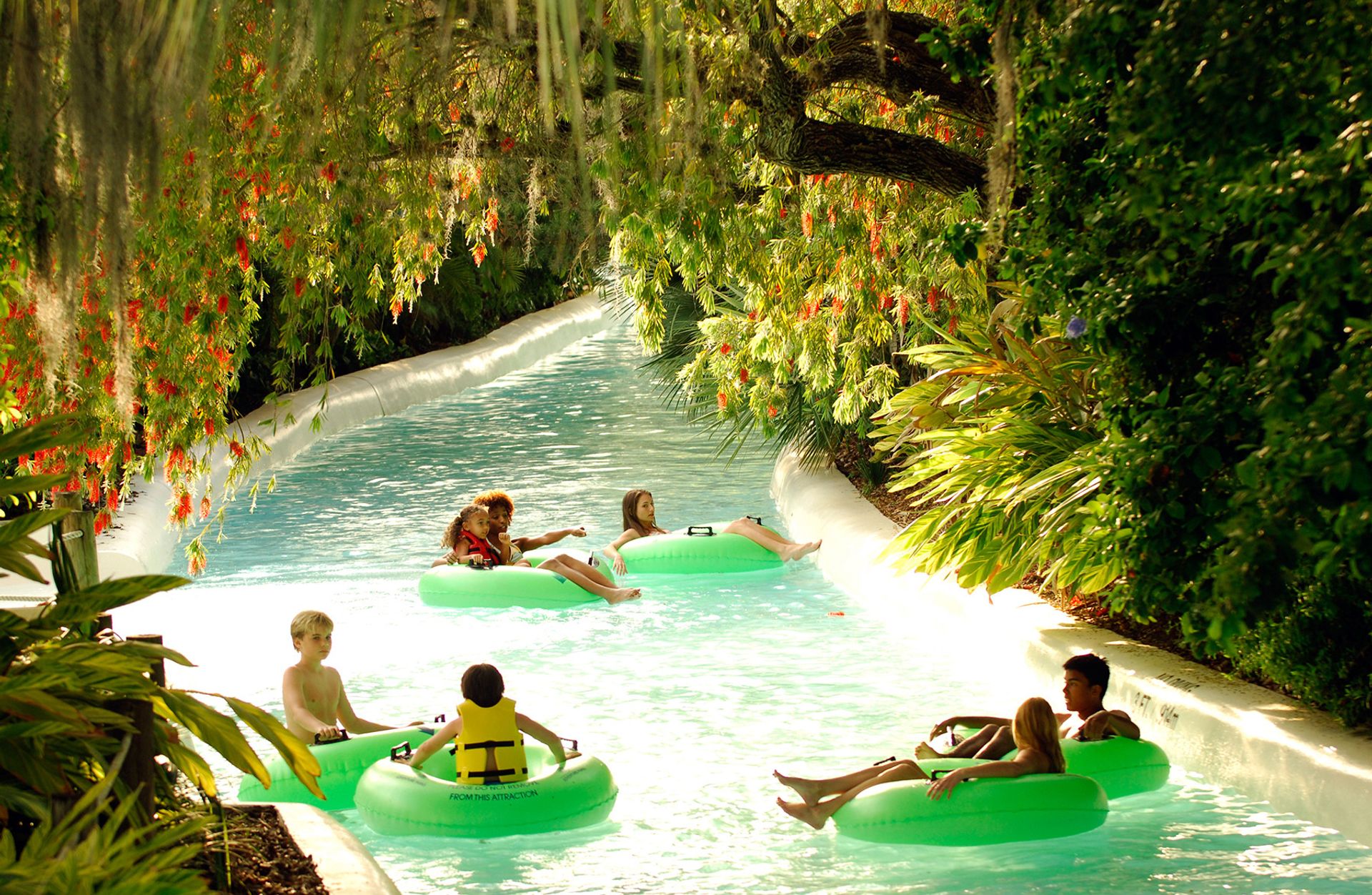 Adventure Island
Adventure Island is a water park owned by Seaworld located right over the road from Busch Gardens. It boasts ten amazing waterslides, including the newest Vanishing Point – an extreme free-fall plunge adventure. 
These waterslides vary in style and intensity, so you need not worry as there is a splashdown to match the level of thrill you desire. The Paradise Lagoon in Adventure Island features a 20-foot cliff to jump from, slides, waterfalls, and a pool.
Other attractions include the Endless Surf wave pool, the Runway Rapids with waterslides for kids, and a half-mile tubing journey called the Rambling Bayou.
Location: 10001 McKinley Drive, Tampa, FL
Phone: 813-884-4386
Old McMicky's Farm
If you want to experience farm life, then a visit to Old McMicky's Farm should be on your itinerary. 
The farm offers visitors some guided tours, including a relaxing break for lunch overlooking Crescent Lake and under the shade of oak trees. However, guests must bring their own lunches.
They also give a chance to guests to explore a barn maze, take a hayride, and milk a cow. The working farm encourages up-close farm animals' encounters.
The Old McMicky's Farm is an actual working farm that educates people about authentic farm life and living with farm animals.
Location: 9612 Crescent Drive, Odessa, FL
 Phone: 813-920-1948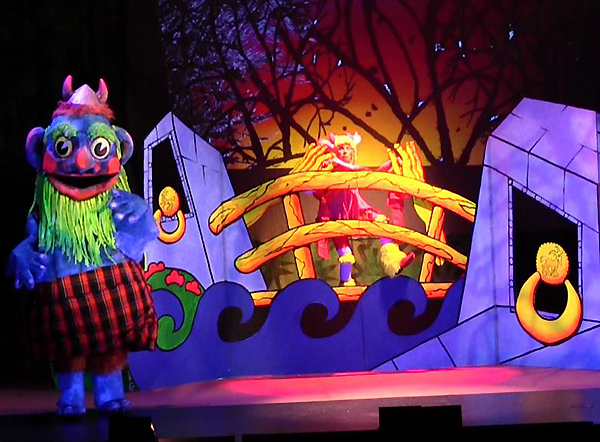 Bits-n-Pieces Puppet Theatre
You and your children can experience the mesmerizing puppetry art at Bits-n-Pieces Puppet Theatre. 
Classic morality stories are performed to entertain and educate young people at the troupe's home theater called PuppetWorld Playhouse. Several shows use small puppets, but larger puppets are also used to perform Princess Thumbelina, Three Billy Goats Gruff, Aesop's Dinosaur Fable, and the Rip Van Winkle.
The theatre also boasts a 5,000 square foot exhibit called 'Got No Strings Interactive Exhibit' where the guests can see many giant puppets of the theater, explore the large puppet currently being constructed, and examine the moving parts.
Make sure to check their website for updated Tampa Bay performances. Kids under two years old have free admission.
Location: 12904 Tom Gallagher Road, Dover, FL
Phone: 813-659-0659
Big Cat Rescue
Do you know that the northwest area of Tampa is more like a sanctuary than a zoo? If you pay a visit, you get the chance to learn about tigers, lynx, bobcats, cougars, snow leopards, and house cats. The whole complex has a total land area of 67 acres and houses over a hundred animals from fourteen various species.
Those who love big cats are undoubtedly thrilled with what they can learn from the informative, passionate, and friendly guides of the Big Cat Rescue. This place is a sanctuary for the big cats rescued from abusive situations or from being abandoned. 
It doesn't only provides refuge to these big cats, but it also works nonstop to stop the big cat trade and even the private possession through legislation and education.
If you want to visit these big cats while they are the most active, you can register for a night tour or a feeding (as you know, cats are usually asleep during the daytime). Most of the guided tours are only limited to guests above ten years old.
Location: 12802 Easy Street, Tampa, FL
Phone: 813-920-4130
Giraffe Ranch
If you are looking for a not-so-typical animal zoo or theme park, then Giraffe Ranch is what you're looking for. 
It is located next to the Green Swamp with a total land area of 47 acres, about 45 minutes outside of Tampa. It offers 4-wheel drive safari tours which give visitors up-close animal encounters, such as camels, pygmy hippos, rhinoceros, and giraffes!
They also offer other tours taken by Camel Expedition, Llama Trek, and Segway Safari and showcases miniature Irish Dexter cattle and Austrian Haflinger horses. This family-owned ranch gives two safari tours every day from 11 am to 2 pm.
38650 Mickler Road, Dade City, FL,
Phone: 813-482-3400
Tampa Bay Automobile Museum
If you are a fan of vintage automobiles, then don't miss visiting the Tampa Bay Automobile Museum. Each car was engineered using forward-thinking and was chosen to be displayed because of its impact on the continuously evolving automotive industry.
Guests can find over seventy automobiles, from the only one ever produced 1953 French Talbot Lago T 15 Q L6 to the one of its kind, 1965 American Ford Mustang AWD, to the 1981 British Delorean. The museum is truly a tribute to design, creativity, and imagination that many children also find themselves enjoying the fascinating collection.
Location: 3301 Gateway Centre Boulevard, Pinellas Park, FL
Phone: 727-579-8226
Ybor City Museum State Park
The Ybor City Museum State Park is considered the 'Barrio Latino' of Tampa – a celebrated Historing District devoted to the settled immigrants in the neighborhood. It has an urban park that preserves the city's cultural heritage, which is built around the industry of making cigars. 
The district became known as the 'Cigar Capital of the World' from the very first cigar factory established in the late 1880s to the 1930s.
Home to the museum, the historic Ferlita Bakery explores the history of the Ybor City community and cigar making.
You can sign up for guided tours available on Wednesdays to Sundays or do a self-guided tour of different exhibits every day. There is also an adjacent cigar worker's home which they open for tours.
Location: 2009 Angel Oliva Senior Street, Tampa, FL
Phone: 813-247-6323
Croc Encounters Reptile Park and Wildlife Center
The Croc Encounters Reptile Park and Wildlife Center was initially founded as a sanctuary for rescued reptiles in 2005. But eventually, this refuge also grew to include other unwanted reptiles, birds, and mammals. This family-operated facility started to provide guided tours and education to visitors in 2008. 
The center's grounds have been restructured, and today the center also offers safe and self-guided tours. Guests can see snakes, turtles, lizards, crocodiles, frogs, and marine toads.
They also have educational programs so that visitors can take a deep dive into almost everything from Venomous Snakes to Rainforest Reptiles.
Self-guided tours are only available on Saturday for $10, while the 90-minute guided tours are available through reservation.
Location: 8703 Bowles Road, Tampa, FL
Phone: 813-217-4400
Lettuce Lake Conservation Park
If you wish to experience nature and get outdoor adventures, then head to one of Tampa's most favorite places – the Lettuce Lake Conservation Park. 
Guests love the hardwood hammock plants, the pine Flatwoods, and the fascinating swamp forest. It has an observation tower over the boardwalk 3,500 feet in length and the 1.25-mile exercise paved trail.
The park also offers guided tours on weekends. If you want to explore independently, you can rent a kayak and canoe and silently glide through the waters. It's the perfect way to get close to the aquatic birds and other wildlife.
The park also has picnic shelters, barbeque grills, and other amenities to serve your needs.
Location: 6920 E Fletcher Avenue, Tampa, FL
Phone: 813-987-6204
Sunken Gardens
At the Sunken Gardens, you can expect meandering and winding paths with waterfalls, tropical plants, and over 50,000 flowers, making it a feast for the eyes. 
The 100-year old Sunken Gardens possesses fragility with its oldest tropical plants. Thus guests must stay on their paths, not touch the plants, not climb the structures, and not bother the animals.
They also offer horticultural demonstrations and classes where visitors can participate or take guided garden tours. There is also an option to take self-guided tours of the garden. Another activity guests love is watching the flock of flamingos.
Location: 1825 4th Street N, St. Petersburg, FL
Phone: 727-551-3102
Captain Memo's Pirate Cruise
If you want an enjoyable day on the water with the family, then the Captain Memo's Pirate Cruise showcasing its bright red boat with white striped and vibrant blue sails may be the best choice for you.
Guests can come aboard to the energetic tunes from the boat's state-of-the-art surround sound system.
The two-hour cruise features a treasure hunt, pirate antics, face painting, dolphin searching, water gun games, stories, and most especially, dancing. The voyage glides along Clearwater Beach, heading to the Gulf of Mexico. If you want a romantic night, a sunset cruise is also an option.
It is strongly recommended to book reservations. However, reservation or not, those who fail to show an hour before the cruise start may have their reservations voided. So be sure to be there at least an hour in advance.
Location: L25 Causeway Boulevard, Clearwater Beach, FL
Phone: 727-446-2587
Dakin Dairy Farms
Dakin Dairy Farms is the only dairy farm bottling its own milk in the Sunshine State. This state-of-the-art and sustainable family-run farm has a total land area of 1,000-acre. 
Its operation evolved to an agritourism destination where guests can have hayrides and guided tours inside the farm. Children also love the fossil dig, hay maze, sand mountain, feeding of sheep and goats, and toddler play equipment. There are also supplies and campfires for s'more and hot dogs available for reservation if you get hungry.
The Farm Market sells milk, cheese, butter, gifts, and Dakin, while the Farm Market Café serves lunches for picnics under the pavilion or the front porch. It is open throughout the year, but the busiest months run from October to June.
Location: 30771 Betts Rd, Myakka City, FL
Phone: +1 941-322-2802
Curtis Hixon Waterfront Park
Somewhere in downtown Tampa, along the Hillsborough River, there lies an eight-acre public park named Curtis Hixon Waterfront Park. It boasts a dog park, playgrounds, and splash fountains – all with the city skyline as a fantastic backdrop! 
The amenities also include the Great Lawn that can accommodate a broad range of performances and programming, a kiosk with restrooms, a dog run, park offices, a pavilion with restrooms, and areas for future vendors.
The Mist fountain and the Louver fountain also add some interactive fun to your children's visit.
Location: 600 N Ashley Dr, Tampa, FL
Phone: +1 813-274-8615
More about our TFVG Author
A seasoned traveller, Dad, and avid sports tourist, James foundered The Family Vacation Guide to share his expert vacation experiences- especially when it comes to being a travelling family man.
Featured in Travel articles such as Travel + Leisure, TripSavvy and SFGate, you know you're reading some of the best vacation tips online.