Embarking on a treehouse cabin retreat has become a popular vacation option for adventurous families in recent years. High up in the branches, you and your kids can enjoy complete privacy as you take in the pleasures of the great outdoors and the feeling of remoteness.
You can also enjoy the lofty views, and what better vistas to look out on than the ones afforded by the Sunshine State? Florida has become a hotbed for treehouse rentals, thanks to its biodiverse countryside, its sub-tropical climate, and its breathtaking national parks.
With so many cozy treehouse options to choose from, we've narrowed down the list to create the following guide of the top 10 treehouse rentals in Florida.
Here Are 10 of the Best Treehouse Rentals in Florida
A stone's throw away from Suwanne River lies the Treehouse Cabin Retreat. This treetop hunting cabin provides all your family needs to live comfortably in the wilderness. With no WiFi available, the Treehouse Cabin Retreat is a premium option if you and your family want to experience a rewarding digital detox.
The secure staircase leads guests up towards the treehouse, which can fit 2-3 guests per stay. For bigger families, there is also an onsite cabin, which can sleep up to 4. The cabin also has a kitchen and full bathroom, allowing for guests to feel right at home.
In the evenings, guests can take advantage of the fire pit, which is great for hanging out around as the nocturnal nature comes to life. You can expect to spot woodpeckers, foxes, and deer passing through the surrounding wild terrain.
Nestled in the forest of Old Town, Florida, this treehouse accommodation puts guests on the borderline between total wilderness and outdoor activity hotspots.
The Manatee Springs State Park is just a half-hour away by car, which is a real mecca of water-based activity. Visitors can scuba dive next to native manatees, canoe across its delicate surface, freshwater fish, or cycle around its perimeter.
A Little Taste of Paris is a unique, hexagon-shaped treehouse that faces out onto Lake Marion. With enough room for six guests, this attractive little treehouse has two bedrooms, each of which is equipped with a flat-screen TV and spare futons. The kitchen is fully fitted, and the floor-to-ceiling windows let in plenty of light onto the dining and living area.
Treehouse amenities include a raised outside seating area, free WiFi, a laundry room, and two separate bathrooms. Not only can it be enjoyed by mom, dad, and the kids, but pets are also welcome to stay at this charming treehouse.
Guest can travel to the nearby Grenelefe Country Club, where all members of the family can enjoy such features as the swimming pool, aqua park, hot tub, and fitness center. Additionally, several hiking and biking trails circle Lake Marion and the surrounding area, making it a great spot for those who want to get active.
Other nearby recreational spots include the Diamondback Golf Club and Haines City. The latter is bustling with restaurants, theme parks, and museums.
The DVC Treehouse Villas are found on Disney's Saratoga Springs Resort & Spa and provide families with a perfect hideaway in the heart of Florida. Each of the 60 treehouse rentals found in the woodland area surrounding the resort feature three bedrooms, which can accommodate up to nine guests in total. The large size of these treetop villas makes them ideal for larger families.
Perched 10 feet above ground, the outdoor decking is a great place to socialize in the summer months, while the cozy indoor living space is sizable enough for indoor gatherings during the winter. The decor may not be distinctly Disney-themed, but it is certainly treehouse-inspired, which is sure to get your kids' imaginations running wild.
With access available to all the Disney Saratoga Springs onsite amenities, kids and adults alike will surely be kept entertained while vacationing here. The resort boasts two pools, which feature epic slides, whirlpools, and kids' aqua-play areas. There is also a Senses Spa for adult-time, and the Turf Club Bar and Grill, where families can dine out on American classics.
It's possible to walk right to Disney Springs from your treetop accommodation, which, depending on your position in the woods, should take between 20-30 minutes.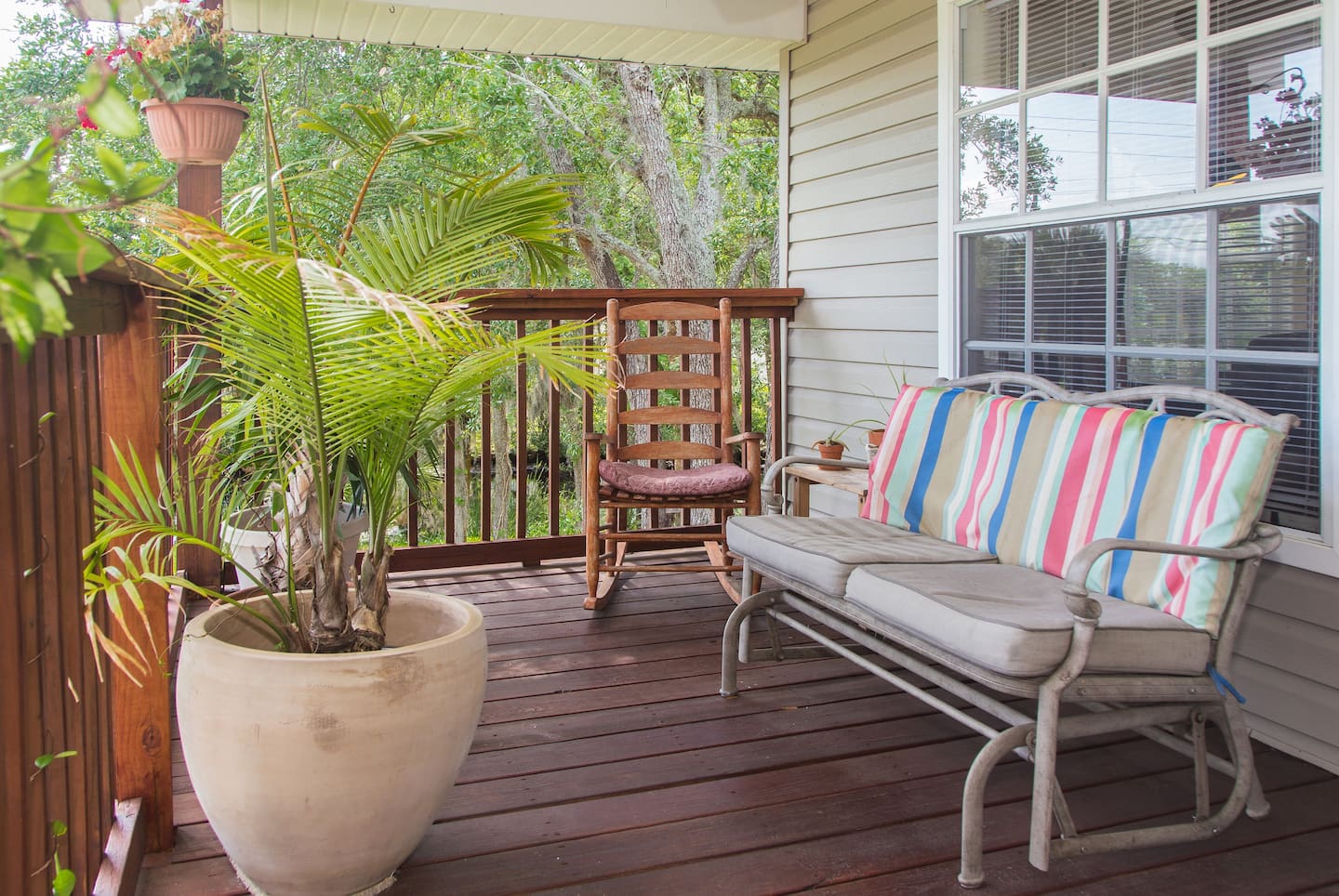 The Tampa Treehouse is a raised bungalow with free parking underneath, which is a perfect place for families who wish to explore Tampa and greater Florida.
The acre of land that surrounds the treehouse is covered in light forestry, which gives the property a great atmosphere when hanging out on the patio at night, or in the hammock swing on the floor below.
The Tampa Treehouse has three bedrooms and can sleep a total of 10 guests. Free WiFi can be connected throughout the property. Other onsite amenities include cable TV, a furnished kitchen area, and a downstairs BBQ grill.
Offering views of the nearby canals, several other great Tampa attractions can be found within close vicinity. This includes Tampa Shores, Empower Adventures, and the Upper Tampa Bay Park. The latter is only a 6-minute drive away and is where you can find hiking trails, canoe rentals, and plenty of picnic and barbecue grills.
Families can enjoy walking to restaurants such as Charann's Tavern, as well as family favorites such as Dunkin' and Starbucks.
Ben T. Davis Beach is only 15 minutes from the location, while other beaches, such as Clearwater Beach and St. Pete Beach, are also close by.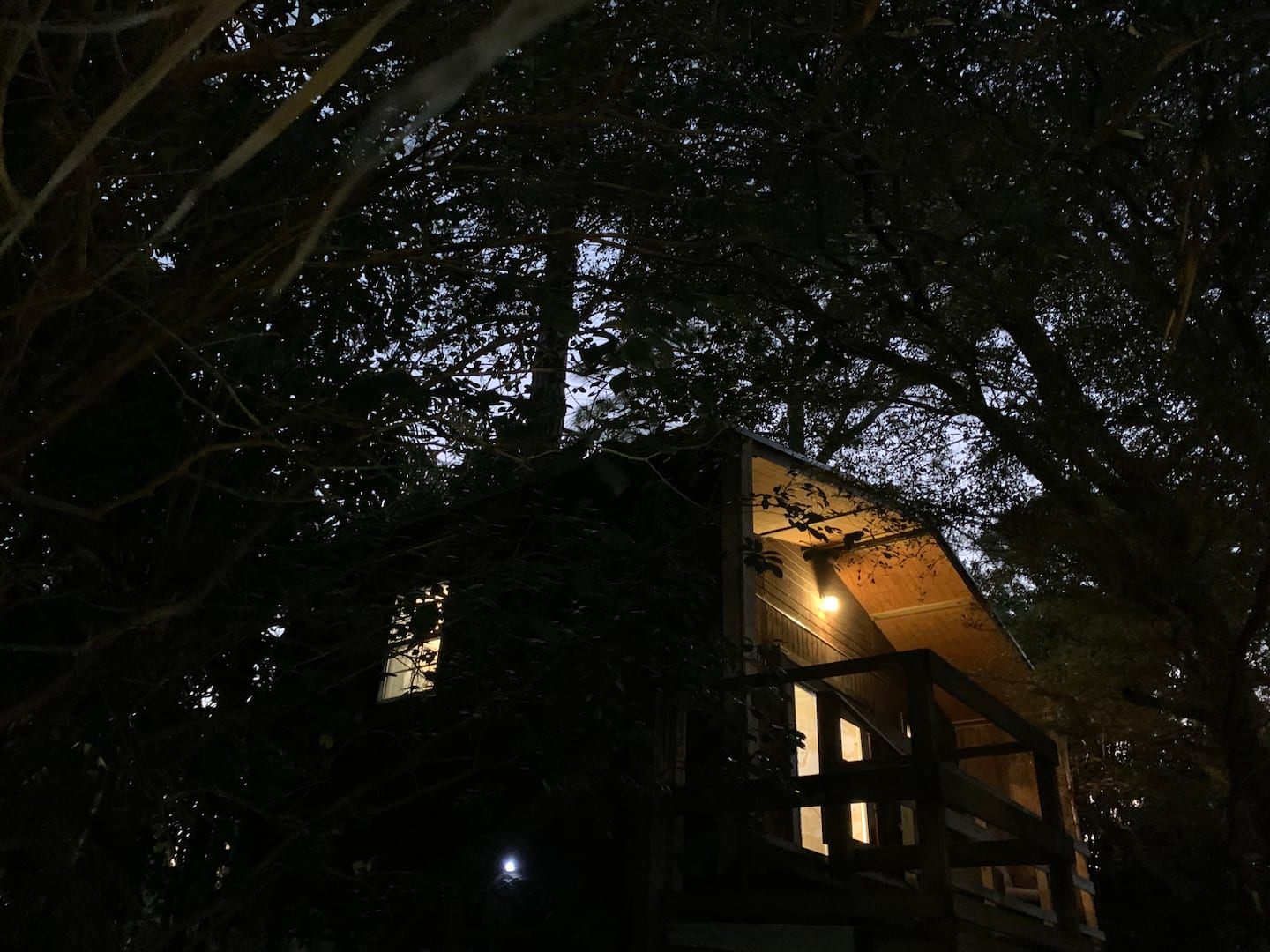 This accommodation is a treehouse in its truest form. With pine trunks going right through the living, bathroom, and kitchen area, it's impossible to escape the wilderness while staying at this West Palm Beach retreat. The living area features patio doors that open up onto a luxurious decking area, where you can watch the surrounding woodland come alive in the morning.
Six guests can enjoy this luxurious treehouse, which features one double bed, a bunk bed, and a sofa bed. Below, you'll find an outdoor sitting area, which features a TV and sofas. The WiFi should reach all areas of the accommodation, making sharing this accommodation on social media an easy task.
Of course, the main highlight of this treehouse is the mineral pool, which is a great place to cool down during the warm Floridian summers. The pool is lit up at night and surrounded by fairy-light-covered pine trees, which creates an exquisite scene. Other outdoor amenities include the private hot tub, additional outdoor dining area, and BBQ grill.
The treehouse also has plenty of beach supplies, should you decide to venture out to the nearby West Palm Beach – which we recommend that you do!
Located right on the beachfront in St Augustine, Florida, the Gypsy Palace Treehouse is ideal for anyone looking to start each vacation morning with a swim! The sea is almost touching the base of this treehouse when the tide pulls in – the ocean couldn't be any closer!
At night, the sound of the waves creates an unparalleled atmosphere, and the beach becomes the perfect place for a quiet evening stroll. A walkway from the accommodation leads straight out to the pristine sands.
This treehouse has one bedroom, which contains a queen-size bed and two single beds. In total, the treehouse can only accommodate four guests, meaning that it's best for smaller families. Still, this is one of the more impressive Florida treehouse rentals, given that its space is spread out over three floors.
Guests can enjoy the spacious living and kitchen area to cook food and socialize in.
For entertainment, guests can enjoy the TV and connect to the free WiFi. Great air conditioning can be found throughout the property, which is ideal for extra warm beach days. This beautiful treehouse is also closeby to the Fort Matanzas National Monument, Matanzas State Forest, and several beachside restaurants and grills.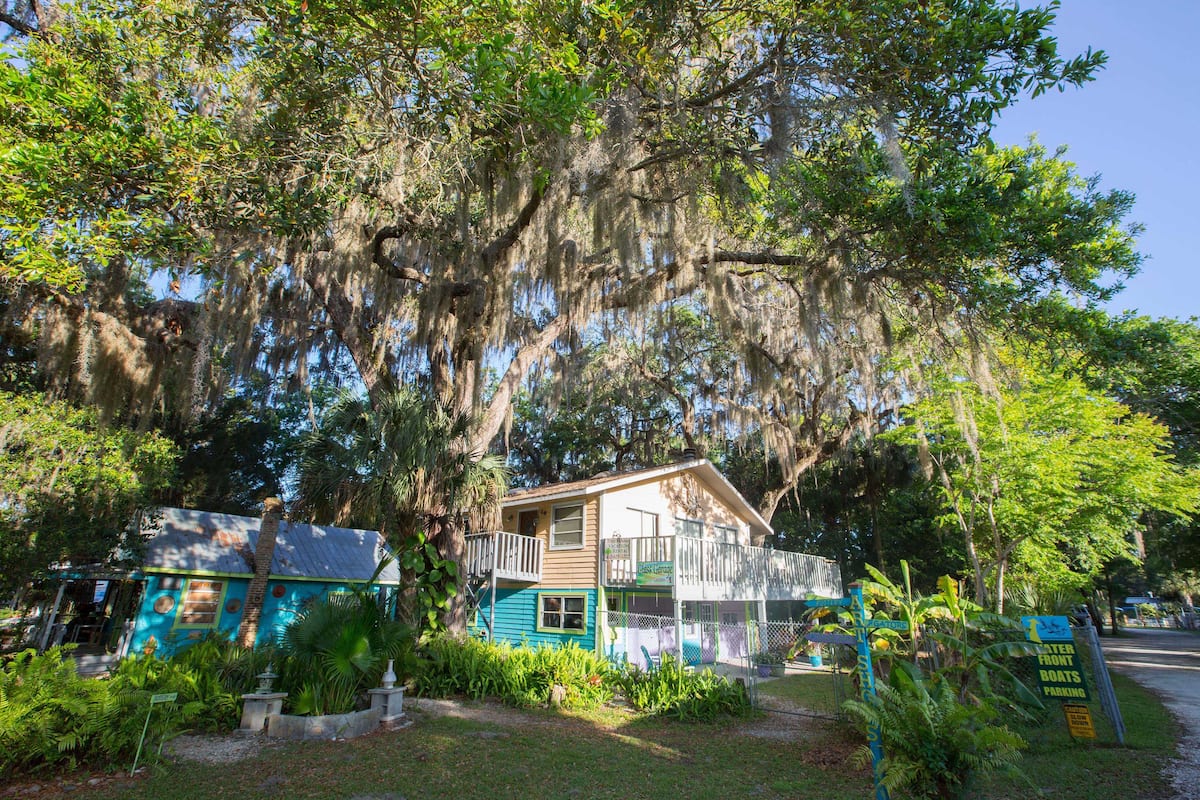 Immerse yourself in Florida of yesteryear by booking a stay at the Treehouse at Homosassa, which looks right out onto the river. Surrounded by ancient oak trees, the interior of this charming cabin is cedar wood-based, giving it a delightfully quaint appeal. Six guests can stay in this treehouse, which features air conditioning, cable TV, WiFi, and a fire pit.
The private deck and outdoor seating area is the perfect place to take in the breeze as it blows through the Spanish moss. This simple area is great for family games night or quiet reading throughout the hot day. Although just a short distance from town, this Florida treehouse has great tranquility to it and feels a great distance away from the hustle and bustle of the city.
A number of kayaks are available for guest use, which is made all the better given that the public boat ramp is just a short distance away. Within the vicinity, guests will find a number of amenities, including restaurants, tiki bars, and convenience stores. There are also plenty of must-visit attractions nearby, including Weeki Wachee, Rainbow River, and Ozello Keys.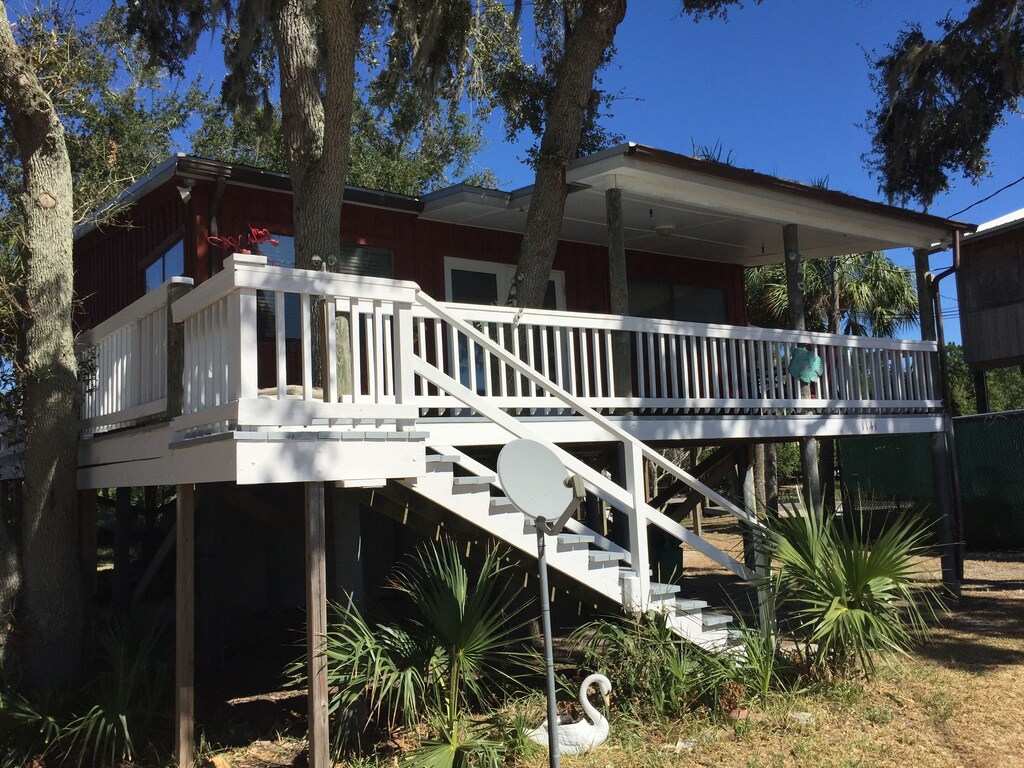 Located on Florida's Nature Coast, this raised accommodation is built upon two oak trees and is perfect for a family weekend getaway. Featuring two bedrooms and an additional rollaway bed, this accommodation is ideal for a family of five. There's even enough room for your pet!
The house has a spacious living area, both inside and out, with a sizable decking and outdoor seating area. Guests will find a TV, internet access, and air conditioning inside.
The highlight of this private getaway is the views affording of the Gulf of Mexico, which this treehouse looks out onto. A boat dock can be found at the back of the property, which is a great place to store boats if you're planning on turning this getaway into a fishing vacation. Even if you didn't bring a boat, the nearby dock is perfect for both fishing and crabbing.
Other nearby attractions include Seahorse Key, the Cedar Key Historical Society Museum, and the City Beach.
The surrounding city of Cedar Key is an old Floridian fishing village, which is evident in its architecture. It's a great community to explore, with plenty of seafood, music, and art festivals taking place throughout the year.
If your family dream of a beach vacation with unconventional accommodation, this treehouse rental in Naples, Florida, could be a good option for you! Located just outside Vanderbilt Beach, this treehouse accommodation can fit up to six guests and permits children of all ages to stay, from infants right up to teens.
The layout of the treetop villa consists of one bedroom that features two double beds. In the common area, you'll find a sofa bed, a television, and plenty of comfy space to relax after a day on the waves. Guests can take advantage of the free WiFi throughout the property, relax next to the fans, and enjoy some cable TV. There is also a fully-equipped kitchen.
The big windows found throughout allows for natural light to illuminate the property throughout the day. Nights can be spent out on the decking while admiring the sun descending below the surrounding tropical trees.
Vanderbilt is popular for relaxing, with plenty of beach chairs positioned along the shorefront. It's also great for swimming and a host of water-based activities, from banana boat-riding to jetpack exploring.
In amongst the magnolia trees of Coldwater Gardens lies the most contemporary treehouses in Florida. This one-of-a-kind accommodation is the most exclusive property to make this list, boasting a range of amenities that make this unique treehouse extra special. A completely private getaway, the treehouse is surrounded by a cable gate and even has its own driveway.
The two queen beds make this property suitable for small families, with a living area big enough to host small gatherings. The kitchen and bathroom areas feature all that you need for comfortable living. Each room is equipped with the latest in both heat and AC technology.
Notable treehouse amenities include an outdoor seating canopy, outdoor shower, full bath, drip coffee maker, and a charcoal and gas grill. Underneath the treehouse, guests will find a fire pit suitable for cooking and keeping warm in the evenings.
Being one of the few treehouses in Florida not to feature WiFi, this accommodation was built for digital detoxes, with plenty of outdoor activities to keep all members of the family interested. Guests often stay at this modern treehouse to experience the hiking, paddling, swimming, fishing, and wildlife watching opportunities that can be found nearby.
FAQs
Are there any treehouse rentals in Florida with a hot tub?
If you're looking for a treehouse rental with a hot tub, check out the modern treehouse on West Palm Beach, which features both a hot tub and a mineral pool. Although they don't offer private hot tubs, the DVC Treehouse Villas at Disney's Saratoga Springs Resort has communal hot tub facilities.
When staying at A Little Taste of Paris, guests can gain access to the hot tubs found at the Grenelefe Country Club.
Does Treehouse Cabin in Old Town offer same-day rentals?
Given that there's only one Treehouse Cabin available to rent, getting a same-day rental depends on its availability on the day. Like most rental treehouses in Florida, same-day rentals will be unlikely during the high season. Perhaps in the off-season, you'll be able to book the Treehouse Cabin on a same-day rental basis.
Are pets allowed at the Treehouse in Homosassa?
Pets are allowed at the Treehouse in Homosassa and at A Little Taste of Paris. However, like most treehouses in Florida, it's best to give the host a heads up before you arrive, particularly if you're planning on bringing more than one pet.
What time is check-in at Gypsy Palace Treehouse?
You can check in to the Gypsy Palace Treehouse after 3.00 pm. Guests have the option to self check-in by using the lockbox found onsite.
Final Thoughts
Whether you're looking to escape technology, enjoy outdoor activities, or just make your next family vacation a unique one, there are plenty of treehouse rentals available throughout Florida.
With many being kitted out with modern amenities, from WiFi to flat-screen TVs, treehouse rentals are arguably the best form of glamping available. Many also come with more traditional camping amenities, such as a fire pit, outdoor shower, and private balcony.
Each of the treehouse rentals that made our top 10 are definitely worth considering for your next visit to Florida – choose the one that best fits your family size and needs!
More about our TFVG Author
A seasoned traveller, Dad, and avid sports tourist, James foundered The Family Vacation Guide to share his expert vacation experiences- especially when it comes to being a travelling family man.
Featured in Travel articles such as Travel + Leisure, TripSavvy and SFGate, you know you're reading some of the best vacation tips online.